AMD are striking while the iron is hot with GPU news today, first we just heard about the dual-GPU Radeon HD 7990, and now we're hearing that AMD are entering the cloud gaming business.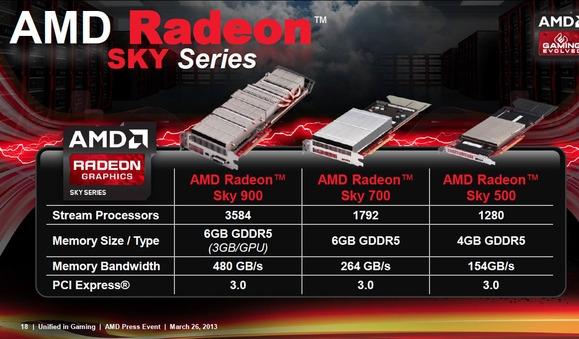 They'll be entering this business with a new range of graphics cards, the Radeon Sky series. These cards will come in three flavors, the Radeon Sky 900, Radeon Sky 700 and Radeon Sky 500. They'll come with varying amounts of stream processors, RAM, and memory bandwidth. These new GPUs are designed to power servers for cloud gaming.
The Radeon Sky 900 will feature two Radeon GPUs, providing it with 3584 stream processors, and 3GB of GDDR5 RAM for each GPU. Its siblings, the Radeon Sky 700 and Radeon Sky 500 will feature 1792 and 1280 stream processors, respectively, as well as 6GB of GDDR5 and 4GB of GDDR5, respectively.
AMD's GM of Professional Graphics, David Cummings, said during AMD's presentation at GDC 2013:
Data and services are moving the cloud, and so is gaming. What do gamers want from the cloud? They want the experience to be easy to install, easy to use, and available from on any device at any location. AMD intends to support the whole cloud: The home cloud and the public cloud. Cloud gaming requires HD gaming at 30 fps, outstanding compression, optimal density-meaning the best performance per watt and the most users per GPU-minimal latency, and enterprise-grade hardware.