Silicon Power introduces 64GB eSATA/USB SSD
Increased portability and versatility for SSDs.
Published Feb 25, 2009 10:05 PM CST
|
Updated Tue, Nov 3 2020 12:37 PM CST
Silicon Power has released a 64GB eSATA/USB SSD that fits in your pocket, about the size of your typical USB Flash drive.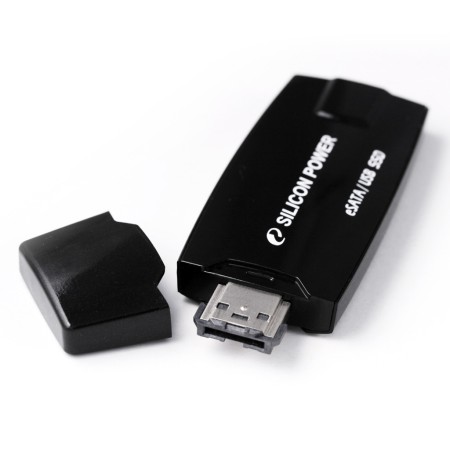 The new SSD featurs both eSATA and mini USB connections for increased versatility no matter where you are. Using eSATA, the drive will read at 90 MB/s and write at 42 MB/s. Switching over to USB, the drive will only read at 30MB/s and write at 25MB/s.
The new drive will be available in multiple sizes ranging from 8GB all the way up to 64GB to fit your portable storage needs. These SSDs also have the same features as Silicon Image's 2.5" SSD's including ECC and wear leveling.
The full press release is avaialable for your reading pleasure
here.
2009/2/23-(Taipei, Taiwan) Silicon Power released the availability of eSATA/USB SSD with 64GB capacity, a higher capacity handy SSD on worldwide markets. This pioneering product won Malaysia HWM magazine's Gold Award in February, awarding it a score of 9 out of 10. The eSATA/USB SSD features eSATA and Mini USB dual interface, hot plug and play and four-channel high performance technology. The eSATA connection has a read speed of 90 MB/s and a write speed of 42MB/s, which is 8 times the write speed of the normal USB. The eSATA connector provides external data transfer at speeds up to 3Gbps, which is higher than USB 2.0 interface with 480MB/s. It is very convenient for large volume of data transfer at a short time. At the bottom side is a mini USB connector offering a read speed of 30MB/s and a write speed of 25MB/s.
Related Tags