New Case with Battery for iPhone Appears
Claims to double the life of your battery.
Published Wed, Feb 18 2009 8:28 AM CST
|
Updated Tue, Nov 3 2020 12:37 PM CST
Something that falls in the interesting category crossed my desk this morning.
This is a new case for the iPhone, but it is not a simple "protect your phone" type of case. No, this case includes a battery to help increase the usefulness of your iPhone between charges.
The new gadget is called the iConn+ iBP1200 it looks like an oversized leather slide-in case for the iPhone but once you open the front flap you find out that it is much more.
Under that cover rests an extra Li-polymer 3.7V/1200mAh battery that is capable of almost doubling the length of time between charges. You are still able to connect and sync your iPhone even while in the case. The iBP1200 will also charge both batteries at the same time when connected to power or your system. You also still have access to the headphone jack and camera while in the iBP1200. Considering the number of apps that eat your battery like a kid in a candy store this is certainly something that the market could use.
Pricing should be around $80 (US) with availability right around the corner.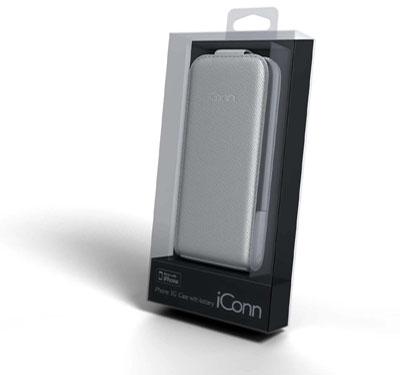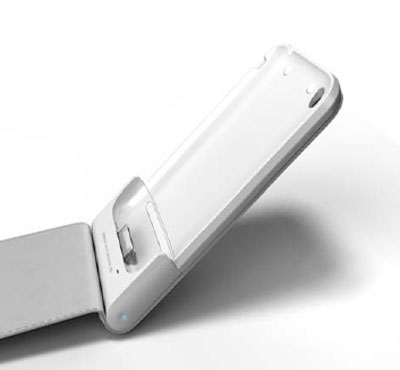 iPhone is known to be one of the best phone introduced to the digital world today due to all the great features built inside such as iPod, Maps with GPS, YouTube, AIM, Myspace, FaceBook, all with a fast-paced internet access supported by the 3G technology, and varieties of game applications. Whether it's in your purse, your pocket, or even when you're traveling out far, with an iPhone you're ready and good to go. iPhone has so many great features that needs to and will be used, but with a limited battery life, you wouldn't be able to fully enjoy what the iPhone has to offer, and that's what iBP1200 will provide our customers. What differs our product iBP1200 from others is that we specifically focused on combining all the functionalities and features in one storage, and giving the ability to function all together, such as the apple jack and mini USB.
Related Tags