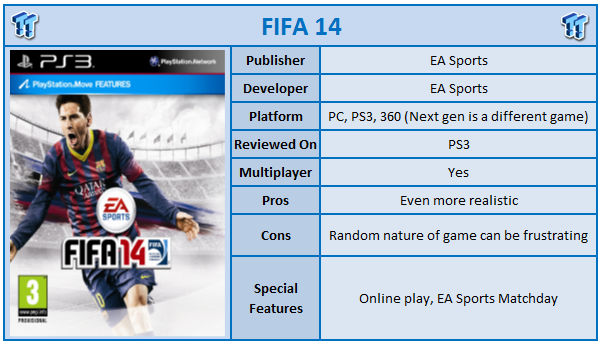 As we come to the end of the current console generation, it's a good time to reflect on the successful franchises and there is hardly a more successful franchise than FIFA. FIFA came into this generation struggling. Konami had absolutely killed the market with Pro Evolution Soccer and was seen as the company that knew football. It may not have had the licenses, but gamers didn't care. PES was the best football game around. So, EA went back to the drawing board and built a new engine for FIFA that completely changed the war. FIFA 12 was where the games really started to diverge in quality, and now we have FIFA 14. However, we unfortunately have to report that it may be a step backwards.
The focus for EA this year with FIFA has been all about momentum. On the next generation consoles (which will have FIFA at launch), EA has built a brand new engine called IGNITE, however on the current generation, we have more one more go around with the old technology and the strain on the systems is starting to show a little bit. EA wanted a game where players couldn't turn on a dime and first touch wasn't guaranteed. They said it was a bit more like what you see on the television, but the result has turned out to be a bit more frustrating than EA may have intended.
FIFA 14 is the first time really I have felt frustrated playing a football game. Most of the time if a goal is scored against me, I know why and get on with the game, but in FIFA 14, it is a constant struggle in general to get the ball, let alone score. FIFA has focused on being a slow methodical game like PES the past few years and overall it's worked. This year is no different, but the realism is going to be despised by just as many as those who love it.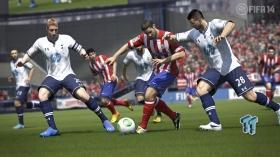 The thing is that even the best players in the game like Messi and so on have poor first touch, and it's frustrating. You set up a goal scoring opportunity only for the first touch of a player to go completely wrong and you lose the ball. Now yes, this does happen in the real-world football matches, but this comes down to simulation versus fun gameplay. Do people really want a situation where a game is so unpredictable and random that it's hard to score goals because it's a little more realistic? If the answer for you is yes, then you will love FIFA 14.
However, for the rest of us, this is a frustrating game. It is almost controller smashing frustrating sometimes and this for a football game is disappointing. You pass a ball not knowing if the player will take it properly and it's all random. Seemingly nothing you do really can influence the random number that determines if the player makes a mistake or not. That said, there are positives from this new gameplay. Players at full speed can no longer turn on a dime (in fact, they have a turning circle more like a cruise ship), and you can use a player's momentum against them. If you see a player move one way and dodge to the other, that player has to stop, turn around and start running just like in the real-world. This is one area where this system does actually improve the game.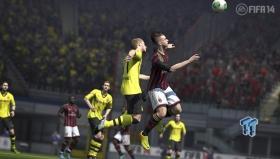 On the main gameplay side, the management mode has had an overhaul and reflects games like Football Manager even more now. First of all you can now send scouts around the globe with instructions to find the next Lionel Messi. Every few days they will report in and give you some players to check out. The UI has had an overhaul as well. Instead of, for example, when you get emails, being taken directly to the email screen, an icon appears on the screen that you have new mail and you can jump there, if you want. The manager UI allows you to focus on what you want to focus on rather than being forced all over the place to make decisions. You tend to get more updates from the board as to your position, and unlike past games, it probably won't be a surprise if they decide to ship you out of the club.
EA Sports Matchday returns and is already well into action with the new European season under way. Basically Matchday downloads stats from the EA servers based on the latest results. So, if your club team is on a roll, their stats will get a boost and so will their attitude, but in a relegation battle, the opposite happens. This is actually an incredibly interesting component of the game and to see how the teams can flip flop during a season.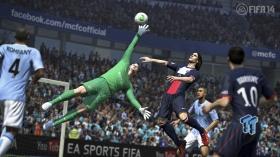 Other than that you have the typical game modes such as exhibition mode (where you can turn on and off the aforementioned Matchday mode), the ability to have a career as a single player working your way up into the first team and try and win it all returns, as well as FIFA Ultimate Team, which in many ways seems to potentially have been a lot more popular than EA envisaged when they first included it in the game.
On the licensing side, EA has had some wins and losses this year. First of all the Brazilian team is not licensed this year which is interesting considering they one of the top teams globally right now, but they have had a win in the Camp Nou from Barcelona returning as a selectable stadium. However, overall, they still remain formidable in this area with the Premier League, La Liga, Serie A, Hyundai A-League, J-league and others all appearing in the game. There is no doubt that this is where EA is dominating right now and it is hard to see whether the other side can fix this.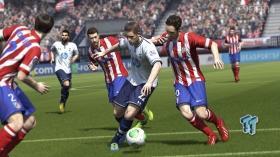 Visually the game also is where we start to see the true FIFA with some stunning graphics and animation. The momentum based system is fully realized in the graphics with players having to slow down to change direction, and being caught unawares quite easily. One thing that works is that you know when a player has got around you purely due to momentum and this is quite an achievement. As per usual, EA is second to none in the lifelike look of the players as well.
We recently got the chance to see FIFA 14 on the next generation consoles and it is clear as day that is where this year's product is going to shine. There is the possibility that they have tried to translate changes from the next gen product down to this level and it just hasn't worked. The game can be frustrating to play, but it can also be enjoyable.
Most games have this ebb and flow and really not knowing what the game is going to do next (be it a player's first touch or if a player will pass correctly) is frustrating. FIFA 14 isn't necessarily a bad game, but it's certainly in our opinion the worst of a very good bunch from the previous few years. Next generation will see this title return to the top upon its release, but for now, wait until then.