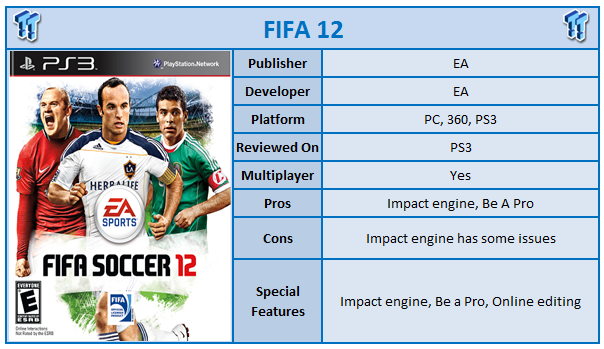 The last few years have been dominated by FIFA in the soccer stakes and it's a credit to EA. Pro Evolution Soccer held the crown during the PlayStation 2 era with Konami focusing on a more realistic game, whilst EA focused on a more arcade, pick up and play style. In many ways the series has now flipped with realism the key factor to FIFA and that is no more apparent than this year and the introduction of the Impact engine. FIFA 12 is one of the most defining and game changing football games to release in years, and quite frankly the best football game ever made, except for one unfortunate fact.
FIFA 12 brings back all your favourite game modes including exhibition mode, career mode and Be A Pro mode and generally this is not where the work has occurred. For those of you who have not played FIFA in the last few years, in many ways it's a pseudo football management game as well. You can choose to be a manager, player manager or just a player in a club and work your way up through the ranks of your career. With the right amount of skill and a hefty amount of free time, it's possible to work your way up from the dregs of the reserves through to manager of the club over multiple seasons and this presents a unique challenge.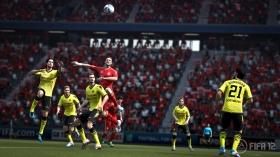 Those of you who want to pick up and play, it's possible to just play in the tournament structures as well and build your own tournaments with the teams included in the game. And of course there is the exhibition mode and online play. Finally, Be A Pro mode returns again this year with minimal change allowing you to play as a single player on a team. One thing that does impact Be A Pro is the new Impact engine where if your player becomes injured, it's more likely to become a long term issue for your character and you may miss a whole season if your player is really unlucky or cops a very bad challenge.
As alluded to earlier in the review, the primary work has been on the collision detection and animation this year. The Impact engine for the first time takes into account many different factors when players collide including speed, angle etc. and real world style injuries can occur. If your player cops an elbow in the face and goes down hurt, it is likely to be concussion; twists a knee in a tackle? Possibly the dreaded ACL injury. Either way, this completely changes the game, not just from an injury stand point, but a gameplay standpoint.
The reason being the animation and collision detection is significantly improved. You can no longer just hack away at players winning the ball and need to time tackles properly or feel the referees pain of red and yellow cards being dished out. But there are times where the collision detection engine goes all sorts of crazy and you can find examples of it on YouTube quite easily. Players ending up ten feet in the air, flying across the field and having legs bent in all sorts of shapes, however given that, most of the time the engine works very, very well and it is hard to overly criticise this feature.
The other major change comes on the defence side of things. For those who don't like the feature, it can be turned off, but defending is now significantly more difficult and has a higher learning curve. Instead of just charging the player and tackling them, you now track them from a distance, holding them off and then go and try and win the ball - just like most of the professionals in the real world play. It completely changes the game and whilst it can be turned off, FIFA 12 does not feel the same without it. At first the AI will hammer you as you learn the new system, but the lengthy time it takes to adjust is worth it and FIFA 12 plays an even more realistic game this time around.
[img]2[/img]
As you would expect, FIFA once again brings the big leagues back and the international squads as well, all fully licensed. For those not happy with the options on offer, EA once again allows you to create new teams and players in the EA Creation Centre online. For those who haven't seen this, it's a brilliant tool that allows you via a website to create players and teams. This assigns those teams to your EA account and can be downloaded on 360 and PS3. This saves hours of work for the heavy editor. However, it's also here where the one thing we find majorly wrong with FIFA 12 can be found. To perform advanced editing or even use a custom team in career mode, you have to buy the feature on PSN. Yes, it's only about $2 USD to do so, but it still leaves a foul taste in our mouth.
Visually, the game is as impressive as ever, but the changes to the animation engine bring this home even further. As generally expected with an EA game, it's easy to tell who the players are just by looking at the player models and the animations and the overall feel of the game and how it plays is of high quality. Crowds chant team slogans, cheer good tackles and goals and overall add to the atmosphere. You can really tell when you are playing in a massive cauldron such as the San Siro when compared to a lower league division 2 team park match. Commentary is provided by many commentators this time around and whilst it has its problems, is generally good. They do make colourful commentary, but being told I am in South Africa when I am actually playing in England is puzzling to say the least. It seems the commentary from the World Cup game is still stuck there.
[img]3[/img]
FIFA 12 is an amazing game. Everything they added this year has improved the game ten fold and the Impact engine is one of the most important features added to the football genre in a long time. Along with the defensive changes, the game has changed for the better and whilst the learning curve is high and you won't smash the AI for at least a few days play, the time put into the game is rewarding.