Pro Evolution Soccer 2011 Xbox 360 Review
Having been relegated to the second tier, can Pro Evolution make it back to the Premier League?
Published Nov 7, 2010 3:08 AM CST
|
Updated Tue, Nov 3 2020 7:02 PM CST
3 minutes & 51 seconds read time
Pro Evolution Soccer has had a tough time of it lately. Once the darling football game of the media and gamers alike, the series since the new generation of consoles has not been that great. Pair that with the fact EA are going from strength to strength with FIFA and you have a combination that makes building a good Pro Evolution game all the more harder. However, there is no doubt with this game that the developers have listened to the fans and we may finally have the game we have wanted since the HD era began. There is no doubt that Pro Evolution Soccer is back in the big time and challenging for the title yet again.
This year the focus is on improving the game from the bottom up and right from the outset you can tell. With the dulcet tones of the epic introduction behind us, the game starts to show its true colours. On offer this year are of course the master league, league, exhibition matches and UEFA Champions League, however, work has been done around all of the modes and you will find something to like no matter your taste.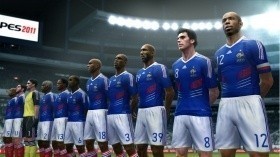 For those who are unfamiliar with the game, Master League is where most of your time is likely to be spent. It is a combination of playing and managing where you take a fledgling club with not so impressive players and over a number of seasons build the club into a premiership powerhouse, able to attract the best players in the world. Some may say this is tougher than the real thing, with the cheque book being kept tightly in the chairmans pocket rather than available to you as the manager. Master League hasn't changed all that much, but really it didn't have to. It was always the almost perfect blend of playing and managing and nothing has changed here.
Aside from the Master League you can choose to take a team through a number of seasons or just play some friendly exhibition matches either offline or on Xbox Live. This is where some of the games limitations come to a head. The game still does not have the English Premier League, but does boast official licences from Spain, Italy, Netherlands amongst others and the official Copa Libratedores and UEFA Champions League and UEFA Cup competitions. The Copa and Champions League can be played in their own right outside the game, but are also integrated into the seasons of the teams which qualified this year. Any English team not in those competitions is not officially licenced, which means for the first time in a long time, Liverpool is no longer licenced. You can also still choose to play as one player on the pitch in any match.
[img]2[/img]
However, where the game matters, it absolutely shines. The smooth nature of the play is almost second to none in our opinion and you will constantly see new animations every so often when playing. The individual players react directly to where the ball is which allows for fluid animations and more realistic gameplay.
FIFA to us has never felt the most realistic when it came to ball control and movement and Pro Evolution Soccer 2011 has just reinforced this fact for us. As you play the game the players move like in the real world and strength and size of players also becomes a factor. This really is one of the best football games we have played in quite some time.
Another major change is the introduction of the power bar. Each player has this and as you press the button it builds up. The longer you press, the more power the player will kick the ball with and this allows you to build fast breaks and tear the defence up easier. It also gives you a level of control with the ball not seen before in the Pro Evolution Series and when you make a mistake or see a pass go the wrong way, you know exactly why and what caused it, allowing you to adjust next time around.
The game also still includes its customary editor which allows you to enter your own teams and names if you so desire. It does lack this year in comparison to EA's effort as EA gives you the comfort of being able to do this via a website, but it still remains very comprehensive with you able to select the boots and strip as well as names and commentary names for editing. This has always been a strong side of Pro Evolution Soccer and nothing really has changed.
[img]3[/img]
It does let itself down a little bit in the graphics department, however, we do see improvements on last year. It is easy to pick star players from just looking at their on screen characters and each player seems to react differently to different situations depending on skill levels. This is a game where it appears even just five or ten points of skill difference in a category is enough to significantly affect that players ability. Where the game lets itself down is it feels sometimes a bit cartoonish. Whether this annoys you or not will be a personal preference.
When Konami announced for what it seems the umpteenth time a revamp of the Pro Evolution Soccer series, we were naturally sceptical. After all, we had fallen for this all before over the past two years and were disappointed both times. However, this time Konami and Seabass has done a brilliant job and lived up to the hype. FIFA may still hold the crown this year, but just like Manchester City, Pro Evolution Soccer is knocking on the door to win the silverware yet again. We can't recommend this one enough to football fans.
PRICING: You can find products similar to this one for sale below.

United States: Find other tech and computer products like this over at Amazon.com

United Kingdom: Find other tech and computer products like this over at Amazon.co.uk

Australia: Find other tech and computer products like this over at Amazon.com.au

Canada: Find other tech and computer products like this over at Amazon.ca

Deutschland: Finde andere Technik- und Computerprodukte wie dieses auf Amazon.de