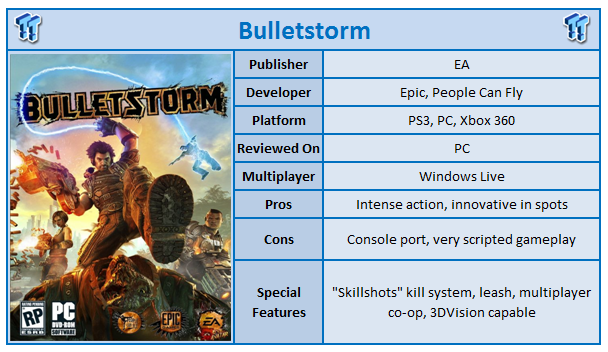 Epic Games and shooters go together like few other combinations in the gaming industry. Even when Epic aren't releasing shooting games directly themselves, their Unreal Engine technology is delivering the framework necessary to create usually very good shooting games for other developers and publishers to slap their logo on.
In the case of Bulletstorm, which is one such Unreal Engine game, the development has been kept in house via the Epic owned studio 'People Can Fly'. Despite the fact we've already seen and played similarly styled and marketed games in this engine in recent times, and despite the fact Bulletstorm could be seen as "just another shooter", there is plenty to like here and a surprising amount of new angles on offer for what is easily one of the gaming industry's hardest genres to innovate effectively.
It is often said first impressions last and it has been my experience that this is usually true in the videogame world. Bulletstorm is somewhat of an exception, however. My first impression of this game was that of a Gears of War clone (despite being 1st person) which was going to offer the same old action with more or less the same style guns and other weapons. The fact that Epic obviously had a hand in GoW too didn't help ease this initial concern.
And in some ways I wasn't wrong - Bulletstorm doesn't have a storyline or a character set beyond what we've all seen and played as before. The main player controlled character, Grayson Hunt, is a typically uniquely named and brash sort of fellow we've been controlling since the days of Duke Nukem. Even his coarse language and adult references, which can make Duke sound like a saint, aren't overly fresh these days.
Bulletstorm is also about as "on rails" as a shooter videogame can get, both from a level design and a storyline perspective. The events in the storyline are heavily scripted, and the options you have regarding paths to follow and decisions to make basically match that of a movie; you are an actor with a script when it comes to the Bulletstorm's story progression from event A to event B, and one with no room to ad-lib in executing it either.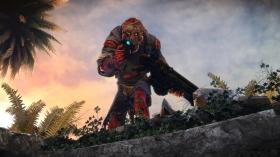 And if you really analyze the game deeply enough, you'll have little trouble stumbling upon the shoddy and mostly ineffective AI of your teammates during combat, and the often suspiciously good accuracy and foresight of your enemies, who have a keen sense for where exactly your head is going to pop up, and when. Enemies in Bulletstorm basically exists to pop up into play, get your attention by hurting you, and then die, vacating their burden on the engine's polygon count for the next sucker to occupy. And the guns? Well, they're not bad, but they're mostly the usual assortment we've come to expect in games like these - assault rifle, shotgun, handgun, etc.
But despite what seems to be a fatally lengthy checklist of shooting game no-no's, Bulletstorm still manages to impress. These shortcomings are almost charming in a sense - it becomes very clear after these iffy first impressions than Bulletstorm is all about the action, not necessarily attention to detail, and it is this action that Bulletstorm does very well. The action is so thick, it regularly draws you into a state of heart pounding intensity that has no concern for such petty things as intelligent dialogue.
As is the trend with shooting games these days, Bulletstorm makes its mark by expanding on the shooting fundamentals (which the Unreal Engine does so well) with a few key unique features/gimmicks, the first of which is the electric "leash" capabilities that Grayson acquires early in the single player campaign mode. This leash weapon allows you to grab enemies and launch them into the air, and hence into anything occupying said air, like deadly overgrown cacti on the alien planet you crash land on for example, or conveniently located exposed electrical wiring. You can also modify some environmental elements key to progressing the storyline with your leash, although these moments are scripted into the storyline and not exactly spontaneous.
[img]2[/img]
The next gimmick is Grayson's insanely effective boot, which you can launch at enemies like a canon ball, kicking and sliding all but the biggest of the boss baddies on their ass. Kind of like the chainsaw gun in GoW, Grayson's kicking and sliding abilities are ideal in close range to establish some room between you and the baddies, but it's more than just that - both the leash and the boot-based abilities you posses form key players in Bulletstorm's combo killing system, dubbed "skillshots".
A skillshot is basically a signature kill in Bulletstorm, often combining the leash, your foot, and a specific gun (not necessarily in that order, or necessarily all inclusive), as well as other environmental and enemy specific factors. For example, one skillshot is to shoot an enemy dead who is currently on fire. Another is to kick or leash an enemy off a cliff or ledge. Another still is to kick an enemy into the sky and shoot him dead before landing. The amount of skillshots vary wildly in difficulty and there are plenty on offer - over 100 in fact, some of which are quite obscure and hard to repeat outside of dumb luck. Bulletstorm may not be the first action intense shooter out there, but the skillshots system is a legitimately well thought out and implemented idea that goes a long way in achieving the action shooter holy grail; repetitive action that is still somehow fresh hours later.
Skillshots aren't just for your primal barbaric satisfaction however, even if they do fulfil it. Skillshots form the basis of Bulletstorm's in-game point system which is almost a throwback to the Time Crisis days of arcade shooters and arbitrary scoring. The beauty though is that this point system isn't totally detached from Bulletstorm's storyline - the characters, or at least Grayson, is aware of the score. The way the game bridges the gap between a point system and "reality" is via the leash, or more specifically what the leash represents.
Upon picking up the leash, which belongs to a fallen member of an elite combat force, Grayson interfaces with a system which was built to analyze and judge said elite combat force members in the field, which (you guessed it!) is done via awarding and tallying points achieved in combat.
In general, the more difficult the skillshot, the more points you get, and these points are spent on ammo and unlocking further capabilities like secondary weapon shots at designated recharge stations throughout the game. And there you have it all wrapped up in a neat little package - a fun arcade style point system without compromising the storyline's grasp on reality (albeit a futuristic, alien and monster infested one). The balance is surprisingly well done.
Bulletstorm is really quite a unique shooting game in this sense, and as touched upon earlier, this was totally unexpected after the first few minutes of gameplay. The leash, your boot, the skillshots, the sheer dedication to creating intense shooting gameplay - Bulletstorm has a clear purpose in every line of its code, and that is to make you push forward on the edge of your seat and grin like a maniac.
[img]3[/img]
Bulletstorm is not quite perfect, though, and most of the disappointment for me comes from the fact Bulletstorm is a very obvious console port. Without getting into a large rant here, I understand developers are faced with challenges on the PC platform which is making easy ports more viable than putting a lot of energy into PC versions of their games, but some of the stuff we see in Bulletstorm PC such as being able to assign only 3 guns at a time (to 3 of a console's DPAD directions, the language of which remains in this PC version), not to mention console influenced menus inconsistently allowing you to progress via the space bar or a mouse click, or both, is a bit of a letdown. Bulletstorm PC would have benefited a lot by a very minimal level of PC specialization on the menus and control layout - is that really too much to ask?
It's not all gloomy for us PC gaming folk, though - at least Bulletstorm does have some pretty sharp graphics. We're not exactly talking ultra high end visuals here, but the game does have some very nice looking moments bar the occasional less-than-high res texture, and I was quite impressed with how well it performed on my modest i5 760/460GTX system on high settings.
Actually, I would say I was very impressed with the performance considering I spent the bulk of my time playing Bulletstorm using the 3DVision system from Nvidia, which the engine supports natively, and which didn't seem to have a very large impact on the framerates. This was my first real experience using the 3DVision system and while it did take a few minutes at first for my eyes to adjust to the sensation, I can honestly say after playing Bulletstorm in 3D, not only did it seem to bring out an extra bit of intensity in an already highly intense game, but I struggled to feel as enthused about the game when going back to normal vision from time to time. My only complaint here was UI elements during the game like the subtitles could occasionally be hard to focus on with so much action happening in the background in 3D, but it's just something you have to adjust to in time. If you have a 3DVision system to play with or want a reason to jump into building one, Bulletstorm is a good first game to throw at it.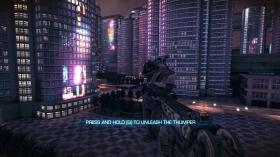 Online multiplayer is of course a standard these days for shooters and Bulletstorm comes to the party with its offering. Once again, I must admit to some stereotyping here as I was expecting a rushed mode included simply for the sake of including multiplayer on the feature list, but the mode stands on its own as a fun distraction ideal for quick "blow off some steam" sessions. Rather than try and mangle the leash and kicking gameplay into player vs player multiplayer, which I can't see working well, People Can Fly instead wisely opted for coop multiplayer where up to 4 gamers face waves of NPC enemies across various maps, pulling off skillshots unique to coop gameplay (the tug off war leash skillshot is particularly enjoyable). The fun action of single player is seamlessly extended to multiplayer coop here in what's called the "Anarchy mode", and despite the fact it too is heavily console influenced with its peer to peer minimum participation style, this doesn't get in the way of you having fun. There is also an offline mode called "Echo" that utilizes singleplayer mode scenarios except with scoreboards and rankings amongst other gamers online - again, another nice little extension to the single player to keep you busy for a while.
In many ways, in fact in perhaps a startling amount of ways, Bulletstorm not only breaks the rules of what I look for in a modern shooter built to go the distance attention span wise, but it does so on PC, a platform not exactly lacking in competing high end sophisticated shooters pushing the envelope of the genre. At times it can be crude, limited and predictable - and yes, this is a game run through ConvertToPc.exe from the Microsoft catalogue of Xbox SDK tools. But regardless of all this, there is an addictive center to Bulletstorm that comes at you with an unexpected force, and I can't help but feel there is always a place in all game collections for a fun and care free title like this. The presence of Unreal Engine's proven ability mixed with elements of reasonably innovative gameplay produces a quality and enjoyable game in Bulletstorm that I doubt will see many action shooter fans disappointed.