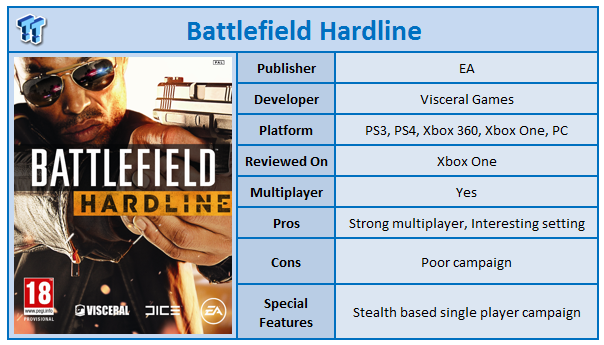 So, how does Visceral Games do with the new Battlefield?
Let's be honest, Battlefield 4 began life as a mess. The game's biggest feature, the destruction of buildings, was crashing servers left, right and center upon launch, and gamers felt cheated. EA had such a problem that they had to give away some of its DLC and promise to fix the game. Once BF4 was solid, it was a good game, but it always had left a sour taste in the mouth. Therefore, when EA announced that Battlefield was taking a break from the main style it was used to and moving to a urban combat model with Hardline, there were many skeptics. However, the pairing of Visceral Games to the Battlefield franchise may have turned out to be a masterstroke, because although the single player is disappointing, the multiplayer is a blast.
Battlefield has never really had memorable single player campaigns and Hardline is no different. In the initial sequences of the game, you play as a police officer on the beat trying to take down some drug barons only for your partner to frame you and put you in jail. From there it becomes a tale of revenge and reflection, never really reaching the heights it aims for. There are numerous things about the single player campaign that are surprising and it really seems like Visceral has tried to shake the game up.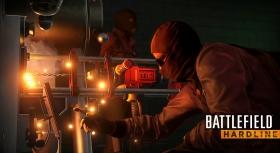 First of all, you can play the game as a stealth game. Instead of gunning down enemies, you can sneak up on them and arrest them. By doing this, you can actually make the game so easy it becomes a cake walk. However, once you set off one enemy, the game very much becomes the shootout that you expect from a Battlefield game, so if you want to just go in all guns blazing, that is possible as well.
Along with this, there are numerous areas where you don't shoot or attack enemies, and instead the main story plays out. For example, you might just be driving from one location to another with some story exposition playing out with the non-player characters. This is clearly Visceral trying to bring its storytelling talent to the series, but it just does not fit. Call of Duty and Battlefield have generally always been about big explosions and non-stop action, and the breakup of the action in Hardline just seems jarring. We admit that part of that awkwardness comes from the fact it's a Battlefield game, and if it was a different franchise, it may seem different, but as a Battlefield game, it just feels strange and too slow. The presentation of the story line is also different with each mission playing out as a TV episode.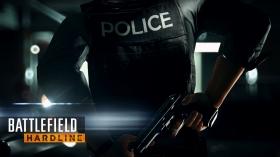 Once you move past the single player (which contains 10 missions and will take you about 6-7 hours to complete), you will find a much more familiar experience in multiplayer. The change to urban combat is a successful one with the combat generally playing out in closer quarters and the maps being constructed in such a way (aside from the large ones) that you are never far from the action. For those who prefer the 64 player matches, Conquest Large makes a return and plays out just as well as it does in the more traditional battlefields.
However, getting away from that, Visceral has really considered how they could best use the cops versus robbers setting and come up with some interesting modes. One of the most interesting and fun to play is the Hot Wire mode. It plays a bit like Conquest, but instead of having points to capture, they are replaced by vehicles. The aim is to take the vehicle and drive them at high speed to deplete the other team's tickets. It's an interesting take on the concept that fits the vehicular world of Battlefield perfectly. Other modes include Blood Money where the aim is to steal gold and return it back to the base (for both the police and robbers side), Rescue which is a round based mode where the aim is to take out or protect the VIP depending on your side, and Heist where particular assets must be retrieved. Each one of these modes fits the urban combat style well.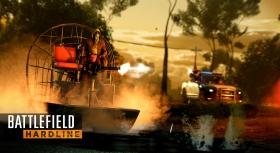 The game play in Hardline is frenetic. Assisting with this is the ability to start in a squad or in a vehicle, as opposed to specific points on each map. Downtime between lives is small and allows you to buy or re-allocate weaponry. To say that Hardline is clearly inspired by Counter-Strike is a understatement with players gaining money as they perform well and that money can be used to unlock weaponry. We enjoyed Hardline's multiplayer a lot more than Battlefield 4, because as previously stated, the urban environment leads to combat which is much closer in scope, and because the cops vs. robbers idea aesthetic really works.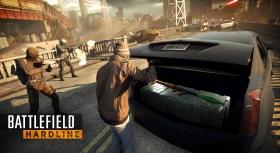 The maps also carry this feeling as well. Although there are some maps that will remind you more of Battlefield 4 (such as those which are based on the Everglades), most are set in an urban environment. Along with this, the destructive environments from BF4 make a return and it really is fun running around a multi-million dollar mansion in tight quarters blowing out walls trying to find the enemy players. As we said before, it is a frenetic experience and you really need to be concentrating to have even a chance of playing well.
Visually, on the Xbox One, the game is a mixed bag. There are some elements of the game that are impressive and the frame rate remains solid, but often in the single player campaign, we came across some textures that should have looked better. The game has a almost 'total conversion' feel to Battlefield 4 with some objects appearing far too blocky and a clear indication that it could look better on the system. This may be a result of the game being available on both generations of console. Sound effects and soundtrack are not memorable and especially on the robbers side, it's as if they tried too hard.
Battlefield Hardline is a tale of two stories. A single player game that whilst slightly impressive, feels like it should not be in a Battlefield game (we do have to applaud Visceral for trying something new), and a multiplayer game that seems an improvement on Battlefield 4. So, it comes down to this - if you are a seasoned campaign player of Battlefield looking for something new and impressive, you won't find it here and will likely be frustrated by its pacing, but if the multiplayer is more your shtick, this is one to pick up. Never has the difference between the campaign and multiplayer, in terms of quality, been so clear.
PRICING: You can find Battlefield Hardline for Xbox One for sale below. The prices listed are valid at the time of writing but can change at any time. Click the link to see the very latest pricing for the best deal.
United States: Battlefield Hardline for Xbox One retails for $56.08 at Amazon.
Canada: Battlefield Hardline for Xbox One retails for CDN$61.88 at Amazon Canada.