Battlefield 1 Closed Alpha Hands-On Preview
We get some hands-on time with the Battlefield 1 Closed Alpha and offer thoughts on the quality of the gameplay.
Published
4 minute read time
Introduction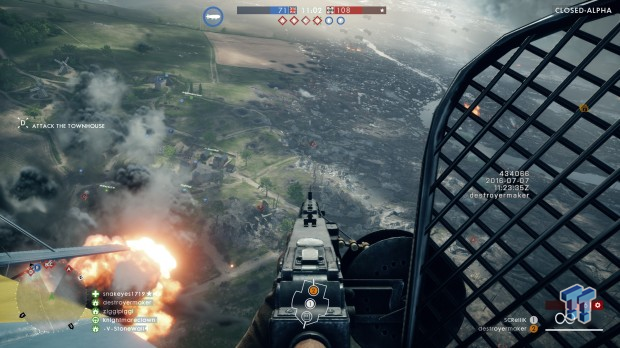 Battlefield 3 and 4 were serious gaming achievements in their own right, but as I've lamented before, the engine powering them was more impressive than the gameplay much of the time. Battlefield 1 and its World War I setting can serve as a reset button of sorts for Swedish developer DICE, helping them to get the magic back by starting with a fresh setting and feel.
A closed alpha released for the game recently, so I took some time with it to see how it's shaping up. While it's definitely rough around the edges (as you'd expect), it shows serious promise. Read on for my impressions so far.
Guns, Classes, & Tanks
As anticipated and hoped for, the older setting brings with it fewer primary weapons: 32 compared to Battlefield 4's 65 at launch. This is partly because guns are now very much tied to classes. No more shotguns and DMRs for everybody: now shotguns are Assault exclusive while semi-auto rifles (equivalent to BF4's DMRs) are Medic exclusive (note Assault can also equip SMGs).
And while no doubt the game will become somewhat cluttered with DLC weapons, the new presets (which generally speaking feature long range vs. short range setups), and the likely lack of accessories (not visible in the alpha) means it shouldn't be as bad as before.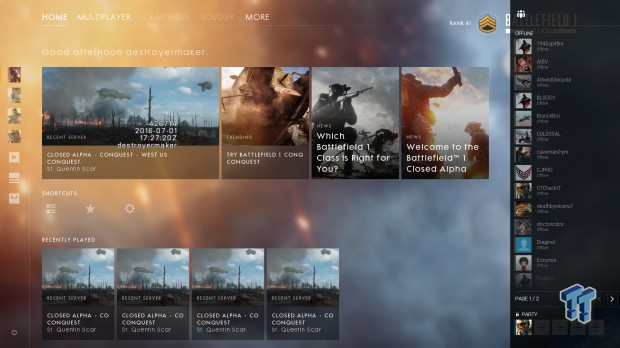 The more distinctive roles of the weapons and classes extend to range, too: SMGs are extremely inaccurate at a distance, where bolt actions and LMGs excel. However, the latter are inferior in CQB (bolt actions can't even one hit kill in CQB from a body shot anymore, which isn't realistic, but is an arguably wise balancing choice).
Bipods are now much, much more usable than before as they deploy readily by simply ADS near an appropriate surface like a window ledge or when prone, giving a significant boost to all classes except Assault. However, Support is currently suffering due to the lack of need for the ammo bag: players rarely run out of ammo, so ammo counts need to be reduced.
The Scout class (equivalent to Recon) benefits from more appropriate anti-vehicle measures in K Bullets, which can be shot at vehicles as standard bolt-action bullets are at infantry. However, they only really do serious damage to armored cars; the damage versus tanks is not worthwhile, especially with how lethal they are. I have seen one player take out a plane close up with K Bullets, but was not able to replicate it myself (possibly I wasn't close enough), but regardless, it's likely to happen rarely.
To make K Bullets more versatile, I suggest more damage to planes at range, and/or possibly make them do more to tanks (at least small ones) when hit in especially vulnerable spots, which doesn't seem to be the case at the moment.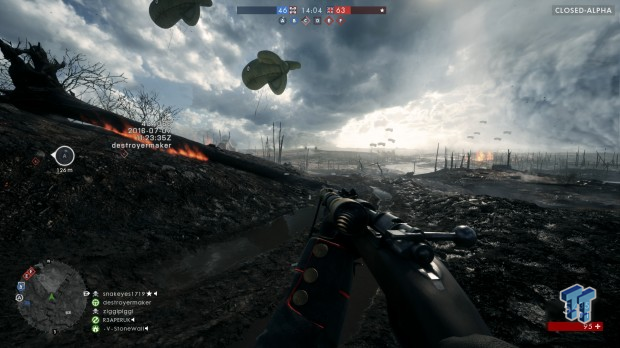 On a similar note, the scope glint for bolt-actions might be more intense than ever. Ideally, it would only show up when the sun is reflecting off the scope as in real life, but if this is a technical impossibility, it should be toned down slightly. On the bright side (or not so bright side, I suppose), fog hides it (and you). It also makes it harder to snipe, but a skilled player will benefit from it as much as or more than he will be hurt by it.
Speaking of stealth, firing no longer makes you automatically show up on the minimap, requiring players to pay much closer attention to the sounds around them. Now just the scout's flare gun and manual spotting will see enemies show up, and as of now at least, the flare gun offers just one use before ammo is required, so spotting is lower than it's been in years (this is a good thing).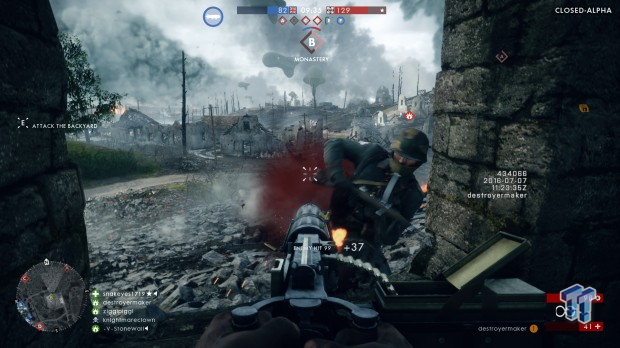 The gunplay itself feels like the best bits of Bad Company 2, Battlefield 3, and Battlefield 4 mixed together. This is to say the guns themselves feel more responsive and cutting than in recent games, whereas the movement and general smoothness (lacking in Bad Company 2) feels more like what you're used to in Battlefield 3 and 4.
Gas (from grenades or vehicles) and gas masks add a cool extra layer to gameplay, opening up new methods for clever players to defend objectives and lure enemies. For example, once an enemy holed up inside a windmill and began capping an objective. He then threw a gas grenade outside the windmill, at which point I put on my gas mask to pass through it unharmed and find him. Slightly disoriented and equipped with only a sniper rifle (which, along with all weapons, can only be hipfired while the mask is on), he ripped me apart with his SMG hipfire (unbeatable in CQB). I expect many opportunities for similar plays will be available across all the different maps in the final release.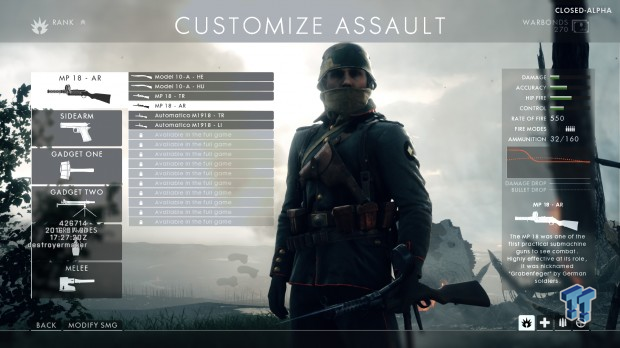 As for tanks, they can self-repair without requiring the player to exit the vehicle now, and they're a lot better at taking out Assaults (the only class that can deal with them) than Assaults are at taking them out (a bipod anti-vehicle weapon is required, leaving you vulnerable), so suffice it to say, they're kind of busted. Likely, a nerf to weapon accuracy, weapon damage, and/or the repair mechanic is required here.
Final Thoughts
Even after the excellent Battlefield 1 trailers, I reserved some skepticism for the game, mainly out of worry it was a reskin of Battlefield 4, much like Hardline was. But as many shooter fans know, watching footage of a game is one thing, and playing it is something very different. In this case, after playing it myself, I'm very comfortable stating it's definitely not a reskin. Although it is informed by Battlefield 3 and Battlefield 4, it feels like a legitimate new installment in every way, from the interface to the weapons to the setting to the gunplay to the mechanics and beyond.
As of now, performance and the new interface (which integrates and expands on Origin) need a lot of work, and to a lesser extent, balancing, but DICE has a great foundation here. Hopefully, three months is enough to polish those rough edges, and if not, DICE LA will be around again to fix it up (as it did for years after Battlefield 4's launch), but this time from the beginning.
PRICING: You can find products similar to this one for sale below.

United States: Find other tech and computer products like this over at Amazon.com

United Kingdom: Find other tech and computer products like this over at Amazon.co.uk

Australia: Find other tech and computer products like this over at Amazon.com.au

Canada: Find other tech and computer products like this over at Amazon.ca

Deutschland: Finde andere Technik- und Computerprodukte wie dieses auf Amazon.de
We openly invite the companies who provide us with review samples / who are mentioned or discussed to express their opinion. If any company representative wishes to respond, we will publish the response here. Please contact us if you wish to respond.