Bethesda please stop breaking your games to make more money
Bethesda's new monetization focus has damaged core IPs, namely Fallout.

Published Nov 28, 2018 10:00 AM CST
|
Updated Tue, Nov 3 2020 6:57 PM CST
8 minute read time
Introduction
I'd like to preface this article by saying I enjoy Bethesda games and all of this comes from a place of love and concern. I genuinely want to see Bethesda grow, but its current strategies are ruining some of the best things about its games.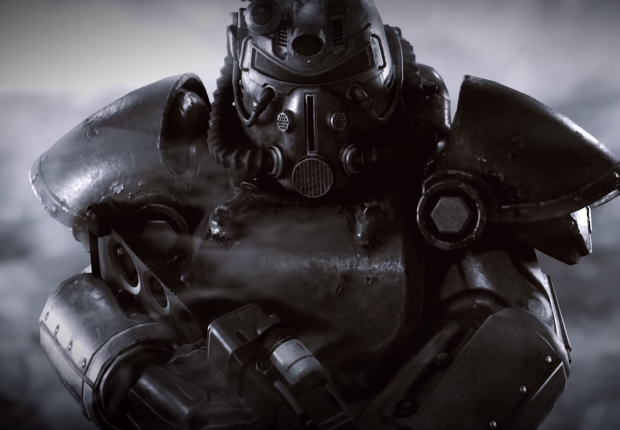 Over the last few years, Bethesda has started a trend where it damages some of the best things about its games in an effort to make more money. We've seen this with Fallout 4's and Skyrim: Special Edition's Creation Club implementation on PC, and more recently with the rather messy online-only Fallout 76. The company seems hellbent on trying risky, experimental money-making schemes that end up compromising its core fanbase in the process. In short, Bethesda's moves feel like cash-grabs rather than well thought out and executed plans, and it's harming its brand, its IPs, and the community.
First we'll start with Fallout 4 and the disaster that is Creation Club. To me, Fallout 4 on PC is one of the best games I've played simply because of its mod support. Mods essentially make you into a god of sorts: using other player-created content, you can morph your experience as you see fit and play the game you want to play. Mods massively (have and do) extend the life of any Bethesda game, adding hundreds of hours of extra playtime to the experience, and genuinely bring a community together. But there's just one problem with mods: Bethesda doesn't make any long-term revenue from them outside of sales.
Creation Club and How it Damaged the Modding Community
Creation Club
If you think about it, mods are a community-driven form of engagement that comes from the inside-out rather than outside-in: players within the community make content that's then used and shared by others. Bethesda made the tools, sure, but they're not directly responsible for the new content. Therefore there's no real way to monetize it. And publishers absolutely love monetizing engagement (it's the industry's latest billion-dollar fad).
This led to the Creation Club, an old throwback to the terrible PR nightmare of Skyrim's paid mods. Now Bethesda wanted a cut of the pie, and aimed to standardize mod development and sale in a newly formed storefront. Bethesda now sells mods for both Skyrim Special Edition and Fallout 4.
Creation Club's core tenants sound admirable enough, though, and I actually defended it, saying it had potential to be something great. The store would essentially fund development of mods by giving mod-makers income to make said mods, and then give creators a cut of the revenues from each sale. But how it was implemented made all the difference.
First, Creation Club had a terrible selection at launch and sold mods that were available for free. The prices were also absurd.
This store is completely optional, and Bethesda said it wouldn't compromise free mods.
But it did, and it did so many times.
Read more: Gamers protest Bethesda's Creation Club
With its Creation Club updates, Bethesda broke many script extenders needed to run some of the best Fallout 4 and Skyrim: Special Edition mods (FOSE and SKSE), thereby breaking many mods in general. Anyone who uses mods will tell you it can be a nightmare at times. Mods need to be updated to ensure compatibility not only with each other, but their respective extenders and parents, and every new update seemed to break something else.
This happened many times and ultimately forced mod-makers to adapt and try to stay ahead of the curve, and gave Bethesda a nefarious bent: the publisher who used to wish goodwill upon modders was now seen as a maddeningly confused overseer unwittingly messing everything up because it wants to make more money. It felt like Bethesda was intentionally breaking its own games to push people towards buying things they had once enjoyed for free.
And this sentiment hasn't changed. If anything it's gotten worse.
Fallout 76 - The Quest for More Money
Fallout 76: The Quest for More Money
At TweakTown, I often talk about live service games and how they work. These games, which are often full-priced $60 titles with free-to-play style business models, use microtransactions to pay for sustained online content rollouts.
Every big publisher is embracing a live game, and Ubisoft is even infusing service elements into its singleplayer only games (Assassin's Creeds Odyssey and Origins are both monetized). Creation Club is Bethesda's own way of hybridizing SP and MP monetization. Some publishers do it better than others. Some like EA, Take-Two Interactive, and Activision, use lootboxes to generate billions every year. Others like Square Enix use recurring subscriptions for MMOs like Final Fantasy 14. And others simply tap cosmetic-style monetization to ensure long-term revenues.
But everyone's doing it because it makes money and offers long-term potential to engage a core fanbase and keep an IP alive over lengthy periods.
Fallout 76 is Bethesda's attempt to fold Fallout into that model. ZeniMax Online already folded Bethesda's medieval fantasy series into the mix with Elder Scrolls Online, which is monetized accordingly and seems to being doing well. ESO is watered down, sure, but maintains a community of core players who are properly engaged with new expansions and content.
But Fallout 76 is one of the biggest examples of Bethesda harming its own franchises to make more cash. ZeniMax's blueprint for ESO was massively compromised with strange gameplay and feature decisions from Bethesda, and the game ultimately feels like a cheap cash grab aimed at maximizing a niche form of player engagement (weird soulless environments with PVE/PVP action).
The real reason Fallout 76 does so much harm to the series is simply due to its lack of Fallout content. It looks like a Fallout game, and to a certain extent plays like a Fallout game, but it doesn't feel like a Fallout game.
The things that make BGS' Fallout games so great (at least for me) are often missing or hugely compromised. Freedoms are massively constrained and players are at the whims of a company who doesn't really seem to understand service games, and one that put design decisions ahead of fun.
Bethesda doesn't seem to understand that to properly engage a playerbase, the game must first be fun and incorporate things the IP is best known for, and that typically leads to monetization.
Read more: Why Fallout 76 may never be the game it should be
Fallout 76 is monetized with cosmetic-driven microtransactions. Players can buy a currency called Atoms to spend on various items and goods in the Atomic Shop, a storefront that resembles the Creation Club. Atoms can also be earned in-game, but buying them outright nets you more bang for your buck (and this is by design).
Implemented monetization this early was a mistake and strongly indicates Bethesda's motivations here. Since so much is missing, the game needs about 2-3 months of feedback-driven tweaks, fixes, additions, and other content drops before its monetization potential should even be contemplated. But microtransactions were thrown in right away.
The strange thing about this move is that it's not really conducive to the experience. A lot of monetization is driven by loot (hence why lootboxes are so popular), but Fallout 76 doesn't really give you a productive reason to buy anything from the Atomic Shop.
Why buy anything in the Atomic Shop when you find outfits and other stuff scattered throughout the world? It's simple: because you like the game and want to support the devs. But not a lot of people actually enjoy the game, it seems, so this logic is hampered. Bethesda needed to ensure the game is fun first before it actually tried to make microtransaction cash from it.
Furthermore, Bethesda seems to have chosen cosmetic mTX to avoid massive controversy and pushback. But the game suffered from both of these anyway because of the bugs, glitches, online issues, and huge swaths of boring, non-engaging content. So Bethesda made one of the most important live game decisions--a decision that will ultimately determine if the game lives or dies--based on possible controversial outcome, yet shipped an experience that's stripped of core Fallout tenants.
It's dizzyingly confusing.
Fallout 76 is just one of frustrating management, and it genuinely feels like freedoms are stripped little by little and Bethesda is trying to artificially elongate playtime because it equates long playtime with monetization potential. And to some extent that's true: the more people play online, the greater chance they'll buy something in-game.
Fallout 3, New Vegas, and 4 all gave me a sense of control over my experience. I had control over the environments to a certain extent thanks to VATS and pausing via Pip-Boy, allowing tactical gaming. But Fallout 76 is a live game, so everything is real-time, and I feel like I'm thrown into a world that I'm not at the center at, that I don't feel important enough to have control. That's a big problem for me simply because Bethesda isn't a very good driver and seems keen on speeding down a ruined highway.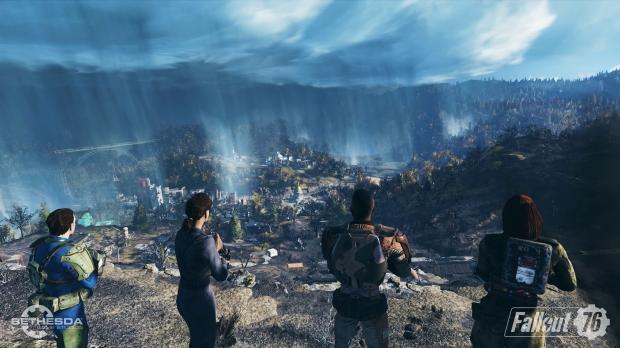 Ultimately there's just too much missing from Fallout 76 and it hurts the IP, the experience, and the playerbase.
Everything's been watered down, casualized, and made pedestrian in an attempt to mass-produce assets over a live world. There's no real NPCs with quirky behaviors, only clunky awkward robots, and an occasional super mutant merchant. The quests feel rote and fetchy, like an MMOs side quests rather than a main storyline with branching paths. The world feels stale, dead, and is filled with so much loot that you'll spend most of your time being over-encumbered.
There's too much busywork that seems specifically aimed at engaging users. But that's a bad way to engage users outright; proper engagement must be sequenced in a way that intersperses fun, rewarding experiences with repeatable grind mechanics. And Fallout 76 doesn't seem very fun, just meticulous and toilsome.
There's no mods--and there probably won't be despite Bethesda's assurances--and if they even come at all, they'll be strange watered-down amalgamations of the mods we currently know and love. Everything will be changed and compromised and scaled to fit a live service game.
None of Fallout 76 was thought out properly in line with the series. Bethesda just made what they wanted to make and didn't seem to think about the repercussions insofar as brand damage. Based on the decisions I see in Fallout 76, I'd say the primary motivation was two-fold: experiment with an online Fallout, and to make money.
Since most of the things that make Fallout great are missing in Fallout 76, I'm leaning more towards the "let's try to make as much money as possible" motivation. Bethesda doesn't understand the live service model and will have to significantly overhaul Fallout 76 to make it what it should be...but I don't think that's really going to happen at this point.
Wrap-Up
Ultimately Bethesda isn't the first publisher/developer to do something like this, nor will it be the last (just look at Konami with Metal Gear Survive). The studio will learn lots of lessons from Fallout 76 and Creation Club, but I'm worried that these lessons may lead to muted growth rather than the hard-won growth of a company who recognizes, admits and then fixes its mistakes.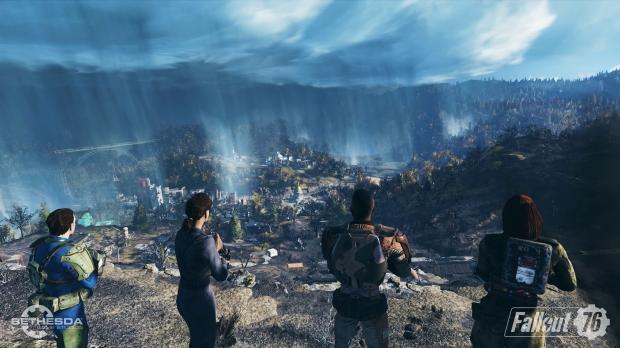 Bethesda--and other publishers--just have to accept that some IPs and franchises can't be monetized as a service game. Some games simply don't fit that model, and if you try to force it, you run the risk of alienating millions of fans, generating terrible PR for a product that you believe in, and ultimately losing out on untold monetization cashflow.
And if you do try to force a singleplayer-driven game into an online-only experience, be sure to incorporate all (or even most) of the things that made the series great. Oh, and stop trying to monetize mods. It doesn't work. Make quality, high-grade DLC and we'll buy it...but pushing a storefront that outright breaks our existing mods will just make us dislike you and simply play other games.
And playing other games signals the death to any service title.
PRICING: You can find products similar to this one for sale below.

United States: Find other tech and computer products like this over at Amazon.com

United Kingdom: Find other tech and computer products like this over at Amazon.co.uk

Australia: Find other tech and computer products like this over at Amazon.com.au

Canada: Find other tech and computer products like this over at Amazon.ca

Deutschland: Finde andere Technik- und Computerprodukte wie dieses auf Amazon.de
We openly invite the companies who provide us with review samples / who are mentioned or discussed to express their opinion. If any company representative wishes to respond, we will publish the response here. Please contact us if you wish to respond.