Carrion Review: Cronenberg Carnage
Team Phobia Studio creates one of the most memorable Metroidvanias of our era with their slithering, horrendous monstrosity.

Published
7 minute read time
TweakTown's Rating: 93%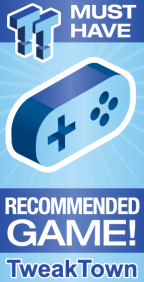 The Bottom Line
Carrion elevates the Metroidvania genre with a bizarre, horrifying style and innovative mechanics. It'd make John Carpenter proud.
Experiment X
Developer: Team Phobia Studio
Publisher: Devolver Digital
Release Date: July 23, 2020
Platform: PC (Reviewed via Steam), Xbox One (and Game Pass), Nintendo Switch
Price: $19.99
Genre: Horror, Puzzler, Platformer/Metroidvania
What it is: Awesome horror indie with a distinct brutal style, visceral and haunting combat, and striking visuals. It has strong puzzler, Metroidvania, and platformer elements tinged with authentic 1980s cult classic nostalgia. Requires strategy and critical thinking skills.
What it isn't: It's not a hardcore Metroidvania, nor is it an intense action game. It scratches a very particular itch. Carrion is foreboding, bizarre, and ultra-weird, and is kind of like playing an old-school 80s horror flick.
Playtime: 8-10 hours
Carrion is the kind of game that could only exist as an indie. It's a brutal, visceral, disgusting, and fundamentally enjoyable game that has all the trappings of a cult classic.
It's the kind of game that would make horror mavens like David Cronenberg and John Carpenter proud. The writhing mass of flesh, tentacles and horrid, misshapen mouths is something right out of a movie with special effects wizards like Bob Keen, Chris Walas, or Tom Savini.
Visuals-wise, the game is an ode to classic 1980s practical horror and stands as a reminder of the golden era of bloody mayhem before CGI took over. It's something H.P. Lovecraft would dream up in his demented slumber, a weird Cthulu-ian horror that stalks, squirms, and devours.
Mechanically, Carrion is unique.
It's not often you get to play as the monster in a video game. In Carrion, you're not some awesome super soldier or a heroic protagonist. You control a revolting pile of Lovecraftian horrors, an experiment gone wrong, and your sole objectives are to escape and to eat people's guts.
Team Phobia has layered in the best elements of a Metroidvania while keeping out the annoying aspects-there's no respawning enemies, for example, and the game doesn't make you run back to the beginning just to unlock a special door with a new power. But you do have to retrace your steps often and find your way around, all while using your new abilities to solve mini puzzles.
There's minimal story, at least when it comes to one that's spelled out for you. The game does a great job in environmental storytelling and mostly tells a kind of indirect story that unfolds through play instead of audio logs, cutscenes, or in-game books. You can piece together the basic premise with your own imagination.
Maybe the monster is an experiment gone wrong, or an interstellar terror from the stars, or as Team Phobia's Krzysztof Chomicki suggests, leftover spaghetti. Whatever it is, the biomass is kept in a facility and eventually breaks out, ripping people apart along the way. But ultimately, you decided the specifics with the monster's backstory.
As you play, you see through a kind of hive-mind prescience that lets you play as the humans who go in and try to clean things up. It has a kind of Jurassic Park vibe that's very interesting and provides a stark contrast to the monster's perspective. The game makes you root for the monster because you become personally attached to the rancorous masticator.
Chewing your way to the top: Fluid tentacle physics and becoming biomassive
What really sets Carrion apart is its smooth, fluid movement system and surprisingly tactical "mass-based class system."
The monster is an abominable biomass made up of tentacles, mouths, slimy bloody flesh, and sickening eldritch eyes that gets bigger by chowing down humans. The entire time you are slinging your tentacles around the map like some demonic Spider-Man, solving puzzles, and absolutely eviscerating every lifeform around you.
Wherever you go, you leave carnage, guts, pieces of people, and massacres. After you play a level, it looks like the set of Dead Alive.
Carrion's locomotion is extremely enjoyable and appealing. There's something attractive about the monster's momentum as it slithers and swings across the levels. The horrid abomination has a kind of liquid grace as it wiggles and slides across areas.
The monster will just effortlessly glide across levels in a horrifying display of sticky, slimy tentacles. You'll extend across gaps, slide through air vents, and squish into tight crevices-nothing is out of bounds. Team Phobia has done a tremendous job in making the biomass feel completely fresh and unique.
Another great part about Carrion is there's no map. It is a Metroidvania in spirit, but it does not hold your hand. There's no map screen or guide, only a weird growl mechanic that lets you find nearby biomass nests in an otherworldly form of echolocation.
The game forces you to pay attention but doesn't beat you up over it. The experience is entirely intuitive and has all the hallmarks of an experience anyone can pick up and play. Carrion's overall gameplay loop is as universal as its language of gore and 80s horror themes.
Read Also: Carrion Interview: Team Phobia talks 80s horror, PS4 ports, level design, Dark Souls influences, indie challenges, and more
Terrifying transforming tentacles: The innovative mass-based class system
Another super unique part of the game the so-called "mass-based class system", which lets you transform on-the-fly to solve certain puzzles.
The monster has multiple forms, and each form has its own ability. You can switch between forms in one of two ways: Shedding your flesh in a harrowing, pulsing blob for later consumption, or chewing on human flesh to get bigger.
Your HP gauge isn't just life, but a transformation meter that lets you know when you can switch to a new form.
The game teaches you early on that you must switch back and forth between forms in order to progress. But there's a catch: You can't shed biomass anywhere, only in designated pools. Detaching and re-attaching biomass is unsettling and bizarre, and I absolutely love it. It's like turning a tank of water into some blasphemous mad scientist experiment.
There are two forms in Carrion: A bigger form, which has more HP, and a smaller form, which has less HP but is much more versatile.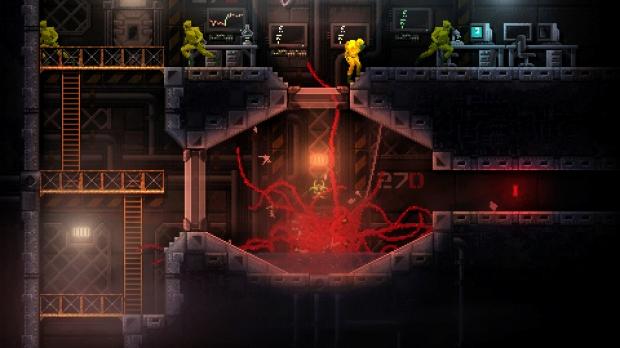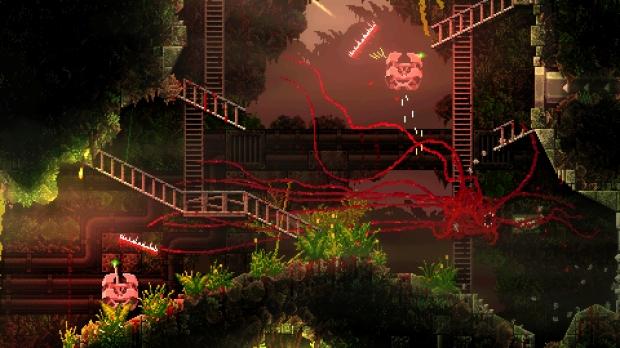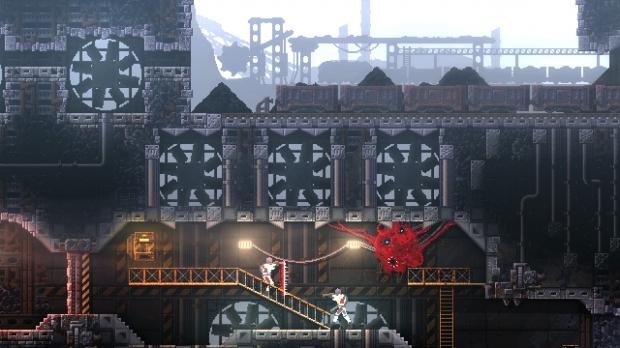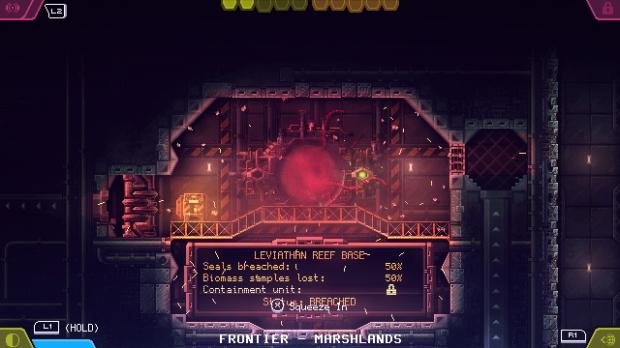 In Carrion, the bigger you are, the more you can smash. And like real life, the more meat you eat, the bigger you get.
A disgusting, screen-sized abyssal horror can wreck walls, beams, and other structures that the smaller form simply can't handle. Plus, you also take more damage as the giant tangled, gnarled mass of hellish gore.
But a smaller mass of tentacled flesh Certain can pull switches with a special ability. You are more vulnerable, but you can use another nifty invisibility ability and sneak through areas like a Cronenberg mutation of Metal Gear Solid's Snake.
Haunting environs: Engaging level design
The level design forces you to be more strategic with your forms and how you negotiate certain areas and makes you think outside the box. The result is a remarkably interesting platformer-puzzler dynamic that's not often seen in games today.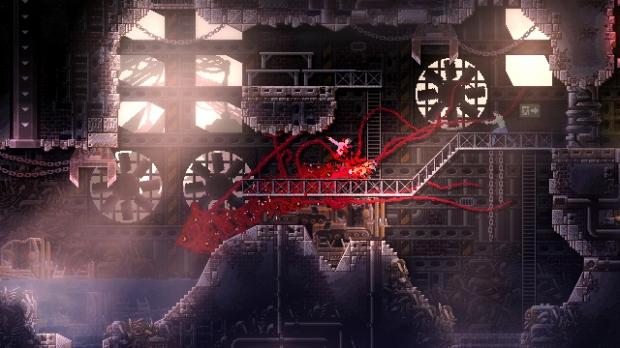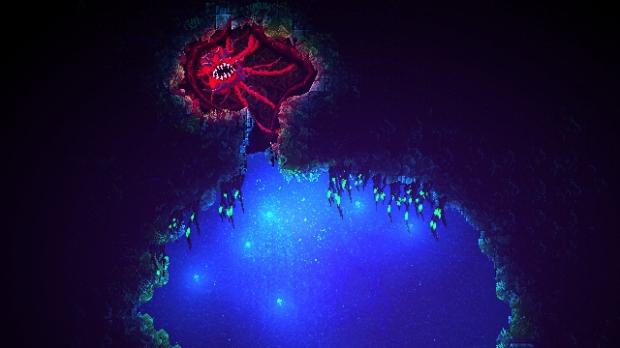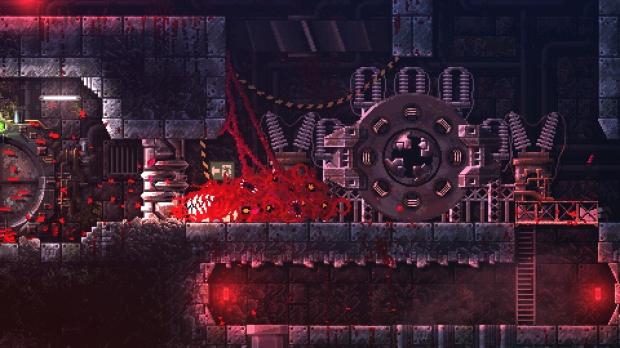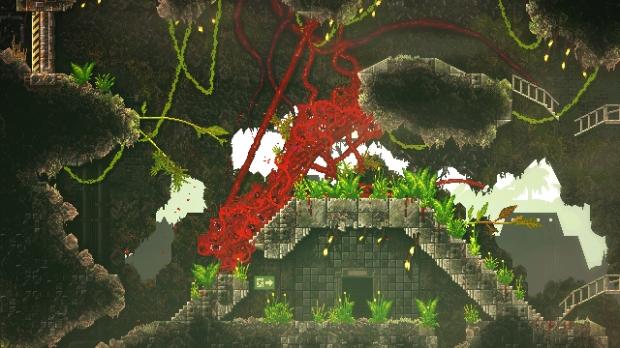 The levels get progressively harder and harder, and rightly so. The level design is a lot less linear and has you experimenting, searching, and gnawing your way out of situations. The visuals are always engaging and bring a sense of foreboding. You feel like a blob version of the xenomorph that stalks its prey in a facility that's slowly going to hell. And it's all because of you, a gnashing mass of mouths that's spreading corruption and death wherever you go.
Even still, enemies get tougher and frequently test your mettle and strategic ability. There are baddies with electric shields and flamethrowers that ignite you on fire, The Thing-style, forcing you to dive into water or keep burning. There are even little drones that fly around and blast you full of bullets and ED-209-style mechs that even out the playing field. The whole time you're pushed to try new things and learn intuitively without any real guides.
And mostly you can figure it out without any help.
Players are empowered for a good portion of the game, but the drones, flamethrower enemies, and mechs throw a wrench in the works. Suddenly you're not just a hunter, but prey, and have to strategically use the levels to your advantage. These areas are masterfully designed for the scenarios and have all sorts of creative ins and outs for you to utilize for defense and evasion.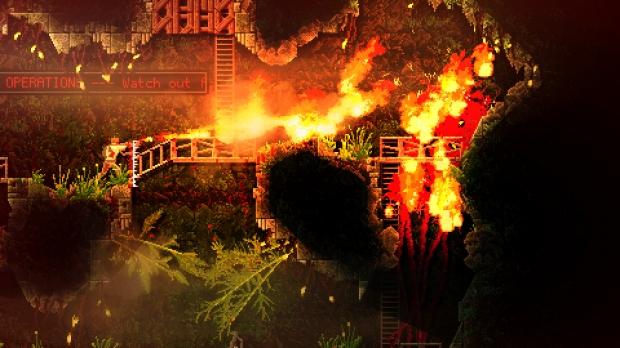 Things can get out of hand pretty fast if you're not careful. The physics and momentum system can work against you when you're flailing around trying to seek cover or water when you've been ignited. It's an interesting dynamic to instantly be transformed into prey and humbled by flamethrowers.
The puzzles are baked into the levels and incentivize proper sequencing. They're ultimately logic-based and require you to pay attention and utilize the different classes in a non-linear and always-changing way.
Players are constantly depositing their biomass and using various skills like invisibility, mind-control, the worm form, or the brutal smash attack to creatively solve puzzles and get through environments. The result is a refreshing puzzler with some immensely striking visuals that keep you entertained, engaged, and challenged throughout.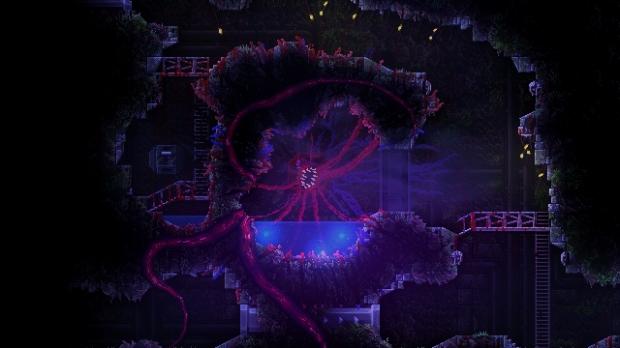 Saving and infecting the map
Another thing I love about Carrion is the save system.
As you play, you basically infect crevices and spread your disgusting, virulent essence and create a kind of hive nest. These are your save spots. But they can also refill your biomass to the specific amount when you unlocked the save point. So if you grabbed the save point with full HP in the huge form, you can return to the spot and grab your mass at any time and refill your health.
The result of all these systems--the movement, the level design, the mass-based class system-creates a compelling, challenging, and intuitive experience that you can just play right away. There's no need for grinding, no need for sinking in tons of time; it's an enjoyable game that was explicitly made for horror fans.
Conclusion: Macabre Metroidvania mastery
Carrion is one of the most original indies of 2020 and elevates the Metroidvania genre with its innovative mechanics. Team Phobia Studio has made something special here, something that speaks to every Cronenberg fan, every horror aficionado that loves classic disgust-o-thons like Society or The Fly.
The game is inherently fun and engaging on a seamless and universal level--it's something that anyone can pick up and play, but not everyone would like the ultra-violent people-eating, slithering tentacles, and meaty, bloody biomass. But for those of us who do, Carrion is a must-have indie.
What's Hot
+ Amazingly satisfying movement systems
+ Mass-based class system is extremely clever
+ Horrifying atmosphere with gripping audio and musical score from Chris Velasco
+ Requires tactical and strategic planning as well as quick-thinking adaptation
+ Awesome 1980s horror style
+ Tentacle monster is unlike anything we've seen so far
+ Perfect PC performance
What's Not
- Can get lost easily at times
Carrion buy links
PC System Tech Specs:
| | |
| --- | --- |
| PC Performance | 90% |
| Storyline | 95% |
| Game Mechanics | 100% |
| Visuals and Graphics | 85% |
| Overall | 93% |
The Bottom Line
Carrion elevates the Metroidvania genre with a bizarre, horrifying style and innovative mechanics. It'd make John Carpenter proud.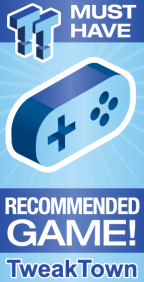 We openly invite the companies who provide us with review samples / who are mentioned or discussed to express their opinion. If any company representative wishes to respond, we will publish the response here. Please contact us if you wish to respond.