QuantaCool MHP Cooling Solution Tested at GTC 2015
Server and workstation cooling is taken to new levels with QuantaCool's MHP technology. Here's our look at it from GTC 2015.
Published Apr 14, 2015 9:13 PM CDT
|
Updated Tue, Nov 3 2020 6:59 PM CST
Introduction
QuantaCool's MHP (Microchannel Heat Pipe) Cooling Tech Demo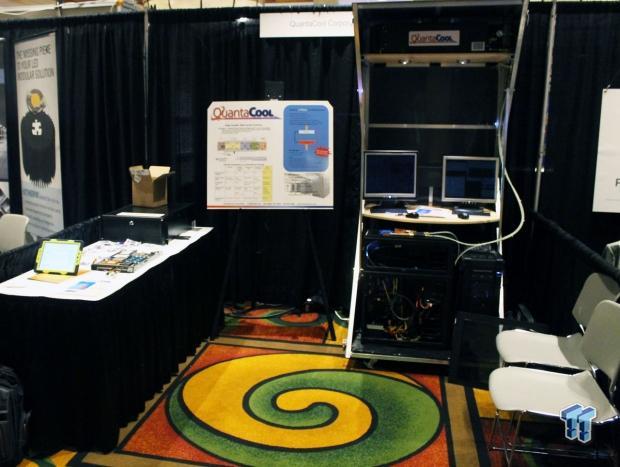 During NVIDIA GTC 2015, we had an opportunity to head over to SEMI-THERM 31 to see QuantaCool's MHP (Microchannel Heat Pipe) cooling technology demo they had setup. QuantaCool displayed several different types of setups at this event that you can see in the news release, QuantaCool displays its cooling systems at SEMI-THERM 31.
QuantaCool is a startup company which has developed a patented MHP (Microchannel Heat Pipe) technology that is used to passively transfer heat from a heat source to a cooling medium. As they summarize it, "Passive 2-phase cooling - no pumps, and no water". They have demonstrated these systems on workstations, servers and blade systems using this cooling method. Markets that QuantaCool targets include datacenters, HPC and enthusiasts, solar power, lasers, and even cooling and storage of spent nuclear fuel.
The unique features of QuantaCool's MHP technology is a patented improved heat pipe, featuring a microchannel or CPU heat block, an inert refrigerant so there is no danger of leaks shorting out any electronic components inside the server, and finally no pumps are used. Coolant circulation is driven by the heat being removed and uses gravity-return (works like a percolator) - it is completely passive, with no moving parts. Here we have Steven Schon, Chief Technology Officer from QuantaCool, showing a demonstration of how the cooling solution works: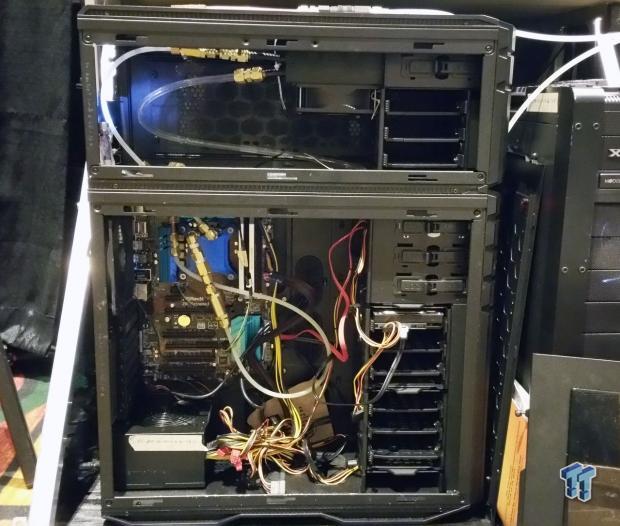 Here we see the workstation cooling setup that QuantaCool had on display. The demo that was running based on a workstation equipped with an Intel Core i7 4790K @ 4.6GHz, which had been running for the entire length of the show without any issues. We were told this system was running a 6-core 3970X for nine weeks before the show using AIDA64 Stress Test.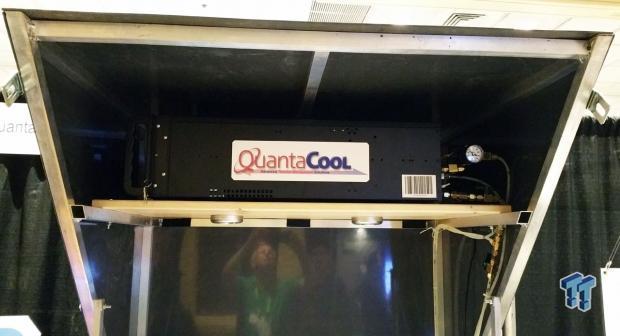 QuantaCool's MHP cooling system is gravity driven which makes it ideal for rackmounted servers. In this example, the condenser (radiator) would be mounted at the top of a server rack (or even on the roof) with the servers below connected through manifolds. The principle of a gravity driven cooling solution and the MHP technology means that a radiator placed higher than the computer would have a greater cooling effect. In this arrangement, a larger radiator can be installed to provide even greater cooling capacity. One radiator would handle the heat from multiple servers.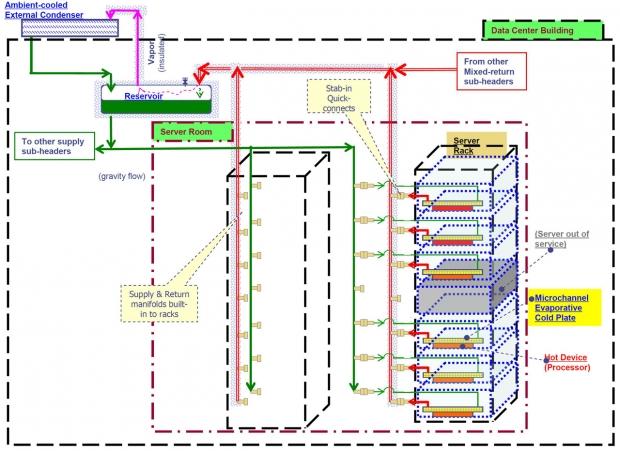 This diagram above shows how a rack full of servers might be setup to use this cooling system. The condenser or radiator can be placed in just about any location, even outside the building. The servers could connect to the manifolds by push-in dripless quick-connects build in to the server chassis and manifolds, requiring no plumbing skills or refrigerant technician certification to service the units.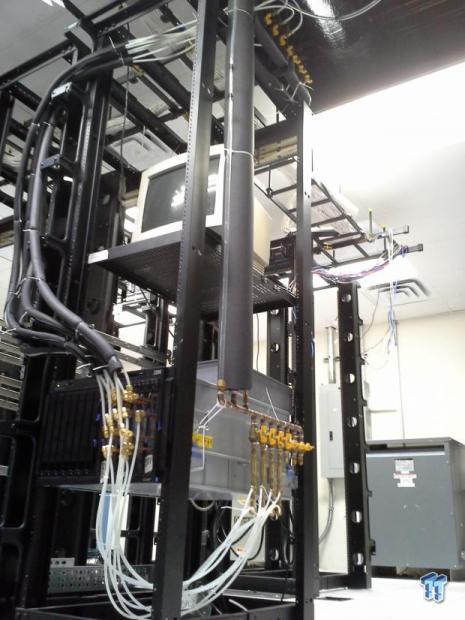 This picture above shows a blade setup that has been running stress tests for months now. All blades connect to a manifold and then to a common reservoir, and are finally routed to an air-cooled condenser mounted at the top of the rack. Note that this demonstration system was retrofitted to off-the-shelf blades, which is why they have the tubing connections and valves. In units specifically designed for MHP using on-board quick-connects and in-rack manifolds, the tubing is not needed.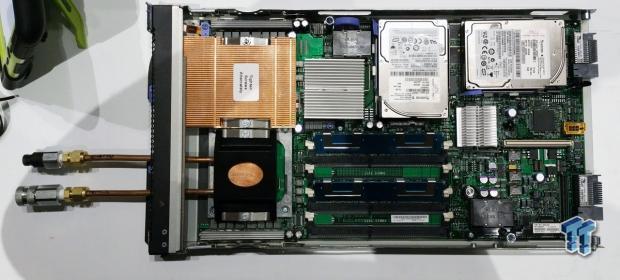 This is how a typical blade server might be setup to use QuantaCool's MHP system; the CPU heat sinks (Microchannel heat exchanger under the black cover with the oval cut-out, the OEM air cooler is the copper structure on the CPU above it) are very narrow allowing them to be installed in typical server blades. Copper or plastic tubing can be routed inside the server blade itself, depending on CPU locations, and with connections on the back of the chassis. Each blade can then be connected with quick disconnects to the rest of the system. This allows for easy removal of the server blade if upgrades or maintenance is required.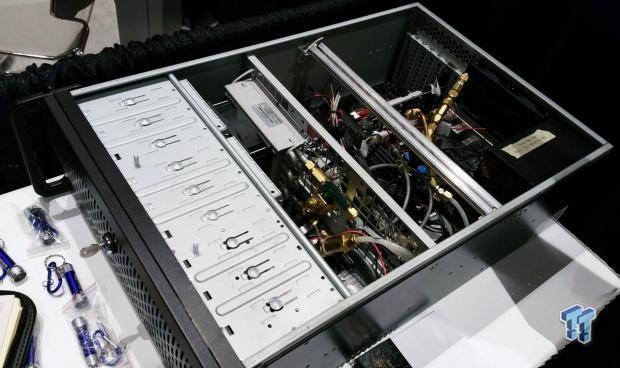 The last type of system that we saw was a fully self-contained system that fit inside a 4U server case. The drawback to this type of setup is that it requires a pump to keep the cooling fluid moving through the system. This does work very well also and is useful for applications that cannot house the radiator outside of the main system, such as co-located facilities.
Design
Design and Layout of the QuantaCool MHP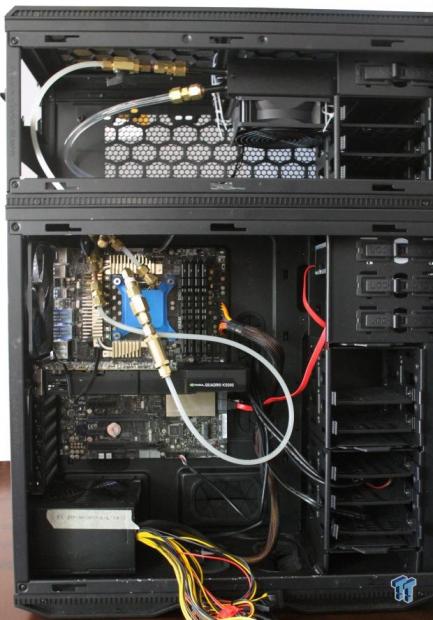 Here we see a picture of the demo unit from QuantaCool. This unit only included the case, power supply, and cooling solution. We installed our ASUS Z97-WS workstation motherboard and 4770K processor for our tests.
The case QuantaCool used for this is a Cooler Master HAF 935, which includes a Stacker 915 to house the radiator. This case works very well for this because the Stacker section can be moved to a higher position, if desired. Several different case styles like CaseLabs or Thermaltake Core series would be excellent choices as well. For this picture, we unplugged many power cables to get a cleaner view of the insides.
At the top of the case in the Stacker 915 compartment, we can see the radiator used in this setup. This is not a radiator that would be used in a water cooling setup, it is a HVAC type radiator. The size of this radiator is what we would call a single rad type; it fits a standard 120mm fan. The fan they used is a 125 CFM Delta which is powerful, you could also use two fans in a push pull configuration with lower CFM also. For our tests, this fan is plugged into the CPU fan header and controlled in the BIOS. We left the controls on auto for our tests. This allowed the fan to operate at a lower speed when idle to lower fan noise, it would spin up to full speed under loads.
We asked QuantaCool if using a larger radiator would have an effect on cooling, and we were told that in this type of setup the effect would be small. Moving the radiator to a higher location would have a bigger effect of cooling than going to a larger radiator. However, a larger radiator would allow the use of dual low-speed fans (to maintain total cooling airflow), which would make it much more quiet at full load.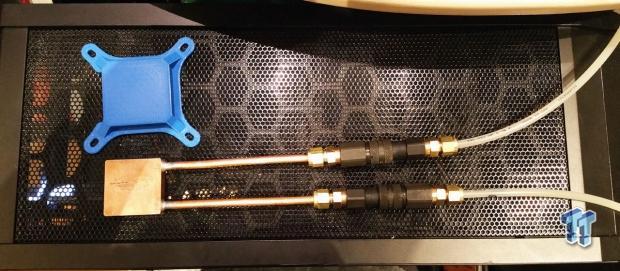 Here we can see the cooling block that is used. At this time, we had a hold down that was 3D printed to use for our setup. This works just fine for our testing purposes, however, a metal hold down would be stronger and allow a tighter fit to the CPU itself. QuantaCool told us that several cooling blocks can be installed in parallel from a common radiator, e.g. for dual-CPU set-ups, or to cool a GPU. They can design cooling blocks for almost any device geometry, and that the blocks can also be installed on the underside of a board.
The picture also shows the use of quick disconnects that can be used for this system; our demo unit did not have these. We also asked QuantaCool about the fittings used for the demo unit. It turns out that some of these fittings can be moved to the Stacker section to free up space in the main computer area. Much of what we see here in this demo unit is for concept demonstration purposes and do not reflect what an actual production cooler would look like. Let us move on to testing the QuantaCool MHP cooling unit.
Testing and Final Thoughts
Test System Setup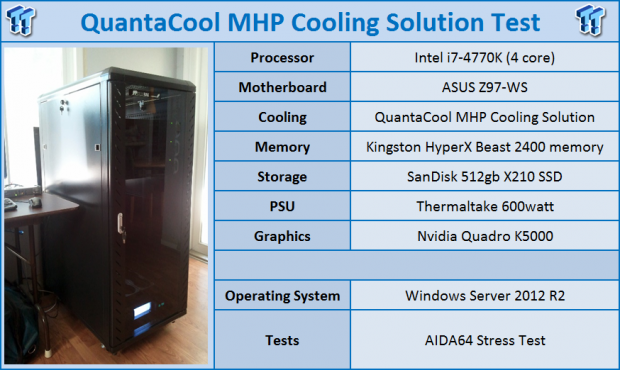 We would like to thank QuantaCool, ASUS, Kingston, SanDisk, NVIDIA, HWiNFO and AIDA64 for their support in providing parts for our test system.
For our tests we installed our ASUS Z97-WS Workstation Motherboard and 4770K processor. We found this motherboard to have excellent overclocking capabilities and in fact we have used this board and CPU for a workstation here in the lab with the same overclock for some time now and found it to be very reliable.
Processors that can be overclocked can come in many different types or SKU's, each one may have a slightly different ability to achieve certain overclocks. Some processors may run very hot and require more vcore to achieve the same overclock as other processors, while others may require much less vcore to achieve the same clocks. All processors are different and might require additional tuning to achieve desired overclocks. Pushing overclocks to high clock speeds can also cause instabilities. What we did for this CPU was attempt to achieve a moderate overclock that was stable and could be used for just about any application.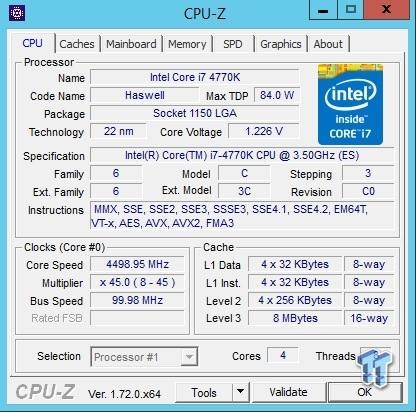 Here we see the CPUz screen shot of the 4770K and the overclock we will be using for our tests. Just to note on the overclock, we used the Z97 WS auto overclocking features in the BIOS to attain our base overclock; we did boost the multiplier up to 45, but most settings were left on auto. In the BIOS, vcore came out to 1.0V, and you can see what the auto features boosted it to with CPUz. We could have spent a great deal of time fine-tuning the overclock to get the maximum performance out of the CPU, but we have found that the ASUS Auto overclock features in the BIOS to work very well, even though it might be a tad higher in vcore.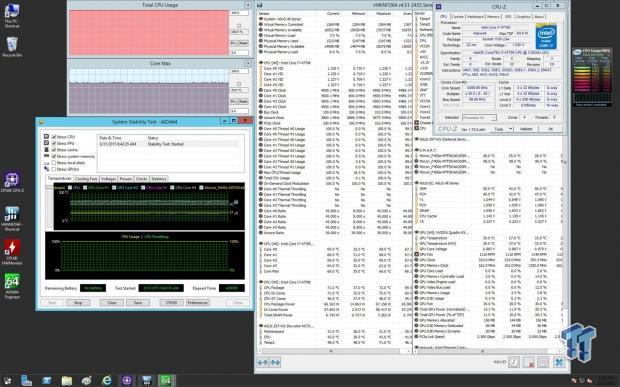 After everything was set up and we were happy with the overclock on the 4770K, we started AIDA64 Stress Test and ran the system for four hours. We had no issues while the system was running, our room was at 76F and here we can see the final screen shot of our tests. We also used HWiNFO to log our temperature results during our tests.
Temperatures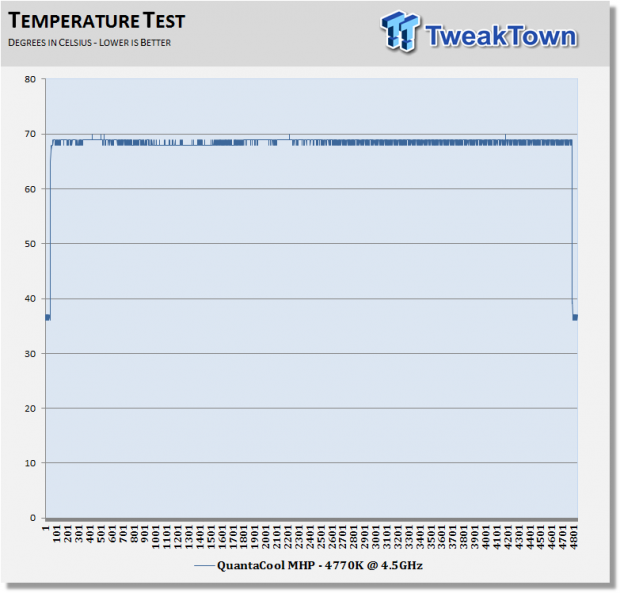 Here we see the results of our four hour stress test. The system idles at ~36C which is higher than we would like to see. Some of the AIO water cooling setups can run about 10c cooler at idle. We could run the radiator fan speeds at full speed which might have lowered these idle temps at the expense of added noise. In the working environment, we found our settings to be a good compromise and we noticed no ill effects of these temperatures.
When we pushed the system with AIDA64 Stress Test, we saw temps in the range of 68c to 69c, which is actually pretty good when you compare to AIO water cooling kits. Some of these kits use double and triple radiators and have a larger number of fans to help keep the system cool. The QuantaCool MHP system achieves this with a single radiator, one fan, no pump and just as importantly, no water, which is impressive.
Final Thoughts
Overall, we were impressed with the QuantaCool MHP cooling system; it offers many advantages for enterprise cooling. In hosted locations, using water-cooling is considered bad form and in some cases might generate extra costs in the form of insurance the hosting company might require you to pay to use a water-cooling solution. The thought of a water leak getting into the server racks next to yours can have disastrous consequences. With QuantaCool's MHP cooling, an inert refrigerant is used that protects the systems against short circuits if a leak happens, in addition, the refrigerant used simply turns to a gas state should this happen.
The heat exchanger or radiator can be placed in just about any location, even outside the server room itself. This offers unique opportunities for different forms of heat exchangers that could be used, larger and more powerful, perhaps even water based systems used for building heating. By eliminating the various intermediate heat transfer loops, and directly rejecting the heat to un-chilled air or water, a datacenter should be able to improve its power usage effectiveness (PUE) and simplify its mechanical systems, as illustrated in the graphic, below.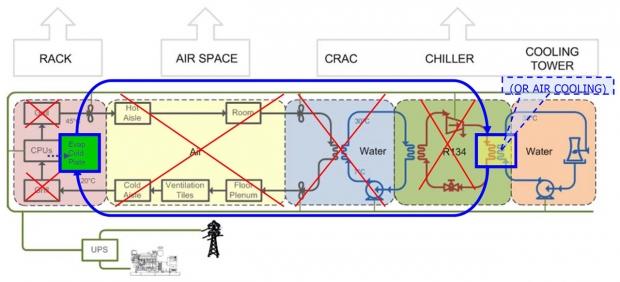 The systems QuantaCool offers at this time are in development stages that can be modified for many different types of systems. The MHP tech is flexible enough to meet the needs of a wide variety of systems, simple to use, low power and offers very good cooling capacity without putting water near the electronics. Units for workstations are factory sealed and require no maintenance. For enthusiast use, it does have some mod ability that might look very good in showcases; even a UV dye could be used with the refrigerant, and added UV lights would look very nice showing the liquid bubbling up through the tubes.
PRICING: You can find products similar to this one for sale below.

United States: Find other tech and computer products like this over at Amazon.com

United Kingdom: Find other tech and computer products like this over at Amazon.co.uk

Australia: Find other tech and computer products like this over at Amazon.com.au

Canada: Find other tech and computer products like this over at Amazon.ca

Deutschland: Finde andere Technik- und Computerprodukte wie dieses auf Amazon.de