DriveSavers Data Recovery Site Tour - Your Data, Recovered
We visit DriveSavers Data Recovery to take a close look at how they save data from data storage devices of all varieties. Let's take a close look now.
Published
8 minute read time
Introduction
One of the hardest concepts for anyone to accept is the fact that all drives fail. Every storage medium, including your phone, USB stick, HDD, SSD, or CD/DVD, will eventually fail. This is not a probability; it is a certainty. All data storage components have an expiration date, but unlike the milk in your refrigerator, you don't know when that date is.
The data storage industry has done their best to try to give us a guideline for when this failure will occur. Unfortunately, the best methods are still just fuzzy math. MTBF (Mean Time Between Failures) and AFR (Annual Failure Rate) measurements give us a generalized impression there is a looming failure, but even these can be misleading. An MTBF of 1.2 million hours does not guarantee the drive will function for 136 years of continuous operation. MTBF isn't an actual counter that can be relied upon to predict drive life. Some consider AFR, which is a probable percent of failures per year, as a more reliable statistic. In truth, even the manufacturers cannot agree which is the best measurement.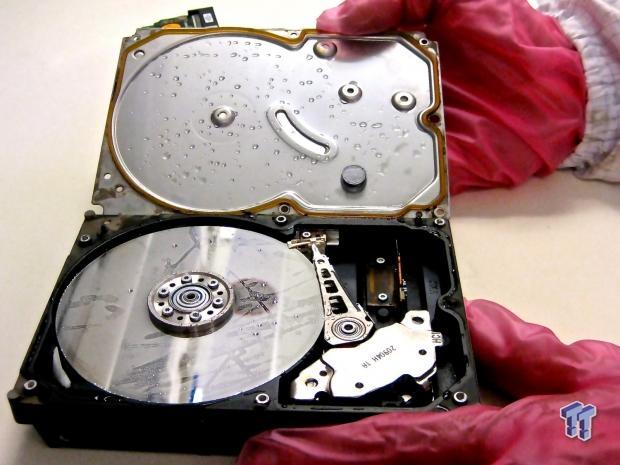 Regardless of the measurements, nothing can predict when a storage device will die, or when we will personally do something to speed the demise of our precious data. Dropping a cell phone in a bucket of paint doesn't mean the data is gone, just that our precious transport method is compromised.
The team at DriveSavers Data recovery can recover data from all types of data storage devices, from HDDs and CD/DVDs to NAND-based storage devices, such as phones, tablets, USB drives, and SSDs. The wide range of data recovery services also extends into RAID and other parity-based storage systems. SMB, SOHO, and datacenters also rely upon DriveSavers to recover lost data from SAN and NAS systems.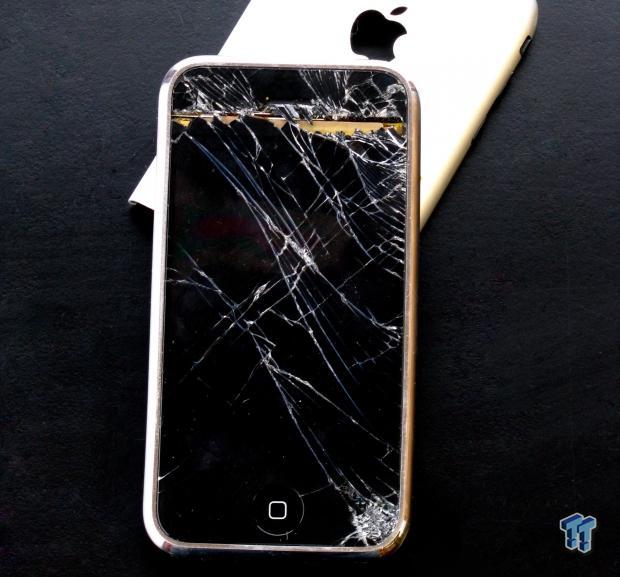 If you ask a data storage professional what is the safest device to store data on, their first response will likely be "several." The key to securing your data is multiple copies, on multiple devices, and preferably at multiple locations. Unfortunately, the majority of people do not take the time to follow a strict backup regimen in their daily lives, and this often comes back to haunt them. Even more surprising, many times the companies and corporations we trust with our data also fail to keep timely backups.
Consumers and companies alike have been turning to DriveSavers Data Recovery to save their data since 1985, and they truly have a unique story and a refreshing outlook on the human aspect of a very technical job. Let's start with what happens the moment someone loses data on a device, and follow the life of the device through the DriveSavers process.
First Contact and Drive Sourcing
First Contact
The first step on the path to data recovery begins with the initial contact with the DriveSavers team. There is a large staff of support professionals, with only a few shown here. Their job is to do a preliminary analysis of the situation, and advise the potential customer through any steps needed to begin the data recovery process. These representatives are trained to help those who have just experienced data loss.
The shock of losing data usually lends some hysteria to the initial contact. Dealing with customers who are in a frantic state, and usually with little technical knowledge, takes patience. The customer service team at DriveSavers is sensitive to the needs of the customers, and takes calls 24x7.
The initial contact is also important to minimize the amount of additional damage. The natural response to data loss is to attempt to recover the data. Often customers attempt to fix problems themselves and render the data unrecoverable. The key is to isolate the device and get it into the hands of the professionals; often the first chance at recovery is the only chance.
Customers are given shipping options to send the device to DriveSavers. Upon receipt of the device, DriveSavers evaluates the device to determine if the data is recoverable. Cost is determined by the amount of data to be recovered, and how fast the customer requires their data back. DriveSavers also has a "Zero Data, Zero Dollars" policy. If they cannot recover the data, they do not charge for their services.
Drive Sourcing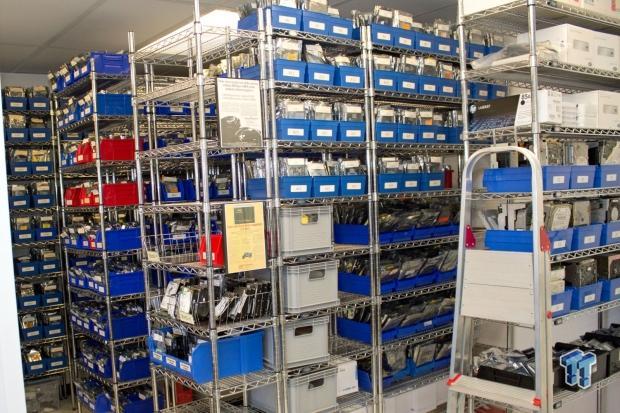 A key part of the DriveSavers process begins in the purchasing department. Here they source the requisite components to repair drives, and drives are purchased with the specific intention of using them for parts. Purchasing 'donor drives' in advance keeps turnaround time to a minimum. A large inventory of donor drives is critical, and we can see that these often include older drives well beyond the manufacturer warranty.
The racks of older equipment illustrate the scale of the challenge. There are a number of huge 5.25-inch HDDs and an assortment of more common 3.5-inch and 2.5-inch drives. The interesting advertisements on the walls also illustrate the complexity of the issue. One old advertisement touts 300 Mbytes of data for a reasonable price under $20,000. Older equipment is still in use in production environments and in home computers, so finding these hard-to-source components is critical. Addressing a 25-year history of storage devices requires a skilled purchasing department.
DriveSavers not only addresses a long history of storage devices, but they have to stay on the cutting edge. New unreleased storage devices are already in their labs for testing. This allows them to prepare for the eventual failure of new devices.
Security and Diagnosis
Security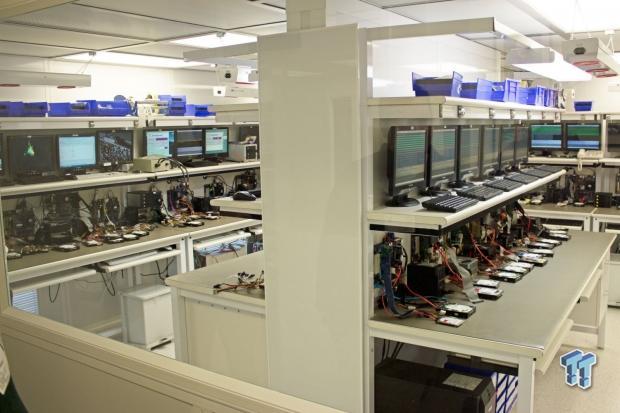 One of our immediate observations was the heavy emphasis on security. The doors have keypads, and there were secure areas we were not allowed into. DriveSavers takes security seriously, and rightly so. DriveSavers is certified to work on data recovery projects from the US government, and the high level of security is passed on to all of their customers. Employees undergo annual background inspections.
The areas we were allowed into had to be sanitized prior to our arrival. This entailed the removal of all customer data and any identifying labels and/or stickers. Forensic data recovery and eDiscovery sections were off-limits during the tour. These services are a thriving, and growing, area of DriveSavers. DriveSavers routinely has technicians testify in court as expert witnesses, and recovery of data for various law enforcement agencies is routine.
Diagnosis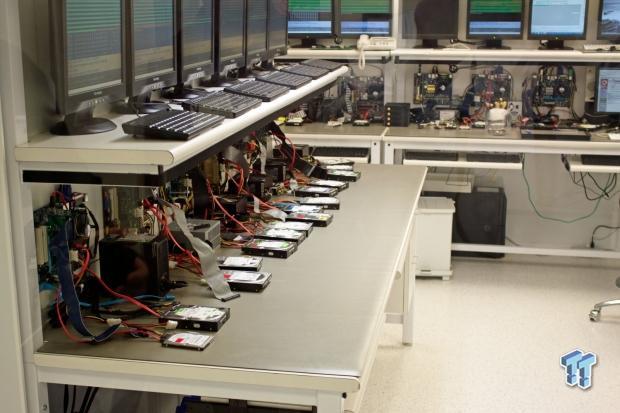 When the storage device makes its way into the DriveSavers laboratories, they begin by characterizing the nature of the failure, and then determine the steps to repair the device. Depending on the failure, the device could visit a series of clean rooms.
DriveSavers has several clean rooms for drive inspection and repair. Independent agencies certify the cleanrooms as ISO Class 5, 6, 7, and 8 compliant. The cleanrooms are cleaner than surgery suites at hospitals. Air is filtered and particles are removed to create an environment that allows drive to be opened, and repaired, without contamination.
The cleanroom above has numerous test stations available to handle an impressive number of simultaneous data recovery projects.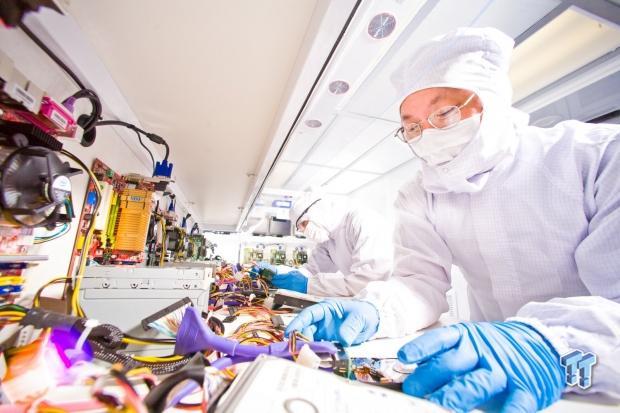 DriveSavers works in tandem with storage manufacturers to recover data. In many cases, companies that manufacture storage products will refer their customers to DriveSavers for data recovery. These cleanrooms are certified by an independent agency as meeting the necessary requirements, but DriveSavers also has to undergo periodic inspections from the drive manufacturers as well. These inspections ensure that DriveSavers follows data recovery best practices.
This oversight provides DriveSavers with another benefit for their customers. For most storage vendors, the repaired drives remain under warranty and are returnable for RMA after data recovery.
Physical and Logical Recovery
Physical Recovery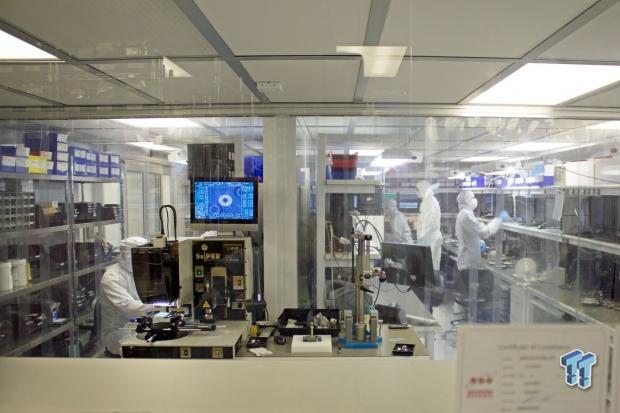 The first goal is to engage in physical recovery of the data. The challenge is to repair the device to a state that allows an extraction of a data image. Depending upon the nature of the device failure, the image may not be complete.
DriveSavers has technical alliances with their partners that provide engineering information to help repair drives. The technical alliances keep DriveSavers on the cutting edge, but also allow information sharing that helps manufacturers conduct field failure analysis. Technical alliances give DriveSavers access to sensitive IP, and collaborating with these companies requires extensive NDA agreements.
In some cases, DriveSavers recovers devices that do not benefit from technical alliances. Instead, they rely upon intense reverse engineering and their wealth of data recovery experience to extract the data.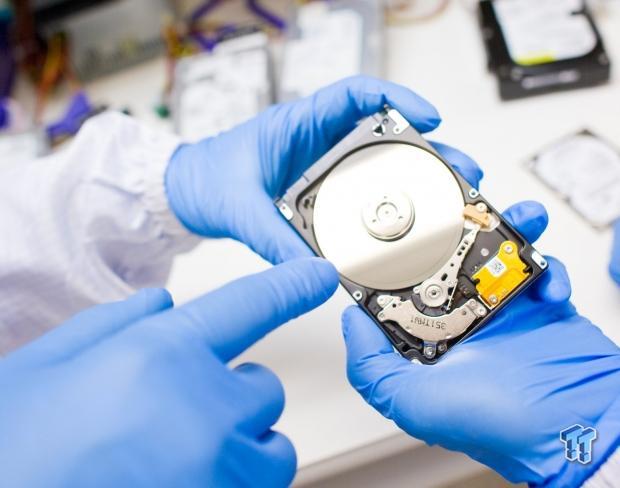 DriveSavers has the capability to remove and reattach components to repair devices to facilitate drive image recovery. DriveSavers uses their own unique proprietary tools to recover data.
Once the physical recovery of the data is complete, the image heads to teams of engineers tasked with logical data recovery.
Logical Recovery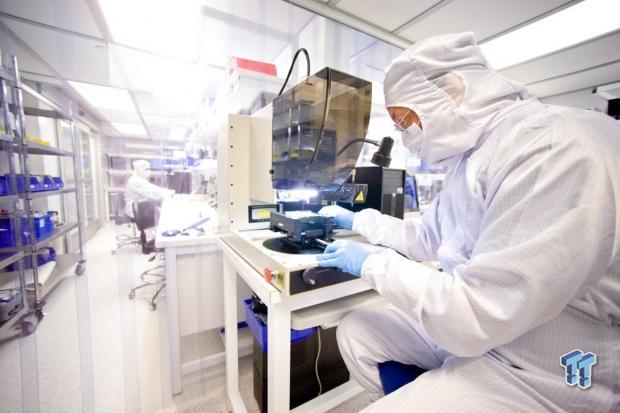 Often logical recovery is much more complex than physical recovery. DriveSavers routinely rebuilds data from not only single devices, but large RAID sets from SAN and NAS deployments. This involves reverse engineering the myriad of proprietary middle-layers employed by different companies.
DriveSavers also routinely deals with encrypted data. They can restore data in its encrypted state and deliver it to the customer, or the customer can provide encryption keys. This allows the engineers to decrypt the data, undertake the necessary repairs, and re-encrypt the data.
Data repair triggers a completely new set of required certifications. To process health information records, DriveSavers has to be HIPPA certified, and dealing with encryption software requires more certifications. Other certifications range from FERPA, NIST, SOX, GLBA, SOC 2, FCRA, and GLBA. Overall, DriveSavers employs 42 compliance and security protocols in day-to-day operations.
Final Steps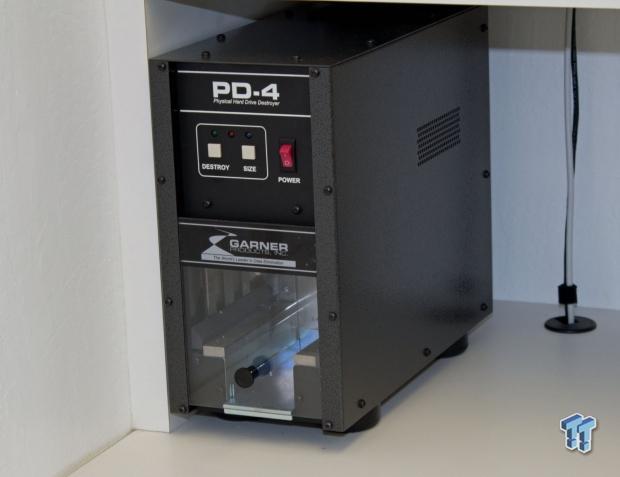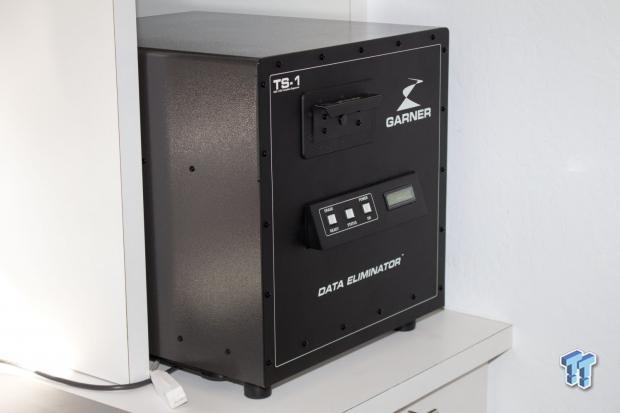 As a final measure, any sensitive customer data slated for destruction ends at the NSA-approved TS-1 Degausser. The device then visits the aptly named PD-1 Physical Drive Destroyer, where a hydraulic wedge ends the life of the device.
If desired, the customer's original failed device is returned, usually with the warranty intact. A copy of the data from the failed device is included, and there are various methods of data delivery. A customer service representative helps customers through the simple final step of data recovery, providing the final piece to the customer support puzzle.
As part of our evaluation of DriveSavers, we toured the facility and spoke in-depth with them about data recovery techniques. We also went through the process of data recovery as a normal customer. Chris Ramseyer, our Senior Storage Editor, had a failed HDD we submitted for data recovery. The difference between the nuts-and-bolts description in this article and the customer service experience are night and day. We detailed the interesting aspects of data recovery, but the customer is never exposed to the backend of data recovery.
We were assisted by friendly and knowledgeable staff to determine the problem, and then delivered a box to ship the drive. After DriveSavers received the drive, they contacted us with a concise and detailed description of the corrective action, and the price for the service. For us, when we visited a few days later, the original drive was returned with its warranty intact, and the recovered data was placed on a USB flash stick. The drive is typically shipped back to the customer. The process was simple and painless.
The technical aspects of data recovery are daunting. Certifications, technical alliances, ingenious engineers, and a passion for reverse engineering are all parts of a very big and complex puzzle. Solving the puzzle is a daily task at DriveSavers, but doing it in a manner that is simple and sympathetic to customers is the real magic trick.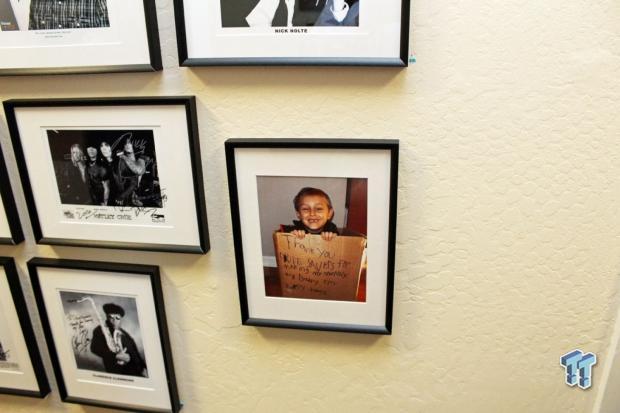 Each data recovery story is unique. If the walls at DriveSavers could speak, they would have unending stories to tell. Some of the stories are funny, like a customer dropping a phone in a bucket of paint. Some are mundane, such as someone trying to recover their lost tax information. Some are sad, such as someone recovering data to help determine the manner of their loved one's passing. Each customer has a story, and the pervasive message during the tour is that they try to deal with each customer on a personal level, and serve the human element as well as the hardware element.
The walls at DriveSavers are lined everywhere with pictures from hundreds of celebrities they have helped over the last 25 years. Will Ferrell, Matthew Perry, Adam Sandler, Conan O'Brien, Faith Hill, Nick Nolte, the list goes on and on. Each picture is signed and has a message of thanks from these celebrities, and the sheer volume of pictures dotting the walls is astounding.
As we left, Chris Bross stopped and pointed out a picture of just a normal kid, missing a tooth, holding a cardboard sign that reads, "Thank You DriveSavers for making my Mommy and Daddy cry happy tears." It really drives home how thankful people are when they get something back they thought they had lost.
Chris turned to us and told us that out of all the pictures in their facility that is his favorite one. I think they have the human element down just as well as the hardware element.
PRICING: You can find products similar to this one for sale below.

United States: Find other tech and computer products like this over at Amazon.com

United Kingdom: Find other tech and computer products like this over at Amazon.co.uk

Australia: Find other tech and computer products like this over at Amazon.com.au

Canada: Find other tech and computer products like this over at Amazon.ca

Deutschland: Finde andere Technik- und Computerprodukte wie dieses auf Amazon.de
We openly invite the companies who provide us with review samples / who are mentioned or discussed to express their opinion. If any company representative wishes to respond, we will publish the response here. Please contact us if you wish to respond.