Intel's Optane debut with the DC P4800X 3D XPoint SSD
Intel introduces its Optane technology with the DC P4800X, the world's first 3D XPoint-based Enterprise/Datacenter (blazing fast) SSD.

Published
3 minutes & 30 seconds read time
Introducing Intel's Optane with the Intel DC P4800X Enterprise/Datacenter SSD
Filling the gap

Today's current storage technologies leave a technology gap in data storage tiers. DRAM is far too expensive to scale, and while NAND has the capacity and cost structure to scale, it lacks sufficient performance to function in the memory space. To address the gap, a storage solution that behaves like system memory is needed. Intel's DC P4800X Datacenter SSD is designed to fill this gap, and it is the first SSD based on 3D XPoint memory technology to hit the market. Starting today, NAND flash is relegated to a lower performance storage media.
A new non-volatile storage media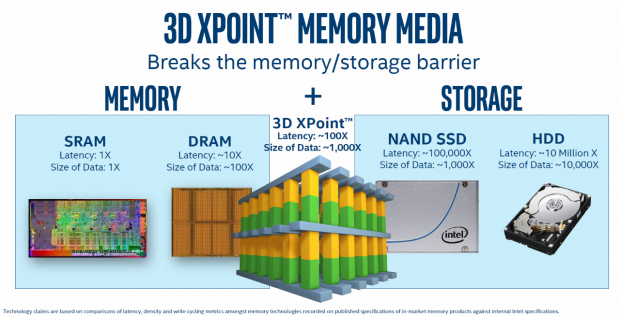 For ten years, Intel has been working on 3D XPoint technology. While Intel has declined to reveal the specific material that makes 3D XPoint what it is, we speculate that it is a form of phase-change material or "PCM." Whatever the material actually is we do not know for sure at this point, but we do know that on a cellular level that 3D XPoint is 1000x faster and 1000x more enduring than NAND flash memory. If there were a way to integrate 3D XPoint onto the CPU, we could actually see this level performance. In the real-world, actual performance is limited by bus performance.
Optane - Intel's 3D XPoint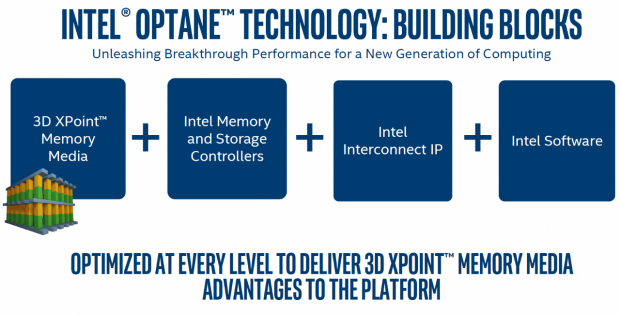 Intel calls their 3D XPoint technology "Optane." Optane consists of 3D XPoint memory, Intel memory and storage controllers, Intel interconnect IP and Intel software. 3D XPoint memory is a joint venture between Intel and Micron (IMFT). The actual IP outside of the memory itself is separate proprietary technology.
The Intel DC P4800X Datacenter SSD
Intel's DC P4800X is the first actual product based on 3D XPoint technology to hit the market. The DC P4800X is the first product to combine the attributes of memory and storage. The DC P4800X features a 7-channel Intel ASIC controller. Performance is best with an even die to channel loading. For the 375GB drive, there are four 128Gbit media die per channel or 28 die total. Spare capacity beyond the user capacity is minimal. It is used for ECC, firmware, and ensuring reliability meets the high standards customers expect of an Intel datacenter-class SSD.
3D XPoint memory media is a write-in-place media; there is no defragmentation needed, and therefore no performance can be gained in an Intel Optane SSD by increasing spare capacity. Additionally, capacity does not factor into a performance advantage like it typically does with NAND-based SSDs. A 375GB Optane SSD performs the same as a 1.5TB Optane SSD.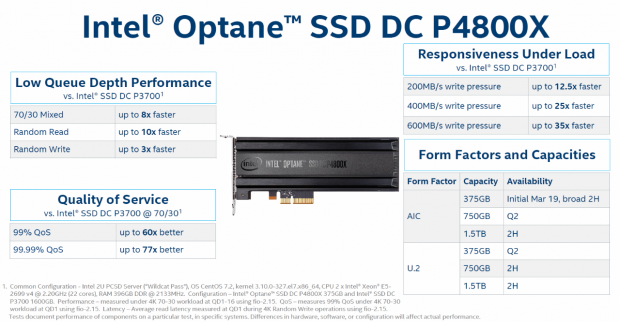 The Intel DC P4800X utilizes the NVMe software stack over a PCIe Gen3 x 4 interface. The DC P4800X can reach as much as 525,000 IOPS at a queue depth of 11. Contrast this with current flash-based NVMe SSDs that reach maximum performance at queue depths of 256, and it is easy to why the DC P4800X is the world's most responsive datacenter SSD. The DC P4800X running a 70/30 mixed random workload will deliver QoS that is up to 77x better than NAND flash-based NVMe SSDs.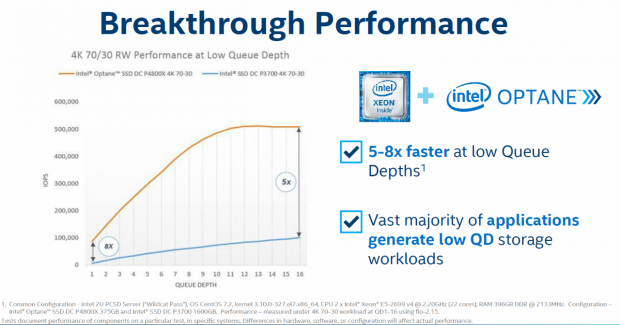 The DC P4800X is designed to deliver 5-8x faster performance at low queue depth workloads than current NAND flash-based SSDs. Low queue depth random performance is by far the most important performance metric because whether it be enterprise or consumer type workloads, queue depths almost never exceed four queues.
Efficiency = Cost
Efficiency is intertwined with QoS (Quality of Service).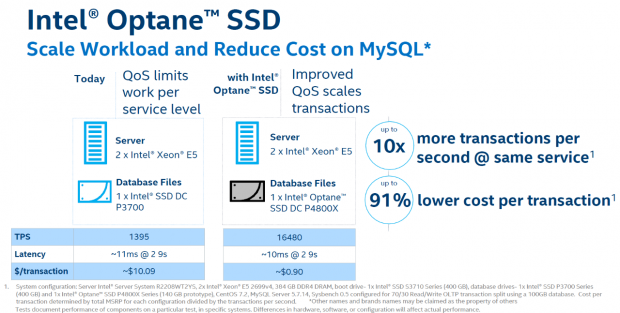 With Intel Optane SSDs improved QoS scales transactions, resulting in up to 10x more transactions per second at same service. This translates in up to 91% lower cost per transaction. This perfectly illustrates why you cannot afford not to have Optane in your datacenter.
Using Optane SSDs to Increase System Memory Pool
Bundle Optane SSDs with Intel Memory Drive Technology.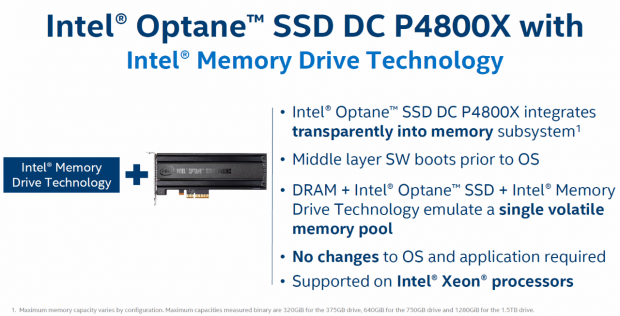 Intel's Memory Drive Technology enables datacenters to deliver more affordable memory pools by displacing a portion of DRAM or significantly grow the size of memory pools. When bundled with the Intel Optane SSD DC P4800X, Intel Memory Drive Technology transparently integrates the drive into the memory subsystem and makes the SSD appear like DRAM to the OS and applications. Due to the low latency and ultra-high endurance of the DC P4800X Series, it is optimal for use by Memory Drive Technology.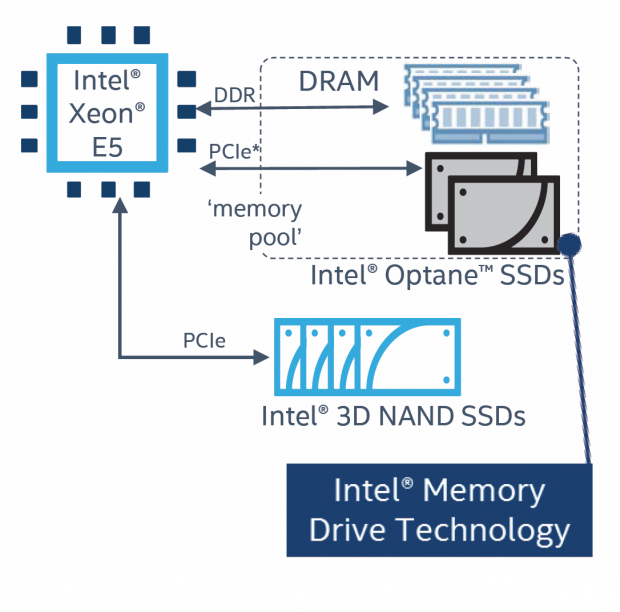 Together, the DRAM and the SSD emulate a single volatile memory pool. The software intelligently determines where data should be located in the pool to maximize performance, enabling servers to deliver performance across many workloads - even when DRAM is only supplying one-third to one-tenth of the memory pool capacity.
It turns out that Optane is everything it was cracked up to be. The Naysayers have turned out to be wrong. Intel sees Optane as creating a "New Normal." The new normal will be performance, endurance, and density that far exceeds the current normal offered by NAND flash-based storage.
Optane presents new opportunities and possibilities. Some new companies have been in waiting in "Stealth Mode" for Optane to become a reality. Without what Optane has to offer, their goals were not even feasible. As for us, we are excited to how the "New Normal" will evolve in both the consumer and enterprise space.
PRICING: You can find products similar to this one for sale below.

United States: Find other tech and computer products like this over at Amazon.com

United Kingdom: Find other tech and computer products like this over at Amazon.co.uk

Australia: Find other tech and computer products like this over at Amazon.com.au

Canada: Find other tech and computer products like this over at Amazon.ca

Deutschland: Finde andere Technik- und Computerprodukte wie dieses auf Amazon.de
We openly invite the companies who provide us with review samples / who are mentioned or discussed to express their opinion. If any company representative wishes to respond, we will publish the response here. Please contact us if you wish to respond.