Introduction

Companies are having some great success with the new A75 platform, achieving RAM speeds of 2400MHz+ DDR, strong overclocks and doing all that fun stuff we've become so used to doing with the AMD platform.
I think the biggest surprise about the A75 platform isn't that it just performs so well when you leave the clocks alone, but the fact that it can be overclocked so well and you can have so much fun with it. Hitting memory speeds of 2000MHz+ DDR while possible on the Phenom line up was quite rare, hitting higher was even rarer.
Last year we looked at a great kit of RAM from G.Skill. The Flare Kit came with a stock speed of 2000MHz DDR and a timing setup of 7-9-7-24 @ 1.65v.
The worst thing about the kit was that its compatibility list for motherboards was a little small and we ended up getting to only 2127MHz DDR. This was the best kit of RAM for the AMD platform, though. The issue is that you could only get so much out of the kit, not because of the speed it offered, but because of the AMD platform. It was picky about RAM, it didn't like running at high speeds and the Intel platform was offering RAM kits well in excess of 2200MHz DDR.
Since the launch of the A75 platform we've been using the Flare Kit again which had been gathering dust for months. Today, combined with the Sapphire A75 Pure Platinum we just reviewed, the AMD A8-3850 which has embedded itself in our heart so quickly and the G.Skill Flare kit, we will show you what this new platform is capable of when it comes to memory overclocking.
Because of the nature of the article, there's no real "format" to follow. Considering all the products we're using today have also been reviewed, there's no real need to go into great detail on the products. What we'll do is have a look at our testbed setup and then start to check out some screenshots of our memory clocks as we go higher and higher.
The Testbed Setup
As we just mentioned, the main components used here today include the Sapphire Pure Platinum A75, AMD A8-3850 and G.Skill Flare kit. The exact model of the Flare kit is F3-16000CL7D-4GBFLS. The bad news is that you can't get this kit anymore. The CL7 2000MHz DDR kit was on a really limited run and it's just impossible to get unless you hit up the second hand market. You can still buy the Flare series from NewEgg, but the current 2000MHz DDR kit listed at $89.99 US follows a 9-9-9-24 setup. It would still be a great kit, but don't expect to see the kind of speeds we're going to achieve today.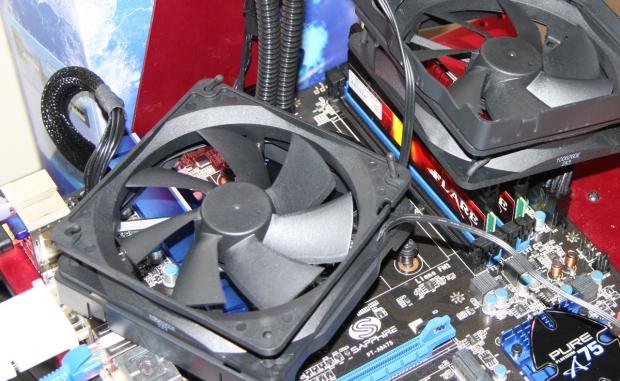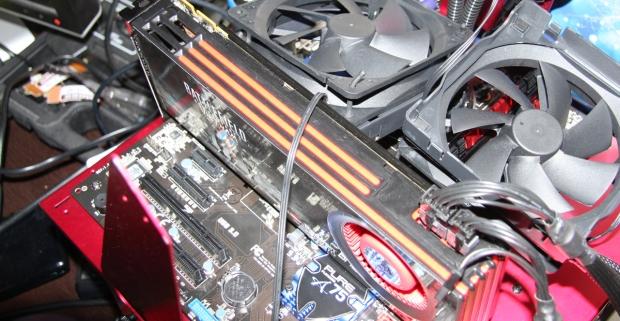 Of course, we use a lot of other quality components today that make this overclock possible and they include the amazing AX1200 PSU from Corsair. The AX series of PSUs from Corsair are just simply fantastic. If anyone ever asks me what kind of power supply they should be buying, I won't hesitate to say the highest end AX series PSU you can afford.
The next big important piece to the overclocking puzzle is of course our CPU cooling and that includes the Corsair H60 All-in-One water cooling kit. This is also another great piece of equipment from Corsair and since testing the P67 / Z68 platform, it's helped us achieve some amazing speeds.
On the video card front we have our Sapphire HD 6970. To be honest, though we didn't use it much today and at one point pulled it out and just used the onboard video to see if it helped us achieve a higher overclock. We've also got our Kingston SATA II 120GB SSD and everything fits nicely in our Lian-Li PC-T60 TestBench case.
Unleashing the RAM POWAH!?!?!
The first thing we did was just leave our timings at the default 7-9-7-24 and see how the board went with overclocking. We ended up at 1073.5MHz or 2147MHz DDR. This is a good clock speed and combined with a 3.3GHz APU clock, you've got some really good looking performance here.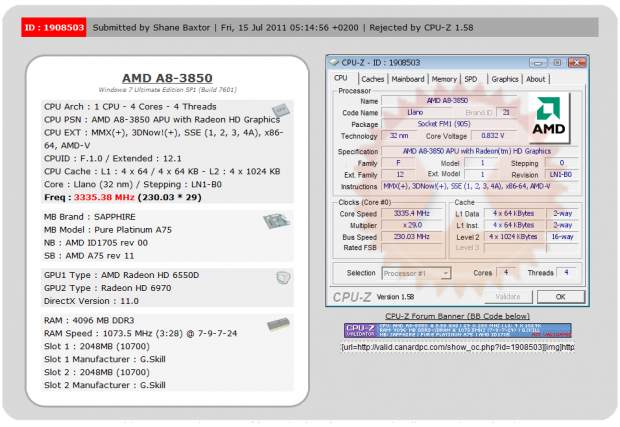 As we said, though, it's a good clock, and a great one for the AMD platform considering the timings. But it's not something that stands out massively. The appeal about this RAM speed is the system remains 100% stable and you could of course run it like this day in and day out.
To be honest, we weren't so focused on 32M HyperPI stability, but instead just wanted to crank the clocks up and see just what we could achieve. What could we get into Windows at? - What could we benchmark AIDA64 in?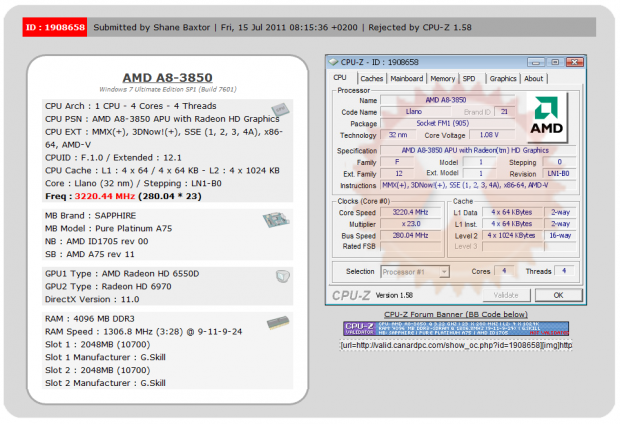 What we started to do next was loosen those RAM timings. Moving to a 9-11-9-24 setup, we started to head really north. We ended up in Windows at 1306.8MHz or a simply unbelievable 2613.6MHz DDR!! - As you can see above, we managed to hit the Validate link and get it submitted, but like all Llano based submissions at the moment, they're not approved. It's a little unfortunate, but there's not much we can do about it. Even if we were at 1333MHz DDR the same thing would happen.
That's where we called it an end to day one. We came back the next day to the testbed and got back into Windows at 1306.9MHz or 2613.8MHz DDR. Unfortunately, for some reason I ended up at 9-12-9-24 instead of 9-11-9-24. At this point, though, we managed to fire up AIDA64 and run the Cache & Memory Benchmark.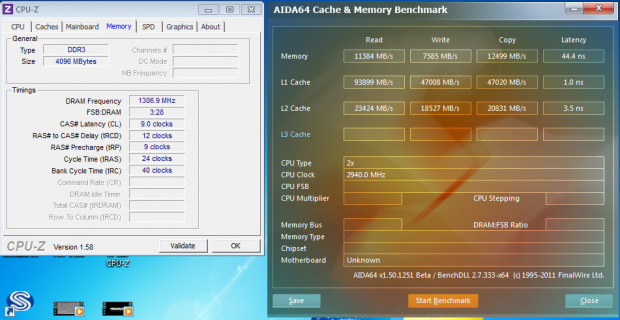 As you can see above, our Read / Write numbers come in at 11,384 MB/s / 7,585 MB/s. This compares to our typical CL7 1866MHz DDR Read / Write numbers of 9,524 MB/s / 6,810 MB/s. We can see a strong boost in read performance and a nice boost in write numbers.
This is just an insane speed and we'd love to know if it was any kind of record for the AMD platform. Unfortunately, while the CPU-Z information can't be validated on the Llano platform and the fact that Intel hold higher speeds, it's hard to know for sure if it's a record for AMD. To be honest, we felt very happy with what we had managed to achieve nonetheless.
We simply wanted more!?!?!
2613.8MHz DDR is just a simply amazing overclock, but we wanted to do more. We were still able to run AIDA64, so we figured there must be a bit more room with the overclock. So we headed back into the BIOS and continued to overclock.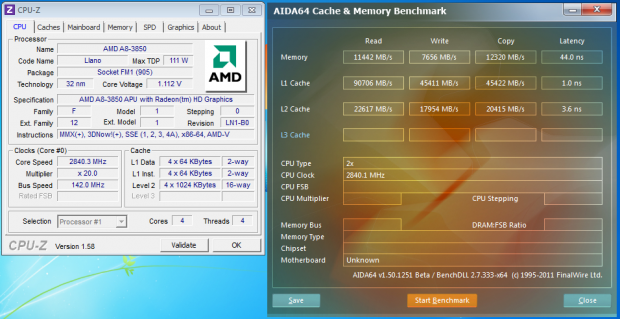 We ended up in Windows with our bus speed at 142MHz and we again managed to benchmark our memory which was running at 1334MHz or 2668MHz DDR. Unfortunately I made the mistake of not moving to the memory tab when I took the screenshot and you can see above we can only see the main CPU / APU information.
Looking at the AIDA64 performance, you can see our Read / Write numbers come in at 11,442 MB/s / 7,656 MB/s which is ever so slightly up on our previous result. Since we managed to scrape through that, though, it was time to get back into the BIOS to see what we could do. Could we get another MHz or two out of the kit?
YES! YES WE COULD! We ended up back in Windows with our bus speed running at 144MHz. Using the 1866MHz DDR divider we've used all along, this meant we ended up in Windows at 1344.1MHz or......2688.2MHz DDR. WOW!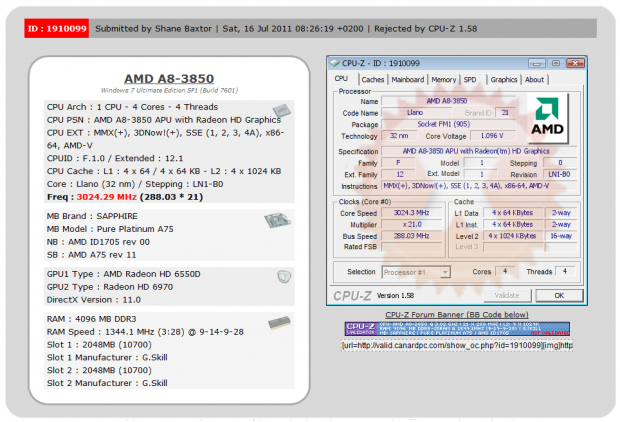 So we ended up being able to hit that little Validate button in CPU-Z and you can see above the 2688.2MHz DDR at 9-14-9-28. Even at this speed we managed to run AIDA64, but in the process of opening Paint we ended up getting a BSOD. Let's just be honest here, though, and say our system wasn't exactly what we would call stable at the moment. We'd hardly recommend you start working on your end of year essay for collage at this point in time.
After realizing that a 1MHz increase in the bus clock resulted in a 10MHz DDR increase in memory performance, it was time to head back into the BIOS to see if we could get to 145MHz which would result in a 1354MHz memory speed or 2708MHz DDR. Unfortunately we couldn't. I literally spent hours in the BIOS adjusting stuff; lowering multipliers, loosening timings, bumping voltage and monitoring temps. We just couldn't get into Windows at a 145MHz bus speed.
Final Thoughts
Today you can just see the power of the new AMD platform. Sure, in the scheme of things the memory read / write performance when compared to the Intel platform is quite behind. What makes the results so exciting is the fact that this isn't even an enthusiast platform. It's Fusion, Llano; it's designed for people who want to build $499 US PCs.
This gets us so excited about what the Bulldozer / Zambezi platform will offer us when it finally gets released. The massive MHz that is able to be achieved also means that we might see RAM manufacturers put more time and effort into creating RAM for the AMD platform. It's one that is really neglected at the moment and it's really because for years there hasn't been a reason for companies to put the R & D into making insanely fast memory for the platform; instead they were better off putting their time and effort into the Intel one.
12 Months ago when we looked at the Flare Kit we loved it. For the AMD platform it was just an awesome kit for people who wanted speed. We didn't know until today, though, just how special the kit was. The worst thing is you can't buy it new, it's not like you can jump on NewEgg and pick up a CL7 2000MHz DDR kit for the AMD platform. Sure, you can pick up the CL9 kit, but you're not going to get this kind of performance.
While there's higher RAM speeds out there, they seem to revolve around running in Single Channel and on the Intel platform. Did we set an AMD RAM speed record today? I don't know. There's been no reason to really keep track of AMD RAM speed records. What we have done, though, is create a buzz for the platform and we're sure we'll see overclockers dust off those CL7 Flare kits they got 12 months ago, organize a A75 platform and start to clock the S#*T out of them.
We can't just say "look at this Flare kit, it's so wonderful", though. This was made possible with the use of the A8-3850 from AMD and the Sapphire Pure Platinum A75...seriously...a Sapphire motherboard! - Who would've thought that Sapphire could offer us a board that could give us this kind of memory speed?!
So AMD overclockers...on your marks...get set...Go!