Intel X79 Quad Channel and Z68 Dual Channel Memory Performance Analysis
We look into the Quad Channel and Dual Channel performance of the new X79 platform and compare it to the well established Z68 one.
Published
7 minute read time
Introduction and Package
Introduction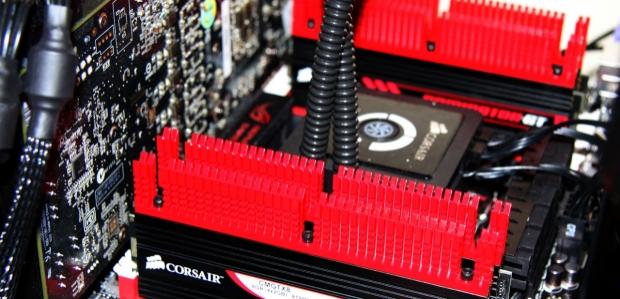 Memory performance on the new platform has been all over the place and I've personally been talking to both motherboard and RAM manufacturers to see what we can do about the performance. The big issue at the moment is under AIDA64 - an almost industry standard benchmark for us, we see that Quad Channel isn't painted in the best light.
It's not our job to go out there and make sure the product is painted in the best light. It's not like Intel has turned around and said anything to us, though, it's just this personal issue I'm having at the moment with the numbers we're getting out of Quad Channel memory in our normal benchmarks. It doesn't make sense that from a bandwidth perspective it offers no more performance than Dual Channel, if not slightly less at times.
Some of the numbers we've seen under AIDA64 haven't lined up with what you'd think Quad Channel is capable of. The general word around was that if you look at the performance under SiSoft Sandra and Passmark PerformanceTest, you're able to get a better idea with what's going on with bandwidth for the new standard.
So today with our Corsair Dominator GTX8 kit we've taken the time to run through not only under AIDA64 again, but also PerformanceTest and Sandra. We've also run our RAM in a number of different settings, but we'll cover that in the next page when we look at the Test System Setup.
A lot of us know, though, that the speed of memory at times makes very little difference to the overall performance of our system. For most of us the CPU speed along with the video card performance are going to show us the biggest differences. With so much Quad Channel RAM arriving, though, we need to make sure we're able to show the difference between the kits we have when it comes to the performance of them.
There's not much else that really needs to be said. We'll quickly talk about the RAM we're using on the next page, but we won't go into massive amounts of detail on that as we'll offer a full review on the kit soon enough. Once we've looked at the testbed, though, we'll get straight into our three benchmark programs to see just what's going on with performance before we finally wrap everything up.
Well, I think that pretty much covers what needs to be said at the moment. Let's move onto our Test System Setup before we get into the performance side of things.
Test System Setup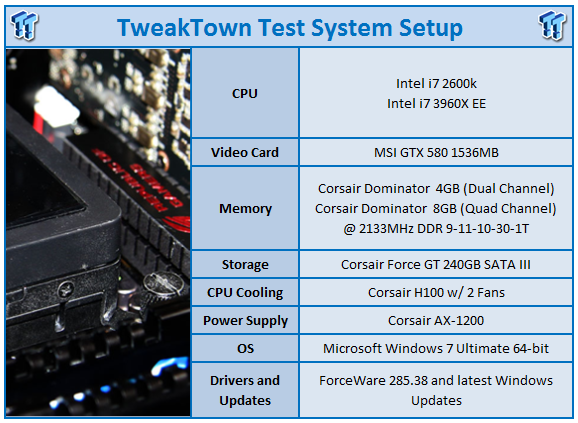 We would like to thank the following companies for supplying and supporting us with our test system hardware and equipment: Intel, ASUS, MSI, Western Digital and Corsair.
Today we'll be looking at both Dual and Quad Channel memory performance from both the Z68 and X79 platform. Something that hasn't been covered yet is the fact that the new X79 platform offers us Dual Channel memory support, so if you're on a high end Dual Channel kit and you're moving over from Z68, you can make the move without the need to buy more RAM.
We'll be using our Corsair Dominator GTX8 kit today and while that's a 2400MHz DDR kit, we'll actually be running it a little slower than that. Instead we'll be running the kit at 2133MHz DDR across both platforms with the timings running at 9-11-10-30-1T.
We'll be then running each test with our CPU at two different speeds. We'll have the CPU of course running at stock in one set of tests, while in the other we'll be running our CPU overclocked. For our 2600k that means we're coming in at an even 5GHz while our 3960X falls just shy of that at 4.9GHz.
In the end we'll have six sets of tests with Z68 Dual Channel, X79 Dual Channel and X79 Quad Channel all being tested at stock and overclocked speeds.
With so many Quad Channel kits arriving, we want to make sure we're able to get the best idea for overall bandwidth when it comes to testing the kit. At the moment it seems like AIDA64, our normal RAM benchmark, isn't the best option. Today we'll find out if Passmark PerformanceTest is worth using more or SiSoft Sandra which we stopped using a while ago.
Before we get into the performance side of things, the last thing we really need to cover are the motherboards. We've opted for both the flagship ROG boards from ASUS - that means the Maximus IV Extreme-Z for our Z68 machine and the brand new Rampage IV Extreme for our X79 machine.
That should just about cover everything we need, so with haste let's get into the performance side of things to see what kind of bandwidth we're able to get out of the new memory platform.
AIDA64
Version and / or Patch Used: 2.00.1700
Developer Homepage: http://www.aida64.com
Product Homepage: http://www.AIDA64.com
Replacing Everest in our labs is AIDA64. This new testing suite is from the core development team from Lavalys and continues that tradition. The guys have thrown in better support for multithreaded CPUs as well as full 64 bit support. We use this to test memory and HDDs for now, but may find ourselves opening this up to other areas of the motherboard.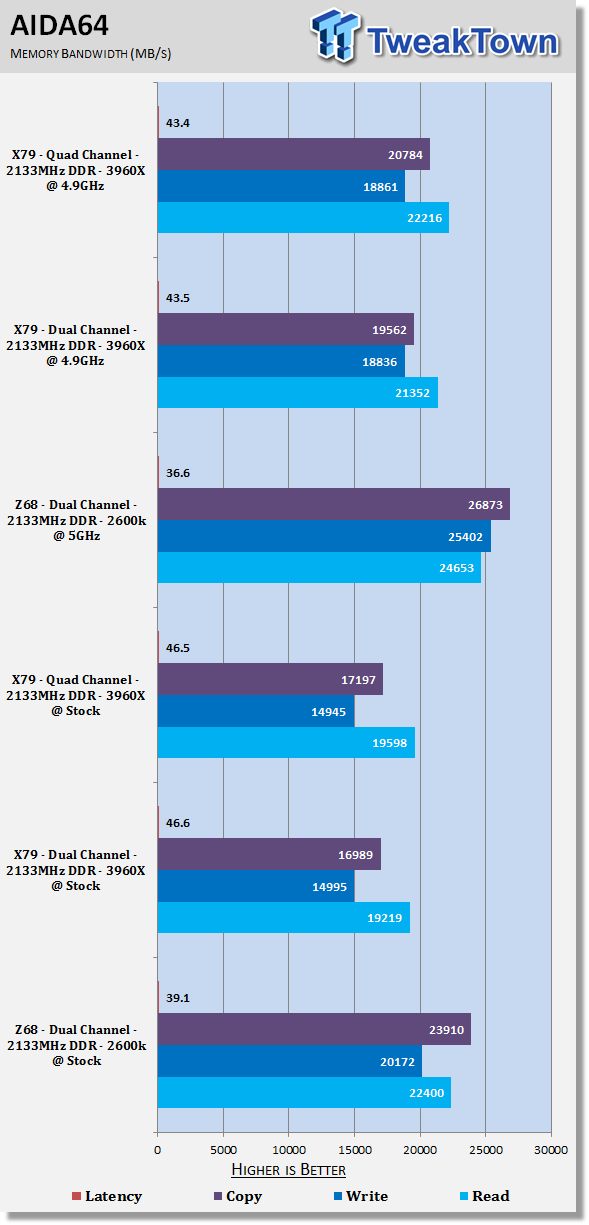 Across the board you can see that performance on the new X79 platform isn't as strong when it comes to comparing the different setups under AIDA64. You can actually see that the difference between Dual Channel and Quad Channel on the platform just isn't shown with across the board performance being near identical.
Overclocking does indeed yield some performance increase, but you can see that we continue to struggle against the older Z68 platform. It seems clear that AIDA64 just isn't showing the performance difference between Dual Channel and Quad Channel at the moment.
PassMark PerformanceTest
Version and / or Patch Used: 7.0.1021
Developer Homepage: http://www.passmark.com/products/pt.htm
Product Homepage: http://www.passmark.com/products/pt.htm
Fast, easy to use, PC speed testing and benchmarking. PassMark PerformanceTest allows you to objectively benchmark a PC using a variety of different speed tests and compare the results to other computers. Twenty-eight standard benchmark tests are available in six test suites plus there are seven advanced testing windows for custom benchmarking.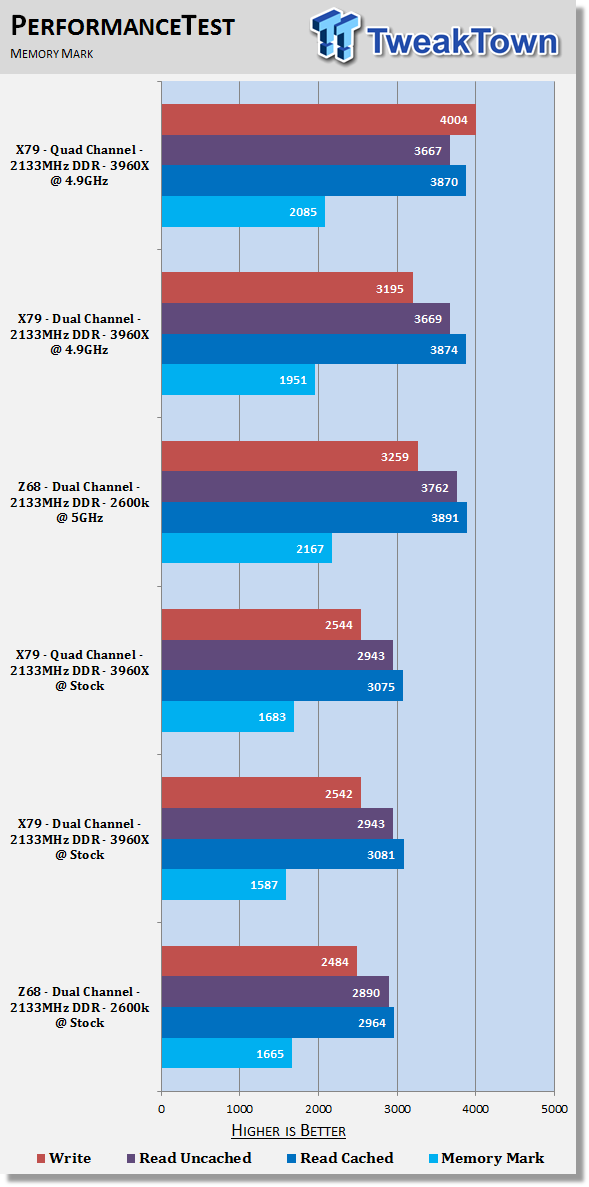 If we look at PerformanceTest we can see that the numbers start to change a bit. Here we see that at stock, when comparing the performance of the three setups the X79 doesn't lag behind like it does in AIDA64. At the same time, no real difference is being shown and while our overall memory mark goes up for Quad Channel on the X79 platform when compared to the Dual Channel scores, there's nothing exceptionally strong about it.
Overclocking paints a little bit of a different picture. All setups of course see a boost in performance, but you can see our Quad Channel setup really begins to see some breathing room when it comes to the write performance with an increase of over 20% when compared to the two Dual Channel setups. This helps push our overall Memory Mark up, but you can see that there's little difference in overall read performance.
SiSoft Sandra
Version and / or Patch Used: 2011 11 17 84
Developer Homepage: http://www.sisoftware.net/
Product Homepage: http://www.sisoftware.net/
SiSoftware Sandra (the System ANalyser, Diagnostic and Reporting Assistant) is an information & diagnostic utility. It should provide most of the information (including undocumented) you need to know about your hardware, software and other devices whether hardware or software.
Sandra is a (girl) name of Greek origin that means "defender", "helper of mankind". We think that's quite fitting.
It works along the lines of other Windows utilities, however it tries to go beyond them and show you more of what's really going on. Giving the user the ability to draw comparisons at both a high and low-level. You can get information about the CPU, chipset, video adapter, ports, printers, sound card, memory, network, Windows internals, AGP, PCI, PCI-X, PCIe (PCI Express), database, USB, USB2, 1394/Firewire, etc.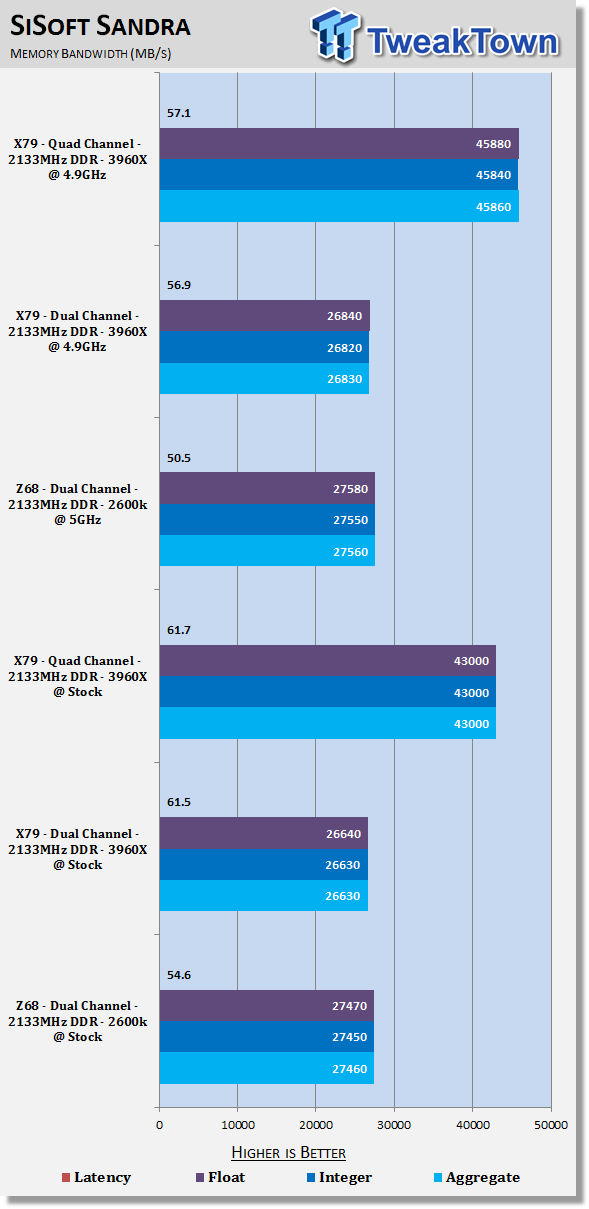 SiSoft Sandra is the one test that companies have said show you the best results when it comes to testing the new Quad Channel platform and you can see from the results above that it can't be denied. With our system at stock you can see that performance on the Quad Channel platform skyrockets when compared that of the Dual Channel one.
There's a few interesting things here, though. The first is the Dual Channel performance on both platforms. You can see that while both RAM kits are running at the same speed, the Z68 Dual Channel performance is actually slightly stronger than the X79 Dual Channel performance. There's not much of a difference, but it's consistent in both stock and overclocked tests.
Comparing stock and overclocked tests also sees both dual channel setups yield almost no performance increase, while the X79 Quad Channel setup does see a boost in performance. Saying that, we do see that comparing the stock and overclocked numbers, the overclocked numbers see improved latency.
Latency brings us onto our final point, though. You can see that Latency on the X79 platform sits behind the Z68 one across the board.
Final Thoughts
There's some interesting numbers to be pulled out of here today and it seems that some companies need to work on improving their implementation of Quad Channel testing in benchmarks, and to be honest, I think AIDA64 will be right on it as they're one of the leading companies when it comes to synthetic testing and getting the RAW numbers out of products like RAM and CPUs.
Comparing the effects of Quad Channel memory performance over Dual Channel memory performance on the Z68 platform is near impossible for the simple fact that we see the new X79 platform crush the Z68 one in certain areas, but you can't deny that most of that is probably due to the performance of the new i7 3960X more so than the memory on offer.
I think the next thing we really need to look at is the performance of Dual Channel on the X79 platform and compare that to Quad Channel performance. Not in the synthetic way we did today, though, instead we need to be looking under more real world situations like CINEBENCH and MediaEspresso to see if the new technology makes a real world difference.
For the moment the best way for us to test the performance of Quad Channel memory is going to be under SiSoft Sandra as it seems to be able to show us the difference between Dual Channel and Quad Channel. The results are also consistent as we can see that when we use Dual Channel on the X79 platform, those numbers line up to those of the Z68 Dual Channel albeit just a little slower.
One of the weirdest things at the moment, though, is the latency for RAM. Same timings, same speed and what would be an overall faster CPU on the X79 platform, sees that RAM latency is slightly worse than its Z68 counterpart.
In the end, though, you can see that when it all comes down to it, the new X79 platform is significantly faster than the Z68 one when comparing it under programs like CINEBENCH and MediaEspresso.
The numbers you're seeing out of other websites, though, when it comes down to Quad Channel performance is something you need to take into consideration, especially if they don't expand their RAM testing outside of AIDA64. I think it's time to see the difference in Dual Channel and Quad Channel performance on the X79 platform in some more real world orientated benchmarks.
PRICING: You can find products similar to this one for sale below.

United States: Find other tech and computer products like this over at Amazon.com

United Kingdom: Find other tech and computer products like this over at Amazon.co.uk

Australia: Find other tech and computer products like this over at Amazon.com.au

Canada: Find other tech and computer products like this over at Amazon.ca

Deutschland: Finde andere Technik- und Computerprodukte wie dieses auf Amazon.de
We openly invite the companies who provide us with review samples / who are mentioned or discussed to express their opinion. If any company representative wishes to respond, we will publish the response here. Please contact us if you wish to respond.