Intel Core i7 Memory Analysis - Can Dual Channel Cut it?
Taking a break from X58 boards, we have a look at dual vs triple channel memory configurations on the Core i7 platform.
Published Sun, Nov 23 2008 11:00 PM CST
|
Updated Tue, Nov 3 2020 7:04 PM CST
Introduction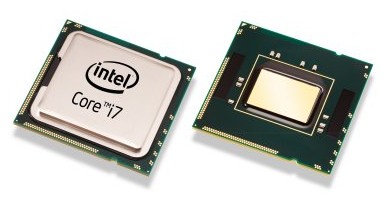 Core i7 has come out and it's a hard hitting product. Not only is it a new platform based around the Core micro architecture, its native quad core design really packs a punch, too. With this, Intel has finally moved away from the slow Northbridge based memory controller and followed suit with AMD in placing an integrated Northbridge chip on the CPU. This houses the memory controller, allowing for a much faster access path to the memory. Intel has also increased the amount of memory and data paths that the Core i7 can access.
Looking back on the history of system memory and more directly at Intel's implementations, triple channel is simply no big surprise. But is it something we need now, or is it just hype?
Rambus was Intel's big bet back in the late 90's; while it sprouted impressive speeds along with theoretical bandwidth beyond SDRAM or even DDR which hadn't seen the light of day, Intel's reliance in this technology became their downfall and their attempts to push it on the general PC users caused a huge uproar.
DDR was Intel's only reprieve, well after its introduction due to Rambus agreements. However, since that time Intel has not only used DDR, but improved on it. Now that we have seen Intel's pattern with memory we see that not only are they banking a huge amount on their DDR3 technology, but also increasing the bus from 128-bit or dual channel to 192-bit or tri channel memory.
Today's question we pose; does Core i7 really need three channels of memory or can it perform happily on two channels without severely impacting the performance of the system?
Let's move on and find out.
Behind the Core i7
Core i7 and Memory Controller Details
For those who missed
our review
of the Core i7 processors, we have a brief re-cap of the major changes that the Core i7 has over the Core 2 series CPU.
Ever since the introduction of the PC, the system memory has been located on a separate bus. This bus has been connected to the system using a dedicated chipset called a Northbridge. This chipset really was the heat of the system as it connected the CPU to the memory and to the other integrated and discrete components through different buses that the system had. Many of these buses included ISA, PCI, AGP and now PCIe.
Back in 2003 AMD revolutionised the way the CPU and memory communicated. AMD's K8 processor integrated its DDR memory controller onto the CPU itself. The Socket 754 integrated a single channel DDR memory controller supporting up to 400MHz memory for a grand total of 3.2GB/s of bandwidth. The impressive part of this was that the CPU was able to use up to 3GB/s of the total 3.2GB/s and only 200MB/s was wasted on overheads.
While impressive, it wasn't able to keep up with Intel using Dual Channel DDR memory, so Socket 939 popped up supporting an extra DDR memory channel, allowing for a grand total of 6.4GB/s memory bandwidth. When tested, 6.12GB/s was available with only a little wasted on overheads and the rest of the system. AM2 popped up later on supporting DDR2 memory on a dual channel basis, giving up to 8.5GB/s total with around 7 to 7.5GB/s available depending on the speed and latency of the DDR2 modules.
Intel's Core i7 is the first generation CPU from Intel to have an integrated Northbridge on the CPU, which is known as the UNCORE. This is connected to the CPU through the request queue; this is the same bus/interface that all four cores use to communicate with each other as well as the level 3 cache. Rather than a single channel first generation such as AMD's first instance, Intel has gone all out. Three separate 64-bit memory channels have been set on the UNCORE for a grand total of a 192-bit memory interface. Further to this, Intel has abandoned DDR2 with Core i7 and goes with DDR3 memory rated for 1066MHz initially. With three channels of memory using this spec we get a total of 25GB/s memory bandwidth. This is shared amongst all of the cores along with the system and so far we have seen that up to 24GB/s can be claimed in tests.
This is a huge amount of data that can be transferred between the CPU and the memory controller. However, does the system really need all this extra bandwidth? Can the system survive on two channels of DDR3 memory, leaving the system with 17GB/s to use?
Test System Setup and Everest
Test System
Processor
: Intel Core i7 956 (24x133MHz)
Motherboard
: ASUS P6T Deluxe OC Palm (Supplied by
ASUS
)
Hard Disk
: Intel SSD X25-M80GB (Supplied by
Intel
)
Graphics Card
: GIGABYTE 9800GX2 (Supplied by
GIGABYTE
)
Cooling
: Stock Intel LGA1366 Cooler
Operating System
: Microsoft Windows Vista X64 SP1
Drivers
: Intel INF 9.0.1.1007, Forceware 178.24
Today's tests are performed on a single board; we are pushing the limits with the memory system to determine whether or not DDR3 in triple channel will provide a huge benefit over running in dual channel mode. We have completed tests at both 1066MHz and 1600MHz XMP in dual and triple channel arrangements.
EVEREST Ultimate EditionVersion and / or Patch Used:
2006
Developer Homepage:
http://www.lavalys.com
Product Homepage:
http://www.lavalys.com
Buy It Here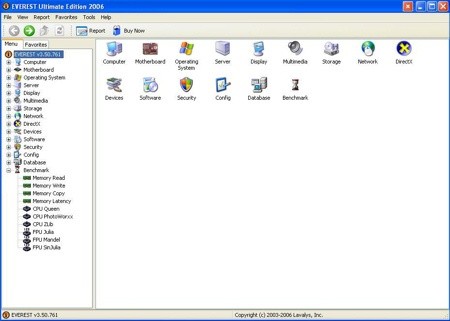 EVEREST Ultimate Edition is an industry leading system diagnostics and benchmarking solution for enthusiasts PC users, based on the award-winning EVEREST Technology. During system optimizations and tweaking it provides essential system and overclock information, advanced hardware monitoring and diagnostics capabilities to check the effects of the applied settings. CPU, FPU and memory benchmarks are available to measure the actual system performance and compare it to previous states or other systems.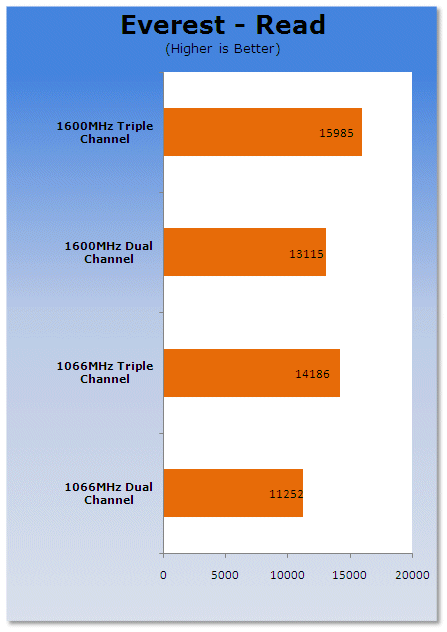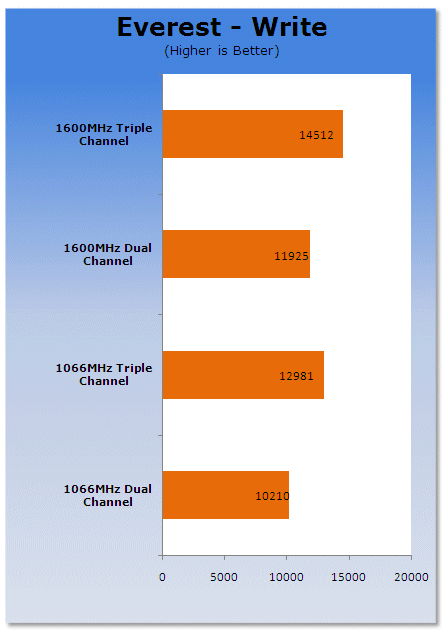 Starting with EVEREST, we see that the synthetic performance between the tri and dual channel modes show up. However, it's interesting to see that dual channel 1600MHz does get pretty close to the tri channel 1066MHz results.
Benchmarks - Sisoft Sandra
SiSoft SandraVersion and / or Patch Used:
2009
Developer Homepage:
http://www.sisoftware.co.uk
Product Homepage:
http://sisoftware.jaggedonline.com/index.php?location=home&a=TTA&lang=en
Buy It Here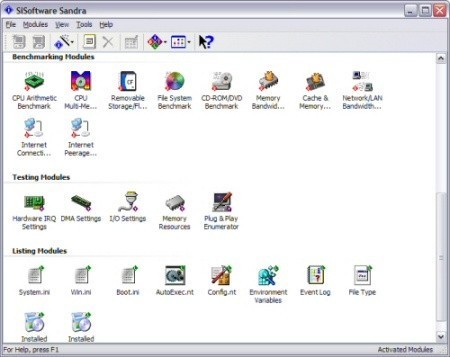 SiSoft Sandra (
S
ystem
AN
alyser,
D
iagnostic and
R
eporting
A
ssistant) is a synthetic Windows benchmark that features different tests used to evaluate different PC subsystems.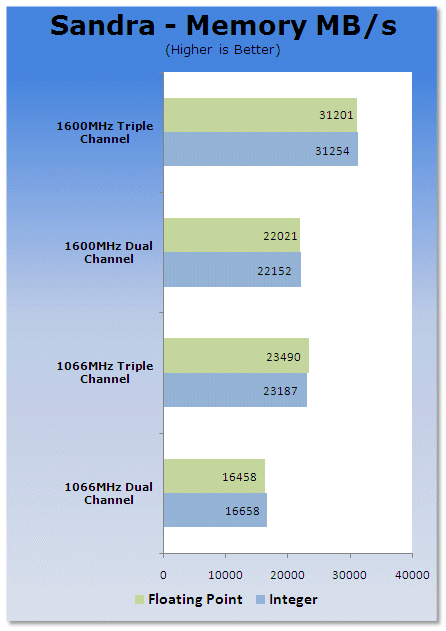 Here we see a similar trend; synthetics are good for showing what can happen, but they aren't real good when it comes to true evaluations.
Benchmarks - Adobe Premiere Elements 4.0
Adobe Premiere Elements 4.0Version and / or Patch Used:
4.0
Developer Homepage:
http://www.adobe.com
Product Homepage:
http://www.adobe.com/products/premiereel/
Buy It Here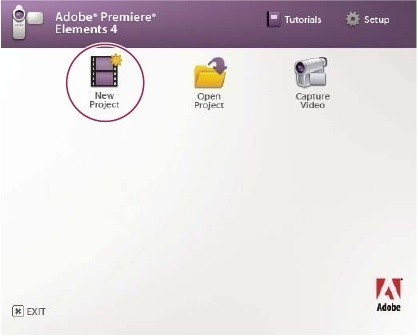 Our test with Adobe Premiere Elements 4.0 is performed with a raw two hour AVI file. It is then compressed into DivX format using the latest version codec. We measure the time it takes to encode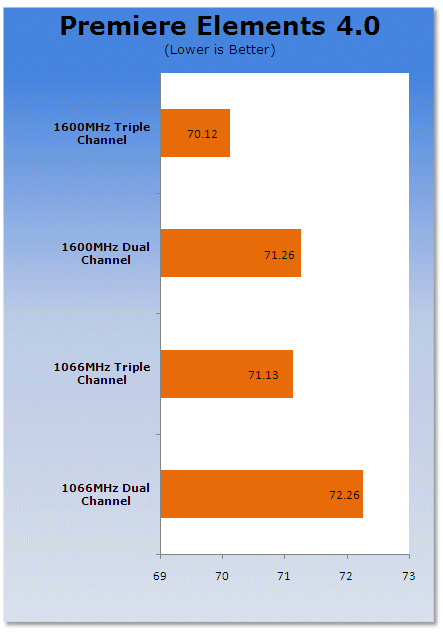 To get a true reading, we did some media encoding tests with Premiere Elements 4, our program of choice when it comes to editing and producing movies.
When it came down to it, there was very little difference between triple and dual channel modes here and it seems that the cores aren't able to really saturate triple channel any more than dual channel. As the CPU is doing a huge amount of work, the memory is kept clear a lot of the time.
Benchmarks - Crysis
CrysisVersion and / or Patch Used:
1.1
Timedemo or Level Used:
Custom Timedemo
Developer Homepage:
http://www.crytek.com/
Product Homepage:
http://www.ea.com/crysis/
Buy It Here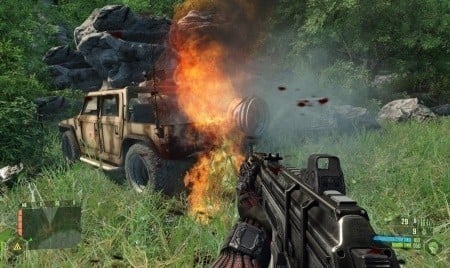 From the makers of Far Cry, Crysis offers FPS fans the best-looking, most highly-evolving gameplay, requiring the player to use adaptive tactics and total customization of weapons and armor to survive in dynamic, hostile environments including Zero-G.
Real time editing, bump mapping, dynamic lights, network system, integrated physics system, shaders, shadows and a dynamic music system are just some of the state of-the-art features the CryENGINE 2 offers. The CryENGINE 2 comes complete with all of its internal tools and also includes the CryENGINE 2 Sandbox world editing system.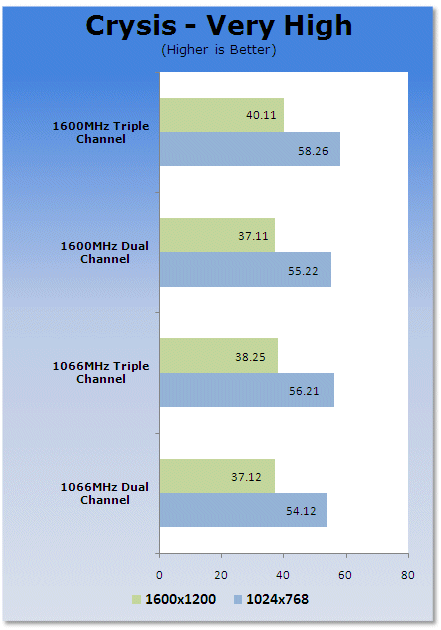 In real world gaming we see there is only a couple of frames difference between triple and dual channel mode. It seems that at this stage there isn't really a huge amount of call for extra bandwidth.
Final Thoughts
Core i7 is a remarkable CPU. Intel has really outdone itself on the Core series of CPU and not one has been a disappointment. Each time Intel has an iteration of it, there is more power and more features to surface.
Core i7, while sharing the Core name is a whole different animal; fast, feature packed and designed for a totally new platform, making it Intel's big jump away from familiarization.
One of the biggest things that everyone has been looking forward to with Core i7 was the removal of the aging and antiquated FSB, allowing the CPU to finally live up to its potential. And the integration of the memory controller onto the CPU was the biggest leap forward in performance of all. However, Intel really didn't need to worry about a triple channel memory controller at this stage.
We have seen today that dual channel memory on the Core i7 is more than enough to keep it fed with bandwidth, especially since the CPU and memory are communicating with each other directly. There is very little lost bandwidth and it makes better use of all of the dual channel memory than the triple channel memory. However, with Intel's plans to increase speeds and allow heavier memory usage, especially with IGP based systems, the extra bandwidth will end up being welcomed.
Our moral to this story is if you're planning on a Core i7 system, don't just go out and buy triple channel memory straight away. If your budget allows for it, then by all means more memory will help, especially in Vista. However, with today's results you can see that dual channel memory is more than capable of keeping up with the Core i7.
PRICING: You can find products similar to this one for sale below.

United States: Find other tech and computer products like this over at Amazon.com

United Kingdom: Find other tech and computer products like this over at Amazon.co.uk

Australia: Find other tech and computer products like this over at Amazon.com.au

Canada: Find other tech and computer products like this over at Amazon.ca

Deutschland: Finde andere Technik- und Computerprodukte wie dieses auf Amazon.de
We openly invite the companies who provide us with review samples / who are mentioned or discussed to express their opinion. If any company representative wishes to respond, we will publish the response here. Please contact us if you wish to respond.