P55 vs X58 Memory Performance Analysis w/ OCZ Platinum Series
With two PC3-12800 kits lying around from OCZ, we put them to good use and see how Tri-Chan vs. Dual Chan goes on P55 and X58 these days.
Published
8 minute read time
Introduction

With so many samples passing through my front door over the year, we quite often end up with some surprises; be it a company sending it without letting us know, or it taking a bit longer to arrive than we expected and we forget about it. For whatever reason, we ended up with a couple of kits of PC3-12800 memory from OCZ.
What happened is that it arrived around the same time as a lot of new high performance PC3-16000 and PC3-17600 kits. To no fault of OCZ's, it did fall slightly to the back of the pack.
In wondering what we could do with the two kits and how we could work them both into a single article, I thought it was time to see how the old Tri-Chan vs. Dual-Chan debate is going on with our X58 GIGABYTE board and P55 ASRock one.
While we understand that the CPUs are different along with some of the features, we'll be trying to keep the two systems as close to each other as possible. We'll get into the finer details under our test system area, but for now let's have a look at the two kits from OCZ.
The Package and Modules
The Package
Having a look at the two kits, you can see there's nothing we haven't really seen before when it comes to the packaging of the modules. The main difference is of course that one is a triple channel kit and the other is a dual channel one. Both are part of the Platinum series.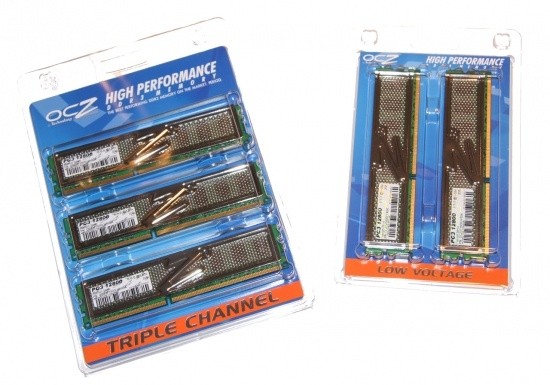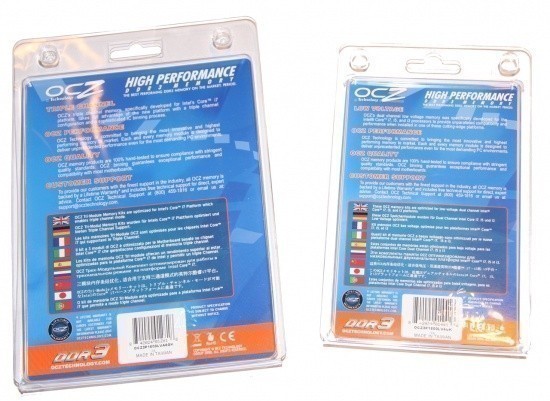 The back of the package gives us a run down on some of the main features that both kits offer us. Across the bottom of both we've got the model numbers which we'll look at closer when we check out the modules themselves.
The Modules
Having a look at the dual channel kit, we don't see anything that we haven't seen before from the Platinum series from OCZ. We've got a fairly basic heatsink design with the Z logo in the middle.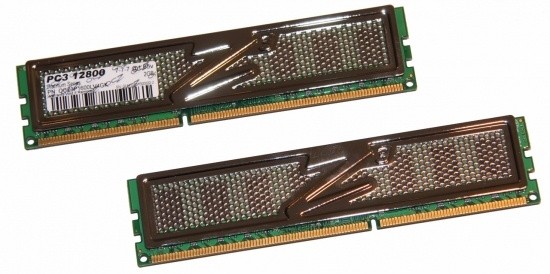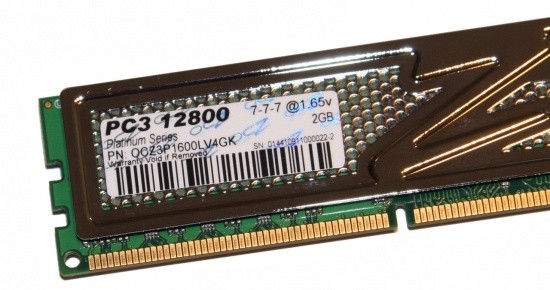 On one side we have a sticker that gives us a run down on the specifications. You can clearly see it's a PC3-12800 kit that carries with it 7-7-7 at 1.65v when it comes to timings. Just below this, you can see that the particular module is a 2GB one which will make up a 4GB kit with the second.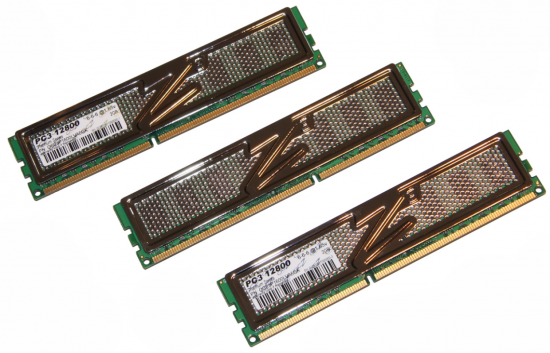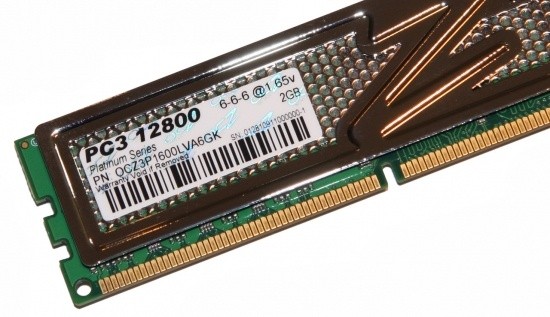 The Tri-Chan kit is exactly the same really in most ways. The only real difference apart from the extra 2GB module is the fact that this kit uses a more aggressive 6-6-6 at 1.65v setup.
Overclocking
While here we would tend to overclock the kit normally, we won't today due to the focus of the article. In saying that, we'll leave the same header because we'll really be talking about what we always do on the overclocking page.
As you can see below on our P55 Deluxe motherboard from ASRock, we had no trouble getting the default 1600MHz with the 7-7-7-24 setup. To get this we used a 200 BCLK along with a 2:8 memory divider.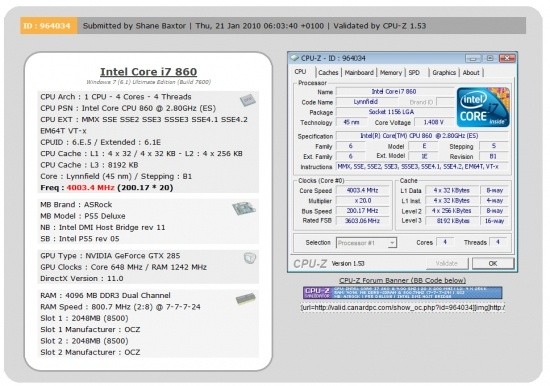 You can see the validation
here
.
Due to fairness sake, we moved the memory on our GIGABYTE EX58-UD5 to 7-7-7-24 at the same 1600MHz clock. Considering these timings are slightly more relaxed than the standard 6-6-6-24 setup, it comes as no surprise that there wasn't an issue.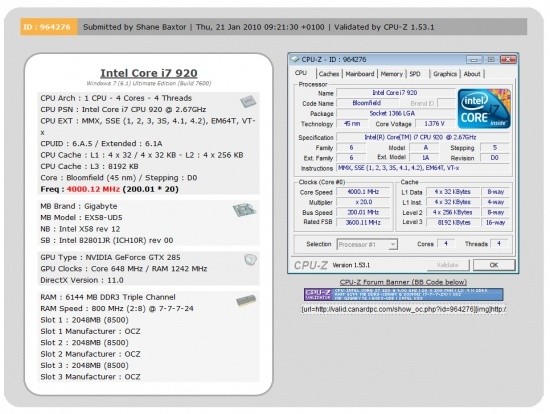 You can see the validation
here
.
The CPU speed was something that we had to worry about. Our i7 920 uses a 20x multplier while our i7 860 uses a 21x. To keep the CPUs together in speed and again for fairness sake, we dropped the i7 860 multiplier to 20x and with both CPUs running a 200 BCLK we're at 4GHz or there about as the screenshots show.
Important Editor Note: Our maximum overclocking result is the best result we managed in our limited time of testing the memory. Due to time constraints we weren't able to tweak the motherboard to the absolute maximum and find the highest possible FSB, as this could take days to find properly. We do however spend at least a few hours overclocking every motherboard to try and find the highest possible overclock in that time frame. You may or may not be able to overclock higher if you spend more time tweaking, or as new BIOS updates are released. "Burn-in" time might also come into play if you believe in that.
Test System Setup and wPrime
Test System SetupProcessor(s):
Intel Core i7 860 @ 4GHz (20 x 200BCLK)
Cooling:
Noctua NH-U12P (Supplied by
Noctua
)
Motherboard(s):
ASROCK P55 Deluxe (Supplied by
ASROCK
)
Processor(s):
Intel Core i7 920 @ 4GHz (20 x 200BCLK)
Cooling:
Noctua NH-U12P (Supplied by
Noctua
)
Motherboard(s):
Gigabyte EX58-UD6 (Supplied by
Gigabyte
)
Hard Disk(s):
Western Digital 300GB Velicorapter (Supplied by
Western Digital
)
Video Card:
GIGABYTE GTX 285 896MB (Supplied by
GIGABYTE
)
Operating System:
Windows 7
Drivers:
ForceWare 191.07
If you skipped over the last page and headed straight to the benchmarks, the main pieces of information you really need to know are above. We've dropped the 21x multiplier on the i7 860 to 20x to line up with the i7 920 which gives us a 4GHz clock.
As for the memory, we've relaxed the timings slightly from the 6-6-6-24 setup on the Tri-Chan kit to 7-7-7-24 to be in line with the Dual-Chan kit. While we'll be using our standard RAM line-up, we've added Resident Evil 5 along with CINEBENCH R10 to complete the lineup today.
Our aim is to make both systems as close to each other while using different chipsets. Our RAM is clocked the same, both use the same VGA card and drivers and both CPUs are also clocked at 4GHz.
Let's get started!
Important Note: When modules are overclocked we adjust the BCLK which not only lets us fine tune the MHz out of a module but in turn increases the overall CPU clock speed. While we always make the effort to include the BCLK and CPU Speed in our graphs please just make sure that you make note of these when looking at the results, in some tests that don't purely test the memory speed the extra MHz on offer from the CPU can increase the result. Of course it's worth noting that having faster memory gives you the ability to run your CPU at a higher speed.
wPrimeVersion and / or Patch Used:
1.62
Developer Homepage:
http://www.wprime.net/
Product Homepage:
http://www.wprime.net/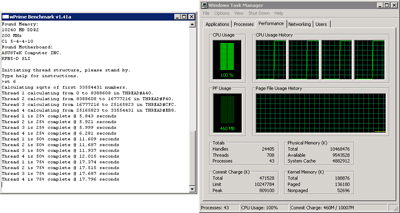 wPrime uses a recursive call of Newton's method for estimating functions, with f(x)=x2-k, where k is the number we're sqrting, until Sgn(f(x)/f'(x)) does not equal that of the previous iteration, starting with an estimation of k/2. It then uses an iterative calling of the estimation method a set amount of times to increase the accuracy of the results. It then confirms that n(k)2=k to ensure the calculation was correct. It repeats this for all numbers from 1 to the requested maximum.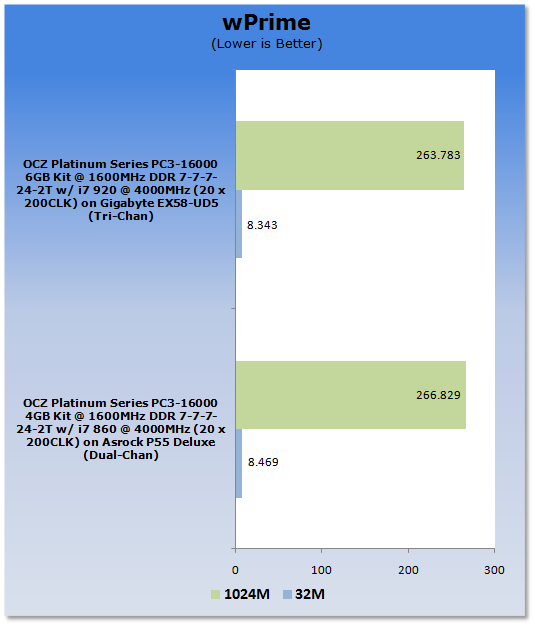 wPrime is a benchmark that heavily focuses on the CPU; it shows both setups performing very similar. The X58 one does slightly edge out the P55, though.
Benchmarks - Everest Ultimate Edition
EverestVersion and / or Patch Used:
Ultimate Edition
Developer Homepage:
http://www.lavalys.com/
Product Homepage:
http://www.lavalys.com/products/overview.php?pid=3&ps=UE&lang=en
Buy It Here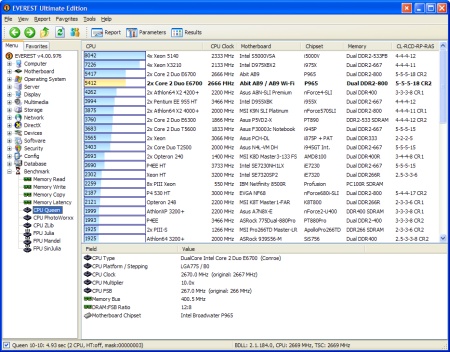 EVEREST Ultimate Edition is an industry leading system diagnostics and benchmarking solution for enthusiasts PC users, based on the award-winning EVEREST Technology. During system optimizations and tweaking it provides essential system and overclock information, advanced hardware monitoring and diagnostics capabilities to check the effects of the applied settings. CPU, FPU and memory benchmarks are available to measure the actual system performance and compare it to previous states or other systems. Furthermore, complete software, operating system and security information makes EVEREST Ultimate Edition a comprehensive system diagnostics tool that offers a total of 100 pages of information about your PC.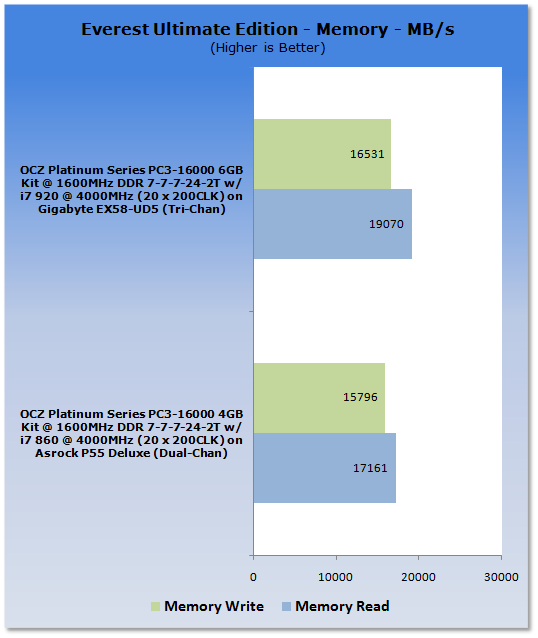 With Tri-Chan on offer we can see the X58 performance is up here in both the read and write department. They're not massive increases, though.
Benchmarks - SiSoft Sandra
SiSoft SandraVersion and / or Patch Used:
Professional Home
Developer Homepage:
http://www.sisoftware.co.uk
Product Homepage:
http://sisoftware.jaggedonline.com/index.php?location=home&a=TTA&lang=en
Buy It Here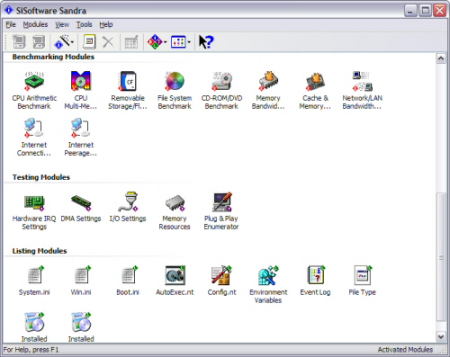 SiSoft Sandra (
S
ystem
AN
alyser,
D
iagnostic and
R
eporting
A
ssistant) is a synthetic Windows benchmark that features different tests used to evaluate different PC subsystems.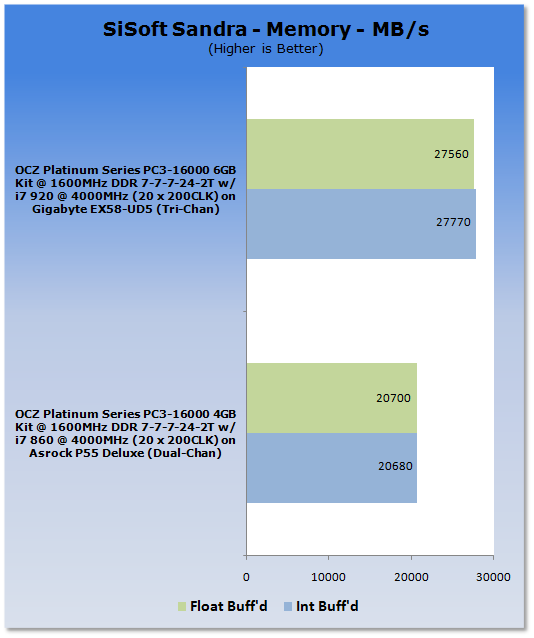 SiSoft Sandra makes the Tri-Chan setup look a lot more attractive with a significantly larger boost in performance.
Benchmarks - Sciencemark
ScienceMark 2.0
ScienceMark 2.0 is a mathematical program designed to stress the memory subsystems of both desktop/workstation and server environments to determine the read/write latency as well as the overall memory bandwidth available between the CPU and the memory controller.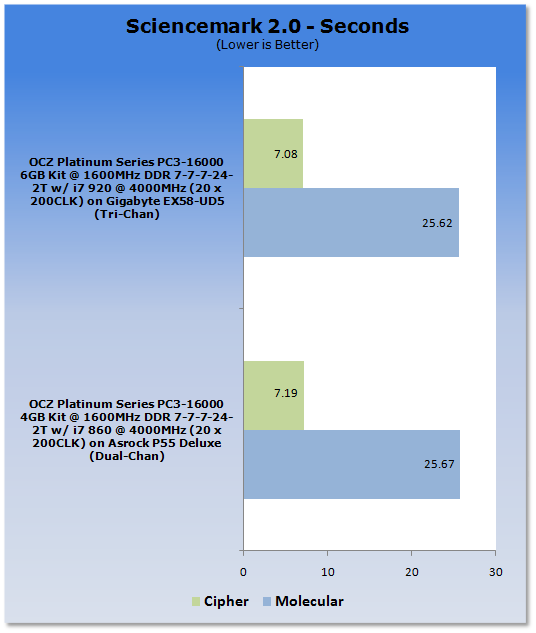 We again see that both setups perform very close to each other. If we had to call a winner, it would be the X58 one which just edges out the P55 one.
Benchmarks - Far Cry 2
Far Cry 2Version and / or Patch Used:
1.03
Timedemo or Level Used:
Ranch Long
Developer Homepage:
http://www.ubi.com
Product Homepage:
http://www.farcry2.com
Buy It Here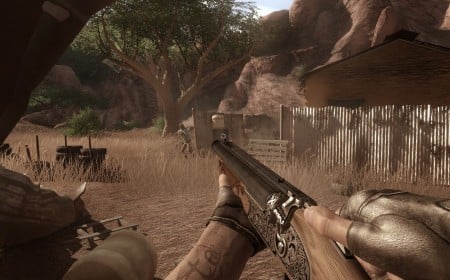 The Dunia Engine was built specifically for Far Cry 2 by the award-winning Ubisoft Montreal development team. It delivers the most realistic destructible environments, amazing special effects such as dynamic fire propagation and storm effects, real-time night-and-day cycle, dynamic music system, non-scripted enemy A.I. and so much more.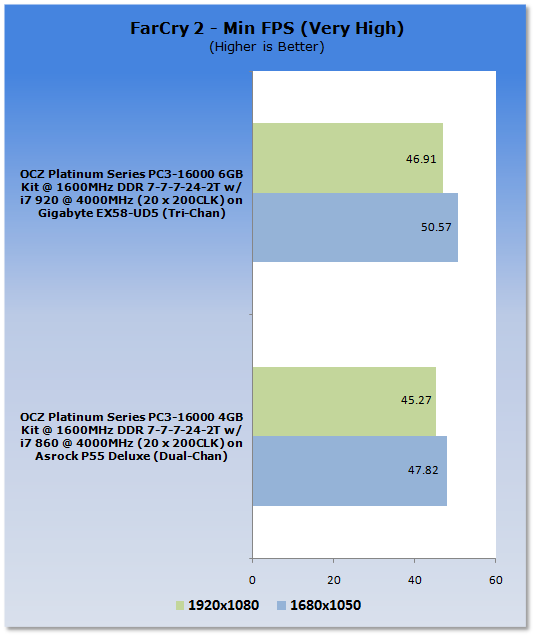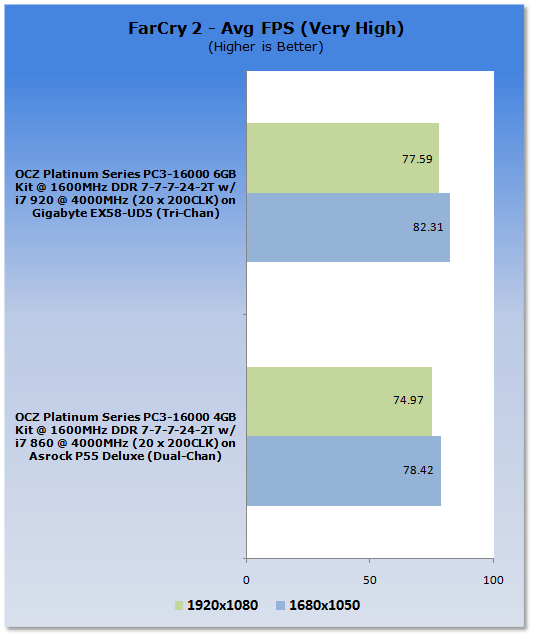 When it comes to gaming, you can clearly see that there's a bump in performance for the X58 setup, especially at the lower resolution when looking at the minimums. In saying that, the difference in performance isn't going to affect your gaming experience.
Benchmarks - Resident Evil 5
Resident Evil 5Version and / or Patch Used:
Demo Benchmark
Developer Homepage:
http://www.capcom.com
Product Homepage:
http://www.residentevil.com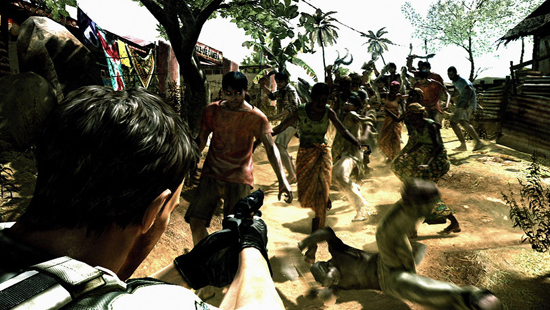 Resident Evil 5 is a survival horror video game developed and published by Capcom. The game is the seventh installment in the Resident Evil survival horror series, and was released on September 18. Resident Evil 5 revolves around Chris Redfield and Sheva Alomar as they investigate a terrorist threat in Kijuju, a fictional town in Africa.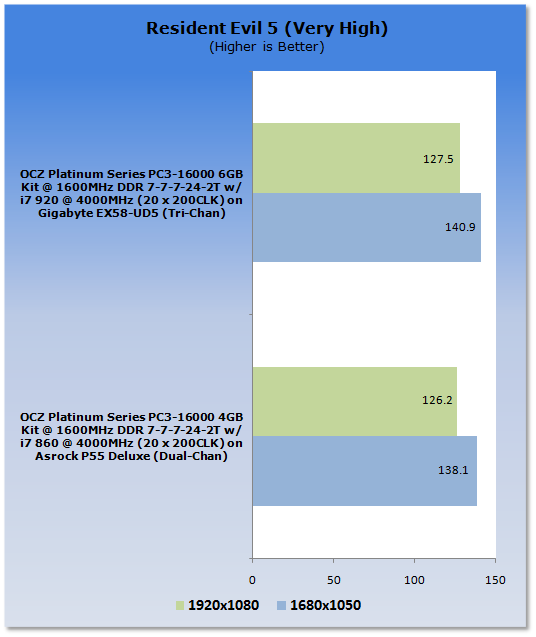 We again see the X58 setup pulls out a win. Like the Far Cry2 benchmark, the difference in performance isn't going to impact things too much here.
Benchmarks - CINEBENCH R10
CINEBENCH R10Version and / or Patch Used:
Release 10
Developer Homepage:
http://www.maxon.net/
Product Homepage:
http://www.maxon.net

CINEBENCH is a real-world test suite that assesses your computer's performace capabilities. MAXON CINEBENCH is based on MAXON's award-winning animation software, CINEMA 4D, which is used extensively by studios and production houses worldwide for 3D content creation. MAXON software has been used in blockbuster movies such as Spider-Man, Star Wars, The Chronicles of Narnia and many more.
MAXON CINEBENCH runs several tests on your computer to measure the performance of the main processor and the graphics card under real world circumstances. The benchmark application makes use of up to 16 CPUs or CPU cores and is available for Windows (32-bit and 64-Bit) and Macintosh (PPC and Intel-based).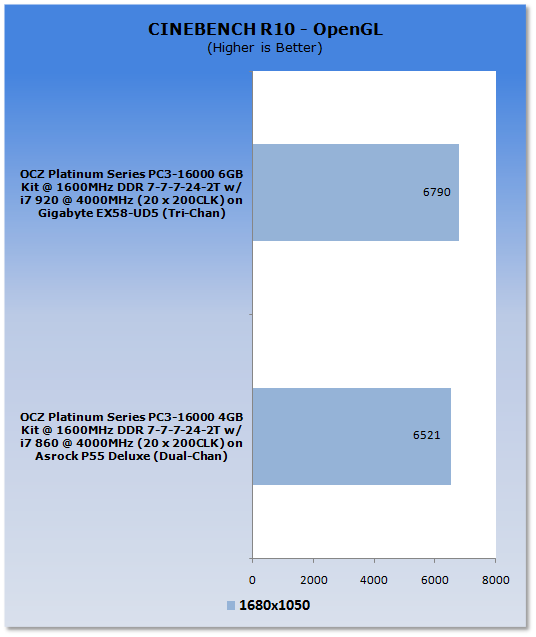 Leaving on CINEBENCH R10, we can again see that both systems perform similar to each other. Like our other tests, though, if we called a winner it would indeed be the X58 setup.
Final Thoughts
Looking at the results, I'm surprised to see the X58 and P55 setup perform so close to each other. To be honest, though, I'm not sure if I'm surprised that the P55 performs close to the X58 or surprised that the X58 doesn't perform better when compared to the P55. It doesn't matter which way you look at it, the P55 performs extremely well against the more expensive X58 setup.
The biggest reason why the numbers are so close to each other is because I think we chose to put it on as close a playing field as possible. What this really means that if you're into overclocking and happy to do it, then you'll probably find yourself getting performance similar to that of an X58 setup at the same speed. If you're able to pull even more MHz out of your P55 setup than a friends, your machine will probably end up running faster.
As for the RAM, there's no surprises from OCZ. You've got a great couple of kits here for people who don't want to spend huge money. They might look a bit boring, but if you play around with the dividers and have a decent CPU, getting 4GHz off a X58 or P55 setup with either kit shouldn't be a problem.
While all of a sudden the X58 setup might be feeling a bit obsolete, you have to remember that if you're interested in going down the two or more video card route then the dual x16 ports on offer from the X58 setup is going to be much more appreciated. Of course, something like the HD 5970 which uses only a single slot is going to go well on both systems.
PRICING: You can find products similar to this one for sale below.

United States: Find other tech and computer products like this over at Amazon.com

United Kingdom: Find other tech and computer products like this over at Amazon.co.uk

Australia: Find other tech and computer products like this over at Amazon.com.au

Canada: Find other tech and computer products like this over at Amazon.ca

Deutschland: Finde andere Technik- und Computerprodukte wie dieses auf Amazon.de
We openly invite the companies who provide us with review samples / who are mentioned or discussed to express their opinion. If any company representative wishes to respond, we will publish the response here. Please contact us if you wish to respond.