Interviewing CyberLink about HTPC and HD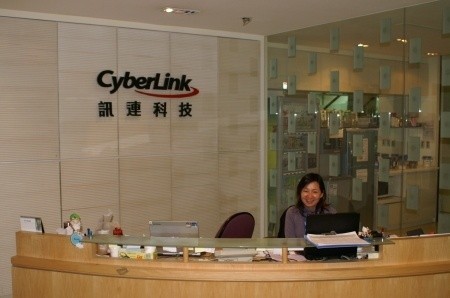 We recently caught up with our friends at the happy and fun CyberLink HQ here in Taipei, Taiwan and asked them a range of questions addressing our concerns and also those of which we have seen posted in many audio visual forums around the world.
We say "happy and fun" as it's quite literally the most vibrant office we have visited, ever. Alice H. Chang, CEO of CyberLink, actually encourages staff members to decorate the office with movie posters, drawings and painting on walls. Heck, even bring along your toys, figurines and comics from home - that's cool, too!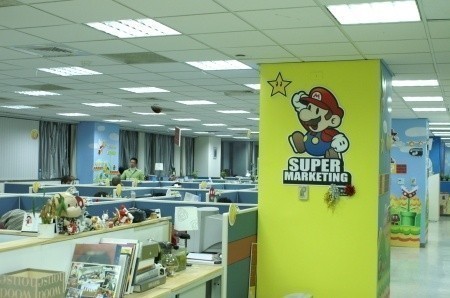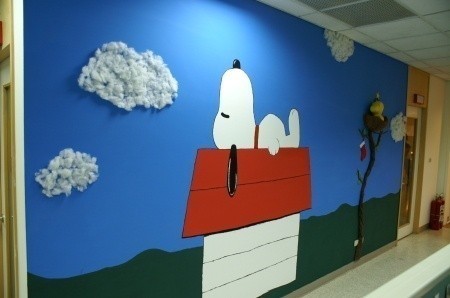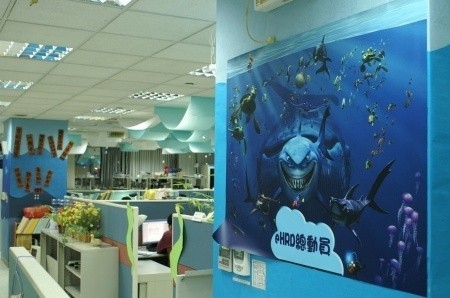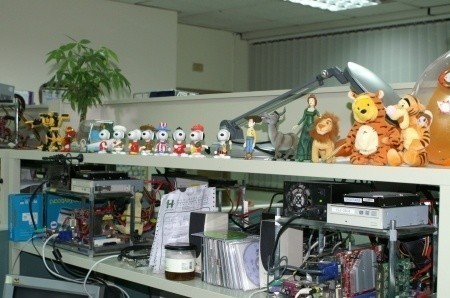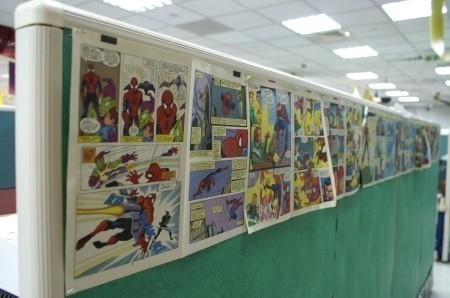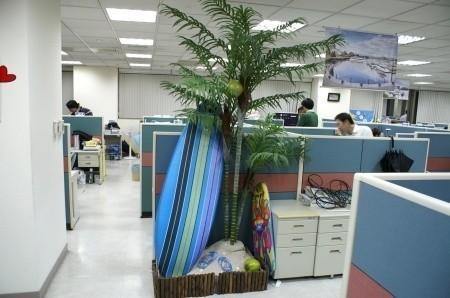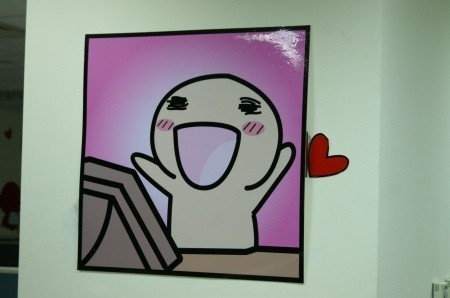 CyberLink is a Taiwanese company who made it big not only by getting numerous awards for a happy, hard working and ever changing workplace, but by making software enabling digital multimedia on computers. They have a range of different software for movie playback, recording, authoring and so on.
CyberLink's highlight product and what is known by most is "PowerDVD". Just recently they launched the latest version, PowerDVD 8 - including the more beefy Deluxe and Ultra versions. Each supports playback of HD video from Blu-ray and AVCHD discs as well as standard definition DVD-Video, DVD-Audio, DVD-VR, DVD+VR and VCD, SVCD, Audio CD. It's going to be the focus of our interview today.
Let the Interview commence!
Interview Begins - Questions and Answers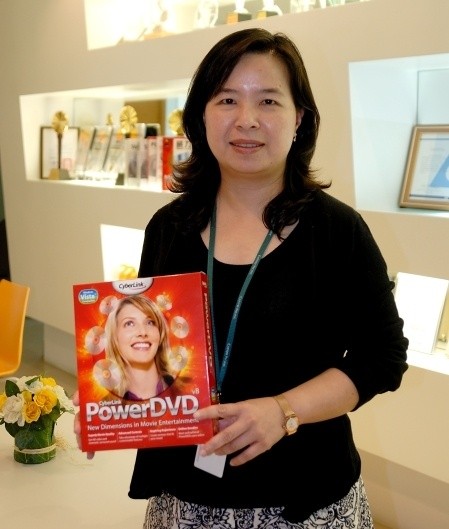 We caught up with Manal Ma, VP of Marketing at CyberLink who answered the questions along with Renee Chen, PR Project Manager of Marketing Communication.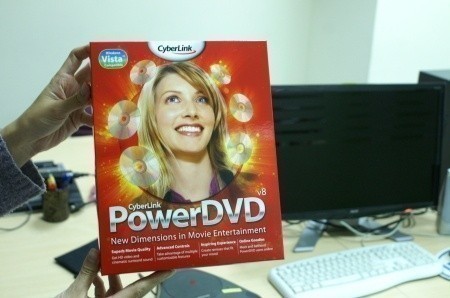 Let's get these questions underway now and see if we can't sort out some of the concerns that we are seeing from HTPC HD enthusiasts from around the world.
TweakTown -
Thanks for taking the time to answer our questions! First of all, why not tell us a little about yourself, your position at CyberLink and what you do? Oh, and what toy did you bring from home for your office desk?
CyberLink -
My name is Manal Ma and I am VP of Marketing at CyberLink Corp. I head the marketing team to promote CyberLink products and build our brands. By September, I will be celebrating my tenth year at CyberLink and I am happy to be an active part of a growing company, and in a growing and highly challenging market.
I am happy to know that you noticed the little toys most of our employees have on their desks. Software companies highly rely on the intelligence and creativity from their workforce. It is no surprise that we all have something handy to inspire our creativity.
I have with me a Disney version of the grinning "Cheshire Cat" from Alice in Wonderland. In the book, I find the cat is amusing in many ways, always showing up unexpectedly. I also liked the vexing conversations the cat had with Alice. This one is my favorite which reminds me that one must have a purpose in life.
"Would you tell me, please, which way I ought to go from here?"
said Alice.
"That depends a good deal on where you want to get to,"
said the Cat.
"I don't much care where -"
said Alice.
"Then it doesn't matter which way you go,"
said the Cat.
The same goes for running businesses successfully. When we were only a company of less than 100 people, we had well defined our company mission and a vision which we would like to see ourselves grow into - to be focused in developing digital media software for the enjoyment of people and to strive to be the best in terms of delivering superior technology, constantly innovate ourselves and building a sustainable business model.
TweakTown -
Although CyberLink supported both HD DVD and Blu-ray, did CyberLink suspect, or plan for a Blu-ray win at any stage?
CyberLink -
No, we did not bet on any side. Both teams were backed up by big players and we have customers on each side. Before HD DVD made their announcement, CyberLink had been supporting both formats across all of our software product line, which included playback, authoring and burning on both Blu-ray and HD DVD discs.
TweakTown -
Is the Blu-ray Disc Association (BDA) a helpful entity to deal with? How do they assist you in development?
CyberLink -
Yes, they are. BDA hosted regular meetings for members including CyberLink to discuss SPEC, issues and schedules. They also hosted well-designed logo programs (profile 1.0, 1.1, 2.0, AVCREC) and passing the logo program is and was not easy - it helps to ensure that our application haa high compliance to the BD spec. Besides, passing the logo is a must from BDA before our player can begin selling - we also felt it was a good thing for our users, too.
TweakTown -
What is CyberLink's opinion of AnyDVD HD, which works in conjunction with PowerDVD to strip certain DRM and remove HDCP?
CyberLink -
This is not true. AnyDVD HD does not work in conjunction with PowerDVD. A user can strip certain DRM by simply using AnyDVD HD (even without installing any CyberLink software on their system). We do not comment on other companies products.
TweakTown -
Why can't PowerDVD screenshot Blu-ray movies? Is this feature coming? And when will PowerDVD support Blu-ray profile 2.0 (aka BD-Live)?
CyberLink -
No, PowerDVD will not support the capturing of screenshots from Blu-ray movies because it is against AACS rules. And yes, PowerDVD already supports Blu-ray profile 2.0 - we expect to have the software version out by the end of this month.
TweakTown -
Are there any plans to allow playback of Super Audio CD's or rips through PowerDVD?
CyberLink -
No, we don't have the plan for this yet. And there are no SACD drives available for PC systems. It is impossible to support it from a pure software stand-point.
TweakTown -
Now that ASUS and Auzentech have announced true HDMI 1.3 sound cards (which should release sometime in Q2 2008), what plans do CyberLink have to properly support HD audio (TrueHD and DTS-HD MA and full 8 channel) through PowerDVD?
CyberLink -
Yes, we're working with some chipset vendors and will support ASUS and Auzentech by the end of June.
TweakTown -
Surely since there will be a secure audio path from PC to receiver amp or speakers, it should satisfy AASC rules? Is this something which the new PowerDVD 8 addresses?
CyberLink -
No, PowerDVD 8 does not support secure audio path at this time. It will be added in an upcoming patch. And yes, it would satisfy AACS rules.
TweakTown -
If the HDMI sound cards do in fact satisfy the rules set by the industry and studios according to CyberLink, how will you go about implementing TrueHD and DTS-HD MA 8 channel HD audio support into PowerDVD, and when?
CyberLink -
In order to satisfy AACS compliance rules, it would be done by proprietary interface to deliver audio between PowerDVD and cooperative IHVs. The schedule is to have it done by the end of June.
TweakTown -
What exactly do you mean by
proprietary interface
? Please tell us more!
CyberLink -
There are several reasons why we need to implement secure audio path via proprietary interface.
1. We would encrypt Compressed/Uncompressed High-def audio before delivering to the audio driver.
2. Uncompressed Audio data would be interfered by Vista OS (mixing with other audio streams, down mix and so on), which would cause incorrect results while decrypting protected data in Audio HW/Driver).
3. Microsoft haven't defined a new interface to pass new compressed audio formats supported in HDMI 1.3 (Dolby TrueHD, DTS-HD MA, DD+).
The working flow is PowerDVD encrypts the audio and delivers to the audio driver via proprietary interface => audio driver or HW decrypt audio => Analog output: render the decrypted audio; Digital output: Deliver the decrypted audio via digital link and enable some protection mechanism required by AACS (e.g. HDCP in the case of HDMI).
Interview - Continued
Interview ContinuedTweakTown -
Will you allow S/PDIF out for these audio standards as Linear PCM and bit stream, or which other method will be used exactly?
CyberLink -
S/PDIF could not output high-def multi-channel Linear PCM, TrueHD and DTS-HD MA by its nature, so we don't support these formats through S/PDIF out.
TweakTown -
During CeBIT in Germany recently we saw some upcoming motherboards (such as AMD 780G and Intel G45) with onboard HDMI outputs that are said to properly output digital video as well as audio. Will users of PowerDVD software be able to use these motherboards to output true HD audio at 8 channels, or not?
CyberLink -
Yes, we're working with Intel for G45 and AMD for 780G now, but it's for video only. It's scheduled to be done by the end of June for video support. The schedule of HDMI audio is not confirmed with Intel and AMD.
TweakTown -
Obviously this is all a confusing issue for users at the moment; will CyberLink have some sort of certified hardware database on its website for users to check which hardware properly supports full HD through PowerDVD?
CyberLink -
Yes, CyberLink will update all the certified hardware once they have been tested in our labs and list them on our website for users to check.
TweakTown -
From a technical standpoint and in your opinion with currently available and upcoming hardware, what is the best way for one to enjoy the full HD movie experience on their HTPC? Please detail the ideal PC, software, hardware, cables and so forth.
CyberLink -
A full HD LCD monitor with 7.1 surround sound speakers, amplifier, external decoders, and PC with PowerDVD connected via HDMI cable. All controlled by a single remote control via HDMI 1.3 CEC - single click to turn on all devices and enjoy the movie with high definition video and audio.
TweakTown -
Relaxing off the serious questions; what is your favorite movie, and why? What are the best technical aspects of a movie which you enjoy the most?
CyberLink -
Pirates of the Caribbean: Dead Man's Chest (2) - Fun games in it and a good movie. Cars - various functions of the menu. Best technical aspects: Popup menu for convenient jump and selection and PiP (Picture in Picture) for the convenient explanation of how the movie is made and what is the best art in the movie.
TweakTown -
What most excites you about the industry? Also, what future products or services excite you the most?
CyberLink -
Everything in digital media is exciting and to know the fact that no one can avoid one day without it. In fact, every new technology today is involved with digital media, whether it is a chipset, graphics card, Internet and so on. It is all about delivering the best digital media performance to consumers.
TweakTown -
Can you tell us anything about new products coming in the future from CyberLink? And is there anything else you would like to say to our readers at TweakTown?
CyberLink -
There is still much growth to be seen in the digital media market. We are having so much fun developing the technologies and products to be part of the growth.
Some areas which we are seriously having fun with include:
High Definition - elevates the media experience to new level of excitement on PCs. We will be launching a series of TrueTheater technologies to enhance the movie experience.
Ubiquitous Media - media anytime, anywhere at home and outside the home with CyberLink Digital Home and CyberLink Live.
3D Liquid User Interface engine - we are constantly improving user experience. Our newest product adopting this new engine is MediaShow. It makes PCs more visually exciting.
Web Services - which extend the media experience into something that can be shared within a community of common interest groups. CyberLink has recently announced MoovieLive for PowerDVD and movie enthusiasts around the world. MoovieLive is the first media community site.
There will be more to come soon... ;)
Thank you for the interview!
We would very much like to thank CyberLink for taking the time to answer our questions and we hope that they went a good way to help sorting out some of the issues and concerns which we have been seeing and hearing.
Hopefully you also learnt a few new things along the way! If you're looking at building that ultimate HTPC, by the sounds of it and from the answers we received in the interview, it looks as if June or July would be a good time!
Go have fun in your Digital Lounge now! I know now that I've got these answers, I can finally make some solid decisions about my next home theater upgrade.