4K Ultra HD Blu-ray - the definitive video format
Six months on from the launch of what could be the last physical video format, we discuss why Ultra HD Blu-ray deserves the attention of movie lovers.

Published Oct 17, 2016 11:46 AM CDT
|
Updated Tue, Nov 3 2020 6:58 PM CST
5 minute read time
They say that time flies when you're having fun, and they certainly are right. In a few short months, I'd have been reviewing home video releases for a total of 15 years. It's a role that's not been without its frustrations, but the journey has been fantastic. During that time, there's been massive tectonic shifts in the industry - the death of the analog VHS format and cropped aspect ratios, the entrenching of DVD, the rise and fall of HD-DVD and 3D, the steady popularity of Blu-ray, and right through to the increasing demand for streaming media and on-demand platforms.
Unlike the fate that befell the music industry, whose retrograde steps into lossy music and awfully mastering so eagerly backtracked from decades of progress, the trajectory for video has been consistently one of increasingly quality with each successive generation. Which brings us to today, with the launch of the latest video format - 4K Ultra HD Blu-ray.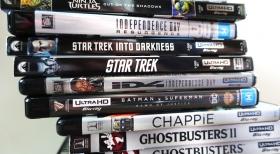 While DVD to this day continues to serve as the de facto physical media format for the masses, more dedicated movie fans have been treated pretty well via Blu-ray which gained traction after the cessation of war with Toshiba's HD-DVD format in 2008 and provided some excellent upgrades. For the first time in history, fans could view movies with quality that rivaled the best projection systems in theaters, presented in their original aspect ratio and frame rate of 24 FPS, as well as lossless surround sound. If a studio could be bothered putting extra effort into producing supplemental features, technology refinements also allowed for the presentation of engaging content such as hosted commentaries with cast and crew, picture-in-picture video, and BD-live connections which could keep up to date long after the disc had shipped from the factory.
Coupled with streaming formats such as Netflix and on-demand platforms like iTunes which have gone on to successfully steal market share from physical media, industry commentators (such as myself) wrongly assumed that Blu-ray would be the penultimate disc format. But with consumer electronics manufacturers acting quick to secure their slice of the move to 4K displays, the swift demand for native 4K content and the inability of the Blu-ray specification to present a viable path via current technology meant an entirely new format was necessary. Enter 4K Ultra HD Blu-ray.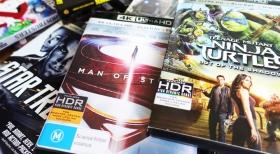 An evolution of the Blu-ray format which was finalized in 2004 and updated a number of times to support upgrades such as stereoscopic 3D video, the Ultra HD Blu-ray format relies on much of the same underlying technology, with the same blue-violet laser system and the same physical size dating all the way back to CD.
But while it might look no different to a standard Blu-ray disc, Ultra HD's denser disc structure has allowed for an increase of 16GB for double layered discs, offering a total capacity of 66GB, or the less common triple layered specification which tops out at 100GB. The latter has been utilized for longer features such as Batman v Superman: Dawn of Justice and Watchmen.
The format's raison d'etre can be found in the four-fold resolution boost, which now boasts a resolution of 3840 x 2160p - in reality, just a tad shy of 4K. Naturally, you'll require a suitably equipped display that's capable of resolving that, otherwise you'll be subject to downscaling, which will negate the benefits. The new standard also reflects advancements in video compression, with HEVC providing an efficiency gain of around 40% compared to H.264, in addition to improved 10-bit color depth, and the REC-2020 color space standard, which renders images much closer to the master film format. However, it's the introduction of High Dynamic Range (HDR), which has garnered much interest. Similar to its usage in still photography, HDR is the measurement of the contrast between the brightest whites and the darkest blacks.
The HDR pass can be as subtle or as aggressive as the colorists intend, but its usage in older movies whose original director may have since passed away or have otherwise been unavailable to supervise, which has earned the ire of film purists who claim that introduction mounts to unwanted revisionism. Two HDR standards have been built into the Ultra HD specification; the mandatory (and open) HDR-10 'base,' and the proprietary Dolby Vision standard. Unlike the static HDR-10, Dolby Vision can dynamically adjust intensity to provide a more consistent picture to compensate the multitude of varying screen capabilities.
There's been far less change in the audio department, with the format capable of carrying lossless Dolby TrueHD and DTS HD-Master Audio tracks, as well as new immersive audio formats such as Dolby Atmos and DTS:X which can offer up to 12 channels of discreet audio, as well as height information. But don't worry if you're audio equipment can't decode these new standards, as players will happily extract and play back the embedded core lossless audio tracks.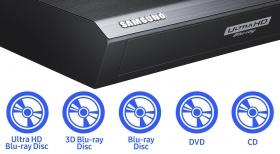 My experience with the format thus far has been one of extremely positivity. Unlike when Blu-ray launched prematurely thanks to a format war with HD-DVD, Ultra HD has entered the market as an extremely mature and capable product. First generation players from the likes of Panasonic and Samsung are surprisingly fast and bug-free, and even Microsoft has exceeded expectations by supporting the technology through the new Xbox One S model.
While Sony surprised fans by doing the exact opposite with the PlayStation Pro, they've still announced a forthcoming standalone player, alongside other market leaders such as Oppo and LG. With all of the major Hollywood studios (with the exception of Disney) already releasing a range of movie titles, with Warner Bros and Twentieth Century Fox providing particularly aggressive support with notable catalogue titles such as Independence Day, Mad Max: Fury Road, and Pacific Rim through to new releases like Deadpool and X-Men Apocalypse.
With many studios finishing newly released movies into 2K digital intermediate masters, unfortunately, many newer Ultra HD titles released thus far haven't been sourced from true 4K masters. Still, the vast majority offer up a noticeable uptick in quality compared to the same 1080p Blu-ray, with the introduction of HDR, wider color gamut, and an extra 120 lines of resolution.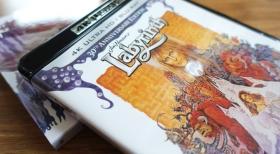 As I checked out the newly remastered Ultra HD disc for the classic Jim Henson/ David Bowie fantasy classic Labyrinth, I was struck by a realization that gave me new found appreciation for the format. I was first introduced to the film on VHS as a child (probably taped off TV) and with a woefully compromised aspect ratio and a resolution equivalent to the first iPhone display. I later jumped at the opportunity to revisit it on DVD and then on Blu-ray, with each subsequent re-release displaying noticeable leaps in quality. Even still, the newly released Ultra HD disc exists on another plane altogether.
While Sony's film preservationists deserve praise for the so lovingly remastering the original 35mm film negative into a brilliant new master, the ability of the 4K disc to so effortlessly present such a wonderful film presentation, with crisp and spotless images, beautifully saturated colors, and rock solid stability is something to be regarded. The film simply has ever looked any better than it does now; not in any cinema and certainly never in any home video release. I was holding in my hand, for all intents and purposes, a physical copy of the film's master negative, which sits preserved in the vaults and servers at Sony Pictures in California, but simultaneously in an attractive slim-line package that cost me less than 25 bucks. Oh, and it comes with a heap of great new special features.
Today's environment increasingly looks at movies and TV as just another product to be consumed and disposed of; indistinguishable from a bag full of McDonalds or a newspaper that gets thrown in the trash after it wears out its usability. But with Ultra HD Blu-ray, we've finally got a near perfect format that brings the attention back to the true artistry of film, allowing fans to pore over the accumulated thousands of hours of immense talent both in front of, and behind the camera.
What a wonderful time to be a film fan. I really hope they appreciate and rally behind this grand new format, because it's going to be tough to embrace overly compressed streaming platforms after viewing films in the quality afforded here. I don't want to see the same fate of the MP3 market befall feature films.
PRICING: You can find products similar to this one for sale below.

United States: Find other tech and computer products like this over at Amazon.com

United Kingdom: Find other tech and computer products like this over at Amazon.co.uk

Australia: Find other tech and computer products like this over at Amazon.com.au

Canada: Find other tech and computer products like this over at Amazon.ca

Deutschland: Finde andere Technik- und Computerprodukte wie dieses auf Amazon.de
We openly invite the companies who provide us with review samples / who are mentioned or discussed to express their opinion. If any company representative wishes to respond, we will publish the response here. Please contact us if you wish to respond.