TweakTown's Rating: 95%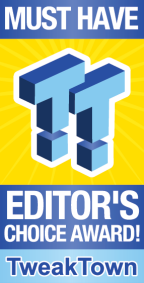 The Bottom Line
Intel's 11600K processor is a tremendous value for gamers wanting a budget price on a legit CPU!
Introduction and Pricing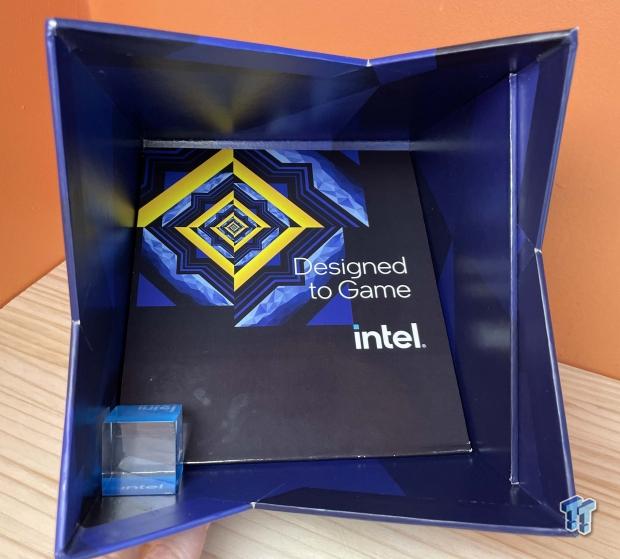 The second CPU in our media kits this year was the Core i5-11600K; it's the bottom of the K series of processors this time around and is the CPU most of you will become familiar with as its market price puts it under that magic $300 price point. 11600K benefits from all of the technology built into the Z590 platform, including a massive amount of connectivity options while being compatible with Z490.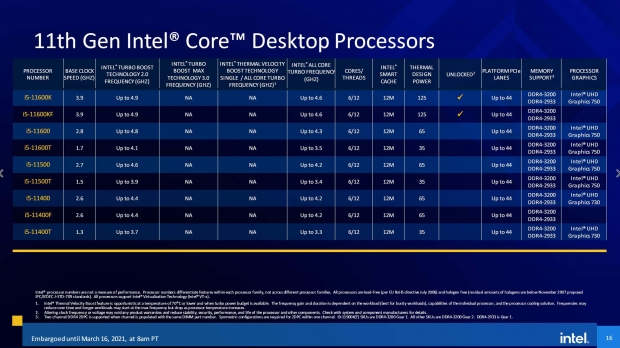 11600K carries a 125-watt TDP, with six cores, 12 threads, and a base clock of 3.9GHz. Boost works out differently for this SKU as it doesn't benefit from ABT but does use Intel Turbo Boost 2.0 to reach 4.9GHz on single/several cores and an all-core turbo of 4.6GHz. 12M of Smart Cache pairs with 44 platform PCIe lanes and JEDEC memory support at 3200MHz using 500 series chipsets.
MSRP of the Intel Core i5-11600K comes in at $269.99 and is available at retailers today. For a dive into the Z590 chipset and Rocket Lake architecture, read our Core i9-11900K review here.
Packaging and Test System
Intel Core i5-11600K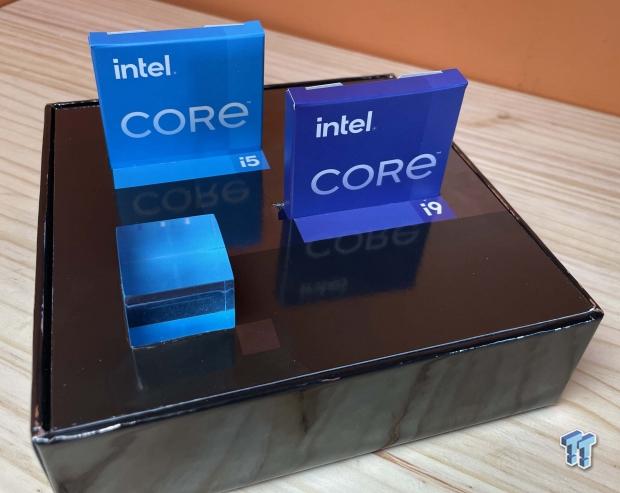 Unique packaging delivered the 11600K to our door alongside the 11900K.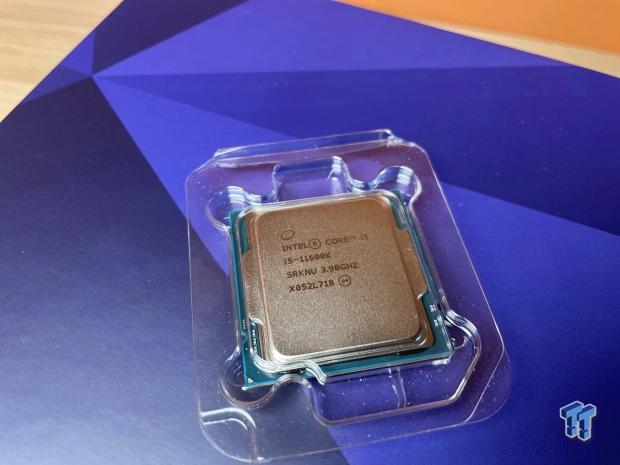 Removing the CPU from the box, we have the retail clamshell protecting the CPU.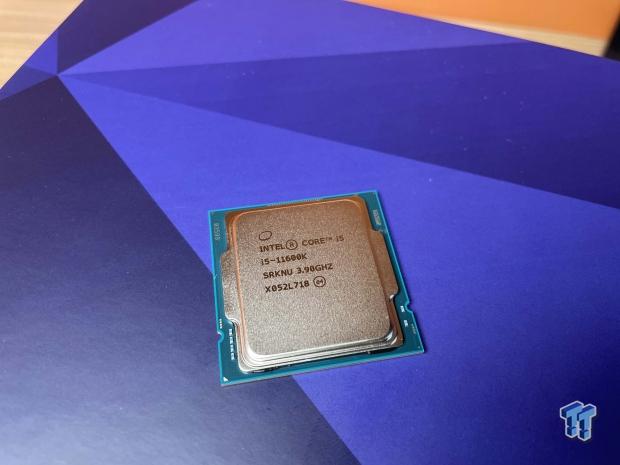 The IHS of 11600K is printed with model identification and batch numbers.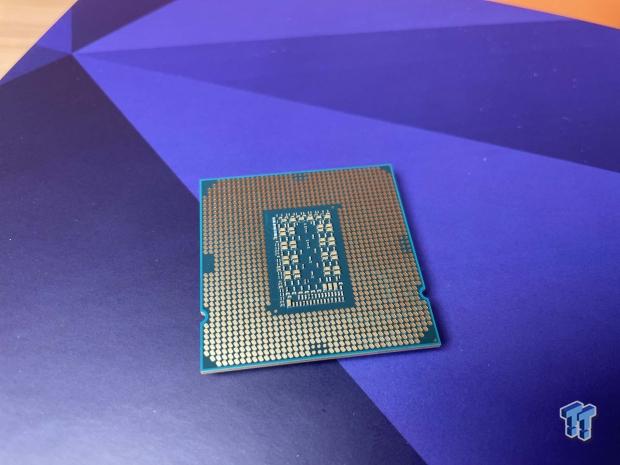 1200 gold pads link the CPU to the motherboard.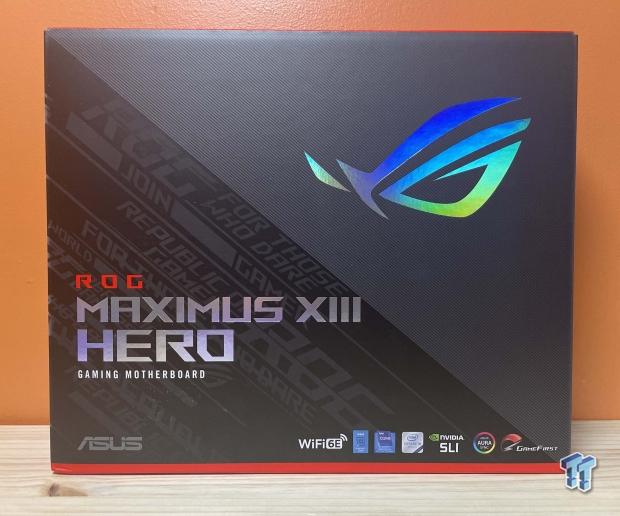 To test the Core i9-11900K, Intel sent over the Maximus XIII Hero from ROG as part of the media kit.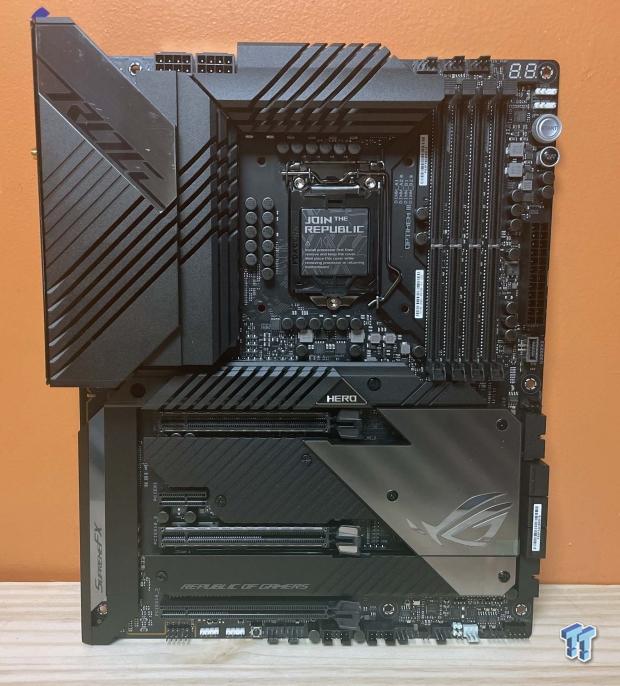 The Hero is a premium motherboard full of connectivity and features, a widespread platform for gamers.
Test System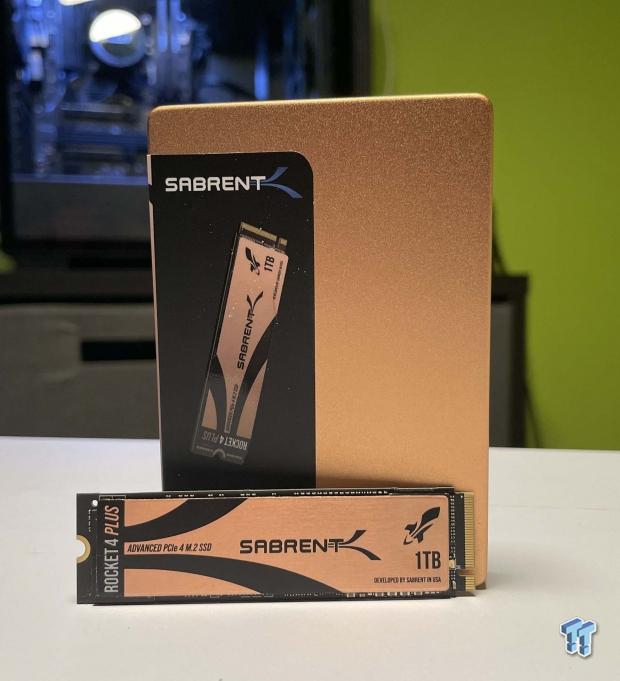 Sabrent was kind enough to continue supporting us with storage for testing 11th Gen and Z590 motherboards with their Rocket 4 Plus.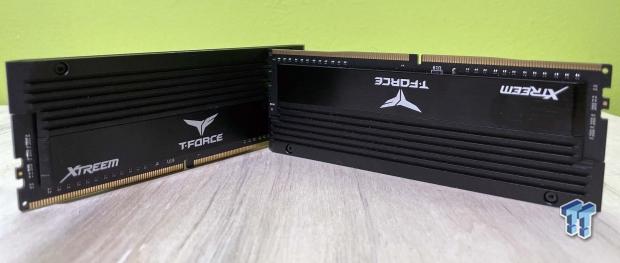 TeamGroup supports us with a fantastic kit of DDR4 4000 from their Xtreem lineup. This is a 2x8GB kit at CL18.
I ran all benchmarks stock and overclocked. Memory was set at XMP DDR4-4000 CL18 for both the AMD and Intel systems; AMD was overclocked with PBO2 while Intel was all core 4.9GHz, as seen below. 10600K was tested on the same Z590 motherboard with the same memory settings.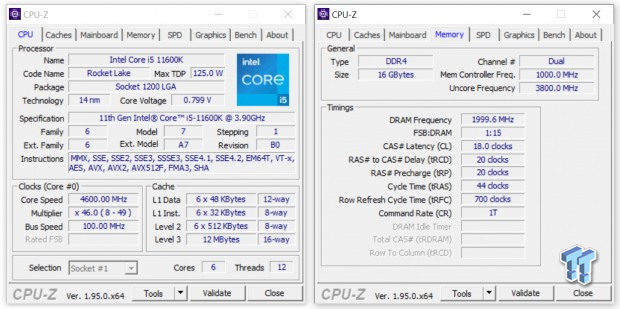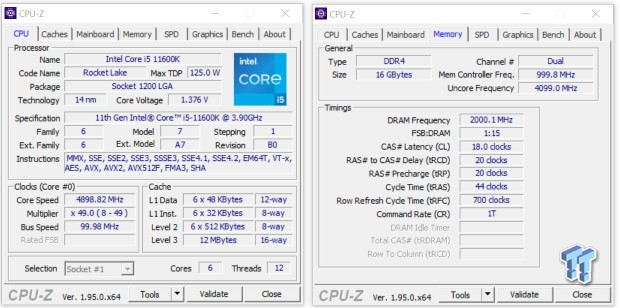 WPrime, Cinebench, RealBench and AIDA64
Cinebench
Cinebench is a long-standing render benchmark that has been heavily relied upon by both Intel and AMD to showcase their newest platforms during unveils. The benchmark has two tests, a single-core workload that will utilize one thread or 1T. There is also a multi-threaded test that uses all threads or nT of a tested CPU.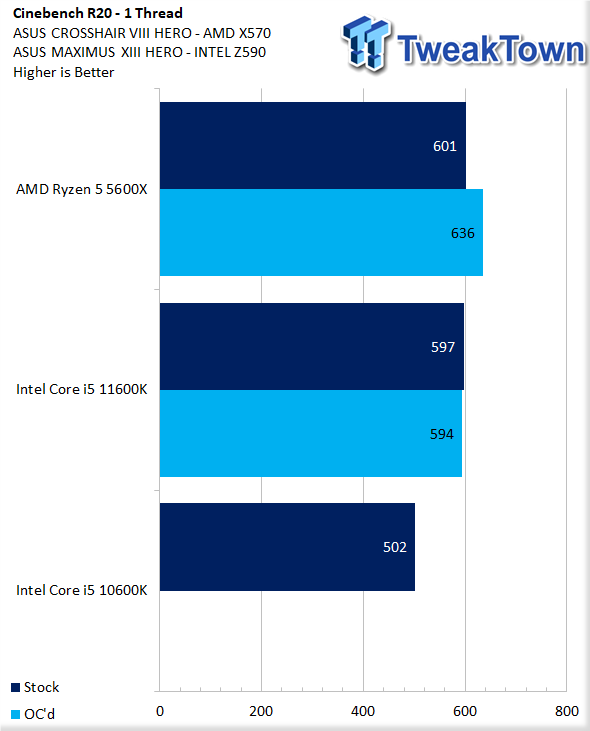 Starting with R20 single thread, we find 11600K at 597 stock settings, and with the all core overclock; 594 points. Compared to 10600K, this is a vast Gen over Gen boost of nearly 100 points.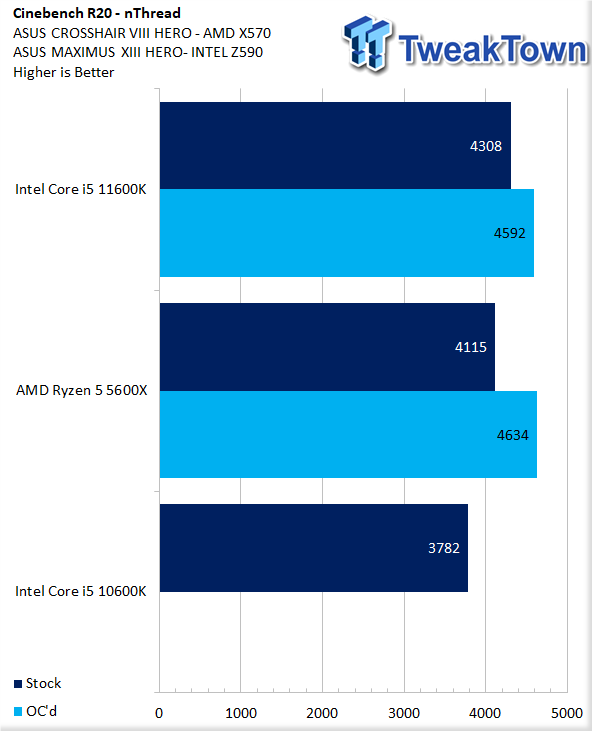 nThread R20 gives a stock score of 4308 while overclocking shows 4592. Again this is a significant gain over 10600K of nearly 1000 points.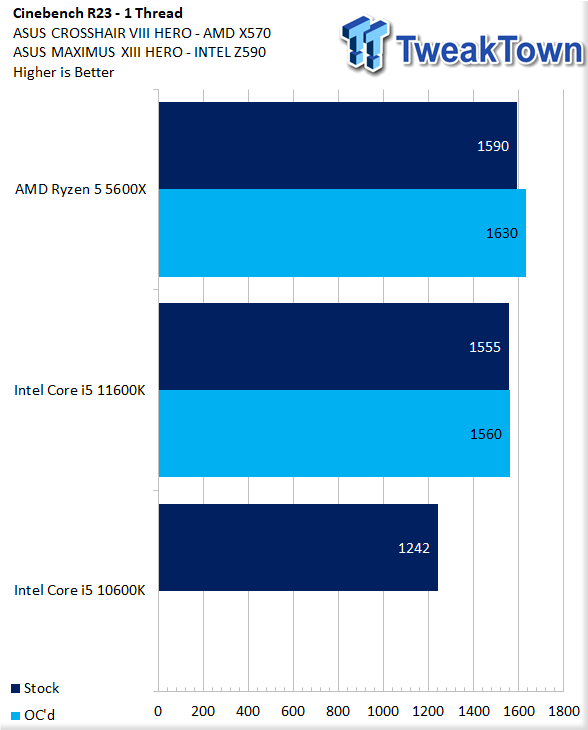 Moving to R23, a score of 1555 is found with stock clocks, and 1560 can be had with overclocking.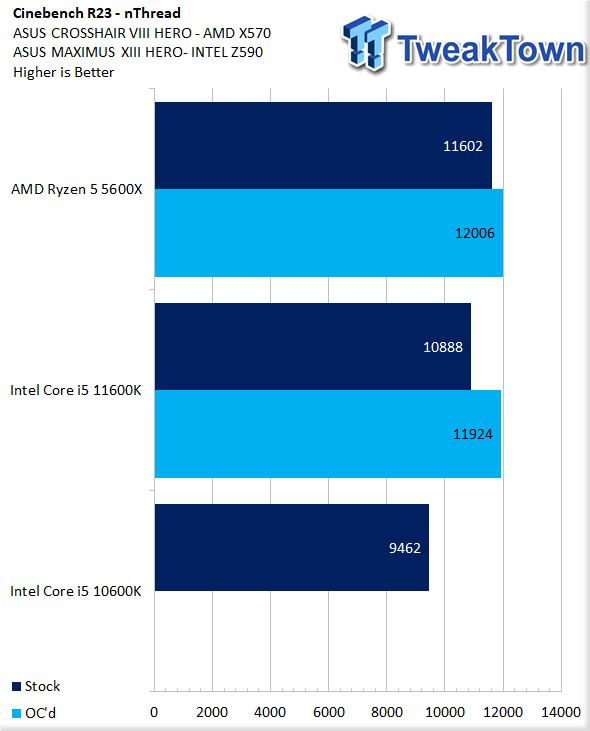 nThread R23 boosts the 11600K to 10888 or 11924 all core at 4.9GHz.
RealBench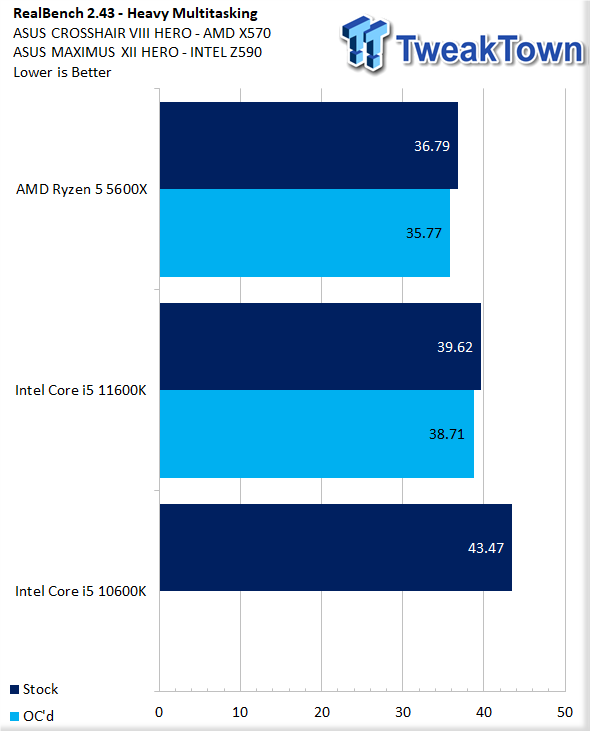 With RealBench, both 5600X and 11600K are close to 36-39 seconds to complete the workload.
AIDA64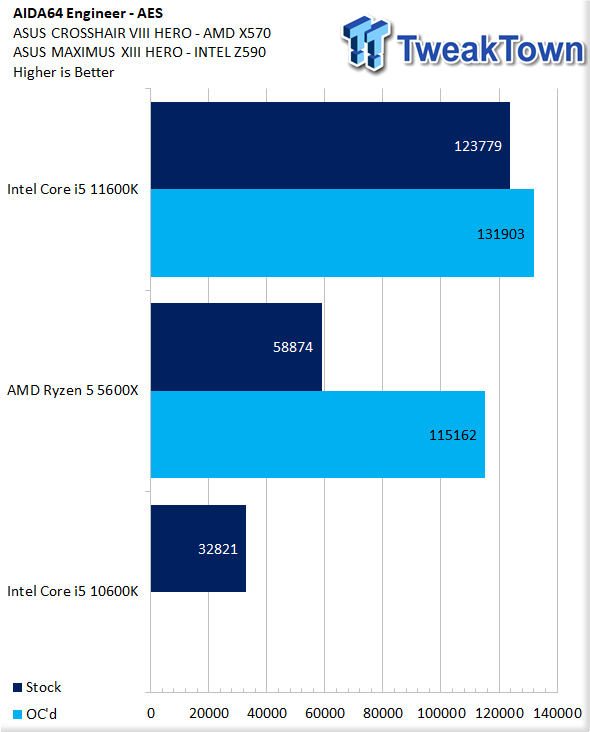 Tasks using AES are significantly quicker on 11th Gen Intel, 11600K scoring 123779 stock and 131903 overclocked.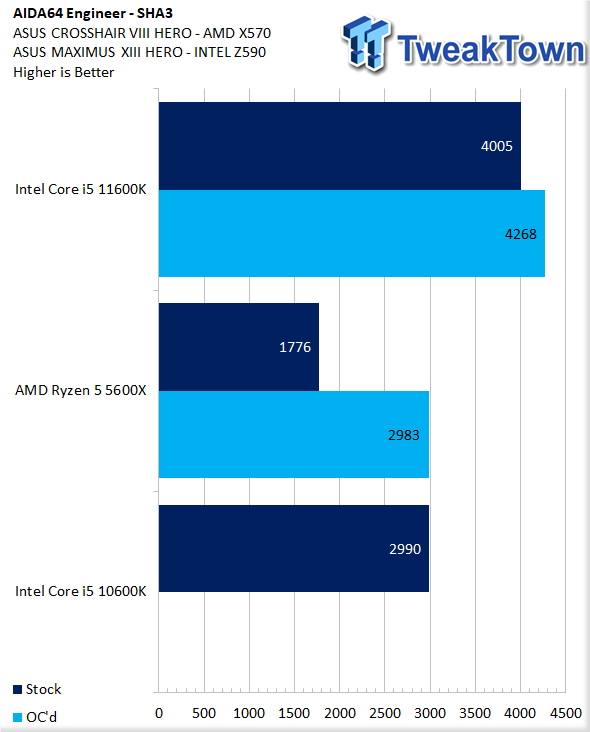 SHA3 shows 4268 at peak, nearly double the performance of 10600K and 1300 higher than 5600X.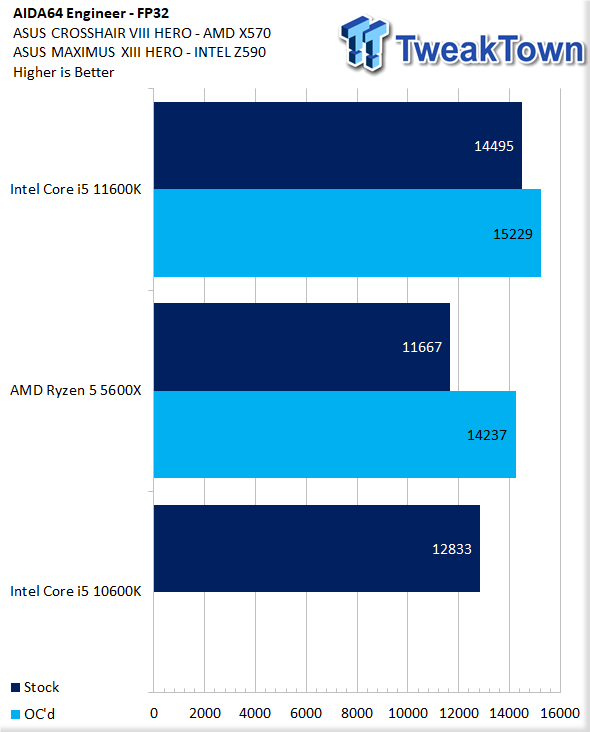 FP32 brings the two CPUs closer together, 11600K offering 15229 and 5600X at 14237.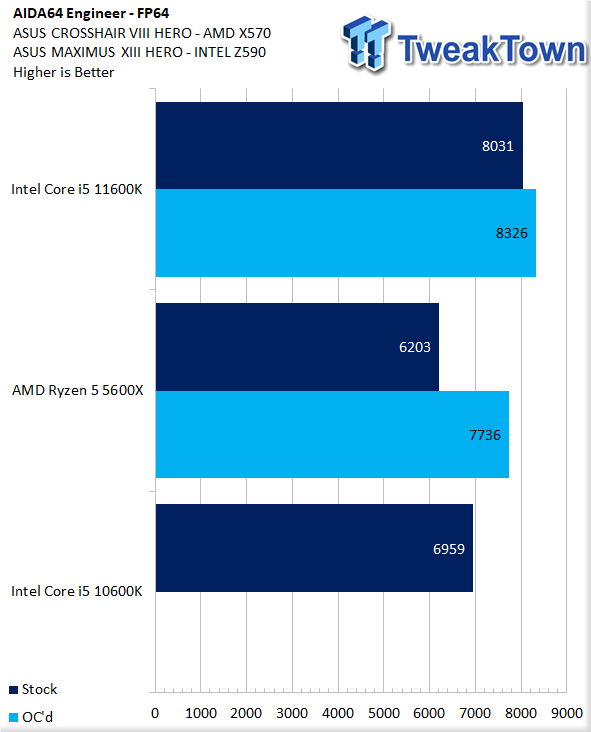 FP64 gives the 11600K a peak of 8326 and the 5600X 7736 with PBO.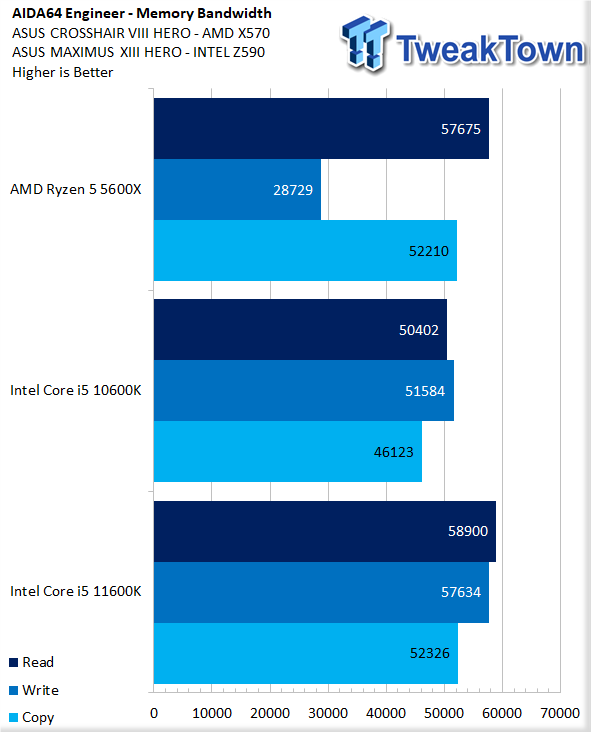 11600K has a full-featured memory controller, 58900 for read, 57634 for write, and 52326 for copy.
UL Benchmarks and Puget Systems Benchmarks
PCMark 10 Applications
PCMark 10 Applications
PCMark is a benchmark from UL and tests various workload types within Microsoft Office and Edge.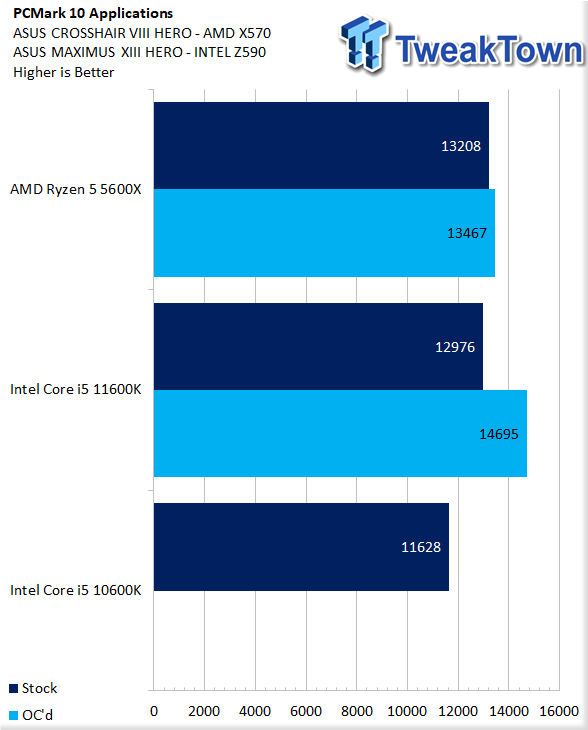 Applications testing in PCMark offers 12976 at stock, and 14695 OC'd, about 1200 points higher than 5600X with PBO.
Puget Systems
PugetBench comes from the fantastic people over at Puget Systems that have done countless hours and years benchmarking hardware. For our testing, we will utilize their Davinci Resolve, Photoshop, and Lightroom benchmarks, you can look into them more here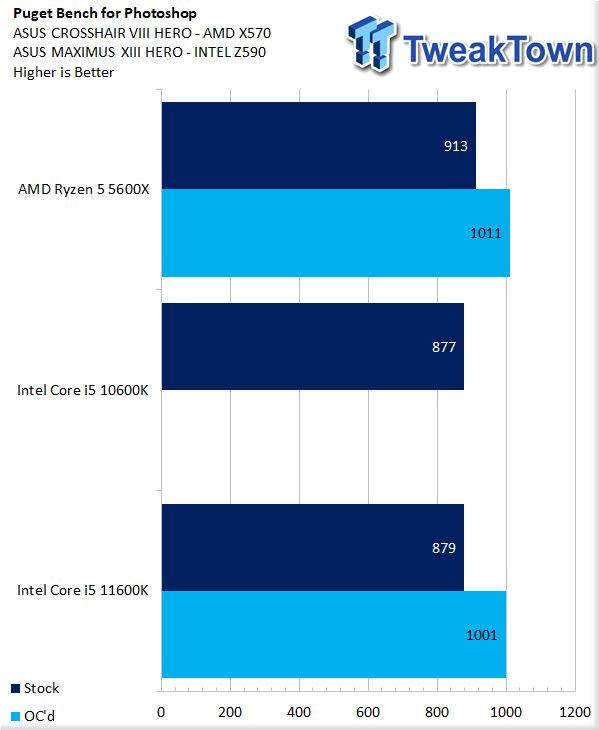 Puget Bench for PS has the 11600K and 5600X within 10 points of each other.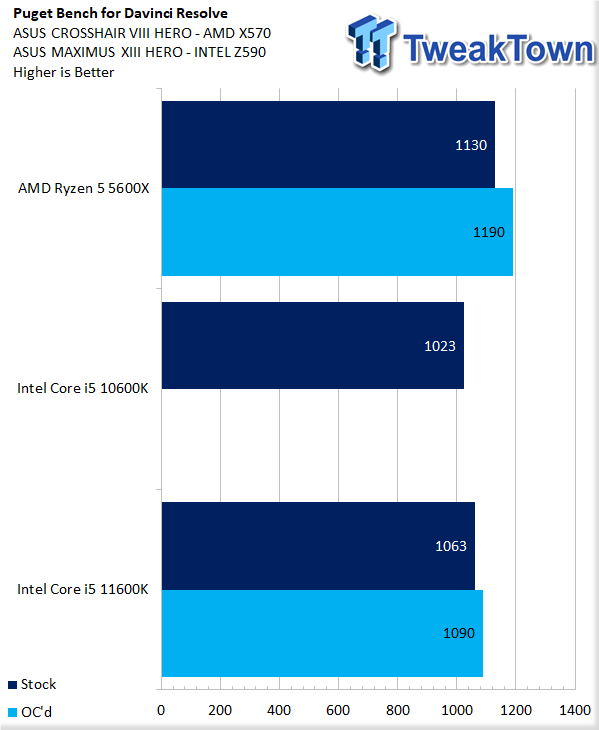 Puget for Davinci nods towards 5600X by 100 points.
3DMark, Gaming, and Storage Performance
3DMark
3DMark Timespy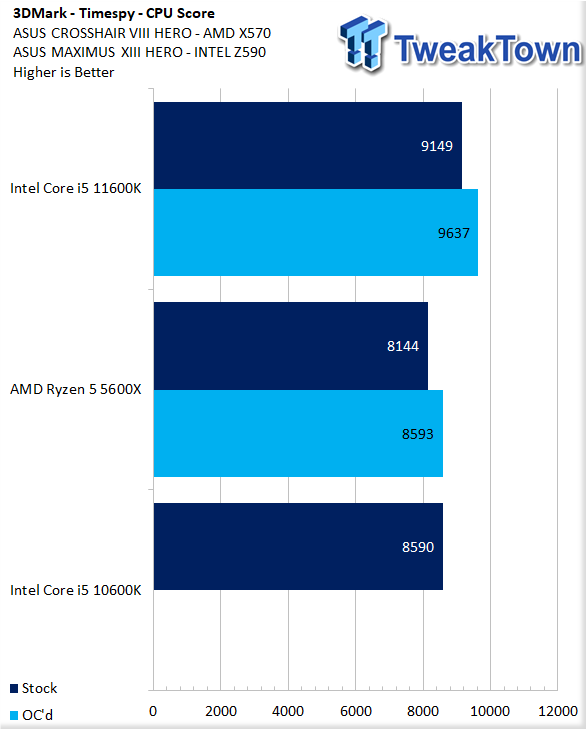 Gaming shows the 11600K as the better CPU, scoring 9149 stock and 9637 OC'd. This is nearly 1000 points higher than 5600X stock and with PBO.
1080p Gaming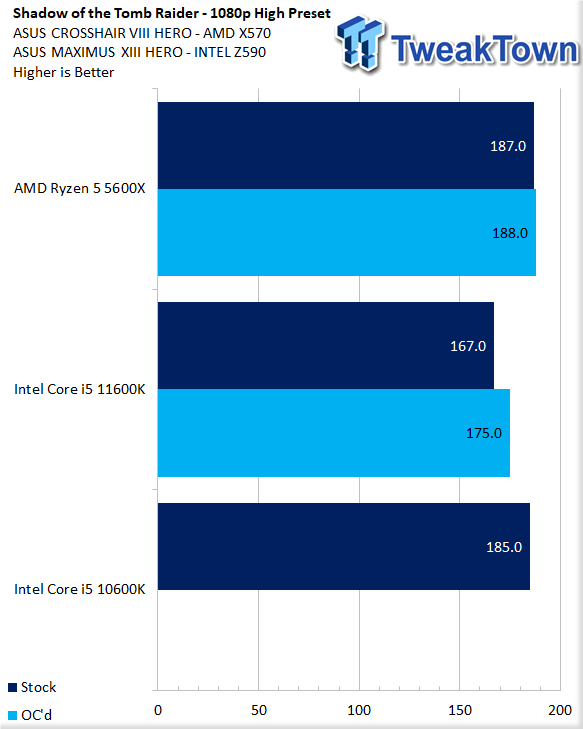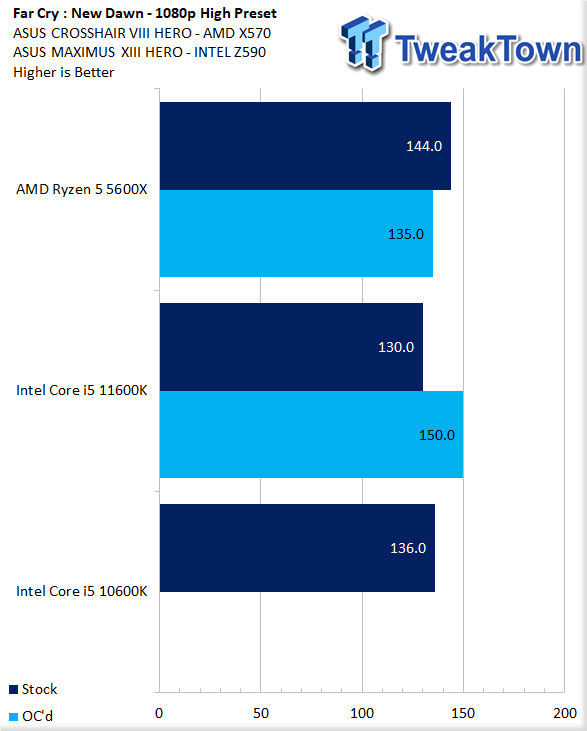 Shadow of the Tomb Raider shows solid performance for both CPUs, 11600K at 175 FPS.
Far Cry likes clock speed and edges towards the 11600K with 150 FPS at peak.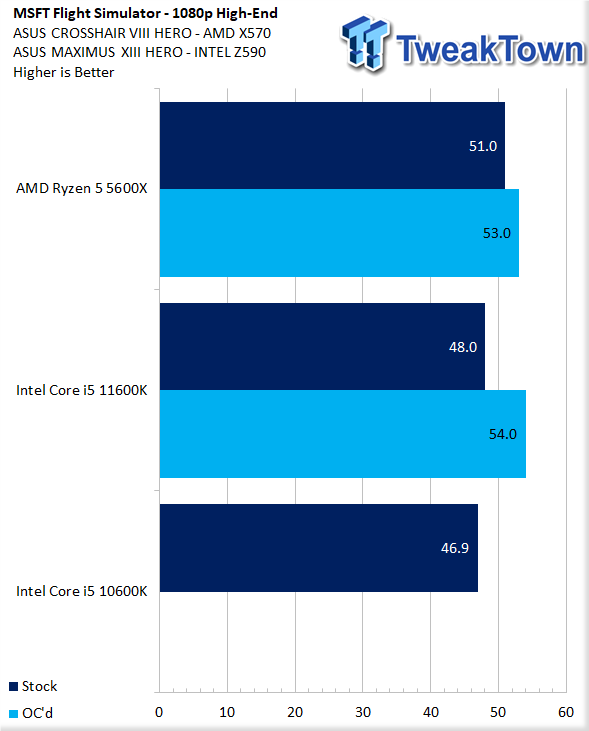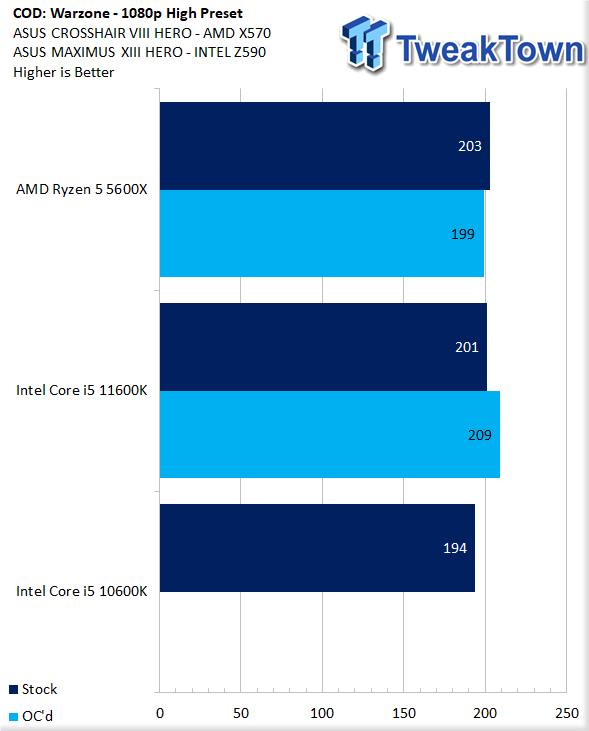 Flight Simulator tames both CPUs even with our RTX 3080. 11600K reaches 48FPS stock and 54 FPS with the overclock. 5600X is 51 FPS stock and 53 FPS with PBO.
COD: Warzone shows 201FPS for the 11600K with a boost up to 209FPS with the overclock. 5600X hands us 203 FPS stock and 199 FPS with PBO.
Storage with PCMark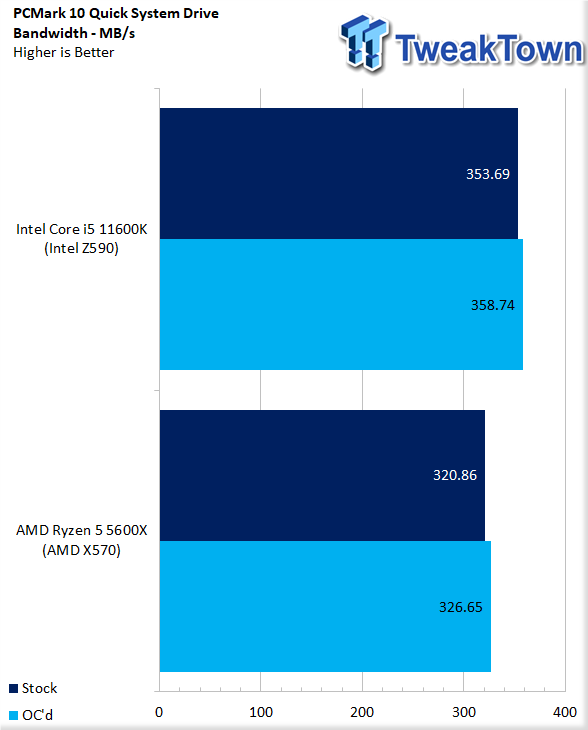 Quick System Drive with the Sabrent Rocket 4 Plus 1TB as the OS drive scores 353 MB/s of bandwidth stock and 358 MB/s overclocked. 5600X hands us 320 MB/s stock and 326 MB/s with PBO.
Power, Thermals and Final Thoughts
Power Consumption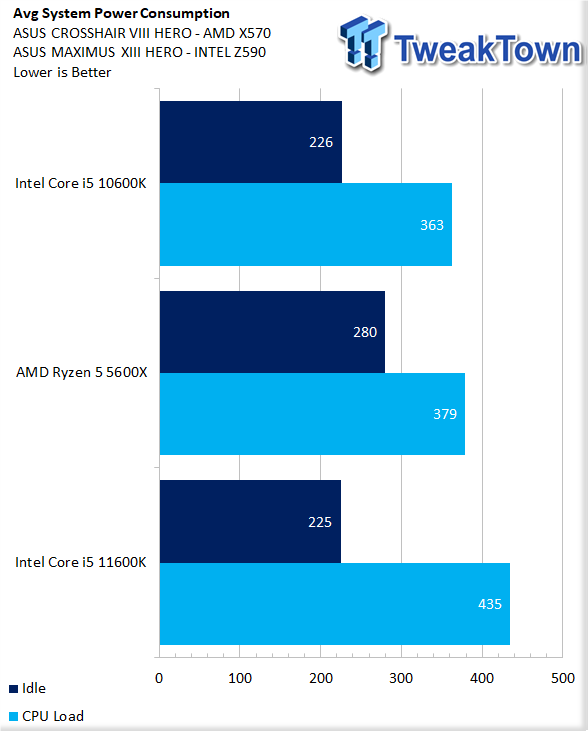 Power consumption is mixed for 11600K, it idled at 225 watts which were 55 watts under the 5600X, but at load, we see a peak of 435 watts, 55 watts higher than 5600X.
Thermals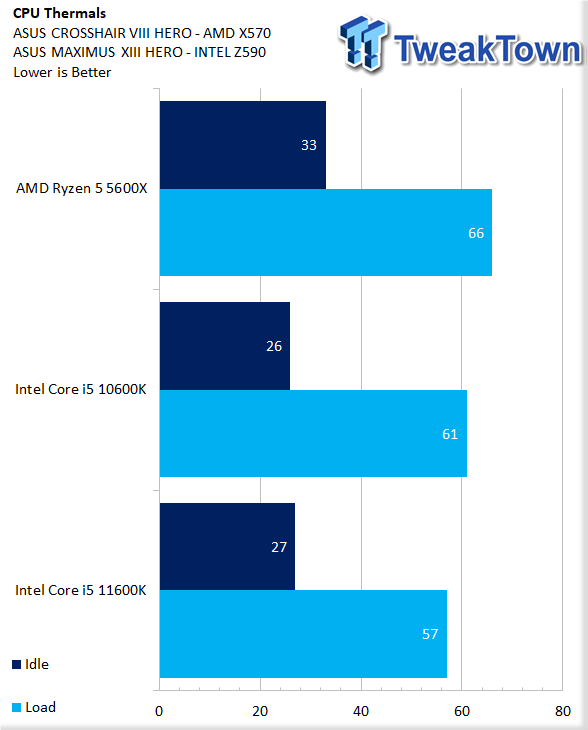 Thermals with our MSI CoreLiquid K360 were excellent for the 11600K peak temps at 57c with an idle of 27c. 5600X idled higher at 33c and peaked at 66c.
Final Thoughts
11600K is precisely half the cost of 11900K; at $269 pre-order as I write this, this CPU would, in standard times, be $30 cheaper than 5600X, but with pandemic tax, it's $130 under the 5600X. It's hard to say how long this price disparity will last but reset assured scalpers are already lining up to wipe out stock.
11600K is a gamers CPU; it fits the mold with its price point, performance and platform. Z590 is the better platform over AMD's B550, or dare I say X570, just based on connectivity alone. Yes, I know Z590 has shortcomings, and it would have been nice to have a full feature Gen 4 chipset, but outside of storage or your GPU, what else is plugged into your motherboard's slots?
What We Like
IPC: 19% IPC Gen over Gen pulls Rocket Lake S up close to Zen 3.
In Socket Upgrade: Easy upgrade path.
Price: MSRP at $269, 11600K is the best bang for your buck.
What Could Be Better
Frequency 11600K could use additional boost technologies to bring it closer to the 5600X.
| | |
| --- | --- |
| Performance | 95% |
| Quality | 95% |
| Features | 90% |
| Value | 100% |
| Overall | 95% |
The Bottom Line
Intel's 11600K processor is a tremendous value for gamers wanting a budget price on a legit CPU!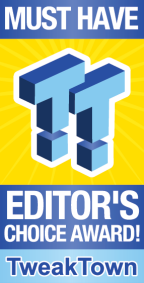 We openly invite the companies who provide us with review samples / who are mentioned or discussed to express their opinion. If any company representative wishes to respond, we will publish the response here. Please contact us if you wish to respond.