TweakTown's Rating: 94%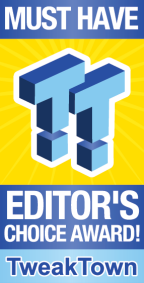 The Bottom Line
World's highest capacity consumer NVMe SSD and it's fast as hell. Get one.
Introduction & Drive Details
Just when we thought we had seen it all, here comes Sabrent with another mind-blowing M.2 NVMe SSD. As we recently reviewed Sabrent's 4TB M.2 SSDs, we were thinking, this is incredible, 4TB of fast NVMe storage on an SSD the size of a stick of gum. How could it get any better than this? Well, doubling the capacity to a whopping 8TB is how.
As you may imagine, fitting 8TB of flash on an M.2 x 2280 PCB along with DRAM and SSD controller is not easy to do. You need 1TB per flash package for starters. For the flash, Sabrent chose Micron's class-leading N28 96-layer 4-bit (QLC) 1024Gb die flash configured with eight die per package. Now you need a powerful 8-channel controller with a small footprint.
Sabrent is employing its RKT3 controller, which is a collaborative design based on Phison's E12S 8-channel controller. Sabrent's RKT3 controller is an ultra-compact BGA design that is compact enough to enable 8-flash packages and two 8Gb (1GB) DDR3 DRAM packages to coexist on a tiny 22mm x 80mm M.2 PCB. Needless to say, Sabrent put a ton of effort and expertise into producing the world's highest capacity consumer M.2 NVMe SSD.
High capacity brings with it high endurance and a large dynamic SLC cache. Endurance is very good checking in at 1.8 petabytes, which is the world's highest for a consumer 4-bit SSD. The drives dynamic SLC cache capacity can be as high as 2TB, depending on how full the drive is. The Rocket Q 8TB also sports the highest random read IOPS capabilities for any consumer QLC SSD checking in at a whopping 550K at QD32. Amazing.
Now that we know what makes this monster tick, let's take a closer look at Sabrent's latest and greatest.
Drive Details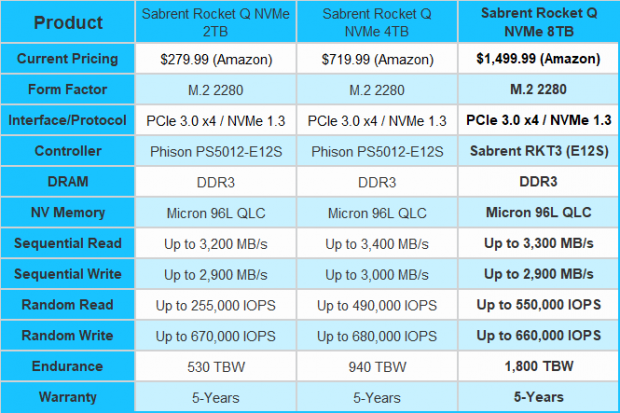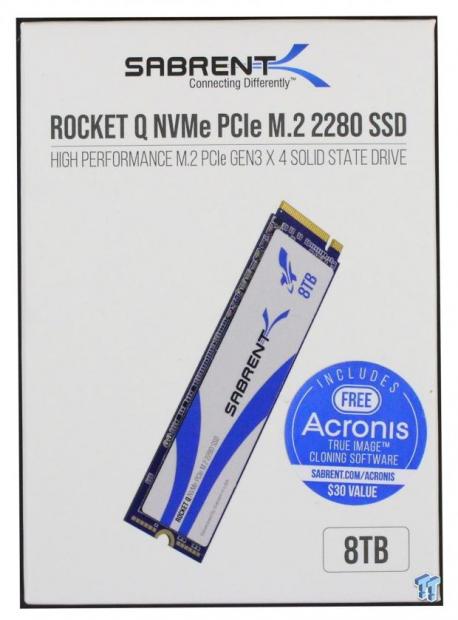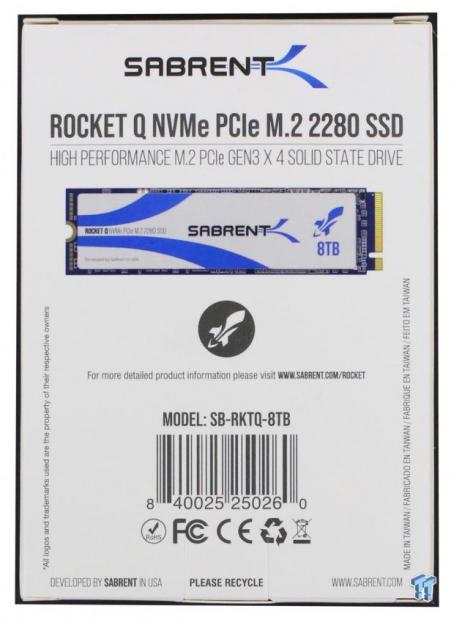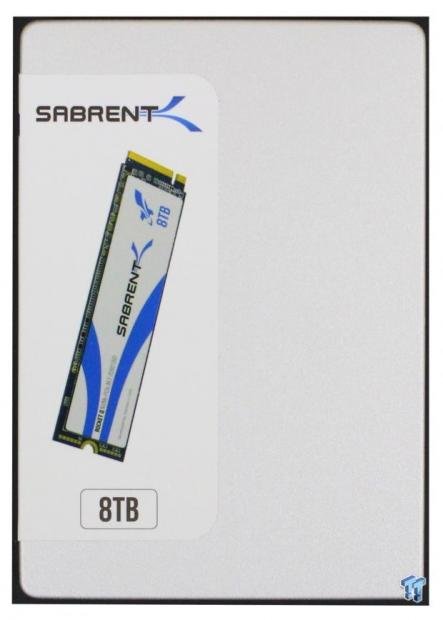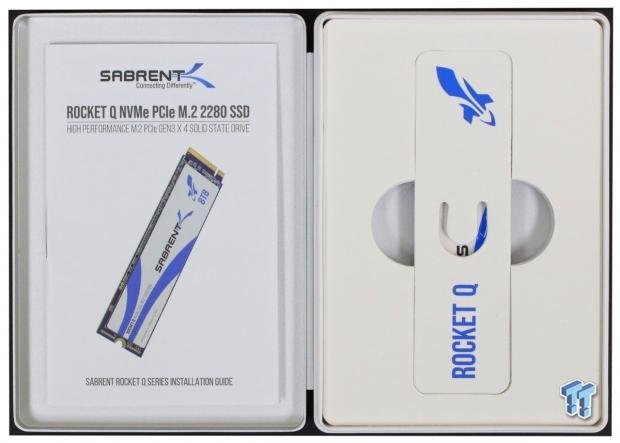 As expected, Sabrent's 8TB Rocket Q NVMe SSD ships in the same unique white themed packaging as the rest of its QLC offerings. An aluminum clamshell container and dense foam interior guards against shipping damage. The drive itself is embellished with a pure copper thermal label affixed to the controller side of the SSD. Also included is a printed installation guide.
Jon's Test System Specifications
SSD Toolbox
Sabrent Rocket Control Panel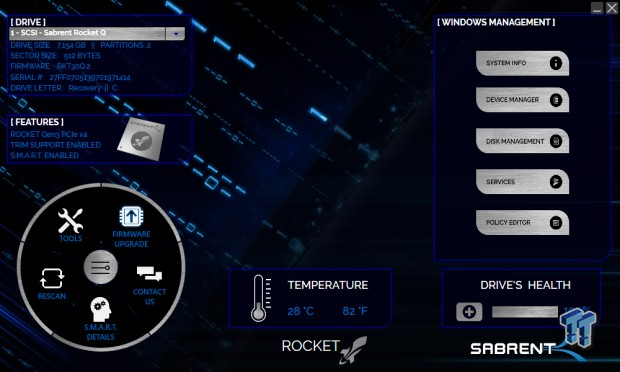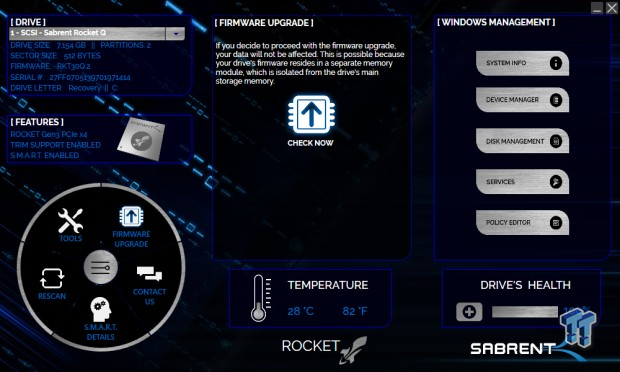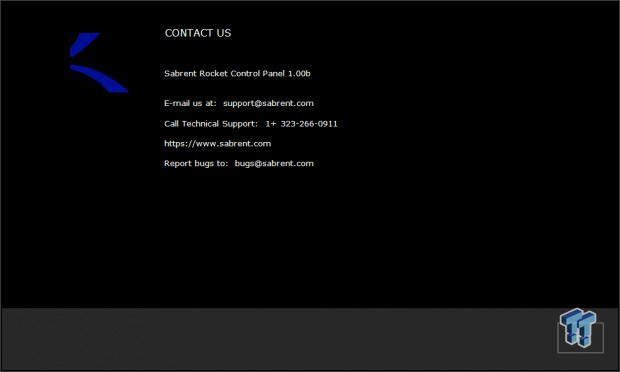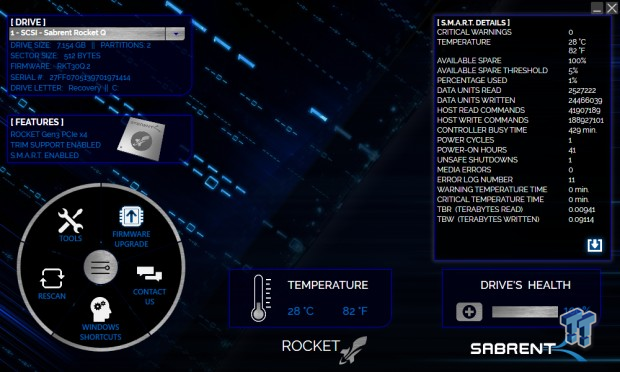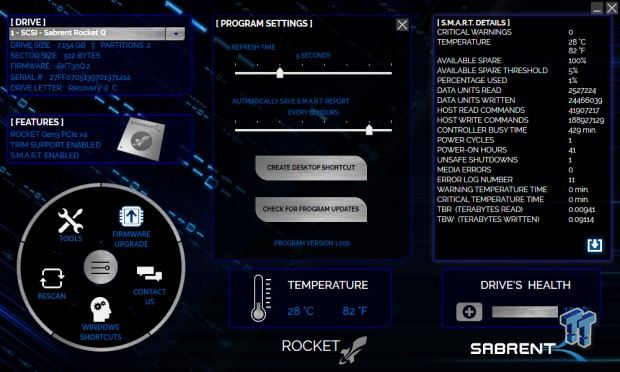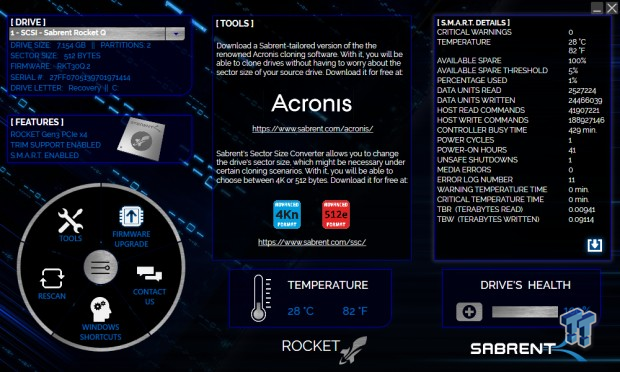 Sabrent's SSD toolbox facilitates monitoring of SSD health, temperature, and SMART details. With the SSD management software, you can update firmware, register your SSD and download Sabrent's custom-tailored version of Acronis imaging software. Registering your SSD within 90 days activates a 5-year warranty period. Click HERE to download.
Synthetic Benchmarks: CDM & Anvils
CrystalDiskMark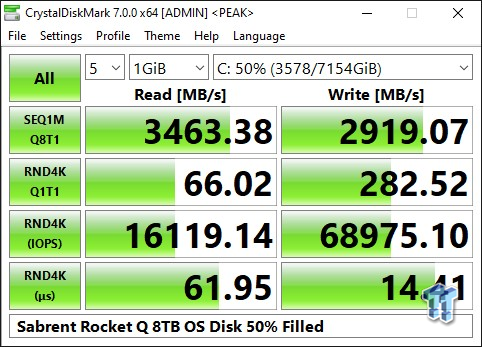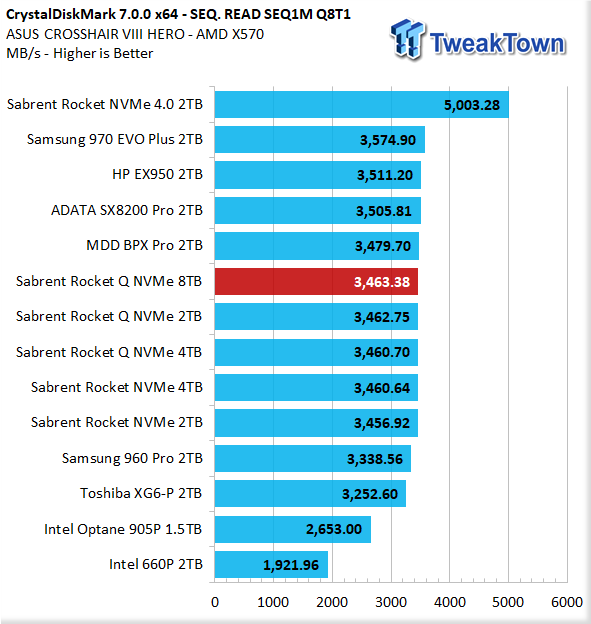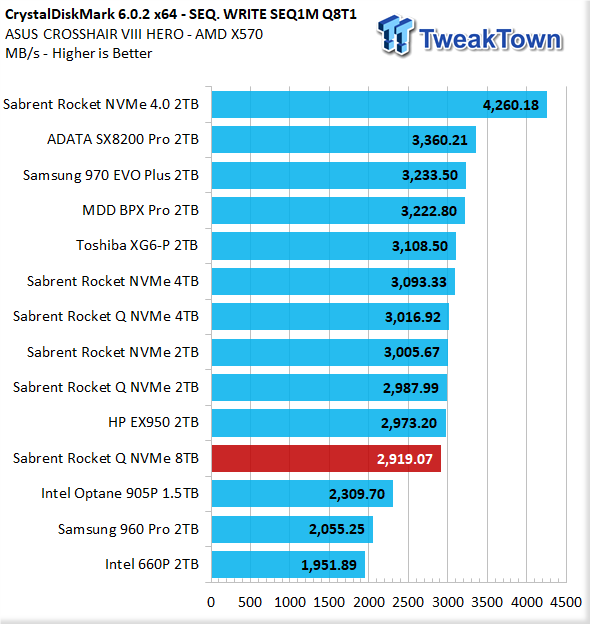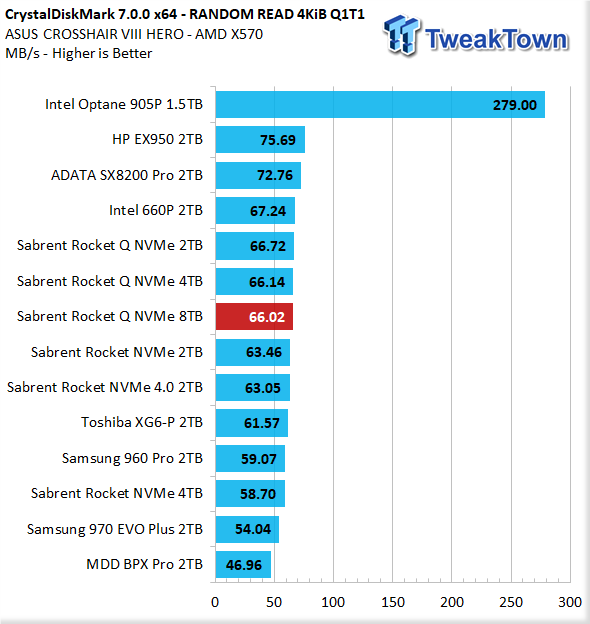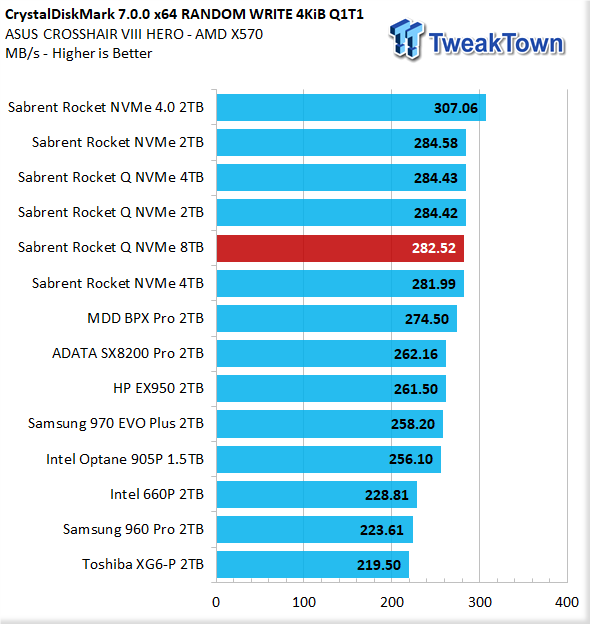 Factory sequential specs for the 8TB Rocket Q check in at 3,300/2,900 MB/s. The drive is actually significantly faster when serving up data to the host, as demonstrated by our 3,463 MB/s sequential read performance. Sabrent claims the 8TB Rocket Q is their fastest QLC drive to date, and our chart agrees with that claim. It's the best sequential read performance we've achieved with a consumer QLC SSD.
Anvil's Storage Utilities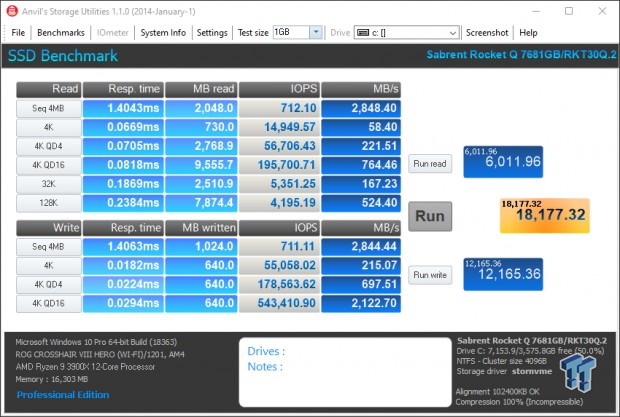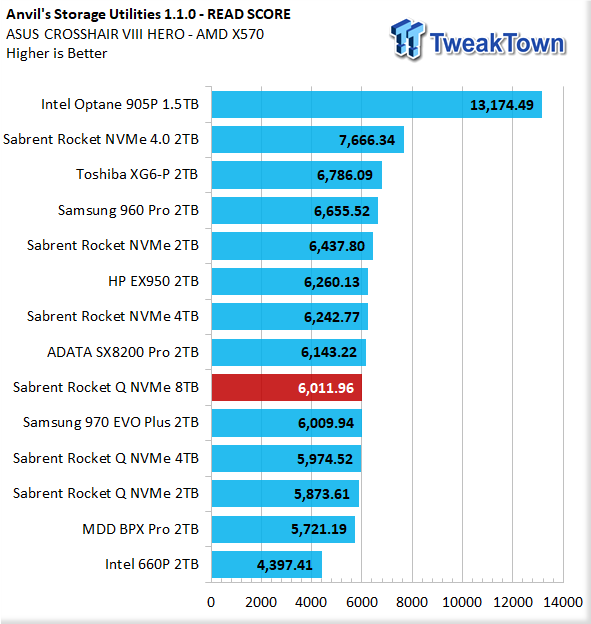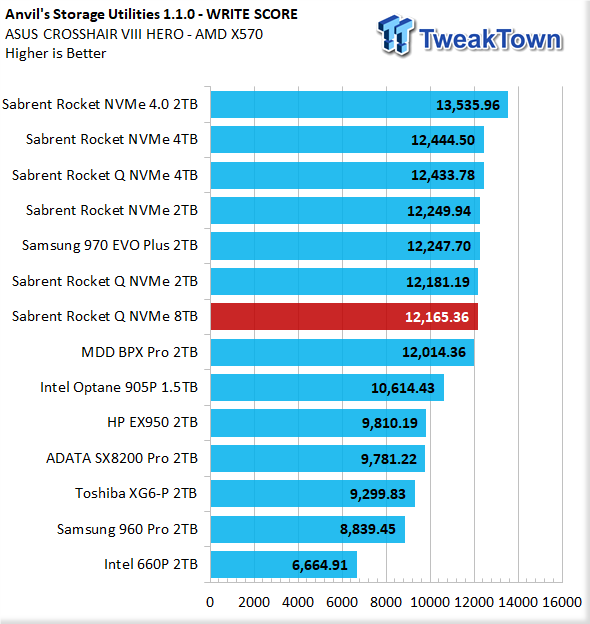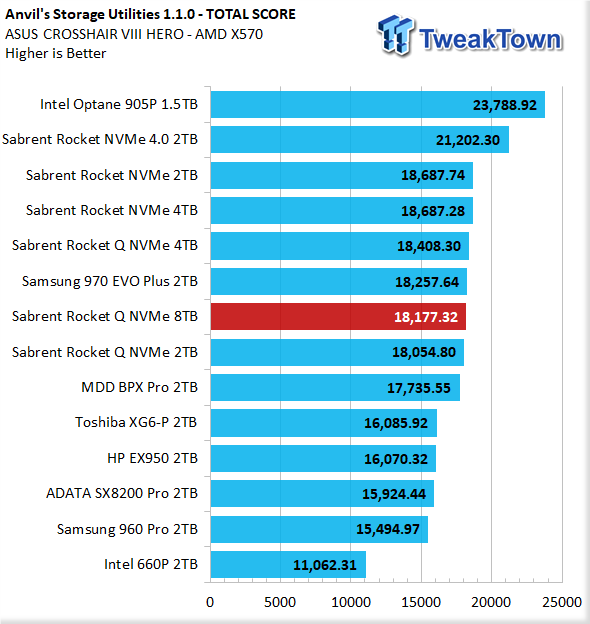 As always, we are looking for great read performance more than anything else, because 80% of the time a drive is serving up data. This is the first time we've seen a QLC SSD deliver a total read score of over 6K. Nice.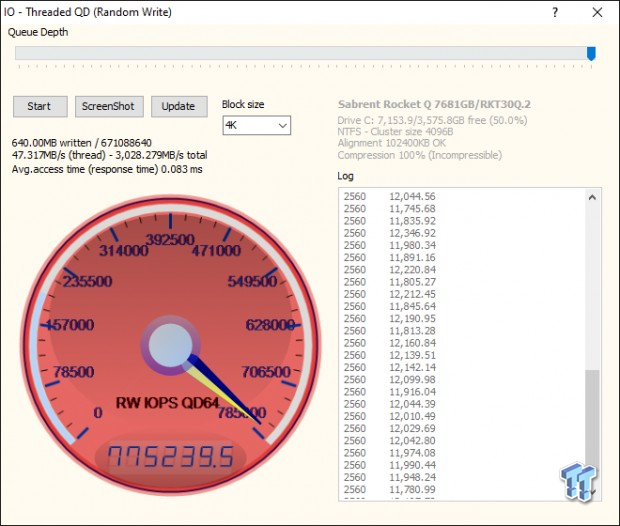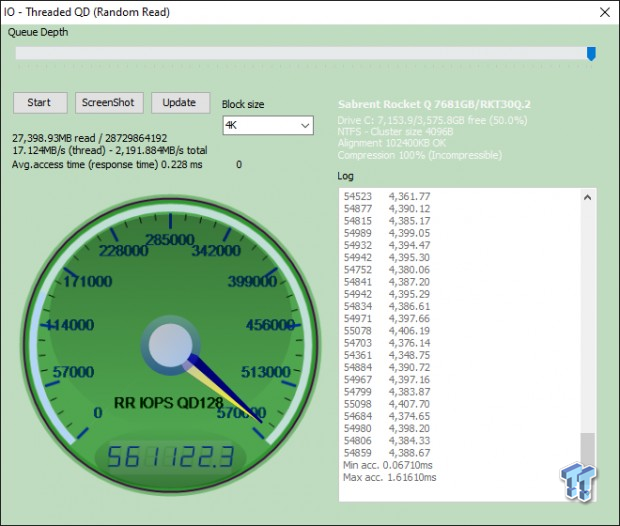 It's not often we can exceed factory max read IOPS considering we test with the drive 50% filled. This time we do. Excellent.
Synthetic Benchmarks: AS SSD & ATTO
AS SSD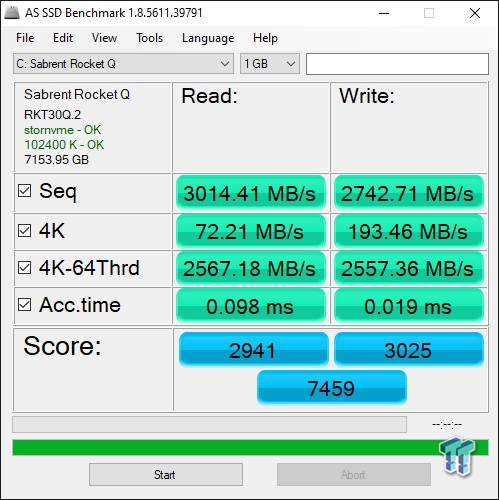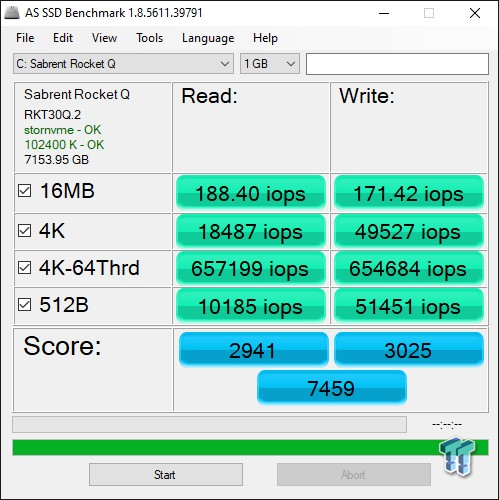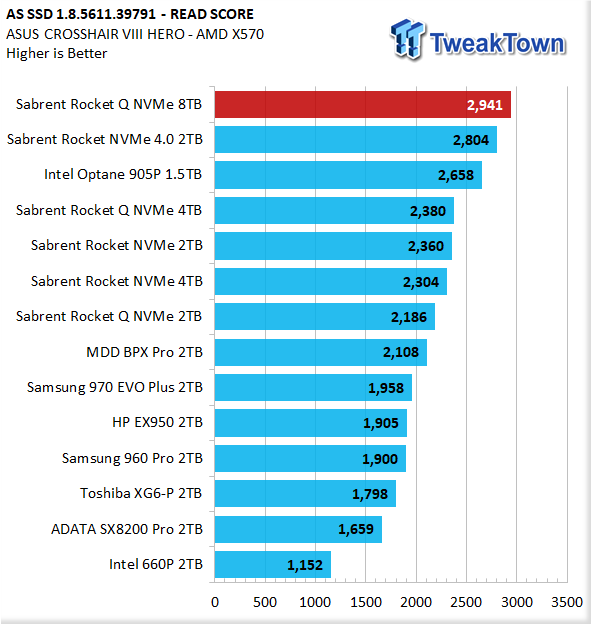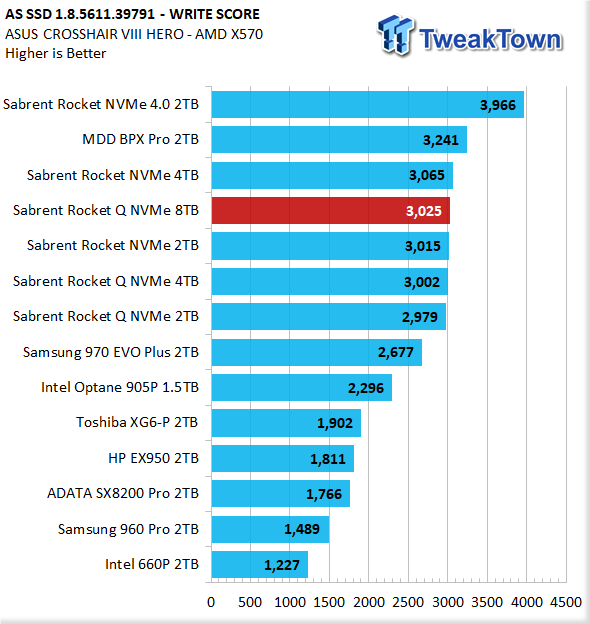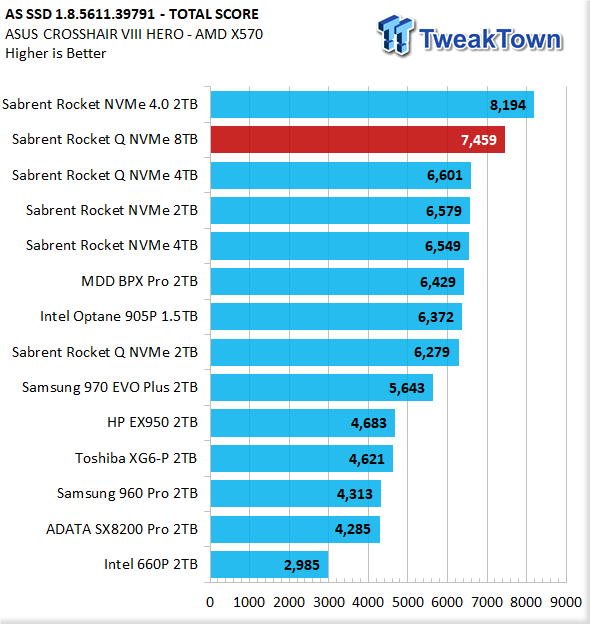 Again, our focus is always on read scores, and the 8TB Rocket Q lays waste to them all - even its Gen4 sibling. Wow. In terms of total score, our test subject sets a new lab record for any Gen3 SSD.
ATTO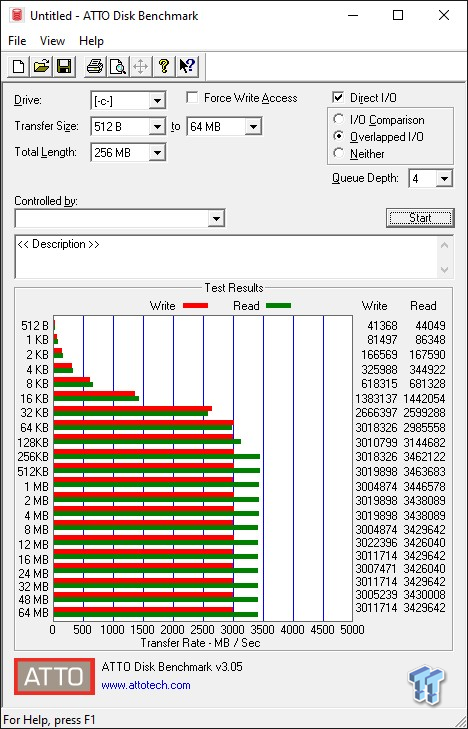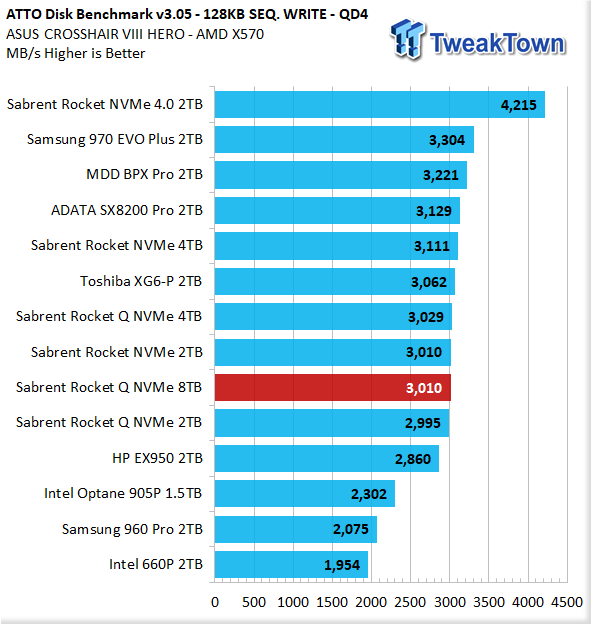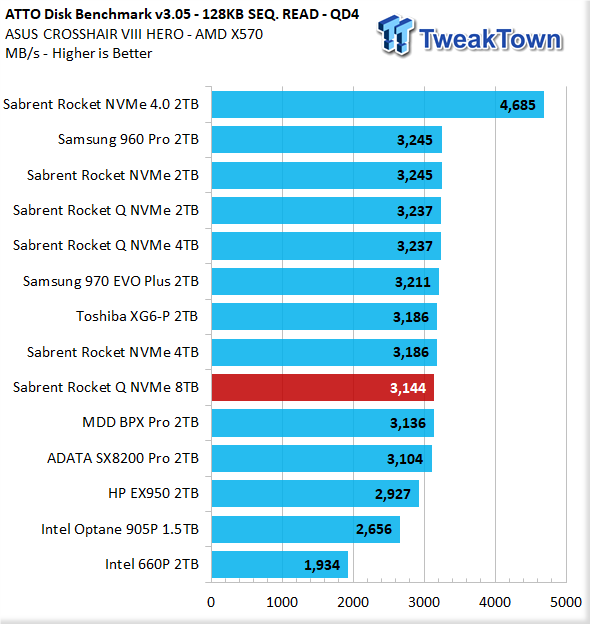 We want to see performance of over 40 MB/s at 512B transfers, and that's what we are seeing. Excellent. Next, we are looking for full speed at 128K transfers, and we get it when writing sequential data, but we don't quite get there when reading sequential data. Nevertheless, very impressive.
Real-World Testing: Transfer Rates & Gaming
Transfer Rates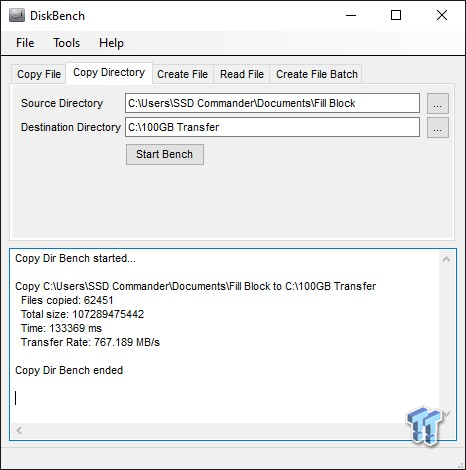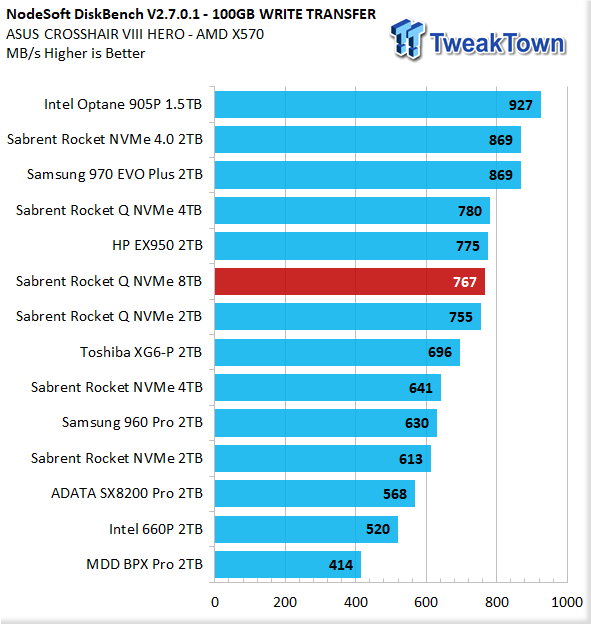 As we've noticed all along, the 4TB Rocket Q delivers the best overall write performance of the series followed closely by our test subject, and this result unequivocally proves that to be the case. However, look at all the TLC powered SSDs that our 8TB test subject puts to shame.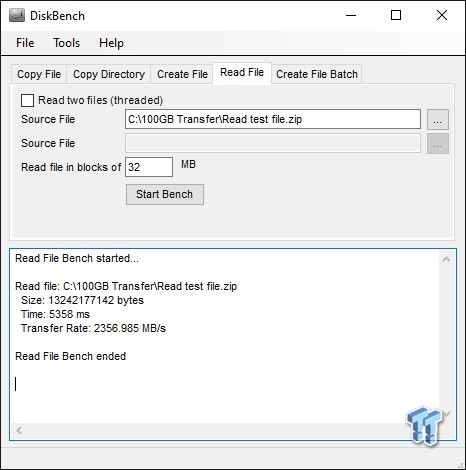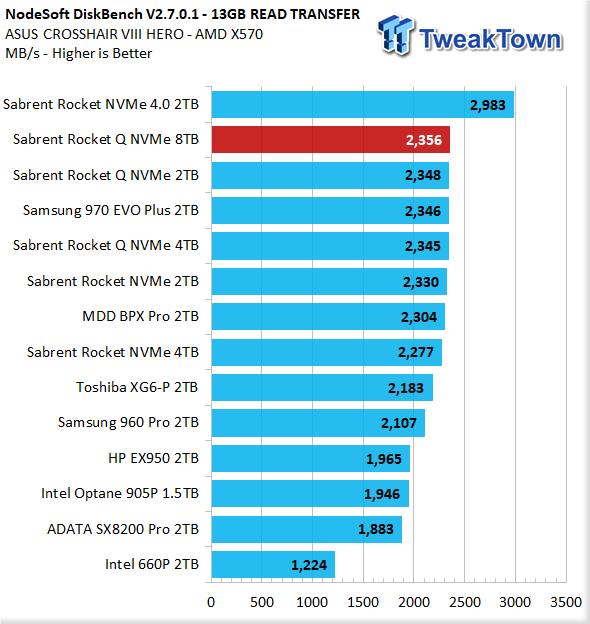 Another lab record for a 2TB or larger Gen3 consumer SSD. Impressive.
Game Level Loading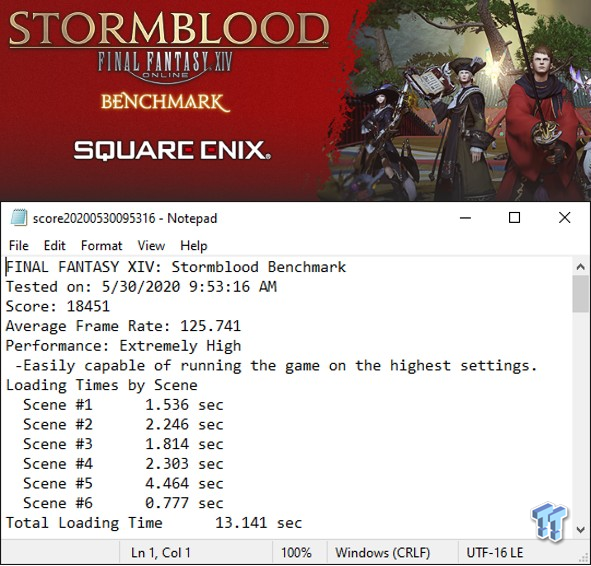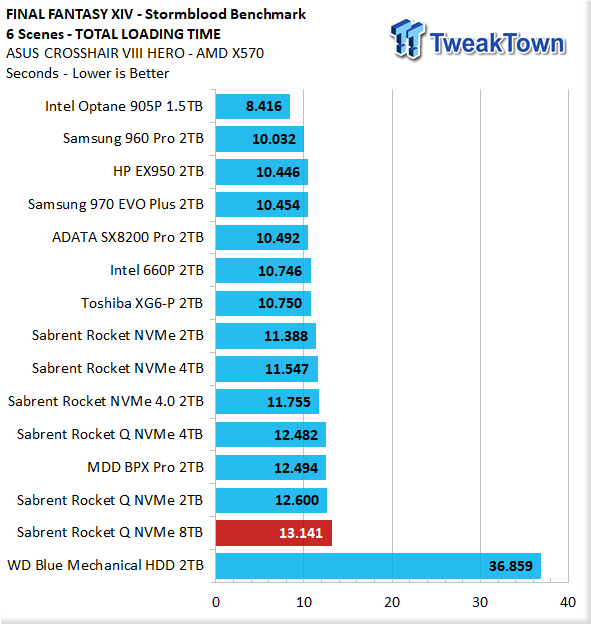 Die density plays a big role in this test. As our chart shows, the 8TB Rocket Q is the slowest of the series because it has the highest density flash dies of the bunch. This is a small price to pay, considering that otherwise, it is one of the fastest consumer SSDs ever made. Also, when you think about it, you are only waiting a fraction of a second longer at each level load - which may not even be perceptible for most users.
Real-World Testing: PCMark 10 Storage Tests
PCMark 10 Storage Test is the most advanced and most accurate real-world consumer storage test ever made. There are four different tests you can choose from; we run two of them. The Full System Drive Benchmark and the Quick System Drive Benchmark. The Full System Drive Benchmark writes 204GB of data over the duration of the test. The Quick System Drive Benchmark writes 23GB of data over the duration of the test. These tests directly correlate with user experience. Of the two tests, we feel that the Quick System Drive Test most accurately replicates a typical user experience.
PCMark 10 Full System Drive Benchmark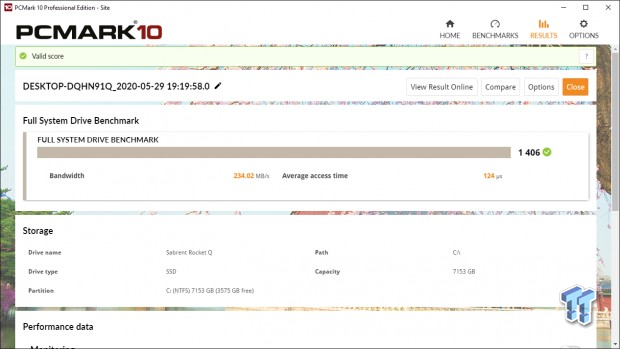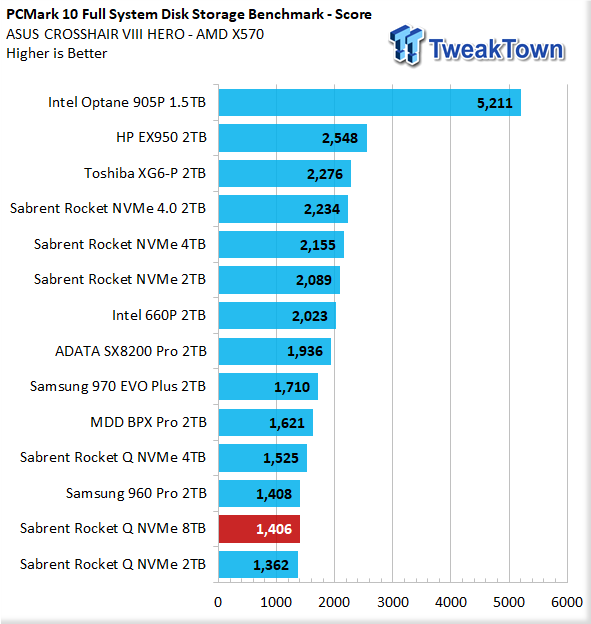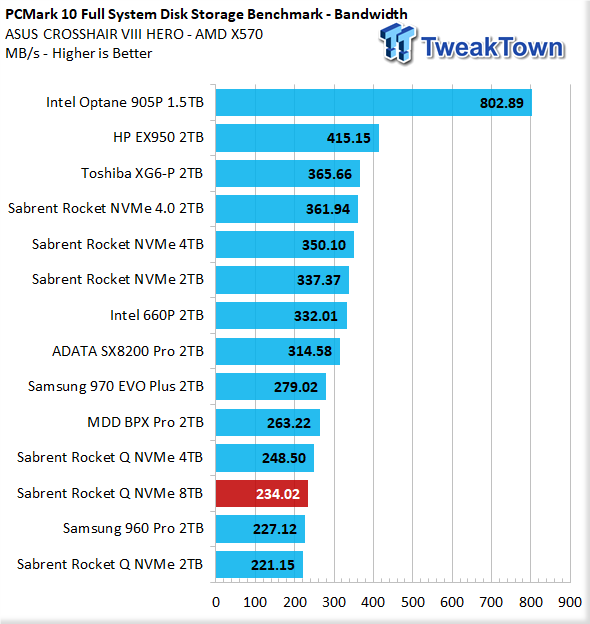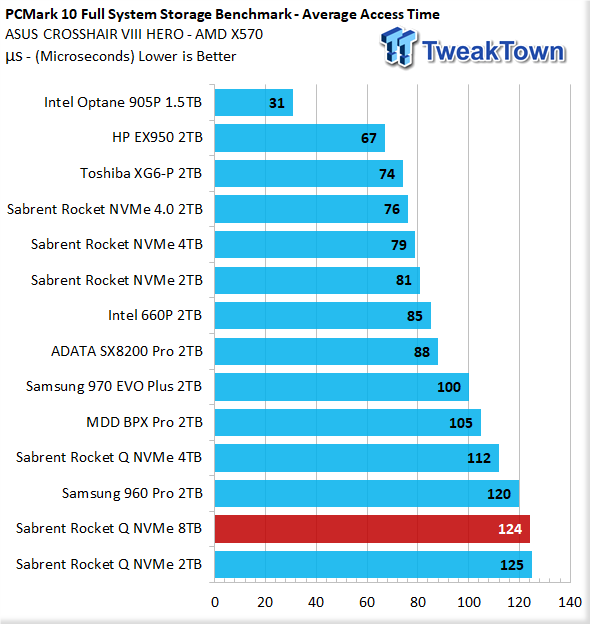 The Rocket Q series isn't designed for really heavy workloads (204GB data written) like this one. Fortunately, most consumer workloads are much more like what the next test simulates. Here the 4TB model has a slight advantage for two reasons, single die density and slightly better write performance.
PCMark 10 Quick System Drive Benchmark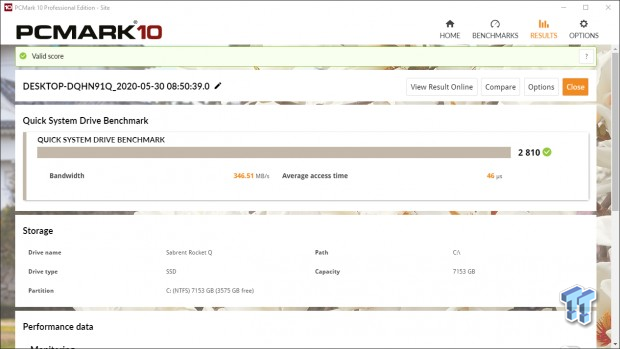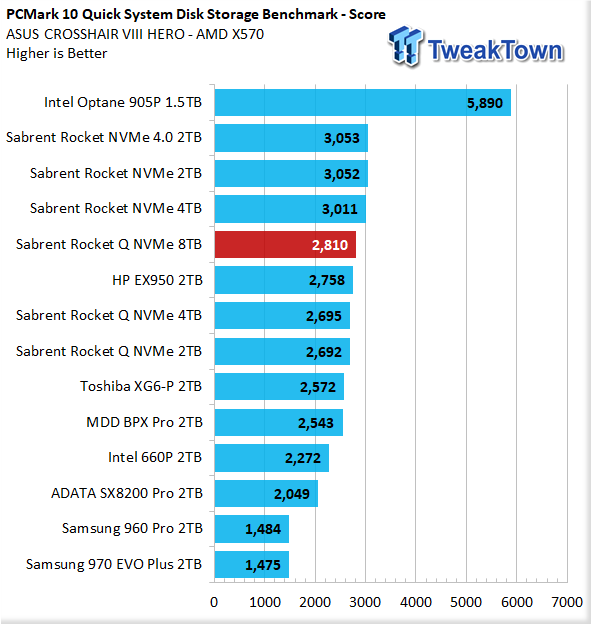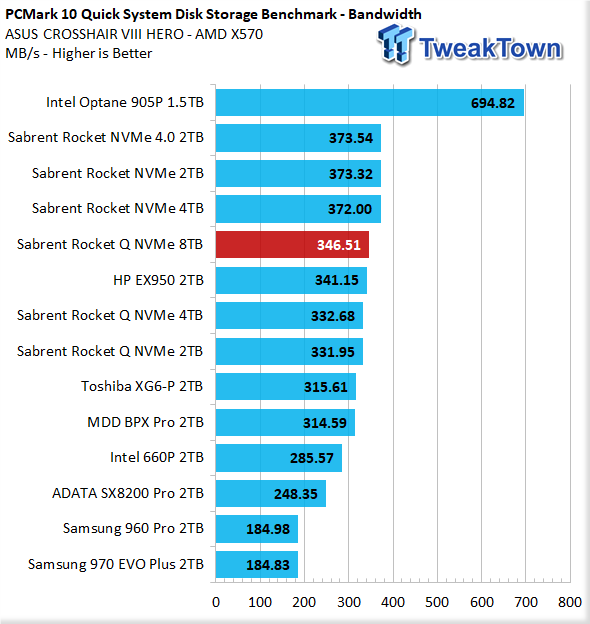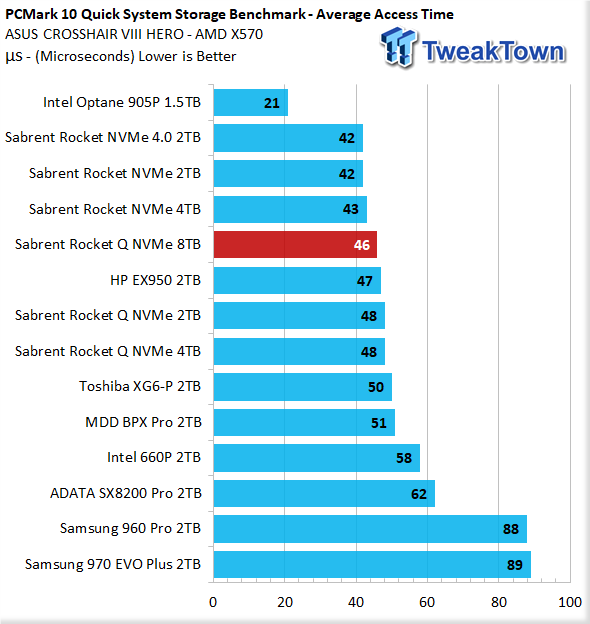 Okay, here we go. This is where the 8TB model proves beyond any doubt that it is not only the fastest of the Q series, but that it is also one of the fastest SSDs available today. We believe that user experience while running moderate type consumer workloads is the true measure of an SSD, and the Rocket Q is one of the best there is at delivering just that.
Final Thoughts
One SSD to rule them all? If there is such a thing, Sabrent's 8TB behemoth is the closest we've seen to it. If NVMe capacity is the king of the consumer space, and there is a good argument to be made for that, then Sabrent is currently occupying the SSD throne. Never have we seen an NV memory retailer so quickly come to the forefront of the industry. Just look at our test pool, and you will notice SIX Sabrent SSDs vying for supremacy.
That is unprecedented and a testament to where Sabrent ranks as a leader in consumer NVMe SSDs. Almost everyone else is fiddling around with tiny 2TB NVMe SSDs, and then there is Sabrent, who is focused on bringing 4TB plus SSDs to gamers, content creators, and the enterprise space. Astounding. Yes, capacity is king.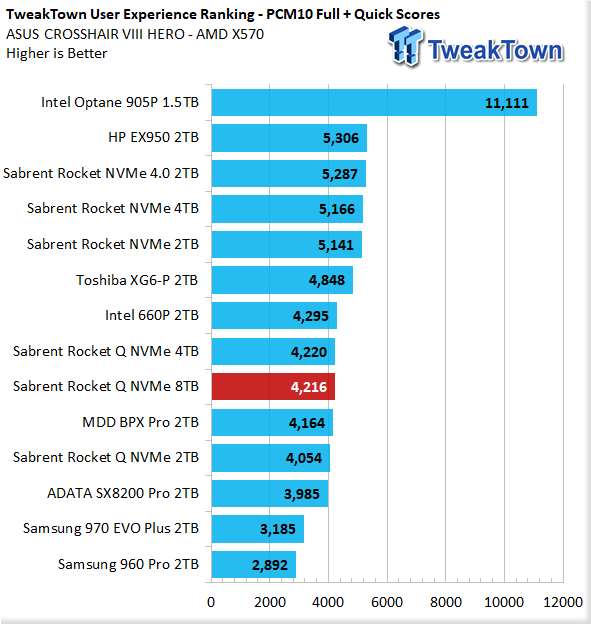 In terms of overall user experience, heavy and normal workloads, Sabrent's Rocket Q delivers as good as it gets for a QLC SSD.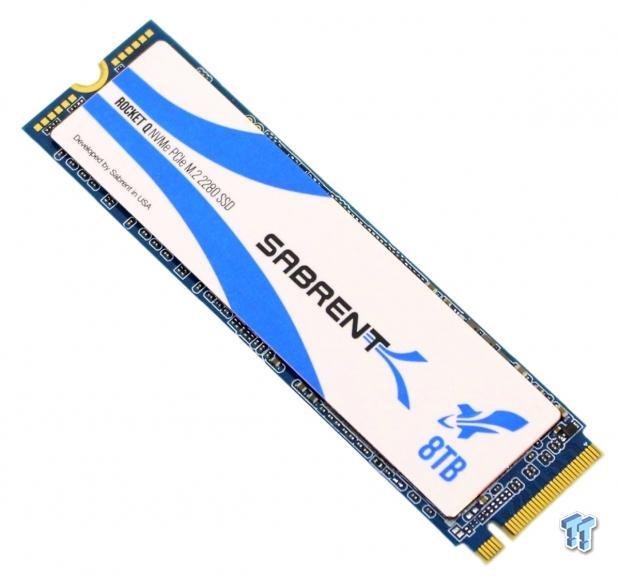 Let's do a quick review of the highlights the Rocket 8TB provided during its testing session. Out of the gate, we witnessed better than advertised read performance. Next up Anvil's, where we witnessed our first 6K plus read score and the world's highest random read IOPS for a 4-bit consumer SSD. Stunning. Following that, we were treated to a couple of lab records for AS SSD.
But wait, there's more. The 8TB Rocket Q set a new lab record for read transfers by a 2TB plus capacity consumer NVMe SSD. Finally, we witnessed the prowess of Sabrent's latest and greatest as it delivered by far the best user experience for a QLC SSD when running typical consumer workloads.
Unprecedented innovation and Tier-1 performance have earned Sabrent's 8TB Rocket Q NVMe SSD a hearty TweakTown recommendation and our highest award.
Pros
Capacity

Endurance

Consumer Workloads

5-Year Warranty
Cons
| | |
| --- | --- |
| Performance | 92% |
| Quality | 98% |
| Features | 99% |
| Value | 85% |
| Overall | 94% |
The Bottom Line
World's highest capacity consumer NVMe SSD and it's fast as hell. Get one.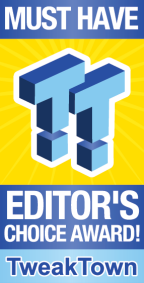 We openly invite the companies who provide us with review samples / who are mentioned or discussed to express their opinion. If any company representative wishes to respond, we will publish the response here. Please contact us if you wish to respond.