Ubiquiti UniFi Protect Video Security Review
Ubiquiti's UniFi Protect offers all the flexibility one would need for their home security needs. Here's our full review.

Published
4 minute read time
TweakTown's Rating: 92%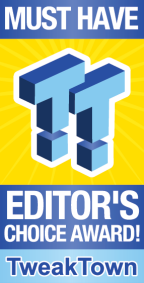 The Bottom Line
Ubiquiti's UniFi delivers with Protect, offering one of the best ecosystems for both home and business consumers to efficiently protect their property.
Introduction
I have had my fair share of security cameras and full NVR systems over the year, including some of the highest rated systems like Arlo and Logitech Circle. After researching for the UniFi Networking article, I to my surprise found Ubiquiti has a full line of security products and just had to check them out.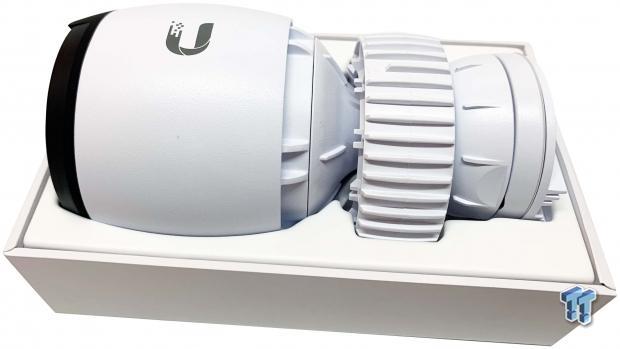 Reaching out to Ubiquiti, we discussed my layout and what systems I had used in the past and then was sent three components that represent their full line of security. At the root or base of this system is the UniFi Cloud Key Gen2 Plus; this allows management of both your UniFi networking and video platforms using UniFi SDN and Protect apps available on both Android and iOS.
The Gen 2 also offers a solid hardware platform featuring an APQ8053 SoC with 8 cores paired with 3GB of memory and 32GB of eMMC Flash. This platform can be powered via 802.3af or Quick Charge 2.0 USB-C Power, offers 1TB of onboard storage with its 2.5" drive tray and lastly supports 20 UniFi Protect cameras or 15 Cameras and 50 UniFi Network devices. MSRP for the Cloud Key Gen 2 Plus comes in at $199.99.
For consumers on a budget or organizations that want to deploy a mass number of cameras, the G3 Flex is your most economic option. At $79.99 MSRP this solution supports 1080p resolution at 25FPS. Additionally, it offers IR illumination for night vision, high sensitivity microphone and is weather resistant for outdoor operation and powered by 802.3af.
Stepping things up a notch, Ubiquiti's top end camera solution is the G4 Pro. This solution offers 4K resolution at 24 FPS using a large ½" image sensor and 3x optical zoom lens. In addition, we have high power IR LEDs for improved night vision, weatherproof IP67 enclosure and 802.3af/at power method. MSRP for this solution comes in at $499.99.
Ubiquiti UniFi Protect
Packaging and a Closer Look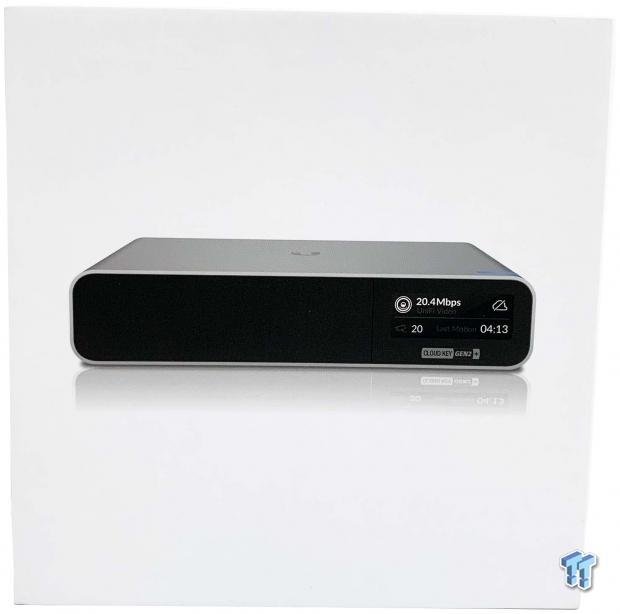 Starting with the Cloud Key, packaging features an image on the front with branding on the sides.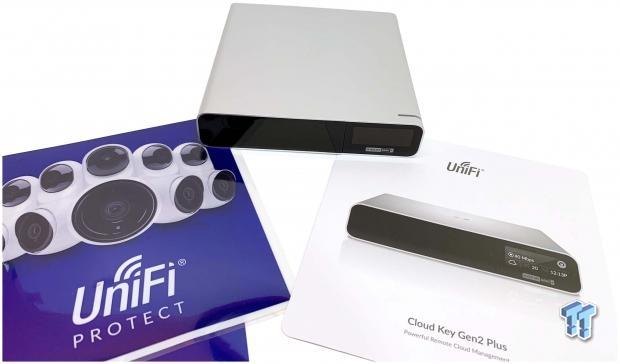 Included with, we have the Cloud Key hardware, reading materials and sticker for your window.

The front of the unit houses a small screen to the right that offers the device IP, device name and throughput.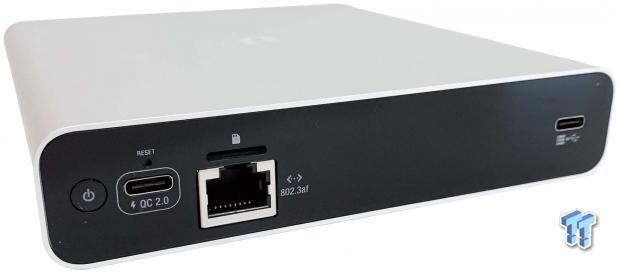 On the backside, we have the power button, reset and QC 2.0 USB-C Power Input and gigabit 802.aaf PoE input. To the far right we have a secondary USB-C for additional storage.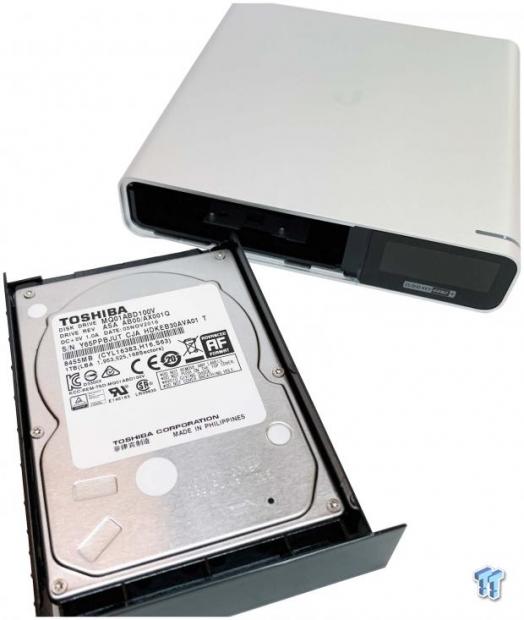 As mentioned, the Cloud Key Gen 2 Plus supports 2.5" drives and comes with a 1TB Toshiba solution installed.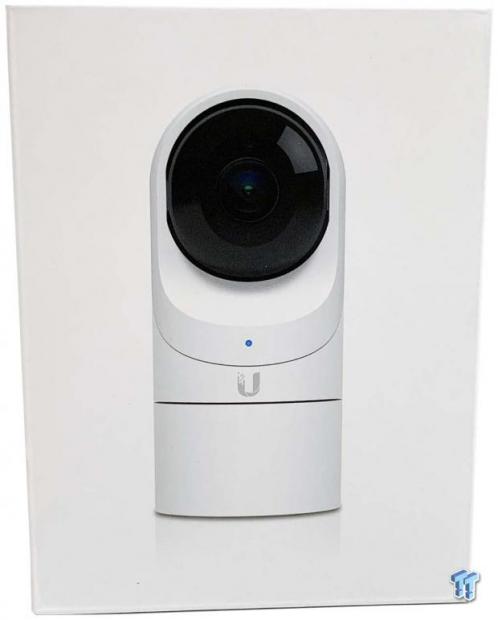 Slipping into the G3 Flex, packaging follows that same image of the device centered and branding on the side's setup of past solutions.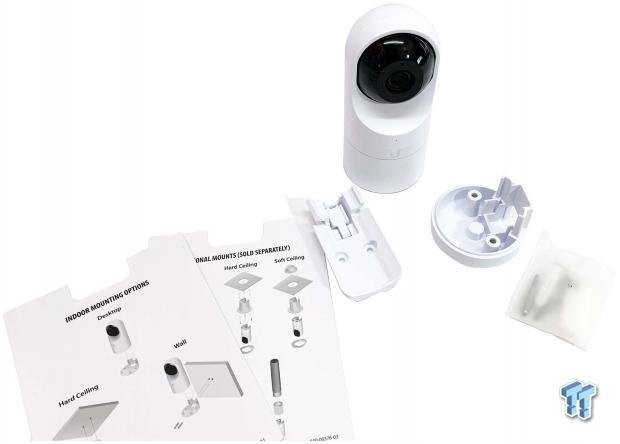 Included with the G3 Flex, we have the camera and several mounting options. You can also purchase additional mounts for special situations.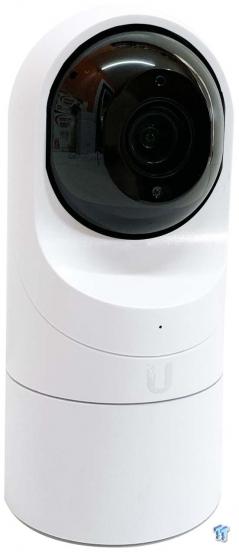 The G3 Flex offers a manual rotating design for the body of the camera with a detent adjustable lens.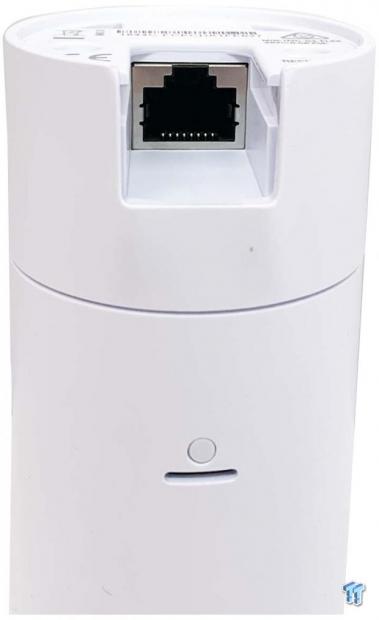 Near the bottom we have the PoE power input.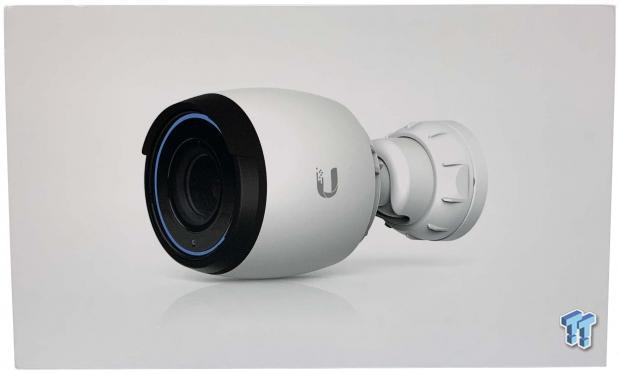 The G4 Pro again follows that same packaging concept.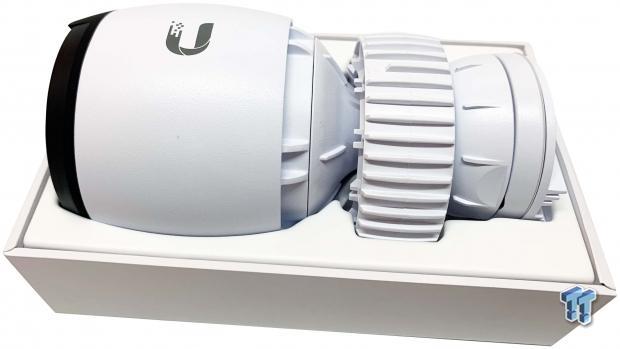 The G4 Pro is secured in its packaging by a plastic ring.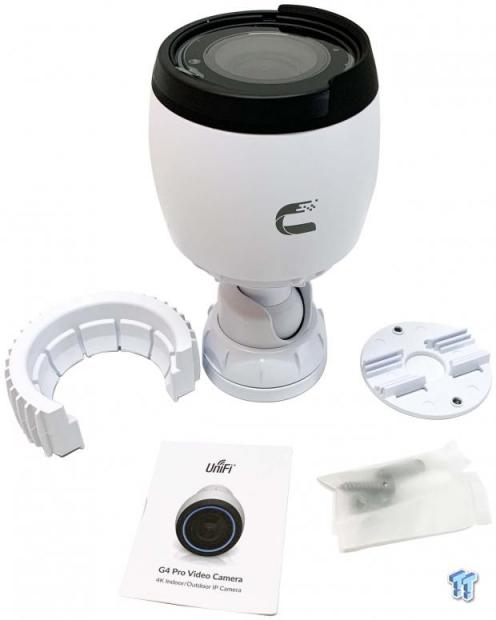 Including with the G4 Pro is the camera and its mounting base and reading materials.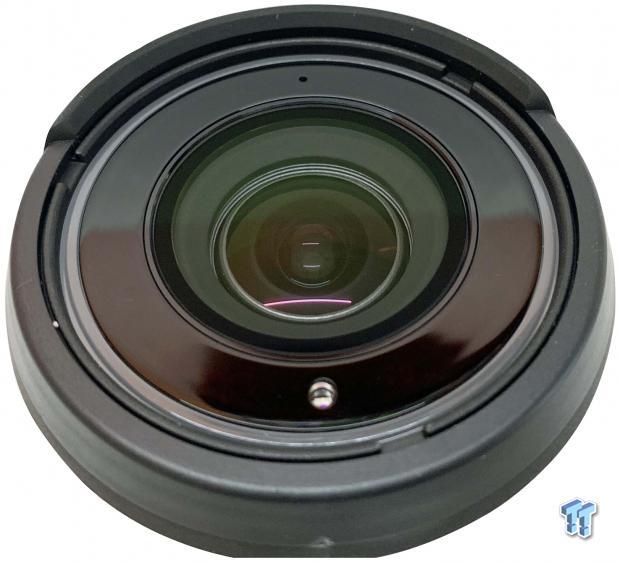 The lens of the camera offers a LED ring around the outside with additional LED at the bottom.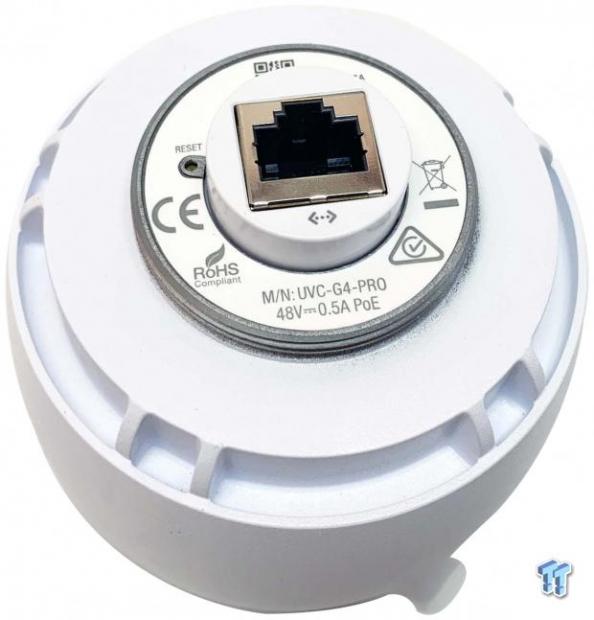 The PoE input supports 802.3af/at 48V power.
Test System Setup and UniFi Controller
Tyler's Test System Specifications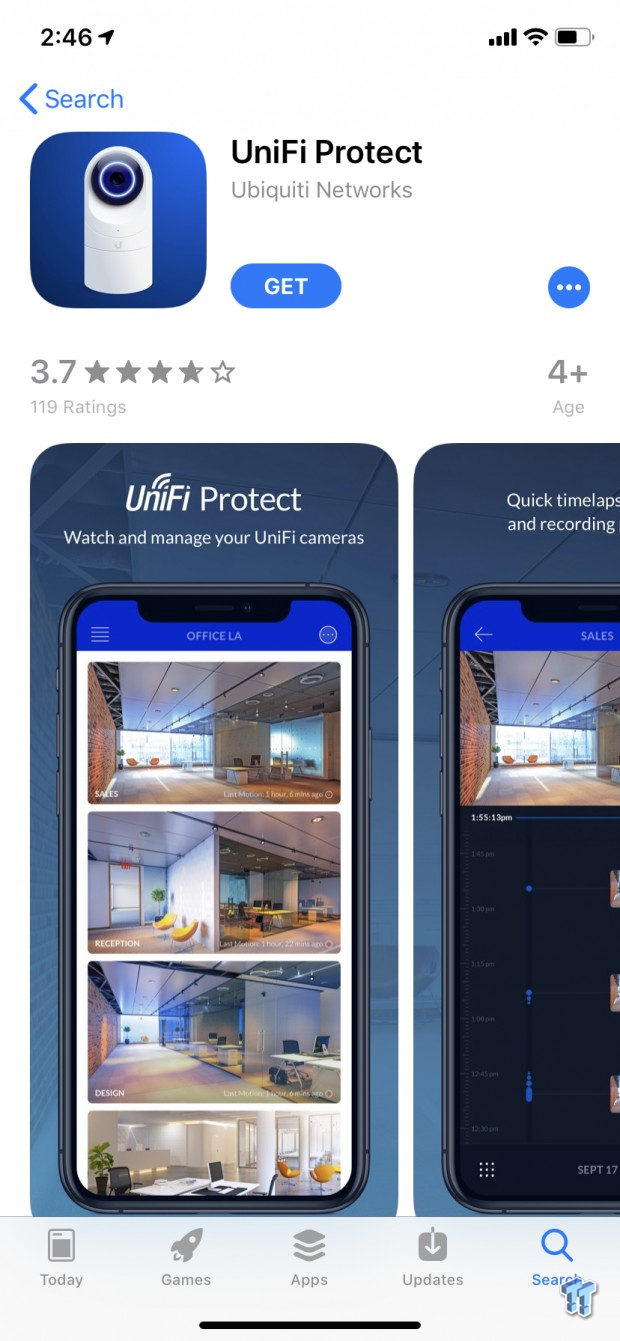 Setup starts with the UniFi Protect app, for this article I am using it on iOS 12.4 on an iPhone XR.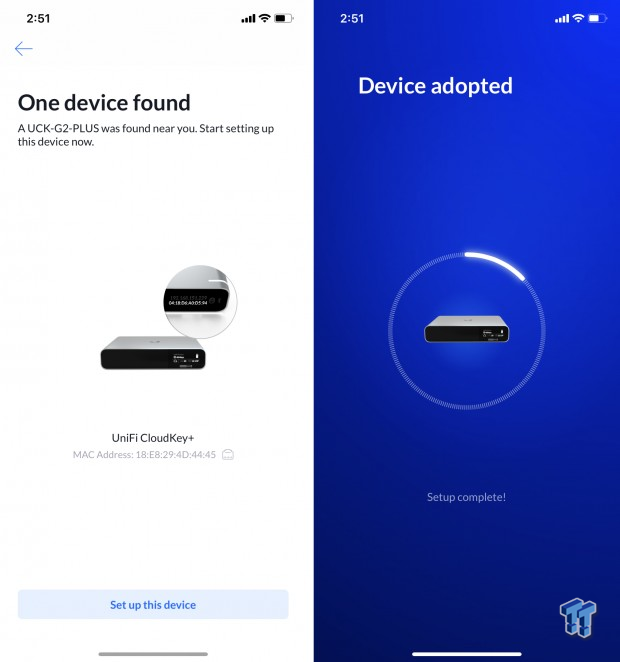 Moving into setup we begin by searching devices on the network and rather quickly the Cloud Key Gen 2 Plus has been adopted.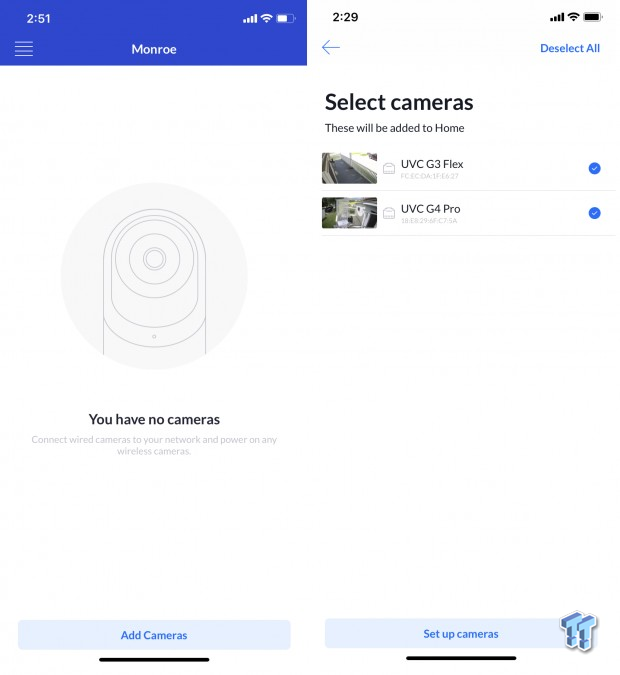 We then move into adding cameras with the button below. To the right the software has detected these on the network and we can add them both at the same time.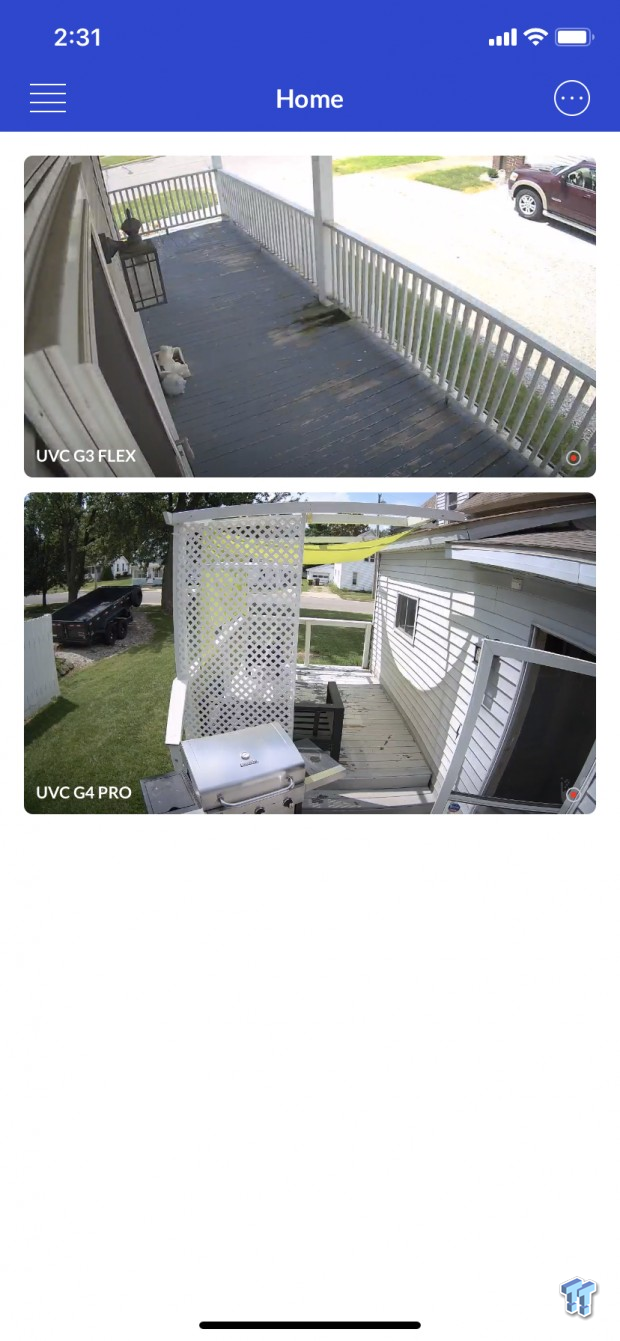 Once both cameras have been added and you name them etc, they will show up on your dashboard when you open the app. From here both cameras are in automatic live view mode and by touching one you can scroll through camera history.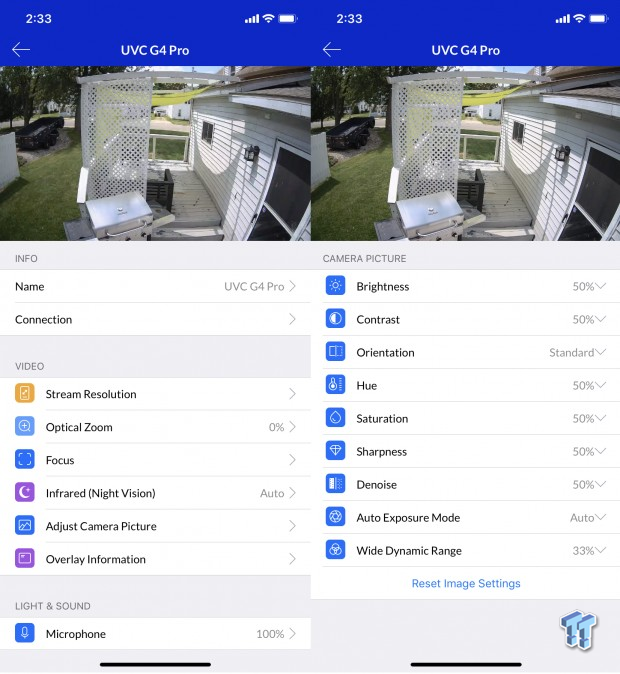 Options for the G4 Pro include naming at the top and connection. This is followed by stream resolution settings, optical zoom and focus. You can also adjust night vision and the picture along with adding any overlay information wanted. To the right we have picture settings and from here you can override and manually adjust brightness, contrast and orientation.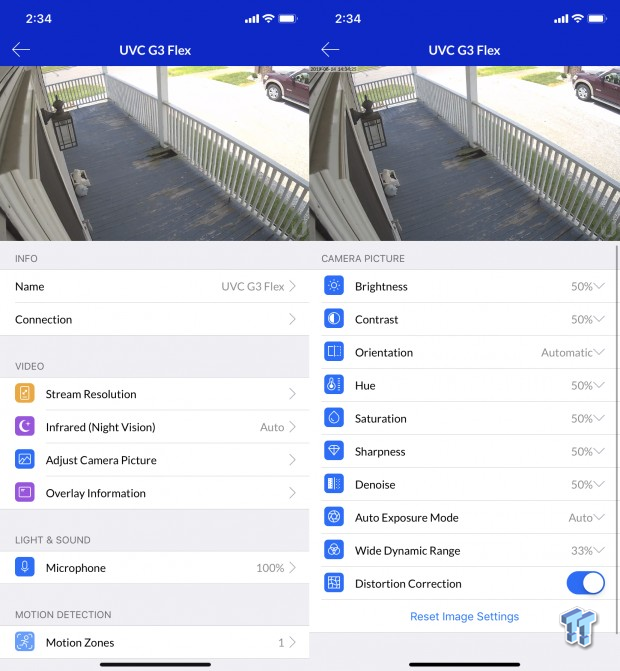 The G3 Flex offers the same settings and picture adjustments as the G4 Pro.
Final Thoughts
Having tested every Arlo platform from day one to Ultra, Logitech Circle, Circle 2 and countless standalone NVR and single camera solutions I must say I'm truly impressed with UniFi Protect. Starting from the top, the hardware enjoys a certain level of build quality, fit and finish that we don't normally see simply because this market is heavily contested from a whole host of vendors that are competing based on price and features. Ubiquiti is held to these standards but on another level as most of their customers are businesses like hospitals that want that extra level of finish so their networking and security solution blend into the ecosystem.
Speaking on performance, the UniFi Protect app in my experience is one of the quickest and most well-designed solutions I have used. From the beginning, the app guides you through setup of the Cloud Key followed by each camera allowing you to name and customize and transitioning into the dashboard all your cameras are available to view instantly. Furthering the experience, UniFi Protect has one of the best solutions for viewing live and past recording on the camera; with a touch of the screen on the camera you want to check you simply move your finger up or down and time lapse will show you every time motion was detected. You can then download a video clip to your mobile device if needed.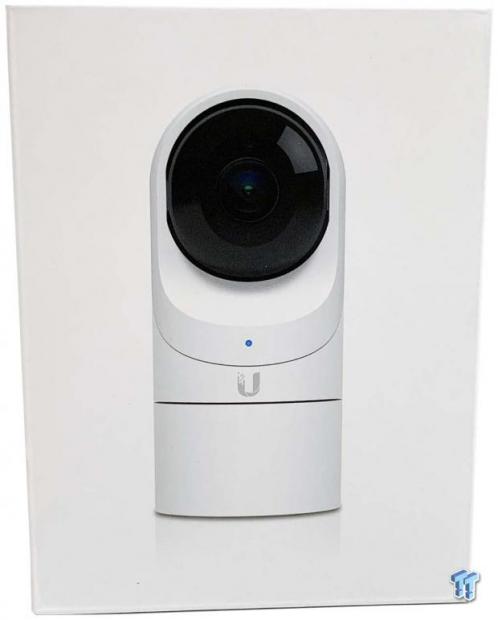 Closing this out, most of you would never think of Ubiquiti as being a cost-effective solution for your own home security. Most would assume the cost involved would be far greater than consumer level solutions like Arlo Pro etc. Looking at the current MSRP, for a single camera setup Arlo Pro is going to run you $249 and same change. Base cost for Cloud Key Gen 2 Plus and the G3 Flex is touching $279.99, add a second G3 Flex you are at $360 and a third $440. At this same time Arlo Pro is running $400 for two cameras and $530 for three. On this same note UniFi Protect offers a wide range of cameras both 1080p and 4K to fit your needs whatever they may be, and they all work under the same base station, something Arlo cannot claim.
| | |
| --- | --- |
| Performance | 90% |
| Quality | 91% |
| Features | 94% |
| Value | 92% |
| Overall | 92% |
The Bottom Line
Ubiquiti's UniFi delivers with Protect, offering one of the best ecosystems for both home and business consumers to efficiently protect their property.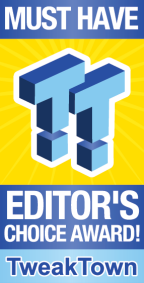 We openly invite the companies who provide us with review samples / who are mentioned or discussed to express their opinion. If any company representative wishes to respond, we will publish the response here. Please contact us if you wish to respond.