Introduction
Intel has done it to us yet again, another CPU with a core reduction, and with this comes another motherboard requirement. One thing can be said for AMD - any motherboard that supports the 90nm 939 CPU can handle the full blown FX series. When Intel launches a new CPU, even in the same socket format, you need to upgrade the motherboard because of new features; usually the CPU chews too much power for the current breed of motherboards to support.
It is no use complaining now, it's here and the requirements for the new 65nm Extreme Edition CPU's need to be placed on a board with the new Intel 975X series chipset.
We have
had a look
at the Intel Extreme Edition 955 CPU and the reference desktop motherboard that Intel plans to sell as its extreme board for their extreme CPU. Today we look at Gigabyte's offering to the I975 high-end market, the new Intel 975X based G1 series motherboard.
Gigabyte's new boards under the "G1" branding will be high-end, extreme quality motherboards and designed for gamers - gamers number one brand, maybe? The G1 brand will continue into 2006 with boards for AMD Athlon 64 CPU's and if we are right, ones for Core Duo and Core Solo CPU's, bringing the highly sought after Pentium M with Dual Core to the desktop market.
Today we have a look at Gigabyte's first serving to the G1 family, the G1975X. Will this board hold up to the hype? Let's see what is on offer and if Gigabyte are truly offering an ultra high-end gamers motherboard!
Specifications
Specifications of the G1975XCPU
Supports Intel Pentium 4 500, 600 Series CPU
Supports Intel Pentium 4 Extreme Edition CPU
Supports Intel Pentium D 800, 900 Series CPU
Supports Intel Pentium Extreme Edition 800, 900 Series CPU
Supports Intel Celeron D 300 Series CPU
Chipset
Intel i975X with HT
i975x Northbridge
i82801GB Southbridge
DMI @ 2GB/s
System Memory
4 DDR-2 SDRAM 186pin DIMM Sockets
Supports DDR2-400, 533, 667, 800Mhz
64/128Bit Dual Channel
Supports up to 8GB Total Memory (4x 2GB)
Bus Frequency
133/200/266MHz Internal
533/800/1066MHz External
Netburst Micro Architecture
Expansion Slots
2 PCI Express x16
2 PCI Express x4 Universal
2 PCI
Connectivity
2 Parallel ATA port supporting 4 IDE Drives
4 Serial ATA ports
1 Gigabit Ethernet Port
Expansion Ports
1 PS2 Keyboard Port
1 PS2 Mouse Port
8 USB 2.0 Ports
1 Serial Port
2 Firewire-400 Ports
5 Stereo Audio Ports
The Motherboard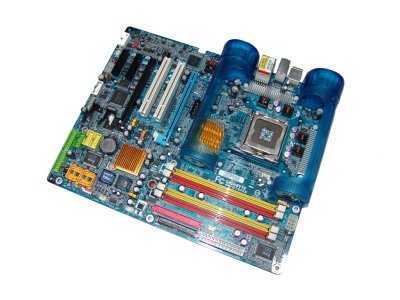 To start things off we take a look at the board in general. As you can see, this is definitely not your ordinary motherboard. Gigabyte has put a lot of R&D into this one and it shows that a lot of thought has gone into it. The board uses a full 30x30cm ATX layout to fit all on what is needed for a premium board - anything smaller is simply not going to fit all the goodies.
Gigabyte's choice for connector placement has finally been looked at and sense has come to the production team. The two power connectors are located on the right hand side of the board. The 24 pin primary power is located behind the DIMM sockets along with the FDD connector and the Southbridge driven IDE channel. The 8 pin EPS12v power connector is located on the top of the board above the DIMM sockets. In order to get the required power to the Extreme Edition CPU's you will need to have a high quality ATX power supply with the new EPS12v 8 pin connector.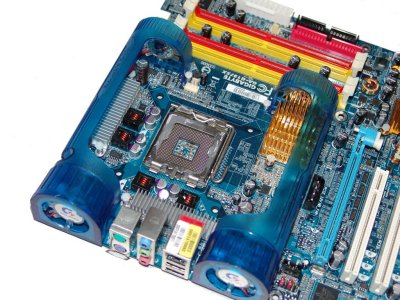 Originally thought of by ABIT some time ago, the idea of placing a thermal duct system to remove heat from the mosfets to directly expel the heat using fans around the I/O back plane, Gigabyte has moved this one step further with their "Turbojet Technology". There are not one but two external ducts to remove heat. The top duct runs a two fan duct system across the top two phase voltage regulators as well as catching heat expelled from the CPU heatsink and the memory. The bottom duct removes heat from the additional two phases of power regulation, CPU heatsink, Northbridge and memory. This is supposed to aid in overclocking, especially Prescott and Presler CPU's as these generate a lot of heat.
While the CPU area may look cramped, there is plenty of room for large heatsinks. All of Gigabyte's CPU coolers as well as the latest G-Power large format cooler fit on without any problems.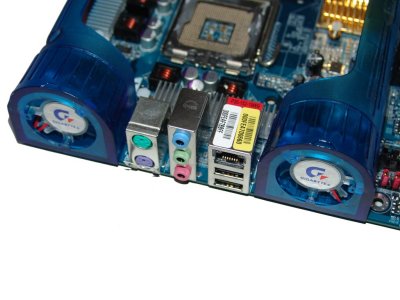 With the two additional fan ducts taking up most of the I/O port space, Gigabyte has gone for a liberal I/O setup. At the back are two PS/2 ports, two USB 2.0 ports, a Gigabit RJ-45 port and three Stereo Audio ports. You can add a Serial port, extra six USB 2.0 ports and two additional audio jacks by way of PCI Riser brackets to make up the extra connections.
The Motherboard Continued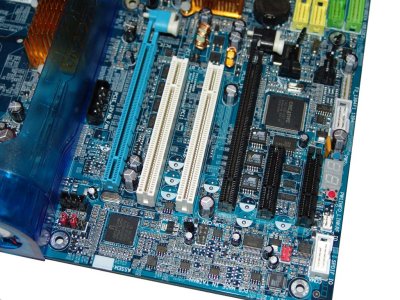 Expansion and onboard features are plentiful. The slots that are included are two PCI Express x16 slots, two PCI Express x4 universal slots and two PCI slots. Because of the nature of the I975X Northbridge that drives this baby, Intel has Crossfire ready acceptance, which is the reason you have two PCI Express x16 slots. To setup your Crossfire system, you need a Crossfire master card to be inserted into the blue PCI Express x16 slot. The slave card is plugged into the black PCI Express x16 slot, at this point the BIOS automatically routes the PCI Express down to PCI-E x8 speeds on both slots.
If you don't want to use Crossfire, you can use multi monitors to the point of eight screens. This is done by installing two graphics cards into the PCI Express x16 slots and two graphics cards into the universal x4 slots. The PCI-E x4 slots have no key at the back, meaning you can install an x16 graphics card, however the card will only work at PCI-E x4 speeds.
For onboard hardware expansion there are major chips. First is the Broadcom Netlink PCI Express x1 Gigabit LAN controller. This is the newest chip from Broadcom to be based on the PCI Express architecture, and Broadcom's latest chip fixes a few bugs its original NetXtreme chip had such as falling back to 100mbps for no reason after an S3 resume.
Next we have the Creative CA0106 PCI Sound Controller. This chip from Creative is dubbed either the Sound Blaster Live24 or the AudigyLS chip. This chip is used to give high quality hardware audio over the software based HD Azalia Audio. Speaker configurations up to 7.1 are supported by this chip and are a very welcome site and gamers should be quite pleased with this offering from Gigabyte.
Next on the list is Texas Instruments TSB43AB23 PCI Firewire-400 Controller chip. This chip has been used by Gigabyte for some time to give IEEE-1394a compliance to Gigabyte boards, though the Firewire-800 based chip would have been a nicer inclusion for such a high-end motherboard.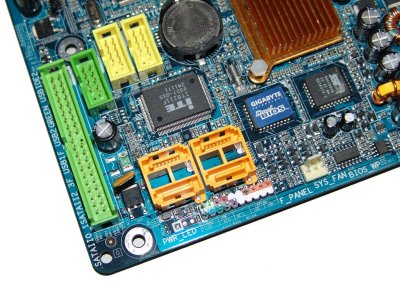 Last on the list is an ITE IT8211F PCI RAID controller chip. While normally this chip supports two IDE channels for up to four IDE devices, Gigabyte has only used one channel. The RAID function is still available but limits you to two IDE drives. We would have liked to see the extra channel added. The green IDE port below the Southbridge SATA-II ports is connected to this chip. When the ITE chip is set to BASE or IDE mode, you can see the drives in BIOS under the Standard CMOS setup menu, a very handy setup indeed as normally you need to go through external BIOS see them and set manual parameters.
Overclocking
Gigabyte has put some major emphasis on this board (being a premium line board) for the hardcore enthusiasts and with the layout of the board itself, you are sure to get this feeling. Although it is within the BIOS that defines the board for the overclockers who want extreme speed, and for that, you need a wide variety of voltage and clock frequency options to give that extra MHz overclock to make the board that much sweeter.
To locate the overclocking features in the Gigabyte BIOS, you need to navigate to the MB Intelligent Tweaker (M.I.T) menu. This is where you can overclock to your hearts content.
First off like previous Gigabyte boards, the G1 supports automatic overclocking by profile, Gigabyte calls it C.I.A.2. This allows the motherboards onboard logic to automatically raise the FSB and voltages by a pre-determined maximum percentage to allow you to gain some extra speed when the system is under heavy load.
For those who manage to afford a Pentium Extreme Edition CPU, you have the luxury of overclocking your CPU by multipliers. That's right, Intel leaves the multipliers on Extreme Edition CPU's open for users to do as they wish - we are guessing they took a page from AMD with the FX line of 64 bit processors. Gigabyte's BIOS detects this and if you are able to change the multiplier you are given access to this function. The options are dependant on CPU but most allow from 12x up to 60x. While 60x is a little optimistic, it's good to see that there are options here for you.
FSB adjustments are very generous. Gigabyte offers a range from 100MHz up to a maximum of 600MHz in 1MHz increments. Gigabyte is pushing this board for extreme overclocking and this is clearly evident with the FSB adjustments. While 600MHz on air isn't possible, add an extreme water cooler or Vapochill and see what happens.
PCI Express frequencies are extremely important. Settings that are provided are from 90MHz to 150MHz in 1MHz increments. Auto leaves the bus on external ratios, so if you plan to overclock, set this to 100MHz manually to keep the PCI Express bus at its default, which is your best move.
While most boards lock the PCI bus now to 33MHz, Gigabyte gives you this option so you know what is happening. Here you can leave it on auto which runs its on dividers, or physically lock it to 33MHz by selecting the option.
Next on the list is the memory ratio control. Since there are a wide variety of DDR-2 modules now on the market, and the fact that the Gigabyte board has support for many different FSB's, to keep the memory in check you need to have a set of dividers. Depending on what your FSB is to what ratio's are available, however, the ratios available are 400, 533, 600, 667, 800MHz or if you use a 1066FSB CPU you get an extra option of 888MHz. You can set the memory to whatever speed you wish independent of the CPU FSB however the best performance comes from when the memory and FSB are running at 1:1.
While having a wide range of frequencies is important, if you cannot boost the voltage to stabilise the main components, you are just spinning your wheels in the mud. Gigabyte only has four voltage controls, but all are important.
First is the CPU voltage, the all important one to keep the CPU running when the temperature starts to rise too much for the default voltage to work. You can adjust the voltage range from 1.3v up to 1.750v in 0.025v increments. This allows for a good range of selections no matter what core you are using. Though 1.75v on a Prescott or the Presler are not recommended, it's still nice they are there.
DIMM voltages keep the memory stable when pushing them to extreme speeds. Selections are from default voltage to a max of +0.7v in 0.1v increments. To this end you get from 1.8v up to 2.5v, which is the same voltage that DDR runs on - an extremely generous range here.
PCI-E voltage is actually a sort of misconception, not only does it give the PCI-E bus extra voltage, but also the Northbridge chipset itself. This range if from default to a max of +0.7v in 0.1v increments. Essentially from 1.5v to 2.2v. We wouldn't recommend going past 2v for this section.
Lastly is the FSB Overvolt option. This one provides a power boost to the CPU to Northbridge link to keep it as stable as possible at high clock speeds. Settings rage from default to +0.35v in 0.1v increments. So this gives 1.2v to 1.55v.
With all these options we managed a very healthy 351MHz FSB (351 x 12 = 4.2GHz) with memory running at 1:1, DDR-2 voltage at 2v, FSB voltage at +0.35v, CPU voltage at 1.45v and PCI-E voltage running at 1.3v. In all an extremely impressive overclock for an Extreme Edition CPU that tend to run warm even at default.
Benchmarks - Test System Setup and Sandra
Test System SetupProcessor
: Intel Pentium Extreme Edition 840 (800MHz FSB) (Supplied by
Intel
)
Memory
: 2x 512MB Corsair DDR2-800
Hard Disk
: 2x Seagate 7200.9 RAID 0 (Supplied by
Seagate
)
Graphics Card
: ATI Radeon X800XT Platinum (Supplied by
ASUS
)
Operating System
: Microsoft Windows XP SP2
Drivers:
ATI Catalyst 6.1 and DX9c
SiSoft SandraVersion and / or Patch Used:
2005 SR3a
Developer Homepage:
http://www.sisoftware.co.uk
Product Homepage:
http://sisoftware.jaggedonline.com/index.php?location=home&a=TTA&lang=en
Buy It Here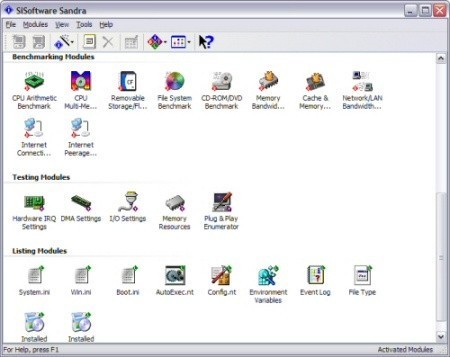 SiSoft Sandra (
S
ystem
AN
alyser,
D
iagnostic and
R
eporting
A
ssistant) is a synthetic Windows benchmark that features different tests used to evaluate different PC subsystems.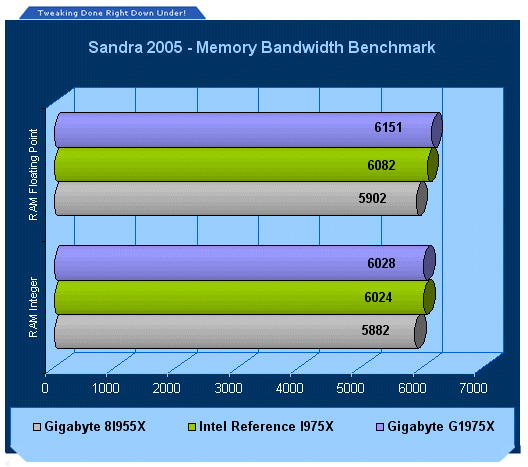 Here we can see that the Gigabyte G1 is slightly faster than the Intel reference I975X board, however, its power over the 8I955X board in memory performance is quite impressive due to the extra features Intel has put into the chipset.
Benchmarks - PCMark
PCMarkVersion and / or Patch Used:
1.1.0
Developer Homepage:
http://www.futuremark.com
Product Homepage:
http://www.futuremark.com/products/pcmark04/
Buy It Here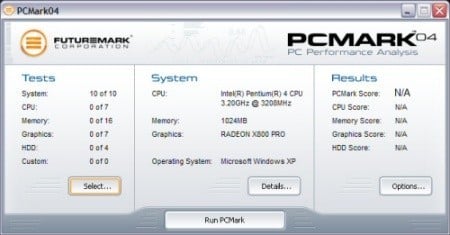 PCMark is a multipurpose benchmark, suited for benchmarking all kinds of PCs, from laptops to workstations, as well as across multiple Windows operating systems. This easy-to-use benchmark makes professional strength benchmarking software available even to novice users. PCMark consists of a series of tests that represent common tasks in home and office programs. PCMark also covers many additional areas outside the scope of other MadOnion.com benchmarks.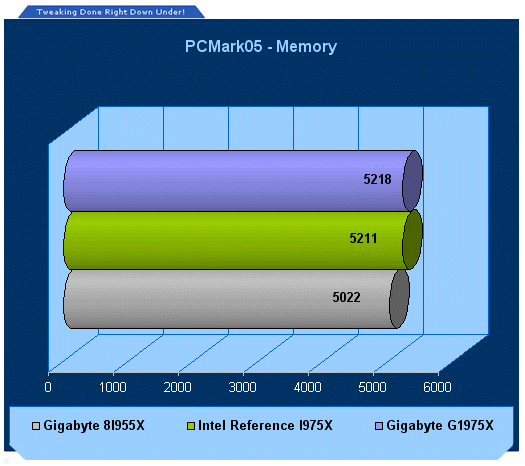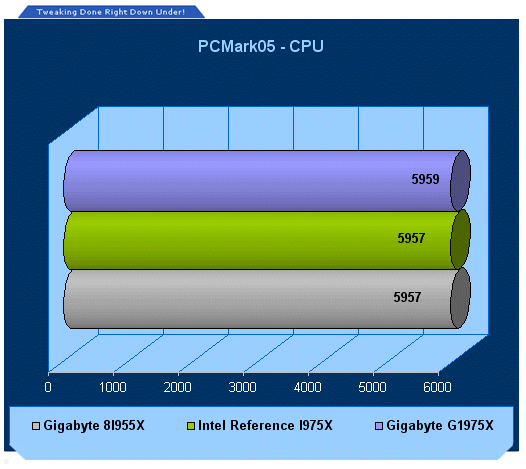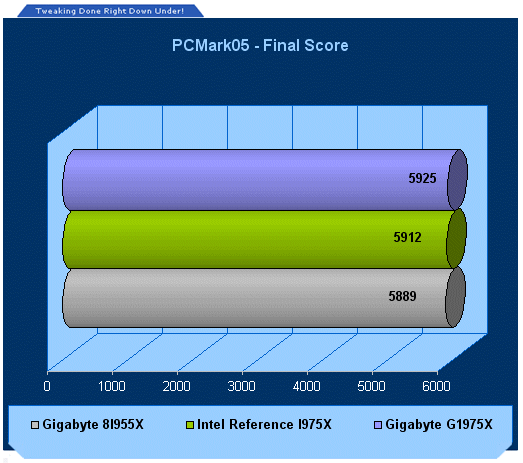 Here again we see that the Gigabyte G1975X is a good performer in memory applications.
Benchmarks - 3DMark Series
3DMark05Version and / or Patch Used:
Build 360
Developer Homepage:
http://www.futuremark.com
Product Homepage:
http://www.futuremark.com/products/3dmark05/
Buy It Here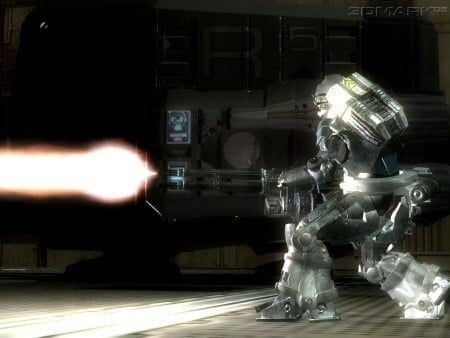 3DMark05 is now the second latest version in the popular 3DMark "Gamers Benchmark" series. It includes a complete set of DX9 benchmarks which tests Shader Model 2.0 and higher.
For more information on the 3DMark05 benchmark, we recommend you read our preview
here
.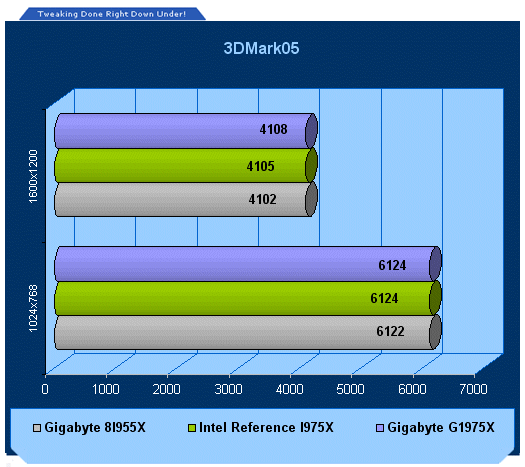 While having a higher memory performance in the synthetic desktop applications, there is little benefit in the gaming section so far.
3DMark06Version and / or Patch Used:
Build 110
Developer Homepage:
http://www.futuremark.com
Product Homepage:
http://www.futuremark.com/products/3dmark06/
Buy It Here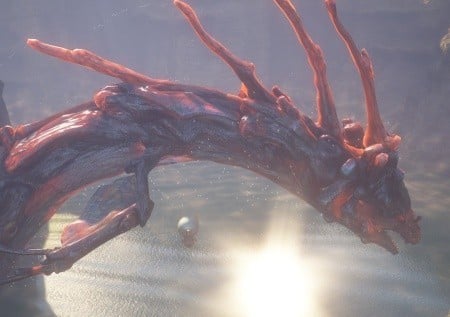 3DMark06 is the very latest version of the "Gamers Benchmark" from FutureMark. The newest version of 3DMark expands on the tests in 3DMark05 by adding graphical effects using Shader Model 3.0 and HDR (High Dynamic Range lighting) which will push even the best DX9 graphics cards to the extremes.
3DMark06 also focuses on not just the GPU but the CPU using the AGEIA PhysX software physics library to effectively test single and Dual Core processors.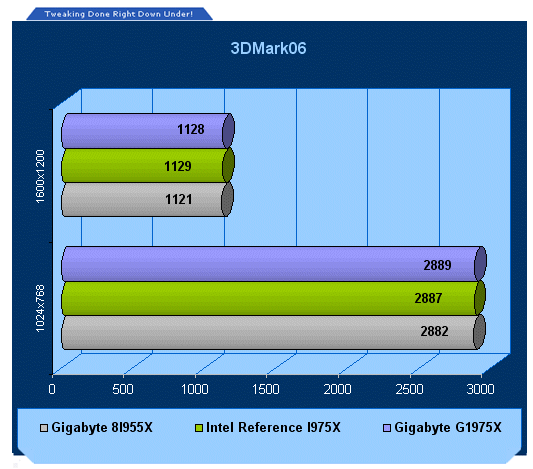 Even with 3DMark06's higher demand, very little is gained with the I975 board.
Benchmarks - Doom 3
Doom 3Version and / or Patch Used:
Unpatched
Timedemo or Level Used:
Custom Timedemo
Developer Homepage:
http://www.idsoftware.com
Product Homepage:
http://www.doom3.com
Buy It Here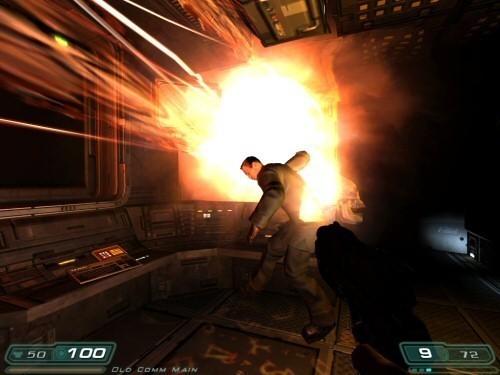 Doom 3 is the latest game to hit our test lab and is one of the most intensive games to dates. With our own custom time demo we are able to give a realistic rating on what kind of FPS you will be achieving.
For more information on benchmarking Doom 3 we recommend you check out our extensive article regarding it
here
.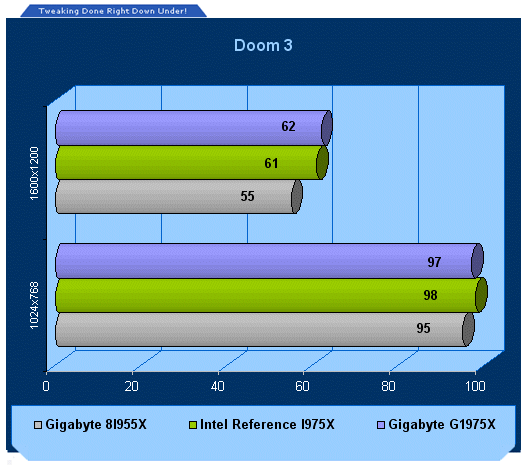 Doom 3 in real world shows a slight advantage.
Benchmarks - F.E.A.R.
F.E.A.R.Version and / or Patch Used:
Unpatched
Timedemo or Level Used:
Custom Timedemo
Developer Homepage:
http://www.vugames.com
Product Homepage:
http://www.whatisfear.com/us/
Buy It Here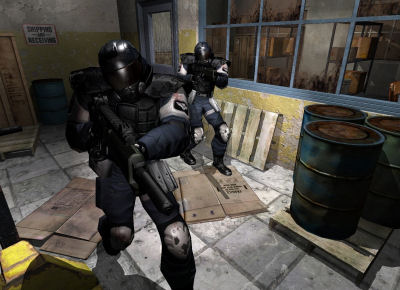 F.E.A.R. (First Encounter Assault Recon) is an intense combat experience with rich atmosphere and a deeply intense paranormal storyline presented entirely in first person. Be the hero in your own spine-tingling epic of action, tension, and terror...and discover the true meaning of F.E.A.R.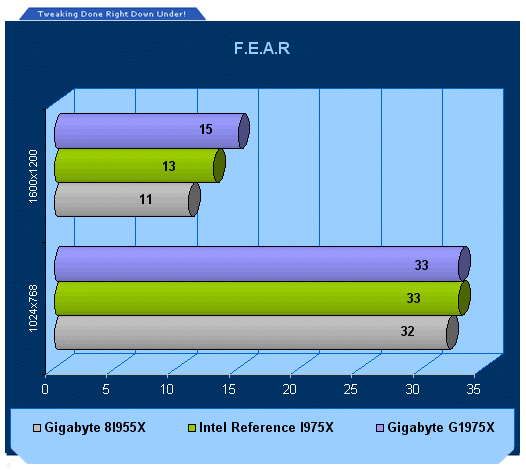 Again, just a little improvement over the previous generation.
Final Thoughts
While the benchmark scores don't show an overwhelming performance rise in the Intel 975X chipset against the previous 955X, this is kind of what we were expecting though. The 975X chipset is based directly on the 955X chipset, with a few tweaks and ATI Crossfire support.
Intel 975X is a new chipset designed to fix what the 955X didn't manage to achieve, which is Crossfire dual graphics acceptance. To this end the chipset is a success, as well as its ability to handle extreme bus speeds; you are guaranteed to get a very good overclocking result, provided your CPU, cooler and power supply are up to the task of powering the whole show.
On Gigabyte's efforts with this motherboard, all we can as is marvellous - the design is extremely clean, the cooling side of things for the overclockers have been thought about extremely hard, you have a ton of features to keep the gamer happy and we have in front of us what we really think is the best of looks and performance, as far as Intel based motherboards go.
The folks have Gigabyte are really concentrating on the gamers and enthusiasts in 2006 and if this motherboard is anything to go by, you all should pay some serious attention. It's a motherboard which is a total contrast from the Gigabyte motherboards we saw many years ago.
The G1975X motherboard has many onboard features that are practical and useful and without a doubt if you are after a motherboard with the lot, Gigabyte has provided it for you.
- Pros
Crossfire Ready
Overclocking is very impressive
Very enthusiast friendly
Firewire
Additional IDE channel
SATA RAID
Extremely efficient cooling of board components
Creative Sound Blaster Live 24-bit hardware audio controller
Debug LED and onboard power switch
- Cons
Slightly noisy
Likely to be expensive but you get what you pay for
- Latest Pricing
Rating - 9.5 out of 10 and TweakTown's "MUST HAVE" Editors Choice Award