The Coolest Things at CES 2017 from GIGABYTE & AORUS
GIGABYTE and AORUS had a relatively strong showing at CES 2017 in Las Vegas last week. Come and take a look at the best of it.
Published Jan 11, 2017 2:34 PM CST
|
Updated Tue, Nov 3 2020 6:58 PM CST
4 minute read time
AORUS Press Conference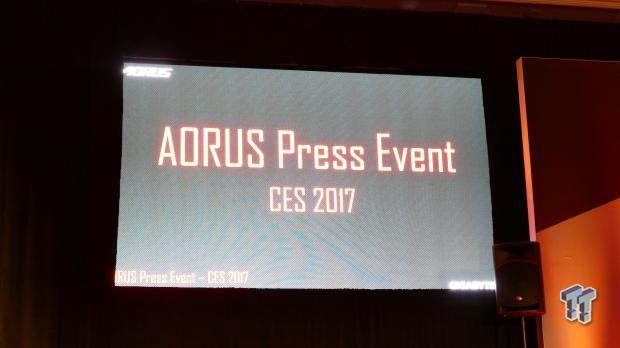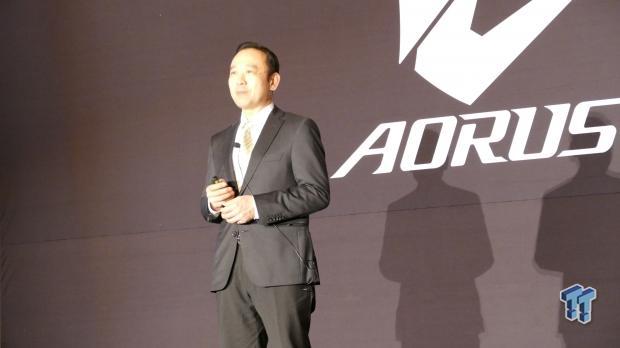 While the press conference itself wasn't the coolest thing I saw, GIGABYTE did unveil their new AORUS brand for high-end gaming motherboards. AORUS is already known for their powerful gaming notebooks, and GIGABYTE decided to use the brand for its new motherboards. GIGABYTE Sales Vice President Tony Liao flew from Taiwan to give the keynote and establish AORUS branded motherboards.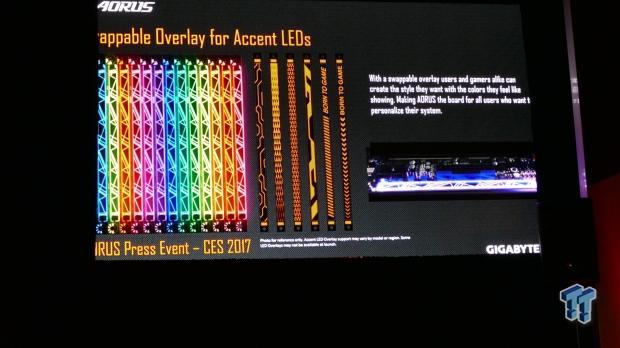 Along with all the beautiful case mods we saw, GIGABYTE also unveiled customized plastic add-ons for their AORUS motherboards. Theoretically, you could have the overlay customized to anything you like, but it seems GIGABYTE will offer a few different varieties for AORUS motherboards. The overlay bar looks really nice in person, and produce one of the best and unique RGB lighting effects I have seen thus far.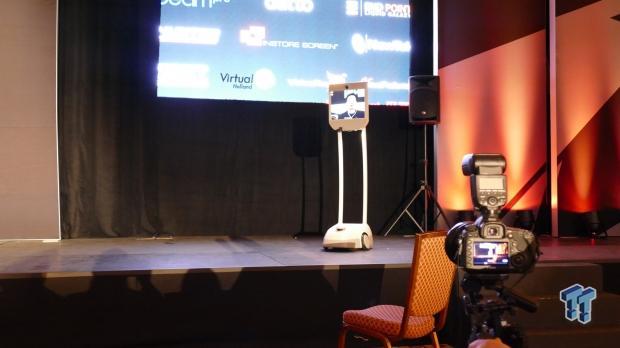 GIGABYTE's President was also present and gave a speech about the company's outlook, and he did it remotely using an interactive robot. Far gone are the days where you have to be physically present to give a speech.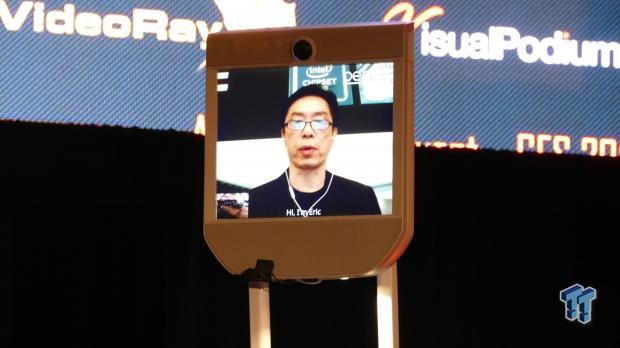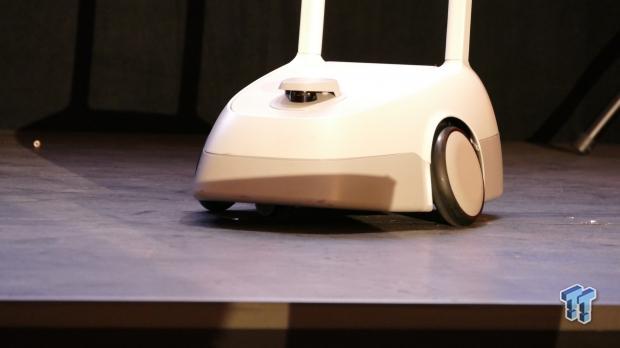 The robot used is the BeamPro, developed for many uses where experts are far away but still need to be present. The robot can move around and interact in real-time with the audience. Although GIGABYTE's President was in Taiwan, lag was at a minimum.
Z270X-Gaming SOC
The Z270X-Gaming SOC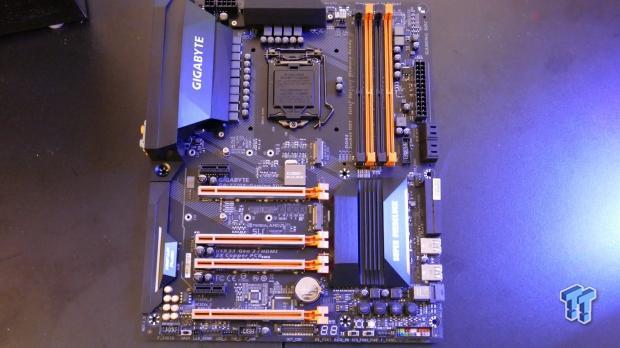 GIGABYTE's new overclocking motherboard is not under the AORUS name, but instead under GIGABYTE's gaming lineup. The Z270X-Gaming SOC was the motherboard used during HWBot's World Tour in GIGABYTE's ballroom at CES 2017. The motherboard features a plethora of overclocking features, a unique PCI-E layout, and minimal footprint.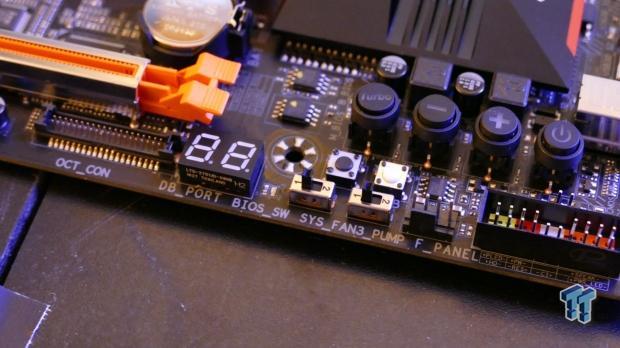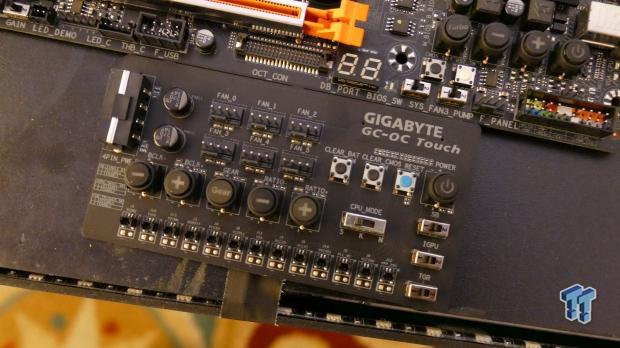 At the bottom of the motherboard, you get the typical POST code display and onboard switches, along with a Turbo button, and +/- buttons of multiplier overclocking. However, for the first time, GIGABYTE has added in their OC panel.
The OC panel offers six fan headers (I would assume full speed headers), BCLK and Multiplier +/- buttons, CPU Mode Switch, iGPU disable switch, Trigger Switch, and Clear Battery button to name a few of the most unique features. There are also many more voltage read points than on any GIGABYTE motherboard. The only thing missing is a POST Code display.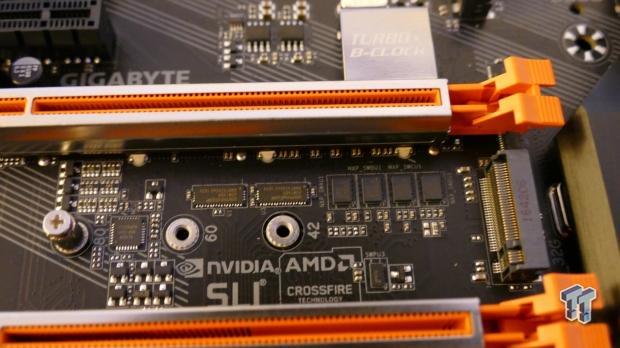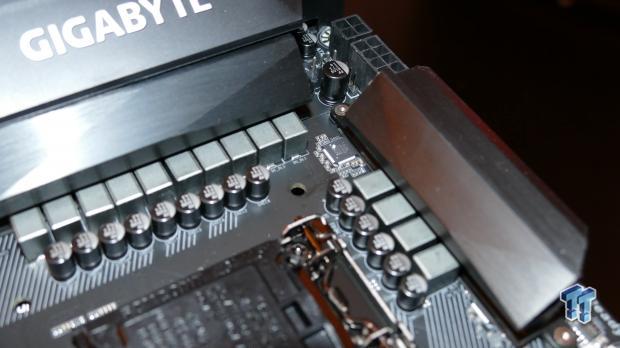 Alongside two typical dual-lane ASMedia quick switches are four NXP single-lane quick switches. The NXP switches are a surprise, and I am not sure exactly what they do, but perhaps they switch bandwidth between the x4 slots. The VRM uses eight true phases for the CPU VCore and four phases for the iGPU. The VCCIO and VCCSA each get their own phases. The CPU VCore and iGPU phases are powered by IR PowIRstages.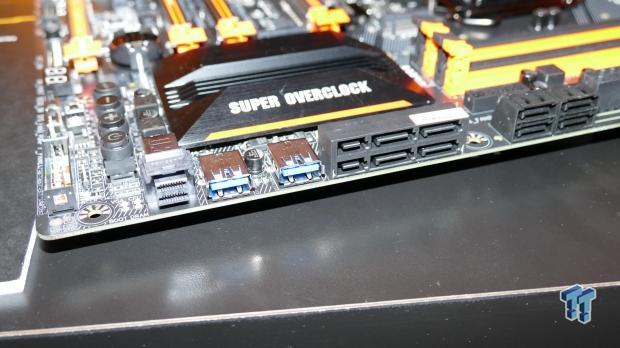 The motherboard also features a U.2 port, two right angled USB 3.0 type-A ports, and eight SATA ports.
Z270X-Designare and Z270 Mini-ITX
The Z270X-Designare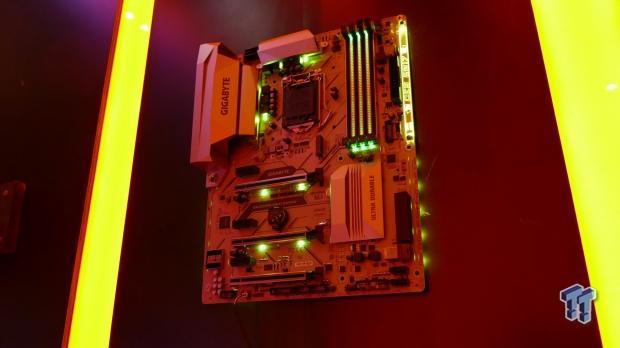 The Z270X-Designare actually has a white/silver looking PCB, RGB LED lighting, and uses white/silver heat sinks. The Designare brand is made for case modders and unique builds, and GIGABYTE's use of white/silver is bold.
One feature the Z270X-Designare brings to the table is the 20-pin USB 3.1 internal header, and I believe this is the first GIGABYTE motherboard to carry it.
The Z270N-Gaming 5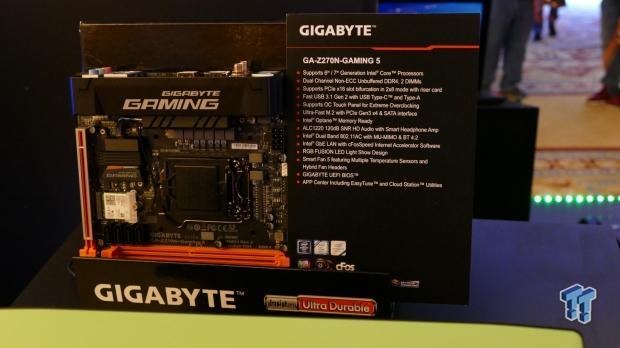 The Z270N-Gaming 5 is a really interesting board in that it seems to be GIGABYTE's mini OC motherboard with two DIMMs and tons of overclocking features. It does support two GPUs if you use a riser card, offers Intel wired and wireless NICs, and carries the new audio codec with 120dB SNR.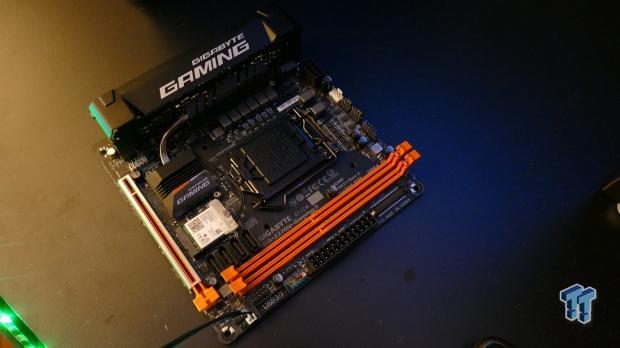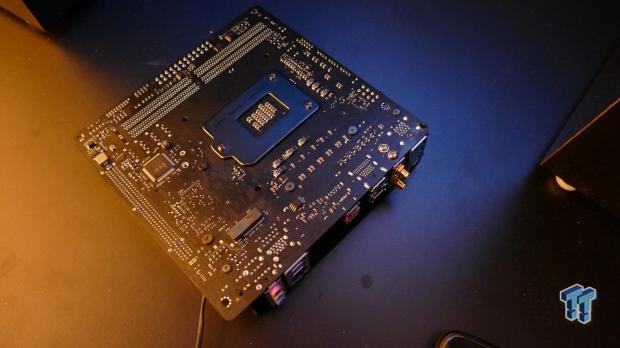 While all the consumer features are nice, I was surprised to see GIGABYTE added the OC panel header to the motherboard, so you can use the same OC panel pictured along with the Z270X-Gaming SOC to overclock this motherboard. The motherboard also carries the black and orange color theme unique to GIGABYTE's overclocking series.
Two DIMMs is preferable to four DIMMs for memory overclocking, and time will tell how this motherboard will do. The motherboard does seem to have a six phase VRM just for the VCore and two phases for the iGPU.
For those of you who want M.2, there is a slot located on the rear of the motherboard.
OC Competition and Showcase
Overclocking Competition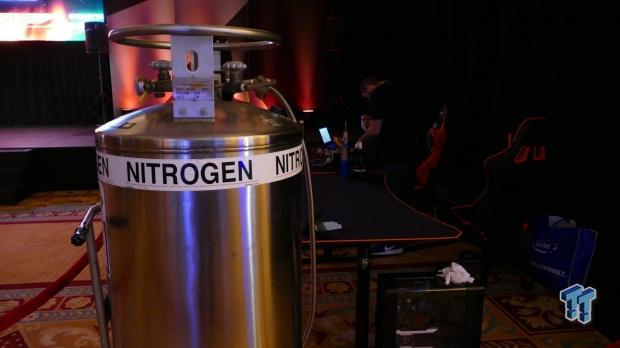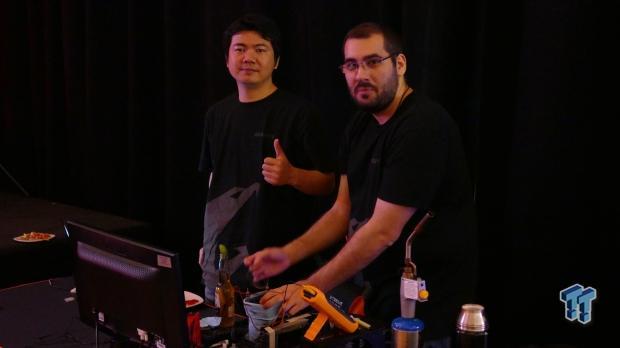 It wouldn't be CES without some liquid nitrogen overclocking! GIGABYTE didn't disappoint; they had their own overclockers (HiCookie and Sofos) on site and also hosted HWBot's World Tour.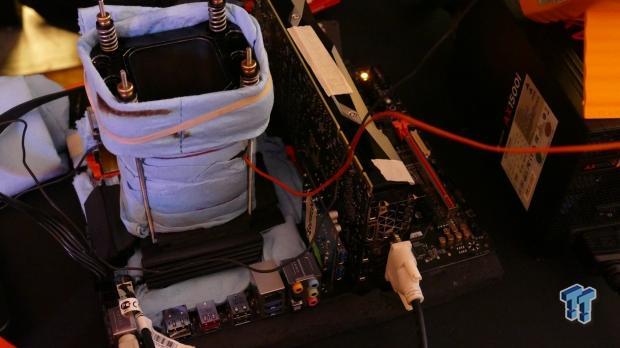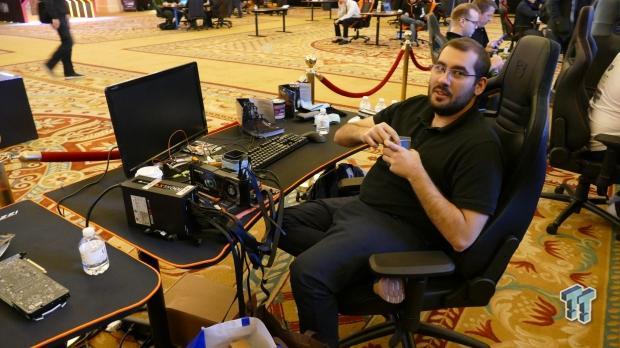 GIGABYTE's overclockers were using the new Z270X-Gaming SOC motherboard along with an NVIDIA Pascal-based GPU. Liquid nitrogen overclocking was done on both the CPU and memory to achieve world records.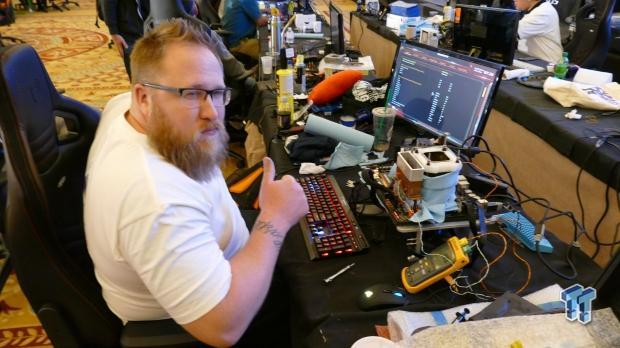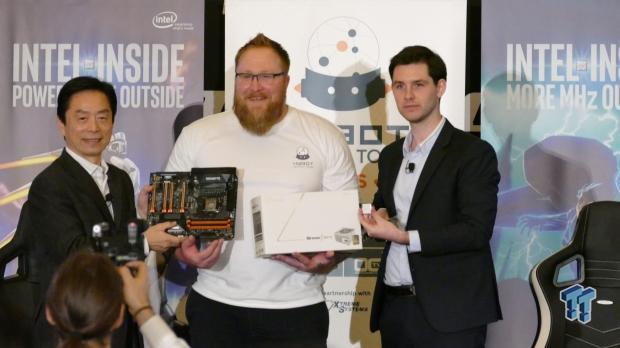 On the other side of the rope, we found some independent and team-based overclockers aiming to defeat each other in one-on-one matches on the stage. Overclocker Joe Stepnoz beat Lucky_n00b by a slim margin to win the HWBot Overclocking World Tour Qualifier, gaining him a place at the finals in Taiwan.
Both Overclockers are veterans of many overclocking competitions, and no one knew who would win. Congrats Joe, we wish you the best at finals!
Walking Around the Showcase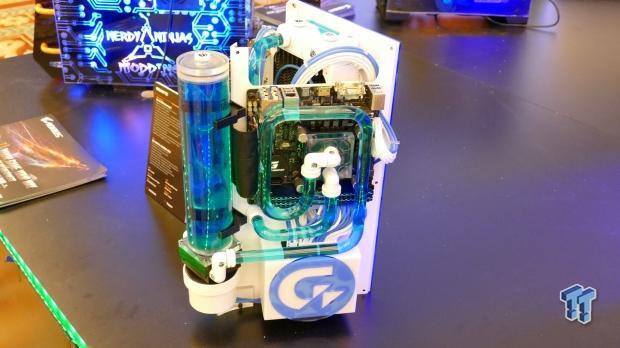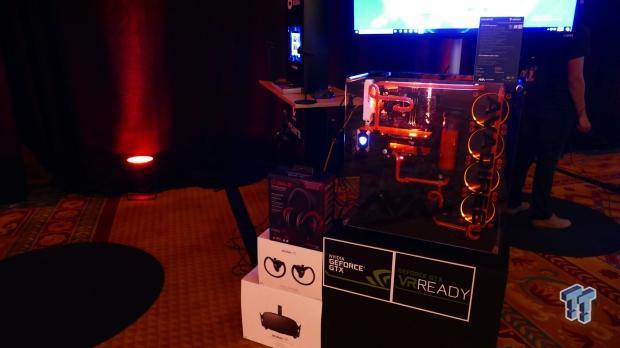 GIGABYTE's 2016 30th Anniversary Mod2Win competition winner was boloisbolo with Project Triptych. The sleek blue and white mod won the attention of the judges and was showcased along with the other finalists in the center of GIGABYTE's CES2017 ballroom.
Along with custom built case mods, we also saw a wide array of builds from system integrators. Here we have a sick AVADirect PC built for VR gaming powering an Oculus Rift demo. There were many other systems on display powering VR demos, but this orange and white one using an AORUS motherboard was one of my favorites.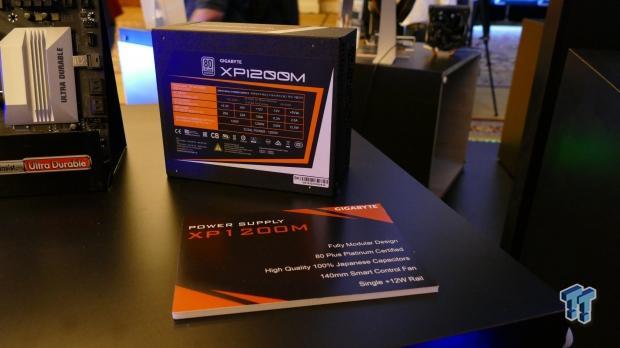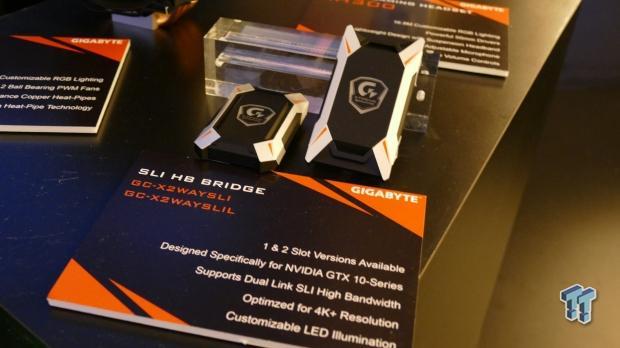 GIGABYTE also has a Xtreme Gaming brand of accessories, cases, and GPUs. I also spotted a new GIGABYTE power supply, the XP1200M is under the Xtreme Gaming brand of products and offers 80 Plus Platinum certification, modular cables, a single 12v rail, and 1200W of power.
GIGABYTE also has new SLI HB bridges for the new NVIDIA Pascal GPUs. These bridges offer RGB lighting and can be synced with RGB LEDs found on AORUS motherboards.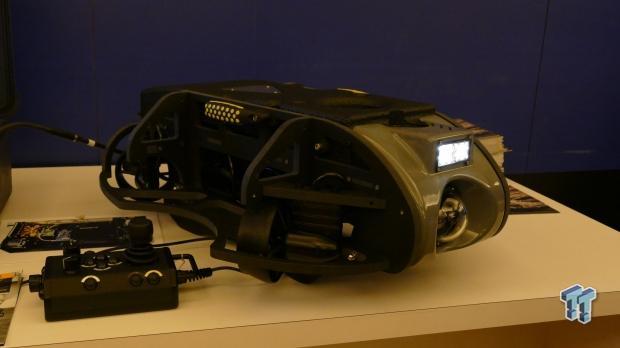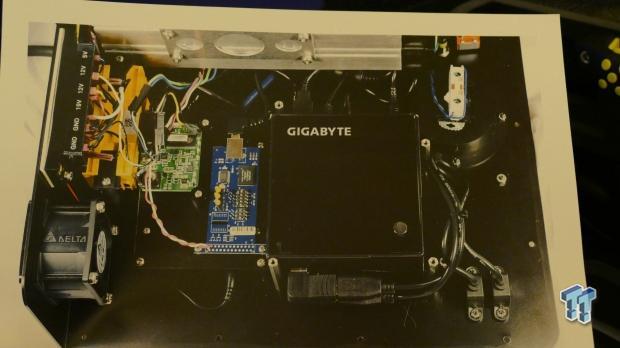 What you see is an underwater unmanned rover, capable of diving down to 6000 feet and exploring. It's used to diffuse mines or help survey for oil drilling. VideoRay produces these rovers, and they cost tens of thousands of dollars. The rover pictured here is actually for a military of another country (not the USA).
The GIGABYTE connection is that the host control unit for the rover is powered by a BRIX mini-PC - VideoRay said it's perfect for this use scenario.
PRICING: You can find products similar to this one for sale below.

United States: Find other tech and computer products like this over at Amazon.com

United Kingdom: Find other tech and computer products like this over at Amazon.co.uk

Australia: Find other tech and computer products like this over at Amazon.com.au

Canada: Find other tech and computer products like this over at Amazon.ca

Deutschland: Finde andere Technik- und Computerprodukte wie dieses auf Amazon.de