How to make a motherboard (GIGABYTE Nanping Factory Tour)
During Computex earlier this month, we were invited to the GIGABYTE Nanping factory in Taiwan to see how a motherboard is based. Here's our report.
Published
7 minute read time
Background and How It's Made
Background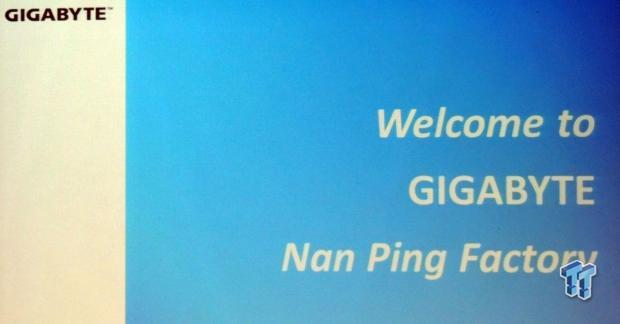 During Computex, I was offered a chance to go see how a motherboard is actually produced. GIGABYTE invited me and other media on a trip to see one of their three factories. We were bused off to the Nanping factory in Taiwan. To understand how a motherboard is made, it's important to understand what a motherboard is.
A motherboard is a PCB which facilitates the harmonious interactions between different ICs and components. Computer motherboards consist of a PCB with traces, chipsets (such as Intel's Z97 PCH), other ICs (SuperIOs, Network, Audio, Clock Generators, PWMs, etc.), electrical components (resistors, capacitors, inductors, MOSFETs, diodes, etc.), and physical interfaces (PCI-E ports, audio jacks, USB ports, header, jumpers, buttons, etc.). The job of a motherboard manufacturer such as GIGABYTE is to acquire the hardware and knowledge to produce motherboards that keep up with consumer demand.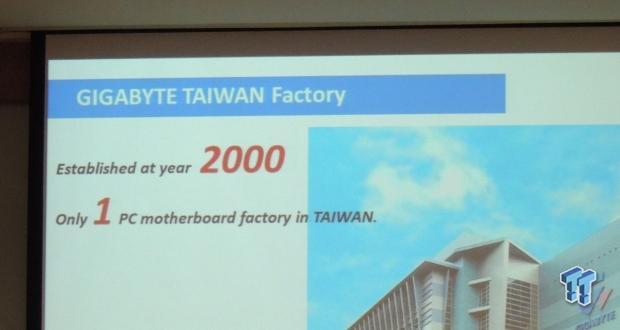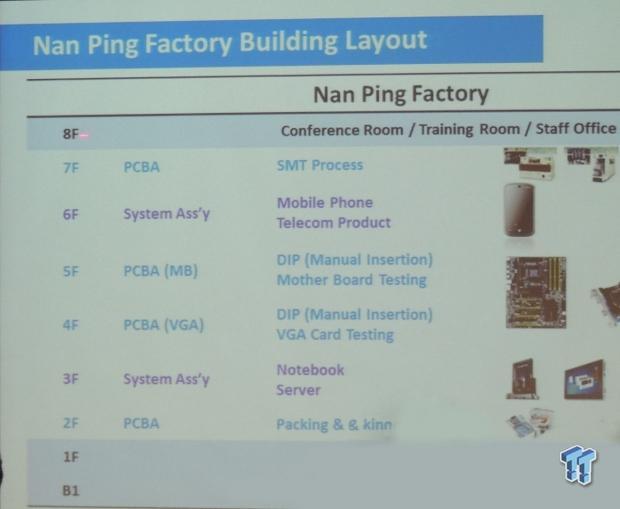 GIGABYTE's Nanping factory handles only a portion of GIGABYTE's total product output, and GIGABYTE has other factories in China. The Nanping location produces over 400K motherboards a month (about five million a year), which is only about a quarter of GIGABYTE's total motherboard sales each year. The Nanping location also produces a lot of other products such as video cards, servers, laptops, and phones just to name a few. Since its opening 15 years ago, GIGABYTE has been very proud of its Nanping location.
How It's Made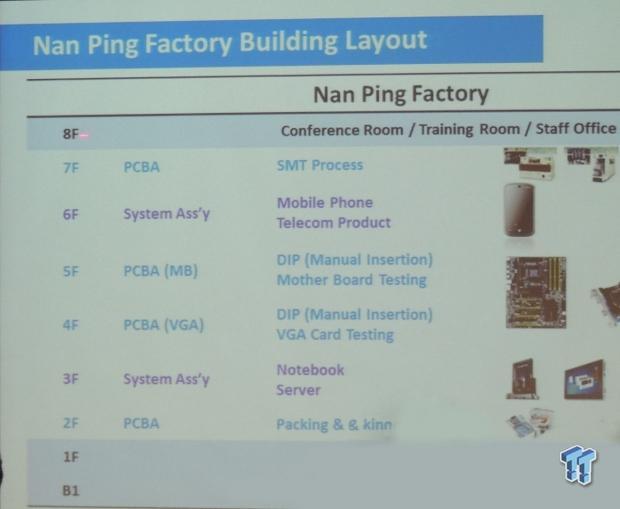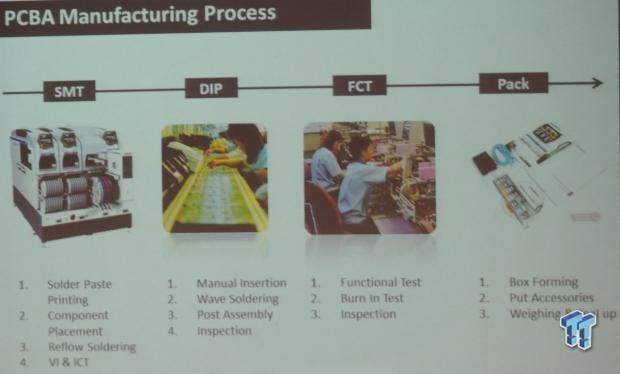 On the left is a floor by floor layout of the factory. We were only shown a few floors and only a section of each floor. On the right is a quick summation of the entire manufacturing process.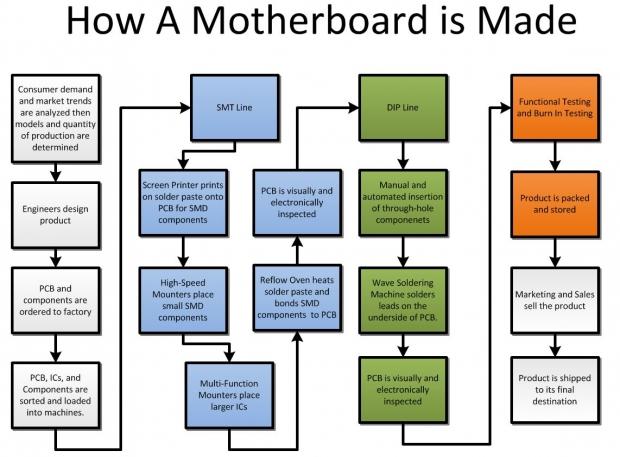 I made this diagram to show the hardware side of making a motherboard. There is also an extensive software side, where the BIOS and software for the motherboards is developed and then refined after the product has been launched. In this article, I will focus on the hardware production side of things, specifically the SMT (Surface Mount Technology), DIP (Dual in-line Package), and Q/A (quality assurance).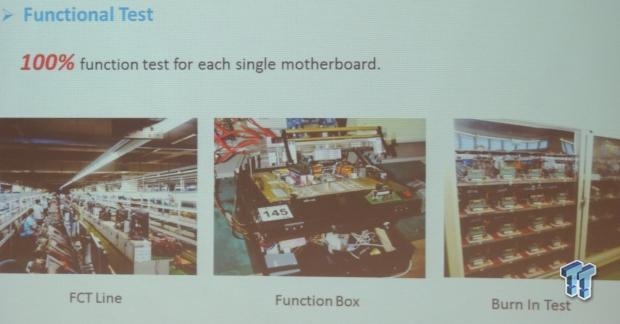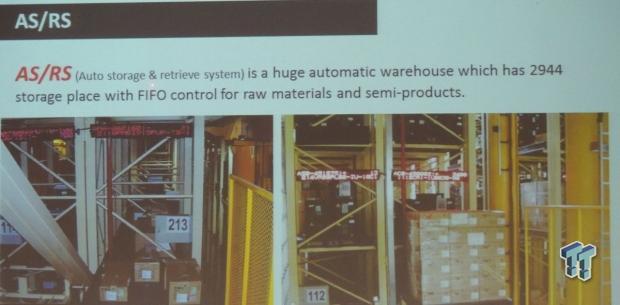 GIGABYTE tests each board individually as well, and some products are put through burn-in tests to ensure they operate within GIGABYTE's standards. GIGABYTE also has an AS/RS (auto storage and retrieval system) which will store components and products in a totally automated warehouse.
SMT vs. DIP
SMT vs DIP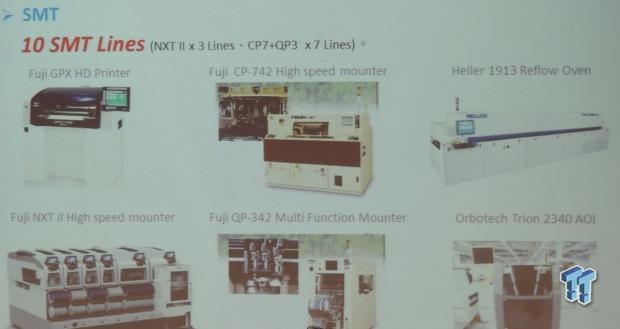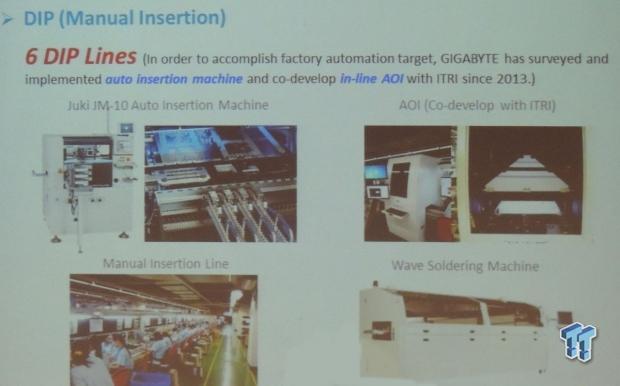 The Nanping factory has 10 SMT lines and six DIP lines. So, what is the difference? Certain components either reside on the PCB's surface or go straight through holes in the PCB. SMT (surface mount technology) refers to components and ICs which do not go through the PCB and are instead soldered to the top of the board. DIP (dual in-line process) refers to a technology where components have pins in two parallel rows, are inserted into holes on the PCB, and then soldered to the backside of the board/PCB; these components can also be referred to as through-hole components.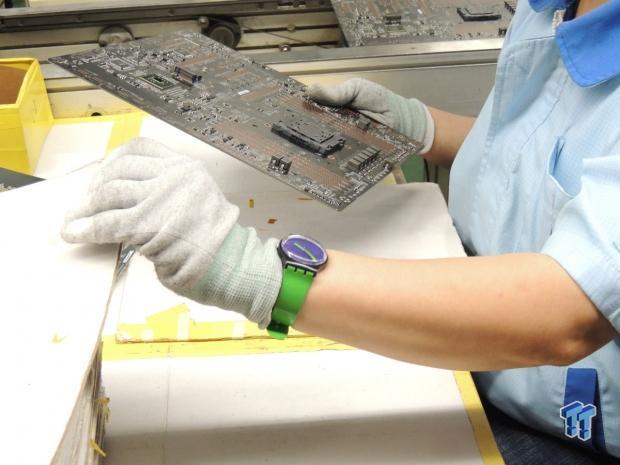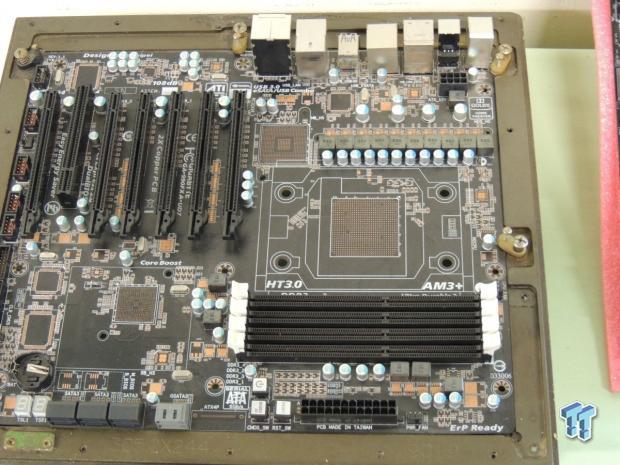 On the left is an X99-UD4P which has all of its SMDs (surface mount devices) mounted through SMT (surface mount technology). Typical SMD components are; chipsets, sockets, MOSETs, and other small components like resistors. SMT provides better operation for many components, reducing the amount of electrical noise that pins are susceptible to as well as allowing for the miniaturization of components, pins, and connections.
On the right is a 99FXA-UD7 which has all of its through-hole/DIP components mounted through insertion technology. Almost all slots and ports are mounted in this fashion as are can-type capacitors and many times, inductors. DIP provides much better durability than SMT, as components are more securely bonded to the motherboard. DIP also supports heavier or larger components such as IO ports.
One component that typically is DIP, but also has its SMT variant is the DRAM slot. GIGABYTE has experimented with SMT DIMMs on its OC lineup with great success. While DRAM slots can support SMT because memory modules are pretty light, other slots such as PCI-E would require an anchor if SMT is used, because of the amount of weight video cards might put on the slot.
The SMT Line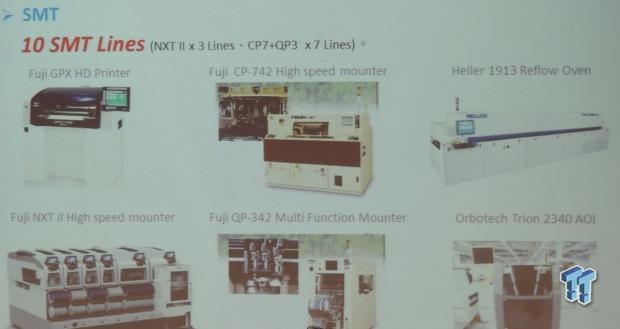 Recall this slide from the previous page on the 10x SMT lines present at Nanping. It shows some of the machines used to mount and solder on SMD components. After the PCB is received from another factory, the first step is to print solder paste onto the motherboard so that later on the components can be soldered; GIGABYTE uses Fuji's GPX for this. The next step is to mount components like the resistors, and for this three lines of Fuji NXT II High Speed mounters are used and seven lines of Fuji CP7 and QP3 are used. There are different mounters because there are many different types of SMDs.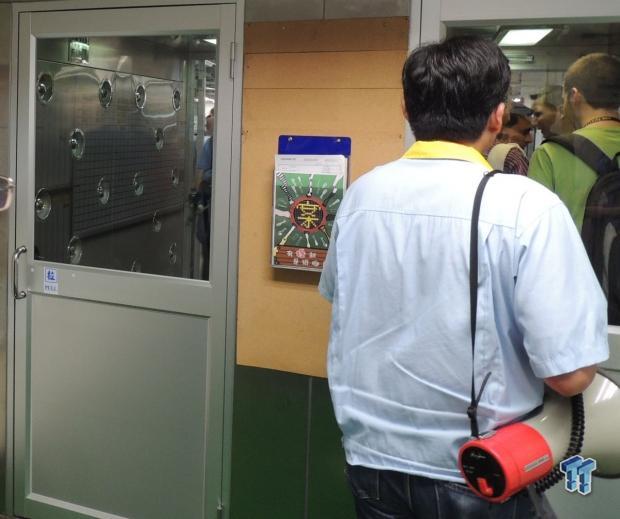 GIGABYTE takes many precautions before we are even allowed to board the bus to the factory. First of all, everyone's temperature was taken to make sure none of us were sick and when we reached the front doors of the factory, our hands were sprayed with a disinfectant to ensure we didn't bring in any foreign pathogens on our skin. Upon entering the factory, we were given booties to wear over our shoes to make sure no dirt gets into the production facility, and before entering the SMT production area, we had to go into a shower. This isn't your typical shower; instead it blows streams of pressurized air to remove any loose particles on our bodies and clothing. Since this isn't a facility where wafers and other microscopic circuits are produced, there is no need for full bodysuits.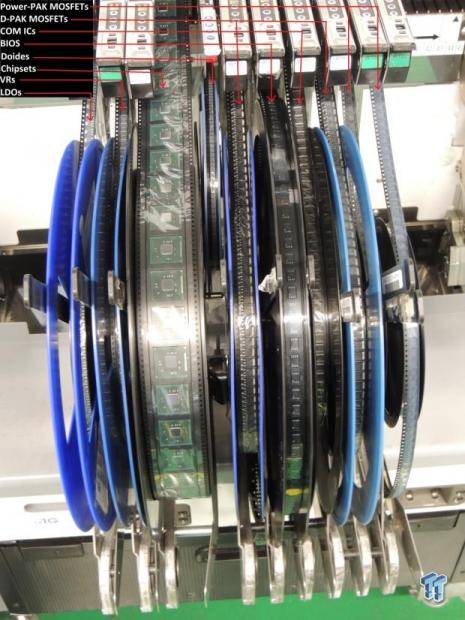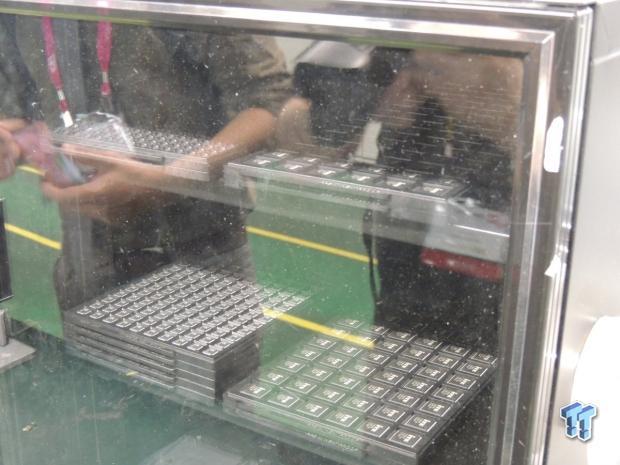 SMD components are extremely vulnerable to the elements and static shock, so they are either stored in temperature controlled containers or come in sealed reels that don't touch the air until they are already inside the mounting machine.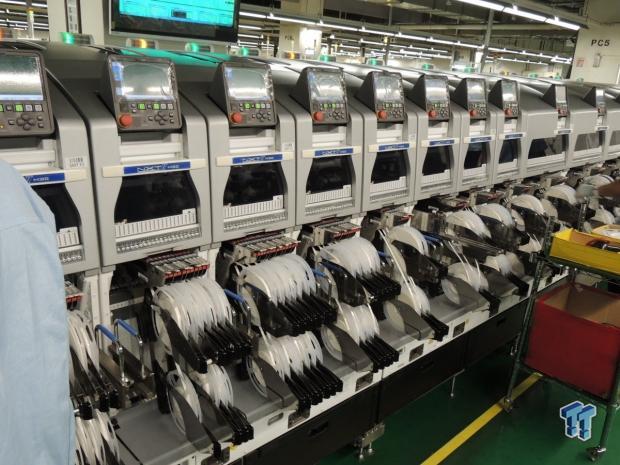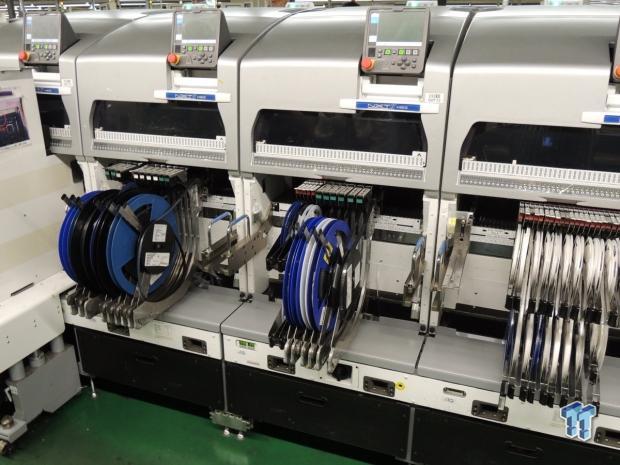 This line has the Fuji NXT II high speed mounters which mount ICs and components of many sized.
This is a video of an automated SMD placement device. In this case, it is placing MLCCs (multilayer ceramic capacitors) which reside inside the CPU socket and help reduce ripple and noise. These are very tiny components; precision and accuracy are of the utmost importance and the device automatically checks each placement optically.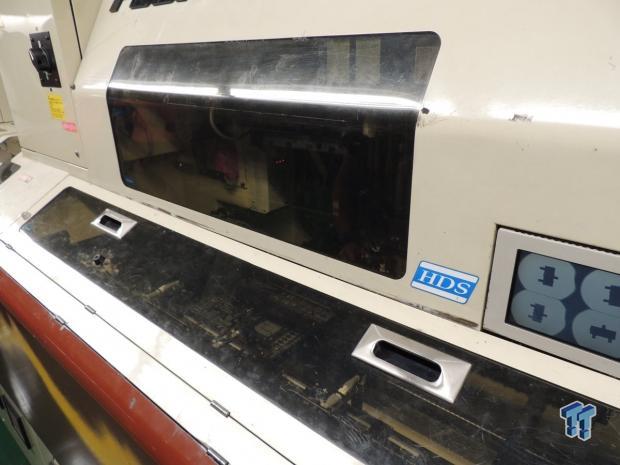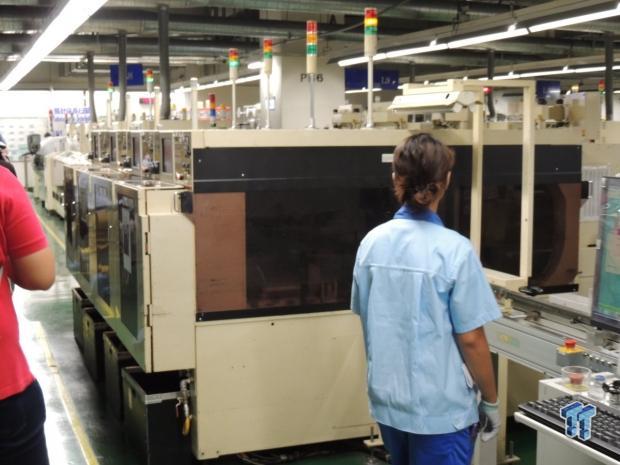 These are other Fuji mounting machines which work at an incredibly fast rate.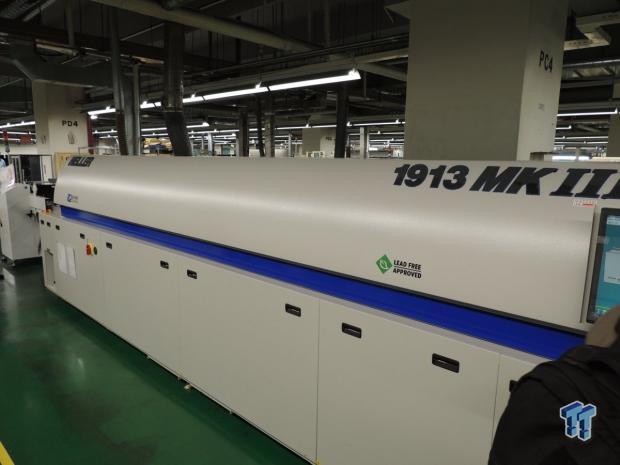 This is the reflow soldering machine, the Heller 1913 MK III Reflow oven, which applies heat to the SMDs allowing for the pre-applied solder paste to solder the SMDs to the motherboard.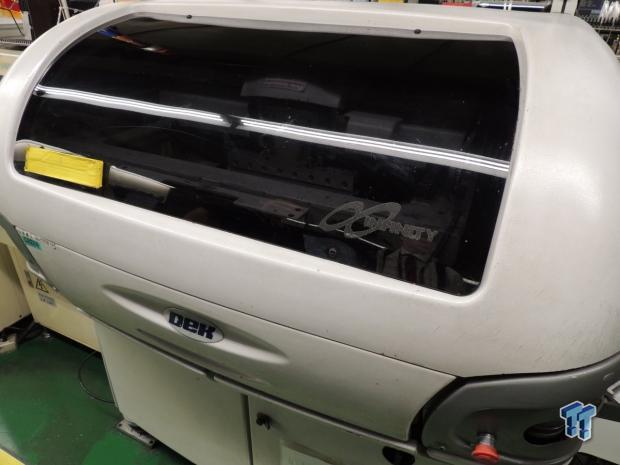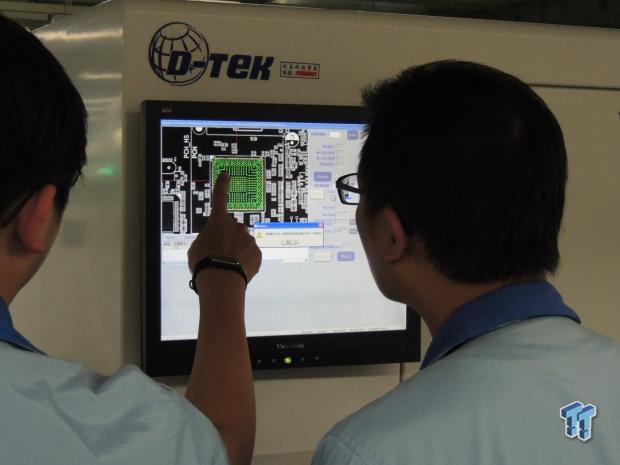 This O-Tek machine takes images of the SMDs after soldering to ensure solid contact and evaluates soldering quality. Two employees evaluate the PCH contacts.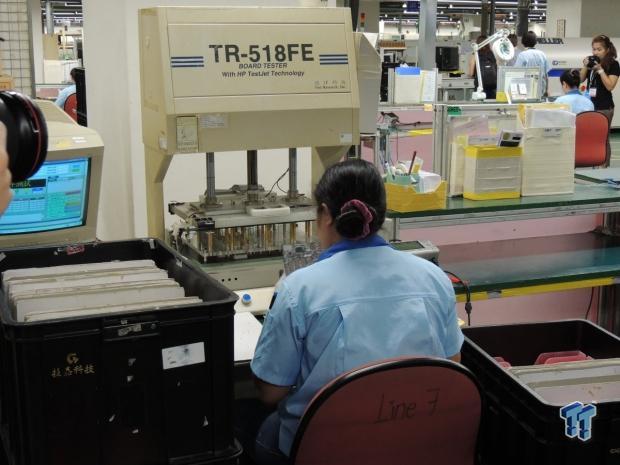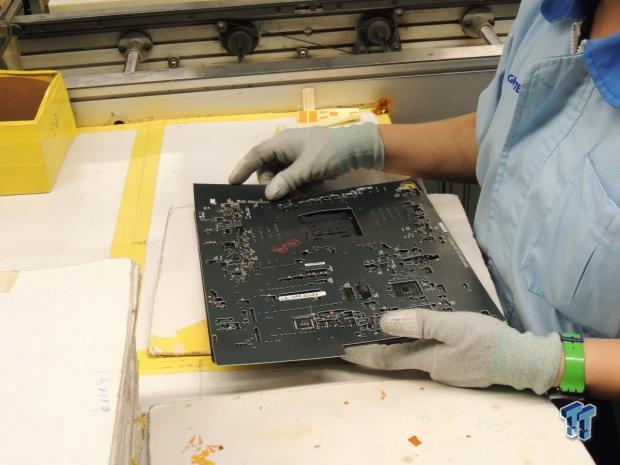 The machine on the left is an SMD tester which makes physical contact with the board's SMD connections and runs tests to ensure proper operation. On the right is the manual inspection of the SMT process results for an X99-UP4P with a motherboard stencil. Next the boards are sent to the DIP line.
The DIP Line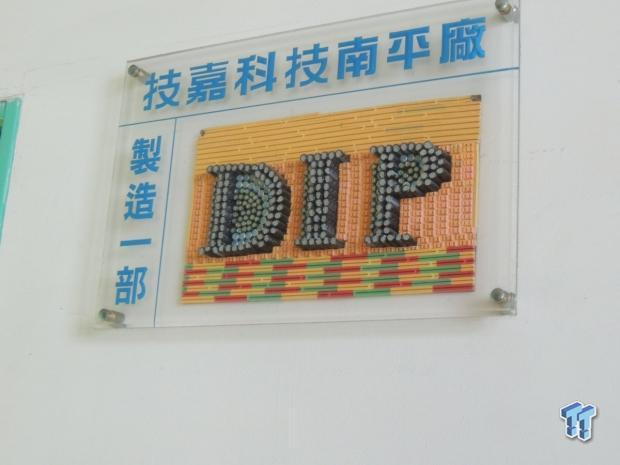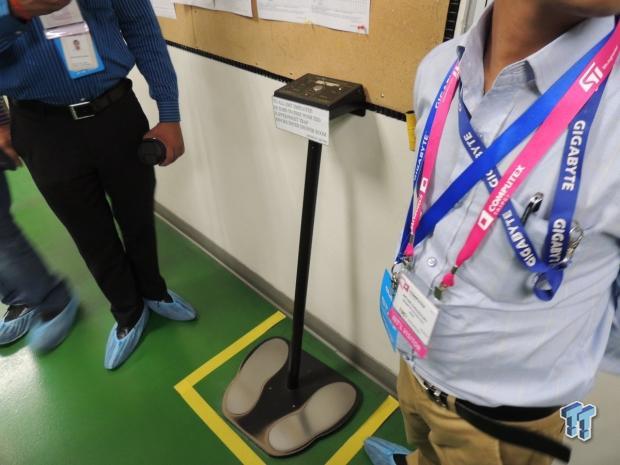 When you enter the DIP area, there is a lot going on as it's part of the factory where workers actually physically touch the motherboard. Before workers enter the area, they must test their electrostatic discharge (ESD) with this little machine.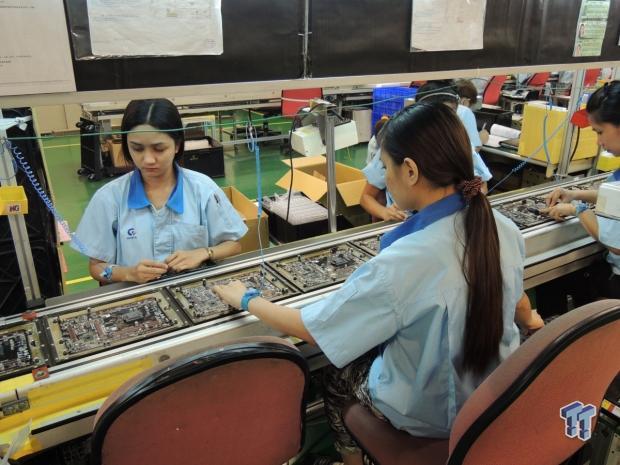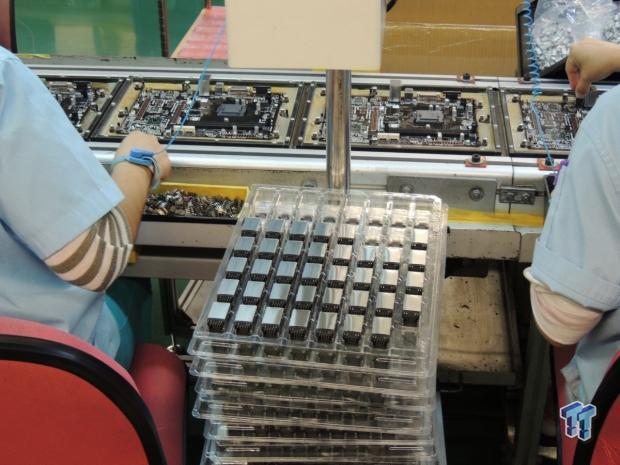 This is a manual insertion line where factory workers place different through-hole components such as portions of the IO panel and PCI-E slots.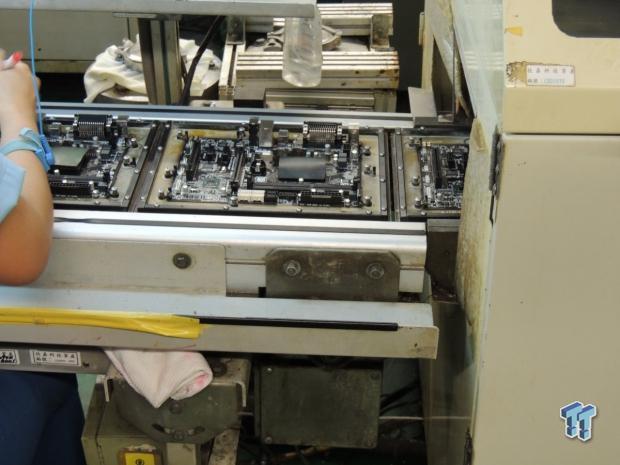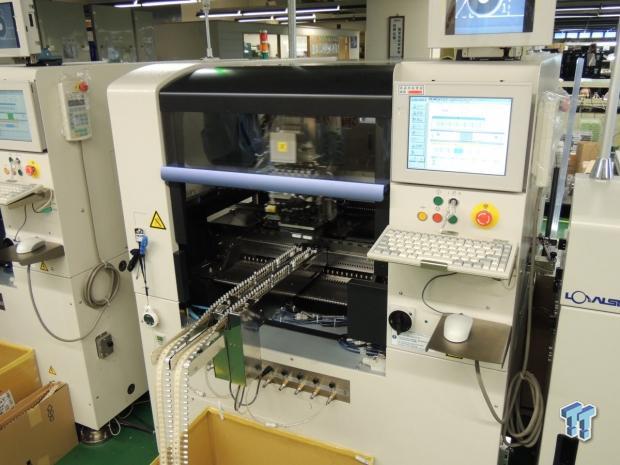 After some components are manually inserted, others which are smaller such as capacitors, are inserted into the PCB with auto insertion machines. This is a Juki JM-10 and it places capacitors (and there is a video below. GIGABYTE has worked closely with the Industrial Technology Research Institute of Taiwan (ITRI) and co-developed an in-line AOI (automatic optical inspection) to ensure that the placement of DIP components is perfect.
The machine in the video manually places DIP components such as capacitors. Then the placement of the components is checked with an in-line AOI. After the manual insertion, a wave-soldering machine produces a wave of solder which brushes up against the bottom of the motherboard to permanently solder the DIP components in place. After the soldering, the boards are inspected again.
Testing, Packaging, and Final Thoughts
Testing
GIGABYTE informed everyone that they test every motherboard before it leaves the factory to reduce RMAs and DOA motherboards.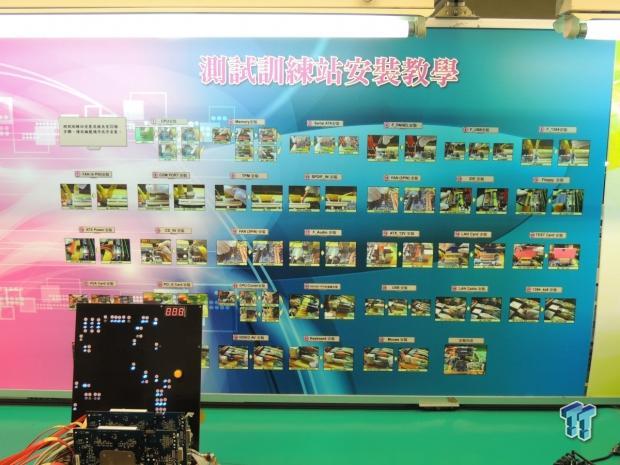 This poster shows 32 tests that are run by one machine in the testing process.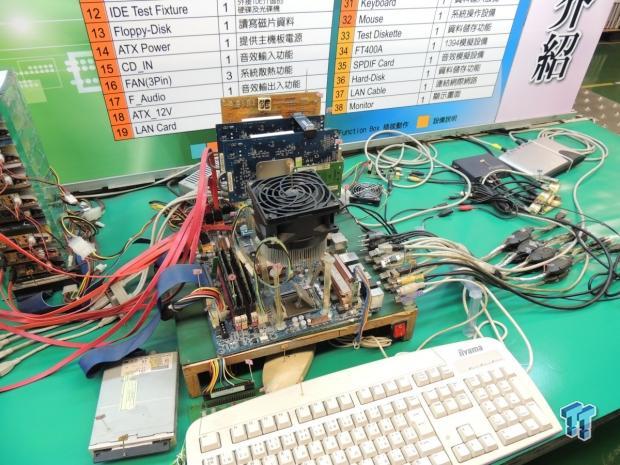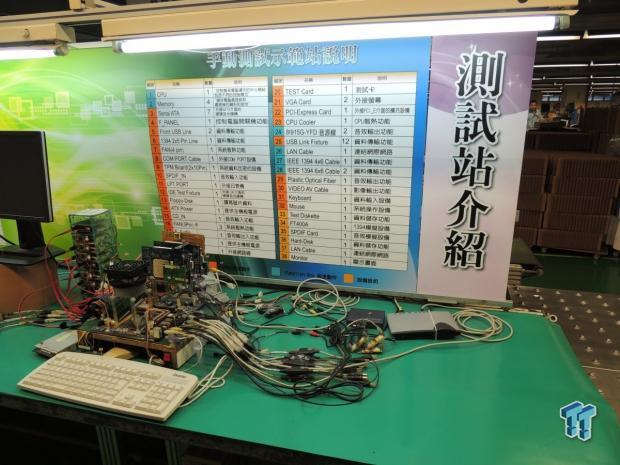 While the machine in the picture looks quite old, don't be alarmed, GIGABYTE isn't still producing and testing LGA775 motherboards. Instead this is a mock setup to show us how they test.
Packaging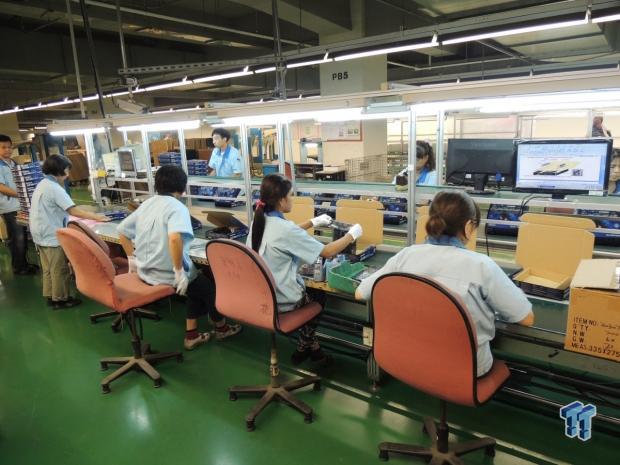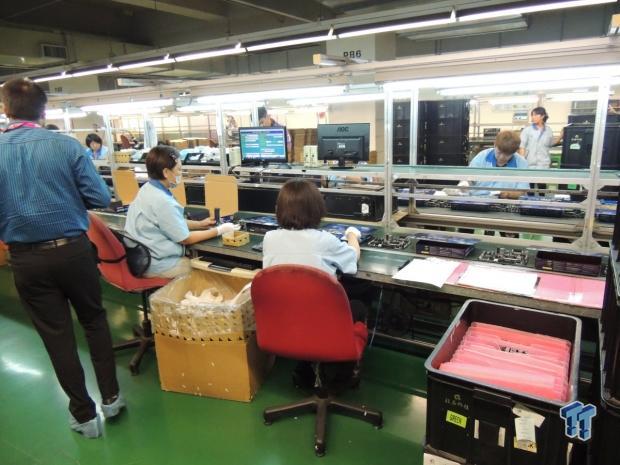 GIGABYTE factory workers are packing motherboards and accessories into boxes.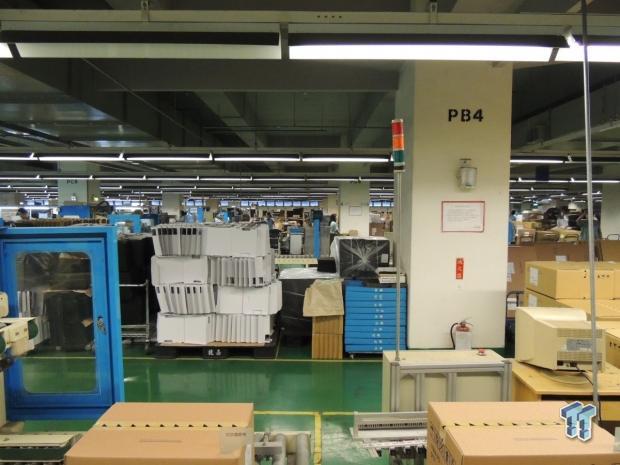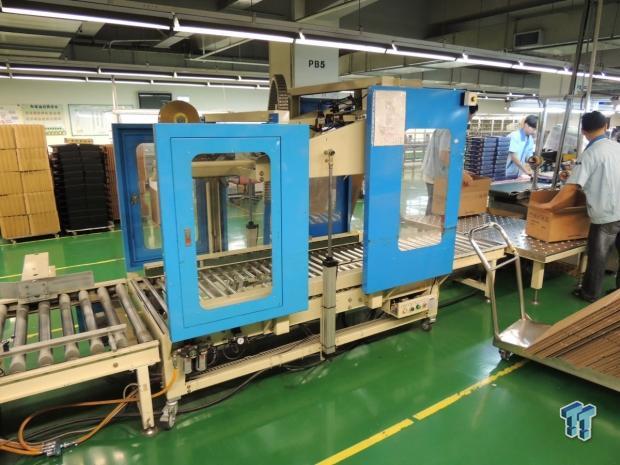 Motherboards are bundled into large boxes which are then automatically wrapped in plastic and placed on pallets to be shipped around the globe.
Final Thoughts
The process of motherboard construction can be summarized in a single sentence: "The PCB has SMD and DIP components placed/inserted onto it and then soldered on permanently, then the motherboard is tested for functionality, packaged, and finally shipped". Of course, the actual process is more tedious and intricate than even this article makes it out to be, but it's a really interesting process.
I was very impressed by the speed of the process, especially with all the quality control that GIGABYTE implements at every stage. From what I could tell, GIGABYTE values its employees, enough to make sure that we didn't infect them or the factory. A few years ago, there were all those stories about how the conditions at Foxconn's factories were terrible, but I see none of that at GIGABYTE's Nanping Taiwan location. The workers seemed happy and worked harmoniously, and GIGABYTE should be commended for maintaining a factory in Taiwan when most others have left for cheaper locations in China and Southeast Asia.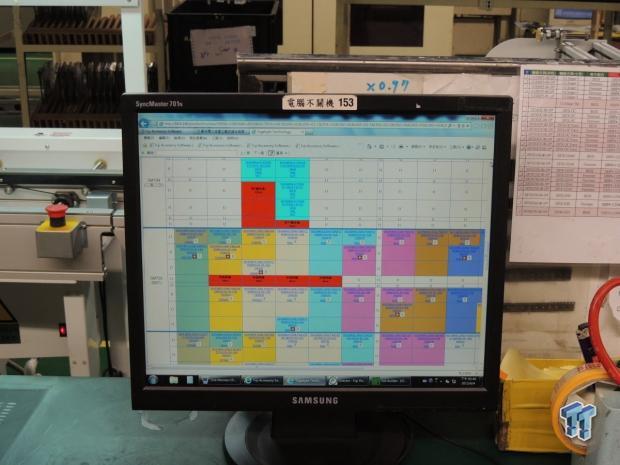 You might notice (on the monitor) some unreleased (100 series) products are on track for production at Nanping. The entire process requires a lot of behind the scenes action, and this monitor shows a schedule for one machine. Whether it's maintaining supplies of components, training workers, maintenance of the machines, or managing the entire process, there are many steps in the process and GIGABYTE's operation isn't a small one. Decades of research and development have resulted in a facility capable of producing PC motherboards at an astounding rate, and it was really awesome to see how motherboards are made.
PRICING: You can find products similar to this one for sale below.

United States: Find other tech and computer products like this over at Amazon.com

United Kingdom: Find other tech and computer products like this over at Amazon.co.uk

Australia: Find other tech and computer products like this over at Amazon.com.au

Canada: Find other tech and computer products like this over at Amazon.ca

Deutschland: Finde andere Technik- und Computerprodukte wie dieses auf Amazon.de
We openly invite the companies who provide us with review samples / who are mentioned or discussed to express their opinion. If any company representative wishes to respond, we will publish the response here. Please contact us if you wish to respond.