A Look #throughglass at GIGABYTE's Z97X-SOC Force
Computex is just over a month away, with Intel set to unveil its new fifth-generation Core processors at the trade show in Taipei. But between then and now, we have the chance to take a quick look at one of GIGABYTE's upcoming Z97-based motherboards, the Z97X-SOC Force.
Instead of the usual unboxing video, we've taken it through Google Glass, which gives quite the first-person perspective. That video is above. Below, we have some details on the motherboard, and a bunch of pictures.
Starting with pictures, we'll take a look at the box itself, and then get into what you all came here for: the motherboard.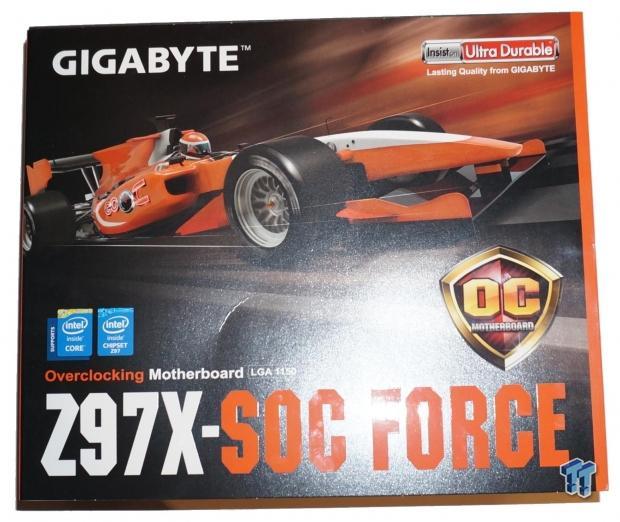 The front of the box is typical, but GIGABYTE has used its orange-and-black theme all over the place, something that looks quite good.
Opening up the front of the box, we have a GIGABYTE motherboard frozen with LN2 - a very nice touch!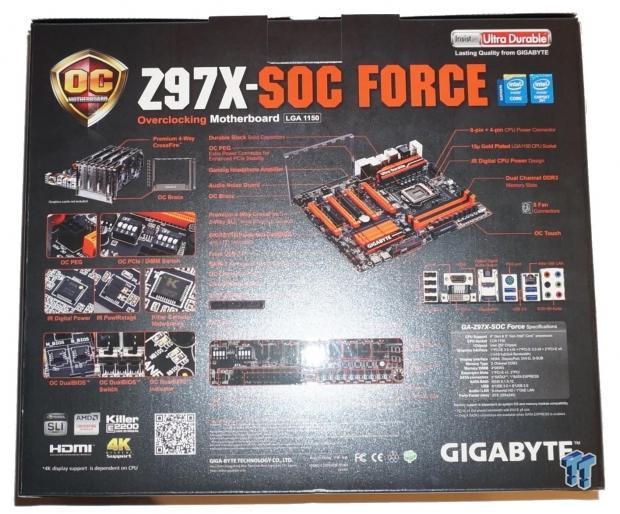 On the back of the box, we have a dictionary worth of content. GIGABYTE explains everything you need to know about its Z97-SOC FORCE motherboard.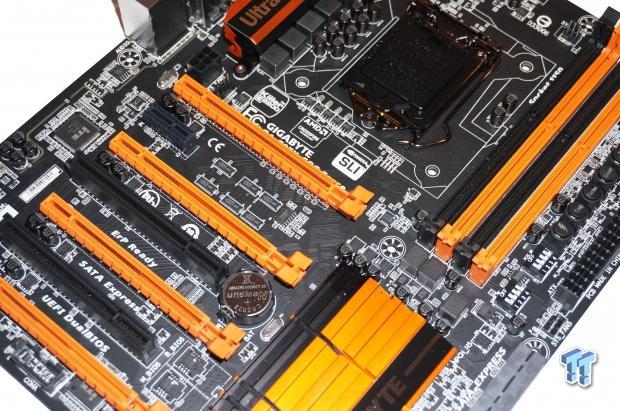 Our first look at the Z97-SOC Force motherboard, and its beautiful orange-and-black theme.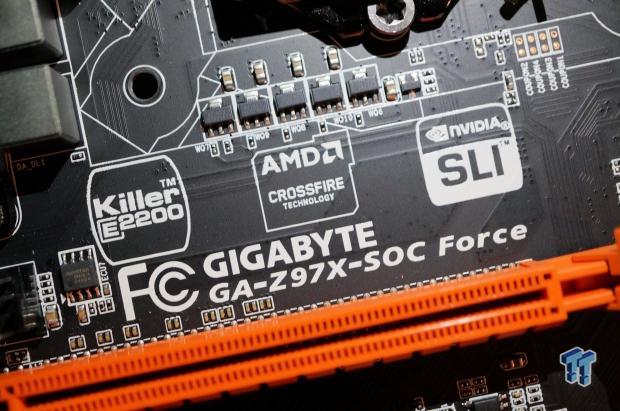 Here we have it: the GA-Z97X-SOC Force - with Killer NIC E2200 LAN, AMD CrossFire and NVIDIA SLI technologies supported.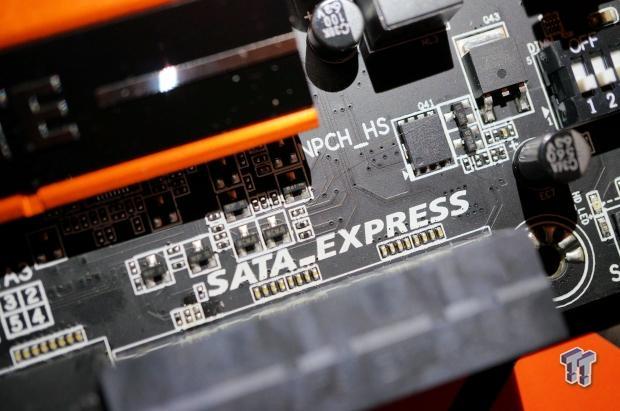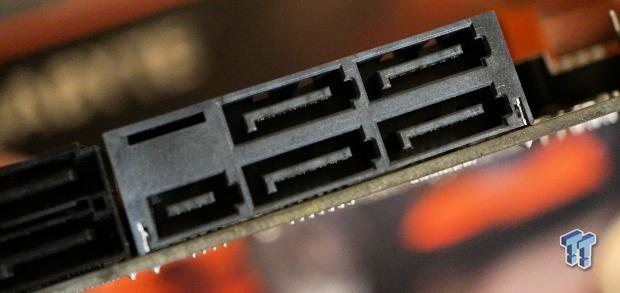 One of the standout features of the new Z97X-SOC Force motherboard is the ability of SATA Express, capable of 10Gbps.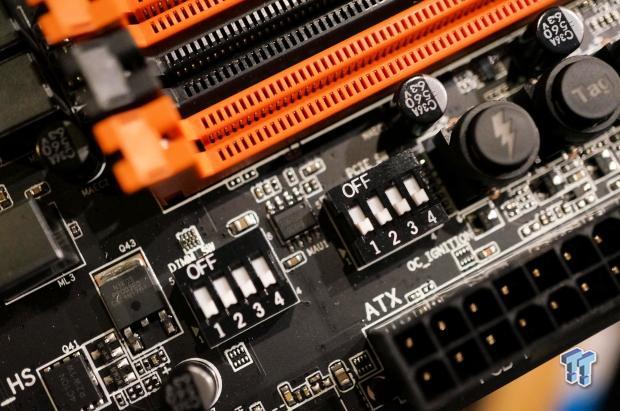 Here we have some DIP switches to disable individual DIMM or PCIe slots.
This is where the magic happens: the LGA 1150 socket itself. The GIGABYTE Z97X-OC Force motherboard is capable of accepting fourth- and fifth-generation Core processors from Intel. The fifth-generation CPUs haven't been announced just yet, but they should be here in early June.

On the back of the motherboard, we have the usual inputs, with the Killer NIC being the star of the show here.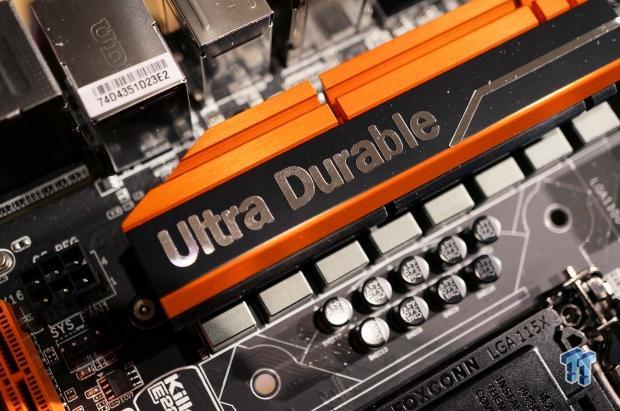 Ultra Durable!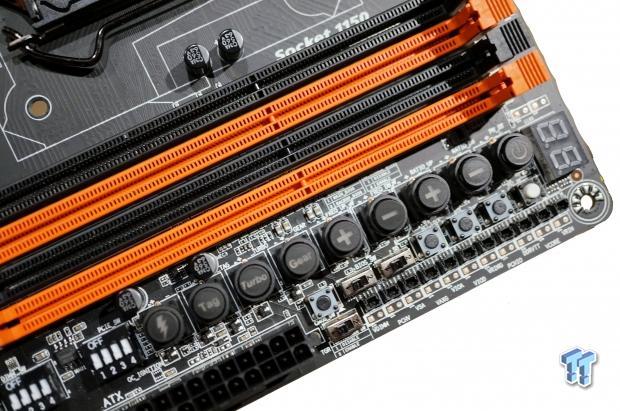 This shot shows off the overclocking features of the motherboard, with a bunch of buttons for overclocking.
What's Hot
Z97 chipset: We should expect some improvements with the Z97 chipset, not a lot, but there will be some performance improvements, and of course - SATA Express!
SATA Express: This is a seriously big deal, folks. 10Gbps support on a consumer motherboard is the thing dreams are made of. The problem is, even a cheap SSD does 500MB/sec these days. It will be great for SSDs in RAID!
It Looks Great: GIGABYTE's theme looks great in person, and even the box has had some work put into it.
What's Not
No Fifth-Gen Intel CPUs... Yet: This is something that will be coming in the next six weeks or so, and you can be sure we'll be covering it like wildfire when Intel releases those CPUs.
Final Thoughts
GIGABYTE's Z97X-OC Force motherboard looks great so far, being a feature-packed, great-looking motherboard. The inclusion of Killer NIC's tech and SATA Express storage is something that is going to sell a lot of motherboards on its own.
I'm really looking forward to getting this on my test bed for some real testing, where I'll throw four SSDs into RAID 0 for some storage fun. That, and some multi-GPU, multi-monitor testing as well as the usual 4K testing you can expect. Fun times ahead!