ASRock N3700M Braswell Micro-ATX SFF PC Motherboard Review
ASRock's N3700M is a Micro-ATX motherboard featuring Intel's new "Braswell" Quad-Core Pentium processor. Steven tells us all about it this review.
Published Wed, Jul 22 2015 9:21 AM CDT
|
Updated Tue, Nov 3 2020 6:59 PM CST
Rating:

89%
Manufacturer: ASRock
Introduction, Specifications, and Pricing
In the past few years, there has been a large spike in SFF PCs for desktop and HTPC use, and Intel has been constantly tweaking its offerings to provide high performance in a small power envelope. The Pentium N3700 is Intel's top Braswell SKU, three other Celeron Braswell SKUs also exist, and I reviewed ASRock's Beebox which features the Celeron N3000 a few weeks ago.
The N3700 is supposed to offer better performance, not only in the CPU, but also in the graphics when compared to Braswell Celeron offerings. It's also supposed to perform more like a desktop CPU, but within acceptable thermal thresholds, so that it won't require active cooling. On paper, this makes the N3700 perfect for HTPC or any other low-cost single-use machine.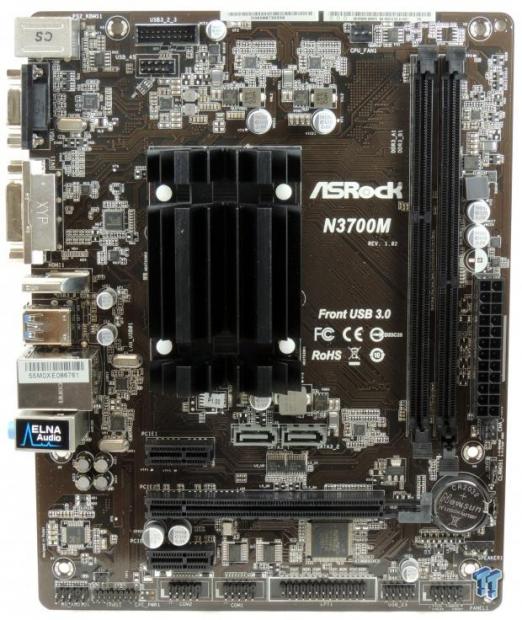 ASRock was quick to jump on the Braswell train, and has come up with many offerings both in the pre-built and barebones markets. Today, I am going to look at a pretty interesting mATX version of Braswell, the N3700M, which fits somewhere between a SFF PC and a desktop. ASRock also has a mini-ITX offering, the N3700-ITX, which uses SO-DIMMs instead of full-sized DDR3 DIMMs and doesn't have any PCI-E slots like the N3700M. What is even more interesting is that ASRock decided to design its offerings to use an ATX power supply instead of a power brick, which would hint that the system is meant for a case. The N3700M isn't a SFF PC, instead it's a motherboard with a soldered CPU, perhaps what Broadwell was meant to be in the high-end desktop segment.
Specifications

The ASRock N3700M is like the evolution of the concept of the motherboard. A modern Intel SoC is basically the CPU, GPU, and chipset all-in-one, which requires the motherboard to basically provide a physical fabric for all connections. The ASRock N3700M sticks close to the N3700's specifications in regards to port count. It is also closer to a desktop than a SFF PC in terms of the variety of ports and connectivity possibilities.
Pricing
At this time there is no price yet for the N3700M, but I would venture a guess that it would be quite affordable compared to current SFF PCs like the Intel NUC as it requires many components to create a full system.
Packaging and System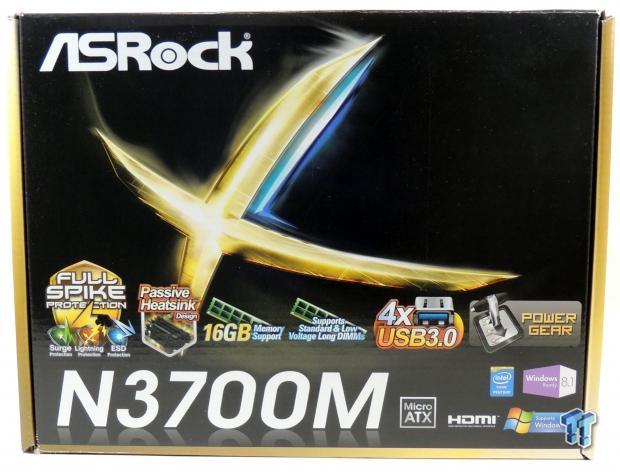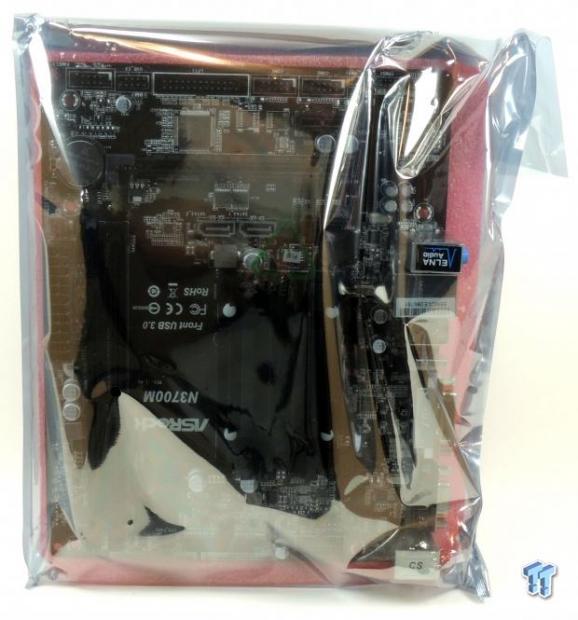 The N3700M is well protected in its simple box and anti-static packaging.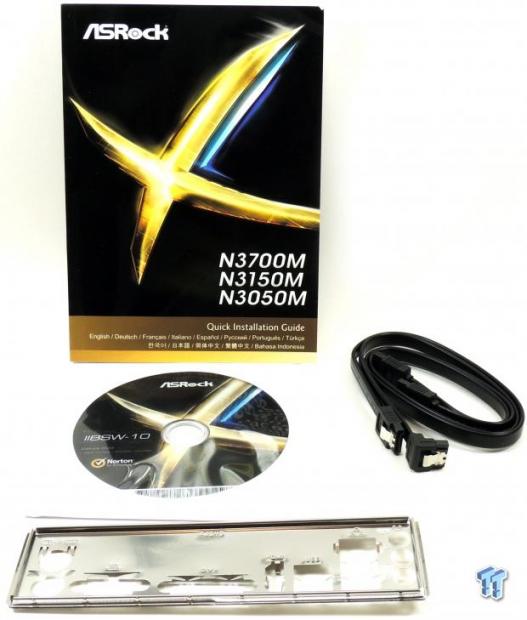 There aren't too many accessories other than an IO shield, two SATA6Gb/s cables, a driver DVD, and the manual.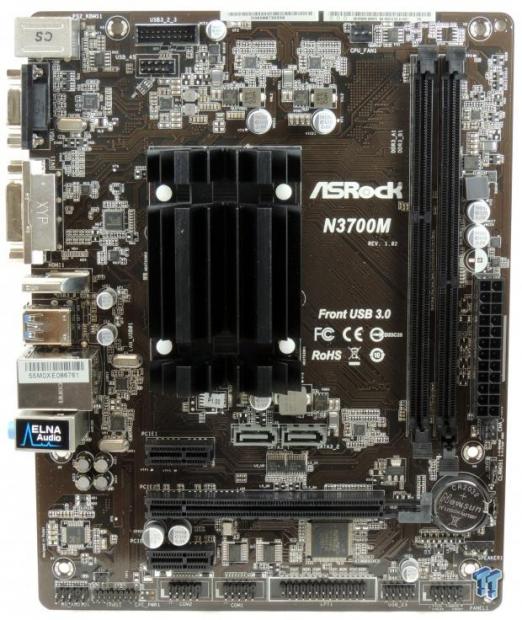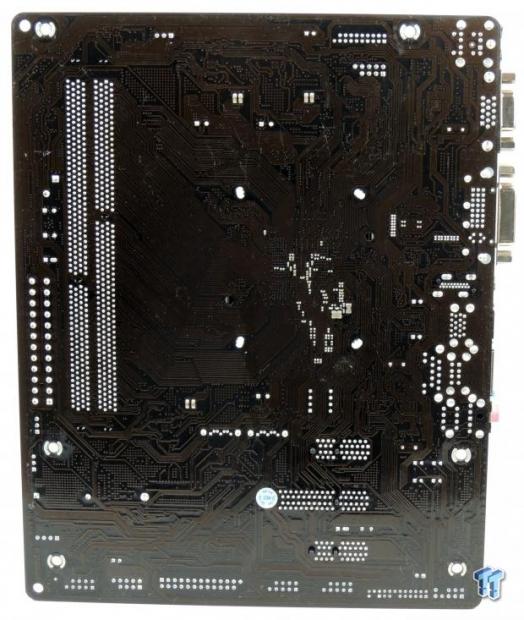 The N3700M doesn't require active cooling, however, there is a fan port in case you want to plug in a case fan. The board is quite simple, it has two full sized DDR3 DIMMs and three PCI-E slots which all run at 1x even though one is a full size 16x slot. There is also a single ATX 24-pin connector for power. The back of the motherboard is pretty bare, there aren't any backside components.

The IO panel has DVI port, D-SUB (VGA) port, HDMI port, 2x USB 3.0 ports, 2x USB 2.0 ports, RJ-45 GBit LAN port, audio ports, and PS/2 keyboard and mouse ports. The N3700M does support up to three monitors at a time.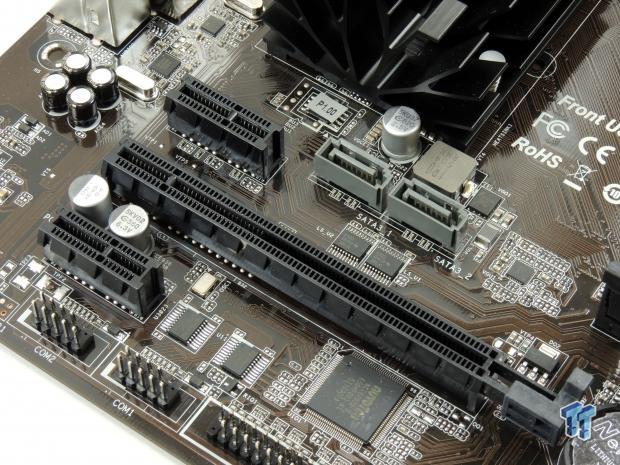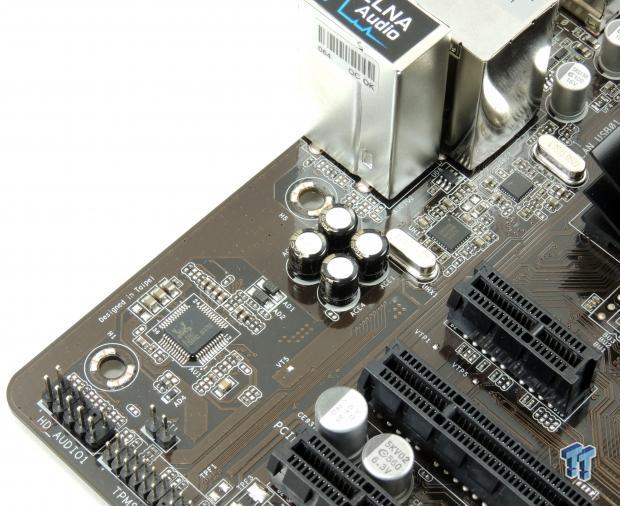 The PCI-E slots are all 1x PCI-E 2.0 slots. There are also two SATA 6GB/s ports. ASRock also has also implemented an improved audio setup with ELNA audio capacitors.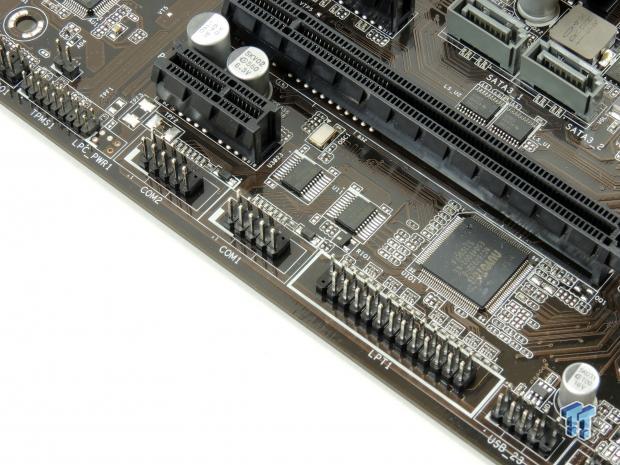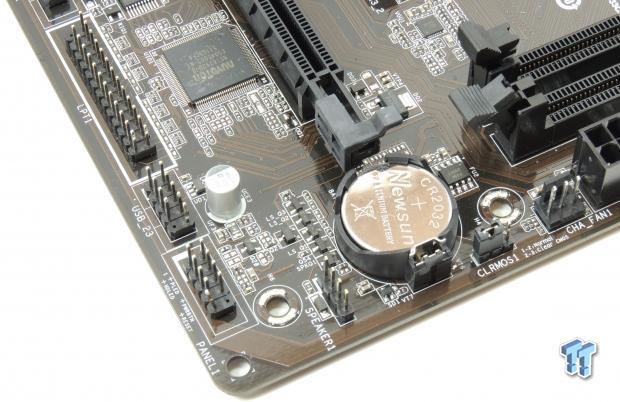 Along with the modern connectivity, ASRock has made sure to include two COM (serial) ports as well as an LPT (parallel) port. They have also included a USB 2.0 header at the bottom of the board and the full array of case button connectors. The CMOS battery is also located in this lower right-hand corner.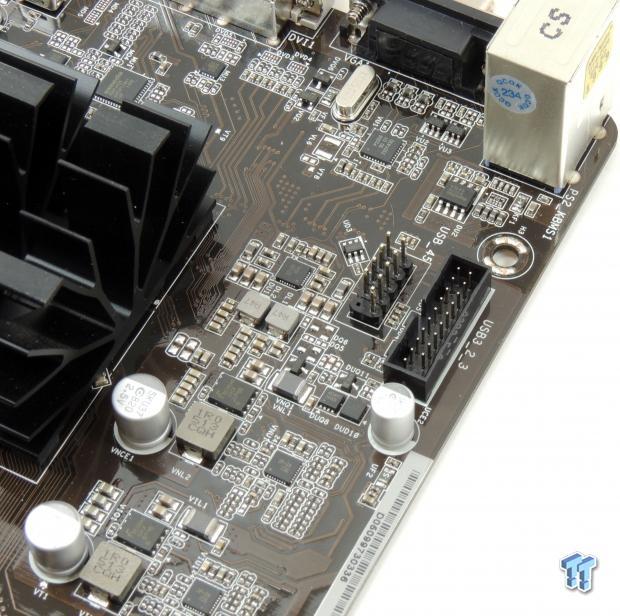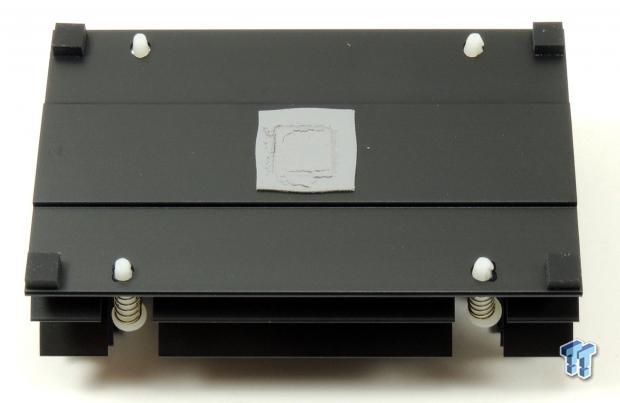 At the top of the board are USB 2.0 and USB 3.0 headers, presumably to make the distance between the wires and ports shorter. The heat sink that cools the N3700 SoC (6 watt TDP) is quite simple and uses some type of thermal paste/pad that seems to make good contact with the SoC.
Circuit Overview of the N3700M
Circuit Overview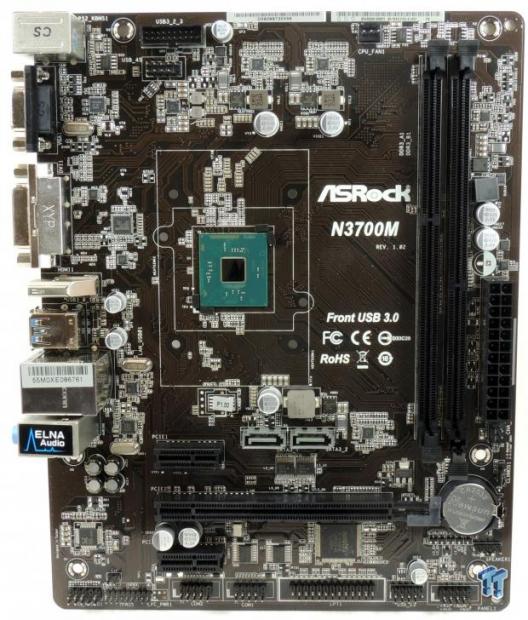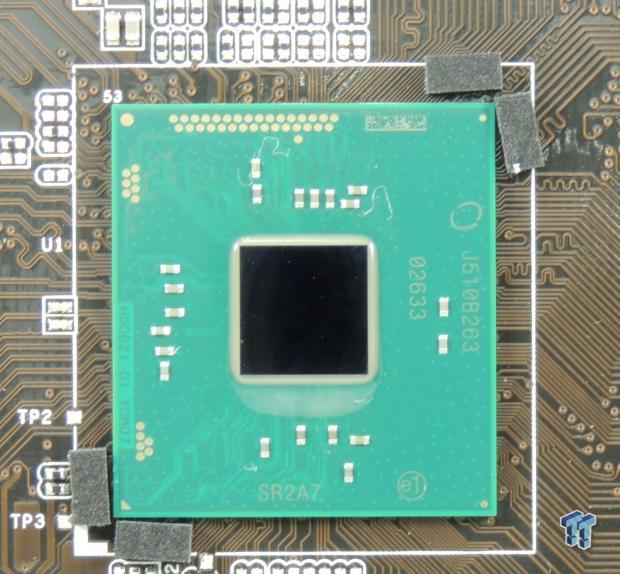 The heat sink doesn't cover up anything other than the N3700 SoC. The N3700 has 2MB L2 cache, a stock clock of 1.6GHz, a TDP of 6W, 4 cores, and a 2.4GHz turbo. It uses 14nm Airmont cores which succeed the 22nm Silvermont cores (die shrink of Silvermont). The integrated Intel HD graphics have 16 execution units, while the N3000 series Celerons only have 12 execution units. The SoC itself provides 4x PCI-E 2.0 ports, 2x SATA6G ports, 4x USB 3.0, and 1x USB 2.0. A single PCI-E 1x lane is routed for the onboard 1GBit LAN, and the rest are provided to the three PCI-E slots.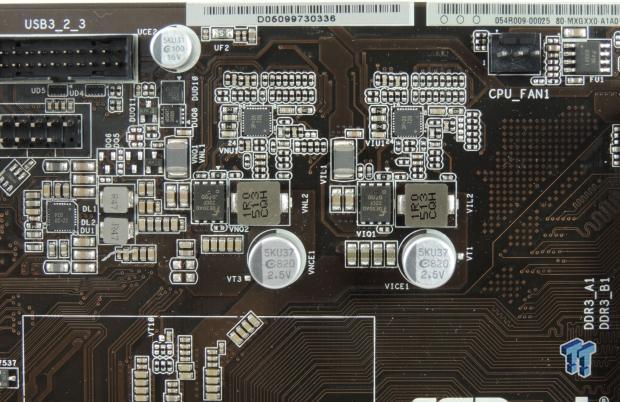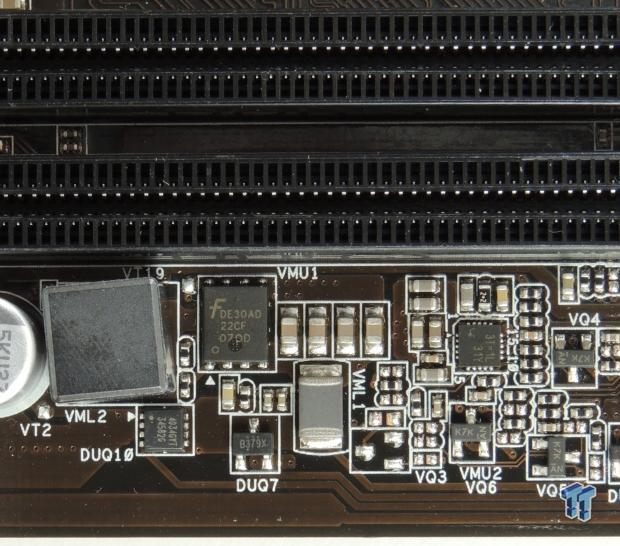 I wasn't able to identify everything in the CPU or memory VRMs because they use Richtek parts which are tough to identify. However, the same Farichild dual N-Channel MOSFETs present on ASRock's X99 motherboards are used for some parts of the CPU and memory VRMs. They are high-end integrated MOSFETs which should help reduce overall power consumption and thermals.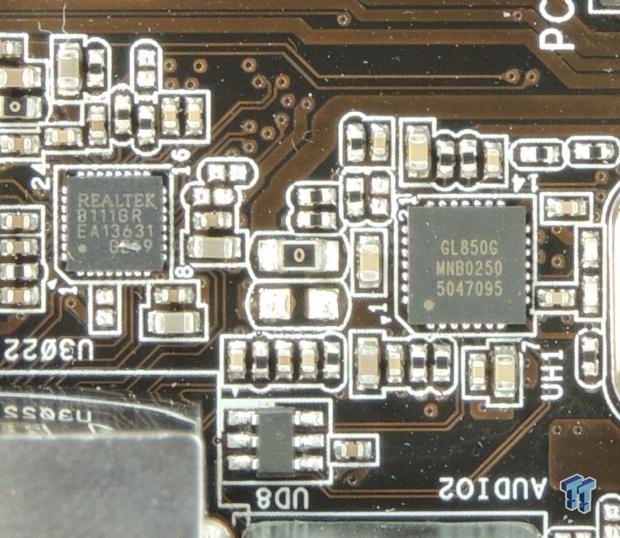 For the GBit NIC, ASRock uses Realtek's RT8111G. To expand USB 2.0 from one port to four ports, ASRock uses the Genesys Logic GL850G.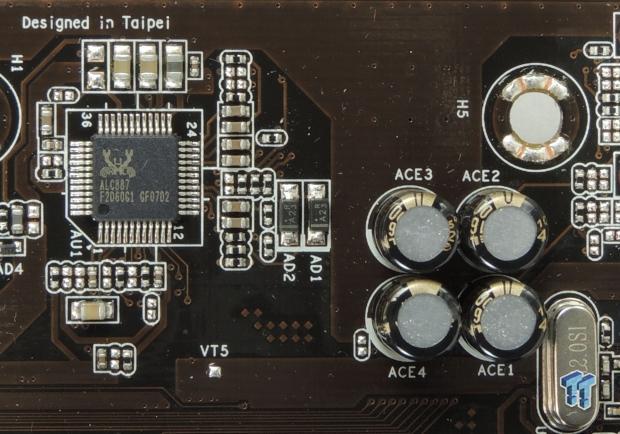 A simple Realtek ALC887 provides the audio ports on the IO panel and is complemented by four ELNA audio capacitors.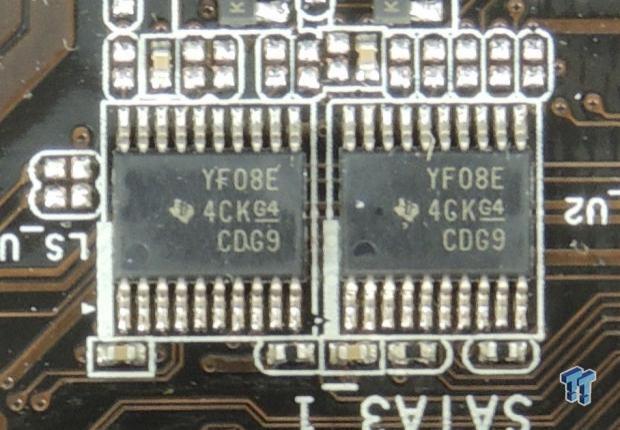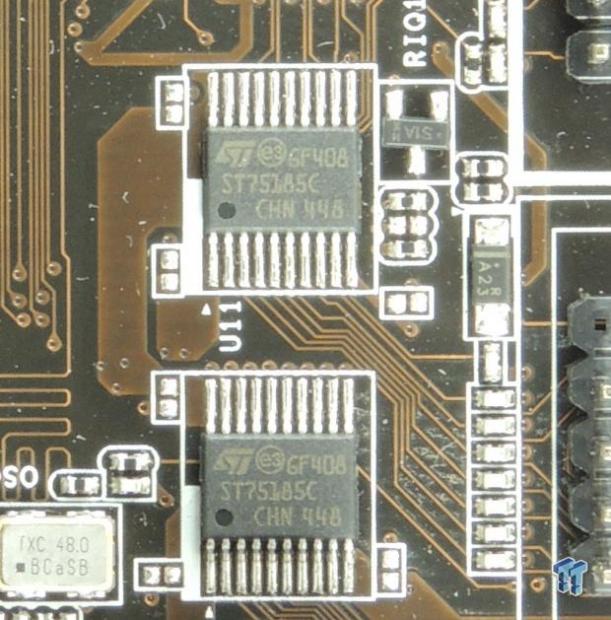 Since the SoC operates are pretty low voltages it might require from voltage translators to interface with certain ports. Two Texas Instruments TXS0108E are 8-bit 1.8/3.3v voltage level translators allowing for the SoC to communicate to the SATA ports even though their signals are at different voltage levels. There are also two STMicro ST75185Cs which provide drivers and receivers for the two COM ports.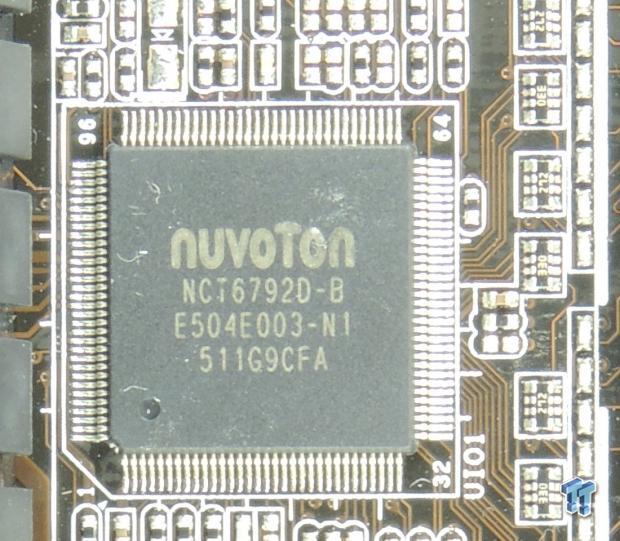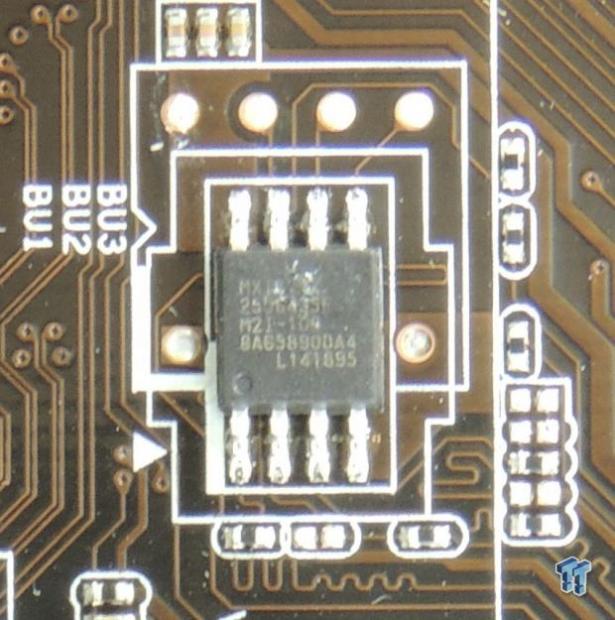 Other than the SoC itself, the nuvoTon NCT6792D provides SuperIO capabilities and functions such as PS/2 keyboard and mouse ports. A single 64Mbit BIOS ROM is used on the N3700M.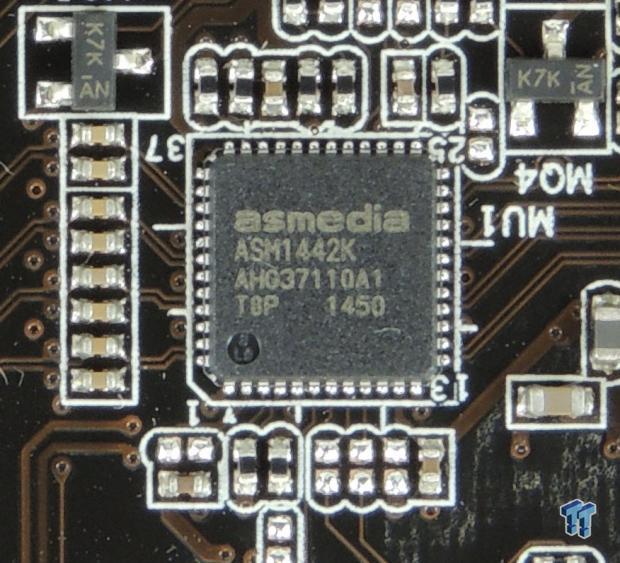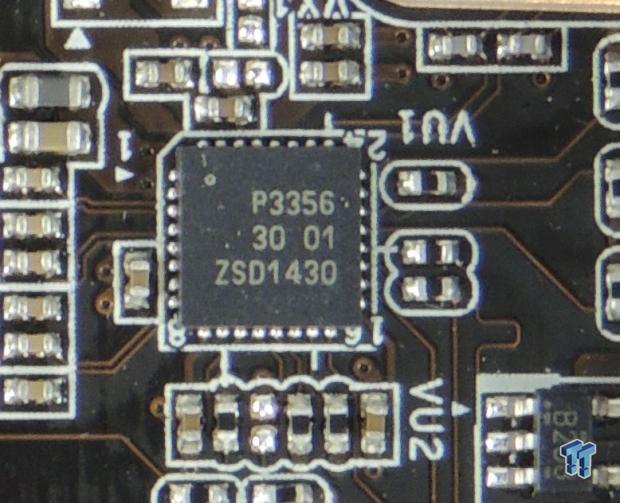 An ASMedia 1442K provides the HDMI port from the SoC and a PTN3356 provides the D-SUB (VGA) port from the SoC.
The BIOS
BIOS
I was very surprised to find that ASRock provided the N3700M with a fully equipped UEFI. The UEFI was smooth and had most options one would expect, even configuration options for the legacy ports. It provides full drive options so you can configure things the way you want them.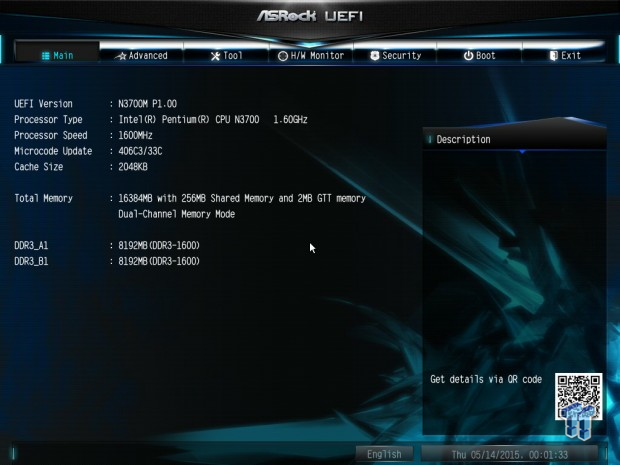 There isn't too much to do in the UEFI on a system like this, except perhaps change the boot order.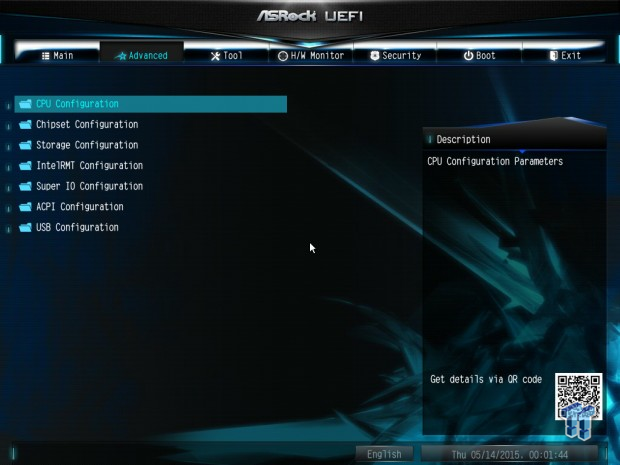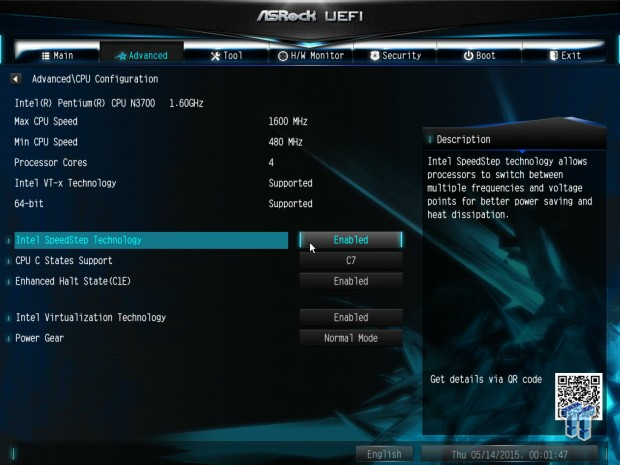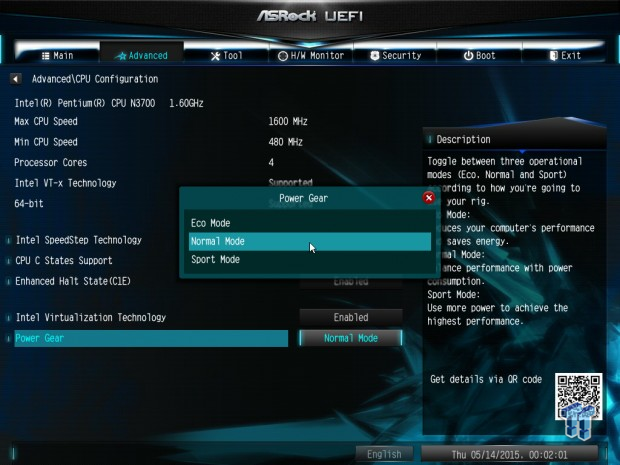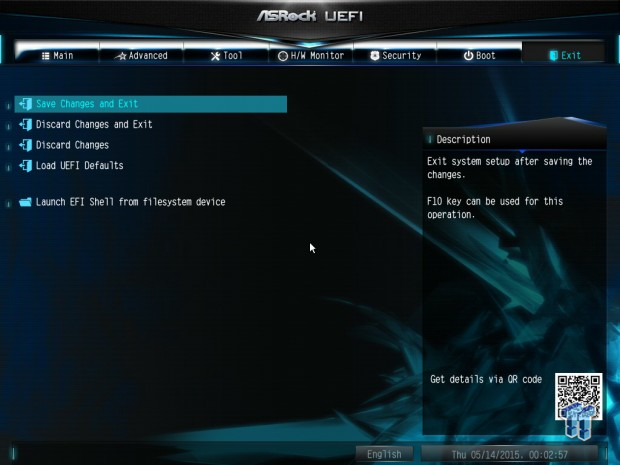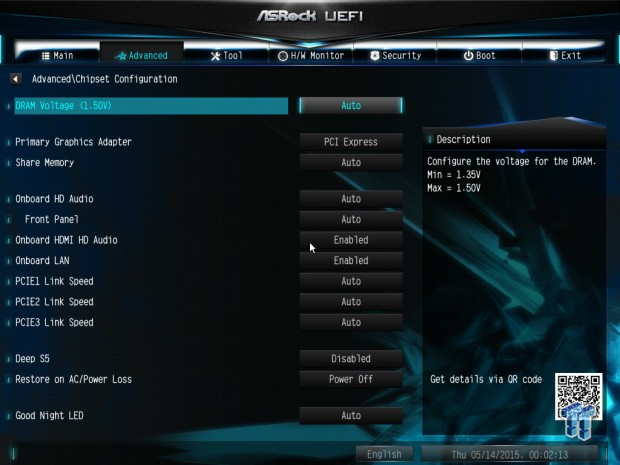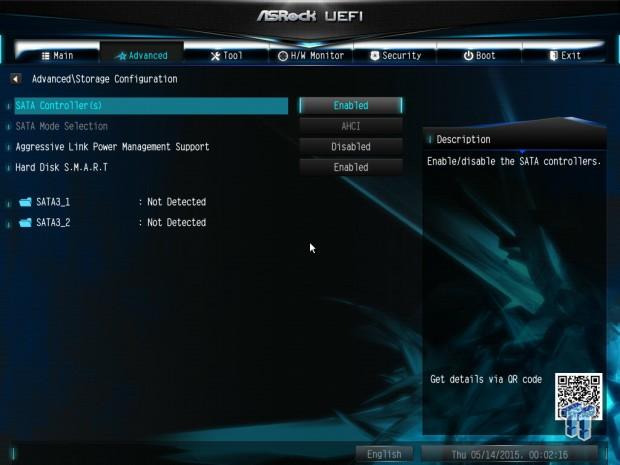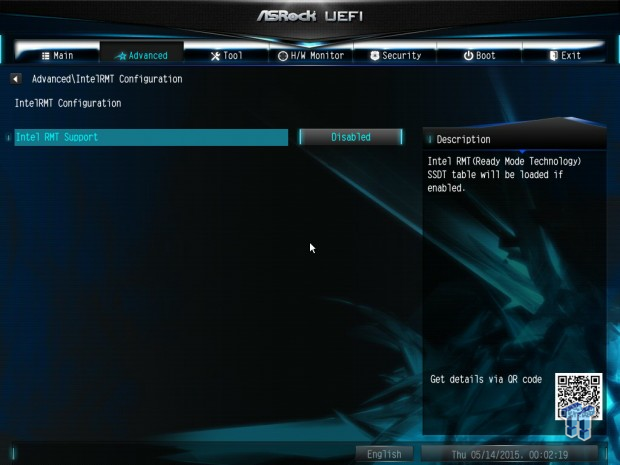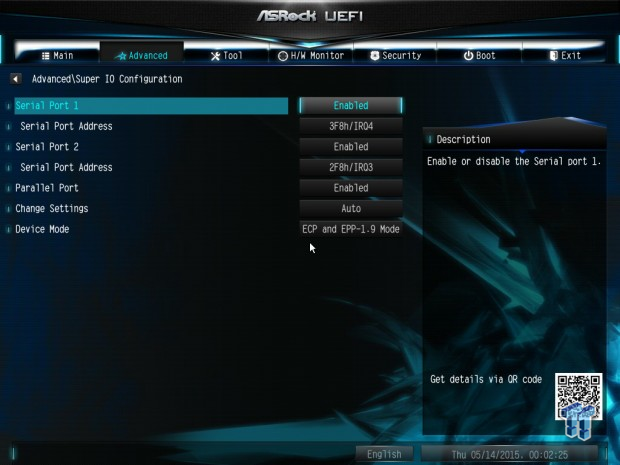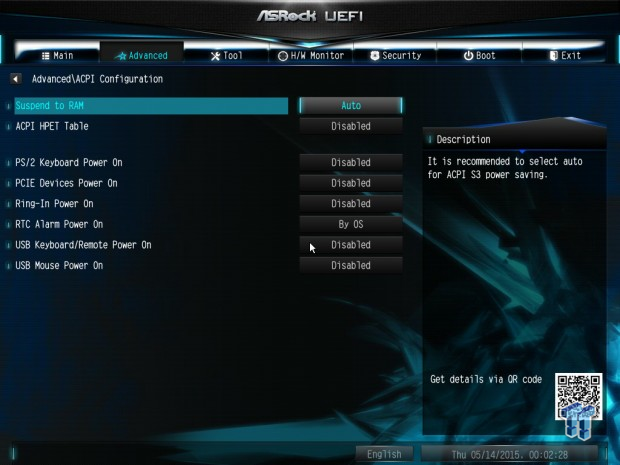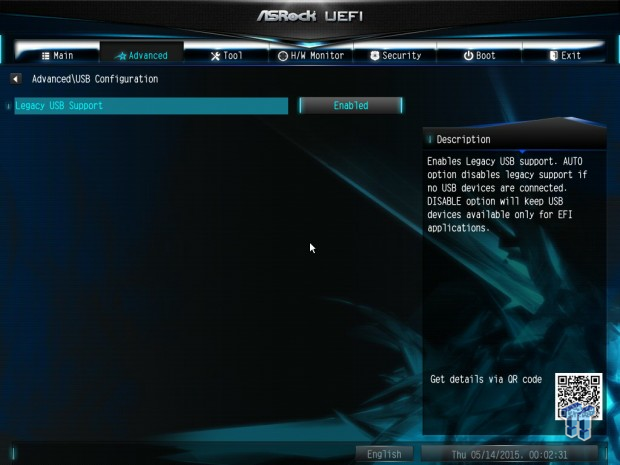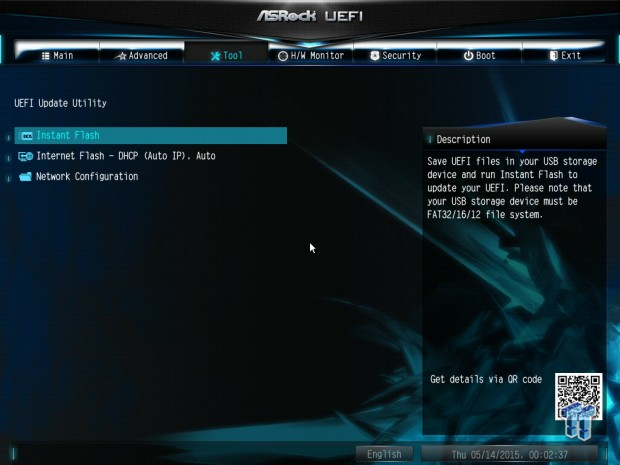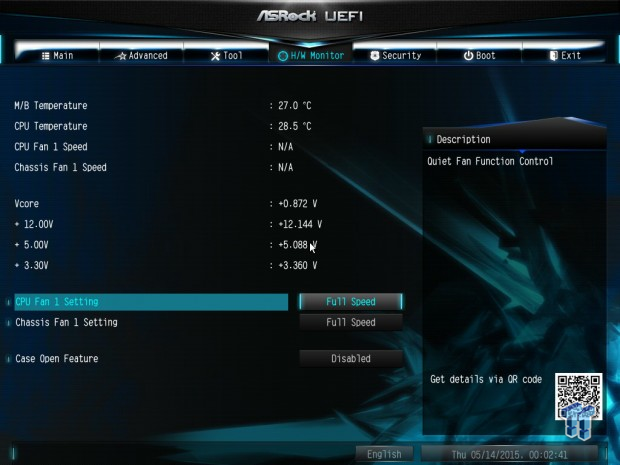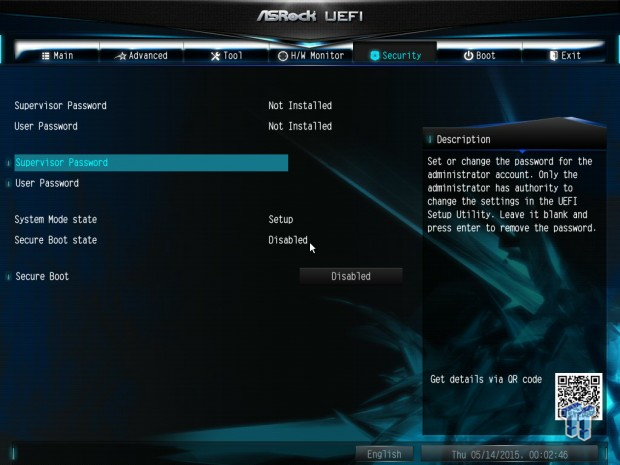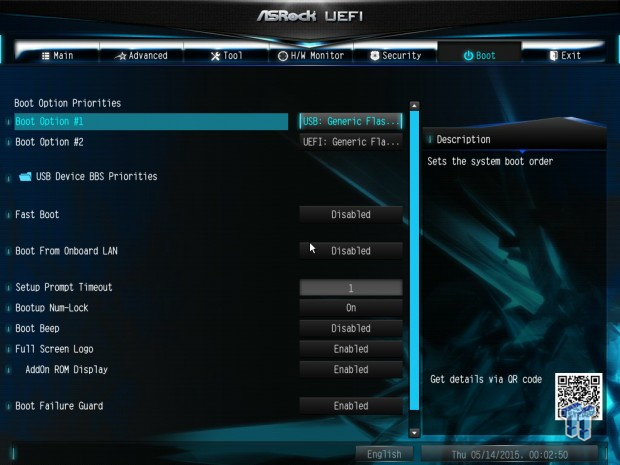 Test Setup and Benchmarks
Test Setup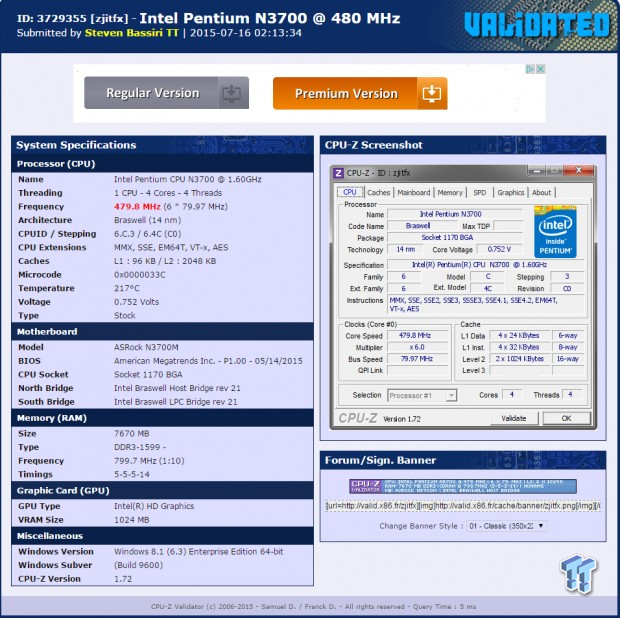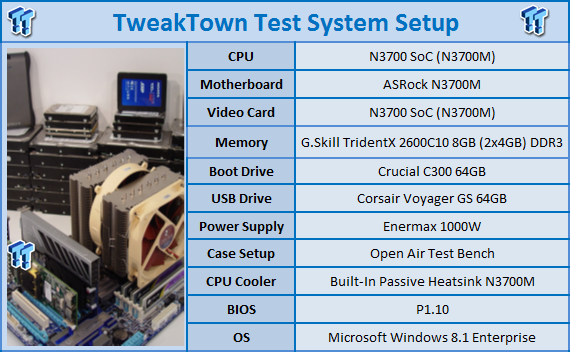 There isn't too much that is needed to start the system. You will need memory and storage as well as a 24-pin ATX power supply. I didn't use a case, but this is a standard mATX size board so it should fit in many mATX cases.
CPU, Memory, and System Benchmarks
CINEBENCH 11.5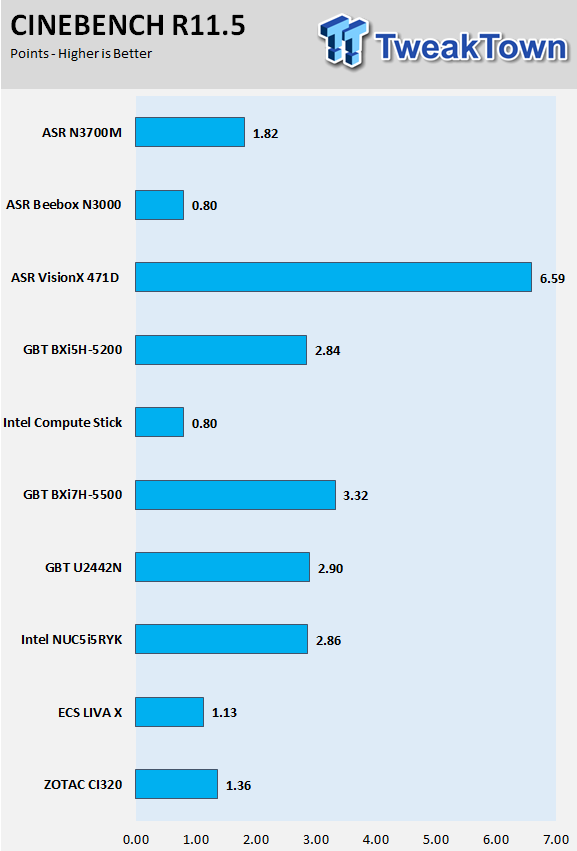 wPrime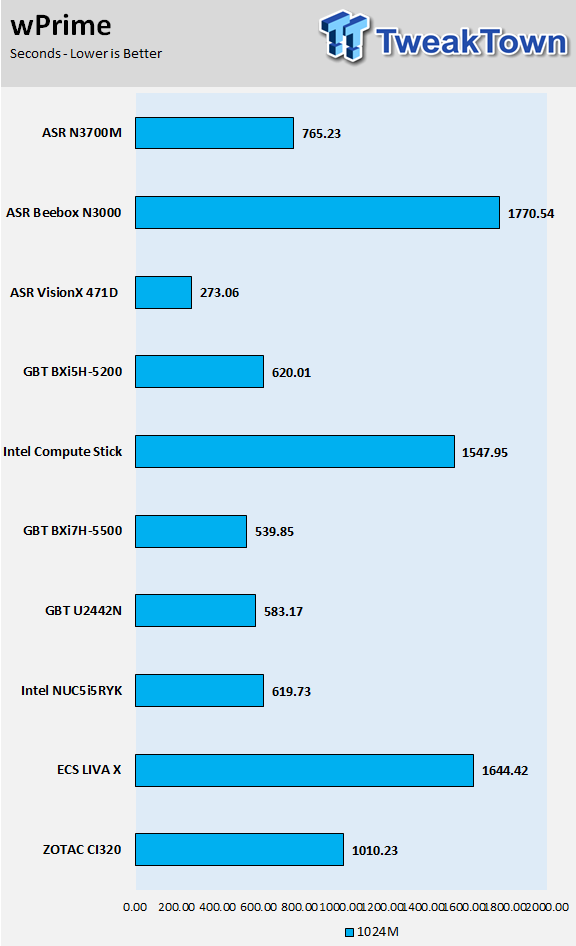 AIDA64 AES and HASH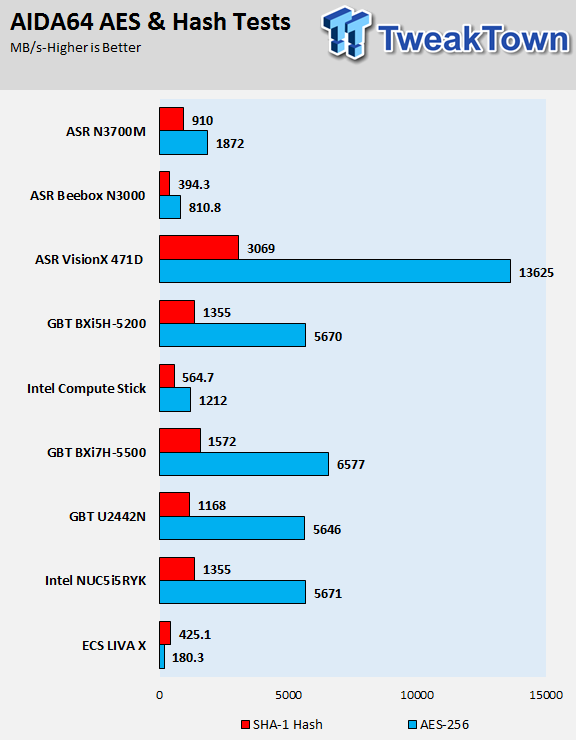 AIDA64 Memory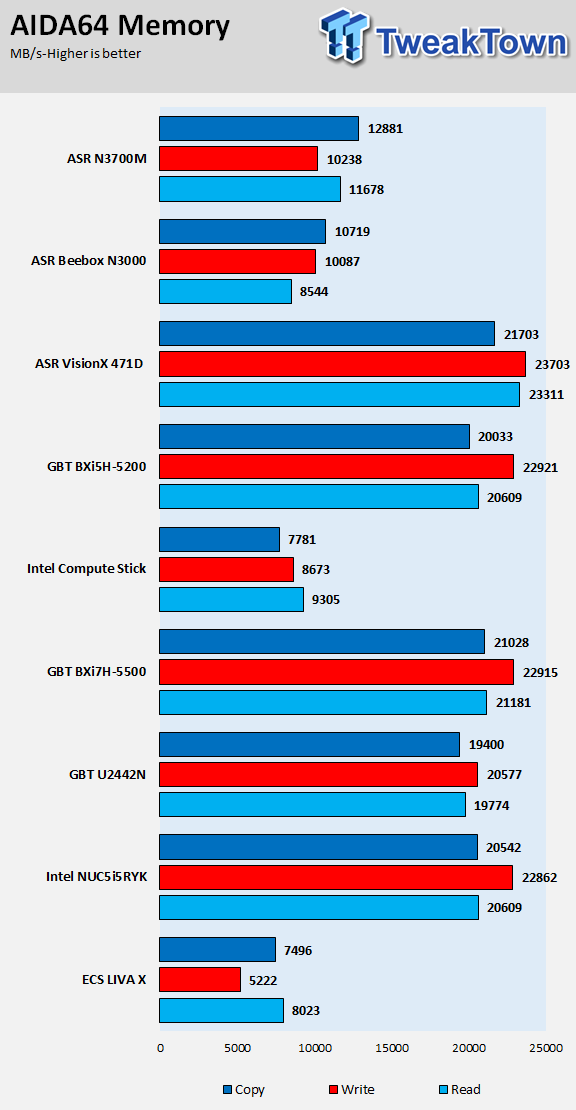 PCMark8 Home Test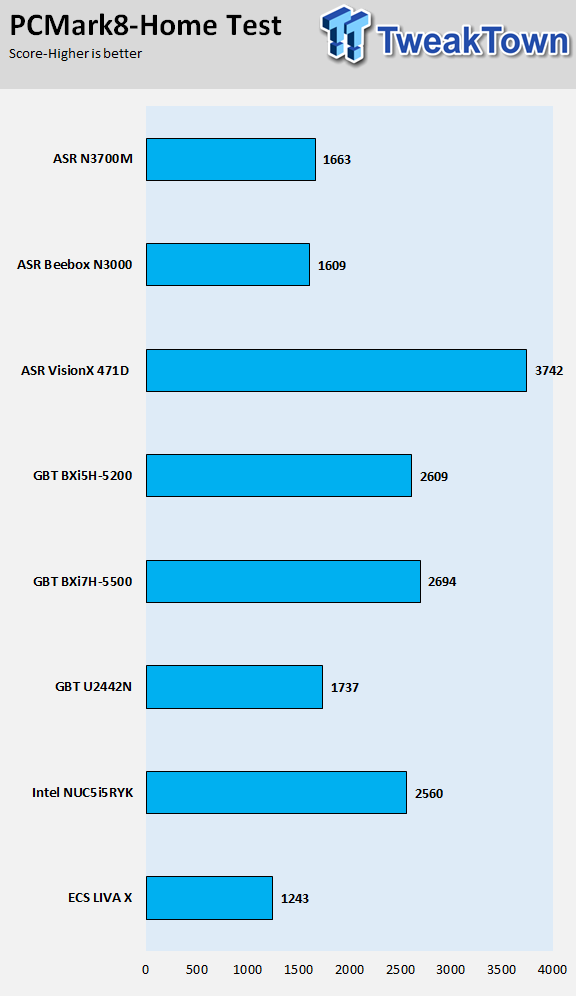 PCMark8 Work Test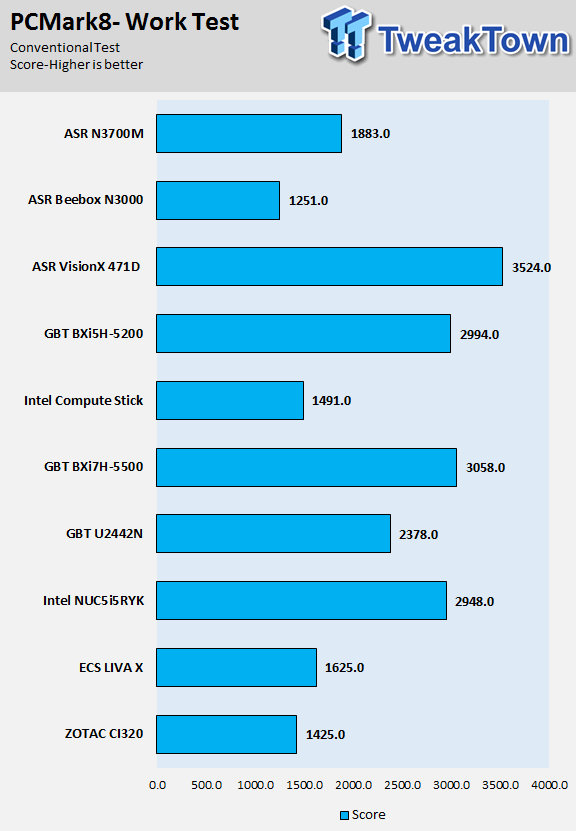 Graphics Benchmarks
3DMark11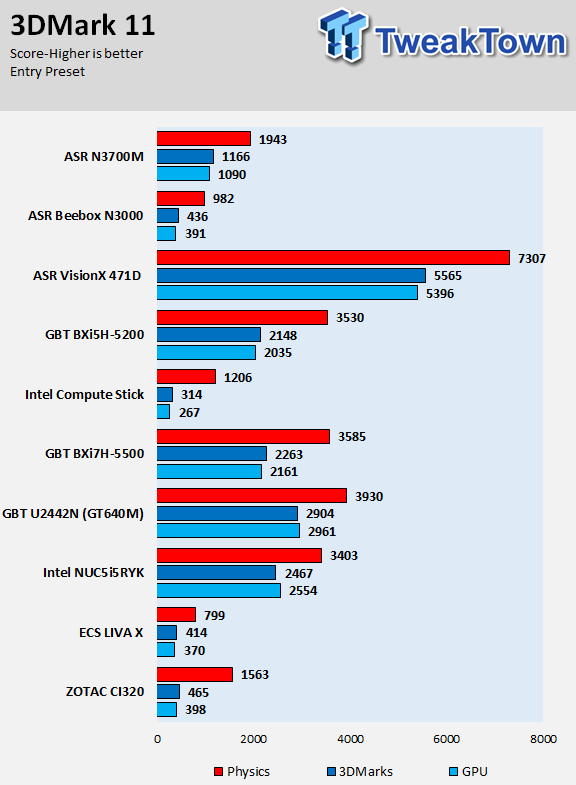 UNIGINE Heaven 4.0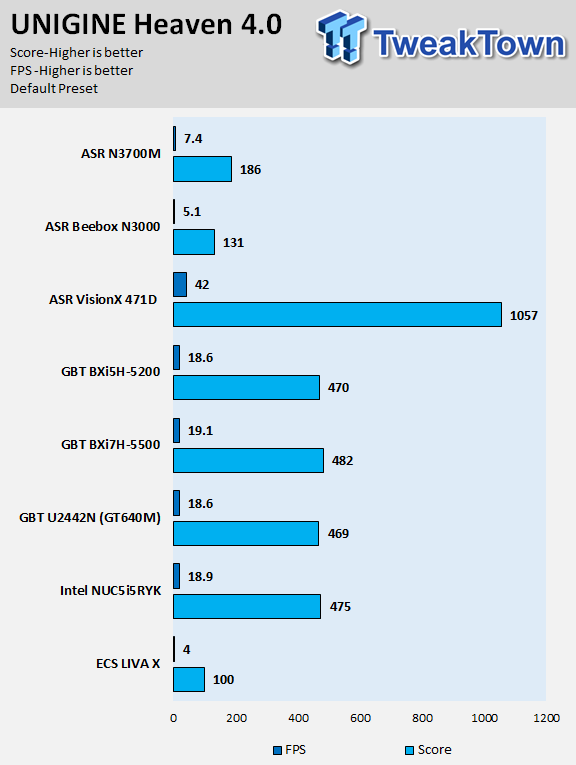 Lost Planet 2 DX11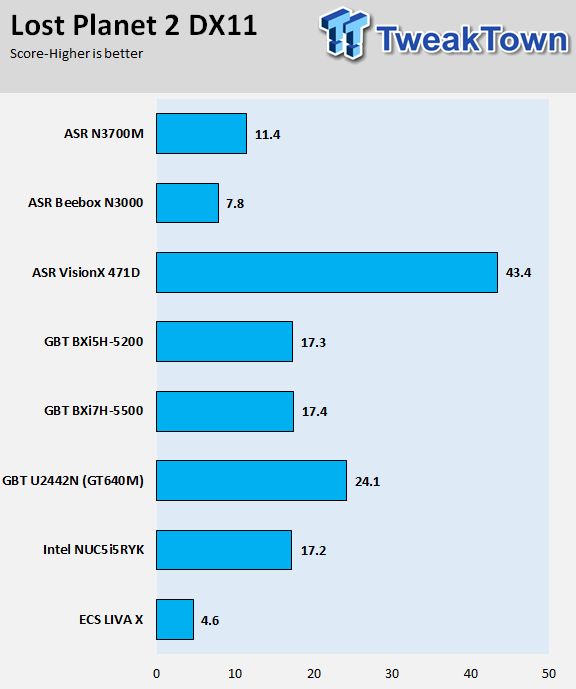 Resident Evil 6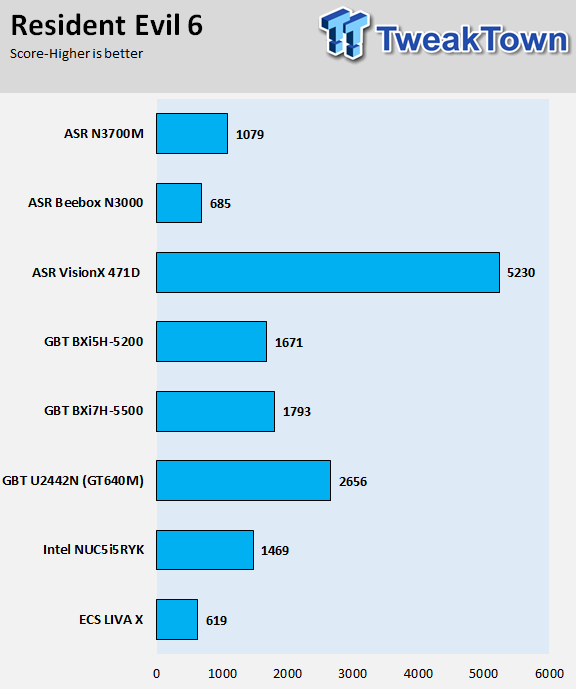 The CPU in the N3700M is faster than both the Beebox (Celeron N3000) and the Bay Trail SFF PCs, such as the LIVA X and Zotac CI320. It also has significantly better integrated graphics than the Celeron N300 and the Bay Trail SFF PCs, it isn't fast enough to run modern 3D games, but it should do better with online titles like LoL.
System IO Benchmarks
Storage and Network Performance
CrystalDiskBench-Read:
CrystalDiskBench-Write: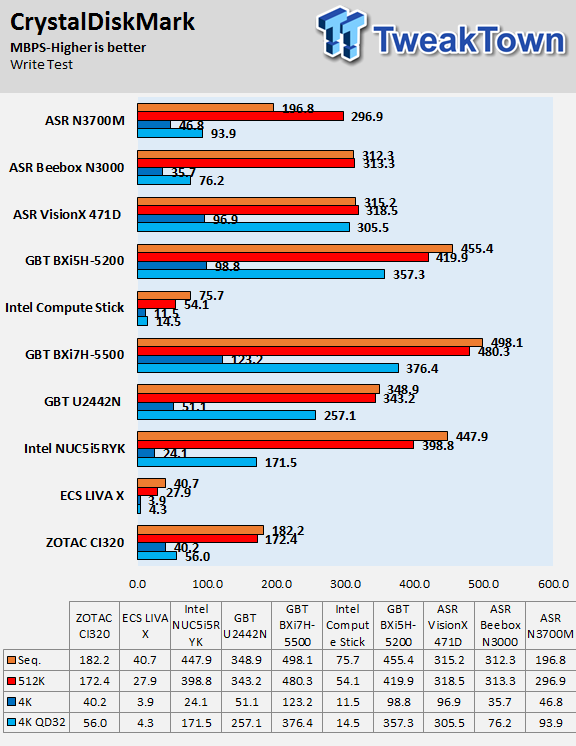 Diskbench USB 3.0 Speed: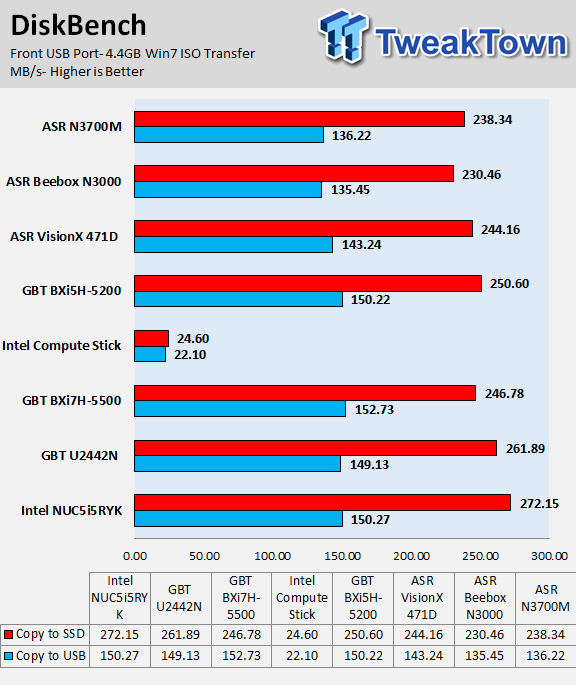 ixChariot Network Throughput: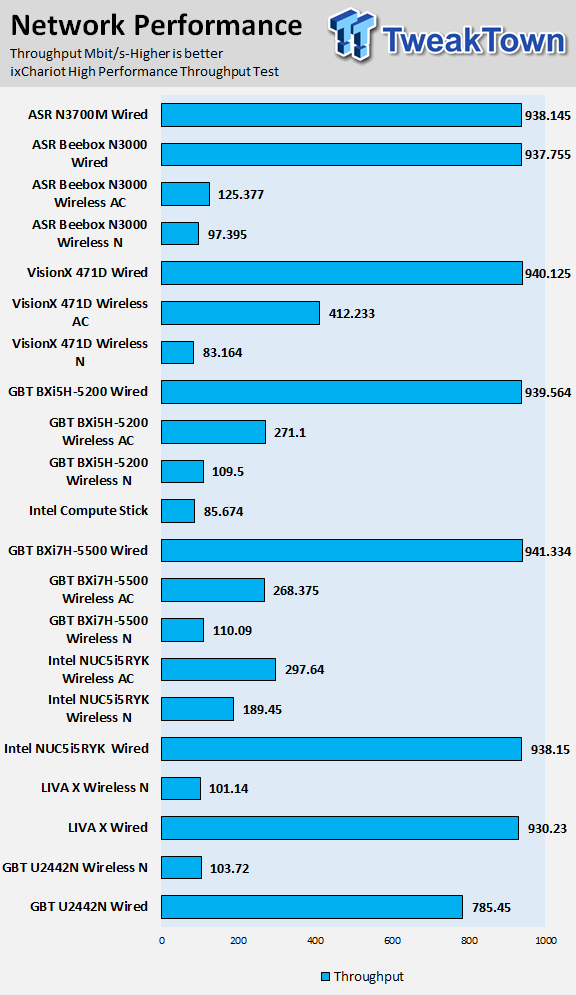 SATA performance is where it should be with that drive indicating that the SATA bus is running pretty much full speed. USB 3.0 performance is better than the Beebox, and that is because the system doesn't have strict power requirements like SFF PCs. Network performance is very good.
Thermal Imaging and Power Consumption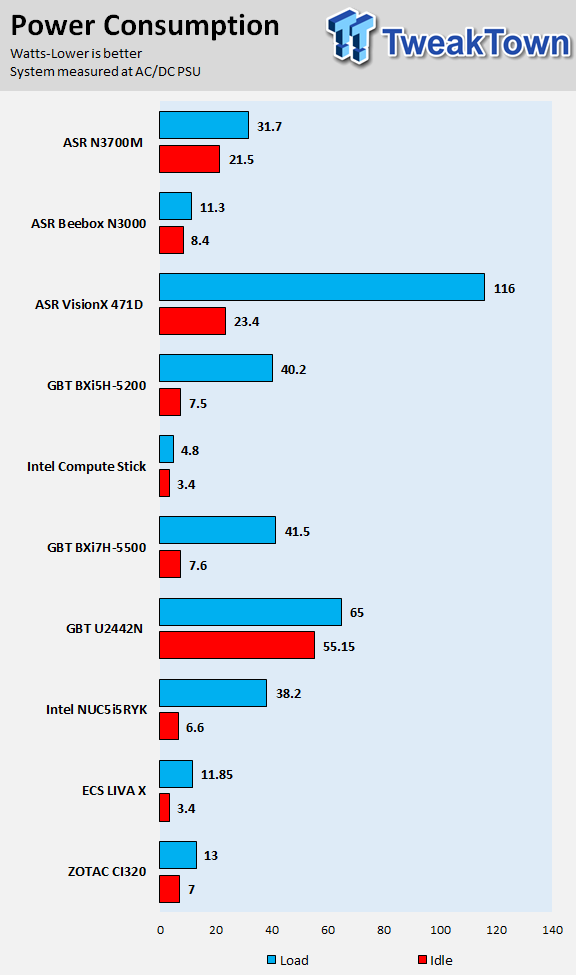 Power consumption was a bit higher than I expected, especially considering the SoC has a 6W TDp at stock speeds. Taking into consideration the motherboard and its ICs as well as the SSD, full sized DIMMs, and ATX PSU efficiency the numbers start to make more sense.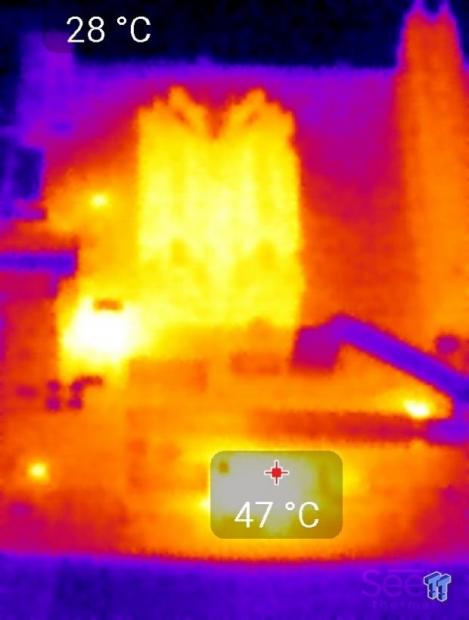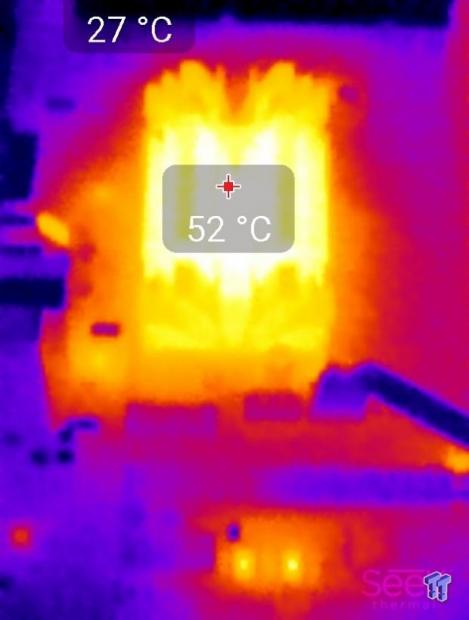 On the left the N3700M is idle, and you can see that the hottest part isn't the SoC heat sink, but rather the driver and receivers chips for the COM ports and the USB 2.0 hub, these ICs aren't really designed for low power/thermal operation and so they act like they would on any motherboard. It isn't anything to worry about.
Then full load was applied the SoC heat sink temperature got up to 52C, which isn't very hot. Overall, the N3700M's thermals show that it should do very well without active airflow.
What's Hot, What's Not & Final Thoughts
This is where you can fast forward to the final section of the review, and get a quick recap and points on the ASRock N3700M.
What's Hot
Desktop Potential: The one thing that DIY PC builders value is that their desktop allows them to upgrade and expand when the need arises, and the N3700M provides this functionality. Even though it only has two SATA6G ports, it can handle three 1x PCI-E cards with varying degrees of functionality from extra SATA to wireless LAN. There are also three USB (2x USB 2.0, 1x USB 3.0) headers on the N3700M which can provide four more USB ports. Three different video outputs, RJ-45 LAN, and four USB ports on the back provide a starting point to a well-equipped PC.
Noiseless: Something that has become more valued recently are noiseless PCs for use as streaming machines. The N3700M has the option to use a fan, but there isn't any need. This makes it perfect for the bedroom or living room.
Decent SoC Performance compared to the N3000: Having reviewed an N3000 based SFF PC recently, I was able to tell the difference between the N3700 and N3000. There is a noticeable real-world difference between the two Braswell SoCs, and there is a pretty big benefit with going with the N3700 if the machine is going to be used for office productivity.
Legacy Support: These days it can be hard to find motherboards or systems with COM and LPT ports, but the N3700M has both as well as PS/2. This is especially important if the PC is to replace a printing terminal or hook up to some medical device that might only work on legacy COM or LPT connections. There is also the possibility that this product will be used in industry where many factories still rely on older legacy connectors.
Affordable?: ASRock hasn't released a price for the N3700M, but judging from their previous offerings, it should be priced competitively and it should be very affordable.
What's Not
No built in Wireless: Since the N3700 SoC has no built-in networking capabilities, they have to be added after the fact to the N3700M. This means that ASRock had to basically choose between wired or wireless and they went with wired. Wireless can easily be added in through a PCI-E 1x add-in card or USB dongle, but that adds to the final price of the PC.
No M.2, mPCIe, or mSATA: While SATA is great, a lot of users want to use different types of drives and connectors. However, the limited scope of the N3700 SoC limits the amount of ports and slots that the system can have.
Final Thoughts
This isn't your typical product; the N3700M is a very specific product which has a very wide variety of uses. For starters, it is a great starting point for a HTPC, albeit a larger one than most SFF PCs. While it isn't fast enough to replace most desktops, it is faster than most PCs in schools and offices, so it does have its uses. I really like that ASRock took what is a mobile/SFF PC SoC and adapted it to a mATX sized desktop board.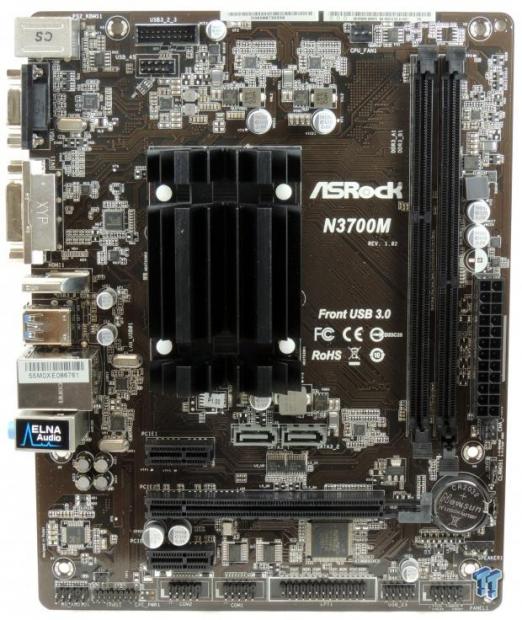 These days many newer systems are overkill for the tasks they are assigned, and there is a growing need for low power computers to handle those tasks. ASRock definitely gets points for thinking outside the box, and producing a product that satisfies a niche market. If you want to build your own Braswell PC, then the N3700M (or N3700-ITX) is what you want. The N3700M is the missing link between the SFF PC and the PC, bridging that gap where CPU performance isn't very important compared to storage and connectivity.
| | |
| --- | --- |
| Performance | 85% |
| Quality including Design and Build | 90% |
| General Features | 94% |
| Bundle and Packaging | 85% |
| Value for Money | N/A |
The Bottom Line: ASRock's N3700M is the missing link between the SFF PC and the PC. If you want to build your own Braswell PC, then the N3700M (or even N3700-ITX) is what you want.
PRICING: You can find products similar to this one for sale below.

United States: Find other tech and computer products like this over at Amazon.com

United Kingdom: Find other tech and computer products like this over at Amazon.co.uk

Australia: Find other tech and computer products like this over at Amazon.com.au

Canada: Find other tech and computer products like this over at Amazon.ca

Deutschland: Finde andere Technik- und Computerprodukte wie dieses auf Amazon.de