ASRock X299 Taichi Motherboard Review
ASRock's X299 Taichi Socket 2066 motherboard is the next Intel X299 board under the spotlight. How does it do? Let's see.
Published Jul 19, 2017 4:36 PM CDT
|
Updated Tue, Nov 3 2020 6:58 PM CST
12 minute read time
TweakTown's Rating: 92%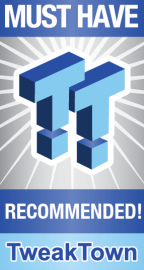 The Bottom Line
ASRock's X299 Taichi offers the latest features and high quality at an extremely reasonable price point.
Introduction, Specifications, and Pricing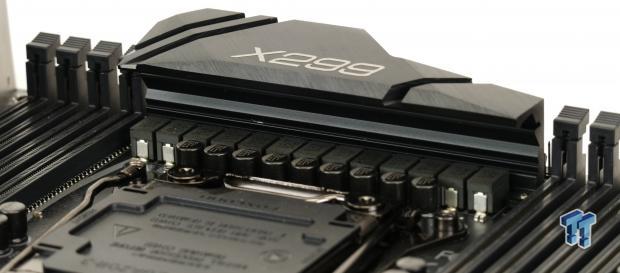 Our first ASRock X299 motherboard review is here, and today we will look at the X299 Taichi. The Taichi brand has been one ASRock has offered since they launched their X99 Taichi last year. The whole concept of the Taichi is balance and in this case a balance of price and features. The motherboards have always been solid, but never over the top or of lower quality than one might expect from a high-end motherboard.
The aesthetics of the motherboard also have not changed too much, the ying and yang white and black theme has moved over to silver and black, and ASRock has done much more to clean up the PCB to improve overall looks. Many of the motherboard's components can be found on the rear of the board. Let's see how this more affordable X299 motherboard does!
Specifications

The X299 Taichi offers a lot of features including dual Intel LAN, three 32Gb/s M.2 slots, 10 SATA ports, a healthy amount of USB 3.0 and 3.1, and even WIFI.
Pricing
The X299 Taichi costs $289.99.
Packaging and X299 Taichi Overview
Packaging and Overview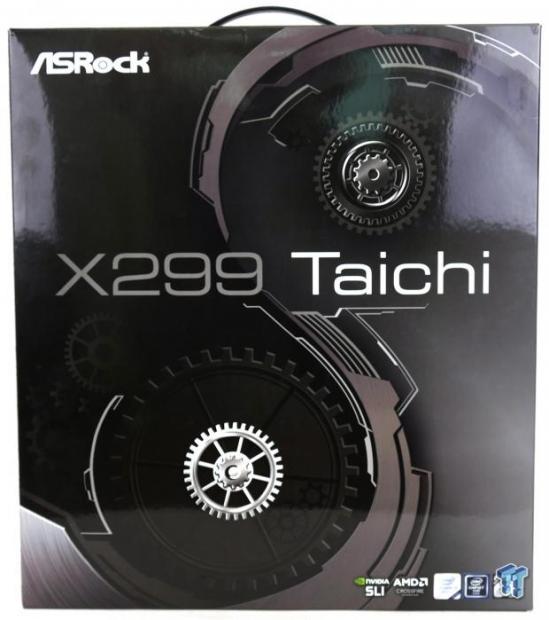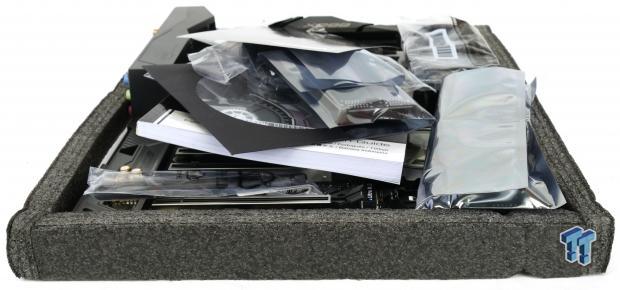 Box and packaging are similar to what I have seen before from other ASRock's HEDT Taichi boards (mainly the X99 Taichi). The motherboard is well protected and zip tied into a foam tray, which is inside an anti-static bag.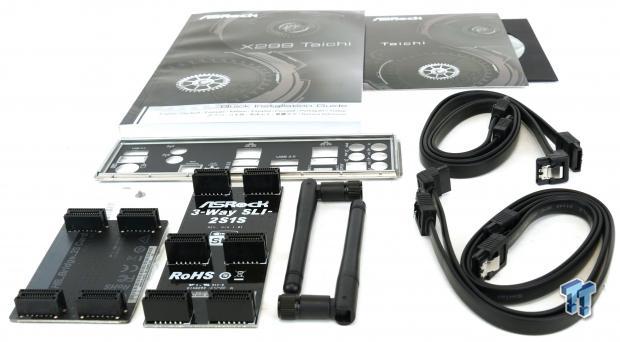 The accessory package includes four SATA6Gb/s cables, two WIFI Antenna, IO shield, SLI HB bridge, 3-way SLI bridge, case badge, manuals, post card, and driver DVD.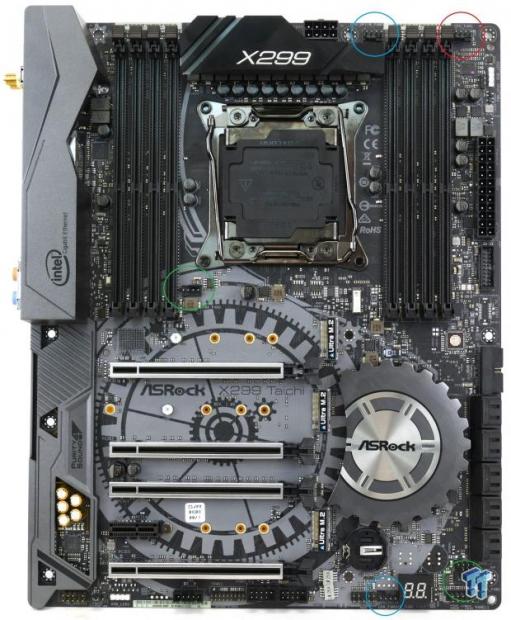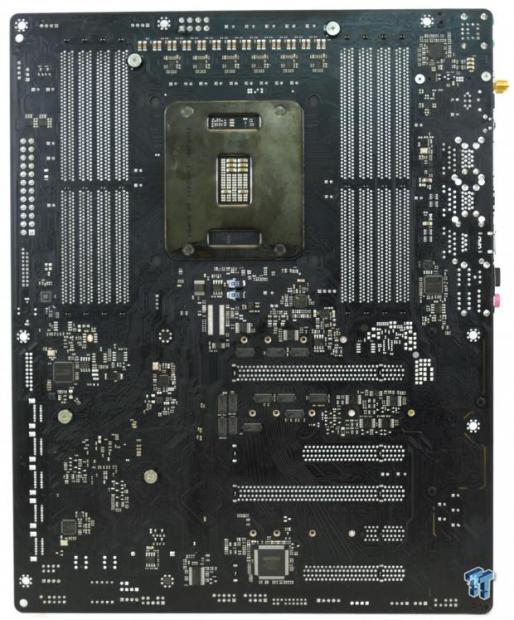 ASRock put five fan headers on the X299 Taichi, all of them are 4-pin hybrid DC/PWM mode headers. All of them but the CPU fan header circled in red can auto detect whether a DC or PWM fan is in use. The CPU fan header supports 1A, while the two headers circled in blue over 1.5A of output. I am not sure of the current capabilities of the headers circled in green, but I would assume a minimum of 1A. The back of the motherboard has a ton of components, including the majority of the PCI-E quick switches.

The IO shield offers two USB 2.0 ports, four USB 3.0 ports, PS/2 keyboard/mouse port, WIFI antenna connectors, BIOS Flash Back button, Clear CMOS button, two 1Gbit Intel LAN ports, USB 3.1 type-A, USB 3.1 type-C, and gold plated 7.1 audio jacks with S/PDIF out.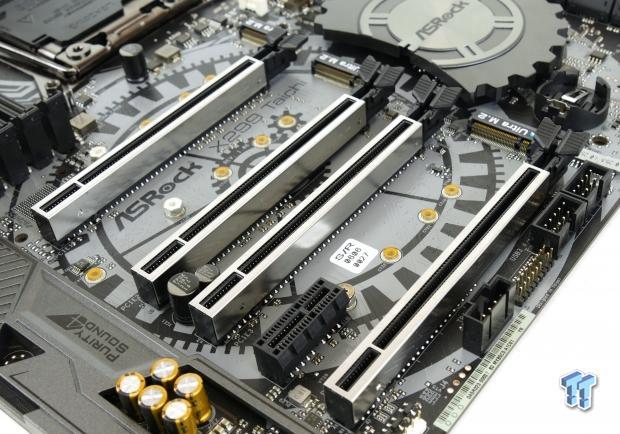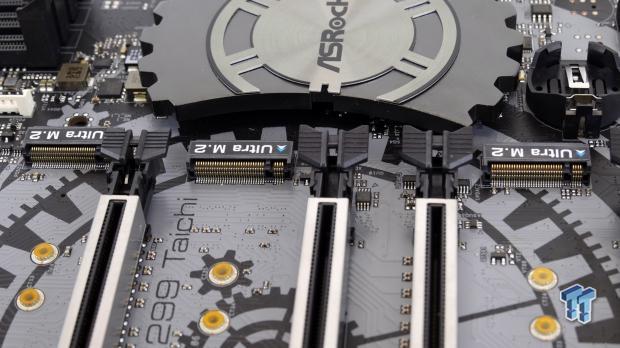 The PCI-E lane allotment isn't straightforward, so I will list the speeds according to PCI-E slots PCIE1/PCIE2/PCIE3/PCIE5 as per the manual. With a 44 lane CPU you get x16/x8/x16/x0 or x8/x8/x16/x8, with 28 lanes you get x16/x0/x8/x0 or x8/x0/x8/x8, and with 16 lanes you get x16/x0/x0/x0 or x8/x0/x4/x0. That means that the 16 lane CPUs won't support SLI, only CrossFireX.
The three 32Gb/s M.2 slots all have one link to SATA ports 0,1, and 7, the manual will tell you which are shared. The M2_1 slot gets its bandwidth from the CPU, so with a 16 lane CPU, you will have to run your GPU at x8 if you want to use the slot. The 28 and 44 lane CPUs don't use PCI-E layout lanes if you use M2_1.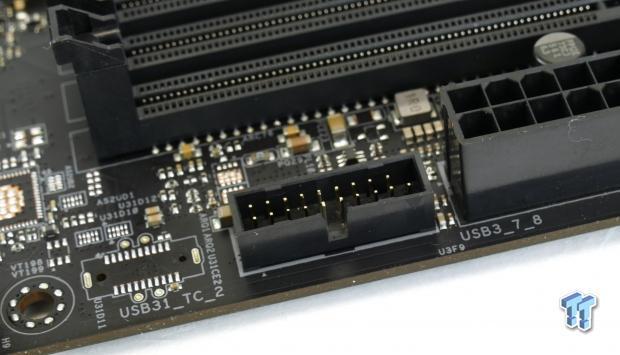 There are ten SATA6Gb/s ports, two of them are from ASMedia, and ports 0,1, and 7 share with M.2 slots if a SATA based M.2 drive is used. There is one right angled USB 3.0 header and one straight angled USB 3.0 header, both get their bandwidth from an ASMedia USB 3.0 hub.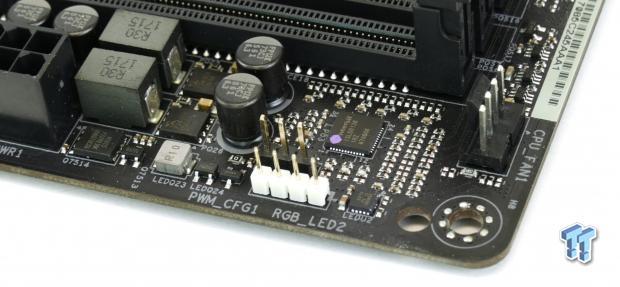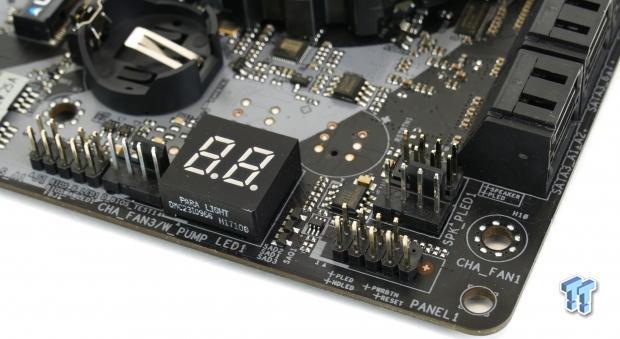 An RGB header is located at the top right corner of the motherboard. In the lower right corner of the motherboard is a POST code display.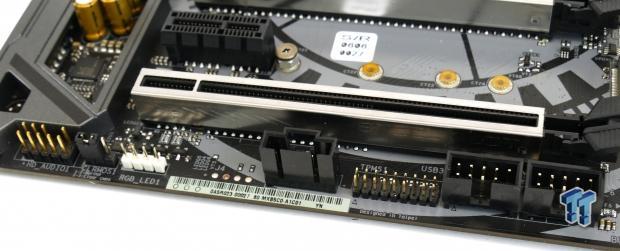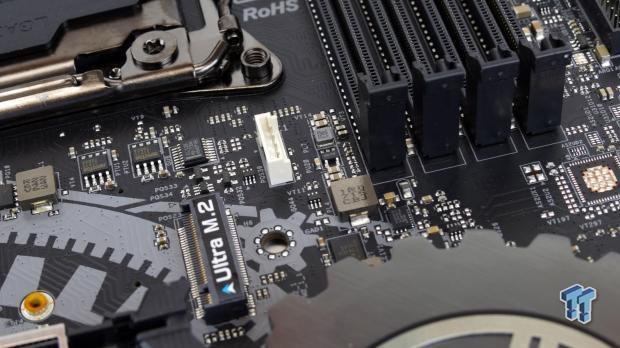 There are two USB 2.0 headers located along the bottom edge along with a ThunderBolt 3 GPIO header. An RGB LED header can also be found on this lower edge. The VROC header is located near the CPU socket.

The heat sinks are all screwed into the motherboard, and they seem to make solid contact.
ASRock X299 Taichi Circuit Analysis
Circuit Analysis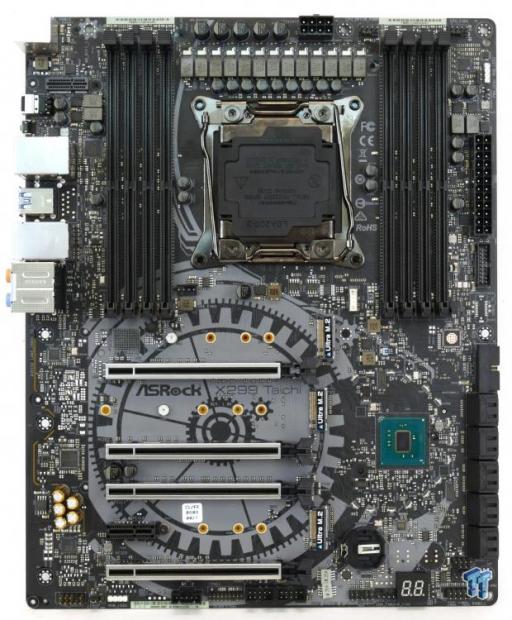 The X299 Taichi really is quite beautiful.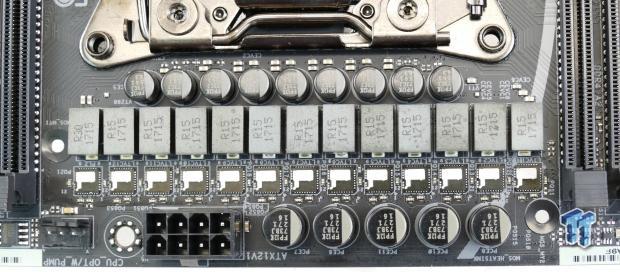 The CPU VRM is in a 12+1 phase configuration and uses very high-end components both on the switching and filter side of things. ASRock has used Intersil's first fully digital solution, so let's see what they got.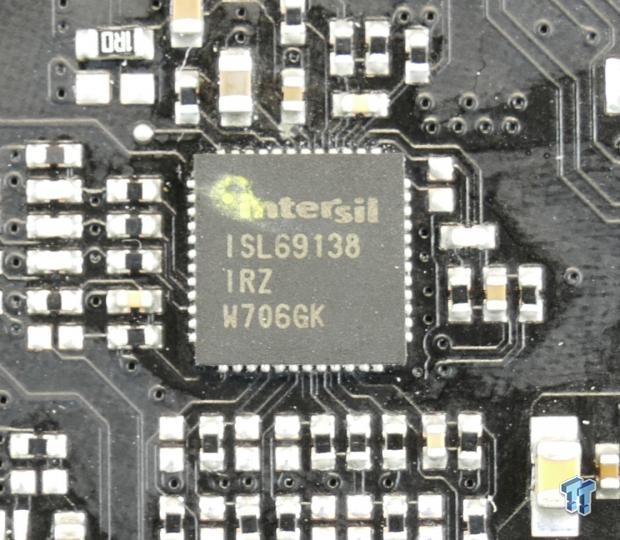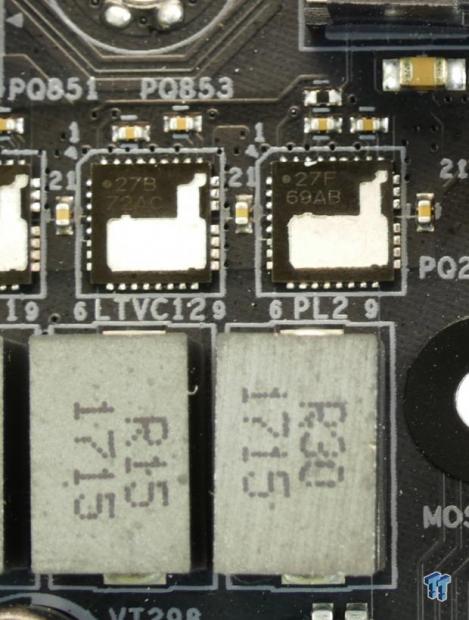 There are three Intersil ISL69138 fully-digital PWMs, a first from Intersil. They were designed to be X+Y = 7 total PWMs, so you can use them in any configuration where two rails max out at seven total PWM channels. So you could use one ISL69128 PWM in a 6+1 phase configuration and another at 3+3 phases, for example, the new PWM also works very well with Intersil's brand new fully-integrated Smart Power Stage (SPS). The Smart Power Stage used here is the ISL99227B and ISL99227F, the only difference is the PWM input voltage range.
These Smart Power Stages offer a higher level of integration, better current sensing, and more protection compared to previous DrMOS implementations. Basically, these new parts can better react to large load swings and offer higher efficiency. They are a direct competitor to International Rectifier's IR3555, both are rated 60A, but these offer an almost integrated heat spreader. The new PWM and SPS offer direct competition to IR's solutions and should prove to perform quite well.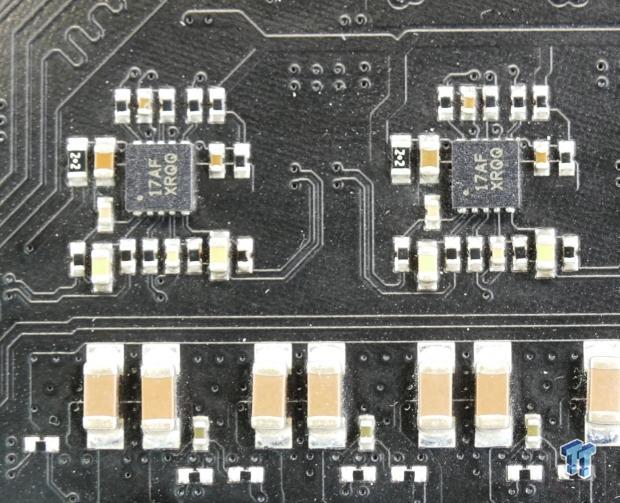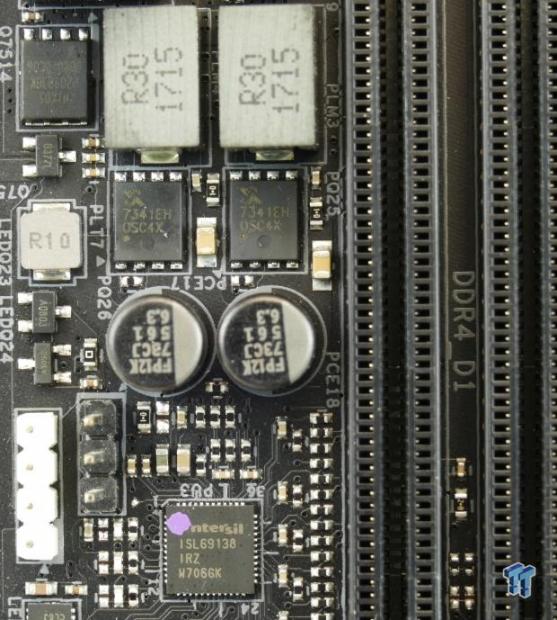 To get 12 phases from the six the PWM provides, ASRock uses a bunch of ISL6617 phase doublers on the rear of the motherboard. Here we find another ISL69138, most likely used to control the memory controller, and it controls two Sinopower SM7341EH dual N-channel MOSFETs.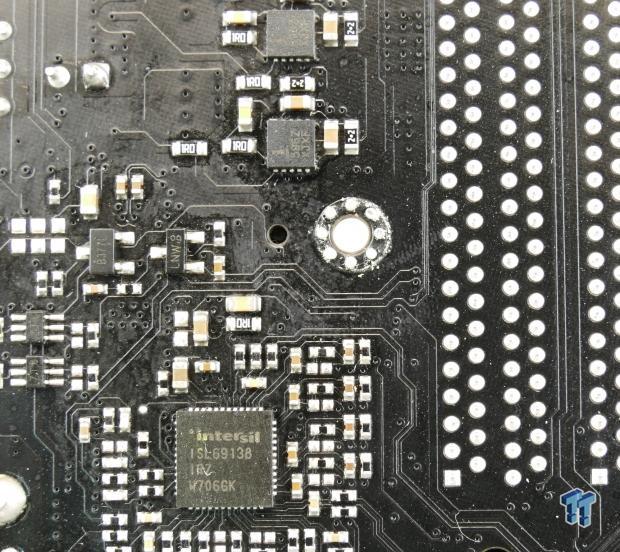 We find two more Sinopower SM7341EH on the other side of the motherboard that power the other four DIMMs. On the back of the left of the motherboard carries a third ISL69138 PWM, and we can see two ISL6596 integrated drivers that drive the memory VRM phases.
ASRock X299 Taichi Circuit Analysis Continued
Circuit Analysis Continued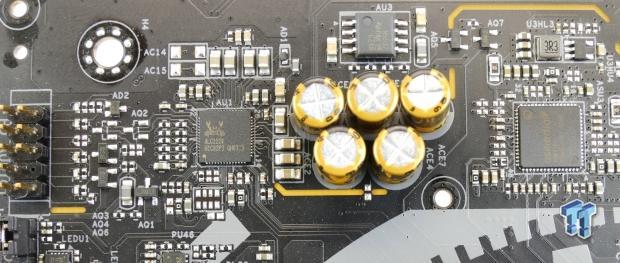 The audio hardware on this motherboard consists of the Realtek ALC1220 codec along with a Texas Instruments NE5532 amplifier. Gold series audio capacitors and physical PCB isolation help to improve overall audio signal quality.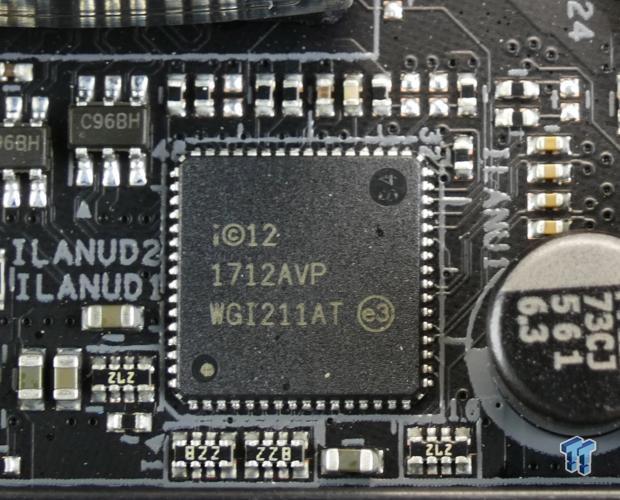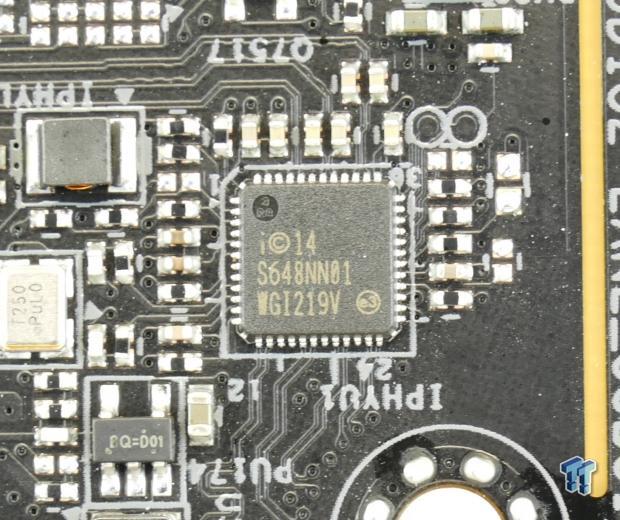 Intel's i211AT and i219v are used to provide dual Intel Gbit LAN on the rear IO. The i211AT is a standalone controller while the i219v is a PHY is requires the integrated MAC in the PCH to become whole.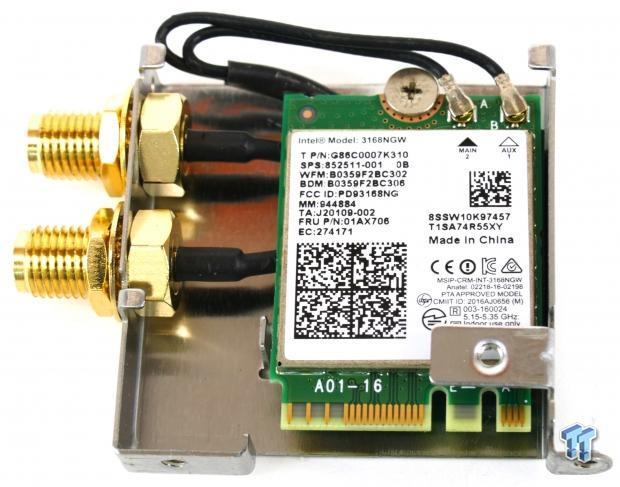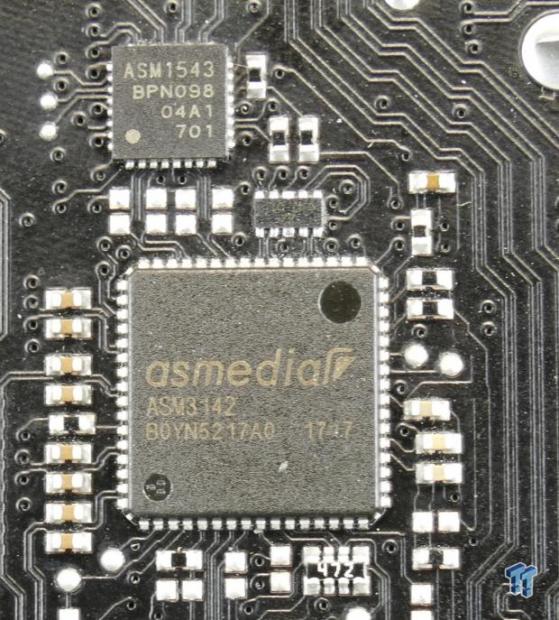 Intel's Wireless AC 3168NGW is a 1x1 433Mbps Wireless AC card, and it also offers Bluetooth. It's not as fast as 867Mbps 2x2 WIFI cards, but it does get the job done if you need internet connectivity. USB 3.1 comes from the new ASMedia ASM3142 USB 3.1 controller that uses two PCI-E 3.0 lanes along with an ASMedia ASM1543 type-C switch and controller chip.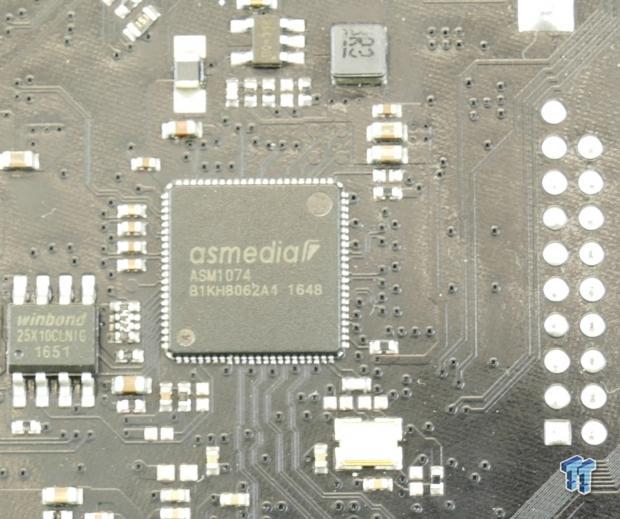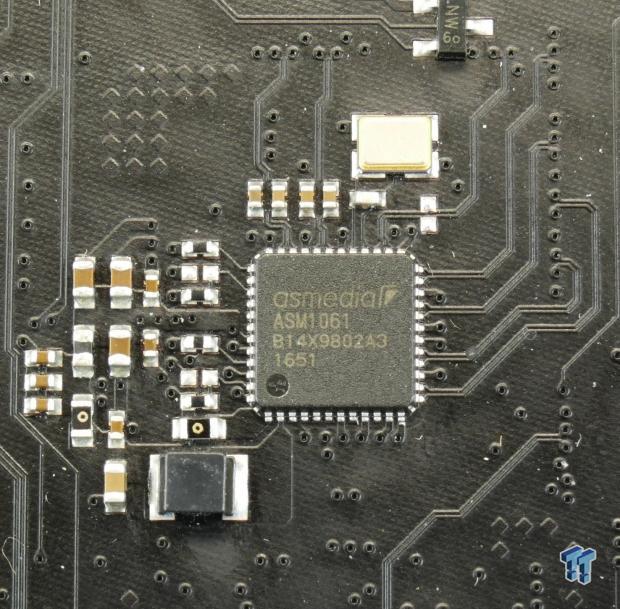 An ASMedia ASM1074 USB 3.0 hub provides both the internal headers with the bandwidth of a single USB 3.0 link from the PCH. An ASMedia ASM1061 provides two extra SATA6Gb/s ports, for a total of ten.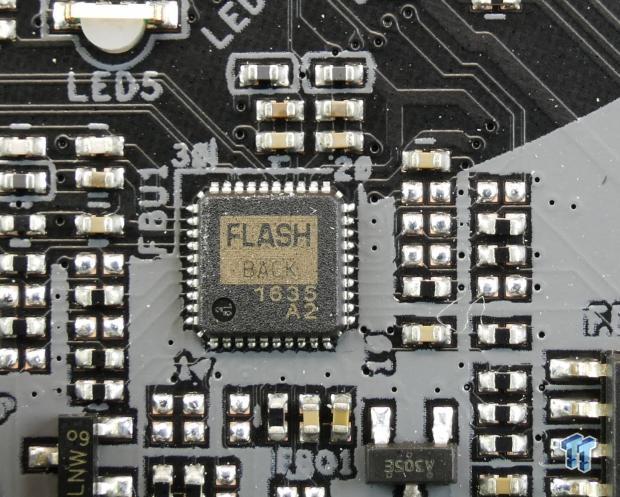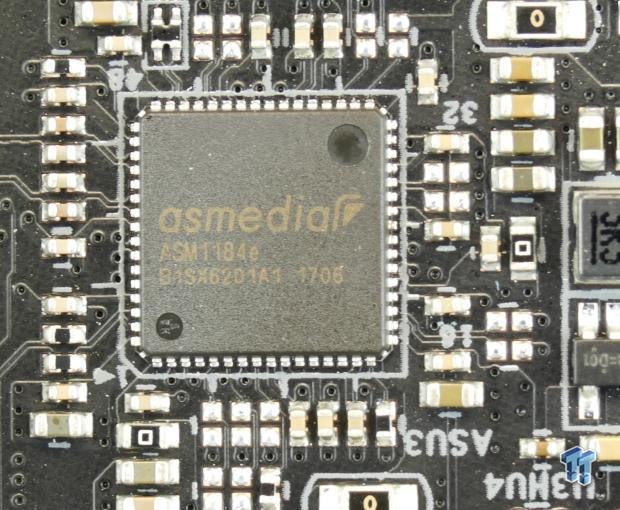 ASRock has a custom Flash Back chip, which I assume is similar to ASUS's "BIOS" chip in that it provides USB BIOS recovery from a file on a USB stick inserted into a specific USB port on the rear IO. The ASmedia ASM1184e provides four PCI-E ports from just one. I assume it outputs to the PCI-E x1 slot, WIFI card, and ASM1061.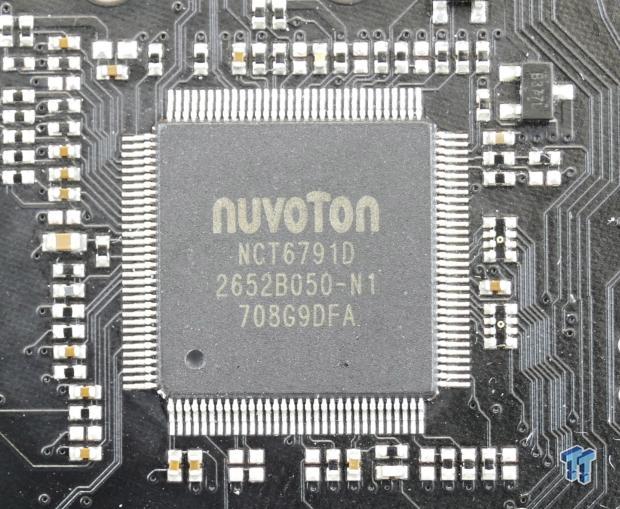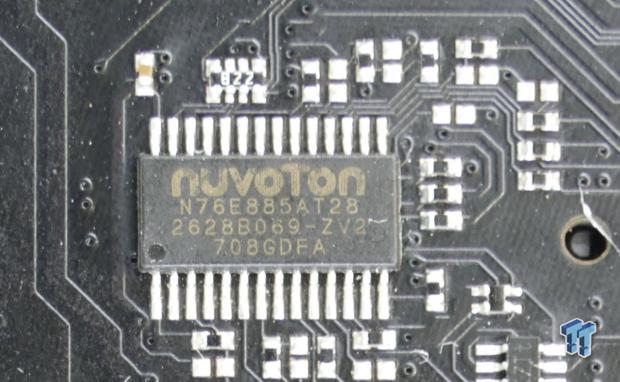 The nuvoton NCT6791D is the main superior. The nuvoton N76E885 is used as a microcontroller that provides extra features such as RGB LED support; I found the same IC on ASRock Z270 motherboards with RGB LED features.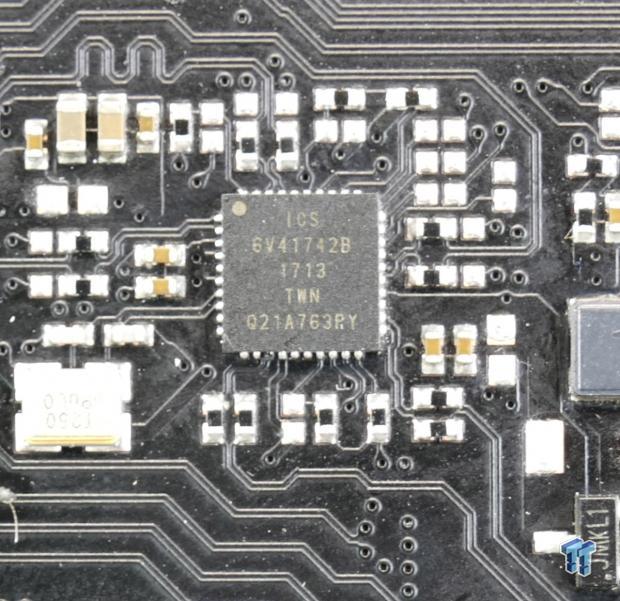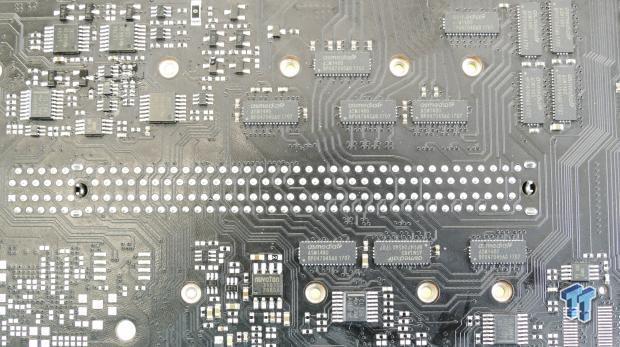 The ICS 6V41742B is used as the clock generator on the motherboard; it enhances BCLK overclocking margins. All of these PCI-E quick switches and bus switches help to shift around a very confusing PCI-E lane arrangement, at least ASRock moved them to the back of the motherboard, so they don't interfere with the overall look of the product.
BIOS and Software
BIOS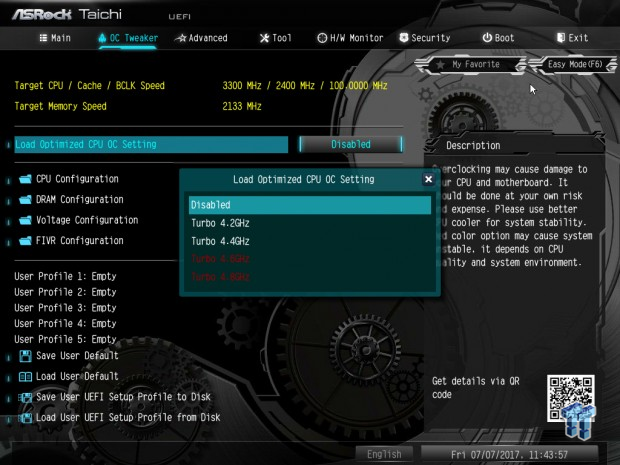 ASRock's X299 UEFI is very similar to that of their Z270 motherboards. There is both an Easy Mode and an Advanced Mode for those of you with more experience. There is an overabundance of overclocking settings for those who want to tweak everything to the maximum.
For the rest, there are simple preset overclocking profiles for the 7900X. I assume these profiles change when you use a different CPU. Fan control is also present through both a graph and a menu, making ASRock one of a few vendors to offer both options in the UEFI. RGB LED control is also present in the UEFI.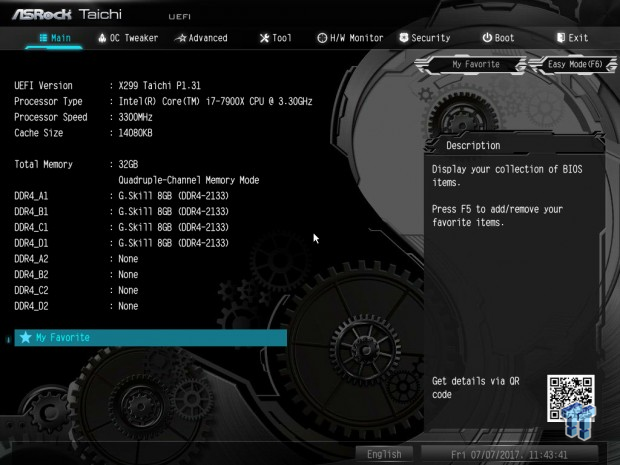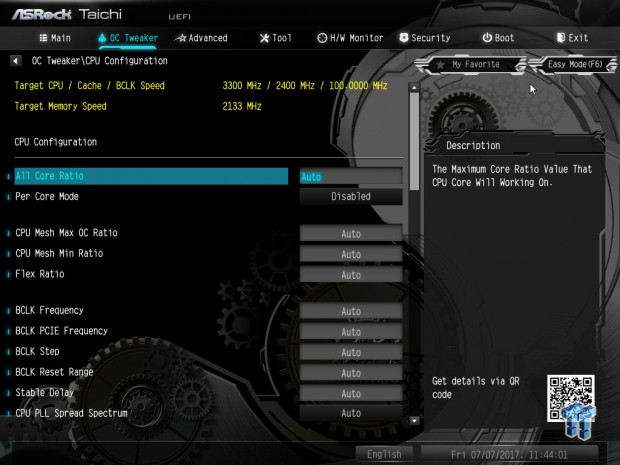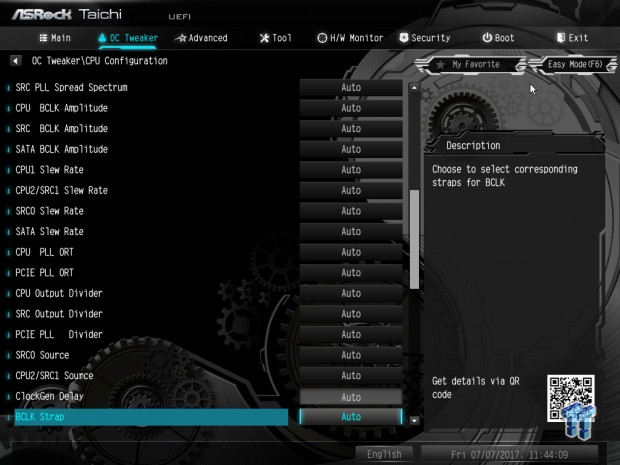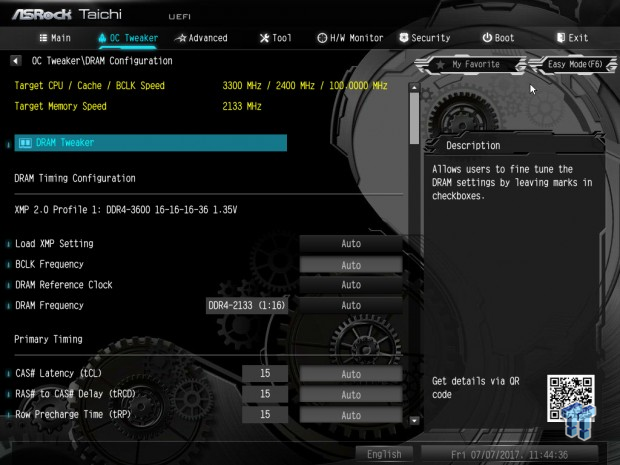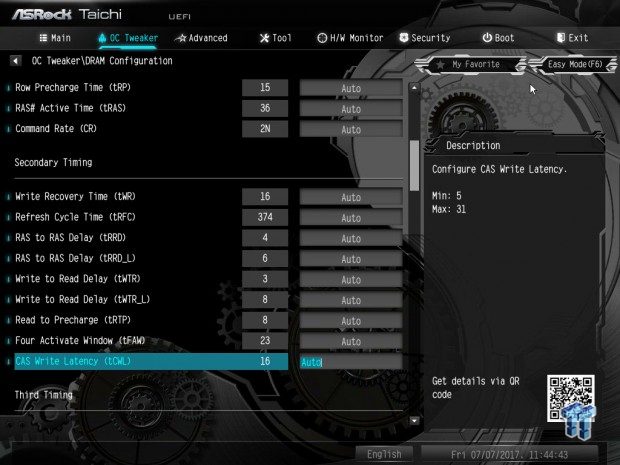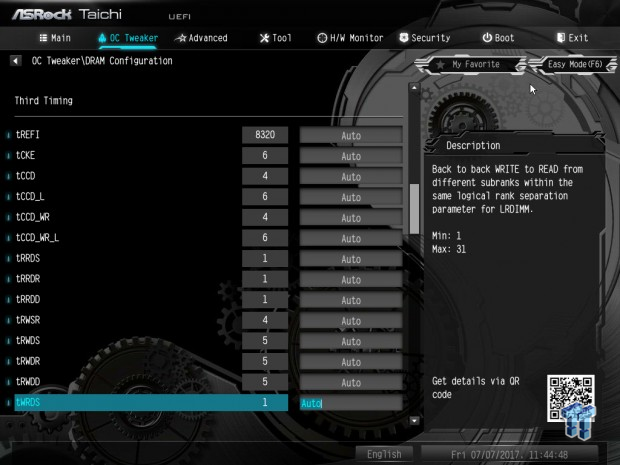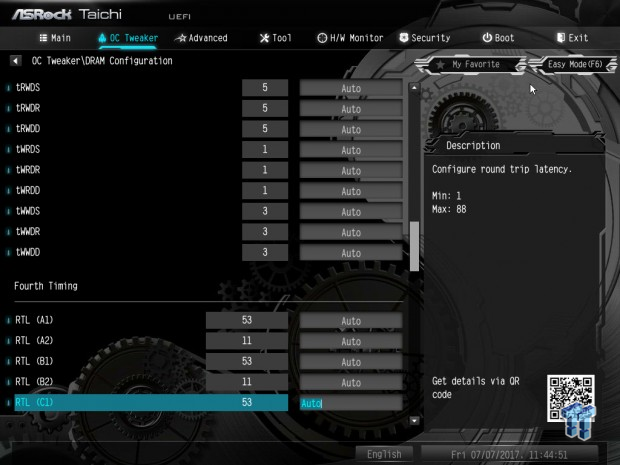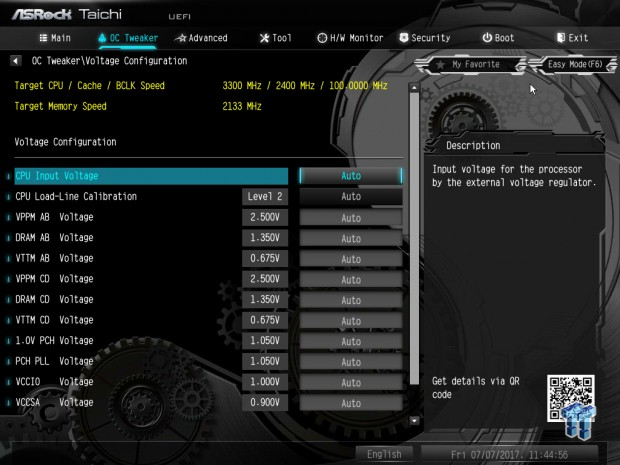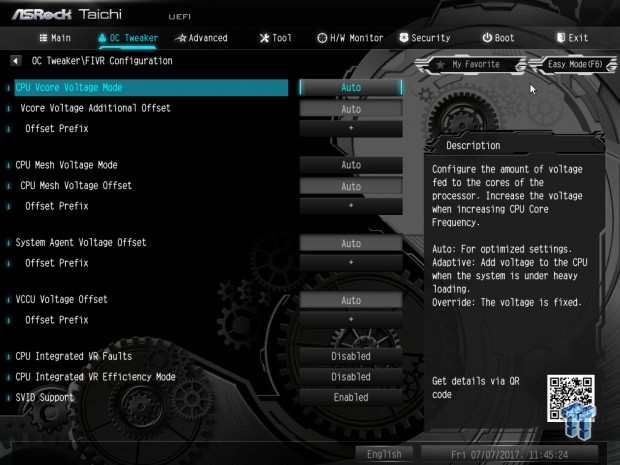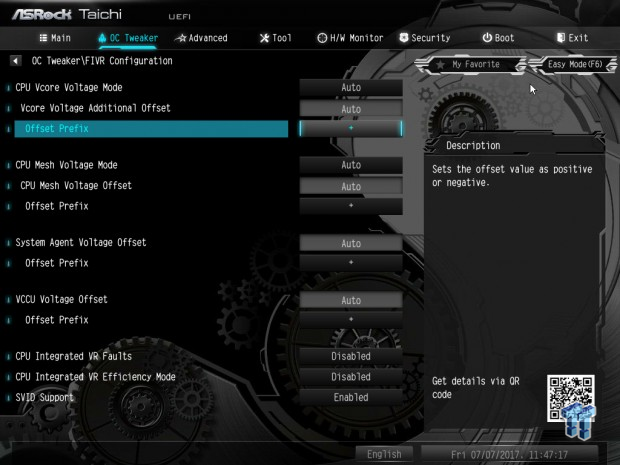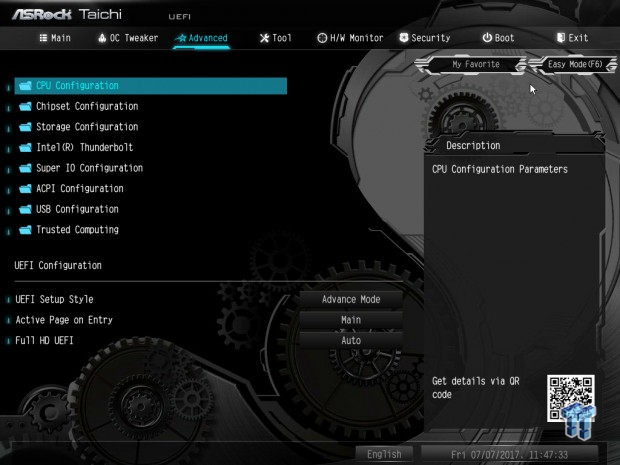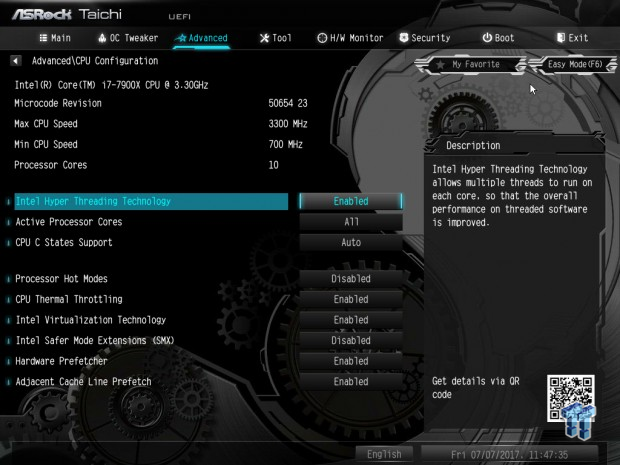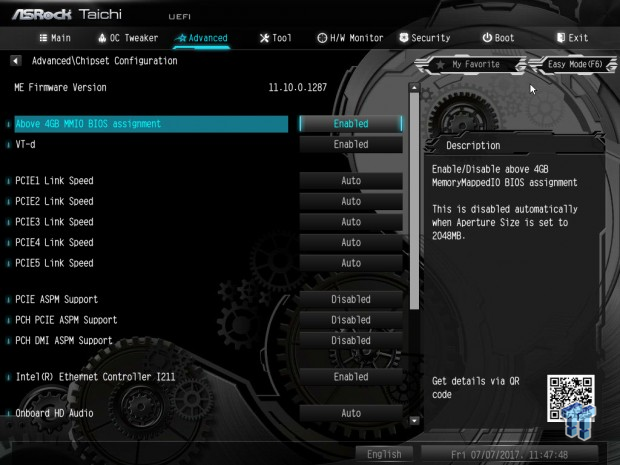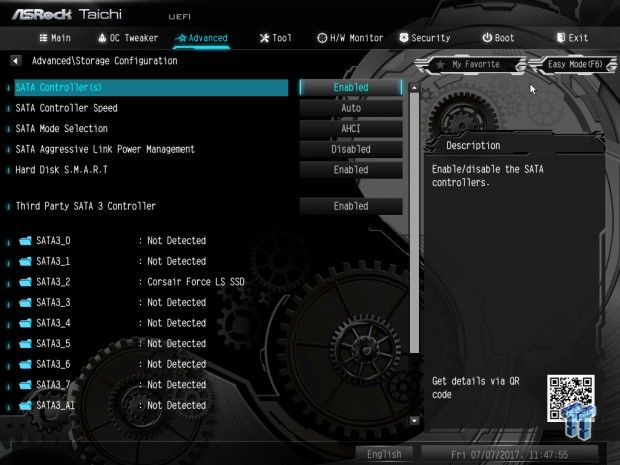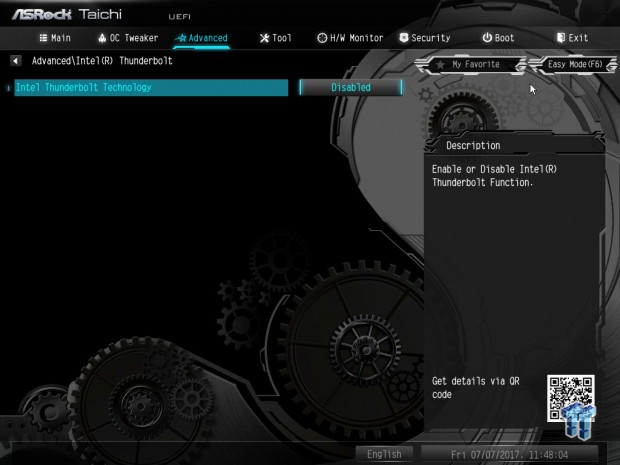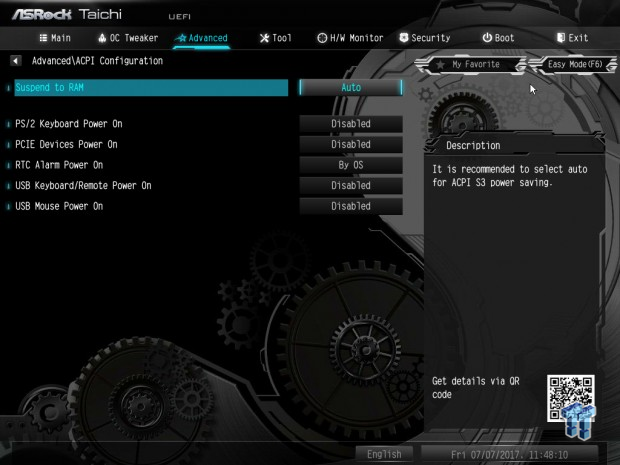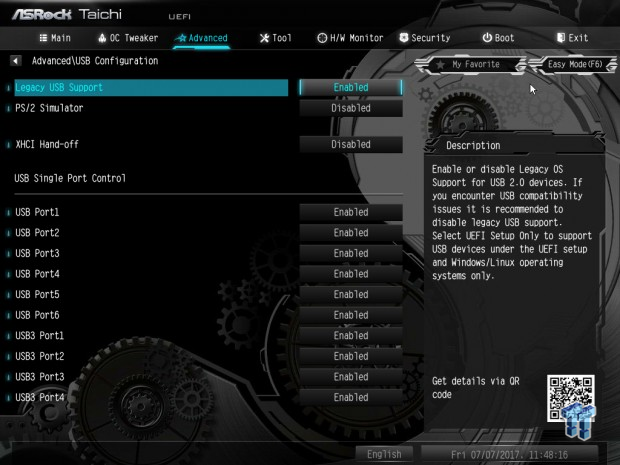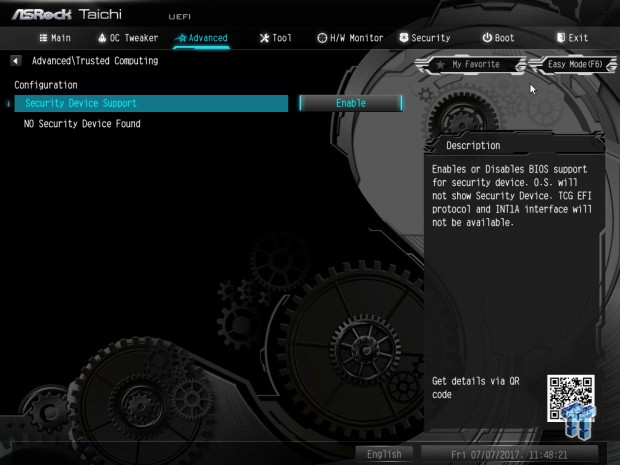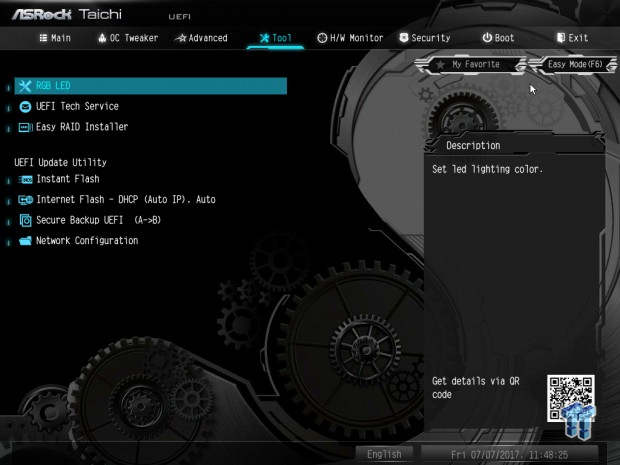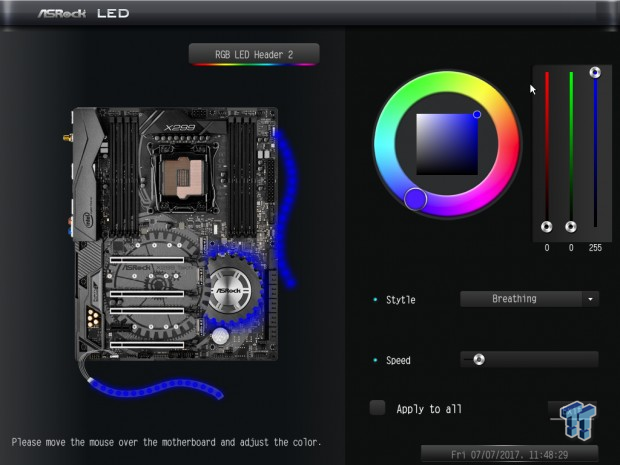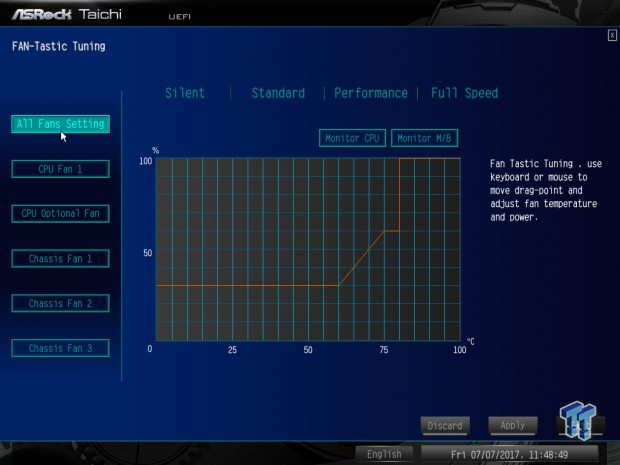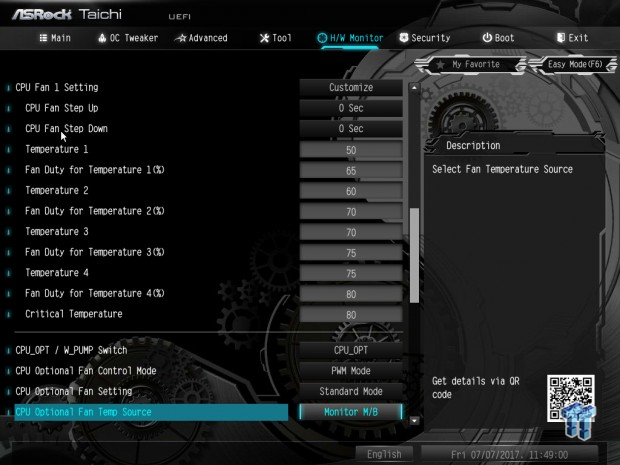 Software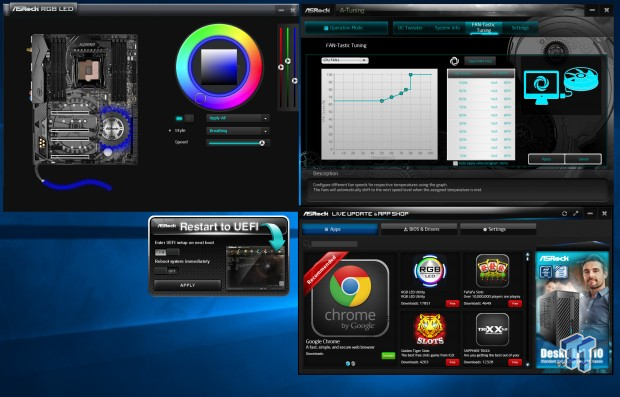 Software includes ASRock RGB LED, A-Tuning where you do fan control and overclocking, Restart to UEFI, and ASRock's Live Update and APP Shop.
Test System Setup
Steven's Motherboard Test System Specifications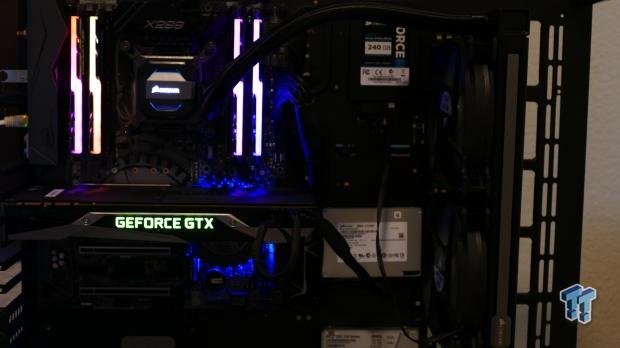 The X299 Taichi leans towards the RGB-less camp. While it does have some RGB LEDs built into the motherboard under the PCH, but they aren't that pronounced.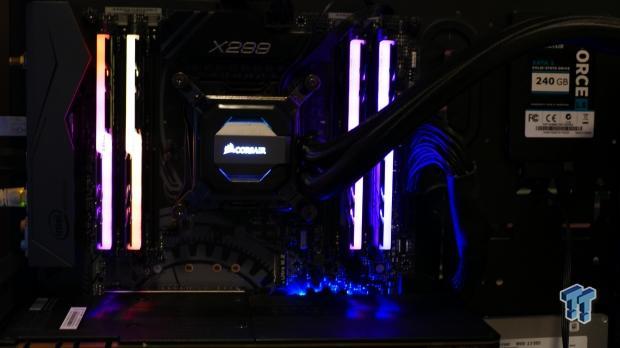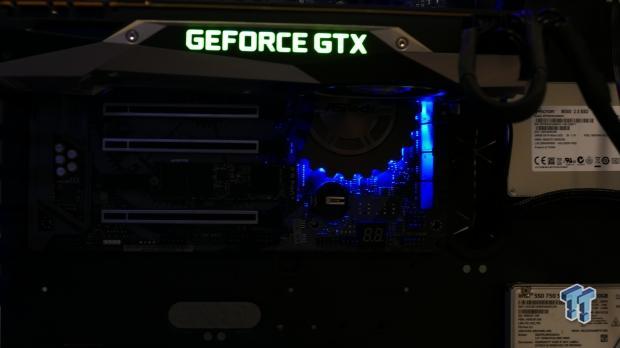 There are a few RGB LED headers on the motherboard if you want to light up the system. Overall, many people would rather trade RGB LEDs for more features, and perhaps the lack of RGB LEDs has helped position the X299 Taichi at an affordable price point.
Overclocking
Overclocking Results
CPU Overclocking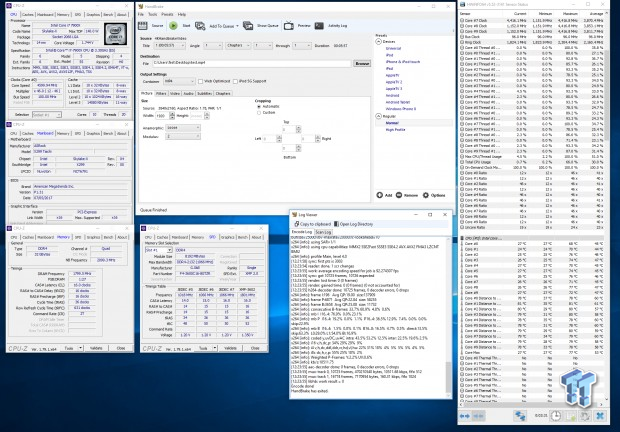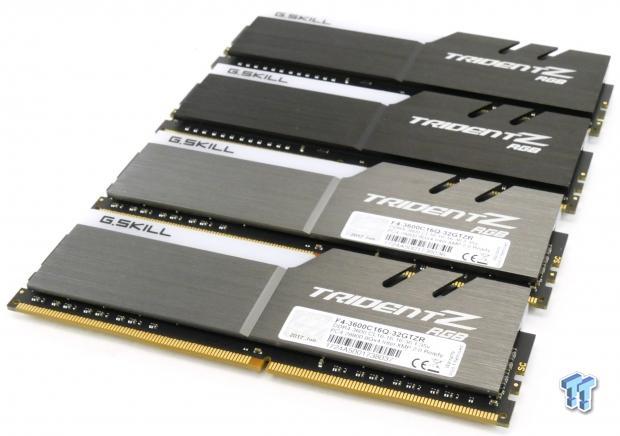 For the time being, I was testing how each motherboard can overclock the CPU and what settings to change to get a 4.6GHz overclock using AVX with XMP enabled. While finding where to change voltages might be a bit tricky as the CPU voltages are located inside different menus (Input Voltage in CPU menu while VCore is in the FIVR menu), overclocking the CPU was straight forward.
The new VRM components and the digital nature of Intersil's new PWM don't require too much enhancement of power settings to avoid throttling. Temperatures also stayed pretty low on the CPU, at least compared to some other motherboards.
Memory Overclocking
G.Skill TridentZ RGB 32GB (4x8GB) 3600MHz Kit:
As you can see above, this kit runs fine with XMP on the X299 Taichi.
CPU, Memory, and System Benchmarks
CINEBENCH R15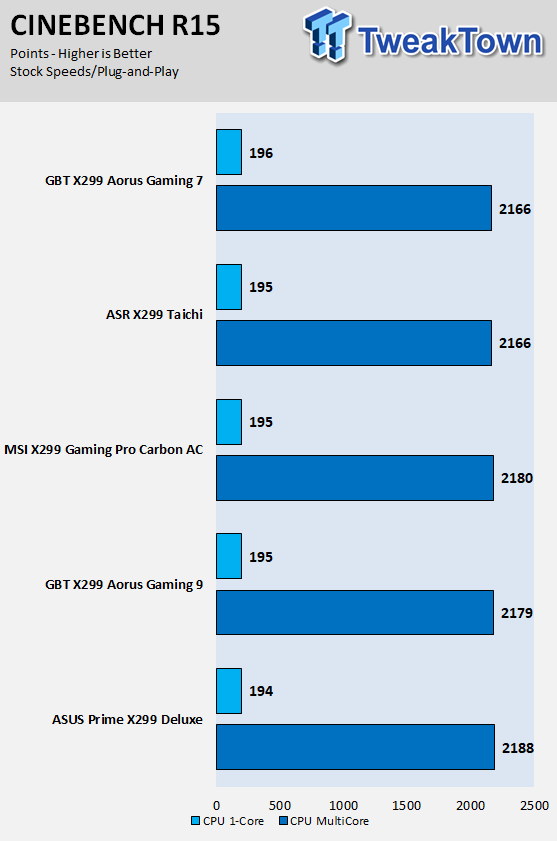 wPrime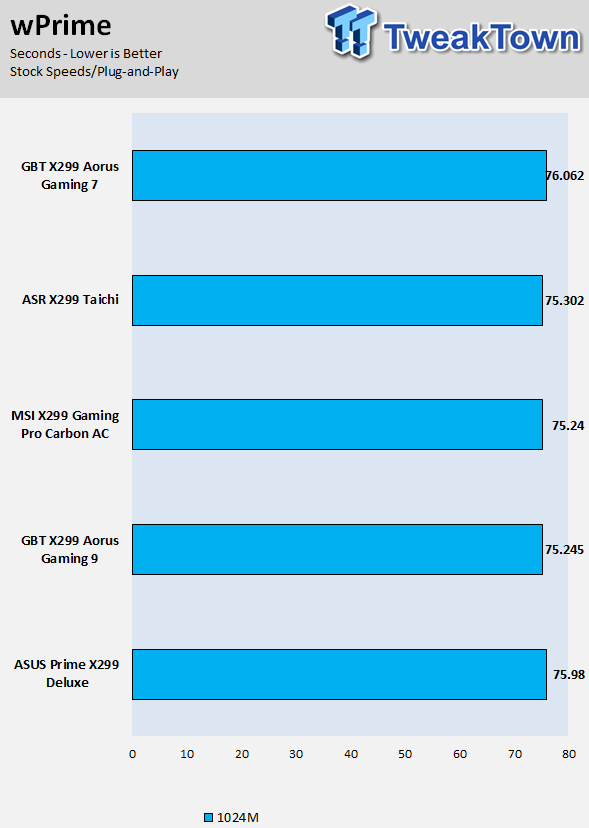 AIDA64 FPU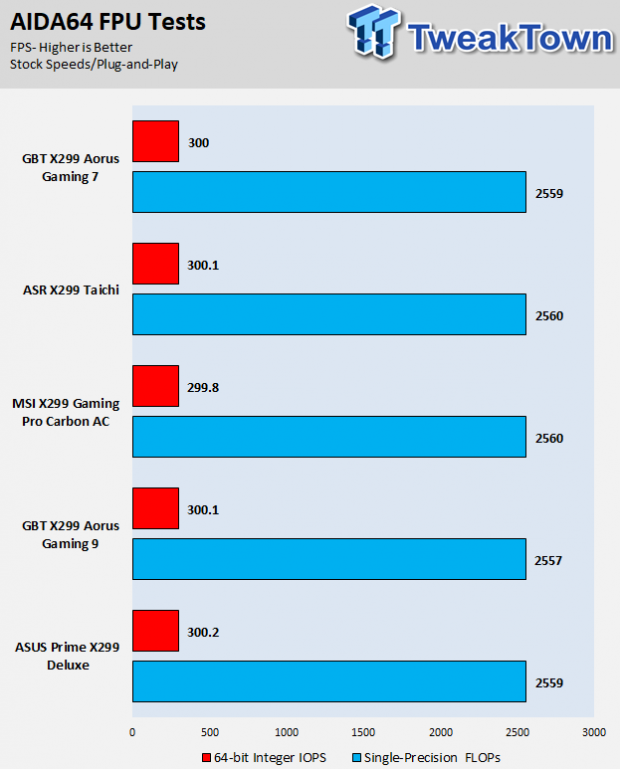 AIDA64 Memory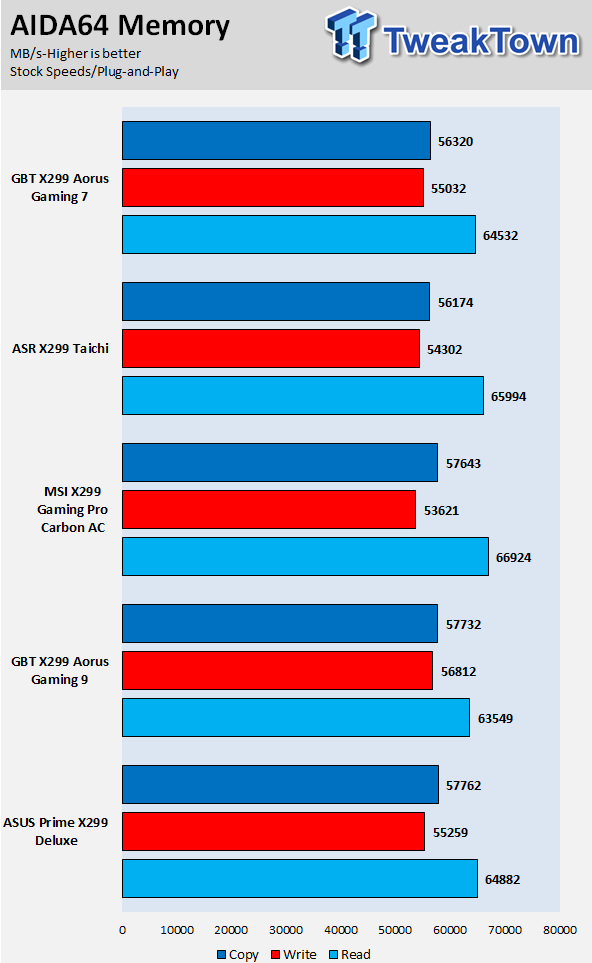 ScienceMark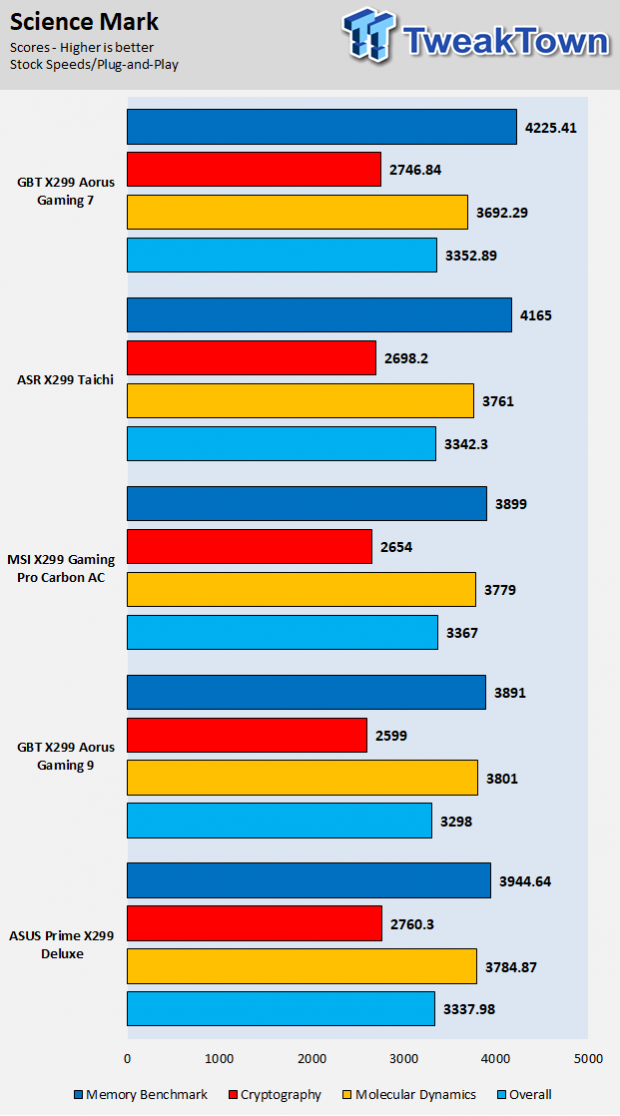 HandBrake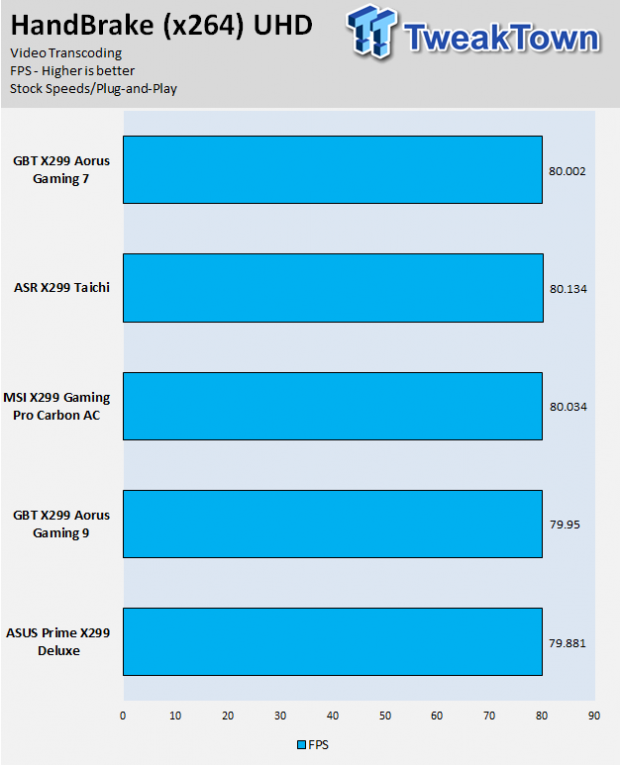 SuperPi 32M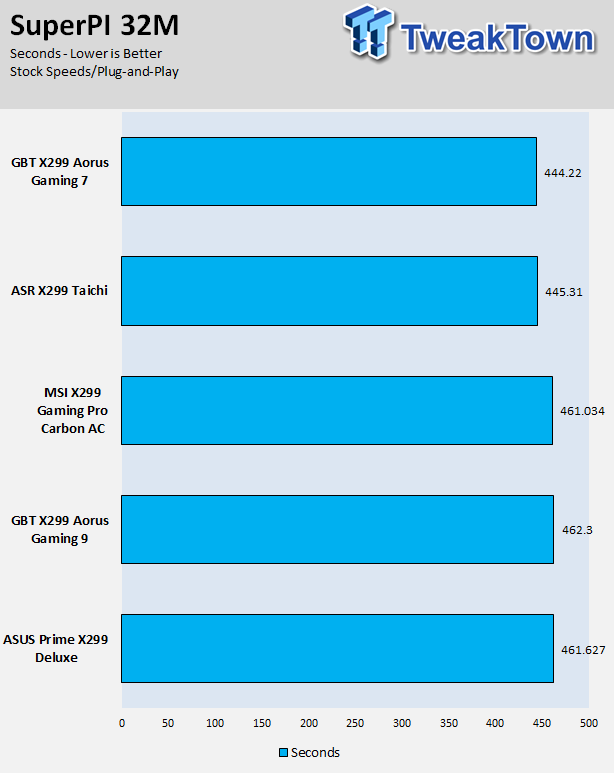 3DMark: Fire Strike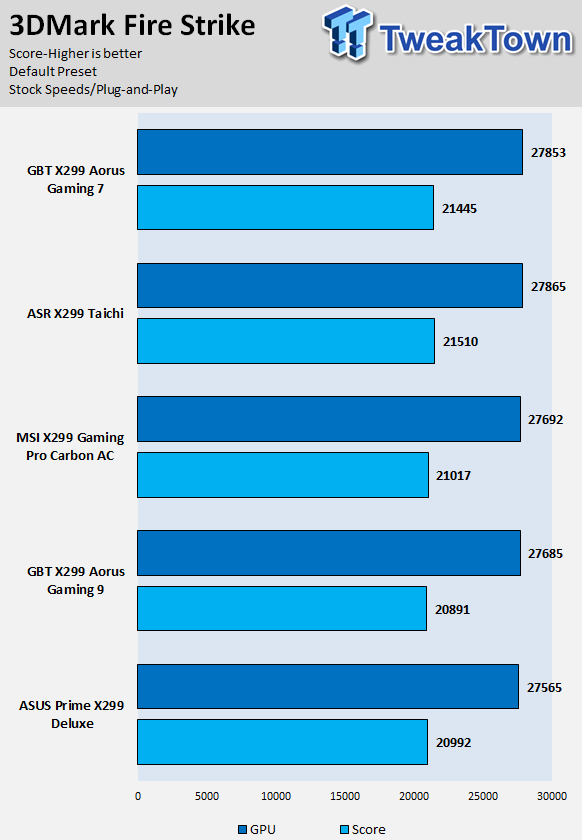 3DMark: Cloud Gate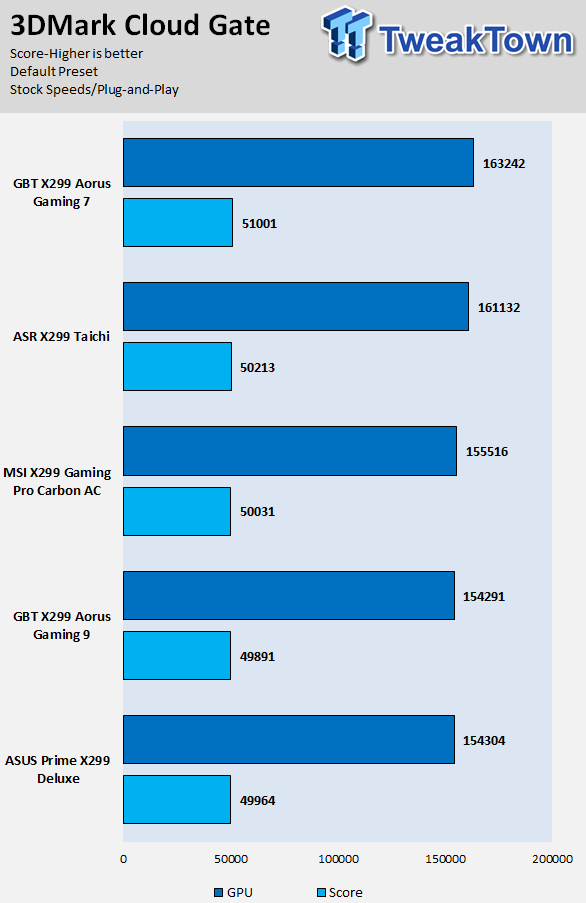 ResidentEvil 6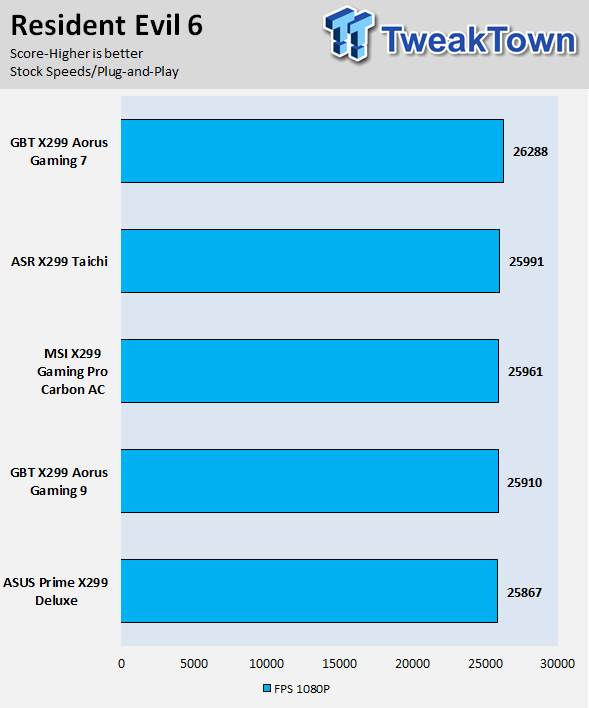 The ASRock X299 Taichi is a solid performer, and it was also benchmarked with the latest benchmarks and updated drivers along with the X299 Aorus Gaming 7. The other boards were tested right after launch and these two others last week, so we can see how things have gotten slightly better (in regards to mainly single threaded performance). You generally don't get more CPU, GPU, or memory performance out of a more expensive motherboard, you just expect them to be at the top of the charts, and the X299 Taichi keeps up with the much more expensive motherboards.
I don't too much too much credence into benchmarking the CPU or GPU to see how well the motherboard does, as the difference is almost always within the margin of error. These tests are to make sure performance isn't below that margin, or to see what's going on if it's above.
System IO Benchmarks
CrystalDiskMark SATA6G: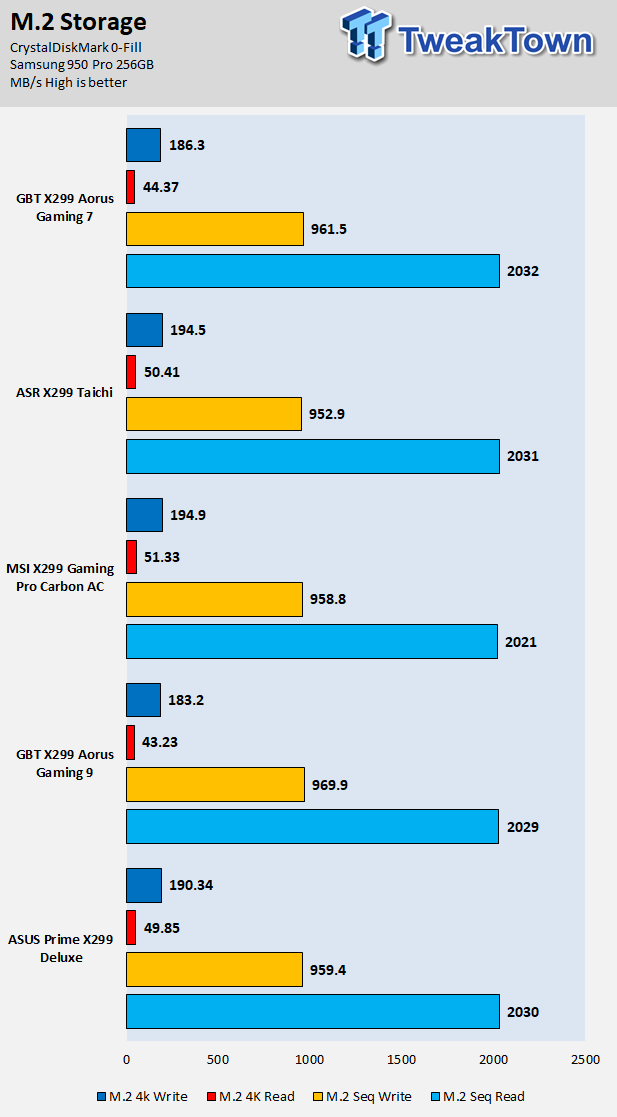 CrystalDiskMark M.2: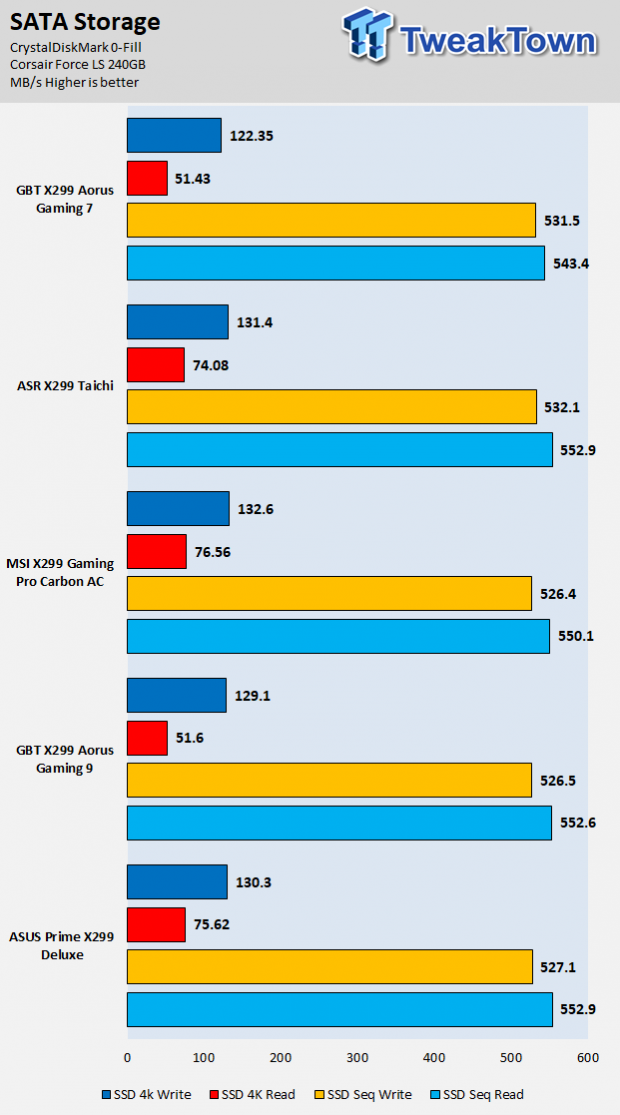 ixChariot Network Throughput: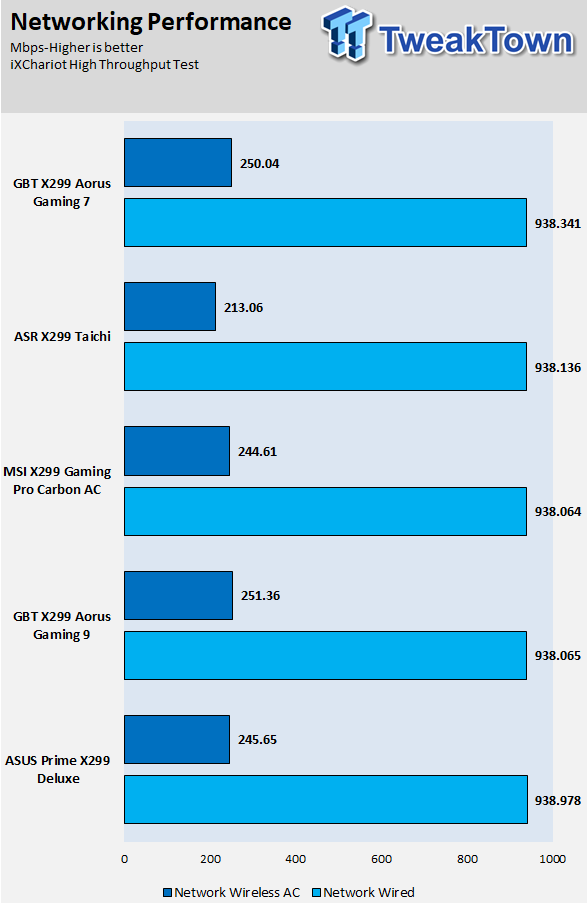 ASRock's X299 Taichi is one of the best-performing motherboards when it comes to IO performance. We expect as much from ASRock, who is known for their strong IO performance.
Audio RMAA 5.5:
I disable all audio features, set the correct bitrates, and then test the audio with a loopback test.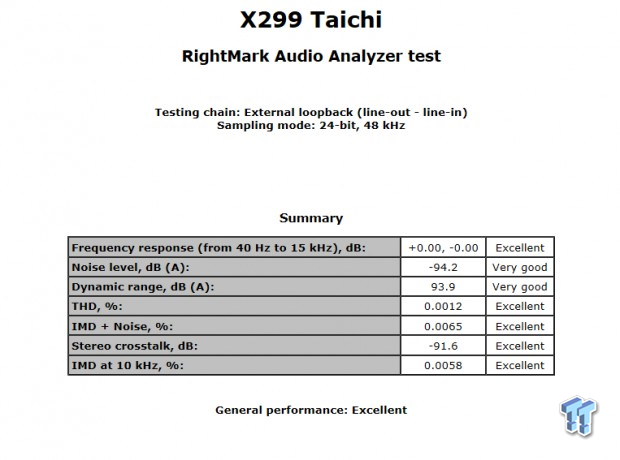 Sound Judgment by Ear: Excellent, the motherboard uses the ALC1220 without too much enhancement, so we have heard similar implementations and they should great. There are five ratings for audio: 1. Problems, 2. Okay, 3. Acceptable, 4. Very good, 5. Excellent
VRM and System Thermal Imaging and Power Consumption
Thermal Imaging and Power Consumption
System power is measured at the wall with an AC power meter.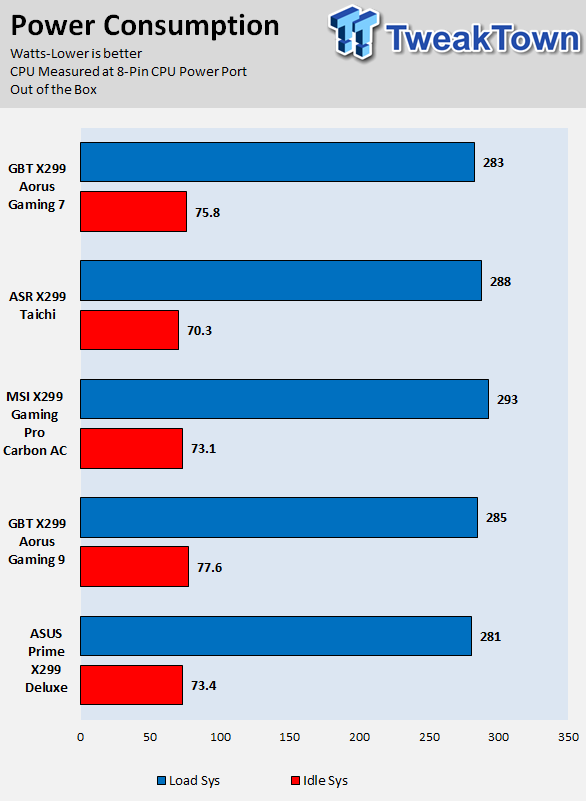 Note on Thermal Images: In the temperature section, we use our Seek thermal imaging camera to capture the surface temperatures of major components on the board. I look at the VRM and then all other things that light up the screen. If there is something to worry about, then I will state it. Otherwise, I will just show the hotter running parts of the board for fun. Unless some component is over 80-90C, then there isn't anything to worry about.
All systems will act differently, so I will look for commonalities, such as how far from the VRM the heat spreads through the PCB and the difference in temperature between the front side and backside of the PCB. Keep in mind, the majority of the heat from the VRM goes into the PCB as it is a giant soldered on copper heat sink. A larger difference in temperature between the back and front of the PCB points towards a more effective heat sink.
Thermal Testing at Stock Speeds:
The image on the left is always at idle, and the image on the right is at load. During ALL TESTS, fans above the VRM that cool the CPU cooler's (Corsair H110i) radiator are turned on to high (12v).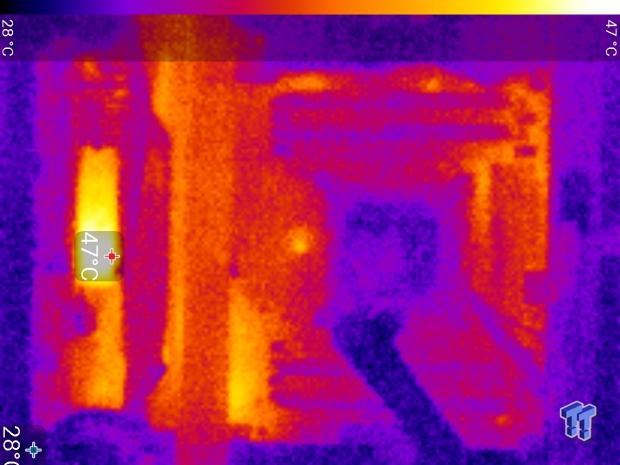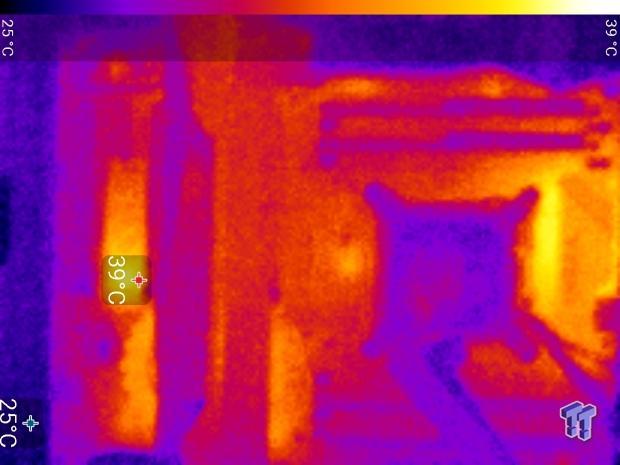 Full frontal.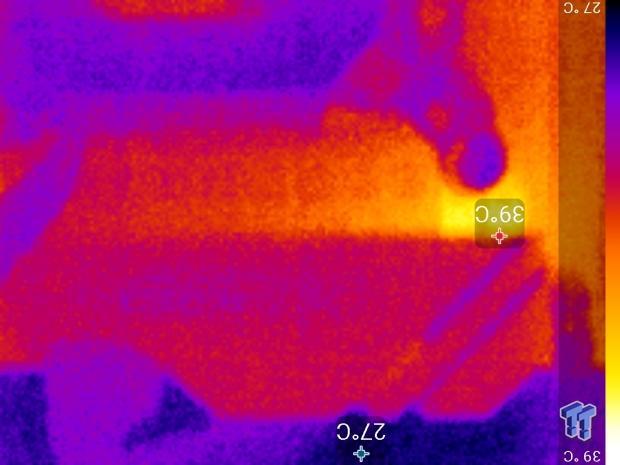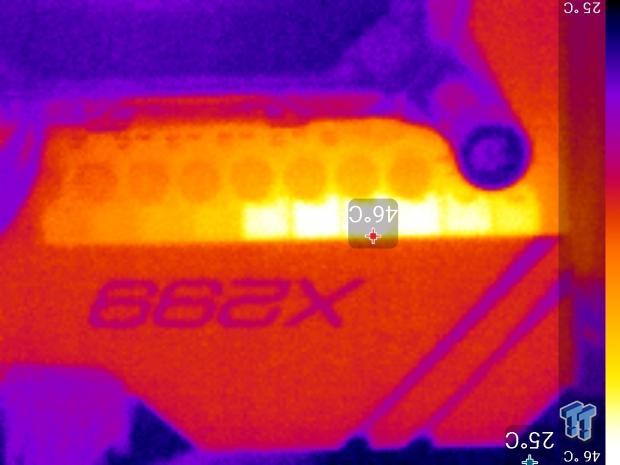 Up-close of the front of the VRM.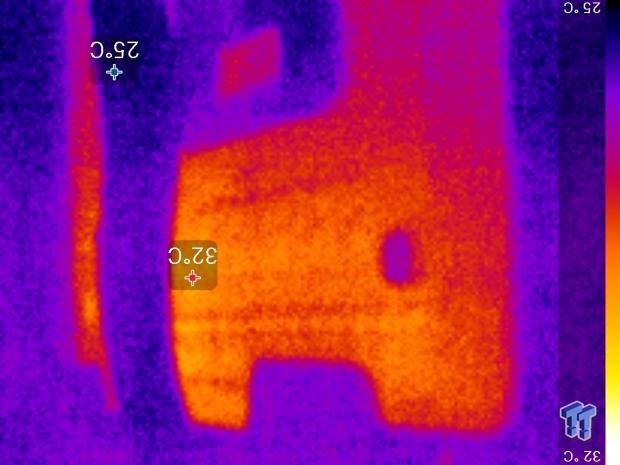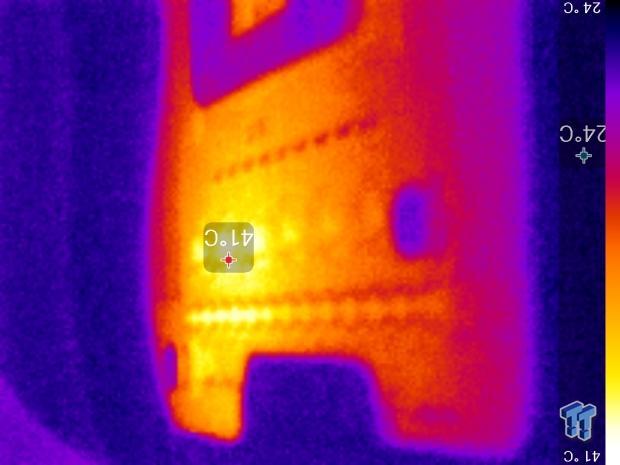 The VRM thermal imaging here reveals a lot about how Intersil's new PWM works. For light load, it only turns one a single phase, but when full load is applied at stock, it seems to load balance on the left side instead of evenly balancing all the phases. It could be that the airflow is cooling those other phases, but we don't see this thermal gradient on other motherboards.
The VRM must have much higher potential, so the PWM puts more load on half of its phases. It is not a new approach, but until now with the integrated smart power stages, the real-time current balancing mode makes it safer.
Up-close of the back of the VRM.
4.6GHz 1.75V VCCIN OCed VRM Thermal Imaging: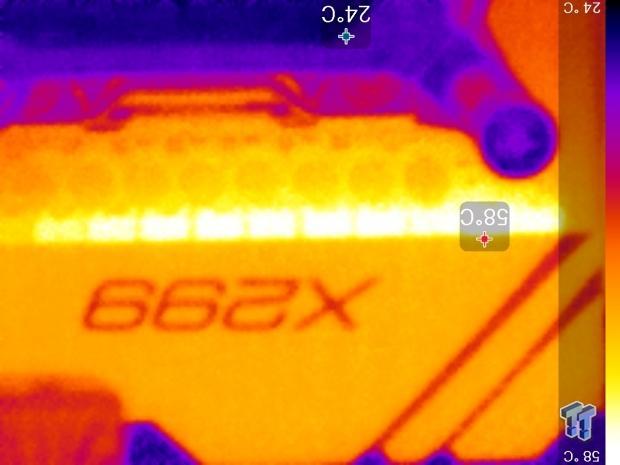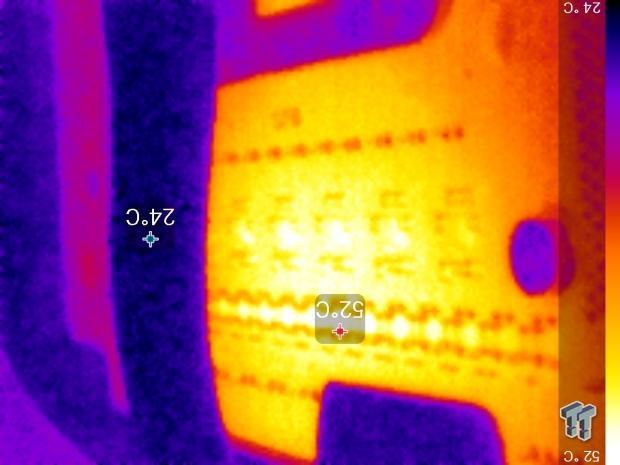 Here with the 4.6GHz overclock, the PWM engages all PWM phases, or at least more. The VRM here is surprising. For starters, it keeps up with IR based solutions; Intersil is like the AMD comeback kid when it comes to high-performance digital VRM designs.
While the board has a single 8-pin connector for CPU power, it doesn't seem to be overstrained, and we should be pulling upwards of 300W, and there isn't throttling at 4.6GHz. The most impressive part is that the rear of the VRM is cooler than the front.
What's Hot, What's Not & Final Thoughts
Here are key points about the ASRock X299 Taichi.
What's Hot
Surprising VRM: ASRock is using what Intersil calls their first generation of fully digital PWMs along with their high-performance smart power stages. After doing some research, it does seem Intersil has hit the nail on the head and provided a very strong VRM solution for Intel's latest VRD13 specification. With the digital controller and smart power stages, the VRM keeps itself from throttling as it precisely knows the temperature and current of each power stage, which the PWM watches and then uses to balance out power regulation tasks. The VRM heat sink is surprisingly adequate as well, the temperature on the rear of the motherboard somehow stayed cooler than the front although it is not a very impressive VRM.
Triple Ultra M.2: The motherboard offers three M.2 slots, which as we all know is the latest on the consumer side of things when it comes to high-speed NAND and Optane based SSDs. The slot form factor is the best you can currently get as it can transform into U.2 if needed. Each slot offers 32Gb/s of bandwidth.
Dual Intel LAN: Need two Intel NICs? The X299 Taichi delivers that and even an Intel Wireless AC adapter. In this day and age when a 1Gbit NIC might not be enough for even home networking, being able to double your connection to the router or switch is a valuable thing.
Affordable: At this point, many of the X299 motherboards we see on the market cost over $300. They are premium motherboards with a price tag to reflect it, but so is the Taichi. The Taichi hits that sweet spot in the price to performance arena.
What's Not
Wireless AC is 1x1: ASRock has been using the same 1x1 Wireless AC controller, which means it doesn't offer up to 866Mbps, but instead 433Mbps, so if you do have a super-fast router and can take advantage, then you might want a faster card.
16 Lane CPUs Don't Get SLI: Because of the way Intel has routed PCI-E lanes, you won't be able to run 2-way SLI with a 16 lane CPU as you are limited to x8/x0/x4/x0 when something is inserted into the third PCI-E slot.
Final Thoughts
ASRock has done a fine job with the X299 Taichi. We could nitpick about only having an 8+4 pin power connector and single designer VRM heat sink, but the Taichi isn't a ROG motherboard. It is at the core of ASRock's design philosophy and has a long legacy of catering to power users, workstation builders, and gamers alike. Quality also is top notch on this Taichi series motherboard.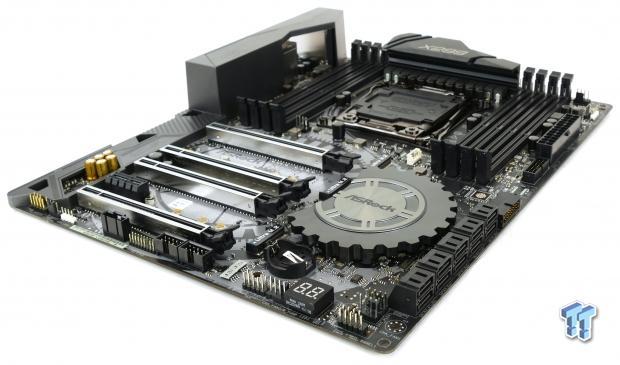 It is a do-everything motherboard, with just enough of everything to make everyone happy. Digital RGB LED support, Thunderbolt 3, best in class VRM components, and Wireless AD all find a home within the X299 Taichi. It's like the Swiss Army knife of ASRock's X299 offerings, and while it does cost a lot, it has the features to back it up.
If you are looking for a feature packed X299 motherboard and have a bit of change to spare, then the X299 Taichi might be the right motherboard for you.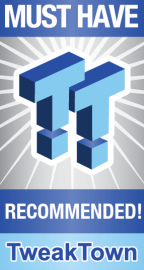 | | |
| --- | --- |
| Performance | 90% |
| Quality | 94% |
| Features | 90% |
| Value | 94% |
The Bottom Line: ASRock's X299 Taichi offers the latest features and high quality at an extremely reasonable price point.
PRICING: You can find products similar to this one for sale below.

United States: Find other tech and computer products like this over at Amazon.com

United Kingdom: Find other tech and computer products like this over at Amazon.co.uk

Australia: Find other tech and computer products like this over at Amazon.com.au

Canada: Find other tech and computer products like this over at Amazon.ca

Deutschland: Finde andere Technik- und Computerprodukte wie dieses auf Amazon.de
We openly invite the companies who provide us with review samples / who are mentioned or discussed to express their opinion. If any company representative wishes to respond, we will publish the response here. Please contact us if you wish to respond.