AMD Ryzen 5 1600X and 1500X CPU Review
AMD today takes the covers off its next two Ryzen processors, the 1600X and 1500X. These cheaper CPUs still manage to pack a fairly good punch.
Published Tue, Apr 11 2017 8:00 AM CDT
|
Updated Tue, Nov 3 2020 6:58 PM CST
Rating:

92%
Manufacturer: AMD
Introduction, Specifications, and Pricing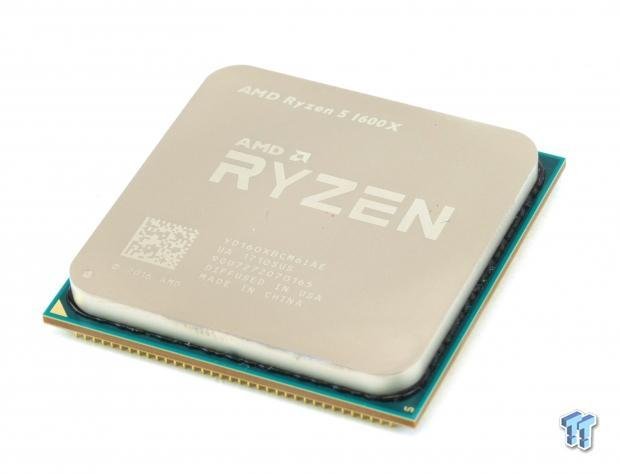 About a month ago, the world was introduced to AMD's comeback kid, the Ryzen R7 series of processors. I reviewed the entire lineup, but many users wanted to know about the performance and pricing of AMD's more affordable Ryzen 5 models. Today, I will look at two Ryzen 5 processors; the six-core twelve-thread Ryzen 5 1600X and the four-core eight-thread Ryzen 5 1500X. Both processors offer XFR, and both come in at much more affordable price points.
If you are interested, I have already covered Ryzen's microarchitecture here and Ryzen's clock for clock performance here. The Ryzen 5 and 7 processors share the same SoC features including x16 PCI-E 3.0 for GPUs, x4 PCI-E 3.0 for M.2 devices, and other connectivity features integrated into the processor.
For this review, I will use AMD's B350 chipset instead of the X370, not only because it was included in the review guide, but also because AMD feels the chipset matches the affordability of the processor. The B350 chipset takes aim at Intel's B250 chipset, and while both have their advantage and disadvantages, AMD's offers overclocking support and integrated USB 3.1 instead of extra PCI-E 3.0.
Specifications

The 1500X has a 65W TDP and uses two CCX in a 2+2 configuration while the 1600X uses a 3+3 configuration. Both CPUs get 16MB of L3 cache, which is shared by all cores. The 1500X has a 3.5GHz base, 3.6GHz all core boost, 3.7GHz 2-core boost, and a 3.9GHz XFR single core boost. The 1600X has a 3.6GHz base, 3.7GHz all core boost, 4.0GHz 2-core boost, and a 4.1GHz XFR. With fewer cores, AMD was able to get more frequency out of the CPU, and we will see how this impacts overall performance compared to the 1700, where frequency toppled core count. The 1500X has a 65W TDP while the 1600X has a 95W TDP.
Pricing
The Ryzen 5 1500X will cost $189, and the 1600X will cost $249, the Ryzen 7 1700 costs $329, so the cost savings are significant.
The CPUs and Packaging
CPUs and Coolers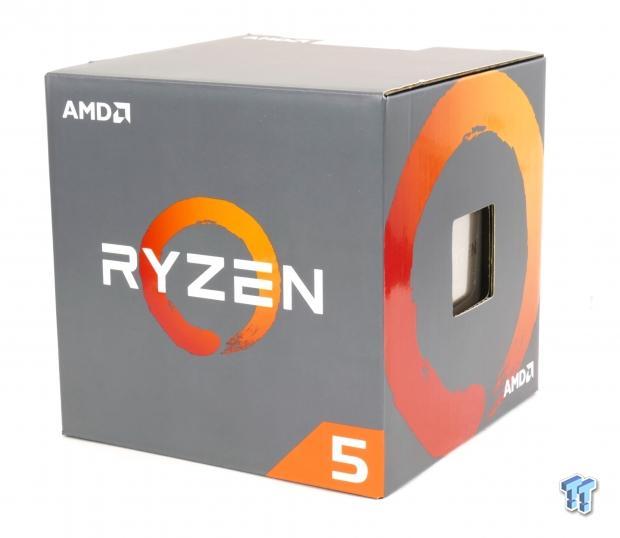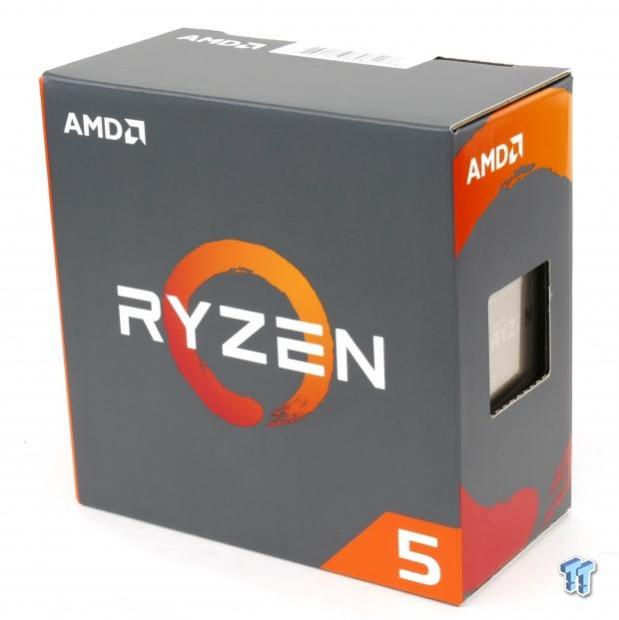 The Ryzen 5 1500X comes with a boxed cooler, while the 1600X comes packaged alone just like the Ryzen 7 CPUs.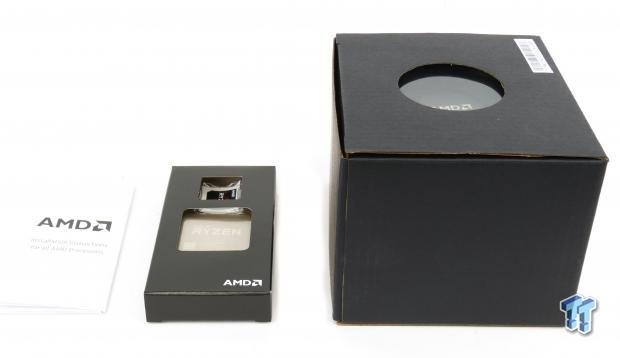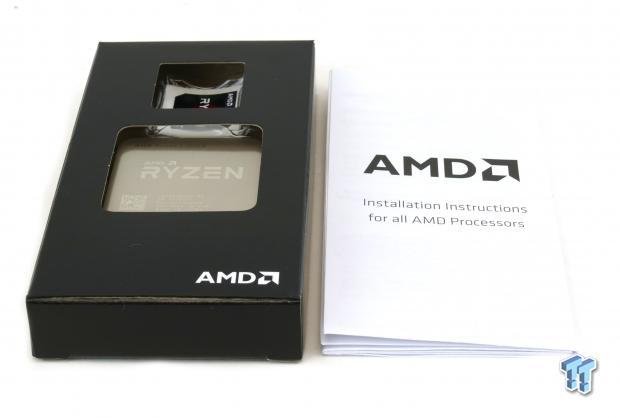 Packaging is very similar to what we saw with the Ryzen 7 CPUs. Each CPU comes with a case badge and installation/warranty manual. The Wraith Spire cooler that comes with the Ryzen 5 1500X is boxed separately.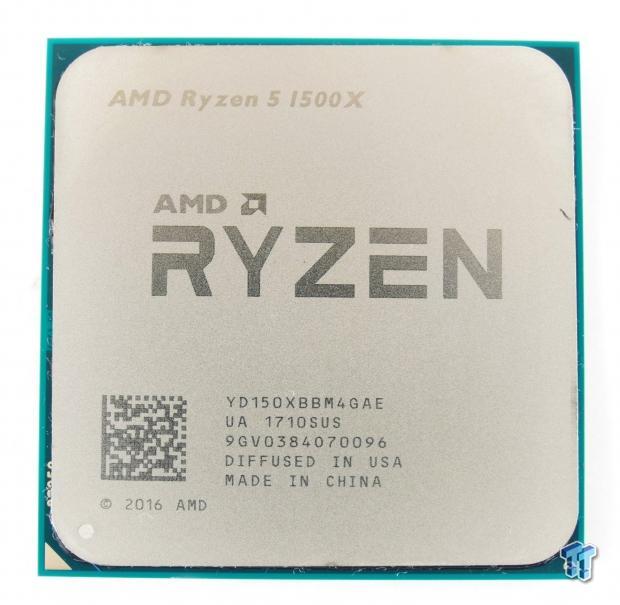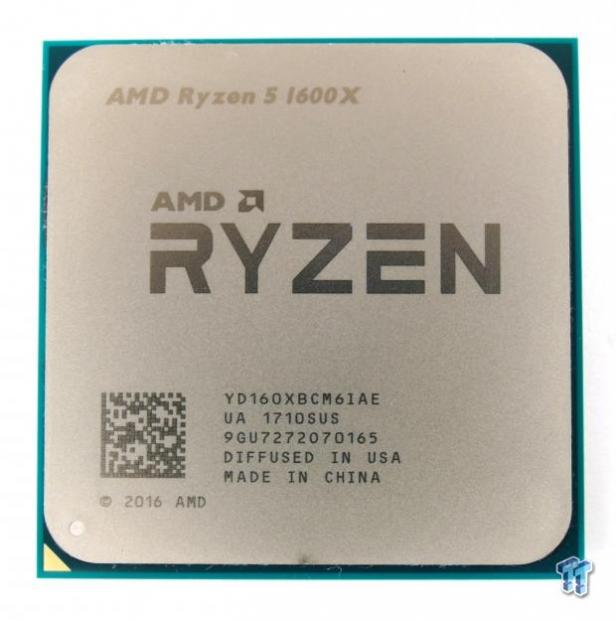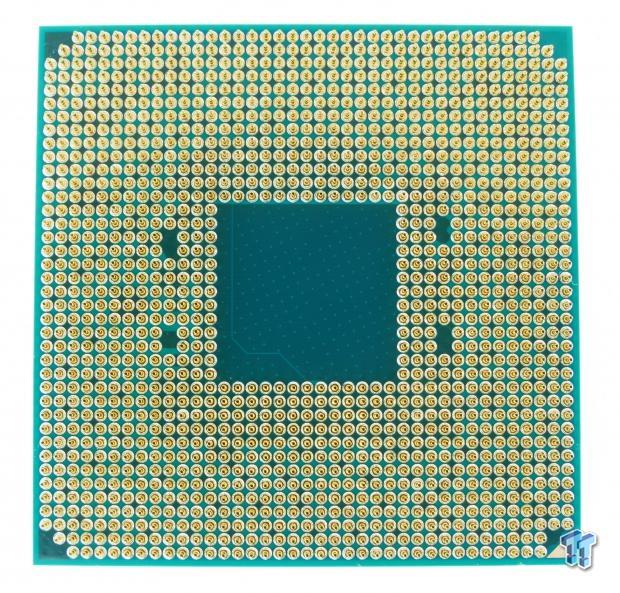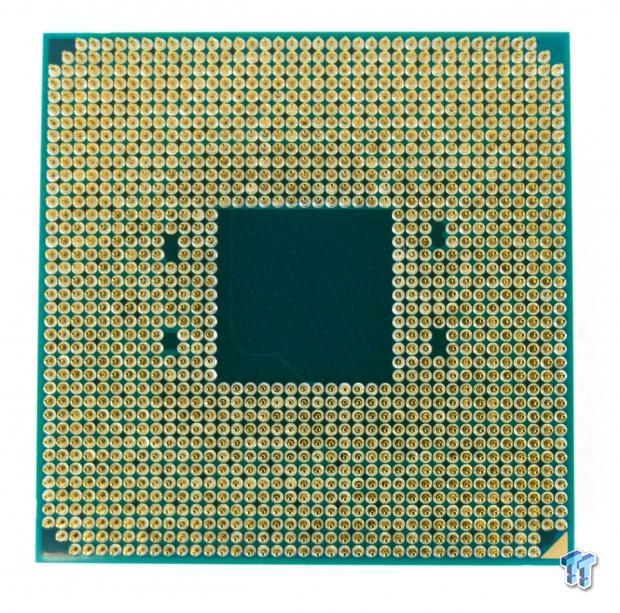 The tops of both CPUs are identical except for CPU identification markings. The bottoms of both CPUs are also identical.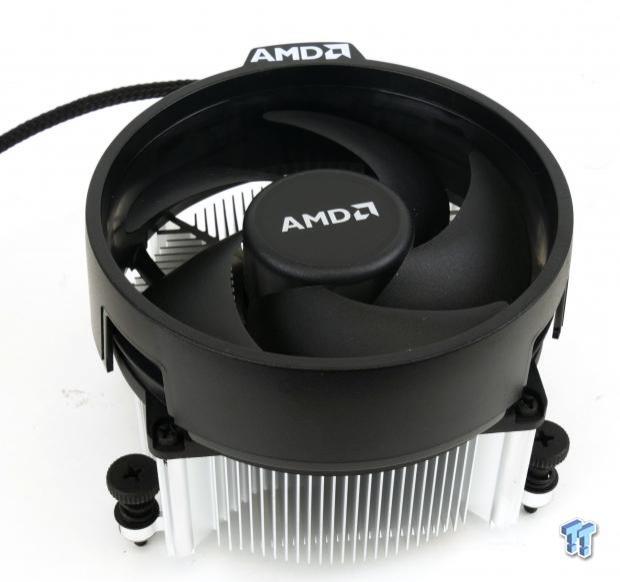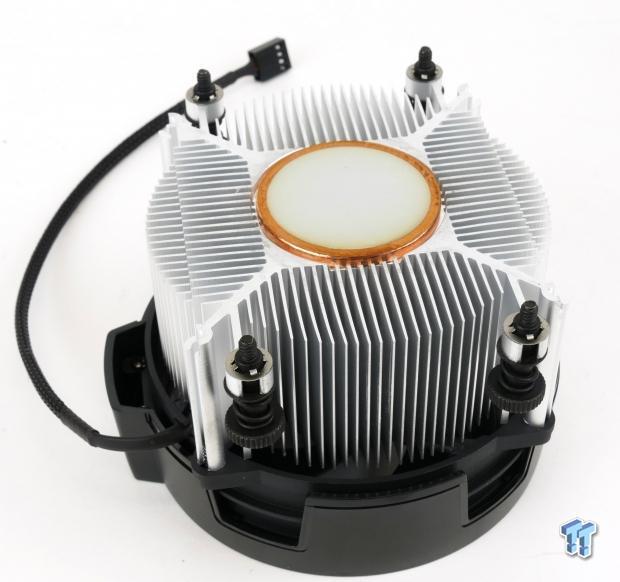 The Wraith Spire cooler we saw in previews had an RGB LED ring, but this cooler does not. It has a copper core with aluminum fins and a decent sized fan at the top. It seems to be more in line with Intel's older boxed coolers; it seems beefy enough to allow overclocking on the Ryzen 5 1500X.
Wraith Max and Test Setup
Wraith Max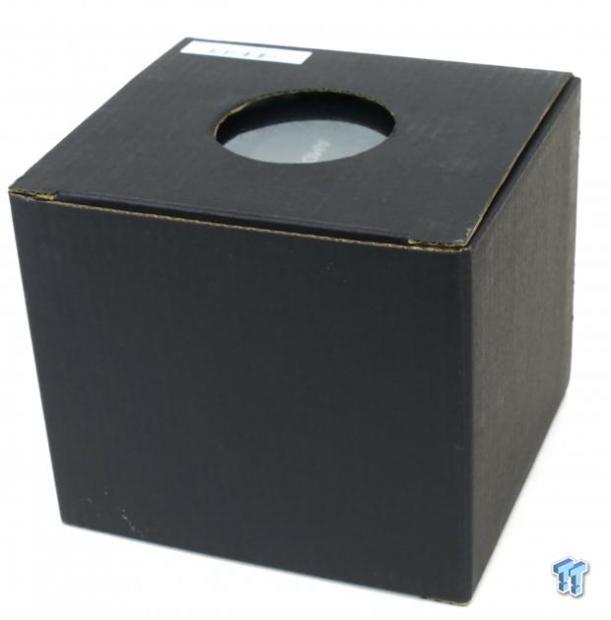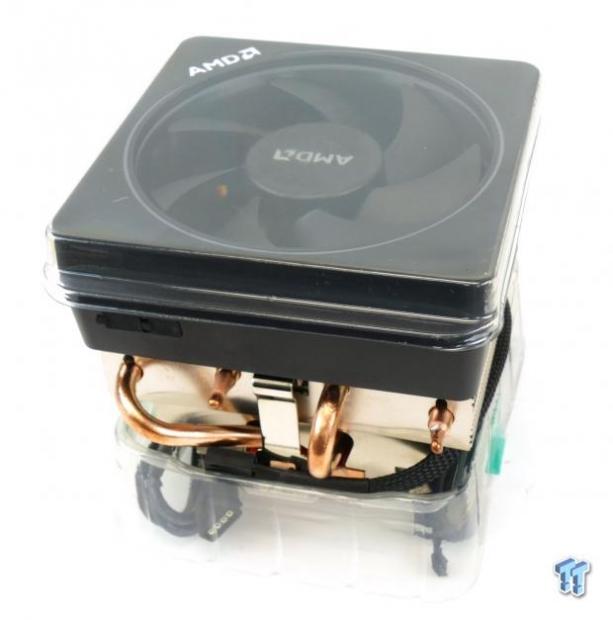 AMD included the Wraith Max cooler in our review package, it came boxed separately and utilizes copper heat pipes.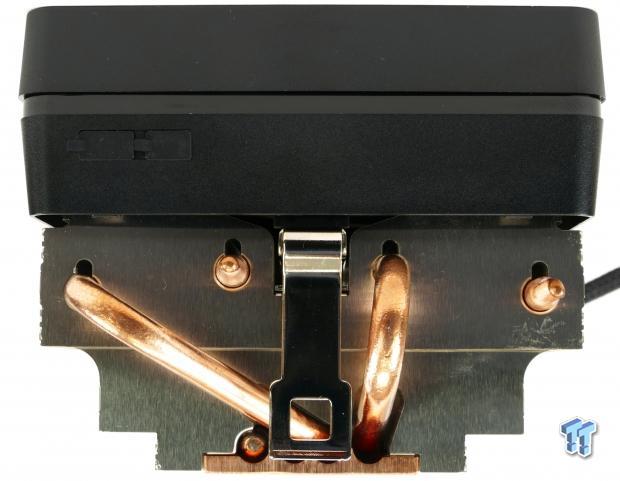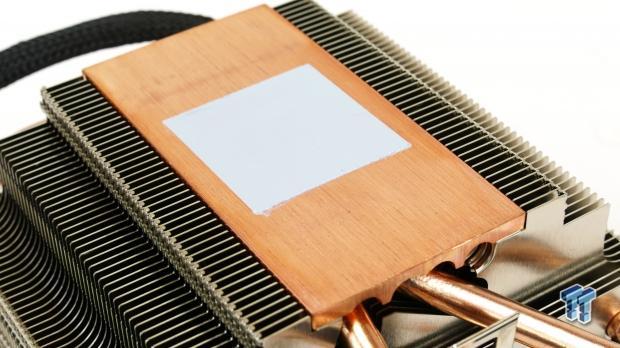 The heat sink utilizes four copper heat pipes that go through the aluminum heat sink fins. The large fan and shroud have integrated RGB LEDs. The bottom of the copper base has some pre-applied thermal paste.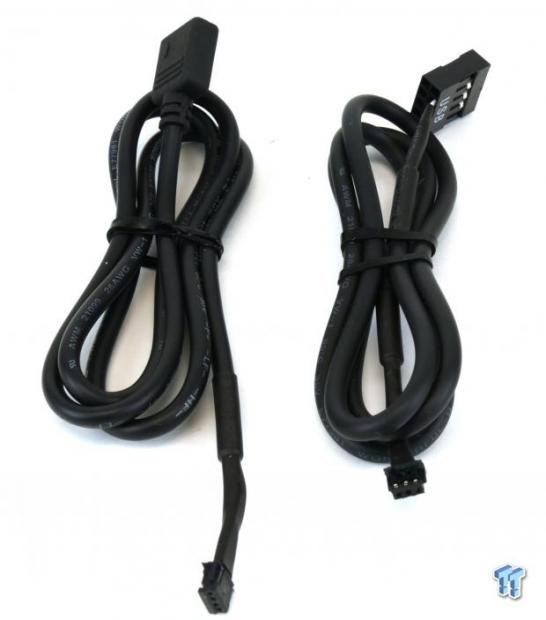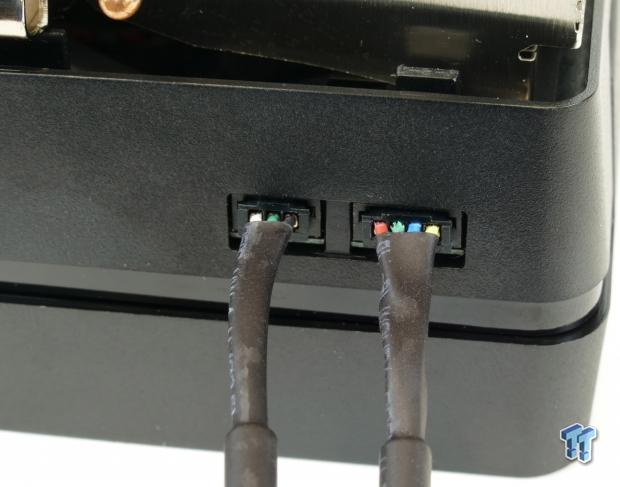 The fan comes with an RGB LED header cable and a USB header cable. Presumably to control the RGB LEDs if your motherboard doesn't have an RGB LED header. I was able to control the RGB LEDs through the header on our ASRock B350 motherboard.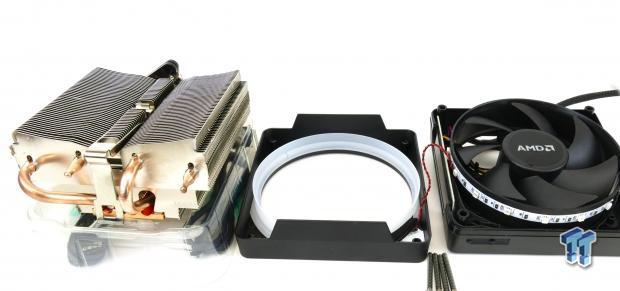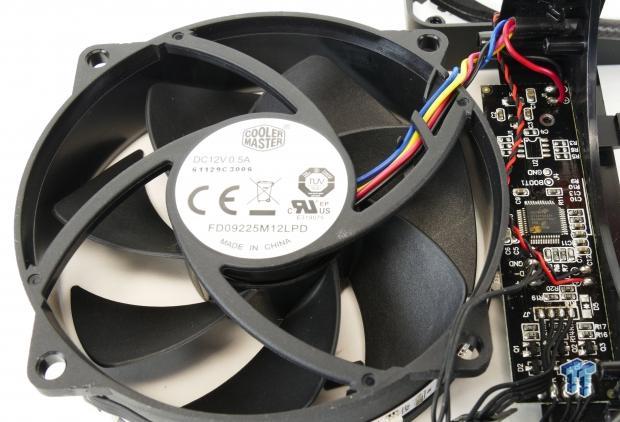 Taking apart the cooler isn't easy, and I don't recommend you try. Opening up the fan revealed a Holtek HT32F52341 microcontroller. It only controls the RGB LEDs either through RGB LED inputs from the motherboard or through a USB interface. The board is powered through the fan's 12v rail, so if you don't plug in either the USB or RGB LED cables, the ring still lights up and goes through a rainbow of colors. The fan is rated at 0.5A and is made by Cooler Master.
Test Setup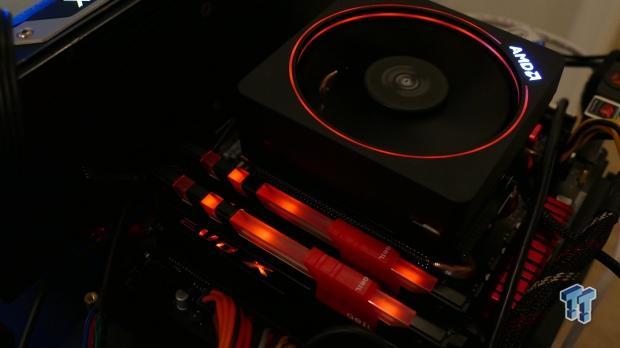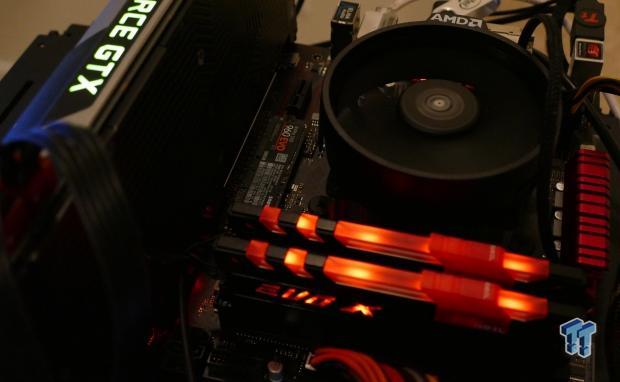 It was very easy to sync the RGB LEDs on the motherboard, in the memory, and in the Wraith Max cooler, and the resulting system looked awesome.
AMD provided us with an ASRock AB350-Gaming K4 motherboard, a Wraith Max Cooler (used with the 1600X), GEIL EVO RGB LED memory rated at 3200MHz, and a 512GB Samsung 960 EVO SSD. The B350 chipset allows for overclocking of the CPU and memory, but at a much lower cost compared to X370.
The main difference between the X370 and B350 chipsets are cost, four fewer USB 3.0 ports, two fewer SATA6Gb/s ports, two fewer PCI-E 2.0 ports, and no dual GPU slot capability. If that is fine with you, then you should definitely get a B350 chipset motherboard rather than an X370 chipset motherboard.
Out of the Box Performance: CINEBENCH, wPrime, and AIDA64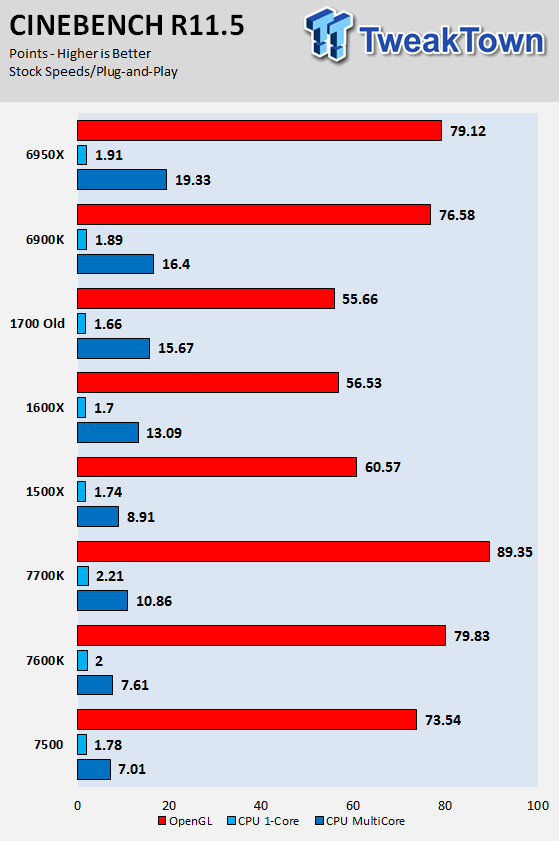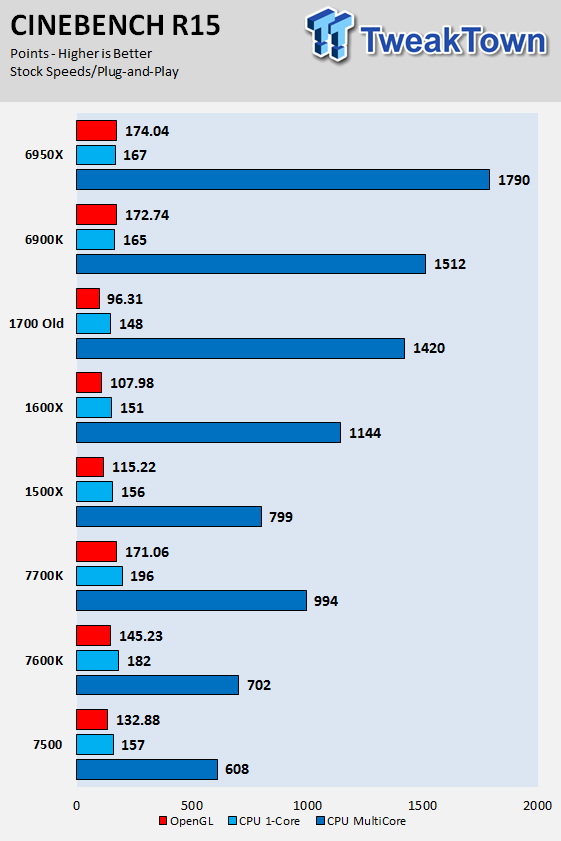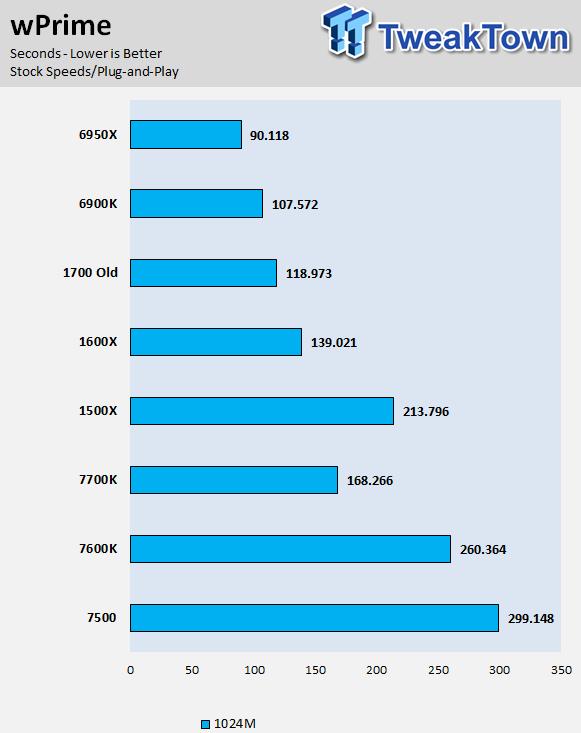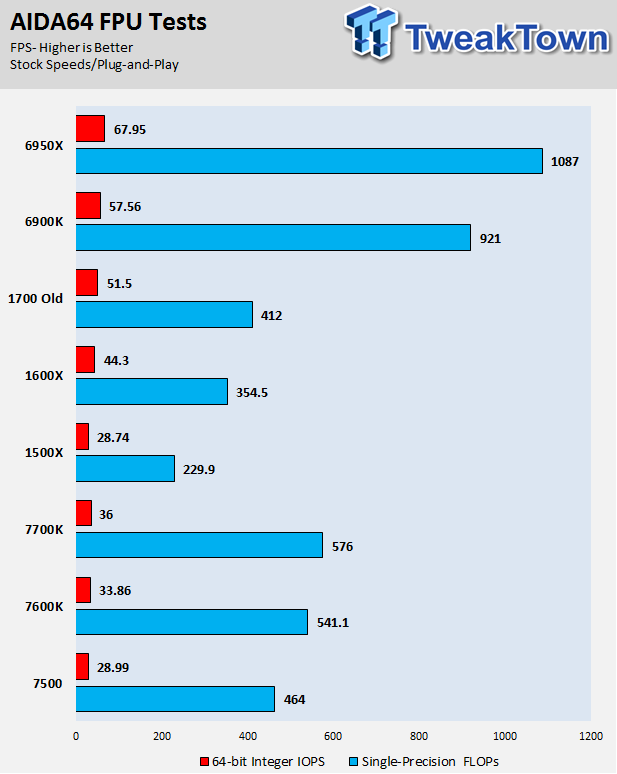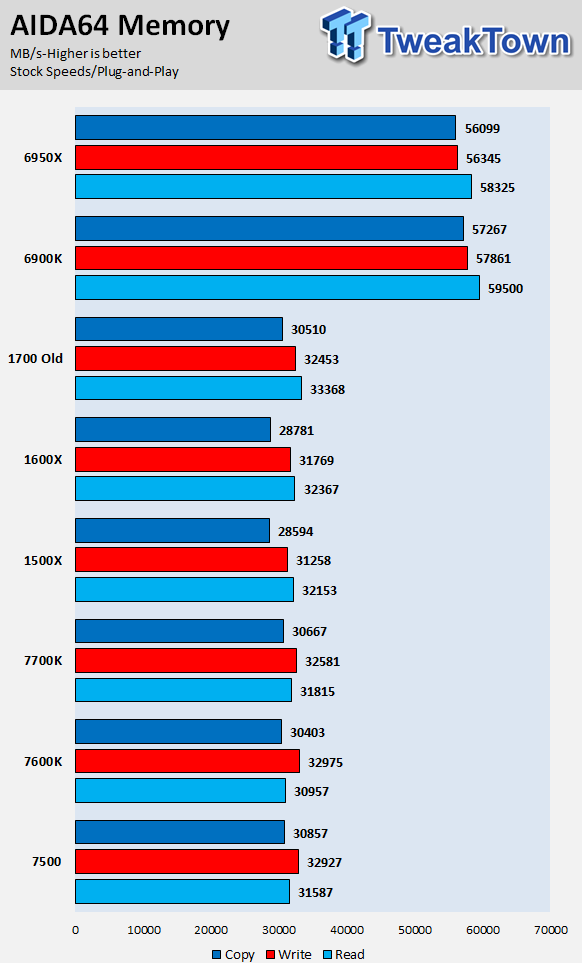 When I first saw that the 1600X beat out the 1700 in many benchmarks, I was a bit surprised and chalked it up to driver/BIOS/software enhancements. I went back and re-tested the CPU (1700), and produced the same results I already had. Then I realized that the 1600X's frequency boosts are significant compared to the 1700.
So, in CINEBENCH, we see that in multi-core the 1600X gets beat out by the 1700, but in OpenGL and single core, the 1600X wins. Compared to its similarly priced Intel competitors we see the opposite, the frequency and IPC advantage of the Intel processors are present, while the multi-core disadvantages put the 1600X ahead.
The 1500X's multi-core advantages help it beat out the 7600K and 7500 Intel CPUs in multi-core benchmarks such as wPrime and CINEBENCH multi-core.
In AIDA64 floating point Intel does very well, but in integer tests, the results are flip-flopped.
Out of the Box Performance: Handbrake Video Transcoding, ScienceMark, and SuperPI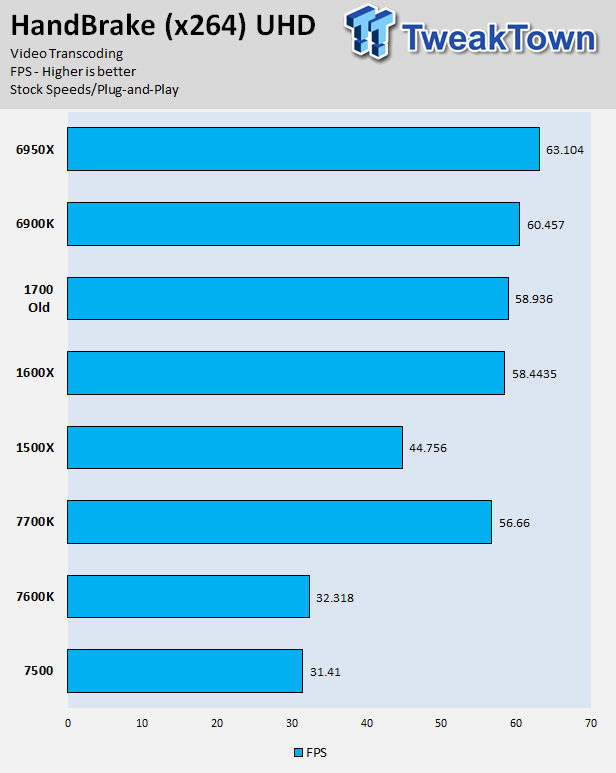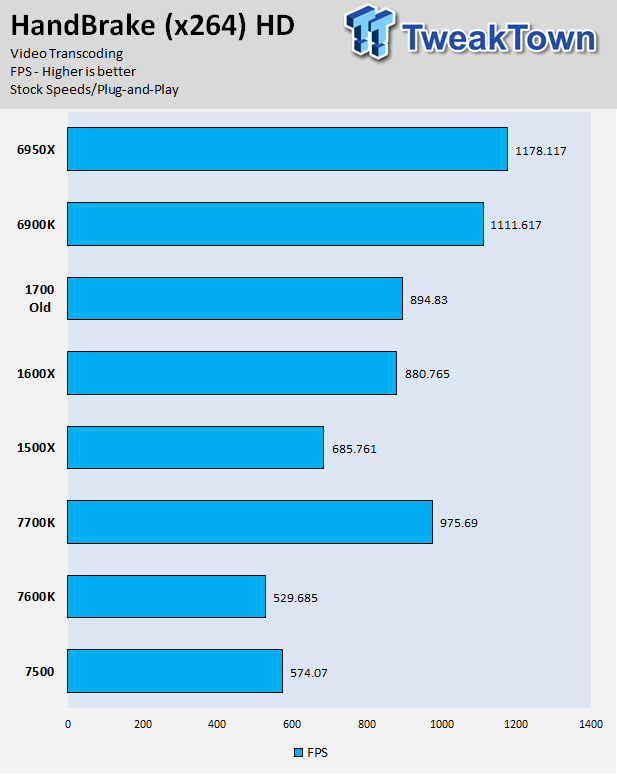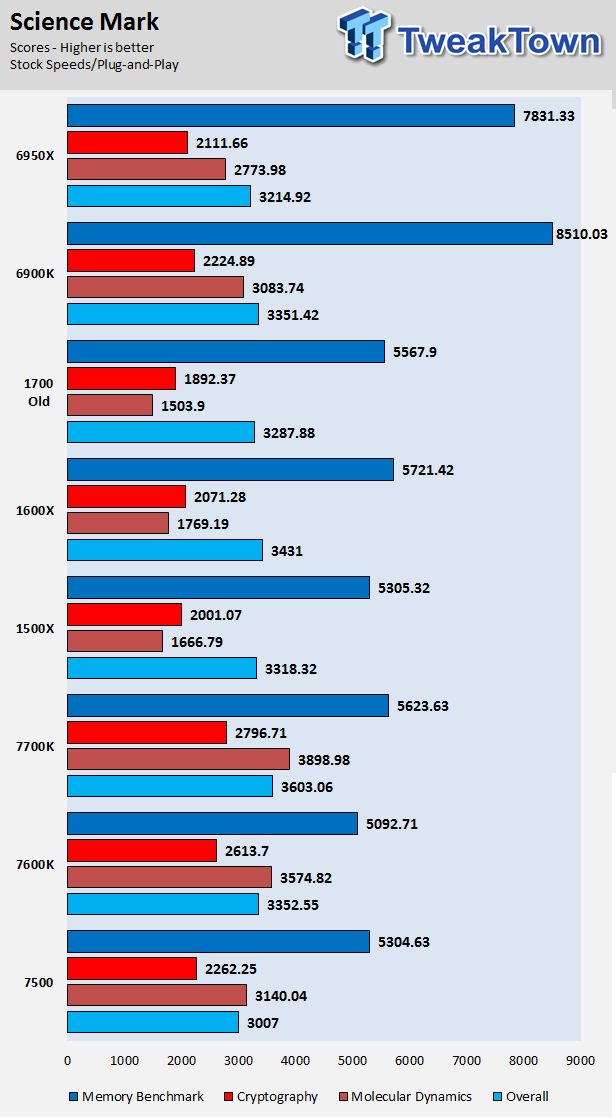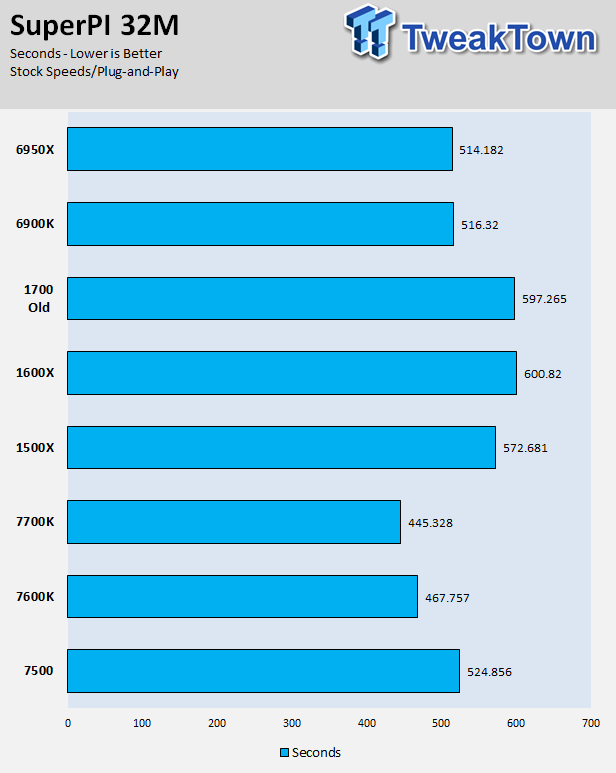 The HandBrake results show the 7700K does fairly well, but it's more pricey than almost all the processors listed. Ryzen does better in UHD compared to HD, and the other R7 CPUs do beat out the 7700K.
ScienceMark shows that at similar price points (1600X vs. 7600K and 1500X vs. 7500), Ryzen does very well is extremely competitive.
SuperPI shows how strong Intel's Kaby Lake IPC is.
Out of the Box Synthetic Gaming Performance: UNIGINE and 3DMark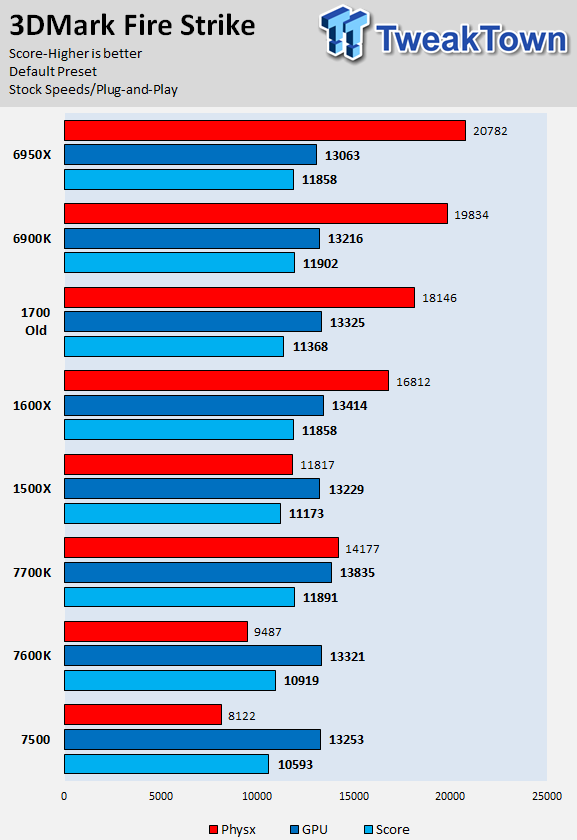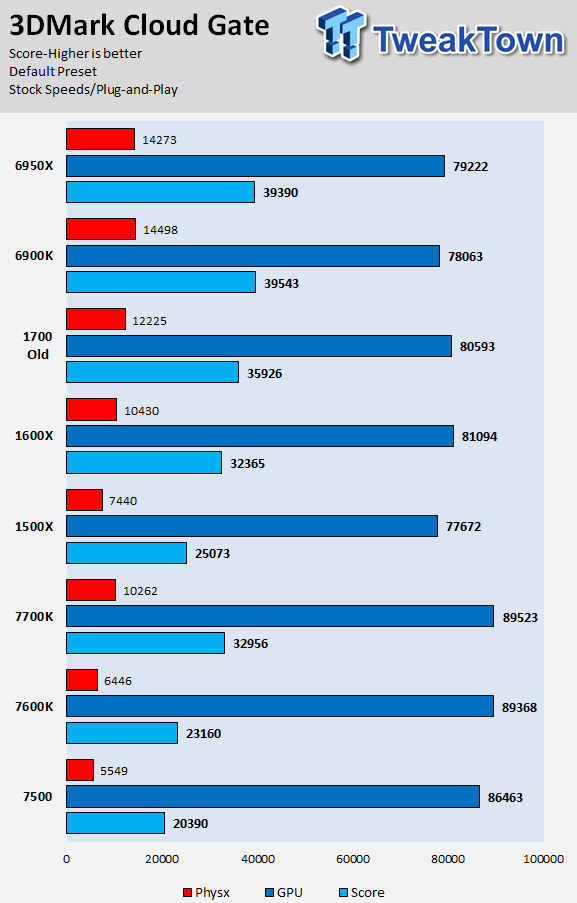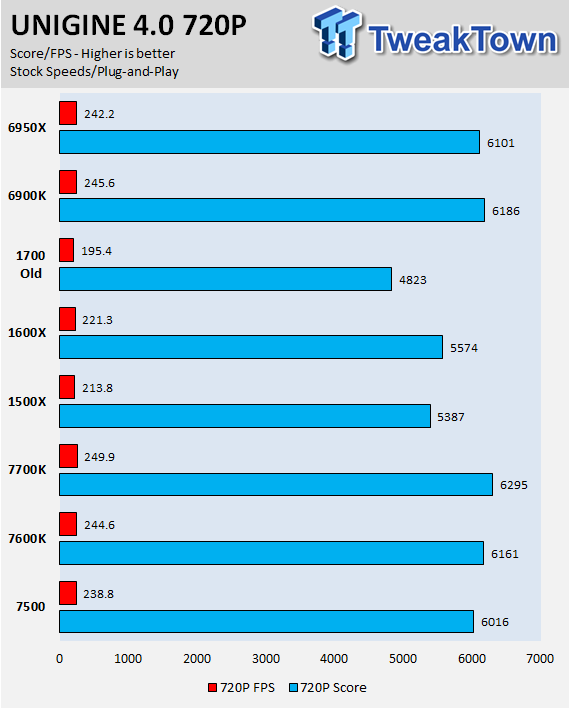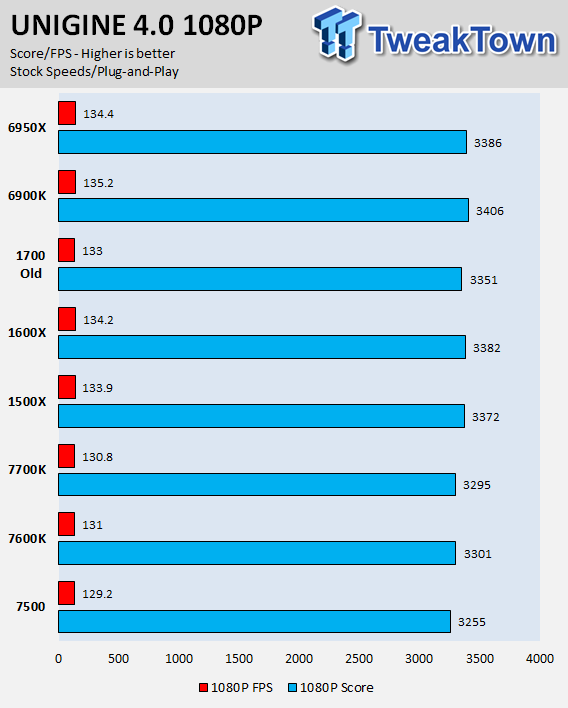 The extra threads put Ryzen ahead at similar price points in 3DMark benchmarks. At 720p, Intel's frequency gains help a lot, but at 1080p Ryzen's extra cores help with the GPU slightly bottlenecked.
Out of the Box Gaming Performance: Resident Evil, Tomb Raider, GTA:V, Ashes of the Singularity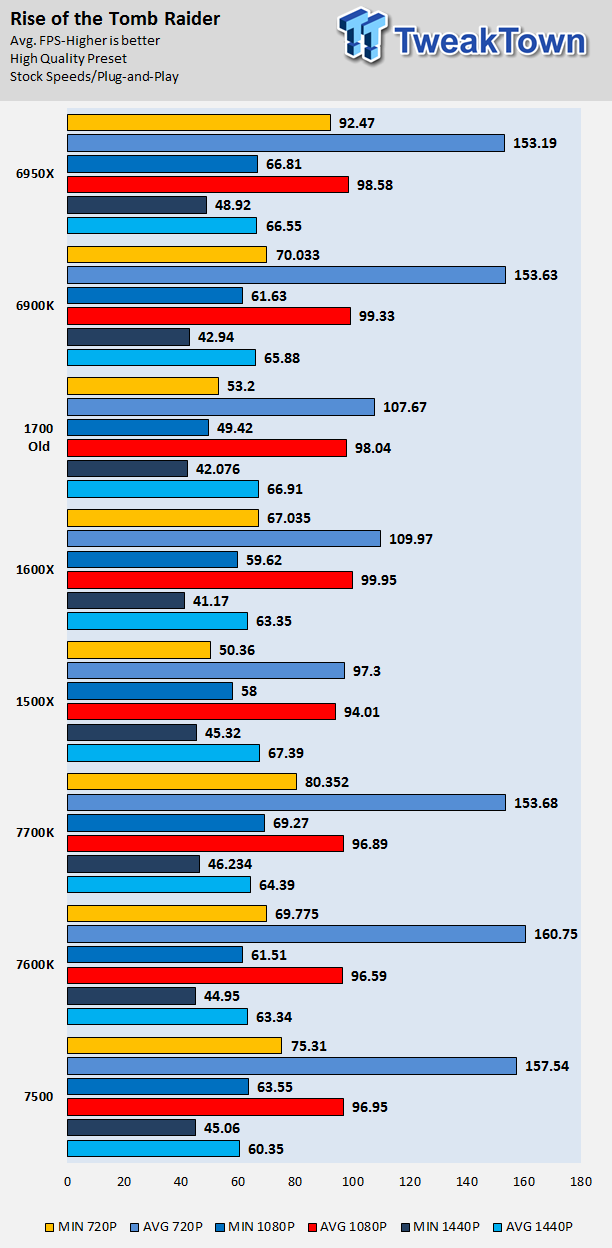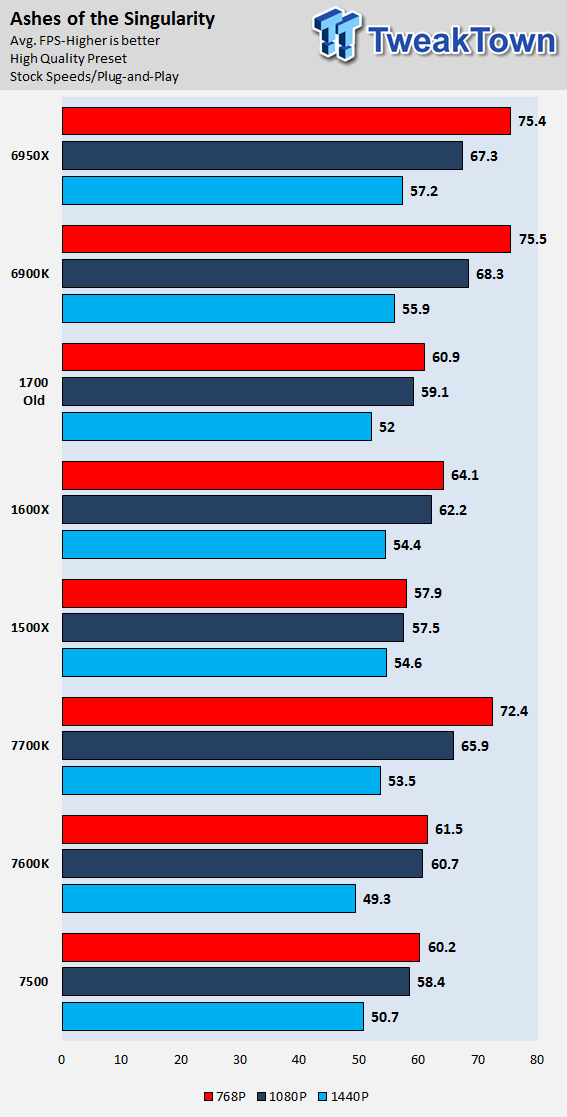 At lower resolutions, Intel's IPC and game optimization really help the Intel processors. At higher resolutions, there isn't much difference between Ryzen processors and Intel processors because of the GPU bottleneck. If you game above 1440p, you won't notice much of a difference between Intel's offerings and AMD's because of the general state of the PC hardware ecosystem.
In Ashes of the Singularity: Escalation benchmark, we can see that the optimizations put the 1600X ahead of the older 1700 results (I did retest the 1700 and found that it matches the 1600X now).
Overclocking and Power Consumption
CPU Overclocking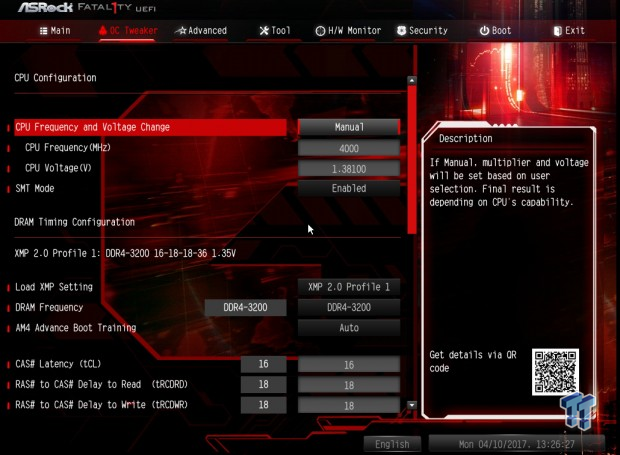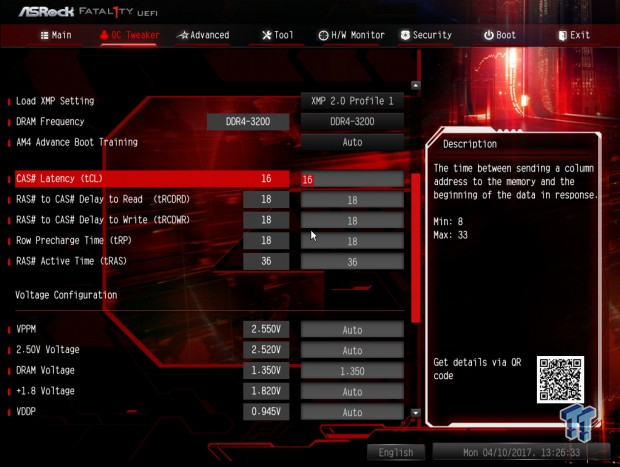 Overclocking Ryzen isn't difficult, but the maximum frequency of most processors seems to be around 4.0-4.1GHz for validations and 3.9-4.0GHz for stable runs. All I had to do to overclock to set OC mode to manual and input the frequency in 25MHz increments, and either enable XMP or manually change the frequency, timings, and voltage. You can also enable XMP on this ASRock motherboard and then decrease the frequency.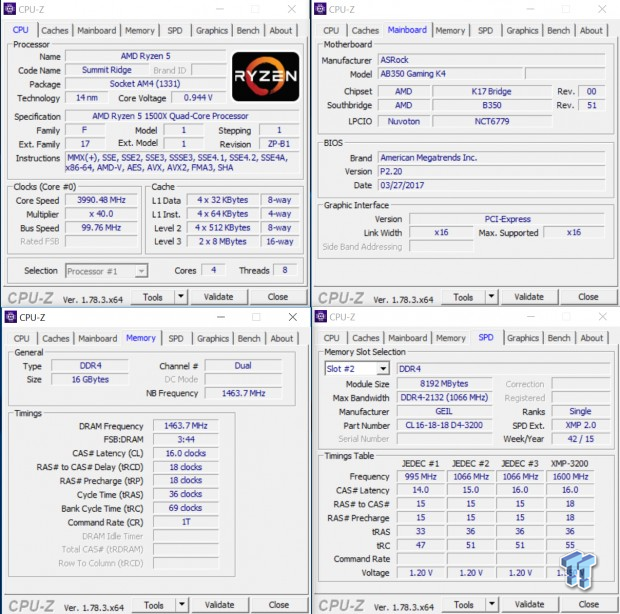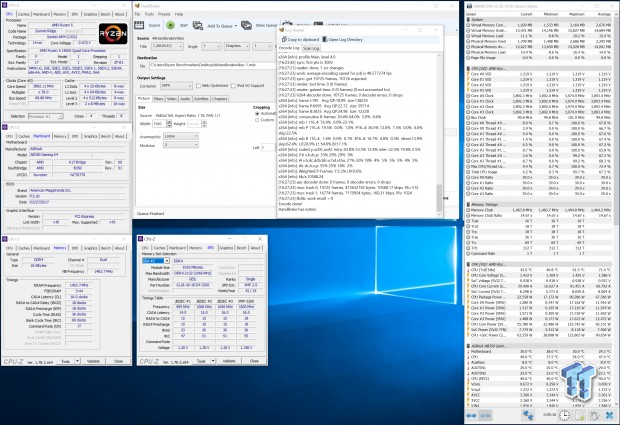 For the Ryzen 5 1500X, I was able to boot into Windows at 4GHz and 1.35v, but even with 1.45v, I couldn't get it stable with the stock Wraith Spire cooler. The maximum stable overclocks I achieved are
3.9GHz on the CPU core with 1.38v, and 2933MHz on the memory (set XMP and lower multiplier).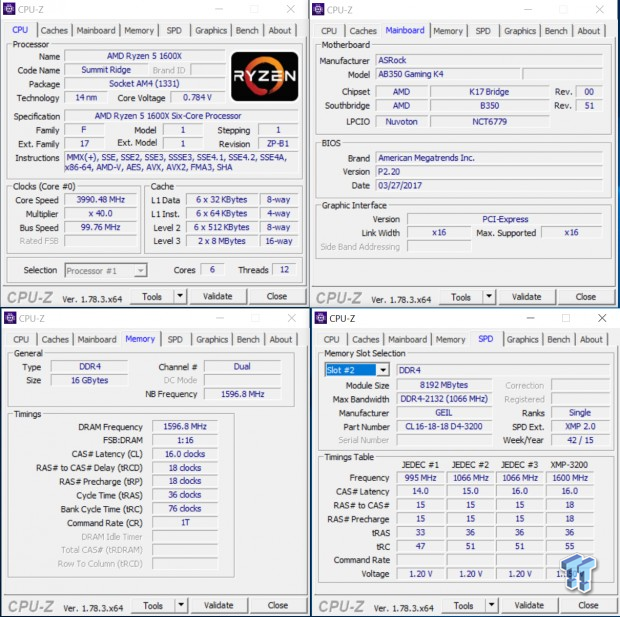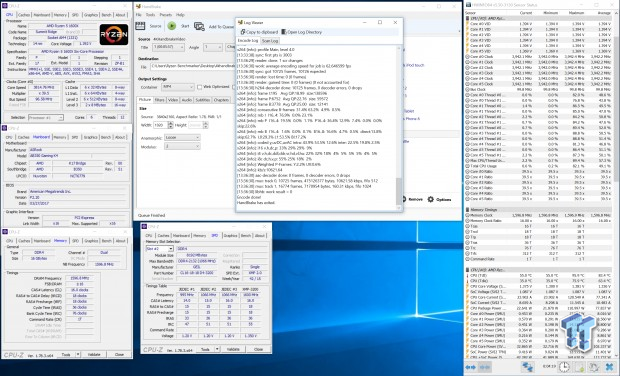 The Ryzen 5 1600X could also boot into Windows at 4GHz, but I had to clock it down 50MHz to maintain stability at 1.35v. I was very surprised with the Ryzen 5 1600X's memory overclocking, I was able to hit 3200MHz with ease, and all I had to do was set XMP. It's the first time I was able to hit 3200MHz on the memory with a Ryzen CPU.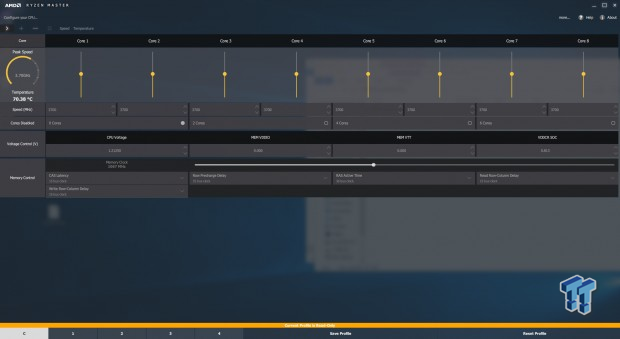 Ryzen Master is AMD's CPU overclocking tool similar to their WattMan CPU overclocking tool, for overclocking the CPU in Windows. Its GUI is beautiful, and options are decent. It does offer the ability to disable cores to overclock higher, which could be very beneficial in games. AMD recently updated the platform so that HEDT doesn't have to be enabled for the program to launch.
Power Consumption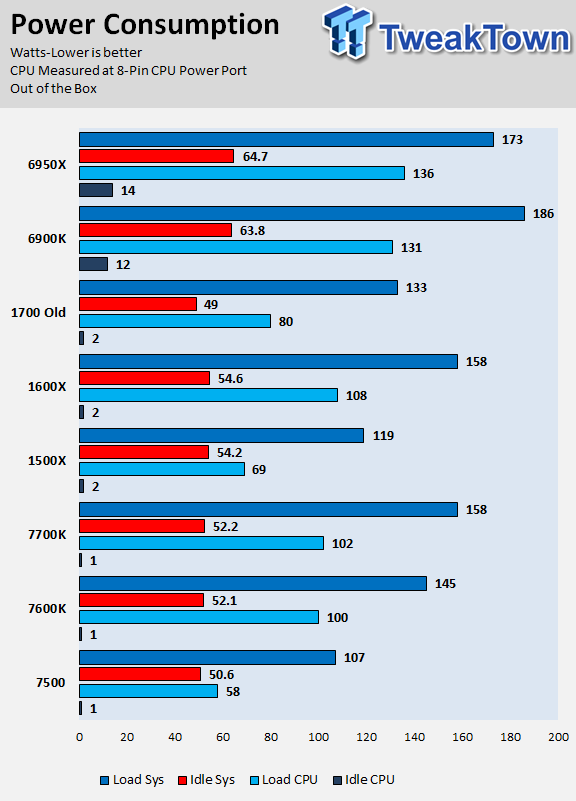 The Ryzen 5 1500X has a TDP of 65W (similar to the 1700) while the 1600X has a TDP of 95W. The system has also changed between the 1700 old result and the newer 1500X and 1600X from a high-performance X370 chipset motherboard to a B350 chipset motherboard.
VRM efficiency does play a role in overall CPU power consumption numbers, a few watts here and there could be gained or lost.
What's Hot, What's Not & Final Thoughts
This is where you can fast forward to the final section of the review, and get a quick recap and points on the Ryzen 5 1500X and 1600X.
What's Hot
Thread to Price Ratio: The Ryzen 5 1600X offers 6-cores and 12-threads for $10 more than the i5-7600K (4C/4T). The Ryzen 5 1500X offers 4-cores and 8-threads for roughly $10-15 less than the Intel i5-7500 (4C/4T). If you are really into heavily multi-threaded applications, then buying Ryzen makes total sense.
Excellent SMT: The stellar multi-threaded improvements and capabilities we saw with the Ryzen 7 CPUs are still in full effect with the Ryzen 5 CPUs. When it comes down to more threads, Ryzen does very well.
Steady Improvements: Until now, I wasn't able to hit 3200MHz on the memory side, but with the Ryzen 5 1600X, I was easily able to do it. I went back and re-tested, and I was able to do it with the Ryzen 7 1700 too, with a change in the motherboard (albeit a lower-end chipset) and new microcode, memory overclocking has improved. Software optimization has also increase Ryzen's performance in some 3D applications, such as Ashes of the Singularity: Escalation.
Lower Cost Motherboard Options: AMD's B350 chipset is meant to be a direct competitor to Intel's B250 chipset. Since some of the more important IO is in the CPU, such as the M.2 slot's PCI-E lanes and four USB 3.0 ports, you don't lose too much by buying a B350 chipset motherboard over a more expensive X370 motherboard.
Overclocking Up and Down: One major advantage to buying the 1500X and a B350 motherboard over their Intel priced equivalents is the ability to overclock. Until now, overclocking had pretty much been isolated to expensive or very cheap CPUs, and we are seeing overclocking in the $150 to $300 price bracket.
What's Not
Still Need Gaming Optimizations: Game optimization as we saw with Ashes of the Singularity: Escalation won't happen overnight, but it's apparent that AMD is working with game developers to improve Ryzen's performance. Right now, the major gaming disparities are at lower resolutions such as 720p and 1080p, but we can't disregard those since 1080p is still quite relevant and lower resolutions remove the GPU as a bottleneck.
Final Thoughts
The Ryzen 5 CPUs are pretty much what we expected; slight enhancements in software/microcode with similar multi-core performance that scales with core count and frequency compared to Ryzen 7. At similar price points to Intel's offerings, the multi-threaded advantages of the Ryzen microarchitecture provide major benefits. Even in some of the games, the 1600X and 1500X went head to head with the 7600K and 7500, and they are in very similar price brackets.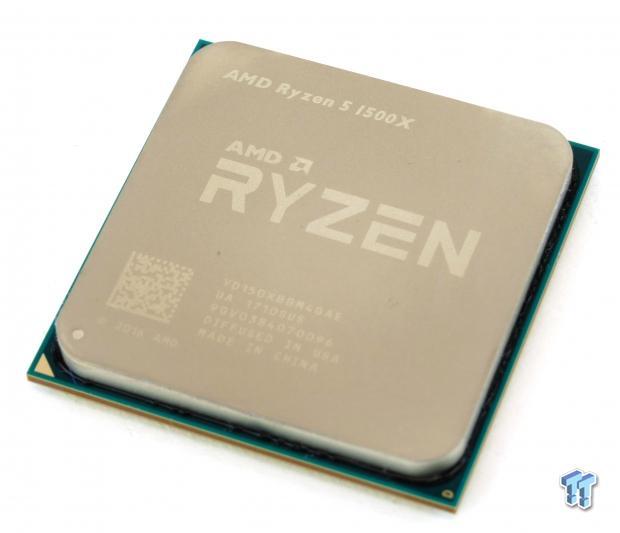 All that being said, you aren't going to see a major difference between a similarly priced Ryzen CPU and Intel CPU in games if you have a nice GPU setup, but if your setup isn't that strong and the CPU's IPC and frequency comes into play, the difference might be more pronounced.
What I really liked about the Ryzen 5 1600X is that it bring 6-cores and 12-threads into the reach of the average consumer, and hopefully, this will push developers towards taking advantage of more cores since IPC improvements are becoming harder to come by.
The Ryzen 5's 1500X's affordability is very impressive. AMD realized where its products are strong and have positioned them very well in regards to pricing.
Overall, the Ryzen 5 1500X and 1600X are very welcomed additions to the Ryzen lineup, bringing the new microarchitecture into a much more affordable price bracket.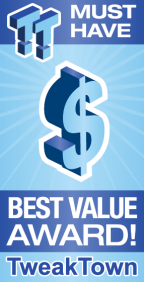 | | |
| --- | --- |
| Performance | 89% |
| Quality | 90% |
| Features | 94% |
| Value | 95% |
The Bottom Line: AMD's Ryzen 5 1500X's extreme affordability makes it an excellent choice for a mainstream rig requiring more cores. Bringing 12 threads into the reach of your average power user, the Ryzen 5 1600X is loaded CPU with a lot of promise.
PRICING: You can find products similar to this one for sale below.

United States: Find other tech and computer products like this over at Amazon.com

United Kingdom: Find other tech and computer products like this over at Amazon.co.uk

Australia: Find other tech and computer products like this over at Amazon.com.au

Canada: Find other tech and computer products like this over at Amazon.ca

Deutschland: Finde andere Technik- und Computerprodukte wie dieses auf Amazon.de