TweakTown's Rating: 88%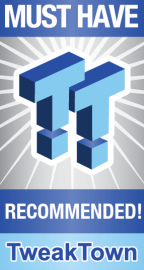 The Bottom Line
At the time of writing, the Ryzen 9 "Zen 4" 7950X3D is certainly the best gaming CPU in AMD's Zen 4 AM5 portfolio, but we don't really know what the 7800X3D is going to look like, so we would hold off purchasing for now.
Pros
+

AM5 socket

+

Efficiency (performance per watt)

+

AMD's best CPU for gaming
Cons
-

Expensive for the performance

-

Low application performance
Should you buy it?
Avoid
Consider
Shortlist
Buy
Introduction and Pricing
UPDATE - AMD released a UFEI update to motherboard manufacturers part way through our testing. We re-tested the Ryzen 9 7950X3D with 1.0.0.5 and noticed a performance improvement in Cinebench R23, CrossMark, WebXPRT4, UL Procyon Photo, and 3DMark CPU Profile. Gaming numbers didn't change. Some of our charts have been updated to show the new performance numbers (highlighted in red).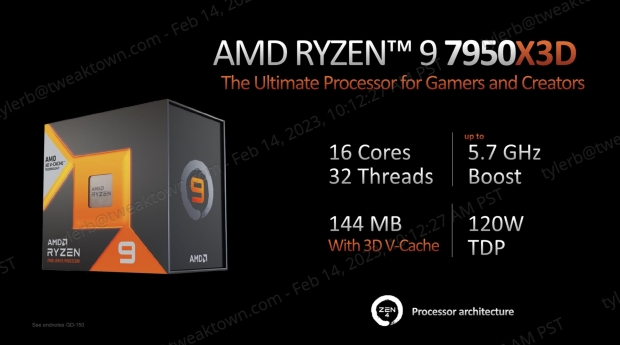 Most of us have been patiently waiting to build our next gaming machine until we discovered how good AMD Zen 4 3D would be. Luckily, today is the day, and we were fortunate enough to snag a Ryzen 9 7950X3D sample from AMD for testing. Additionally, we just had the 13900KS in the lab for testing and review, so we are all set for the battle to commence!
Like its standard counterpart, the 7950X3D offers a 16-core/32-thread SKU built on the Zen 4 architecture; this gives us support for the AM5 socket, which means DDR5 support only. Clocks for this SKU come at 4.2GHz for the base clock, with a boost available up to 5.7GHz. This is a 3D V-Cache CPU with 144MB of cache total, CCX 0 holding the majority as it is 3D V-Cache enabled with 96MB. CCX 1 has 48MB of cache, and the TDP sits at 120W.
Specifications and Pricing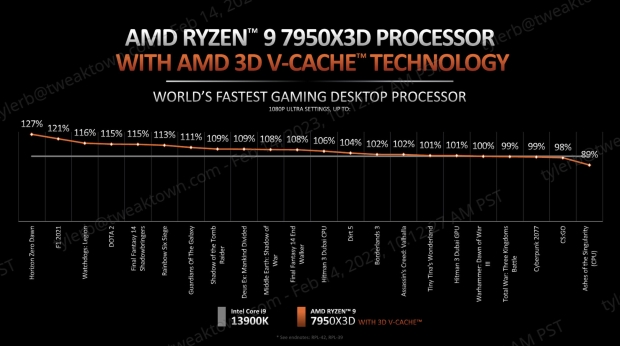 We have above one of AMD's slides showing expected performance gains over Intel's Core i9-13900K. As you can see, specific workloads can produce up to a 27% boost in games like Horizon Zero Dawn. At the same time, we also note that most titles tested get less than a 10% boost over 13900K, and others, like Ashes, lose performance. At any rate, we look forward to seeing what we get in our testing.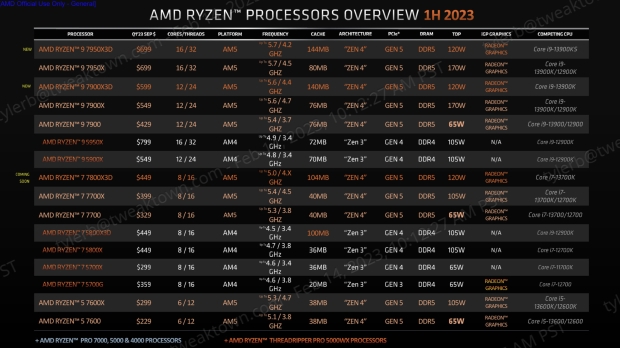 Above, we have the expected MSRP for each of the two SKUs launching today - the 7800X3D SKU has yet to have an official launch date. At the top, the 7950X3D is coming to market at a $699 MSRP, competing with the 13900KS, while the 7900X3D is $100 cheaper, with a $599 MSRP.
It's worth noting before we get into test results that there are important performance improvements to be had with newer BIOS versions that have AGESA 1.0.0.5 that AMD released recently.
Ryzen 9 7950X3D and Test System
For those wanting information on the Zen 4 Architecture, you can read that here.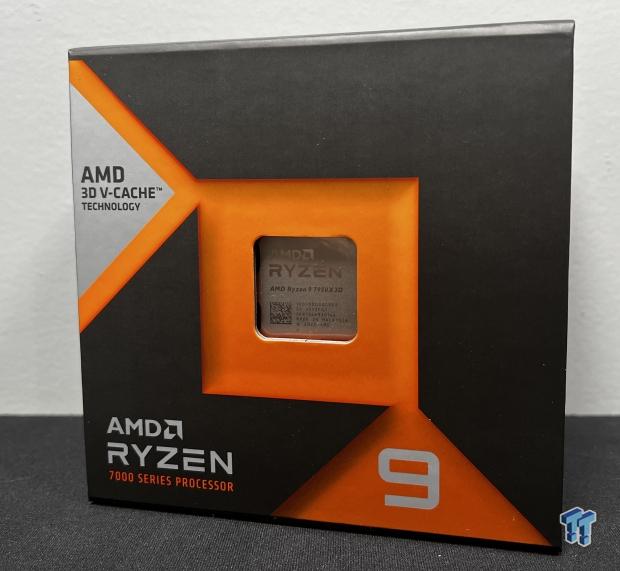 Our sample of the 7950X3D arrived in retail packaging, which carries some design elements from the original Zen 4.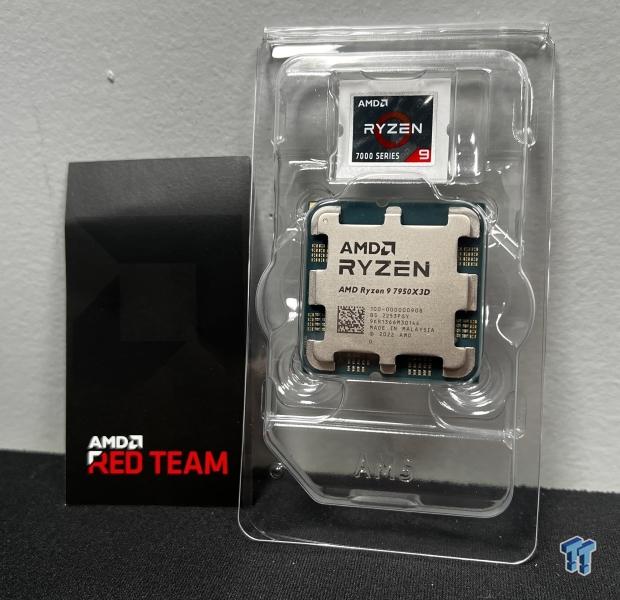 The CPU arrives in a clamshell container to secure the CPU and has a chassis sticker.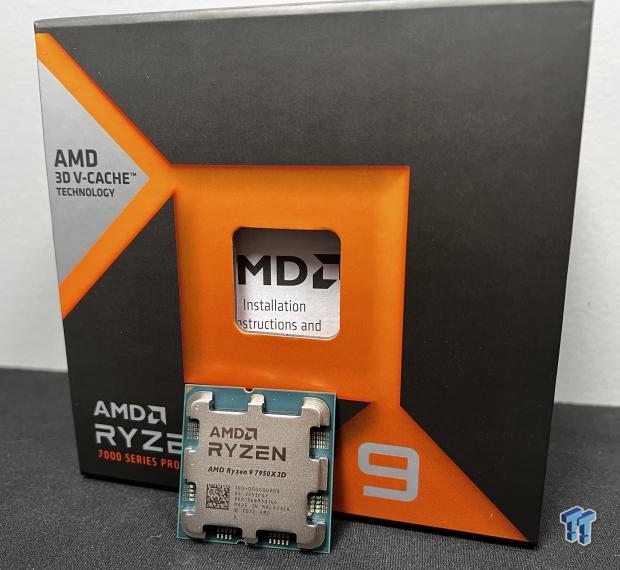 Pulling out the CPU, the IHS design is the same as other Zen 4 products.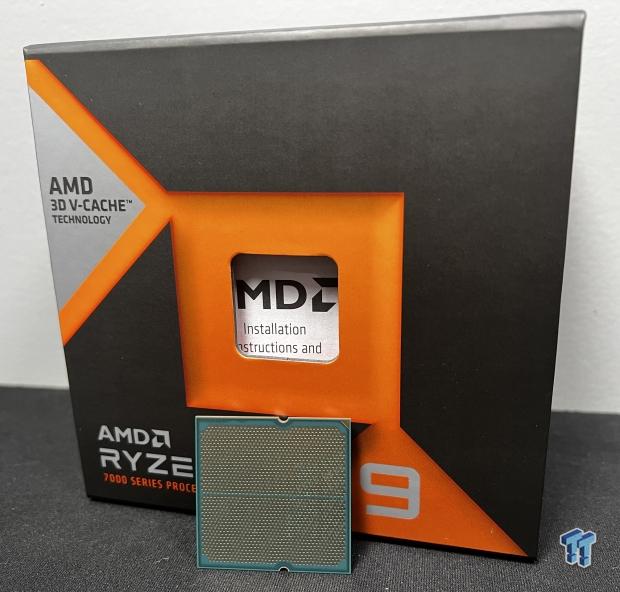 On the bottom, we have a smooth surface with the 1718 pads for AM5.
Test System
Motherboard: X670 AORUS Elite AX BIOS F6 AGESA 1.0.0.4 / 1.0.0.5
GPU: GeForce RTX 3090 Ti
RAM: Corsair Dominator RGB DDR5 6000 CL30
Cooler: 3x140mm Custom Water
OS Storage: Sabrent Rocket 4 Plus 2TB
Power Supply: AORUS GP AP1200PM
UPDATE - AMD released a UFEI update to motherboard manufacturers part way through our testing. We re-tested the Ryzen 9 7950X3D with 1.0.0.5 and noticed a performance improvement in Cinebench R23, CrossMark, WebXPRT4, UL Procyon Photo, and 3DMark CPU Profile. Gaming numbers didn't change. Some of our charts have been updated to show the new performance numbers (highlighted in red).
Cinebench, Crossmark and AIDA64
Cinebench R23
Cinebench is a long-standing render benchmark that has been heavily relied upon by both Intel and AMD to showcase their newest platforms during unveils. The benchmark has two tests, a single-core workload that will utilize one thread or 1T, and there is also a multi-threaded test that uses all threads or nT of a tested CPU.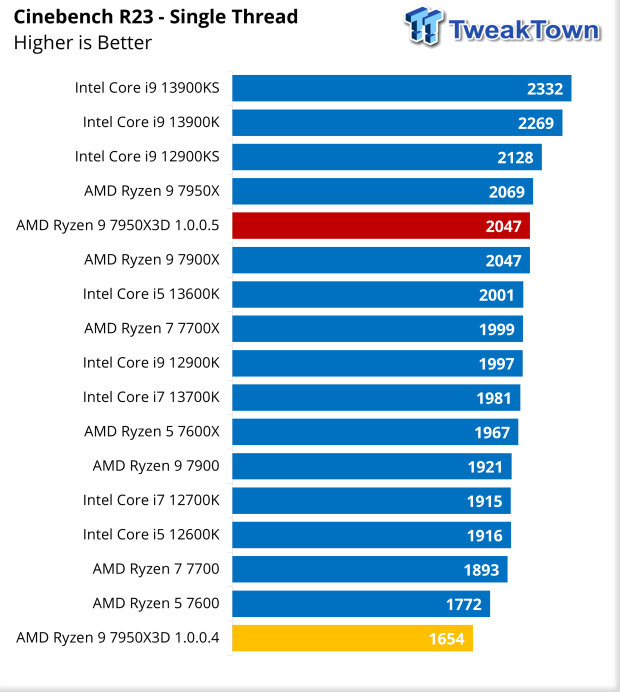 We start our testing with R23. Single thread puts the 7950X3D at the bottom of our charts with a score of 1654.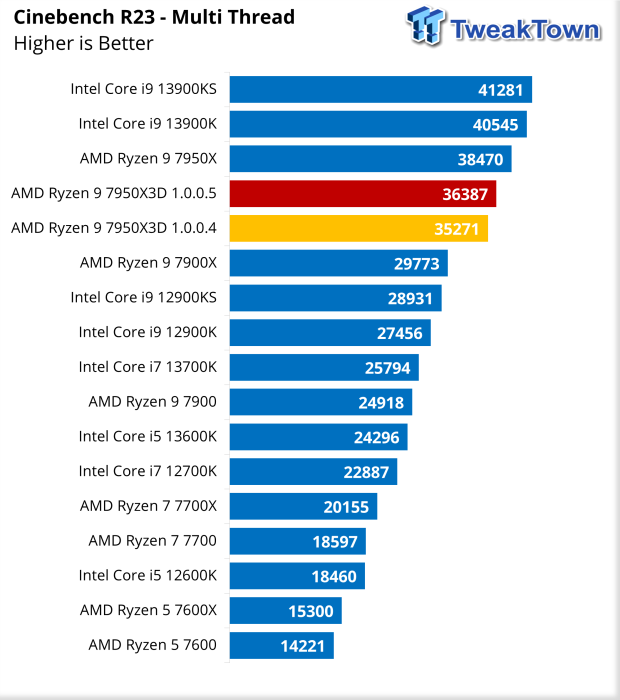 Multi-thread was better for the 3D chip with a score of 35271; this lands the 7950X in the fourth spot above.
Crossmark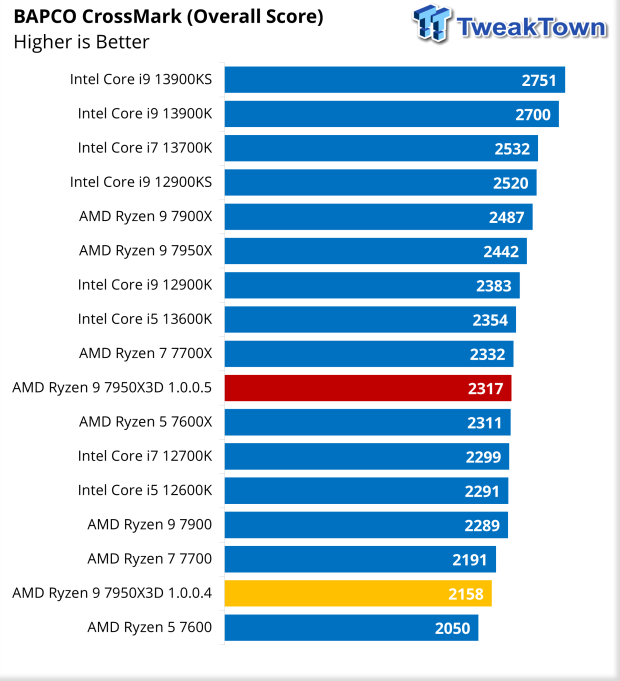 CrossMark landed the 7950X3D with an overall score of 2158; this puts it under the 65W Ryzen 7 7700 and just above the 7600.
AIDA64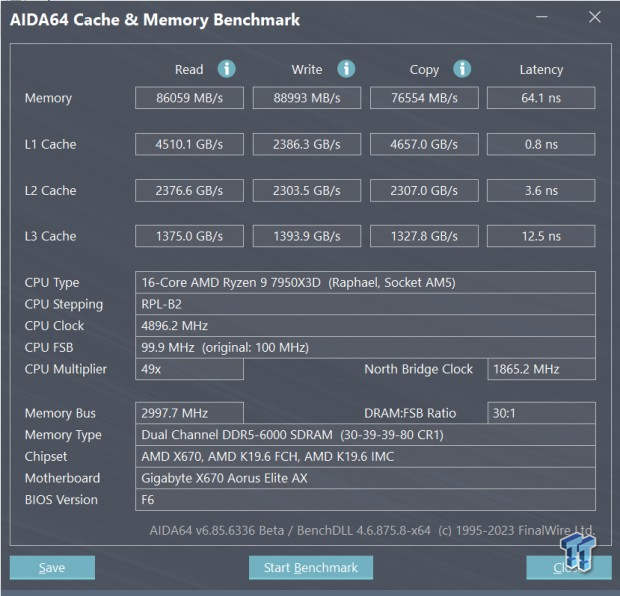 AIDA Memory gave us 86K read, 88K write, and 76K copy. Latency came in at 64.1ns.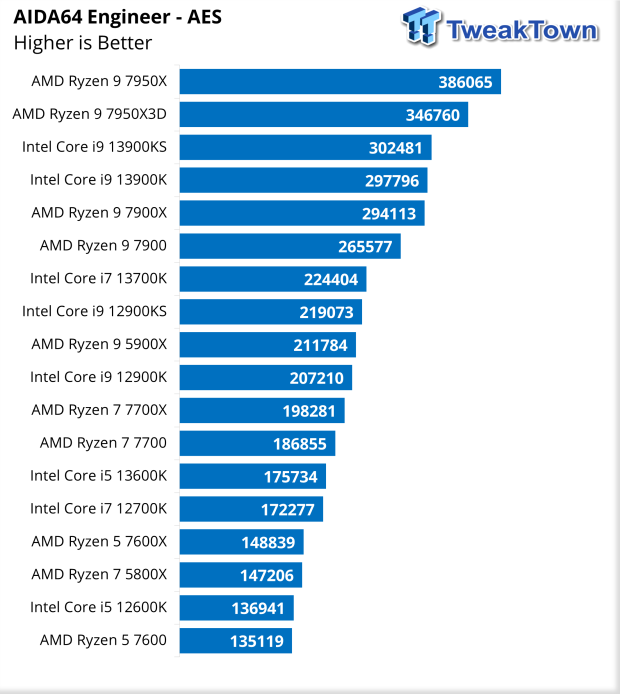 AES was quite good for the 3D, scoring 346760, giving it the second spot in our charts.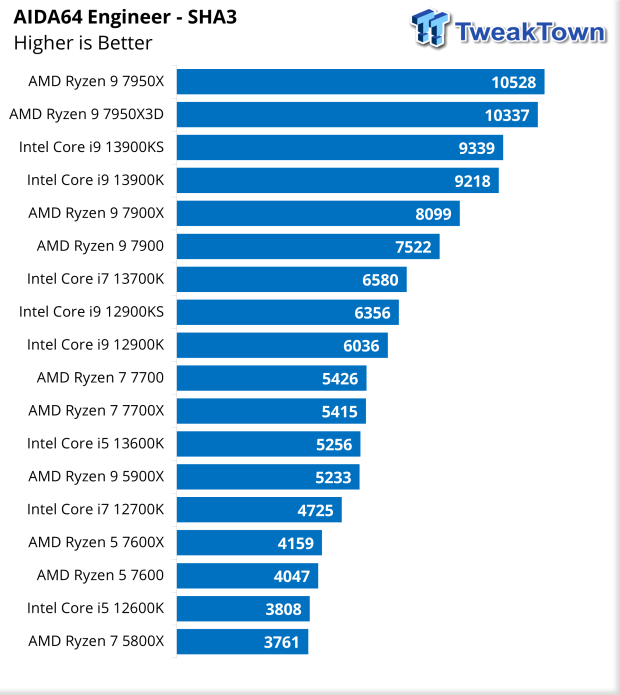 SHA3 is very similar, with the 7950X3D taking a score of 10337.
UL Benchmarks
UL Procyon Suite
The UL Procyon Office Productivity Benchmark uses Microsoft Office apps to measure PC performance for office productivity work.
The Photo Editing benchmark uses Adobe® Lightroom® to import, process, and modify a selection of images. In the second part of the test, multiple edits and layer effects are applied to a photograph in Adobe® Photoshop®.
The Video editing benchmark uses Adobe® Premiere® Pro to export video project files to common formats. Each video project includes various edits, adjustments, and effects. The benchmark score is based on the time taken to export the videos.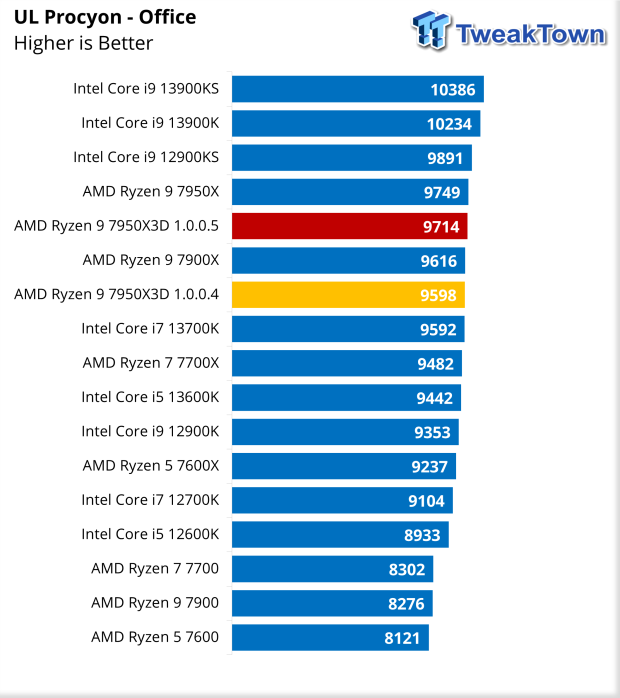 7950X3D did well in UL Procyon, coming in 6th with the Office workload. The score was 9598.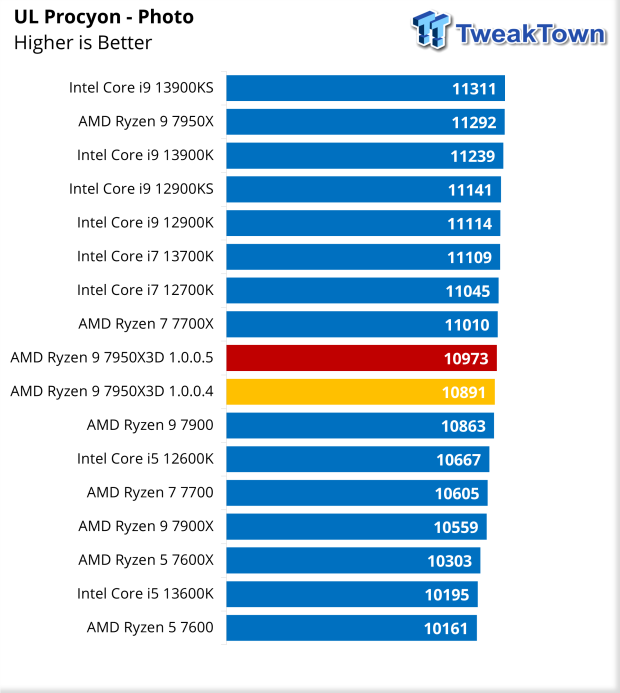 The Photo workload provided a mediocre result, with the 7950X3D landing in the middle of the pack with a score of 10891.
3DMark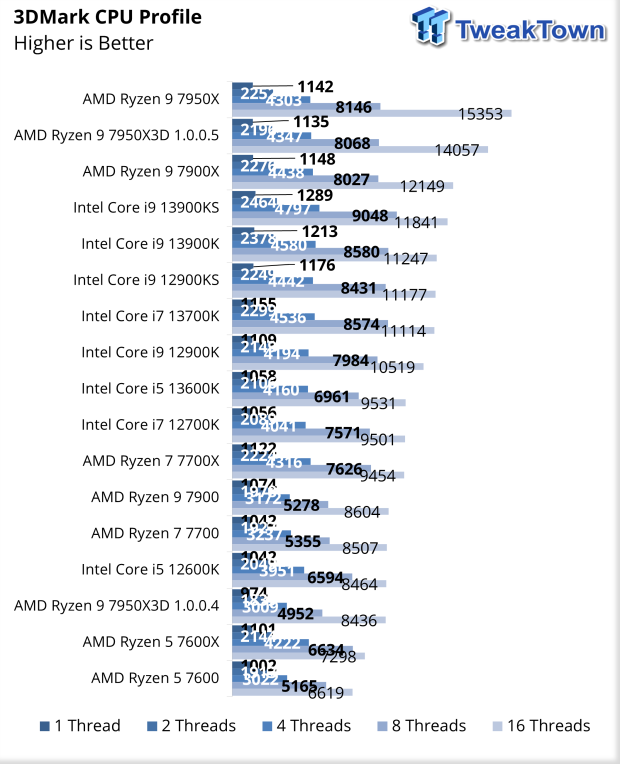 CPU Profile picked up a 974 single-thread score. At sixteen threads, the 7950X3D landed at 8436, right behind the Ryzen 7 7700.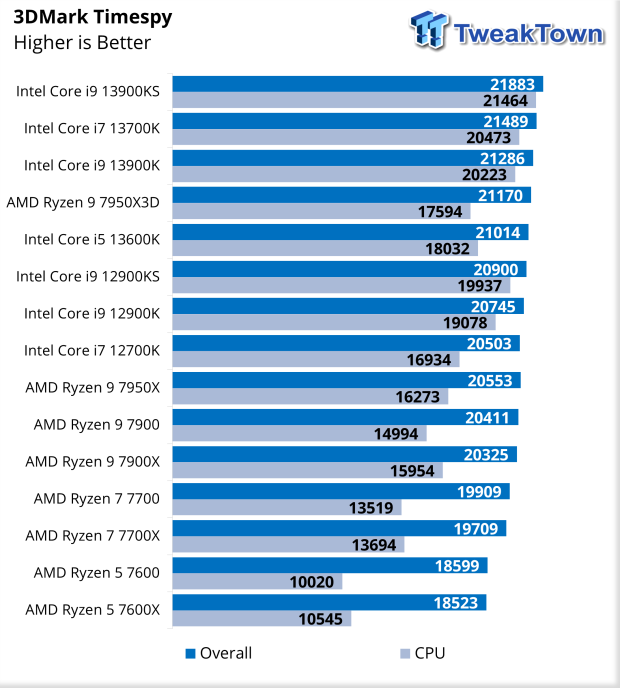 Hitting Timespy, we land an overall score of 21170 with our 3090 Ti. CPU score comes in at 17594 out of the box.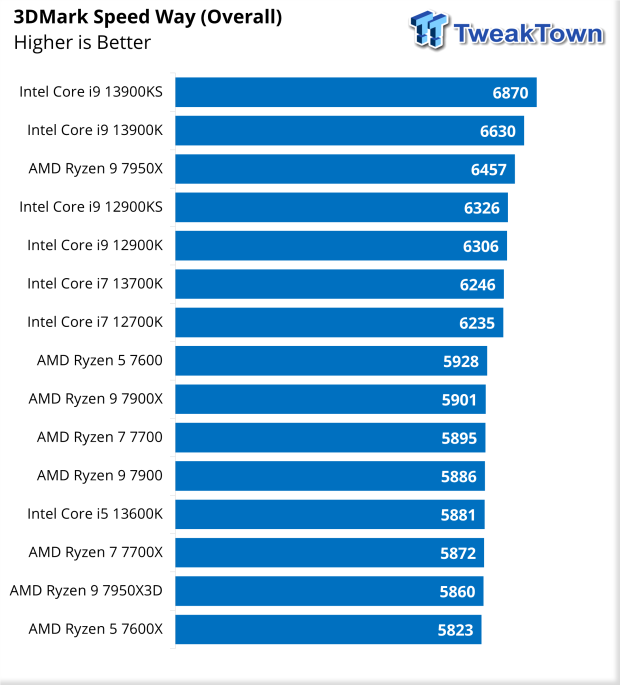 Speed Way offered up 5860 for the 7950X3D.
Gaming and Power Consumption
Gaming Performance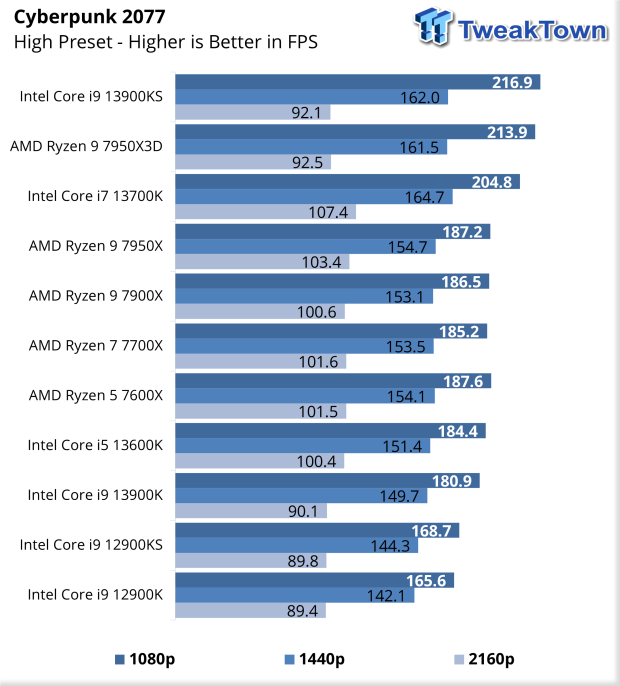 Starting things off Cyberpunk, the 7950X3D picks up 26 FPS over the standard 7950X at 1080p. If we compare it to the 13900KS, the 7950X3D falls short by 3 FPS.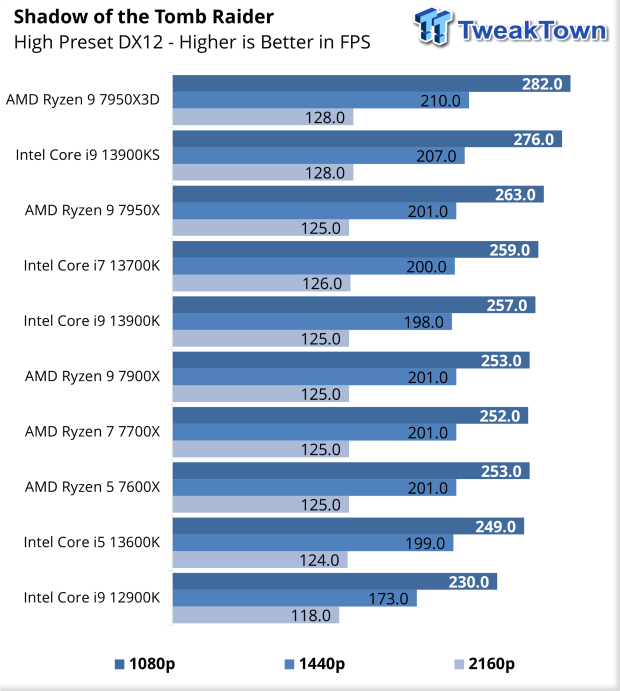 Switching over to Tomb Raider, we see some impressive numbers from the 7950X3D. At 1080p high preset, we picked up 282 FPS, 6 FPS better than the KS.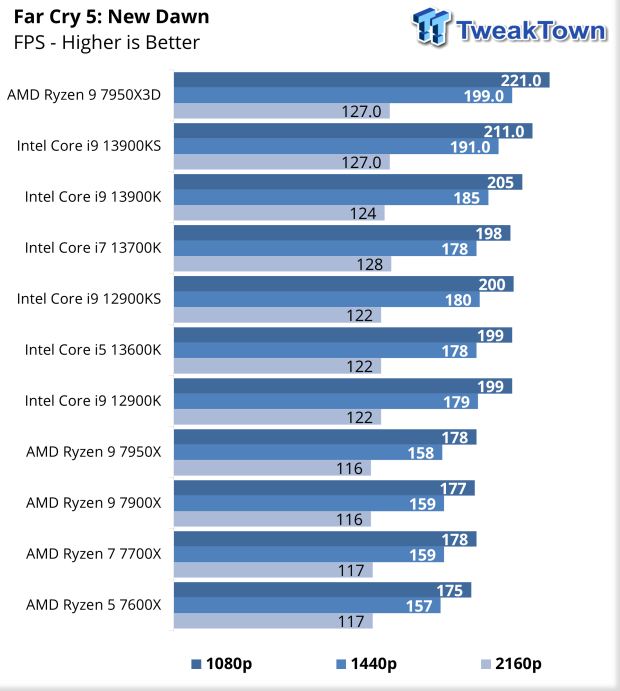 Far Cry 5 peaked at 221 FPS for the 7950X3D; this was 10 FPS more than the KS.
Power Consumption and Thermals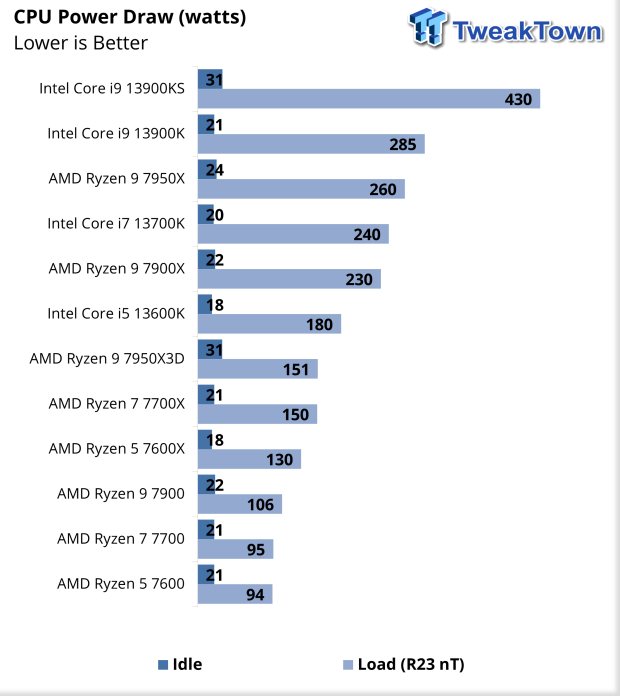 Power consumption is measured directly from the dual eight-pin connections. Peak power draws came in at 150W, and idle landed at 31 watts.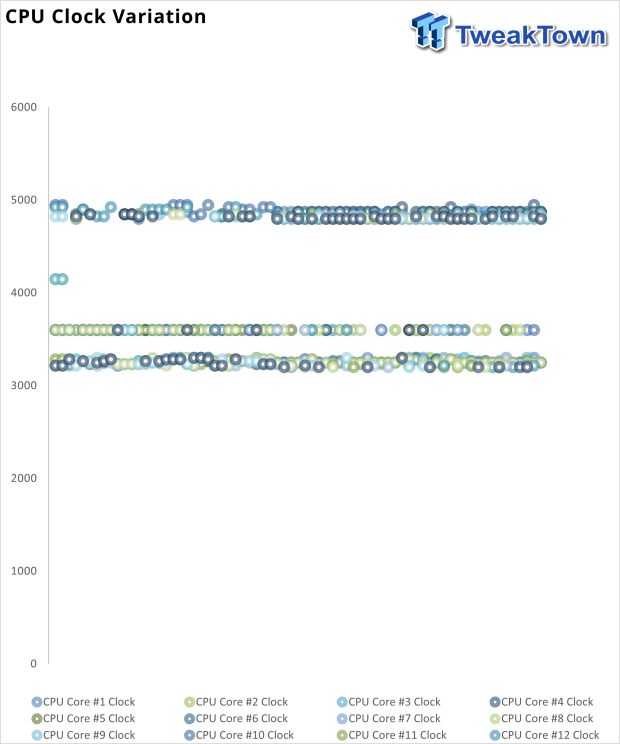 During our benchmark runs of Timespy, I logged CPU clock variation to see how the 7950X3D is boosting in a synthetic gaming workload. As seen above, about half of the cores run at 4.9GHz, while the other half run at the base clock.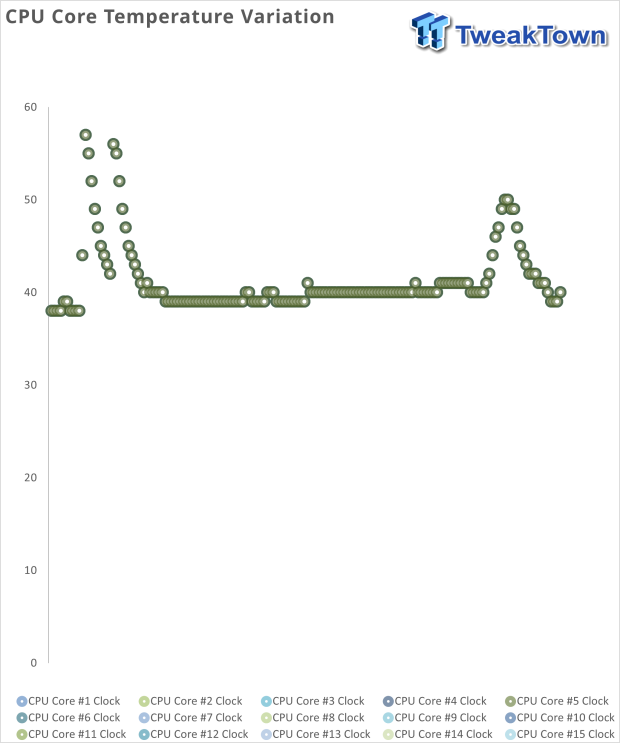 Looking at the same Timespy run as we did above, we also log temperature data for the CPU. This test shows a stable 40c with our monster water loop.
Value and Final Thoughts
Value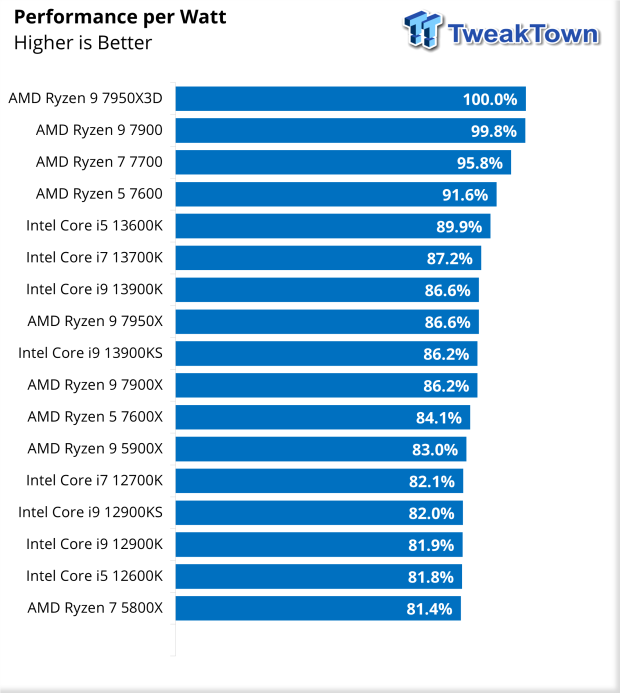 Looking at Performance per Watt, the 7950X3D took the top spot in our chart.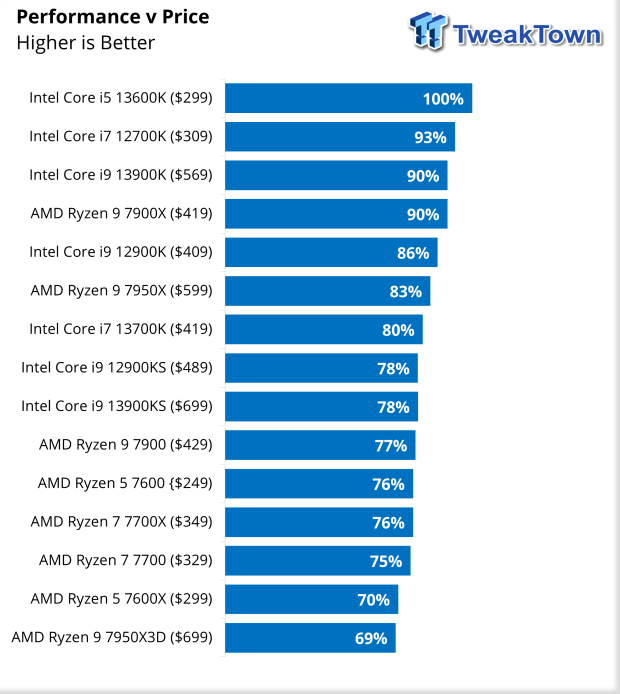 Adding in cost, the 7950X3D falls back, being the worst CPU in our charts.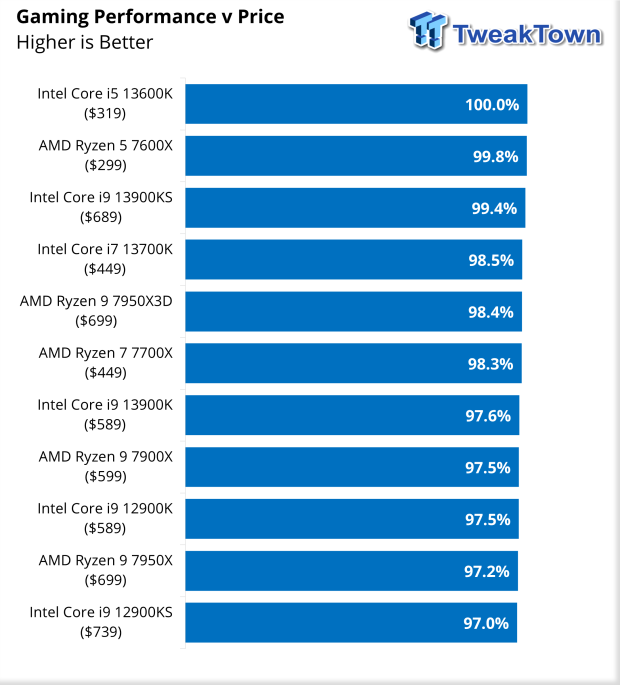 Switching the performance metric to gaming, the 7950X3D is in the middle of the pack at 98.4%. It is worth to note the top six CPUs are within 2% of each other in this chart.
Final Thoughts
Getting right into our results, we tested three games we had available with built-in benchmarks alongside both Timespy and Speed Way from UL - the games included Cyberpunk 2077, Shadow of the Tomb Raider, and Far Cry 5. Cyberpunk showed a nice 26-frame boost over the OG 7950X and was the best AMD offering in our chart. Compared to the 13900KS, we have a near-dead heat with both CPUs getting similar FPS.
Tomb Raider saw a 19 FPS increase with the 3D offering compared to the OG. 282 FPS at 1080p followed by 210 FPS at 1440p and 128 FPS at 4K. If we go back to the KS comparison, the 7950X3D gains some ground here, grabbing a narrow 6 FPS lead. Far Cry 5 showed a substantial boost to gaming performance, the 3D 7950X grabbing 221 FPS at 1080p, a jump of 43 FPS compared to the original 7950X.
If we look at synthetics, we noted that the 7950X3D picked up 100 points overall in Timespy and 200 points to the CPU itself. Speed Way was the opposite, with the 3D SKU dropping 600 points.
With that all behind us, AMD's 7950X3D is a rather interesting SKU that does see benefits in gaming over the standard 7950X offering. That said, application performance is nearly nonexistent with this CPU as the low clocks and lack of boost over 5GHz in real-world testing take away all of the performance we saw with the original 7950X.
Furthermore, when we tested clock speed variation in a gaming workload, Timespy, in this case, half the CPU was sitting idle at its base clock speed. This enforces the idea that this SKU isn't entirely needed in the product stack, as an offering like the 7800X3D will be nearly $250 cheaper while offering the same level of performance. Still, if you want the best of the best when it comes to outright gaming, it's the best AMD offers, but it may be worth waiting to see what the 7800X3D can do.
We look forward to getting our hands on the rest of the product stack to see where everything lands when it's all said and done.