Synology DS916+ Four-Bay Consumer NAS Review
Synology refreshes its four-bay lineup with the DS916+, now featuring a fast quad-core Intel SoC, 8GB memory support, and more.

Published Jun 29, 2016 4:15 PM CDT
|
Updated Tue, Nov 3 2020 6:58 PM CST
Introduction
In late 2014, Synology launched the DS415+, a unit aimed at small businesses that wanted high availability along with data redundancy without sacrificing performance. This unit was quickly followed up with a second four-bay unit for consumers dubbed the DS415play. The 415play was a media powerhouse powered by the latest Intel Atom CE5335 with hardware transcoding but was held back by its dual-core architecture and 1GB of memory.
With all the recent NAS launches, we have seen quite a bit of Intel's Braswell platform being deployed. For the most part, these solutions have been based on either the Celeron N3050 or N3150, but Synology, with the DS916+, has taken things a bit further. Instead of cutting costs and going for the budget SoCs, they have deployed one of the latest to come from the Braswell refresh just a few months back, the Pentium N3710. Much of the focus with the DS916+ is aimed at professionals and high productivity, but this unit also takes advantage of scalability with expansion support via the DX513.
Getting right down into the specifications, you can see I have a comparison going from the DS415+ and DS415play to the DS916+. While this new solution may not be a direct replacement for either, it's powerful enough to take the place of both. As you can see, we have a large upgrade going from an Atom to the latest Pentium SoC while memory too has an option now for 8GB.
The DS916+ is also the first four-bay to support 4K encoding at 30FPS whereas the previous only supported 1080p at 30FPS. Drive bays stay the same across all unit but the 916+ does support both the DX213 and DX513 expansion units. As far as external connectivity goes, the DS916+ does away with all USB 2.0 ports and instead is outfitted with three USB 3.0 ports and a single eSATA.
MSRP of the Synology DS916+ with 2GB DDR3 comes in at $599.99 while the 8GB model we have in house retails for $649.99, and both include a three-year warranty.
Synology DS916+ NAS Appliance
Packaging and a Closer Look
Packaging for the DS916+ shares the same routine we have seen in the past for SMB samples. The box while rather plain houses a sticker detailing information about the NAS and its configuration.
The scope of delivery of this solution includes the power adapter, Ethernet cable, and set of screws for securing your drives.
The front of the NAS has that glossy bay cover we have all come to love while the right side houses all the LEDs and power button.
The backside of the NAS has two large cooling fans with the I/O panel down below. From left to right we have dual gigabit Ethernet with power below followed by a Kensington lock slot with eSATA and USB 3.0 below.
Internally, Synology units more often than not use a SAS backplane and as you can see here, the DS916+ is no different.
Drive trays pictured below, are made of 100% plastic. This eliminates drive rattles associated with metal trays while making tool-less installation easier.
With baked in support for the DX513, we thought there was no better opportunity to check out the expansion capabilities, so we had Synology send a unit over with the DS916+.
Included with the DX513 is a power cable, drive screws, and eSATA cable for connecting to the NAS.
The front of the unit shares its aesthetics with the DS1515+ and DS1815+. The power button is placed in the center with status and alert LEDs, while each tray has its own LED built-in for drive activity.
The back of the expansion unit houses two large cooling fans with a Kensington slot to the left with the power input.
Test System Setup and Web Management
Tyler's NAS Test System Specifications
Setup of DSM can be two ways; you can have the NAS download the latest install file, or you can do it manually.
After installation is complete, you will see the DSM desktop. If you have never used DSM, it is fully customizable with options at the top right.
With the icon being displayed on top of our control panel, it usually means this system needs an update, and as you can see, we are ready to move to DSM 6.0-7321 Update 7.
With the DX513 plugged in a powered up DSM recognizes it and its drives as if they were internal to the unit. While there are methods of using third-party eSATA enclosures with NAS appliances, it is far easier in my experience to just use the units from the vendors.
Storage manager includes all options within one menu. On the side, you can setup disk groups or volumes along with iSCSI LUNs and even SSD caches.
Creating volumes is quite simple using the wizard. Two options are given at the start, and I should note that when you have three or more disks, the quick option will always put you in a Synology Hybrid RAID or SHR.
This is a solid option for users that have drives of varying capacities, as it will allow you to get the most capacity while maintaining data redundancy. The custom mode will allow you to use legacy RAID modes like 0, 1, 5, 6 and 10.
After you select your options, you will get a list of drives in the system. As you can see, I have the DX513 expansion unit setup, so I have nine drives listed.
With DSM 6, we now have the option of using BTRFS or EXT4.
Cache Advisor is a rather interesting app in DSM that monitors data usage and then directs you how to get the most efficient use out of your SSDs.
As you can see above, my recommended SSD cache size is 180 MB.
To setup your drive cache, you can choose to use a single SSD for read-only cache, or two SSDs for read-write caching.
For me, I decided to use two 128GB SSDs for a read-write cache with a capacity of 64GB, that way our SSDs are never full for maximum performance.
Of course, DSM would never be complete without the package center. We still have access here to all the Synology made applications including download and surveillance stations.
On the multimedia tab, you can grab Plex Server for those that want to watch movies remotely.
Finally yet importantly is the full control panel. This gives you immense options for customizing your NAS with users and groups at the top next to shared folders while services and security are just below.
Benchmarks – Single Client and Sequential Throughput
Single Client Throughput
HD Video Play - 720p HD stream from Windows Media Player, 256kB reads
2HD Video Play - 2x playback
4HD Video Play - 4x playback
HD Video Record - 720p HD stream, 256kB writes
File Copy from NAS - 4GB file copy, 64kB reads
File Copy to NAS - 64kB writes
In testing, I took the latest appliances from each vendor along with the DS415+ for comparison. As you can see in RAID 0, all perform nearly the same, with the DS916+ excelling in playback and record operations. Peak performance was seen at 107 MB/s while the lowest was 55 MB/s.
Moving over to RAID 5, the DS916+ topped out at 94 MB/s again in playback operations while 31 MB/s was the lowest.
RAID 10 reached 112 MB/s in 2x playback with playback and record touching 101 MB/s and file copy topping out at 67 MB/s and 45 MB/s, respectively.
Benchmarks – Sequential Workloads in RAID 0
Our Sequential read/write workload is centered on 128K transfer sizes.
Sequential read had the DS916+ peeking out at 112 MB/s in RAID 0 followed by 116 MB/s in RAID 5 and 117 MB/s in RAID 10.
Sequential write came in at 91 MB/s for the DS916+ in RAID followed by 85 MB/s in RAID 5 and 94 MB/s in RAID 10.
Benchmarks – SMB Workloads
The workload testing showed some interesting improvements with the DS916+. So much that I had to run this test five times to confirm the results. All of this testing was done without an SSD cache setup.
With that said, RAID 0 showed the DS916+ to do quite well in most workloads reaching 7000 IOPS in database and nearly 8000 in file server.
RAID 5 was similar with the DS916+ reaching a peak just over 1400 IOPS in Web Server.
RAID 10 again topped just over 8000 IOPS while email and web server were not far behind at 4500 and 3200 IOPS.
Final Thoughts
For those of you that are on the edge of wanting to upgrade your NAS to something more powerful or with more storage capacity, the DS916+ could very well be the ticket you have been waiting for. The build quality of this unit is solid and while apart from its internal skeleton that is metal, this unit is mostly a hard plastic. This allows for fewer rattles in operation, and while this does not matter to most for some, it can influence their buying decision. Synology has deployed this unit with two cooling fans, and from experience, I can say they are quite silent; all I hear from this unit sitting next to me is the hum of hard drives spinning.
On the performance side of things, the DS916+ carried average performance through single client testing with RAID 0 peaking at 107 MB/s in 2x Playback and RAID 5 touching 94 MB/s. RAID 10, on the other hand, did quite well topping 110 MB/s. Switching to sequential, I was able to get 117 MB/s read out of this unit in RAID 5 while RAID 0 produced 112 MB/s.
Workloads produced some of the highest performance I have seen come out of a NAS appliance. With RAID 0 topping 7000 IOPS in several cases and Workstation coming in just over 3000 IOPS. RAID 5 showed more of the same with Database, File Server, and Web Server reaching over 1200 IOPS with Workstation not far behind at 1000 IOPS. RAID 10 showed more of the performance I found in RAID 0 with Database going well over 8000 IOPS and Email Server a shade over 4000 IOPs.
With this being my second hands-on experience with DSM 6, I can say even in the short couple of months between the DS716 and DS916+, I have noticed it feels much quicker. Synology updates their appliances quite often and while this can get annoying updating every time you enter DSM, I would much rather an updated appliance than one leaving security holes open.
Adding to the DS916+ is expandable functionality; it is the first four-bay from Synology that I know of supporting the DX513. The DX513, while seemingly a simple eSATA expansion enclosure, does offer tool-less installation with a matching aesthetic. Is it worth the $459.99 MSRP? Probably not, but for those already in the Synology ecosystem wanting to push more capacity, the DX513 is definitely the way to go if you don't have the funds to upgrade the entire appliance.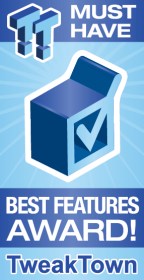 | | |
| --- | --- |
| Performance | 89% |
| Quality including Design and Build | 90% |
| General Features | 95% |
| Bundle and Packaging | 87% |
| Value for Money | 89% |
The Bottom Line: Whether you are in the market for an upgrade or your first appliance, the Synology DS916+ is a solid place to start with its powerful quad-core SoC and expandable functionality.
PRICING: You can find products similar to this one for sale below.

United States: Find other tech and computer products like this over at Amazon.com

United Kingdom: Find other tech and computer products like this over at Amazon.co.uk

Australia: Find other tech and computer products like this over at Amazon.com.au

Canada: Find other tech and computer products like this over at Amazon.ca

Deutschland: Finde andere Technik- und Computerprodukte wie dieses auf Amazon.de
We openly invite the companies who provide us with review samples / who are mentioned or discussed to express their opinion. If any company representative wishes to respond, we will publish the response here. Please contact us if you wish to respond.