TweakTown's Rating: 89%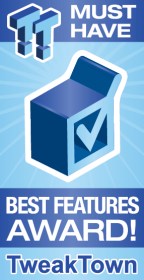 The Bottom Line
Klevv Cras DDR4-3000 is stunning to look at and does exactly what the packaging states it will do. Even so, we do wish it had a bit more flexibility to help justify the near $500 price point.

It wasn't that long ago that we took a romp through what KLevv has to offer in DDR3. Not only were we offered near every design, we were also given multiple speed choices to play with as well, but all kits performed admirably, and for the overclockers out there, these kits were a lot of fun to mess around with. After we had finished with the testing and the reviews went live, we soon asked KLevv to see what they have to offer in the DDR4 lineup, and without any hesitation they sent us samples, and yes we just said samples.
KLevv had sent along four 16GB kits of the KM4C4GX4A-3000 flavor, that fall under the larger name of Cras memory. Also we found in testing, with no indication on the packaging to denote it, within this specific group, you can get them with red or white LEDs that blaze light out of the top edge of these sticks. This kit of DDR4 is offered with an XMP profile that will allow this memory to post at 3000MHZ in speed, with 16-18-18-36-2T timings, and does require the maximum of 1.35V to do this. Along with all of the other sets we saw from KLevv, the Cras also come with a lifetime warranty, should anything go wrong with the kit you had purchased.
As you are about to see, the Cras kits we were sent to test either hated our motherboard and the various UEFI roms we tried, or they have binned these ICs to the extent that they can run and that is it, no more no less. As you are about to see, the only way we were able to run any of these kits was to use the XMP profile. None of the kits offered any flexibility in timings, and the best we saw in speed overclocking was 3010 on two kits, and 3012MHz on another, but nothing worth the effort of running benches or adding results to the charts as gains were near indistinguishable with such a small change.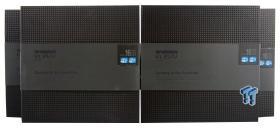 KLevv definitely steps up the packaging that the Cras arrives in. There is a band of cardboard that allows them to show the branding and density, as well as showing that these are Intel XMP certified. Once that is removed, the box opens like a book to find the individual sticks in plastic clamshells resting inside of their own individual dense foam compartments to be certain that this kit arrives in great shape.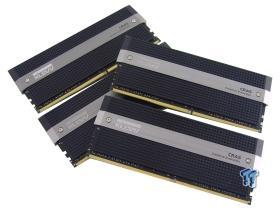 Out of the box, we can see that the Cras sticks are tall, and the 56.5mm of height here may concern some. Looking at the design, we find the spreaders have been milled to leave square studs on the sides, and to dress it up, there is an aluminum band that is screwed across them with the KLevv and Cras naming on it. We also like that they chose to go with black PCBs again.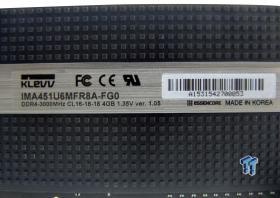 The flip side of the sticks are identical in the pattern used on the spreader, even down to the aluminum strip being applied. This time though, rather than the Cras naming there is the product sticker applied there. This shows us the individual sticks model number, not that of the kit, it does show the XMP speed, timings, and voltage, and has an individual serial number for this stick under the bar code.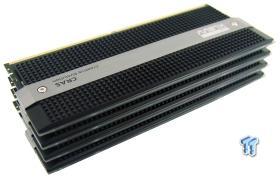 As both sides of the spreader come together at the top, we find a thin strip of clear plastic or Lexan held between them. The reasoning and purpose for this is as we mentioned earlier, Cras comes out of the box with an LED display for the user to enjoy when they are powered, and this allows the lights inside the stick to show outside.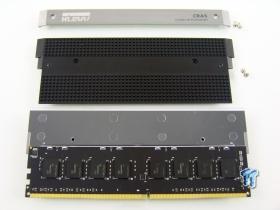 Because we could, we went ahead and tore one of the sticks down into its major components. We find this is a single sided kit with LEDs at the top edge of the PCB, and just above it is the thin strip of clear plastic used to get that lighting to the top of the heat spreaders. We did accidentally swap the screws next to each bit at the top, but to get here, the aluminum comes off first, exposing the screws for the spreader.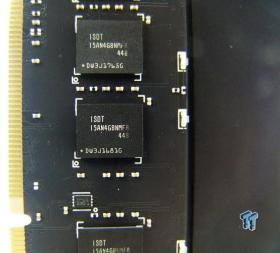 Since we had them opened, looking at the ICs used we see they are marked ISDT, so off to Google we went. While there was no defined answer for us, a few of the links lead to SK Hynix products, and that of course makes sense considering the partnership that came together to produce these.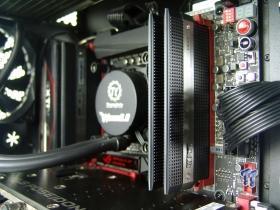 With the Cras now installed, we do appreciate all of the work that went into the design for these kits. These are indeed very tall, but man do they look good, even more so when you populate all eight slots.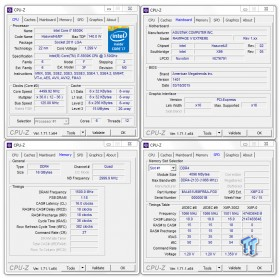 Since all we could really do with the four kits reliably was to run the XMP2.0 profile, this CPU-Z screenshot reflects those settings along with the overclock used in the system. Speeds and timings all check out, and with hours and hours of trying, this is all you can really expect from this kit.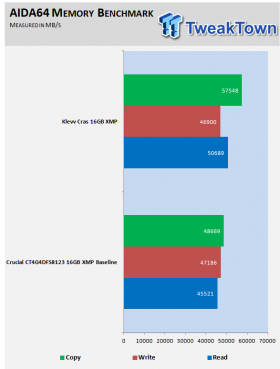 In our AIDA64 testing, even with just the XMP profile used and no additional tweaking, we find that the Cras kit outperforms the similar Patriot Viper4 at the same speed, and the Pats were running better timings.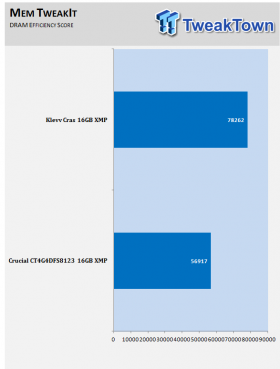 When we looked at Mem TweakIt, we also found again that this KLevv Cras set of sticks overtakes the Patriot's again, but some 2000 plus points in this metric. Even without many options, at least the one we do have seems to be very good at what it does.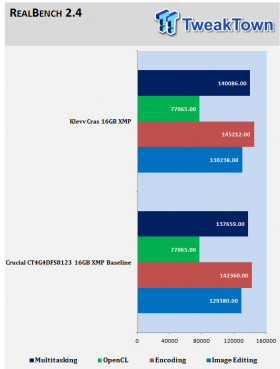 While things appeared to be going very well for the Cras memory, when it came to RealBench, we found that the Viper4s actually slightly outperforming the Cras at this point. The difference is minimal, but the advantage that KLevv had up to now has been lost.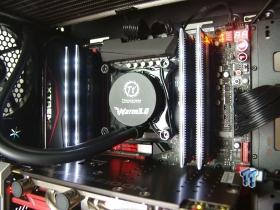 Out of the four sets we received, once powered, three of them glow as this image shows, with white LEDs, and maybe by mistake, or possibly on purpose, we also found one of the kits offered red LEDs that show the same four groups of two LEDs along the edges. While the lighting does nothing for performance, it is hard to deny that it looks really good.
Looking to Google to sort the pricing, we see that the kit lists at $479.99 and shipping is cut down to 99 cents. Considering the speed, the design and effort that went into the spreaders, and that they offer the option for red and white LEDs, we assumed the pricing would be a bit higher than the rest. However, the near $500 pricing doesn't seem all that justified considering what we have seen from them in the past. Of course, it may be that our test system doesn't have what it takes to run this kit, but with what we have seen so far, we would have assumed this kit to offer some wiggle room, which we just did not find.
Lowering timings, any of them, led either to a no boot situation with various post code errors, or it would indeed boot, but would always drop a channel and leave us running less than quad-channel for testing. The same thing happens when you try to raise the BCLK, anything much past the 125 strap and 2400MHz divider used in the XMP profile leads us to issues. With a maximum BCLK of 125.5, we honestly can't say that these indeed overclock, and all of this was attempted with 1.4V to the memory, tinkering with SA and CPU voltages, even trying to soften the timings, nothing seemed to play well.
While they are not nearly as much fun to tinker with as their DDR3 offerings, we were able to run the XMP profile on three kits right out of the box. The fourth kit had a stick with no LEDs and XMP would not work. All things considered, with the limited flexibility and the steep asking price, we feel that unless you desire this exact heat spreader to fit within a theme, it is more than likely that most users who want to tinker will opt for another black kit of DDR4. Just like with our usage of this kit post review, with the X99 E WS and a GTX 980 Matrix Platinum video card, the mix of red and white LEDs along with the all black look not only makes it a match for the motherboard, but helps to draw the red of the video card into the black and grey of the motherboard. So there are instances where the Cras from KLevv will win over your heart, but you better make sure your wallet is prepared for the affair.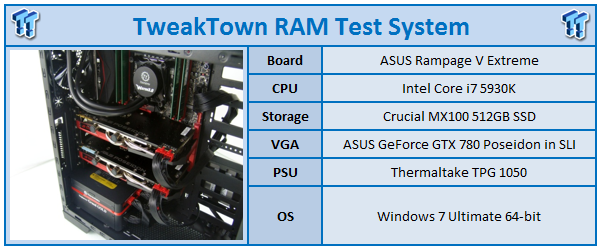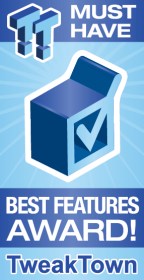 | | |
| --- | --- |
| Performance (including Overclocking) | 84% |
| Quality including Design and Build | 96% |
| General Features | 95% |
| Bundle and Packaging | 97% |
| Value for Money | 75% |
The Bottom Line: Klevv Cras DDR4-3000 is stunning to look at and does exactly what the packaging states it will do. Even so, we do wish it had a bit more flexibility to help justify the near $500 price point.
PRICING: You can find products similar to this one for sale below.

United States: Find other tech and computer products like this over at Amazon.com

United Kingdom: Find other tech and computer products like this over at Amazon.co.uk

Australia: Find other tech and computer products like this over at Amazon.com.au

Canada: Find other tech and computer products like this over at Amazon.ca

Deutschland: Finde andere Technik- und Computerprodukte wie dieses auf Amazon.de
We openly invite the companies who provide us with review samples / who are mentioned or discussed to express their opinion. If any company representative wishes to respond, we will publish the response here. Please contact us if you wish to respond.