TweakTown's Rating: 80%
The Bottom Line
Thecus' N2810 is a solid performing unit with a great list of features thanks to OS 7. But with that said, the recent launch of the N2810 Plus has complicated things and I feel you may be better off with the extra power and memory that the newer Plus unit provides.
Introduction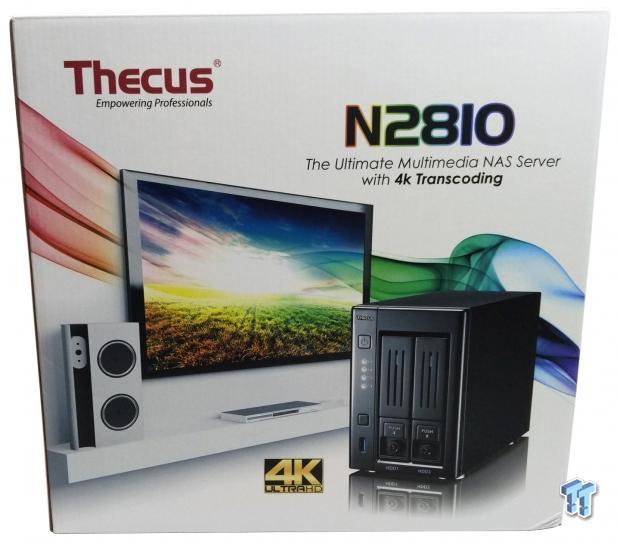 With each platform release from Intel, NAS vendors go to work releasing a full lineup of new SKUs to take advantage of the new tech. With the release of the Braswell in the mid part of 2015, we now have all the major players with a solution based on the 14nm process.
The N2810 was launched back in January of this year and is planted in the latest architecture from Intel. This solution like many others is now taking advantage of Braswell, Intel's latest chip manufactured on the 14nm process. The N2810 has at its heart a dual-core solution paired with DDR3 memory and 4GB of eMMC from Micron. This NAS is firmly rooted in the SOHO space and even leans more toward the casual user that wants both storage and media capabilities. Furthering this is the availability of Plex and Kodi App support out of the box while backup chores can be left to Dropbox, Amazon S3, and Elephant Drive while anti-virus details are maintained by Intel Security, formerly McAfee.
If we look a little closer at specifications, we find the Intel Celeron N3050 at the heart of this platform with 2GB of DDR3 next to it. Memory is expandable to 8GB in a single stick configuration. Connectivity options include two-gigabit LAN ports on the rear of the unit along with three USB 3.0 with two located on the rear. HDMI is made available for those of you wanting to use this as a media center, and internally we have room for two 3.5" SATA drives. Power is supplied via an external brick unit that allows up to 48 watts and finally yet importantly, this NAS support Thecus OS 7.
Thecus N2810 NAS Appliance
Packaging and a Closer Look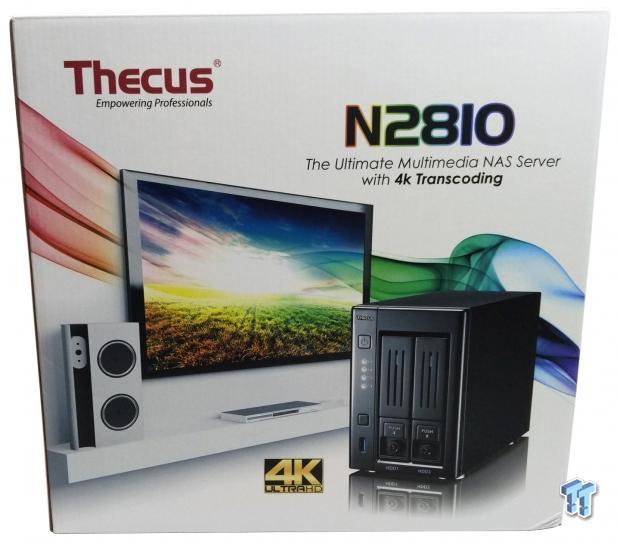 Packaging is quite vibrant with an image of the NAS on the right side. Very little regarding marketing has made its way to the front of the box.
The scope of delivery of this solution includes the power adapter, keys, Ethernet cables, and a few pages of reading materials.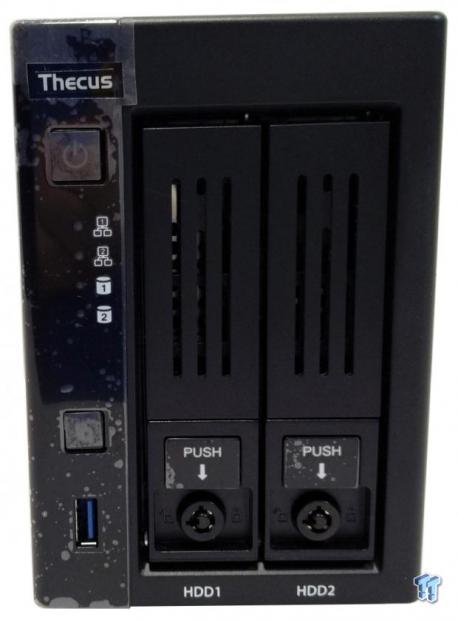 The front of the NAS houses a series of LEDs to the left side. The power button lights up blue once the unit is powered while green LEDs cover the activity and drive indicators.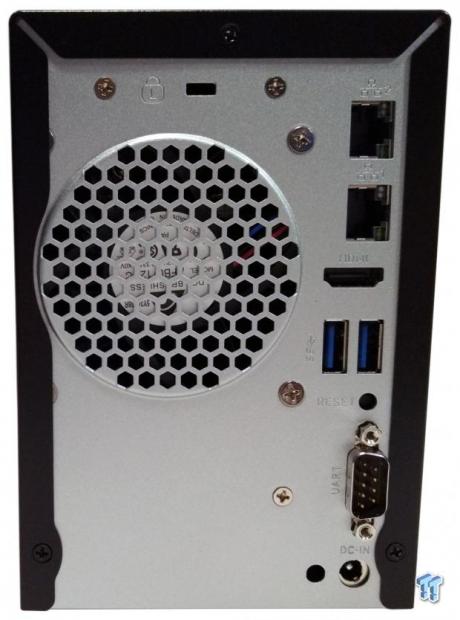 The rear of the unit houses both Gbe ports at the top while below we have the HDMI port and both USB 3.0 ports.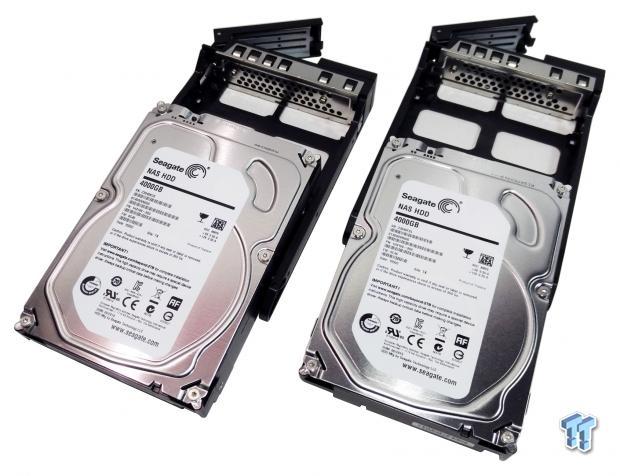 Above, we have a set of Seagate NAS drives for testing this unit.
Test System Setup and Web Management
Tyler's NAS Test System Specifications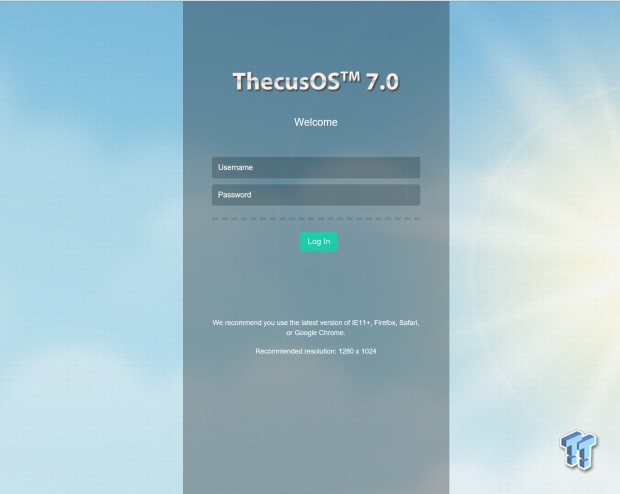 As mentioned in the introduction, this NAS supports OS 7 from Thecus.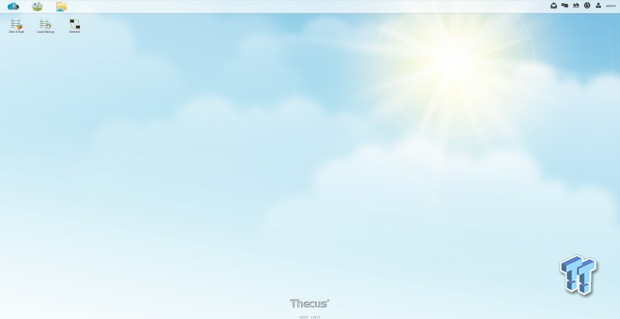 The landing page of the desktop of this NAS carries a rather clean appearance. At the top, left there are options for disk and RAID setup, Local backup and networking settings. If you move up just slightly, we have the app menu and next to it, a file explorer.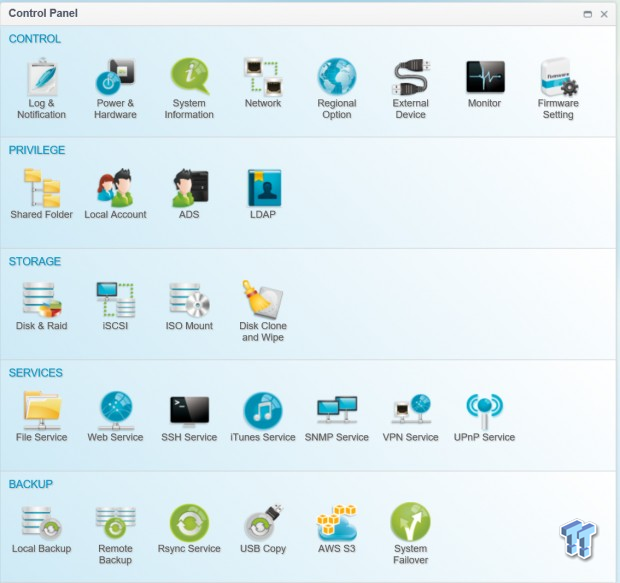 Opening up the Control Panel gives a more managed access to items.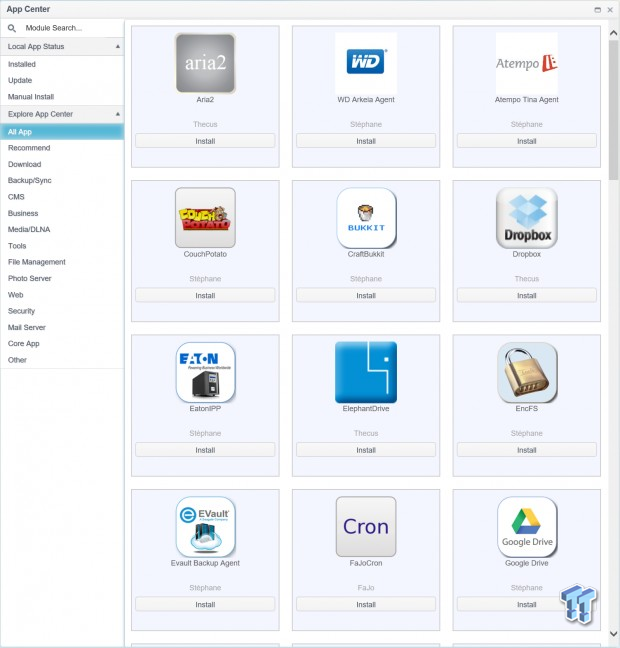 The app store has seemingly gained a few additions since the N5180 review.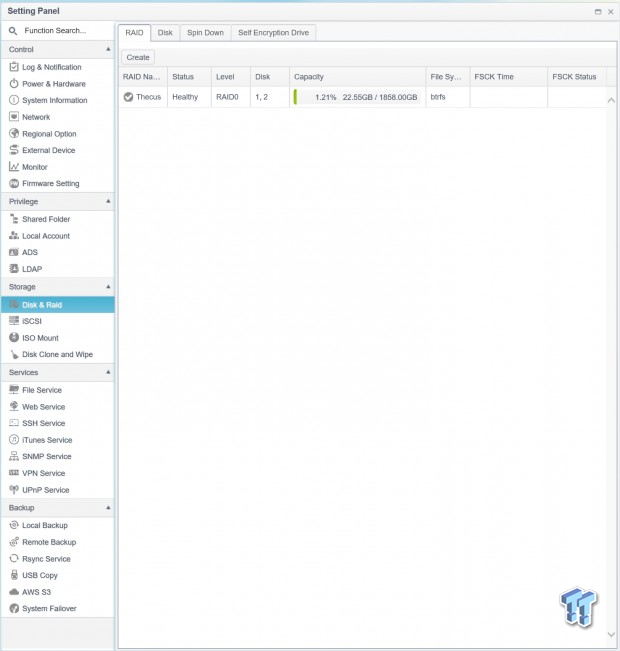 In the setting panel, Thecus has given a straightforward layout with categories on the left and settings of those to the right. We have started here with Disk & RAID, but you also have access to iSCSI, which is now working flawlessly along with file and web servers, backup options such as AWS along with Rsync.
Benchmarks – Single Client and Sequential Throughput
Single Client Throughput
HD Video Play - 720p HD stream from Windows Media Player, 256kB reads
2HD Video Play - 2x playback
4HD Video Play - 4x playback
HD Video Record - 720p HD stream, 256kB writes
File Copy from NAS - 4GB file copy, 64kB reads
File Copy to NAS - 64kB writes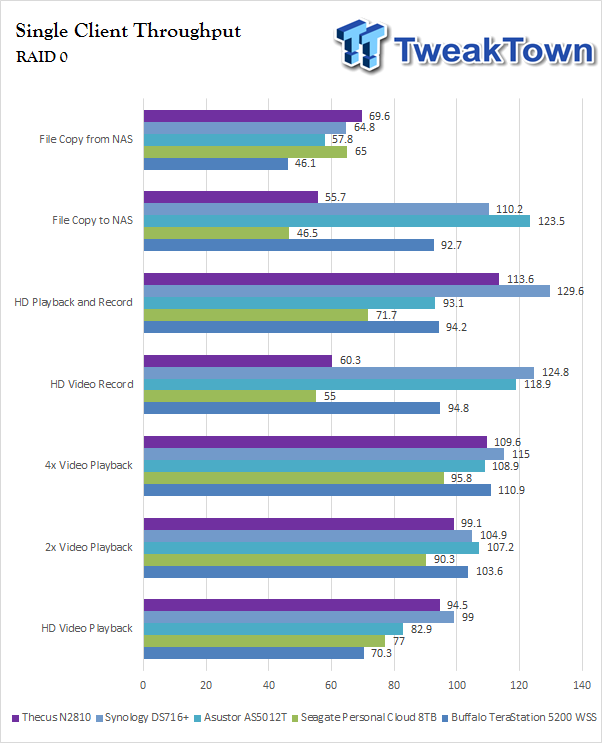 Single Client Throughput was quite good. In RAID 0, this unit stayed right with the pack. Peak performance was seen in playback and record at 113 MB/s.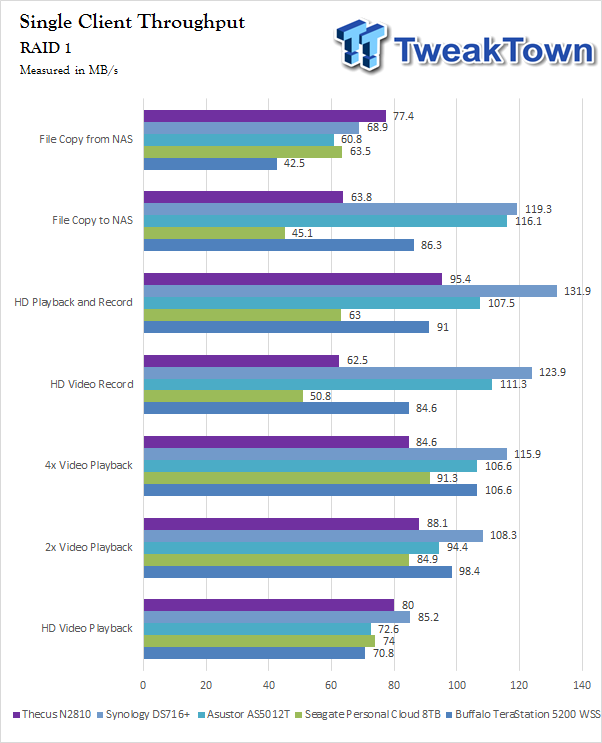 Changing our array to RAID 1, we see only a slight performance drop with this unit peaking at 95.4 MB/s.
Benchmarks – Sequential Workloads in RAID 0
Our Sequential read/write workload is centered on 128K transfer sizes.
Sequential read results in RAID 0 had the Thecus unit producing 100 MB/s at QD16 and QD32.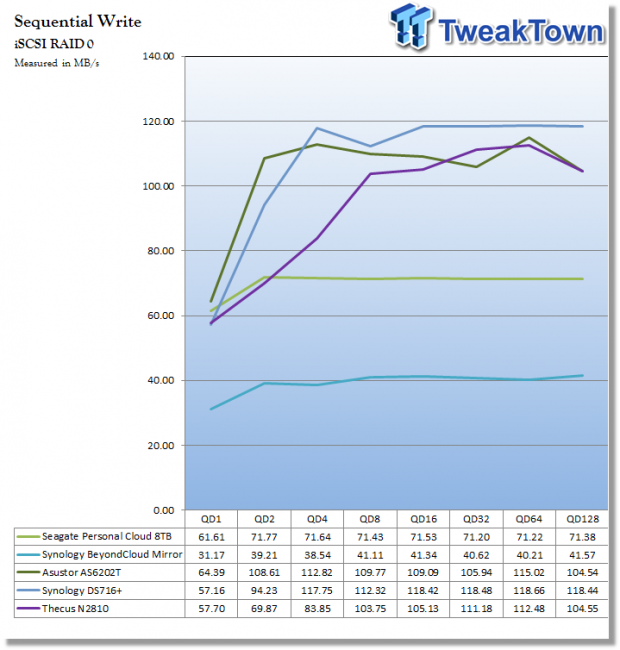 Sequential write started at 57 MB/s but ramped up to 112 MB/s at QD64.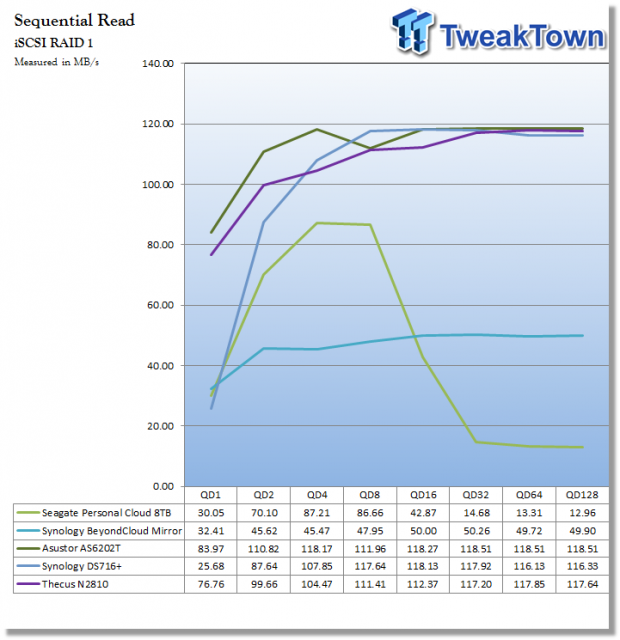 Back to RAID 1, we find the Thecus unit starting out at 76 MB/s at QD1 and ramping all the way up to 117MB/s at QD128.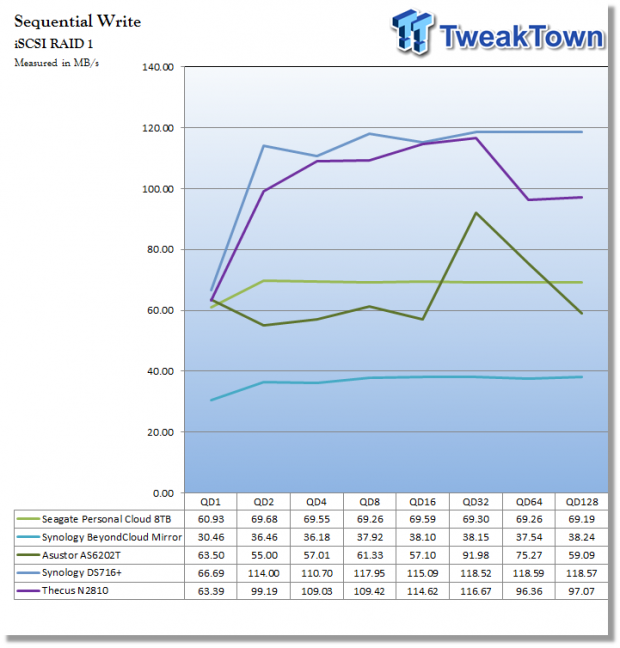 Write performance peaked at QD32 with 116MB/s.
Benchmarks – SMB Workloads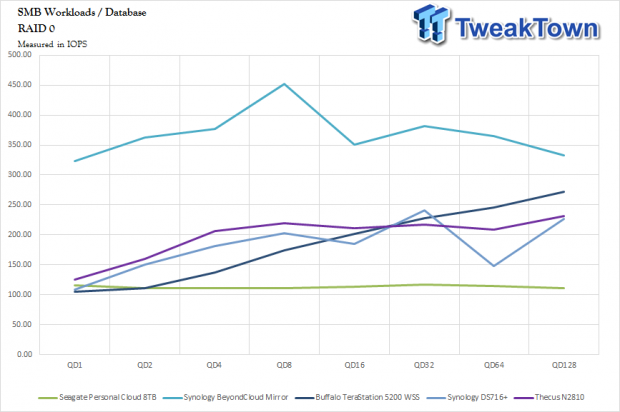 Starting our SMB workloads, the N2810 ran right with the pack starting around 130 IOPS reaching a peak of 230 IOPS at QD128.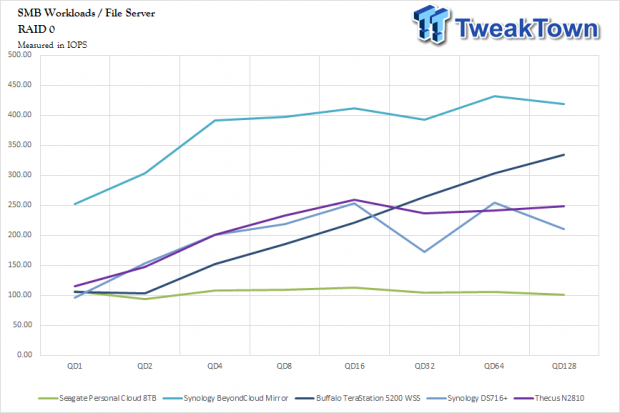 File Server starts around 120 IOPs at QD1 and ramps rather quickly to 260 IOPs at QD16, after which we see a slight drop off.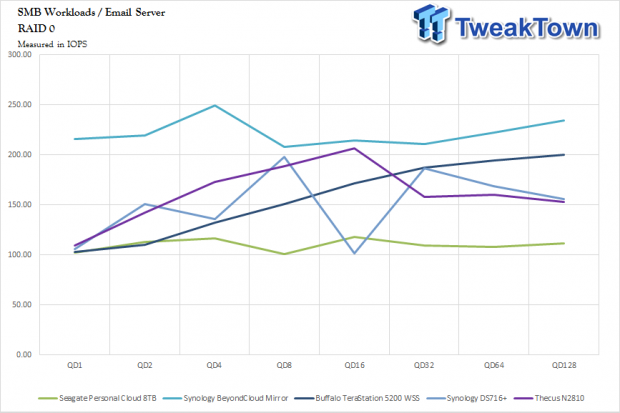 Looking the email server, we find similar performance with QD1 just a touch over 100 IOPS and peaking at 200 IOPS at QD16.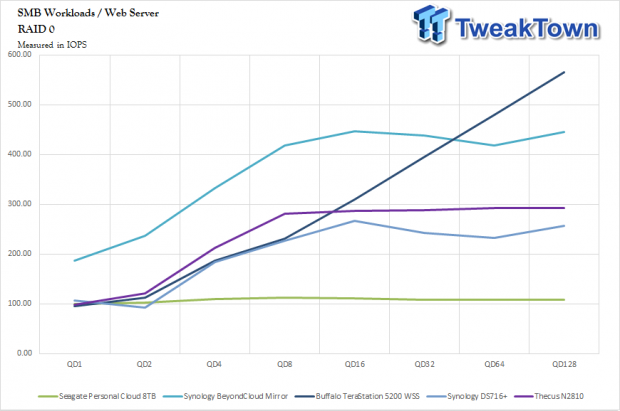 Web Server scaled from 100 IOPS at QD1 to a nice 300 IOPS at QD8, after which performance was quite steady.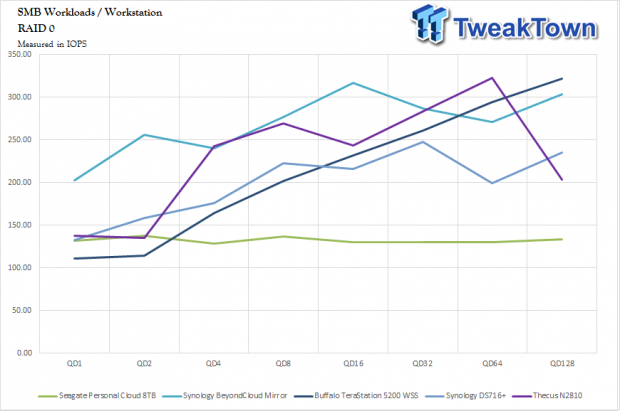 Workstation had a better start with QD1 around 140 IOPS while scaling was a bit up and down, the N2810 peaked at 330 IOPs at QD64.
Benchmarks – SMB Workloads RAID 1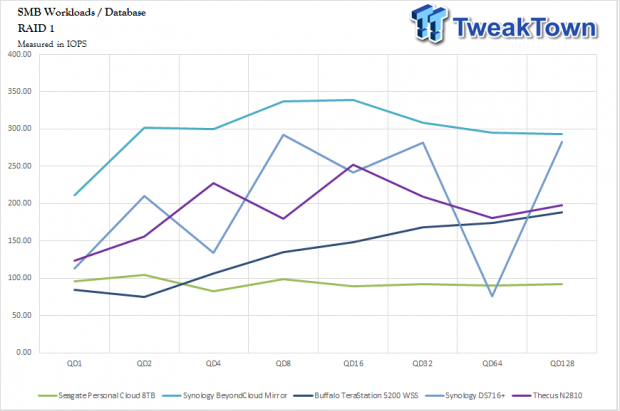 Swapping over to RAID 1 Database started at 130 IOPs and ramped to 230 at QD4. From there we had a slight drop to 180 IOPS at QD8 but rebounded back to 250 IOPS at QD16.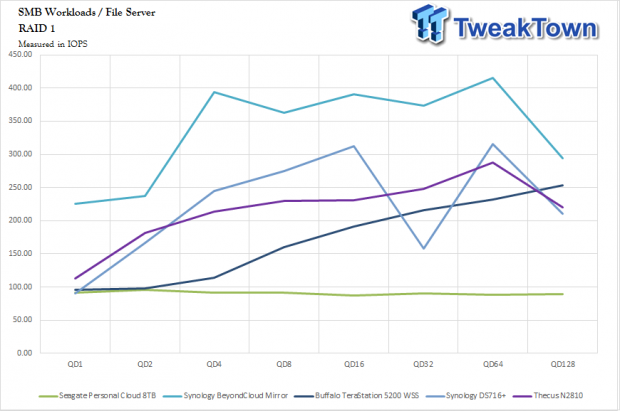 With the file server workload, the N2810 performance was quite steady to a peak of 280 IOPS at QD64.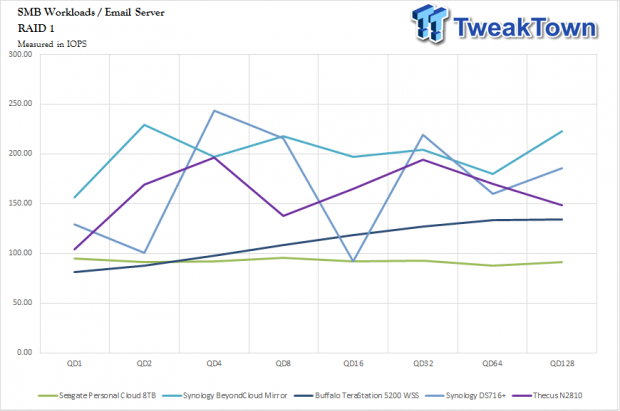 Email server was a bit crazy, starting at 110 IOPs and racing to 200 IOPs at QD4. Performance then stuttered and dropped to 140 IOPS at QD8 before mounting a comeback peaking at 290 IOPS.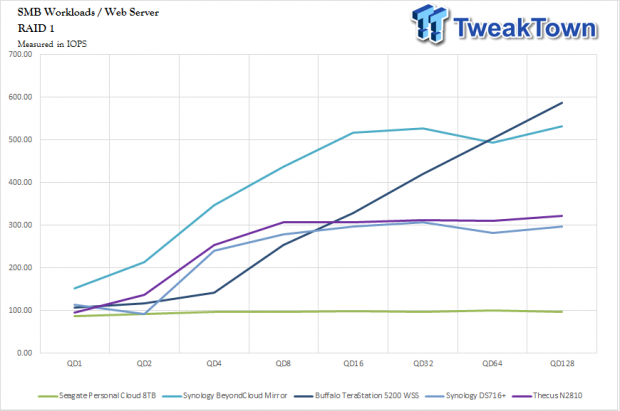 Moving on to Web, we find all appliances running an interesting and parallel pattern on the chart. Peak performance was around 300 IOPS from QD8 all the way past QD128.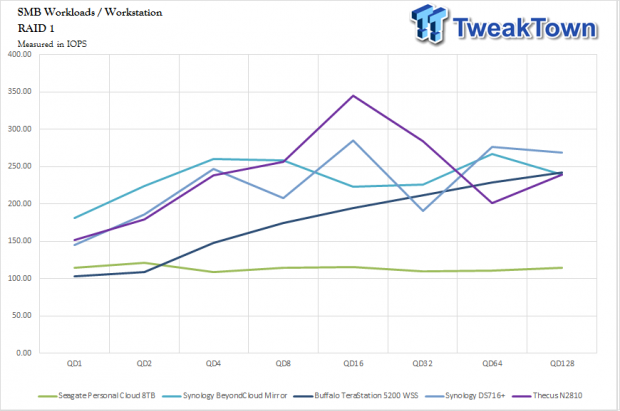 Workstation has the 2810 starting at 150 IOPS QD1 and moving up to a maximum of 350 IOPS at QD16.
Final Thoughts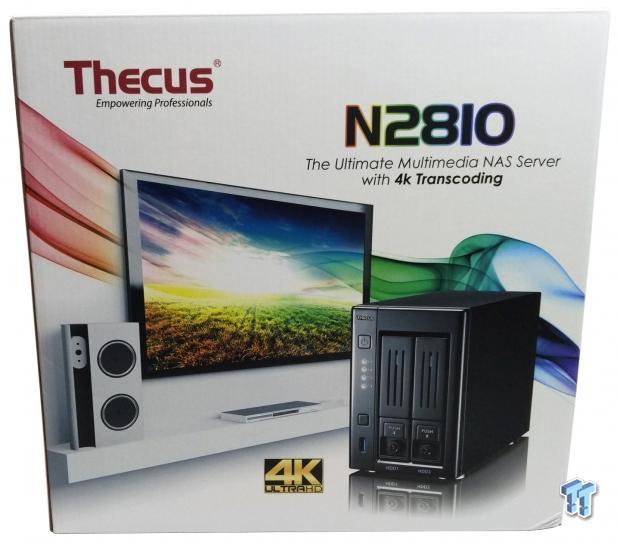 Thecus has always had a way of setting itself apart from many other vendors, whether through aesthetics of their appliances, which tend to air on the industrial side, or through software. With the N2810 being the first platform to ship with OS 7 onboard, I was pleasantly surprised to see how many more features Thecus had ironed out since my last affair with this new OS in our N5810 review.
For starters, they fixed a bug that plagued iSCSI and the Plex app now works without issues. On the build quality, as I said, Thecus goes for the industrial heavy metal design, so the N2810 does not disappoint. We have a full chassis made of steel with a touch of plastic on the front to add a bit of style. Keys secure the drive bays and the trays are tool-less.
On the performance side, the N2810 does perform quite well in synthetics matching or going above performance seen in competing solutions. In single client, we found a peak of 113 MB/s in playback and record and same too can be said for RAID 1 where this unit peaked at 95 MB/s in the same test.
Workloads had this unit right with the pack producing over 300 IOPs in RAID 0 Workstation and nearly 290 IOPs in RAID 1. On the real-world side of things, I had no issues streaming media with this NAS over Plex, but when it came to transcoding on-the-fly, we did have some struggles at higher resolutions.
This is most likely why Thecus, just a few weeks ago, upgraded their lineup to include a Plus model of this very NAS, swapping out the dual-core N3050 for a quad-core N3150 and doubling the memory from 2GB to 4GB. Of course, this is a perplexing move as the N2810 has had a short life. In my opinion, it is now obsolete.
| | |
| --- | --- |
| Performance | 75% |
| Quality including Design and Build | 85% |
| General Features | 85% |
| Bundle and Packaging | 80% |
| Value for Money | 75% |
The Bottom Line: Thecus' N2810 is a solid performing unit with a great list of features thanks to OS 7. But with that said, the recent launch of the N2810 Plus has complicated things and I feel you may be better off with the extra power and memory that the newer Plus unit provides.
PRICING: You can find products similar to this one for sale below.

United States: Find other tech and computer products like this over at Amazon.com

United Kingdom: Find other tech and computer products like this over at Amazon.co.uk

Australia: Find other tech and computer products like this over at Amazon.com.au

Canada: Find other tech and computer products like this over at Amazon.ca

Deutschland: Finde andere Technik- und Computerprodukte wie dieses auf Amazon.de
We openly invite the companies who provide us with review samples / who are mentioned or discussed to express their opinion. If any company representative wishes to respond, we will publish the response here. Please contact us if you wish to respond.