TweakTown's Rating: 93%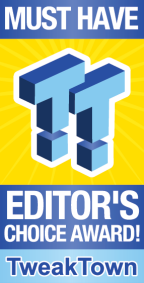 The Bottom Line
OriginPC has a winner with the EON17-X gaming laptop. The new chassis is excellent, the screen is gorgeous, and it performs like an absolute champ.
Introduction, and Availability & Price
OriginPC has been in the business of making gaming focused laptops (and desktops) since 2009 when the founders of OriginPC made their exit from another well-known PC company. They've been seeking out the best way to provide consumers and enthusiasts alike custom pre-built PC services that check all of the boxes that we want in buying a ready-made, or made-to-order PC.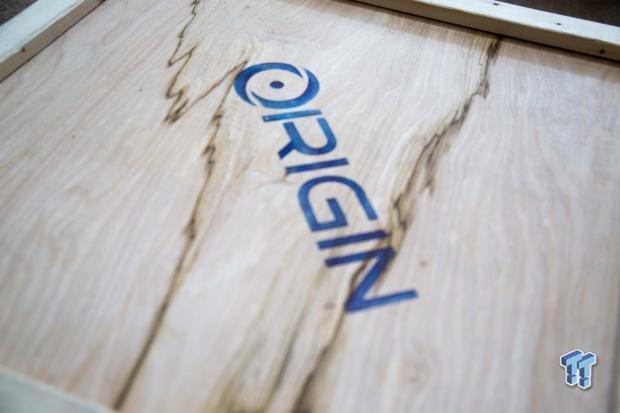 They've expanded heavily into the laptop market, using the best ODM's available that can provide the mixture of power, performance, and good looks. That hasn't always been the best combination of components in the past, but more pressure from companies like OriginPC and better availability means that we get our choice of fantastic machines, of which we have here on the test bench. The EON17-X is no ordinary laptop, either, with a very fast desktop CPU, room for copious amounts of RAM, and the second best mobile GPU that money can buy (and they have a laptop that offers it all, too).
You'd be excused if you mistook this beast of a machine for a portable laptop. It's portable in the sense that you can unplug it and take it with you. It's also far smaller than you'd probably expect. But this isn't something you'll be pulling out on the bus to get a few lines of your next great American novel written. This is a massive machine that's almost the epitome of "mobile" performance. Here, mobile is defined as the ability to take the machine with you to set up in a static place. In fact, as a gaming machine this excels, but more surprisingly is how useful the EON17-X becomes when you consider it as more than just a mobile gaming powerhouse. This is indeed a desktop replacement in more ways than one, and the CPU inside is valuable given the CPU limited workloads you might encounter as a developer or researcher.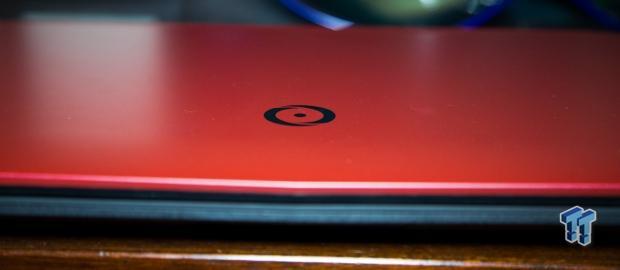 Availability & Price
The EON17-X is available directly from OriginPC's website and can be custom configured in a variety of different ways. Their website and customization pages are well-thought out and easy to navigate. There are ready to ship models available, or custom orders that can take weeks to months to assemble depending on availability of everything you select. Customizing the case can add more wait time, of course.
The starting price of the EON17-X is $1823, with a non-NVIDIA G-Sync display, an NVIDIA GeForce GTX 965M, a desktop Socket 1151 Intel Core i5-6500, 8GB of DDR4 2133, and a 500GB 7200RPM HDD. As configured here, it's $2714, but has an overclocked Core i7-6700K and a 980M underneath. Configurations can top out at around $3683, but that's with an OriginPC paint job on the exterior, G-Sync, 64GB of DDR4 2400, a 512GB PCIe m.2 drive, and more storage than you'll likely need in a laptop, even a desktop replacement such as this.
Specs, Configurations Available, and Warranty & Support
Specifications
OriginPC lent me a sample that has nearly everything you could dream of in it. Combining the usual super-fast storage drive with a still amply quick storage drive, the addition of G-Sync and having the screen calibrated is a very nice touch, something that isn't even offered by many other professional brands, either.

The specifications for the model being reviewed are below.
Exterior: ORIGIN PC Red Lid

Display Type: EON17-X 1920 x 1080 17.3" IPS Matte Display with G-SYNC

Graphic Cards: Single 8GB NVIDIA GeForce GTX 980M with G-SYNC support

Processor: Intel Core i7 6700K Quad-Core With Professional CPU Overclocking at 4.5GHz

Memory: 16GB ORIGIN PC Approved DDR4 2133MHz (4 X 4GB)

Operating System: MS Windows 10 Home

m.2 SSD Drive: 256GB Samsung 950 Pro PCIe m.2

Hard Drive: 1TB Seagate Solid State Hybrid Drive

Dimensions: (W) 16.46" x (H) 1.52" x (D) 11.10" 8.6lbs
The chassis itself is rather attractive on the outside. It's made primarily of hard plastics that are sturdy and contribute to a well-built chassis that doesn't exhibit any flex on the keyboard, the bottom or anywhere really. You could pick it up by the side with one hand, and it won't feel fragile by any means. It isn't a blunt object to be used as a weapon, but it's also quite the stout machine.
Being a gaming laptop, it doesn't have the overt, loud trappings that you might typically associate with such a class of laptop. The red lid and subtle front light are the only defining characteristics that this is made for gamers specifically. Their symbol is even restrained and understated, and the design isn't exactly "in-your-face" either.
Software wise, it's clean of any bloatware, and could be considered bloatware free. They'll install the Internet browser of choice and any games and other gaming-specific software, but that's it. Nothing without your consent. They include a fan control software that has different profiles depending on the type of activity you use, and it's mostly unobtrusive. Recovery is handled by an included Kingston/OriginPC branded USB 3.0 drive with everything you need to recover from any issue.
Configurations Available
Even though the specs start rather modest, they can easily be configured with a wide variety of options. You can up to an i7-6700K, 64GB of DDR4 2400, a GTX 980M, dual M.2 drives, and even up to two 2.5" drives for storage, configured in a RAID, 1 or 0, or not. There are also multiple choices of colored lids. Black, white, and red are available at no charge, but custom or one of their own designs for a little bit more. It's understated, but certainly not a small laptop at all. But it's not out of place in any setting.
Warranty and Support
OriginPC offers 24/7/365 technical support for the lifetime of the PC or laptop that they build for you. You can contact them via phone or email or chat. Any labor costs are also covered, so if there's a hardware issue, you only pay for the parts. They include a remote desktop client so that they can diagnose any problems, and potentially fix them, from afar. You also get a one-year warranty for part replacement, and they warranty the condition of the system after shipping for 45 days. So if something untoward or unfortunate happens during shipping, it's covered.
Detailed Look, Outputs & Connectivity
Detailed Look –A monster in sheep's clothing
Looking closer, you'll find a laptop with good plastics that resist fingerprints very well. The tapered shape makes it easy to handle and also makes it seem much slimmer than it already is. Ports are evenly distributed between the right and left sides, and the extra DisplayPorts are located on the rear, a good place as a means of simply placing the machine on your desk as the machine for which you run your daily tasks.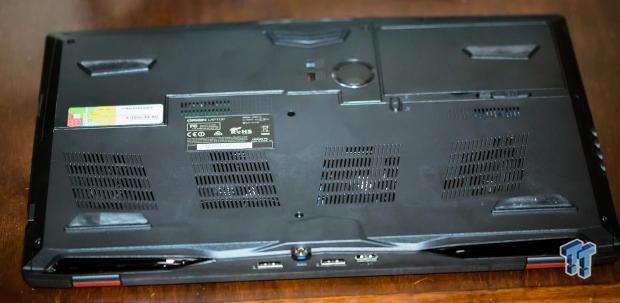 Laptops traditionally aren't quite as upgradeable as you'd like. There's only so much that can be changed out. In this case, you're able to upgrade everything except for the motherboard. If, for some reason, you ever felt like putting in a different Skylake processor, and felt brave enough to take apart the large cooling system, then you can.
Need a new GPU to keep up with the times? Just go out, find a new (expensive) MXM board with your favorite next-gen Polaris or Pascal GPU and have at it. Need more storage? There's a lot of room in here for that, and RAM too.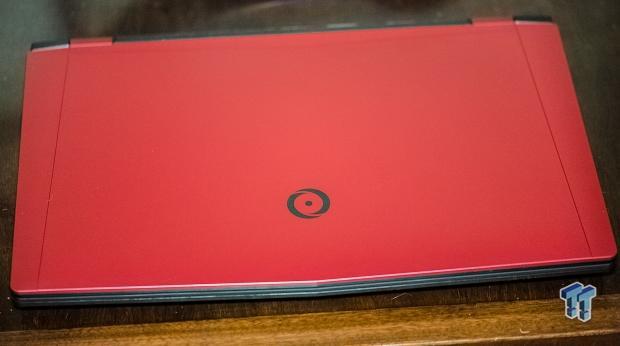 Outputs & Connectivity
They've included a lot of connectivity, certainly enough to sustain any power-user. It's large enough to actually accommodate everything you could ever need, from a bona fide LAN port to enough DisplayPort's to make this your primary go-to machine.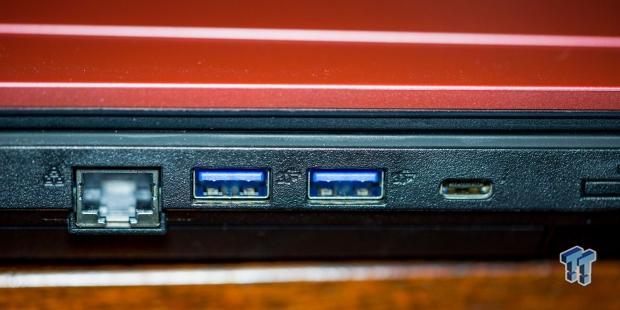 Ports:
1 x eSATA/USB 3.0 combo port

2 x Display port 1.2

1 x HDMI output port (with HDCP)

1 x Headphone jack

1 x Microphone jack

1 x S/PDIF output jack

1 x Line-in jack

1 x RJ-45 LAN port

1 x DC-in jack

6-in-1 Push-Push Card reader

3 x USB 3.0 ports (1 x powered USB port, AC/DC)

1 x USB 3.1 port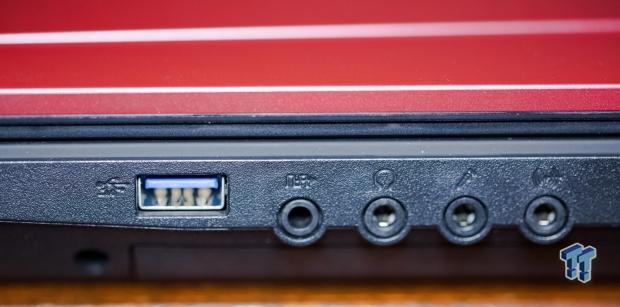 Display, Keyboard, and Trackpad
Display
They've managed to include one of the only G-Sync capable displays in a mobile device. It's a matte IPS display with a resolution of 1920x1080p. That's the only drawback, and this system is more than capable of playing at higher resolutions. At 17", it's not a bad resolution, though. I can't make out individual pixels, and the colors are already accurate and great looking out of the box. This comes pre-calibrated by the folks that built it, and there are multiple color profiles you can select through a handy utility that lets you switch between them, depending on the color temperature you prefer. Remember, it's not always about color accuracy for most people, but about whether or not it looks good to us in use.
Testing it with an X-Rite i1Pro Basic 2 showed that the screen is capable of nearly 114% of the sRGB color spectrum, which is an incredibly amount and more than enough for most professionals. We noted it was a very capable little screen and had a contrast ratio of 721:1 with a black level of 0.31.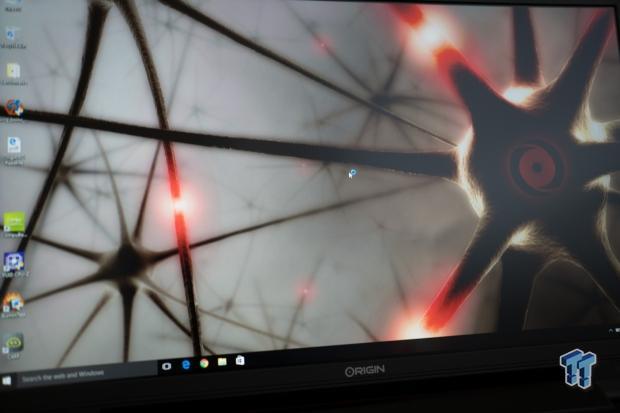 NVIDIA G-Sync is a welcome addition to the monitor that actually has a larger impact on enjoyment than you might think. Anyone who's had the chance to try a variable refresh rate monitor might be able to attest to how wonderful it is to have a screen that's fast enough to keep up with the games you're playing. Even though the refresh rate tops out at 60Hz, the variable nature of it can help do something that V-Sync alone can't quite deal with in all situations.
The result is a reduction of tearing in most games, and the lower limit of 30Hz actually ends up being advantageous in a laptop. For more demanding games, even with the visuals as high as possible, say in Battlefield 4 or Battlefront with their fast-paced motion, the monitor can keep that tearing to a minimum while running as fast as possible. The result is great. It's a worthwhile addition to a laptop, and because there's no special module, it shouldn't, alone, add anything extra aside from a usual increase in quality associated with the newer panel you'll have to select such as the beautiful IPS one here.
Keyboard & Trackpad
The keyboard is a full-sized affair with a num pad on the side. The keys themselves are slightly upturned and made of a hard plastic that has a nice feel and resists keeping fingerprints fairly well. The backlighting system is capable of showing 16.8 million different colors that you can select by using the included app, which is fairly intuitive to use, and can select different zones. The backlighting itself can get pretty bright, and comes through the laser-cut keys bright and clear. It's attractive, and the number of different combinations makes it fun to play with.
The app isn't quite as put-together as some others, such as Alienware's or MSI's, but it's still easy. On typingtest.com, I'm able to get close to my normal typing speed of 70wpm, though with a few errors. The only complaint about the keyboard is the shorter than usual right-shift button; it's not normal, and there's really no excuse for it to be so small on such a large laptop, and it makes it awkward to type on at first until you get used to the wee little shift button.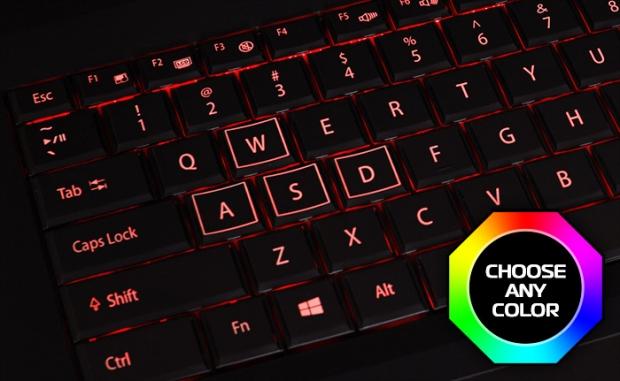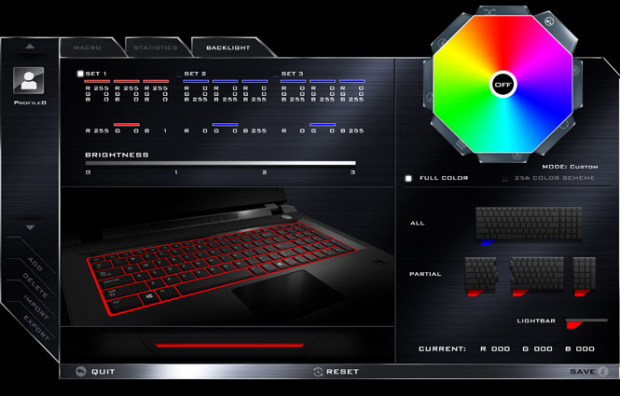 The way you interact with your PC is one of those things that's important and needs to be easy enough to use, or get used to if it's different than what you've been used to, or you could get terribly frustrated, and it can diminish the experience. If you can't do what you need or want in the system, then what good is it? OriginPC actually has that on point here.
For the trackpad, OriginPC went with a Synaptics unit with separate buttons. It's massive, smooth, and responds well to Windows 10 multitouch gestures. It's controlled through the usual Synaptics software, which is fairly intuitive to use. The result is a smooth(ish) experience navigating through Windows.
Speakers and Sound
Speakers
The speakers are large and in-charge, capable of distortion free audio up to a recorded (with earplugs) 92dBa. Underneath, we have a subwoofer and two speakers on top that are pointed towards you for a mostly full sounding 2.1 package. There's enough separation between frequencies to make it a good fallback when your headphones aren't available, and the sub-frequencies actually have more power than you'd expect. It won't replace a good set of external speakers or headphones, but they are a good inclusion. It's rare to find actual good laptop audio that's both full, loud, and good sounding. This encompasses all of those from a non-audiophile point of view.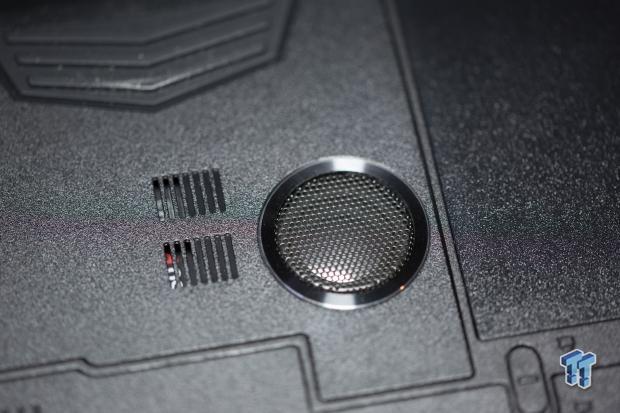 The sound itself is handled by the onboard Creative X-Fi chip, which is the actual tri-core Creative DSP affixed to the motherboard. As you'd expect, it comes with the obligatory software that lets you apply a custom EQ or turn on EAX special effects globally. It also includes a profile system that will set a system of specific settings for various genres of games or even just music or watching movies. There's also what's called the SBX Pro series of settings that add some more expanded audio options.
You can activate Creative's virtual surround solution, which is relatively convincing, or apply a bass boost or even turn on their crystallizer, which is supposed to "upscale" music and sound to attempt to make it sound better. The results, to my ears, are quite pleasing, though not everyone will agree.
Sound Output
Coming out of the 3.5mm port and into my headphones, thus being pushed into my ears was a delightful experience. The amp is capable of powering headphones up to 600Ohm's, and can give a pretty convincing soundscape in games, music, and movies. The Creative software is definitely gaming-centric, and the wealth of options might not suit everyone's audio-centric needs, but it's actually good at making it sound full, with the right headphones.
IEM's like the sensitive Shure SE846's are driven into insane levels, if you want, and I couldn't hear any feedback or that telltale "hiss" that can sometimes indicate poor components. The choice of including an actual Creative audio processor onboard was a good one, and it sounds very good.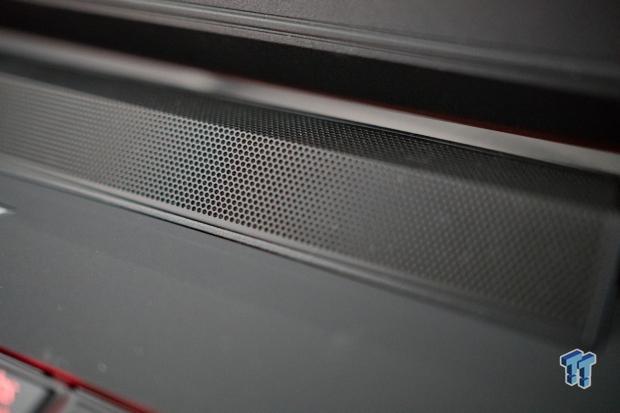 Everyday Use
Using the EON17-X - Unleashing the Beast
Make no mistake; this is a full-fledged desktop replacement that looks and feels like one. It's massive, huge, and weighs a lot. It measures 1.52-inches tall x 16.46-inches wide x 11.10-inches deep at 8.6lbs. It's difficult to lug around, sure, but it's not meant to be popped in your bag to take to Starbucks for a quick drink, though it definitely could be.
There seems to be an issue with some wanting to apply the same logic when evaluating a desktop replacement as with a thin and light. You'd be excused for making that mistake. Once you wrap your head around the market this is for, then you can see just how useful it is and just how thankful you might be if you need some computing power on the road, or just want to game while on the road.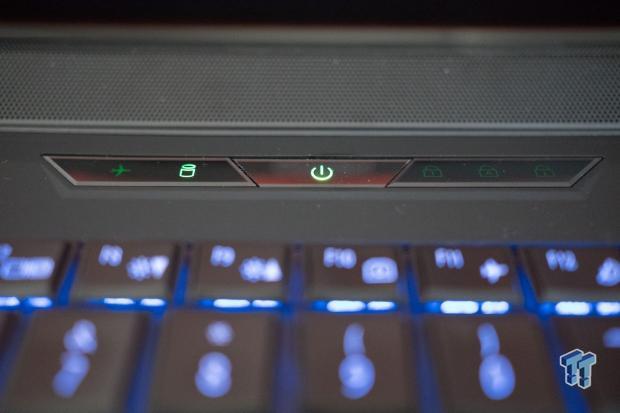 The extra CPU horsepower and surprisingly quiet cooling system make for a good companion for those tasks other than word-processing that need something a bit more serious. The desktop CPU speed was actually quite helpful when I needed to compile a few projects while out traveling. In fact, despite a few small examples, the majority of my workflow is CPU limited and benefited from the boost.
The strange non-standard right-shift button was a nuisance but didn't seem to cause too many issues after more than a month typing on it. Moving to any other keyboard caused a slight regression, but hey, that happens. Once you find a home for it, be it the rickety desk at the motel you're staying at, the office or on a dedicated desk driving three monitors, it's right at home. And speaking of which, it's easy to use this in that capacity. As a work laptop. That's the magic bullet for these massive desktop CPU in a box machines - work. It might be marketed towards gamers, but it's perfect for all facets of life too.
Gaming Use at 1080p
Gaming on the EON17-X - flying through frames
This is why you buy this laptop. For over the top gaming performance while traveling. This is why this exists, to make modern games playable at and above 60FPS with all the eye-candy turned on. And this is also where it does very well. Some games are slightly CPU limited, some are not, and with the mobile-spec GTX 980M, we might see that it's the actual limiting factor. This was a concern going in, but it doesn't mean that any games are unplayable, just a little lower than their other high-end beast that does happen to cram in the desktop-specced GTX 980 into the chassis.
Despite being only a 1080p screen, it's more than sufficient for most games, and even lets you turn on AA to keep things looking clean. If you want a bit more sharpness, you can render it at 1440p or even 2160p internally and downsample. Or you could just output to a 4K monitor elsewhere too. But that's not always an option. Gaming at 1080p is simply a joy, magnified by the NVIDIA G-Sync-supported screen. It's simply easy to get massive framerates with this combination. It's also an interesting expose into what's limited by the GPU because the CPU can reach its top boost speed without issue while gaming.
To test, we'll put it through its paces in the typical benchmarking suite we use here at TweakTown as well as a larger compilation of games that include a number of different types, and ages, of games that you might play but rarely see actually benchmarked. For those, the settings were set as high as possible in-game, unless otherwise noted. AA of all types was turned off in all games within the compilation to keep it in line with our testing methodology that we use here.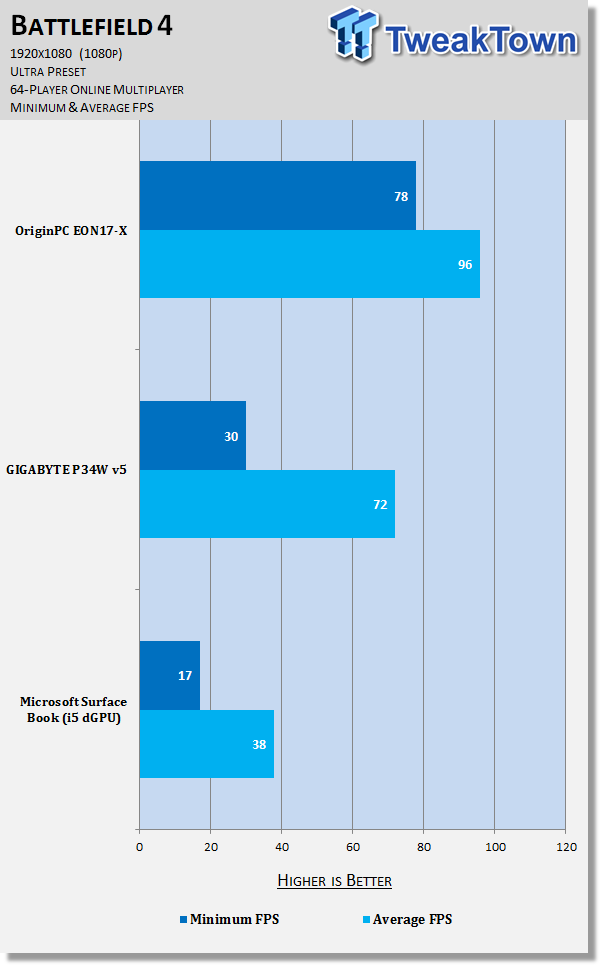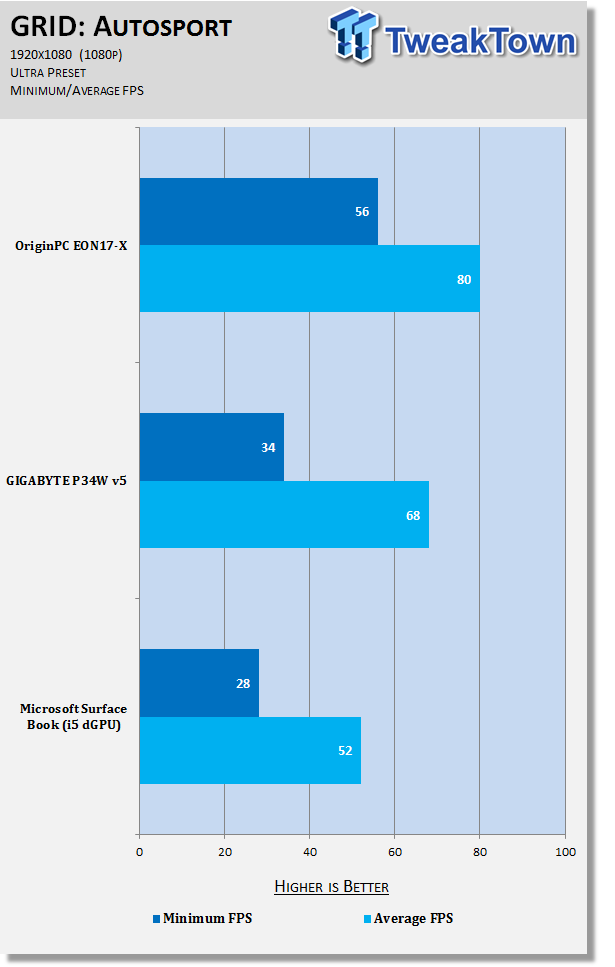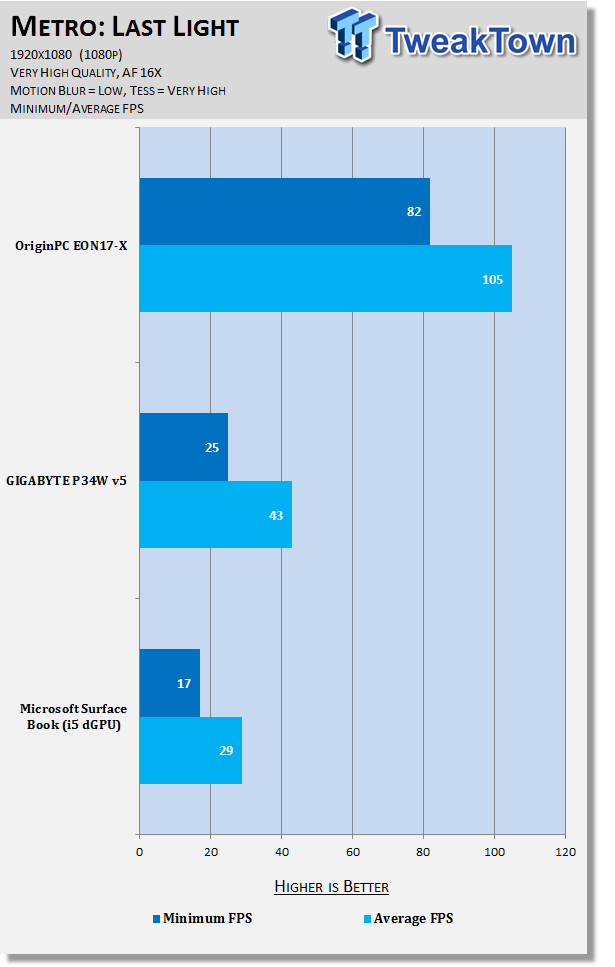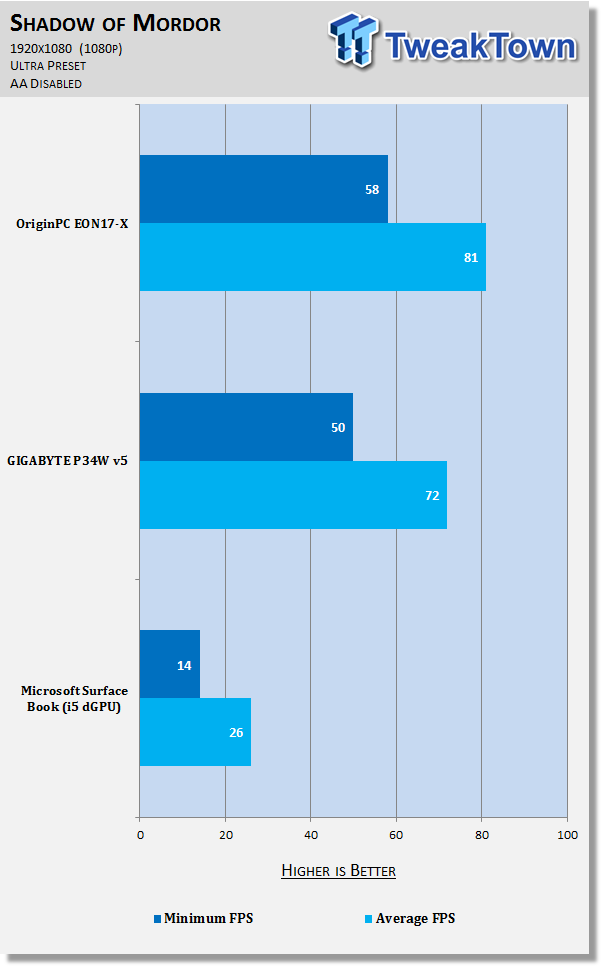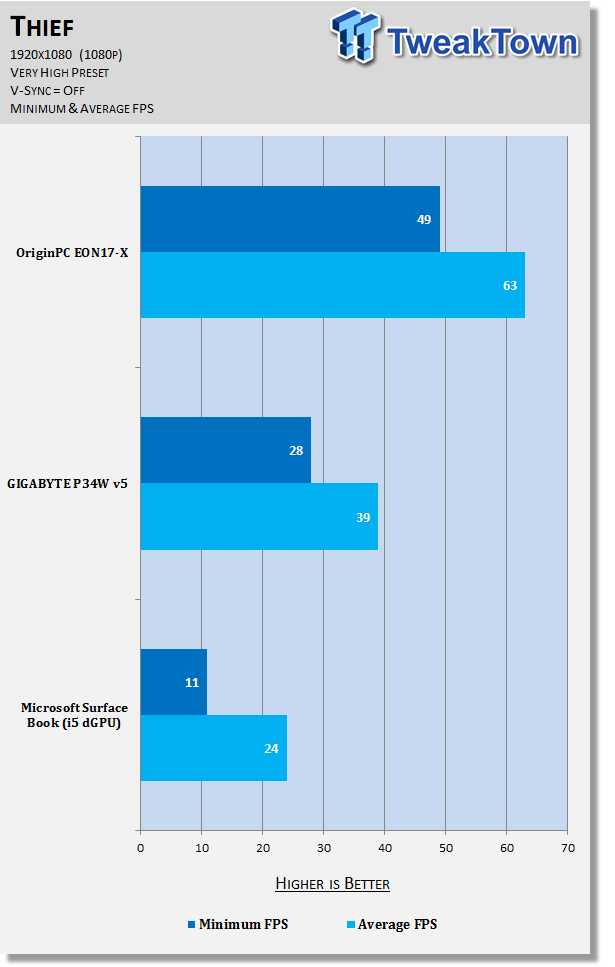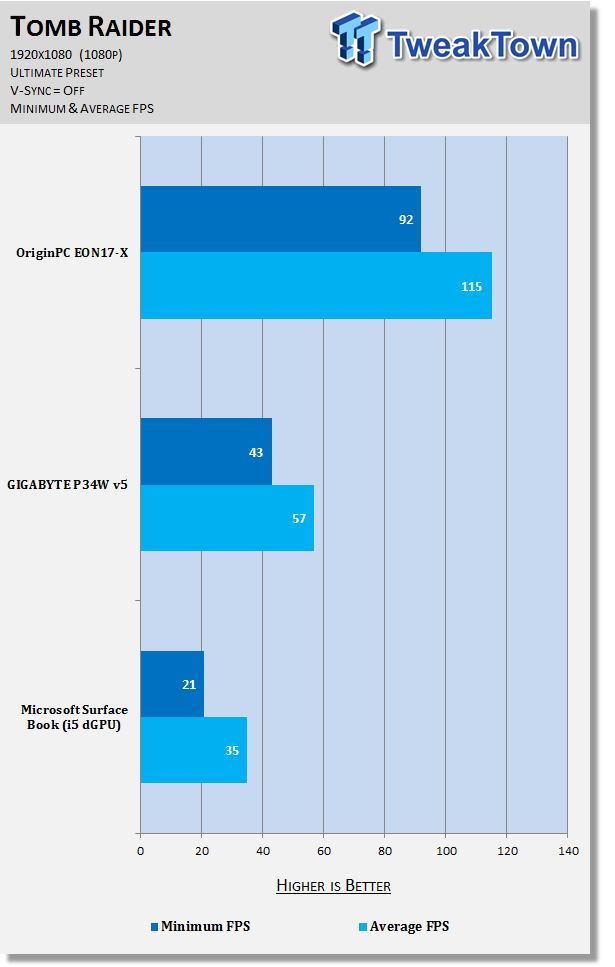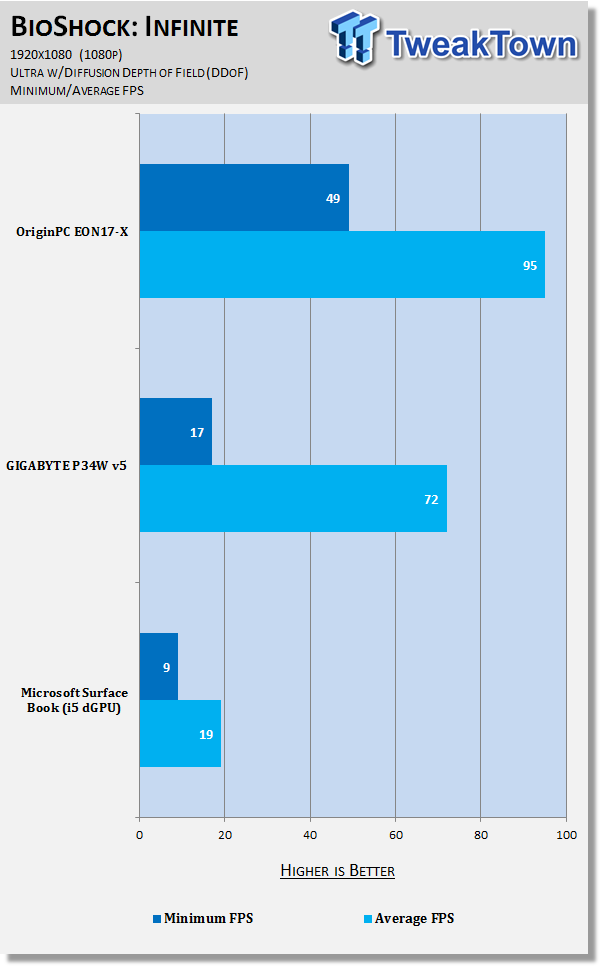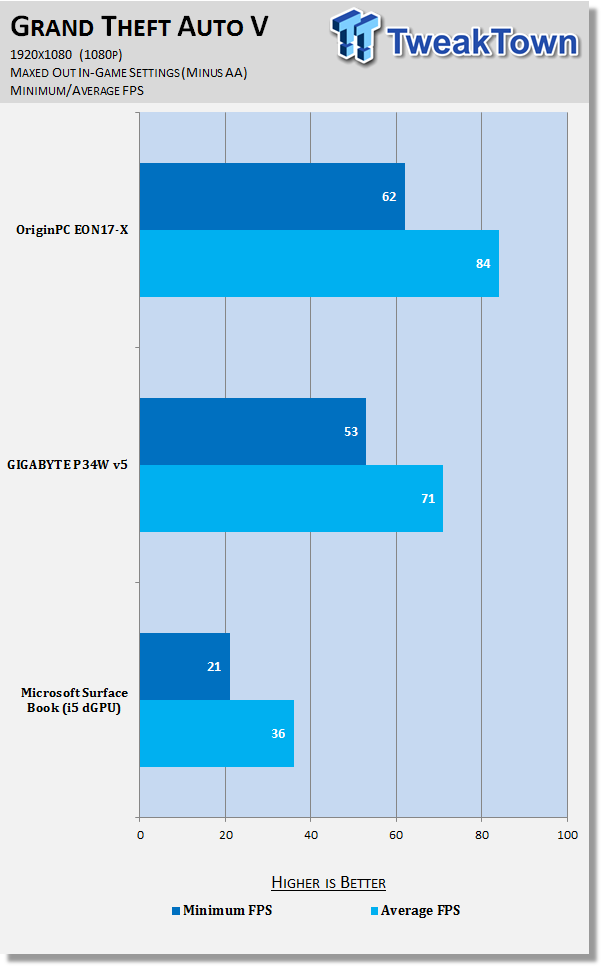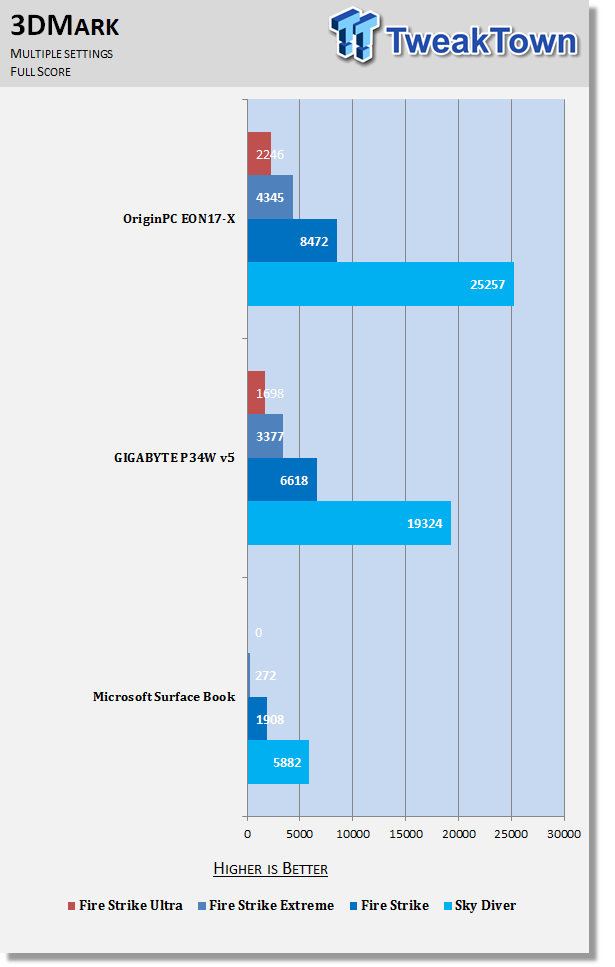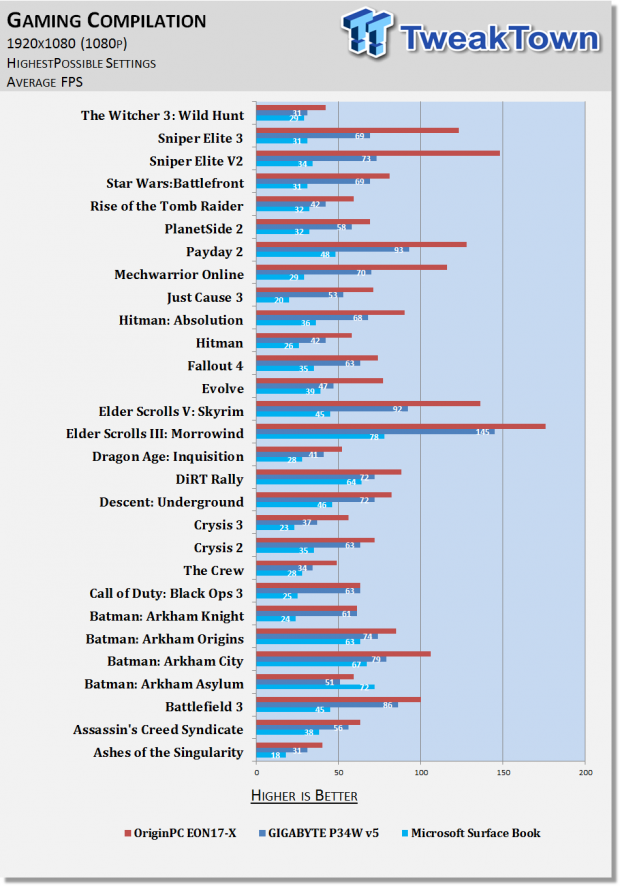 Gaming Use - VR
Being as potent as it is, you might think it'd be the perfect companion for VR on the go. A mobile VR showcase where you could theoretically go door to door selling the benefits of VR. The component choices are more than powerful enough to support the resolutions of the main VR headsets, and could theoretically play most games released now and even some in the future with those HMD's. VR is readily becoming an accessible technology, even if the cost of entry isn't exactly that reachable for everyone. Thankfully, the EON17-X is more than capable of running games in VR.
To test this, we fired up the SteamVR Performance Test and took a look at what it said we could do. In the future, once the two headsets are in place and setup, we'll have actual game performance. But rest assured that this exceeds the minimum requirements for VR, and will likely play games like EVE: Valkyrie beautifully.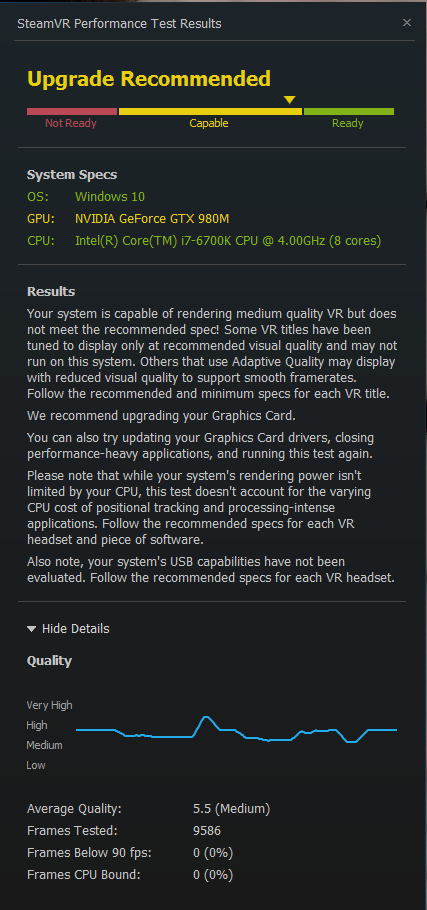 Though here you can see that it doesn't quite have the highest score possible, that doesn't mean VR is out of the question. Turn the detail down a bit and it should be able to handle it. Actual gameplay will vary, and since it was able to keep framerates above the refresh rate of the Vive, this should be a good match for road-VR.
Benchmarks – CPU & RAM
Benchmarks, turning the tide on gaming laptops
The Intel Core i7-6700K should best absolutely every laptop with mobile-focused chips, and should speed through every test we throw at it. This particular chip was OC'd to a very stable 4.5GHz and as a result of that should really be compared to other pre-built desktops, but we didn't do that here. We test in a multitude of different applications for the CPU performance. We include Cinebench R15, the X264 FHD Benchmark, Google Octane 2.0, Mozilla Kraken, and WinRAR to represent real-world workloads that you might encounter.
The first test is Passmark's internal memory benchmark test to see how DDR4 fares against its competitors.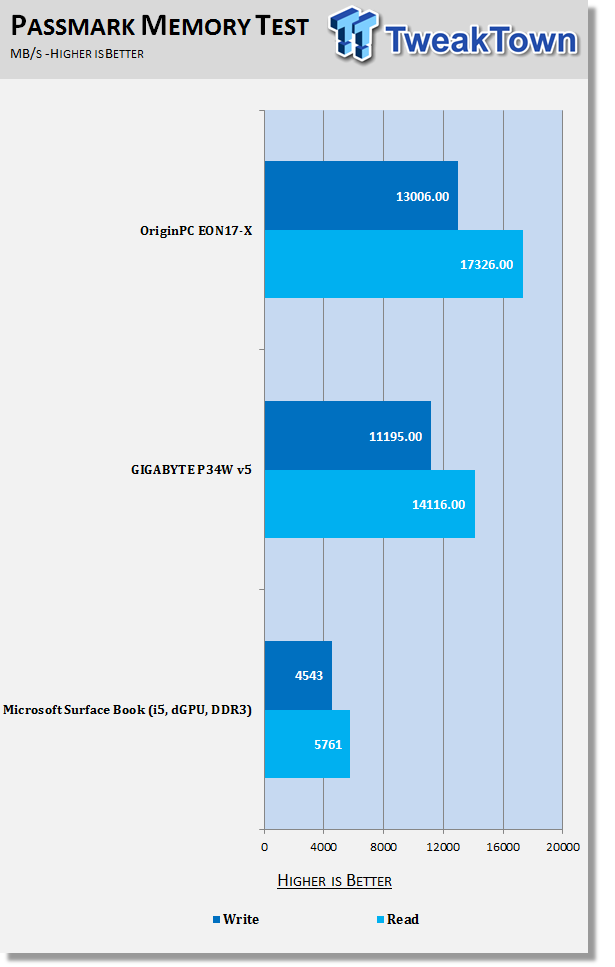 It ends up being incredibly fast, just as fast as we'd expect. The test runs various amounts of uncompressed data through the RAM to test, compressed data tends to run much faster, though is much less realistic. This is incredibly fast, more than enough for any project you might need. Our next test is Cinebench R15, the most recent version of the rendering benchmark that uses a scene and the backend rendering path from Cinema4D to test the mettle of your CPU.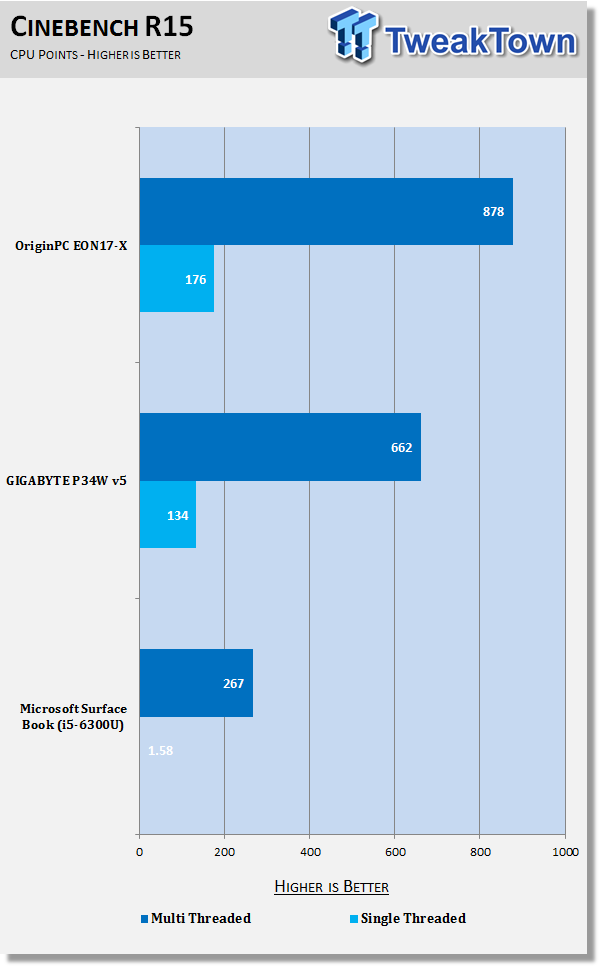 The extra CPU cycles per second end up being quite the benefit here, and the single-core advantage is significant enough, even if it looks small. Using all eight threads at 4.5GHz leaves everything else we've tested (this far, much more to come!) in the dust. Next up is the infamous X264 FHD benchmark to test how quickly it can encode a movie file.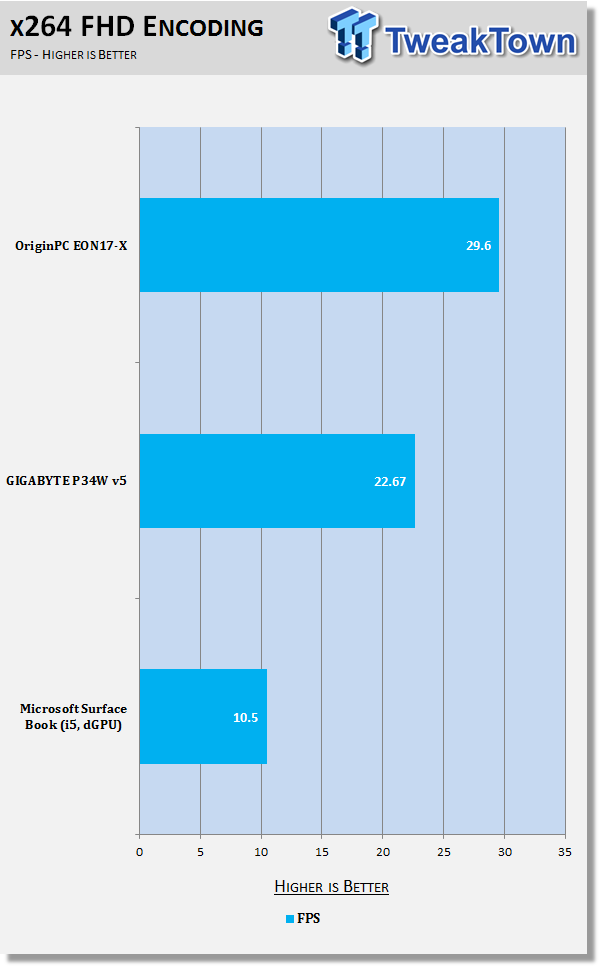 Again, the higher frequency response helps it render much faster. CPU rendering can sometimes have better overall quality when using the X264 encoder compared to H264 on the GPU. H265, however, if you have a program that supports it, is much better. Those tests will be included as they become more prolific. Now on to the browser based benchmarks that stress various operations and workloads you'll encounter throughout your day. Octane 2.0 is first, then we'll unleash the Kraken. Chrome is used on all platforms for consistency.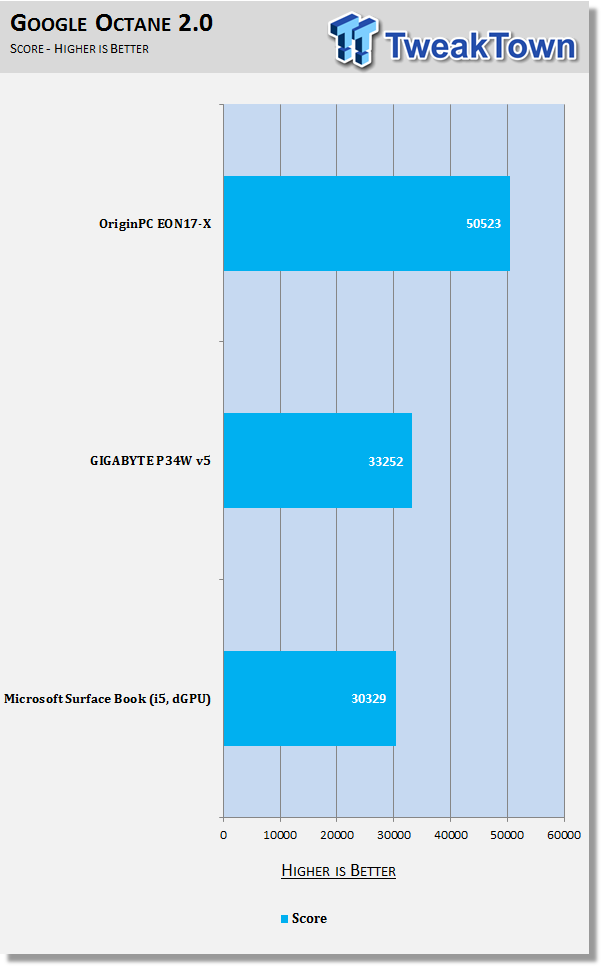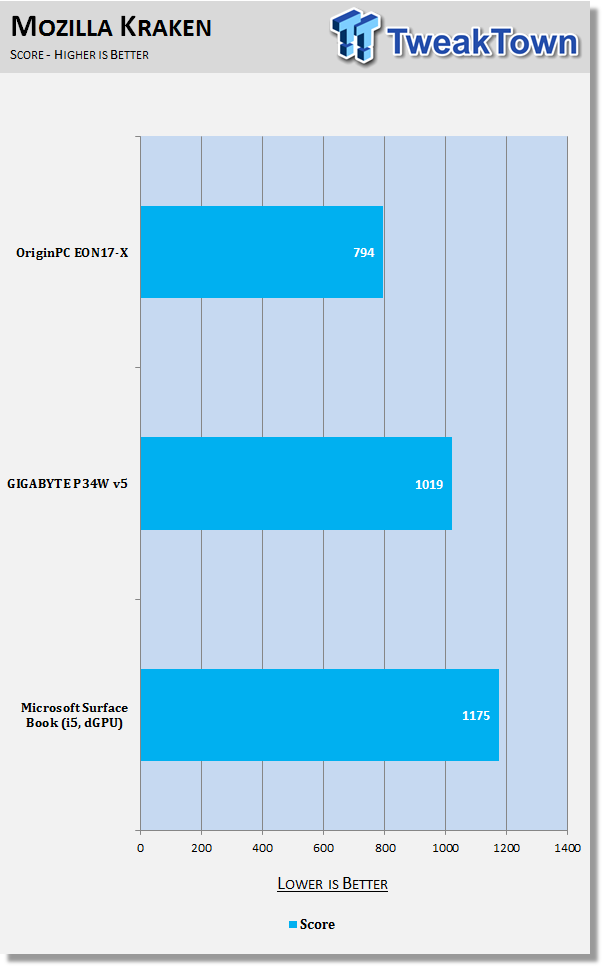 As a show of how efficiently the EON17-X can complete browser-based tasks, we can see that, again, the extra clock speed is a great help. Browsers are becoming increasingly more powerful, and Mozilla themselves are even looking at being able to do more, like experiencing VR games, in your browser - so the faster, the better. We'll take a look at the performance of WinRAR next. Compression and decompression are mathematically intense and done on a more regular basis than you might realize.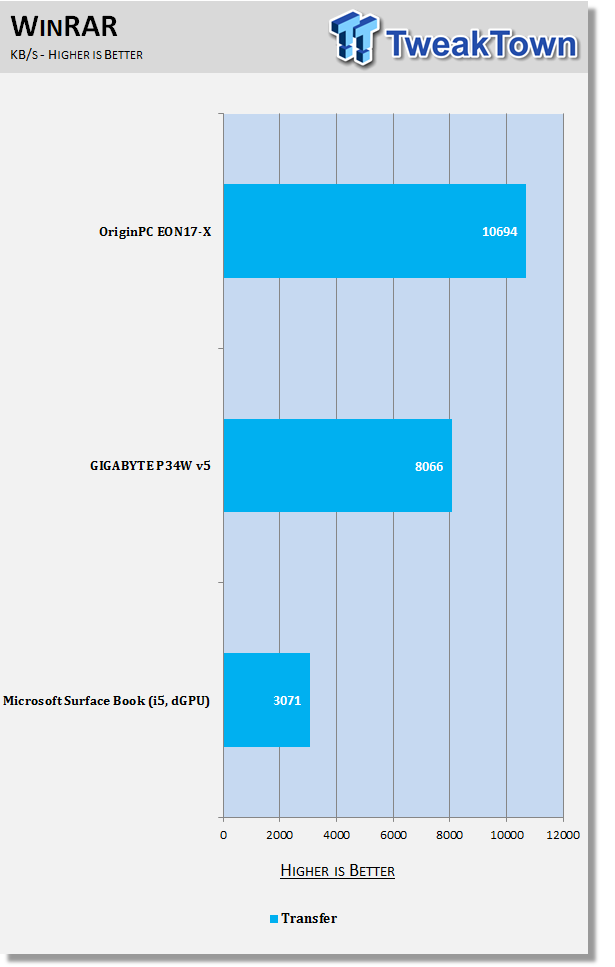 WinRAR is one of the more optimized compression tools, having nearly 90% of all third-party applications. The last test will look at the ability of the CPU to execute OpenCL code, which is quickly becoming a way to leverage more efficient processing of certain types of data. To do this, we'll use CompuBench, which represents real workloads you might encounter, despite being obviously synthetic.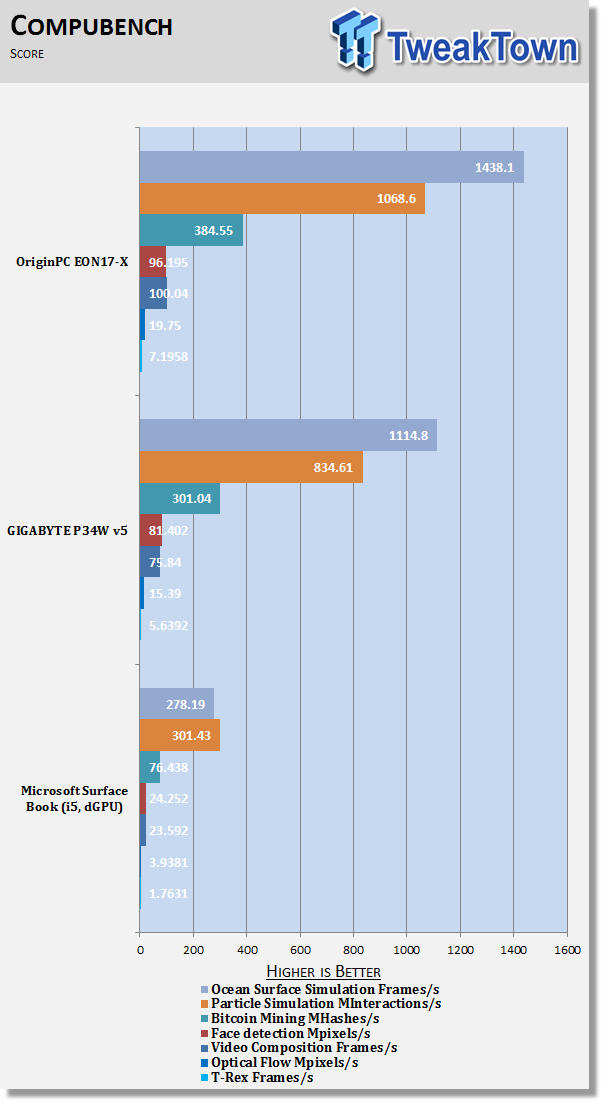 The last test is really something new, up and coming but very much a large part of the future. NVIDIA themselves have gone all in on the deep neural network learning industry, and so we've seen fit to include an actual benchmark utilizing open-source software that you can use at home. You can easily replicate this, and on Windows. We use Microsoft's own CNTK DNN framework and make use of an already installed library of image samples for it to process and learn. For the purposes of the benchmark, we use the CPU only and don't have cuDNN installed and don't take advantage of that, as right now there isn't an OpenCL or portable C++ implementation to use on AMD cards.
This is still a great benchmark of full-system performance as it's I/O heavy and resource intense. We take all the reported samples per second from the test and average them, coming up with the resultant samples/second you see here. DNN's are the next big thing, so why not include one as a benchmark?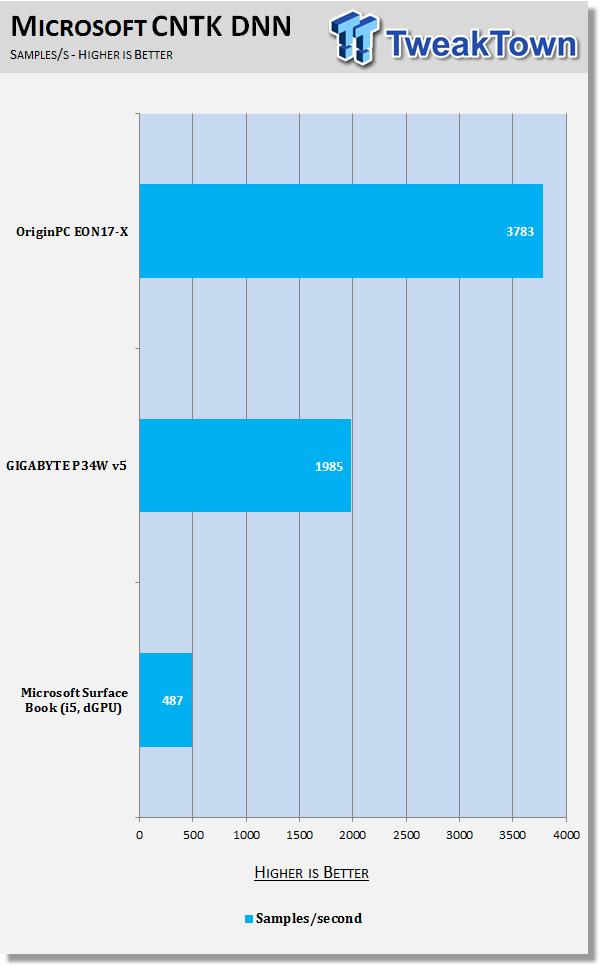 Benchmarks – Internal Storage & External Storage
Benchmarking the Internal Storage
We already know that half the I/O pipeline is fairly stout, but if the storage devices chosen to be put inside are subpar, then it can severely impact your enjoyment of the system. Imagine having to wait for a slow disk-based drive to spin-up and seek out the proper files to start a game. Thankfully, they've seen fit to include an NVMe 1.2 compliant Samsung 950 Pro SSD and a separate storage drive that happens to be a Seagate hybrid drive, though that addition of flash storage for caching doesn't always have an immediate, or large, effect on performance.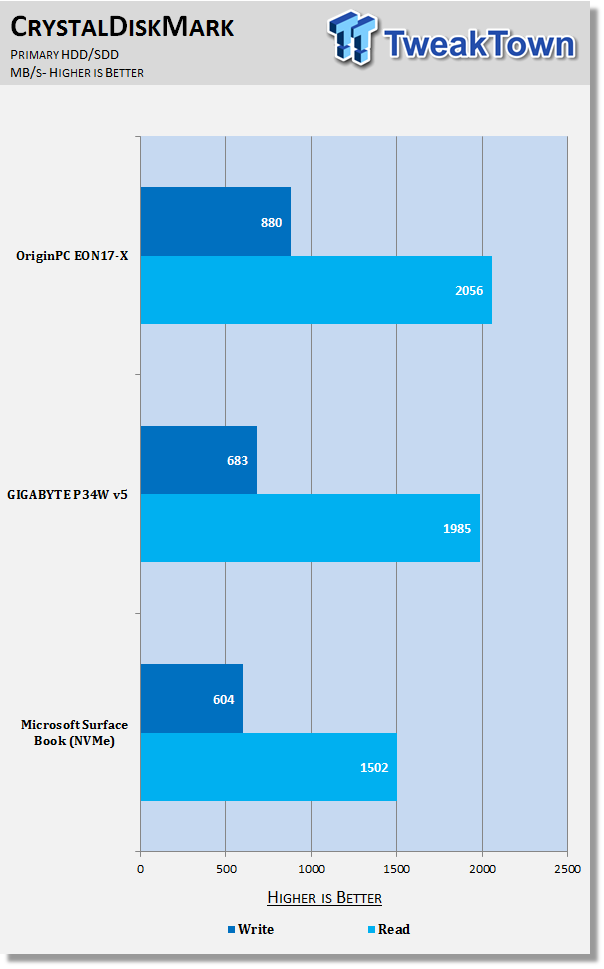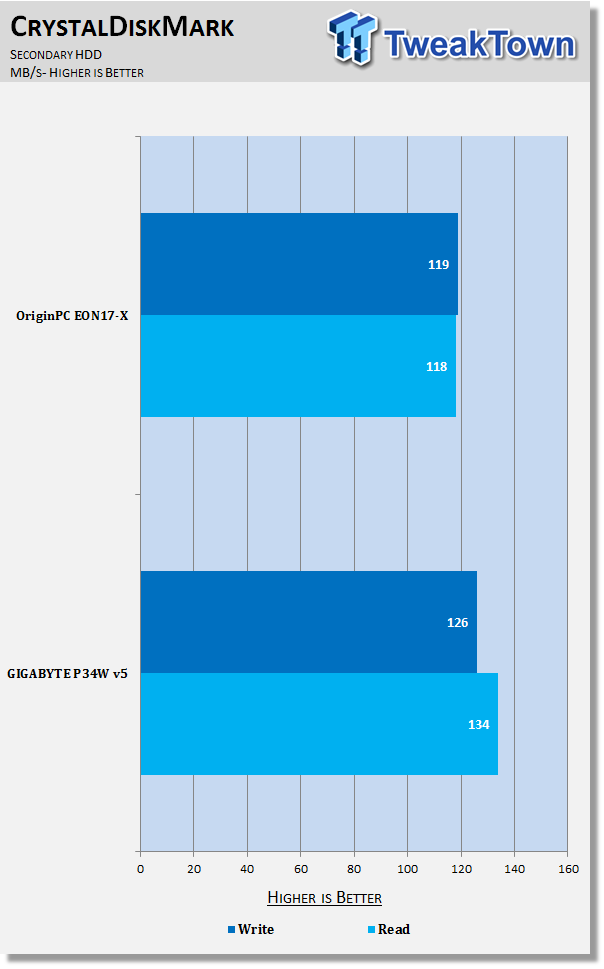 The combination means that everyday tasks can be loaded incredibly rapid when needed and that there's plenty of room to store your game library on the internal storage drive. There's plenty of room to upgrade, too, and it's easy to plop in another, or a larger, HDD to suit your needs. Keep in mind that with a hybrid drive, the more you open something, the more likely it'll be cached in the flash area and thus the higher the transfer speeds for those items. With only the mechanical portion being accessed, these speeds aren't terrible at all. Not great, but not bad.
Benchmarking the External Thunderbolt/USB Storage
With USB 3.1 Type-C and the numerous USB 3.0 ports along the exterior, there are plenty of expandability options should you need them. To test external file transfers, I took 8.81GB of 207 mixed files that are on a USB 3.0 enabled external SSD and transferred them, noting the average speed it was able to maintain throughout the full transfer.
It's difficult to test USB 3.1 Type-C due to the limitations of current SATA 3.0 speeds, so the difference is negligible. The real benefit is the ability to daisy chain, output video with audio, and just have more connected via that one port. That is until I can manage to get a RAID 0 external enclosure to properly test the speeds set up.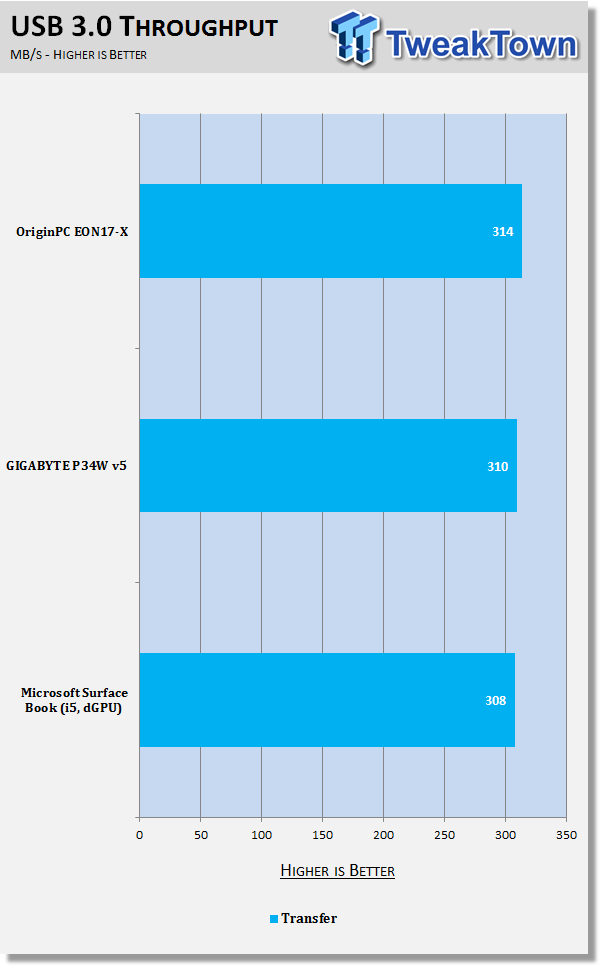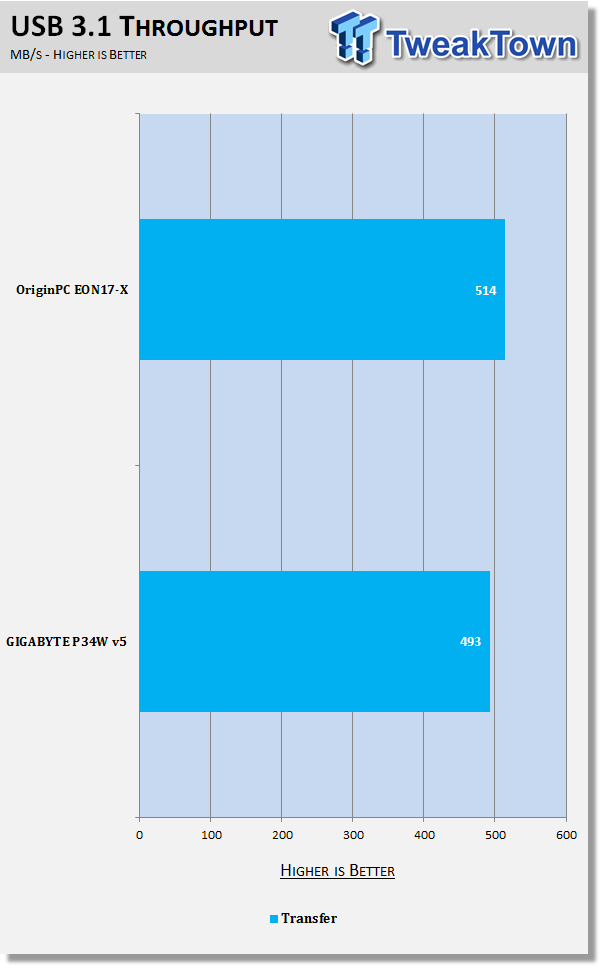 Power Consumption & Battery Life
Power Consumption
Power consumption was one of my primary concerns with this laptop. Stuffing such a relatively power-hungry CPU in a small space with only limited space for battery material is a concern. Does it suck a massive amount of juice and thus die quickly even when just writing a word document with a website or two open? Even though it's not targeted as a mobile device, as a laptop, we sort of want and hope that it has at least some battery life. Dying right when we take it off the mains wouldn't be very much fun. It wouldn't be a surprise either.
The combination of a large capacity battery and the ability of Skylake to conserve energy with the help of NVIDIA's Optimus technology make for a surprising result when looking at battery life. At the wall, it can consume up to 198W as reported by a Kill-a-Watt device. But it's the battery life that we're curious about. Don't expect to actually play games while on battery power, however. That's a bit of a stretch, even if you can get around 30-45 minutes out of it.
Battery Life – Unexpected utility
Battery life testing has changed to using PCMark 8's built-in battery life tests so that they can be repeated by you, our audience, very easily. For the light test, I chose the "Work" preset as it's the lightest load. For the medium test, I selected the "Creative" preset as it represents a more difficult workload that you might see as a creative professional on the go. All laptops have been re-run with this test, and the results are below.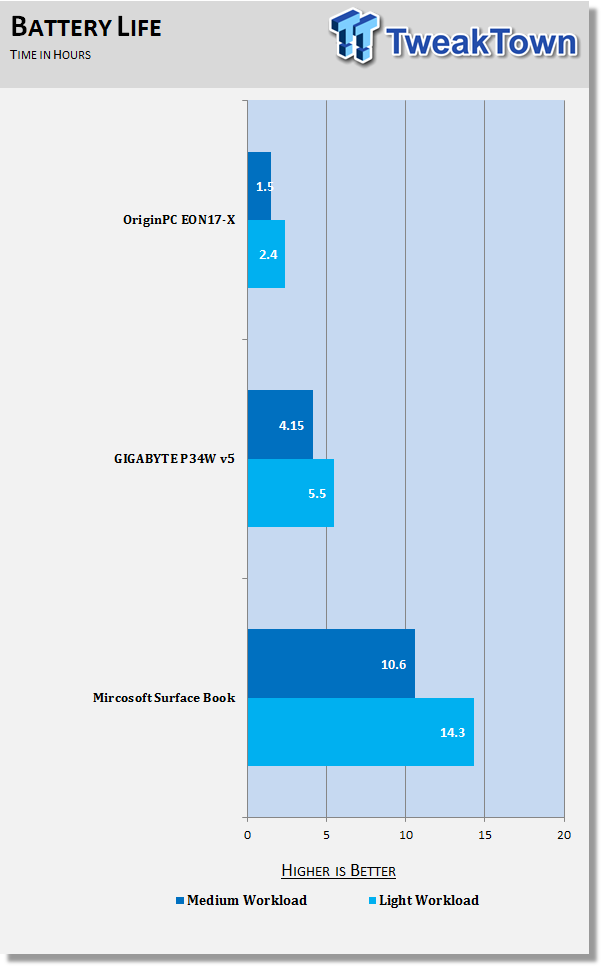 Thermal & Sound Testing
Thermal Testing – CPU/GPU
With a desktop-class CPU, it's easy to see a relatively small chassis having some issues and struggling to keep heat under control. There's only so much one can do, but this isn't necessarily the hottest CPU, either. Oddly, the separate, thick, heatpiped solution is capable of moving quite a bit of heat away from the CPU, even when running at 4.5GHz.
NZXT's CAM software was used to log the temperature while playing Star Wars Battlefront for 30 minutes to gather a realistic workload. Battlefront is a well-optimized game that makes use of the GPU and CPU with a high enough load to exceed what most people might actually use on a daily basis, unless you're running Furmark all day.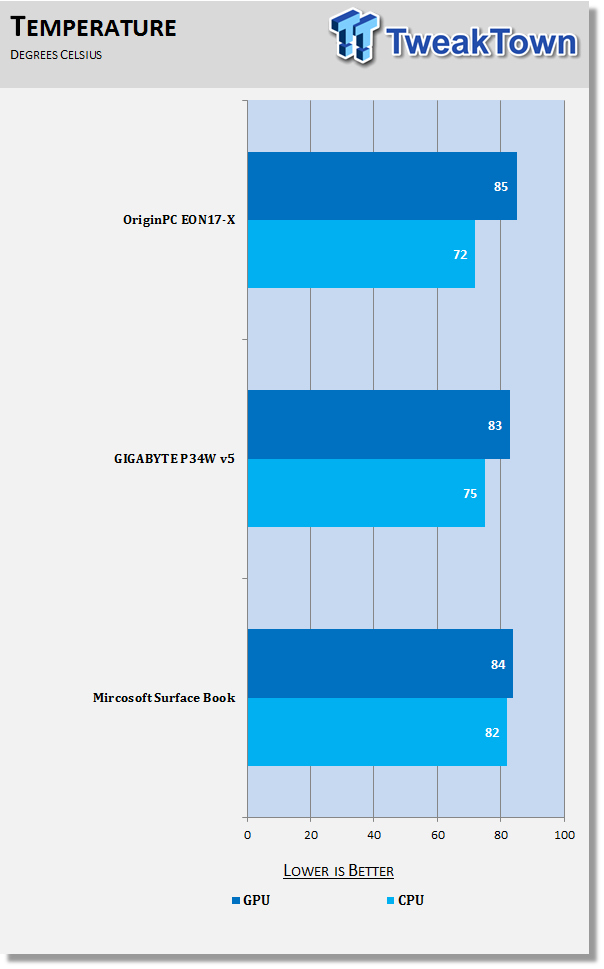 Things are very well controlled. The only issue might be that the GPU is reaching a point where it might start to throttle. The CPU on its own, when stressed via eight separate instances of World Community Grid's Mapping Cancer application, would only reach a maximum of 67-degrees Celsius, leading to the conclusion that the GPU is the hottest component in here.
Sound Testing
Lots of heat moving tends to mean a fan that's rotating quickly enough to support keeping temperatures low. In such a mobile chassis, we're limited by the size of the fans that can be used, thus increasing the propensity for noise and having higher-pitched fan noise as a result.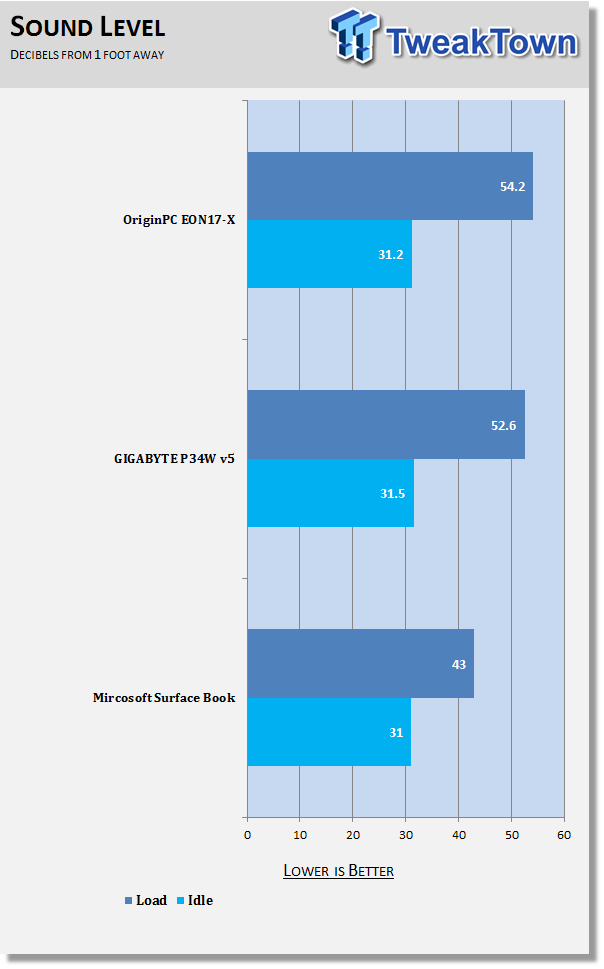 What's Hot, What's Not, & Final Thoughts
There's a lot to like from this massive desktop replacement and not a lot to dislike. When you look at it from within the category that it's placed, then it's easy to see that it offers a package that that's both attractive to all sectors that need a good CPU while traveling. It's definitely on the expensive side, but in that regard, you do get what you pay for; and if you need this kind of performance, then you'll be considering other options that are just as, if not more expensive.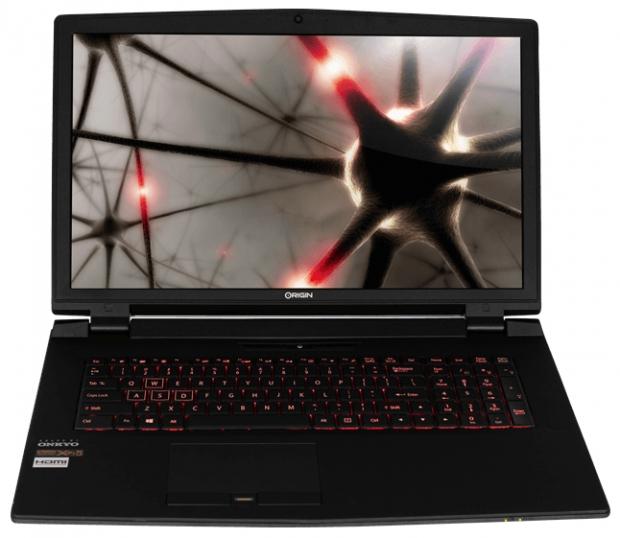 What's Hot
Display: Despite the low resolution, it's amazing to stare at, and NVIDIA G-Sync adds more value than you can imagine, even on a laptop.
Thermals: This thing stays cooler than you might imagine, and that's a massively good thing.
CPU performance: A desktop CPU adds significant speed advantages for more than just games.
Sound: It's loud, clear, and sounds awesome with both the speakers and using headphones.
What's Not
Right shift: That blasted right-shift key is seriously bothersome, it's just wrong and weird considering the size of the beast.
Weight: It's heavy, very heavy. Though there's a lot going on under the hood.
GPU Temperature: The CPU can handle the work, but the GPU? Combined it can get a bit dangerous just playing games, right on the border of bad.
Needs Haswell-E: Just kidding, that might be a bit too much. This massive thing is already quite fast as is.
Final Thoughts
It's a solidly built massive beast of a machine that ensures that you won't be CPU limited in the least. It accomplishes that goal and gives you a solid whole platform to boot.
It's the whole package that, despite the price, can be useful for more than just gaming. Yes, it's sold under their business page as well, but really this is a great gaming and all around work platform. If you complain about the weight or size of it, then you clearly aren't actually looking for a desktop replacement, and this isn't for you.
It's not unattractive and can pass as a work machine that you secretly play games on. Even as a primary machine, there's little not to like.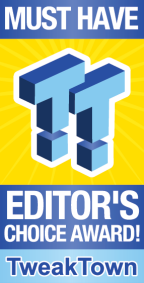 | | |
| --- | --- |
| Performance | 95% |
| Quality including Design and Build | 95% |
| General Features | 90% |
| Bundle and Packaging | 95% |
| Value for Money | 90% |
The Bottom Line: OriginPC has a winner with the EON17-X gaming laptop. The new chassis is excellent, the screen is gorgeous, and it performs like an absolute champ.
PRICING: You can find products similar to this one for sale below.

United States: Find other tech and computer products like this over at Amazon.com

United Kingdom: Find other tech and computer products like this over at Amazon.co.uk

Australia: Find other tech and computer products like this over at Amazon.com.au

Canada: Find other tech and computer products like this over at Amazon.ca

Deutschland: Finde andere Technik- und Computerprodukte wie dieses auf Amazon.de
We openly invite the companies who provide us with review samples / who are mentioned or discussed to express their opinion. If any company representative wishes to respond, we will publish the response here. Please contact us if you wish to respond.