TweakTown's Rating: 64%
The Bottom Line
Creative's Sound BlasterX G5 external USB 7.1 sound card is great for perking up lower grade headsets, but it's hard to justify buying this product when you can just spend more on a headset.
Introduction
As the summary states, I've often been asked by friends, family, readers, and strangers as to if a sound cards make a substantial or decent difference in your gaming and day to day computer usage. To find out a little bit more about these products for myself and others, I've gotten my hands-on a few different sound cards that vary in expense, usage, and features.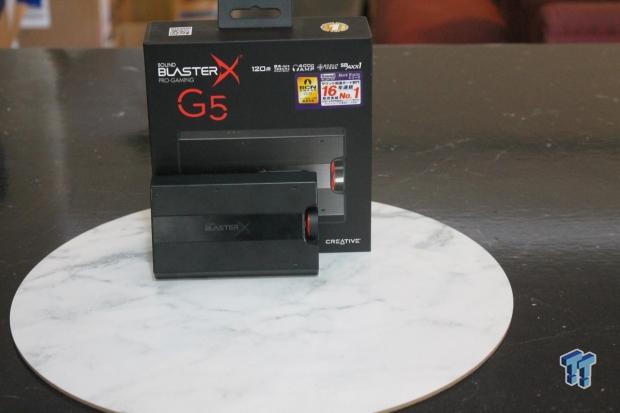 This review will focus on the Creative Sound BlasterX G5 external 7.1 sound card, released as part of the new BlasterX series of products. The BlasterX range was announced in early 2016 and features a slightly altered direction for Sound Blaster, opting to focus on high-end (not audiophile) gaming solutions.
The BlasterX G5 has joined a plethora of other BlasterX products released in 2016, with my previous reviews of this new range ranking its siblings quite high. I'm quite interested to see how the G5 will complement the rest.
Specifications
Designed to connect to your device and transform its audio into a virtual 7.1-channel signal, the G5 is compatible with Windows PC, Apple Mac, Android, iOS, Sony PlayStation 4, and the Xbox One.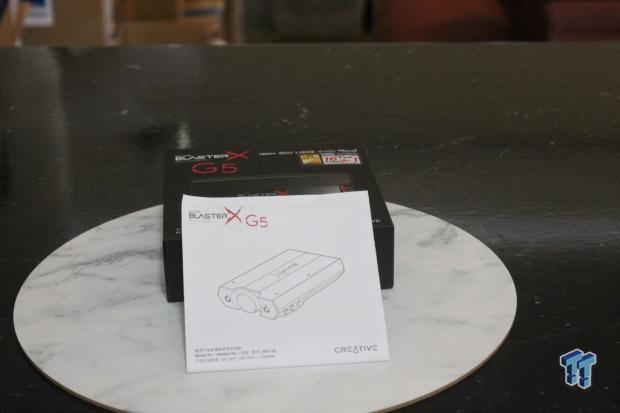 Compatible with a wide variety of mediums, this unit provides optical line in and out ports, a micro-USB in port, a 'USB device' input option (for mobile devices), and two 3.5mm front-facing jacks, one for audio and the other for microphone.
Further features of this product include the ability to quick switch between three audio profiles and capacity to swap between low (32-150 Ohms) and high (150-600 Ohms) gain outputs. A front-facing wheel is included for volume adjustment and finally there is a toggle button for 'Scout Mode' that is meant to help you perform better in online games.
This unit features a plastic frame with a rubber bottom for non-slip functionalities, in addition to all of the input and output ports being gold plated. Offering a 24-bit/192kHz output with the output reaching a maximum of 120dB, this unit measures in at 4.3 x 0.9 x 2.9 inches in stature and weighs 14.4 ounces. If bling is your thing, this device also features select red LED illumination, some of which changes with volume settings.
Pricing & Availability
Available for $149.97 with free shipping on Amazon, this external product is cheaper than internal PC offerings, but ranks higher than sound cards that you often see included with devices such as the Kingston HyperX Cloud II or select Plantronics gaming headsets.
While this sub-$150 accessory isn't too expensive in its own right, the justification of purchase must come with value added to the experience.
What's in the box?
Besides a gigantic user manual and the unit itself, expect to see a simple package that includes a short micro-USB red colored connector cable and an optical cable.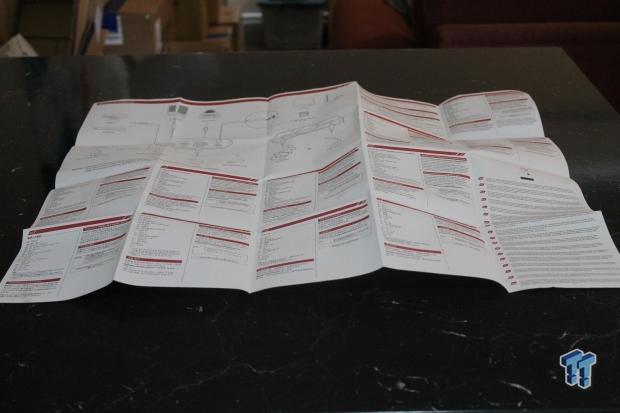 While a small carry pouch would have been quite helpful for those wanting to take this unit to gaming events or LAN parties, the box is well padded and will serve well enough for keeping your device safe from bumps and scratches while in transit. It's worth noting that the drivers aren't included with this package (in a CD or USB device) as you often see. A quick online search will bring up the 50-100MB driver download, with the size depending on if you want to add any of the extra Sound Blaster goodies or not to what you're installing.
Let's dig deeper
I'll be using this device connected to my computer through the provided micro-USB cable, utilizing my Kingston HyperX Cloud II headset, Feenix Aria audiophile gaming headphones, and Razer Leviathan 5.1 channel Sound Bar and Sub to test out what this device has to offer.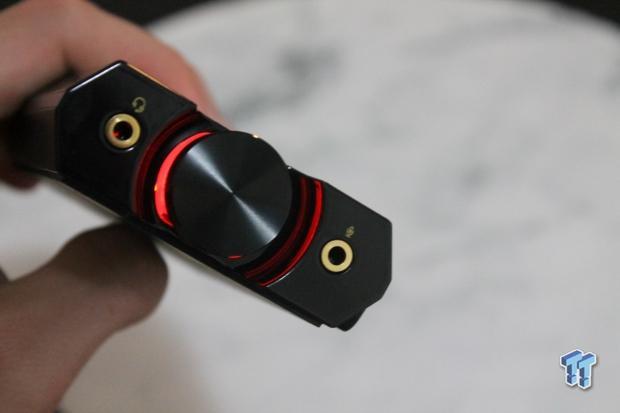 Once again, I'll bring up the fact that the USB cable is a little too short for my liking, along with the optical cable being no longer. The issue here comes with the fact that if you're running a computer on the floor or portable laptop gaming solution, there isn't much room for movement. It's quite often that headsets will provide you with lengthy six-foot cables which are stellar for maneuverability, but if you want to use the quick switch buttons on the device as Sound Blaster's marketing suggests, this short connection cable can quickly become an issue.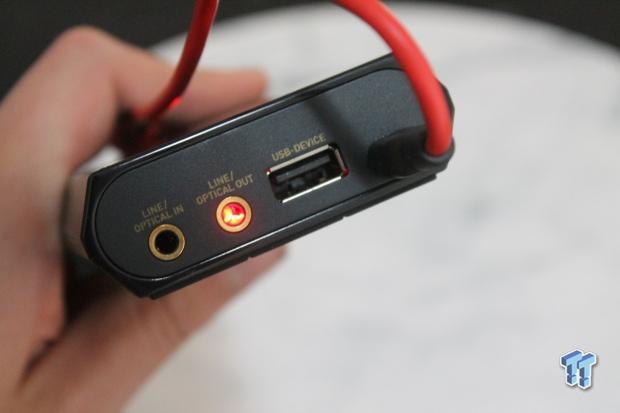 The device is sufficiently small and light for most gaming desk stations. It gets a little warm when in use and there also doesn't seem to be an easy way to turn off the LEDs, which could become annoying in low light situations as there are lights on this product projecting both towards you and your roof.
As for the design, it looks quite sleek and matches the rest of the BlasterX marketing. While some critics have labeled this look as a little tacky in design, I quite like the black plastic and faux brushed metal look of these products.
Games, Tunes, and YouTube
Testing this product through various means as I always do, Spotify premium, YouTube, and Dota 2 were all enlisted to ensure that I was able to gather a firm grasp on what this device had to offer.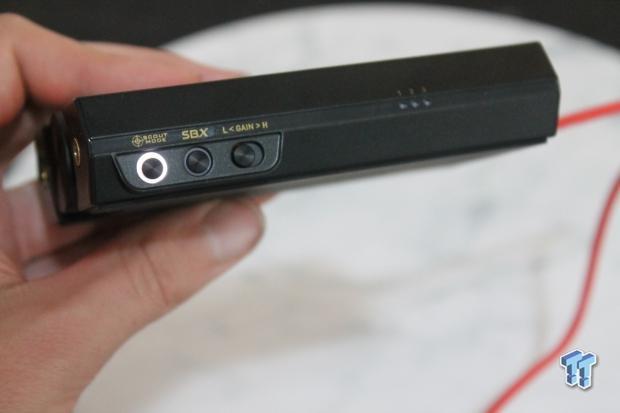 While package-included 7.1-channel sound cards with devices like the HyperX Cloud II offer small enhancements to the experience, you should expect a $130+ device like this one to give you some extra special experience unmatched by the rest.
Kicking off the testing with my Razer Leviathan speakers, I'm unfortunately here to report that it made little difference at best. I wasn't able to hear much difference between this sound card and my GIGABYTE motherboard sound chip. The only change I noticed was a little extra kick in the bass, but that's it. With the speakers out of the way, how about headphones?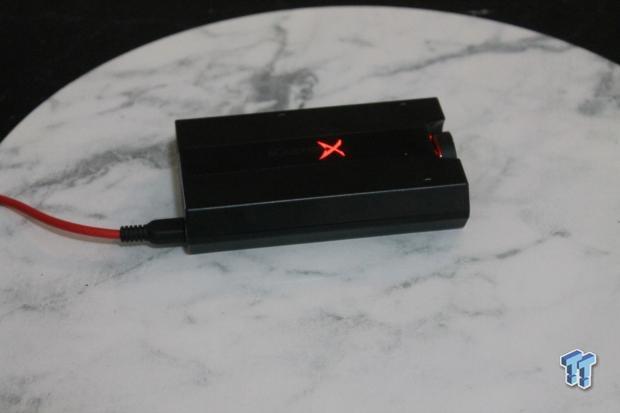 This is where things started to become quite interesting, plugging in a pair of 3.5mm audiophile gaming headphones, I was able to hear some form of difference in music and general YouTube clips, with the big difference coming in games.
Dota 2 is my current time killer of choice. Loading it up and jumping into Mumble (VOIP program) kicked my brain into a spin that didn't make sense to me for quite some time. Chatting with my friend in Mumble, it sounded a little 'weird', but I couldn't put my finger on why. Then, all of a sudden, I got a Facebook notification and my eardrums almost spewed out of my skull - for some reason, the sound levels changed from when I was just using a standard 3.5mm connection.
After fixing my levels and heading into a Dota 2 game as a Natures Prophet, I was able to establish that the treble was enhanced fivefold, which would give an allure of class to any 'gaming headset' user, but sounding a little tacky on my $200+ audiophile set. This aside, everything still seemed quite odd, and it wasn't until I created some Treant's (turning trees into minions in control) to the left of my screen that it finally dawned on me. For some reason, this product tries extremely hard to accentuate the 'surround sound experience'. If you're going to cast a spell or hear a gunshot even the slightest bit out of 'center screen,' it's going to sound five miles to your left or right.
While five miles is, of course, an exaggeration, this sound production annoyed me immensely until the end of the game - I can only imagine how badly it may screw up an FPS player searching for footsteps when playing a competitive title like CS: GO.
I have not talked about the drivers much thus far, that being because I don't like fiddling around with them for an extended period, no matter what. These drivers were a little slow to download and can be a bit confusing to operate (as you have to decipher what the marketing buzzwords mean). Some of the sound issues I mentioned can be partly rectified by changing settings to suit, however, this product is referred to as easy to setup and use for beginners - seen in the marketing associated.
Some of the music I tested this product with included:
What's Hot
The looks: It looks quite sleek and the red LEDs set off the design nicely.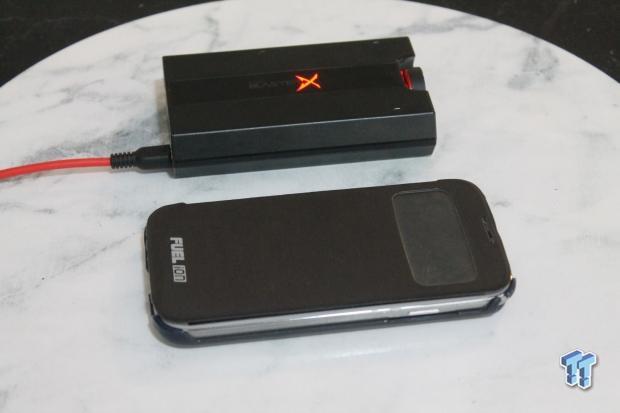 It's going to improve cheap audio: While not improving expensive or audiophile products, this device should help along your sub-$150 option quite well.
Connection options: You can plug it into basically anything.
What's Not
The treble: While working well with cheap products, it makes my audiophile headset sound worse overall.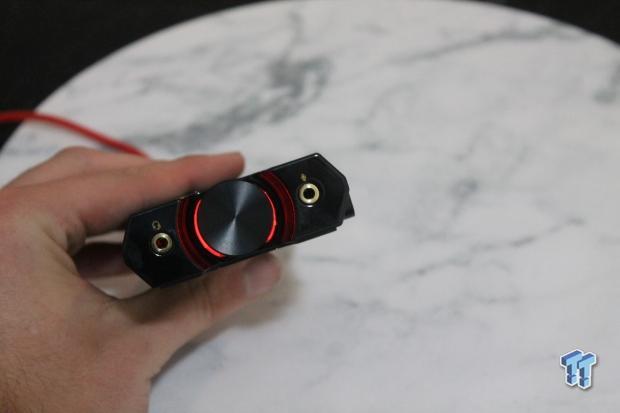 Weird positioning and 7.1: It accentuates the positional audio too much, leaving you quite confused at where sounds are coming from.
The software: Not mentioned much in the review (because I dislike software tinkering), the download was slow, the software took some time to install, and it wouldn't pick up the device at first.
Short connections: The provided connection cables are too short to be entirely useful for different gaming setups or situations.
Final Thoughts
While I was thrilled with other products of the BlasterX range, the G5 has fallen well short of the mark. While it would be useful for anyone looking to perk up their sub-$150 headsets, it didn't help my audiophile Feenix Aria gaming headphones. Besides, it didn't provide anything extra to what the included HyperX Cloud II sound card does, either. If you're looking at a sound card and only have $150 to spend, you're better off saving up or just spending the extra $150 on a better pair of headphones.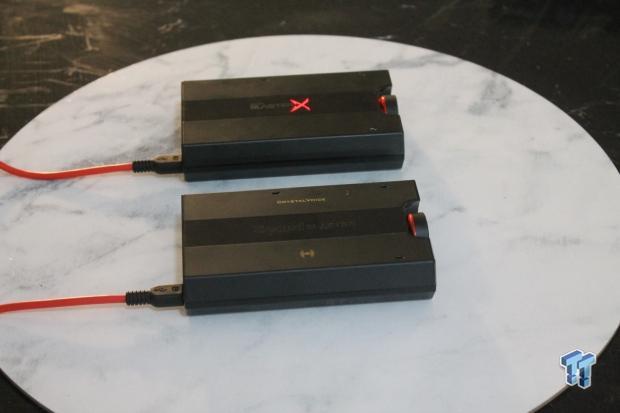 If you're not quite keen on the model, I'll be checking out the Sound Blaster E5 next. While it looks quite similar to the G5 as you can see in the image above, some interesting features set it apart.
Chris' Test System Specifications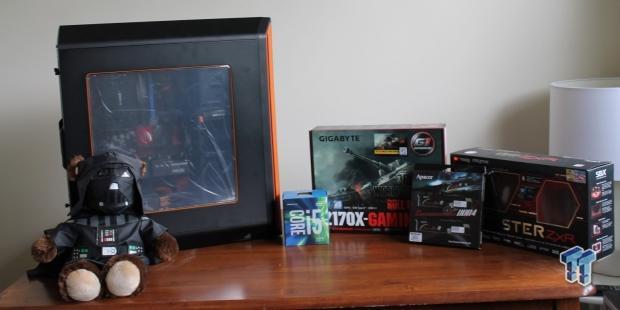 | | |
| --- | --- |
| Performance | 50% |
| Quality including Design and Build | 80% |
| General Features | 70% |
| Bundle and Packaging | 70% |
| Value for Money | 50% |
The Bottom Line: Creative's Sound BlasterX G5 external USB 7.1 sound card is great for perking up lower grade headsets, but it's hard to justify buying this product when you can just spend more on a headset.
PRICING: You can find products similar to this one for sale below.

United States: Find other tech and computer products like this over at Amazon.com

United Kingdom: Find other tech and computer products like this over at Amazon.co.uk

Australia: Find other tech and computer products like this over at Amazon.com.au

Canada: Find other tech and computer products like this over at Amazon.ca

Deutschland: Finde andere Technik- und Computerprodukte wie dieses auf Amazon.de
We openly invite the companies who provide us with review samples / who are mentioned or discussed to express their opinion. If any company representative wishes to respond, we will publish the response here. Please contact us if you wish to respond.