EPOS | SENNHEISER GSX 300 External Sound Card Review
EPOS | Sennheiser has released a new external sound card, the GSX 300. Will it enhance your gaming audio performance for $79?

Published Mon, Oct 12 2020 8:08 AM CDT
|
Updated Tue, Nov 3 2020 6:54 PM CST
Introduction & Specification Details and Close-up
EPOS | SENNHEISER is expanding its range of gaming audio solutions, and one of the markets that you may not be familiar with is external sound cards.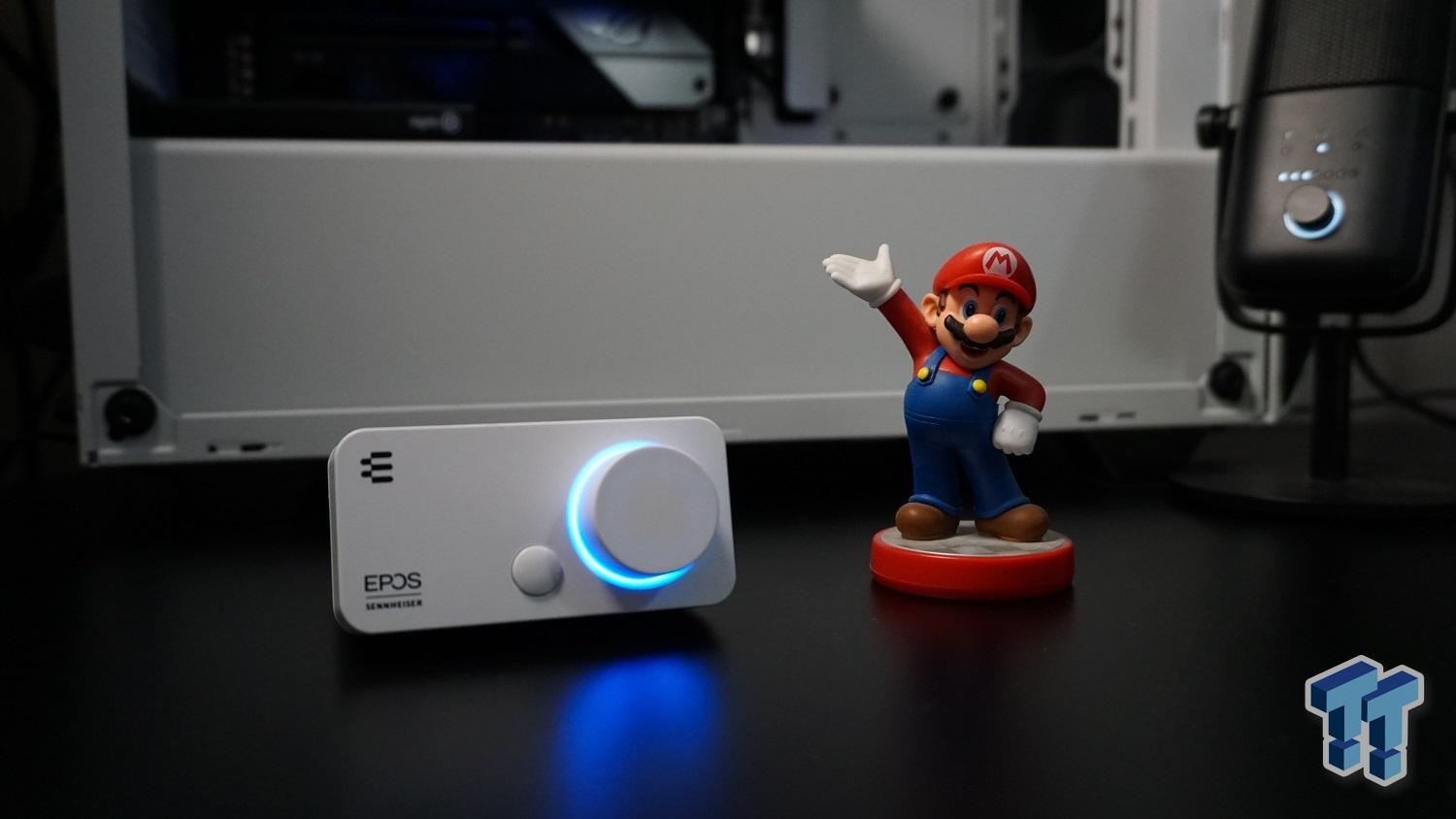 Since most motherboards these days come with really good audio and microphone amplification, purchasing an external sound card is quite unheard of in 2020. However, the EPOS | SENNHEISER GSX 300 may provide a level of convenience that would warrant you picking one up. Additionally, if you are into audio and are looking at getting higher-end headphones, an external sound card is probably on your list of things you need to acquire to get the most out of new flashy pair of headphones.
Coming in at $79, EPOS | SENNHEISER has released the GSX 300, and we are going to putting it to the test to see if it's a worthy addition to your desktop and gaming audio setup. My initial first impressions are that desktop gamers aren't going to benefit a whole lot from the GSX 300, but more so, laptop gamers or gamers running on very cheap machines will benefit most from acquiring a GSX 300.
Let's see if I'm right, but first, let's jump into a product's close up.
Close-up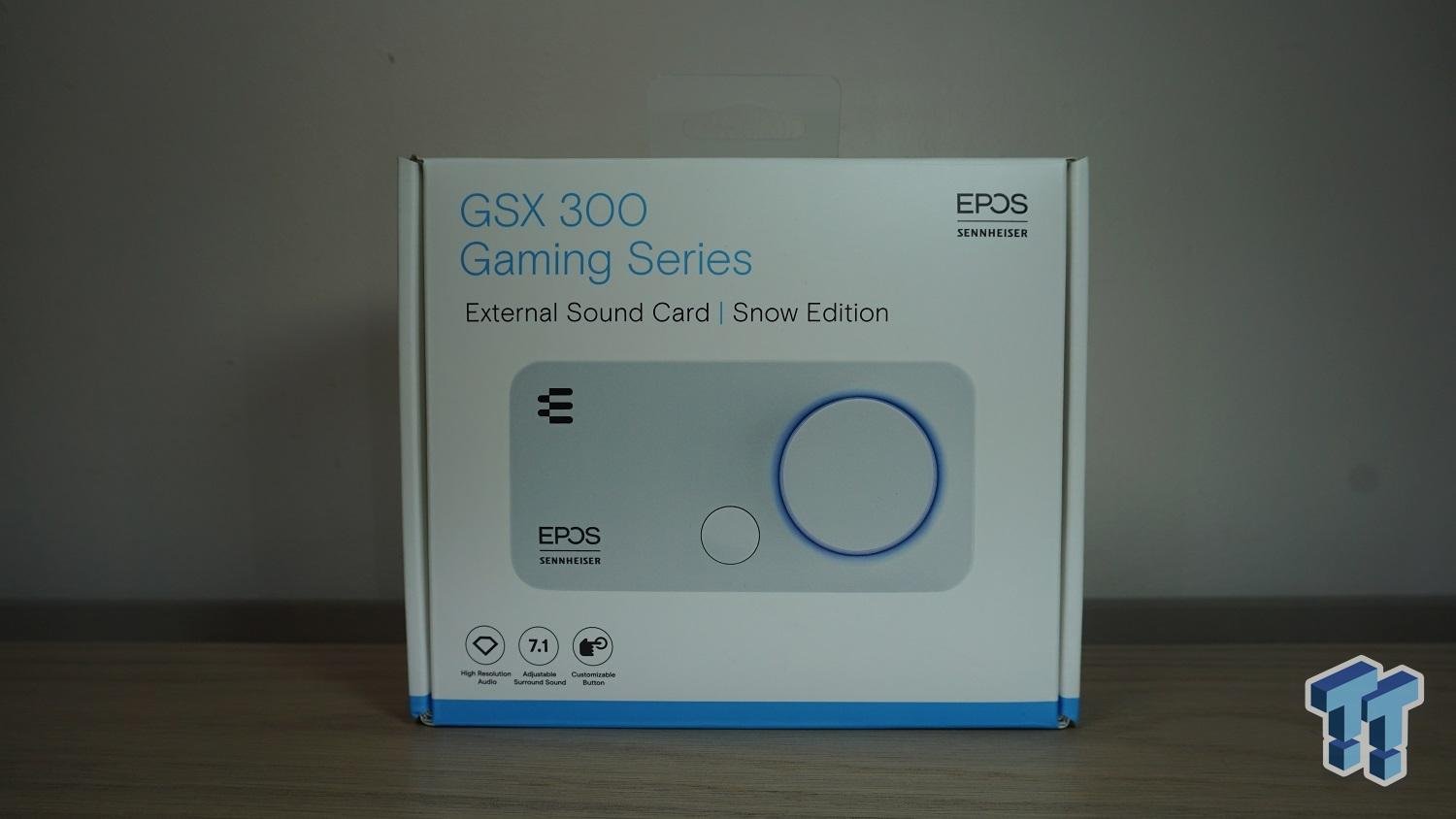 To kick things off, we have an image of the front of the box, and here we can see an image of the external sound card, as well as some of the features it comes with listed in the bottom right-hand corner.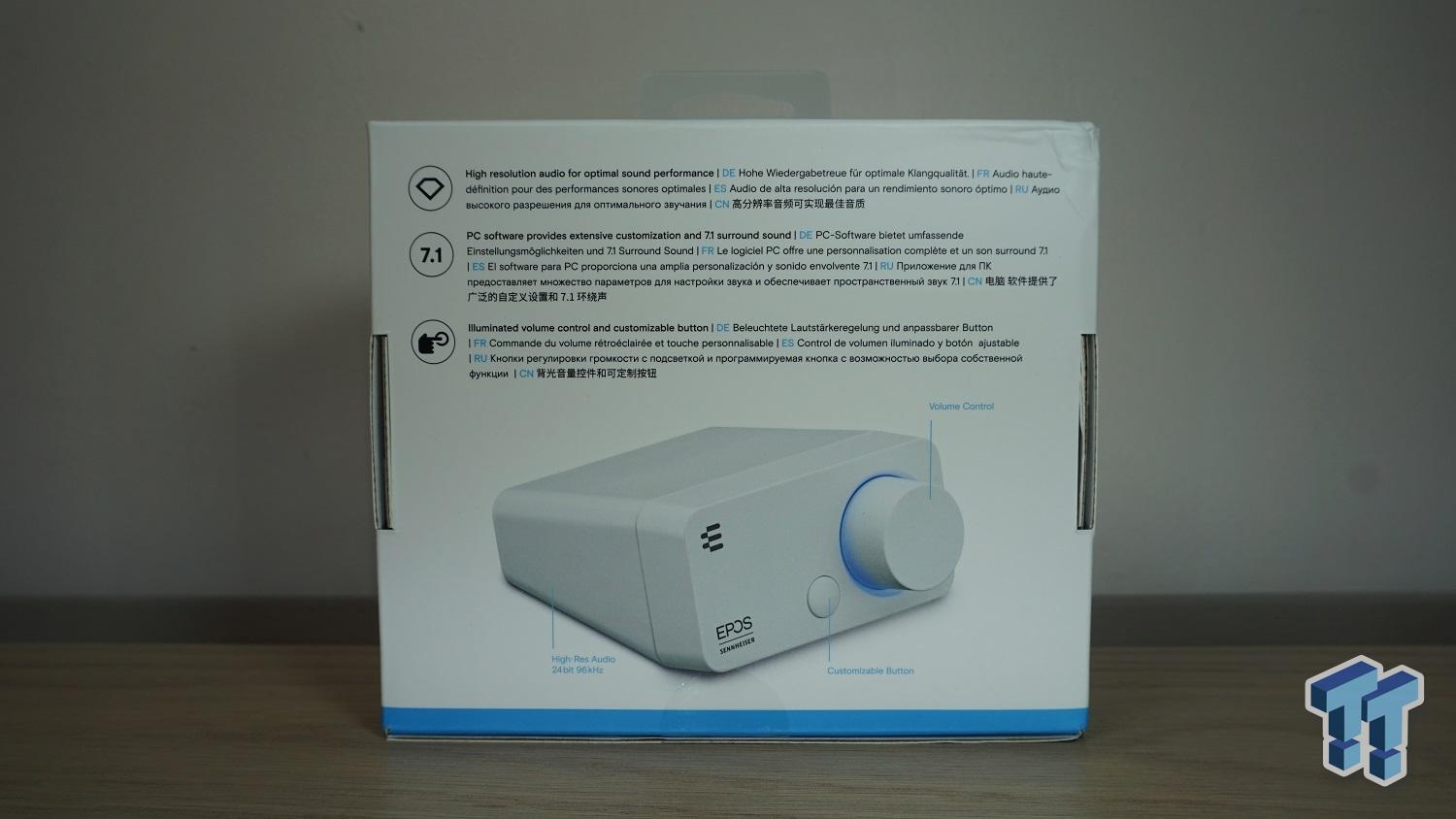 Moving on to the back of the box, we have some more details on the features the sound card comes with, as well as a nice informative diagram.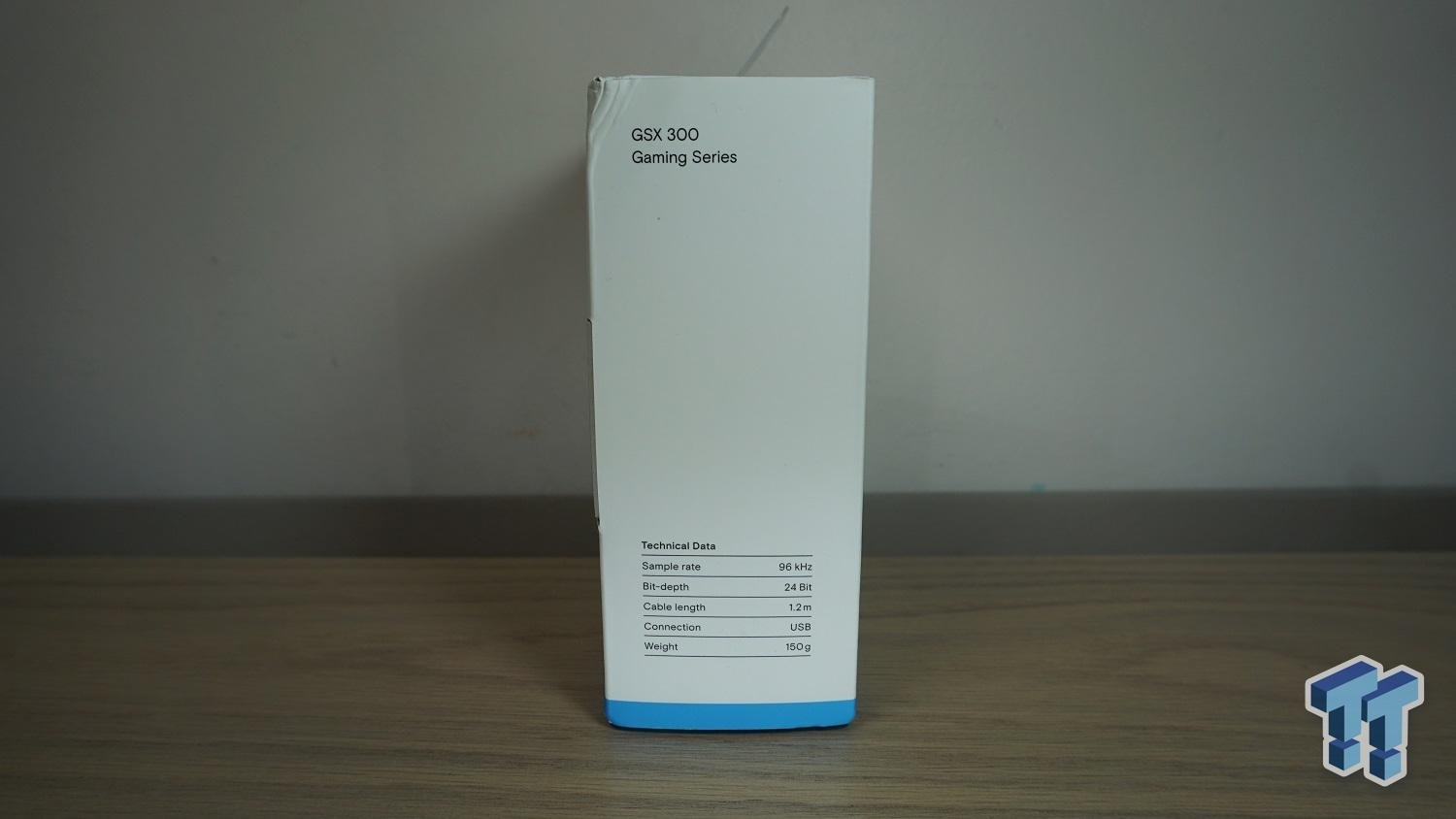 The side of the box provides us with some technical data, and as you can see, the sample rate for the GSX 300 is 96 kHz, bit-depth is 24 bit, cable length is 1.2m, connection is via USB, and the weight of the unit is only 150g.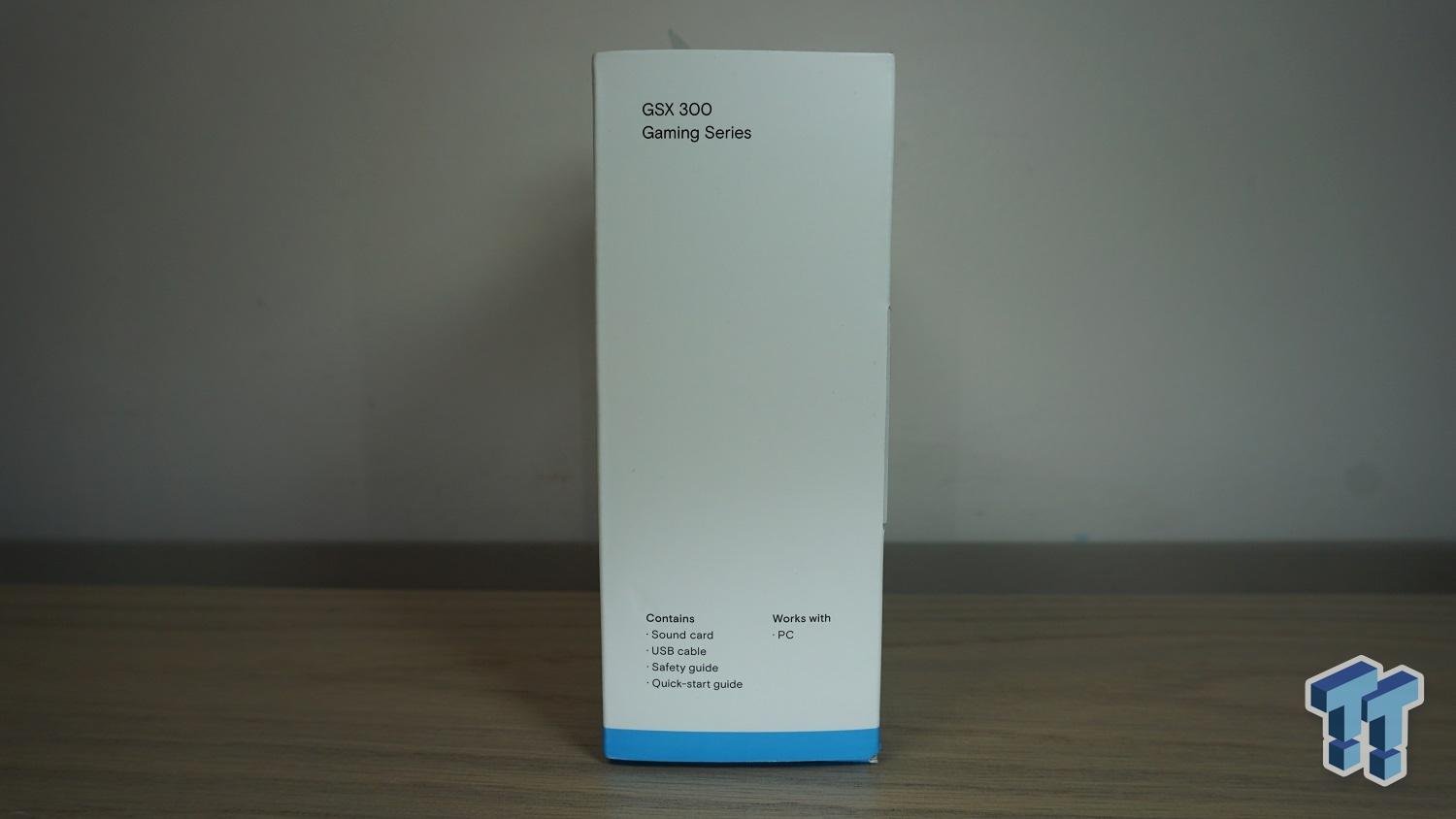 The other side of the box is quite plain, but informs us of the contents of the box, as well as the compatibility.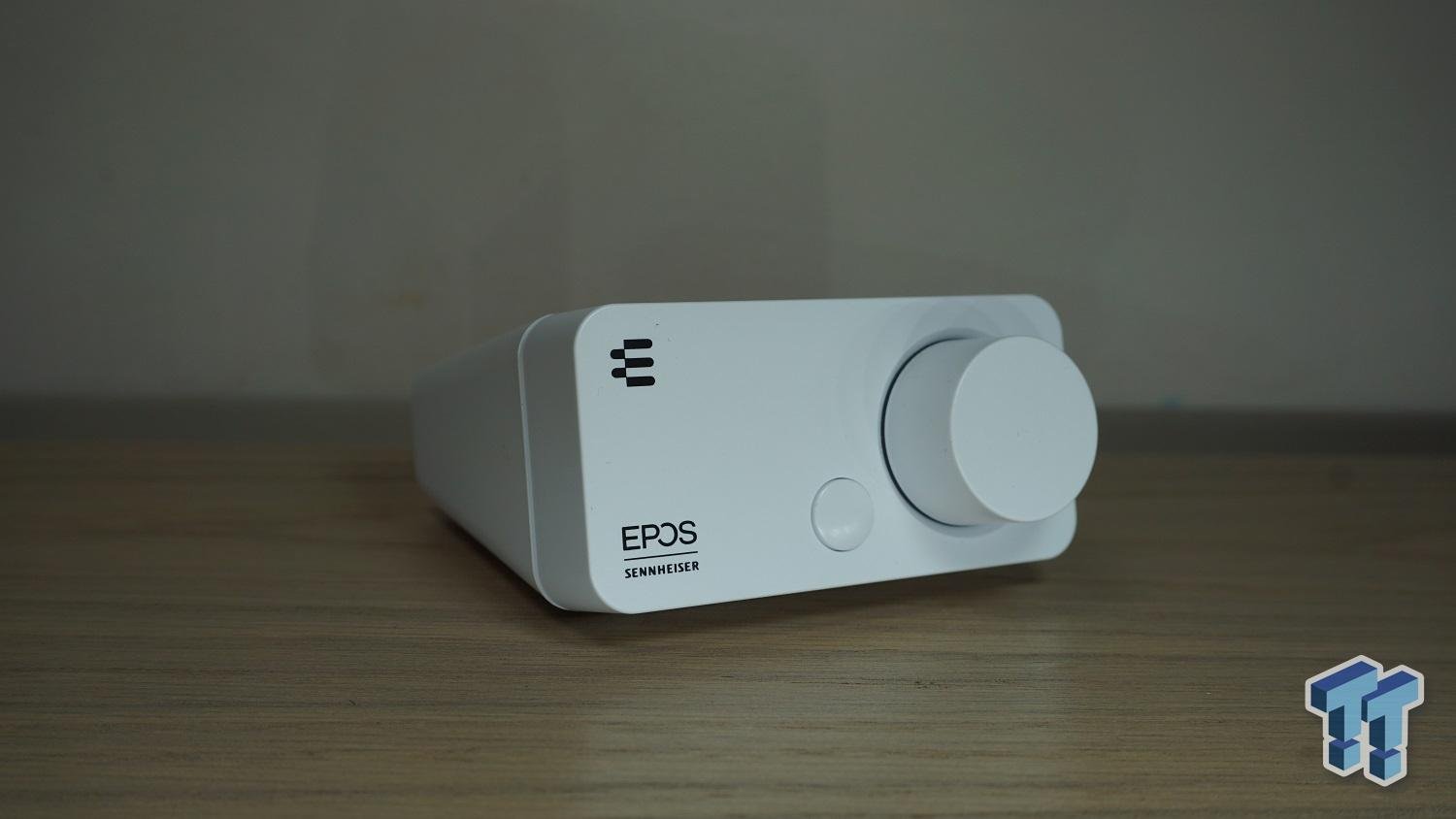 Now we have an image of the GSX 300 outside of the box, and if you can't see by this image, the GSX 300 is extremely small. The unit measures in at 9cm long, 8cm wide, and 4cm tall. In this image, we can also see the large volume wheel, and beside it, a button that can be used to enable surround sound mode or switching between presets.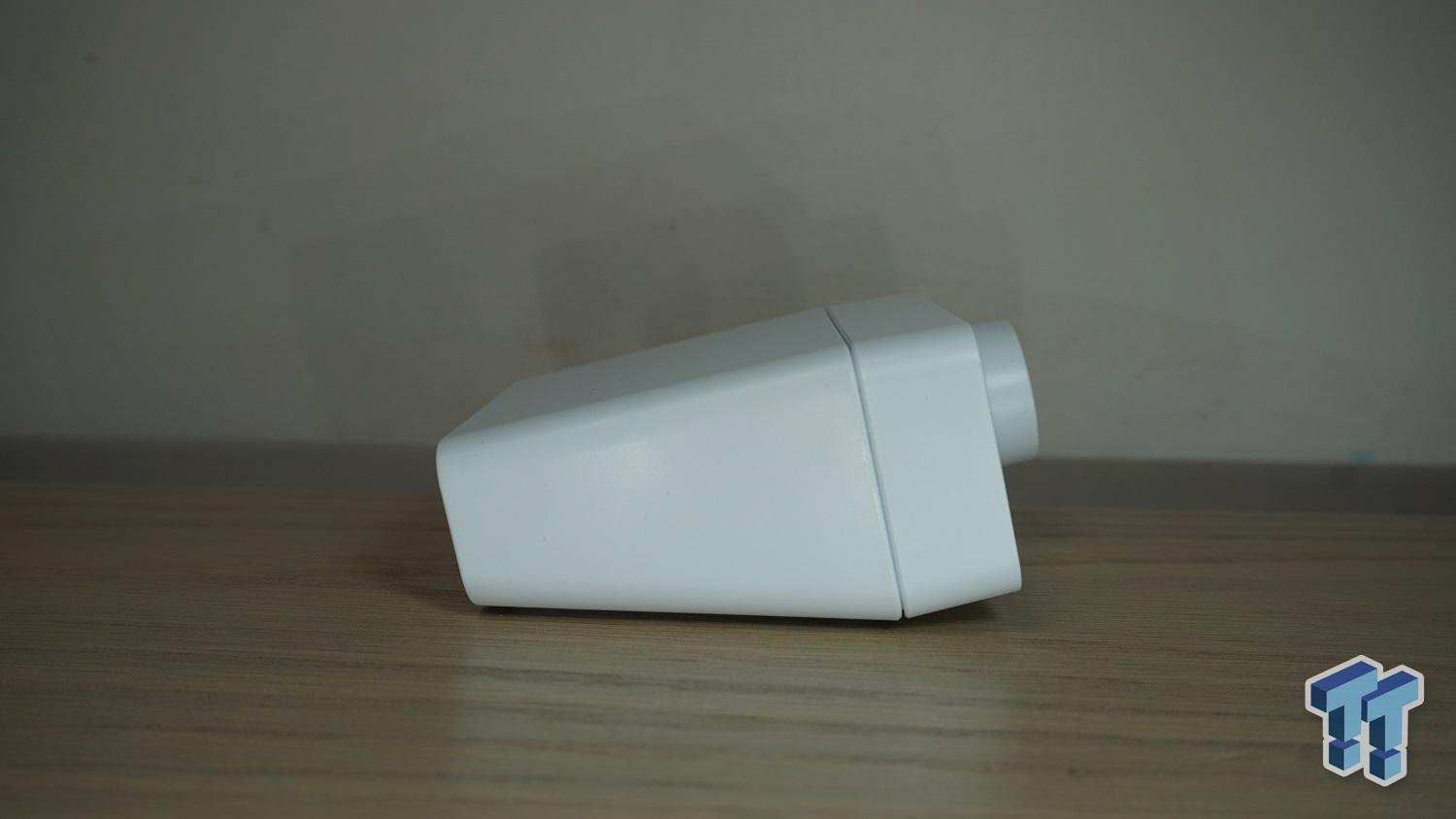 To really emphasize how small the GSX 300 is, I decided to take a side-on shot, and as you can see, the unit is designed to be face-on to the user due to the front of the unit being larger than the back.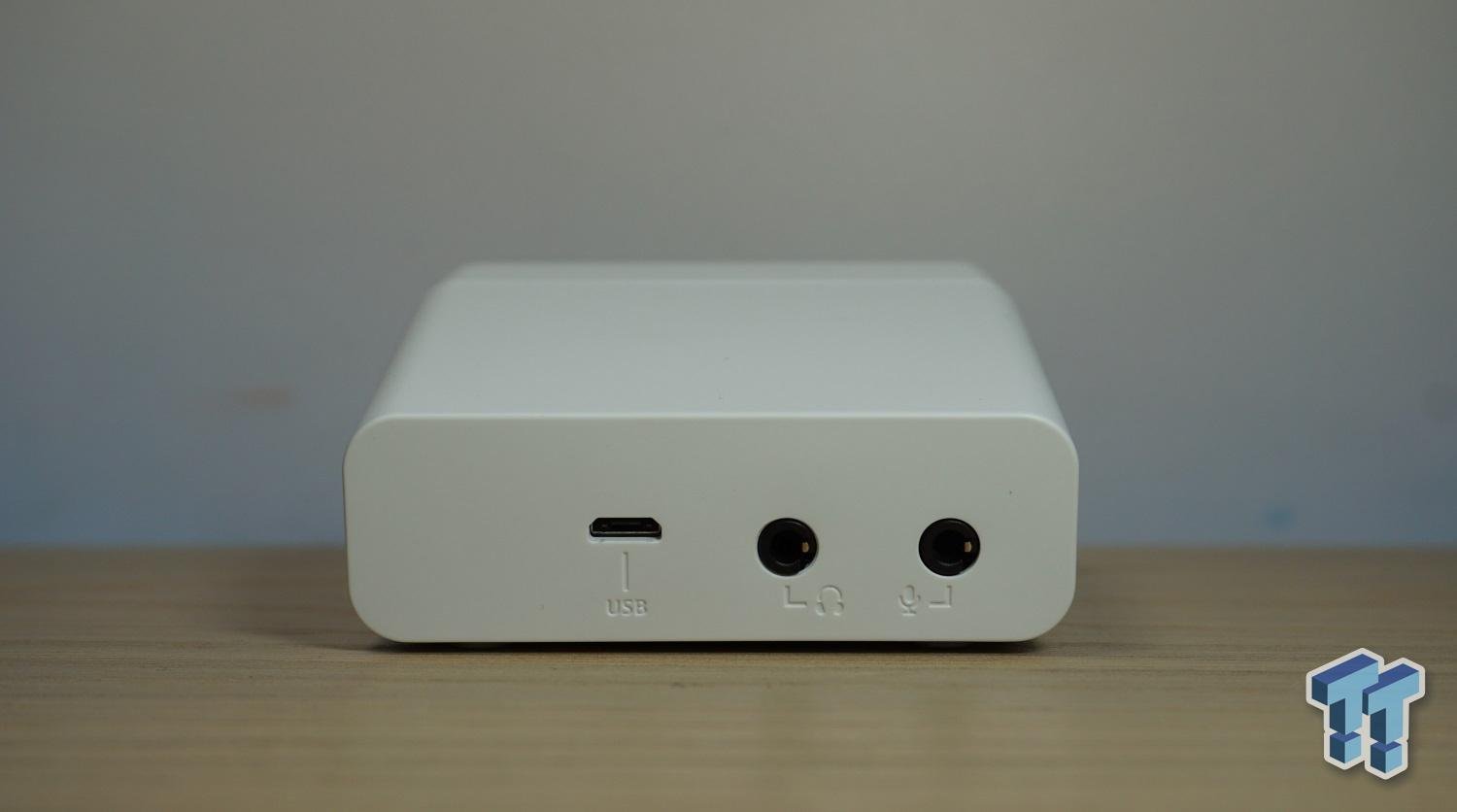 Here we have an image of the back of the GSX 300, and from right to left we have the microphone input, headphone input, and micro-USB input.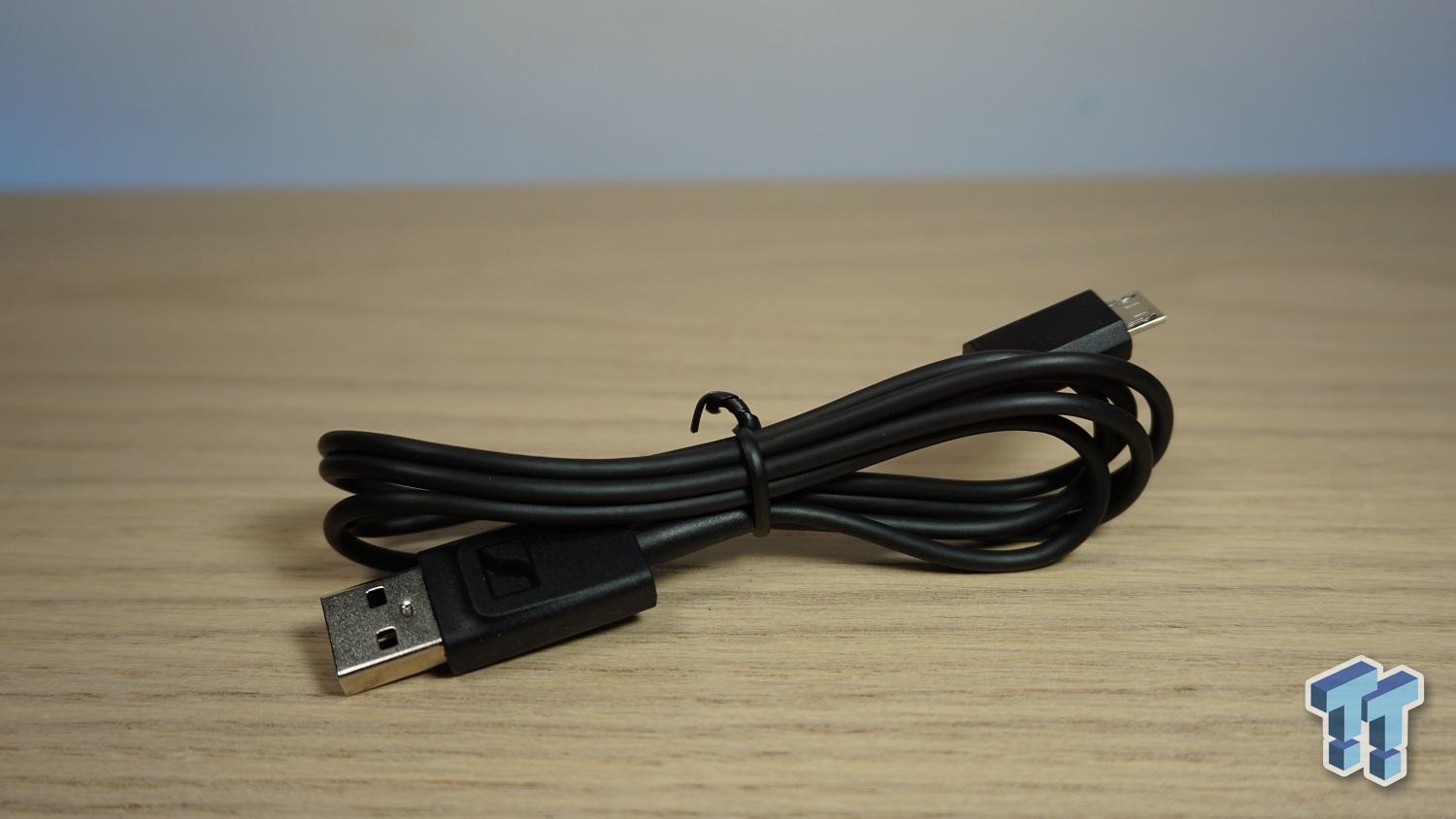 Lastly, we have an image of the 1.2m micro-USB to USB cable.
Jak's Test System Specifications
Design & Software
Design
The GSX 300 encapsulates everything that is Sennheiser into a nice little box.
The GSX 300 has a nice smooth plastic casing that is aesthetically pleasing to look at. It also has rubber pads located on the bottom of the device, so it doesn't slide off your desk if you accidentally bump it. The large volume wheel on the front is pleasurable to use as it features tactile notches that are extremely satisfying when either increasing/decreasing volume. Another awesome feature of the volume wheel is that it's instantaneous with Windows, meaning that there is no delay between you increasing/decreasing the volume on the GSX 300, and the volume being outputted by Windows.
The smaller button located next to the volume wheel has been left by EPOS | Sennheiser to be a programmable button. Users can decide to configure this button to cycle through preset EQ profiles, or switch between stereo and surround sound. When a user is cycling between surround sound and stereo, the LED located around the volume wheel will change color; red for surround sound and blue for stereo.
The only real issue I have with the design of the GSX 300 is that the cable is only 1.2m in length. The reason this is an issue is that it gives users a limited amount of customization when it comes to where they are going to place the unit on their desks. Other than that, the GSX 300 has a very sleek design that has minimal downsides.
Software
The software that is needed to control the GSX 300 is the EPOS Gaming Suite, and it can be downloaded here.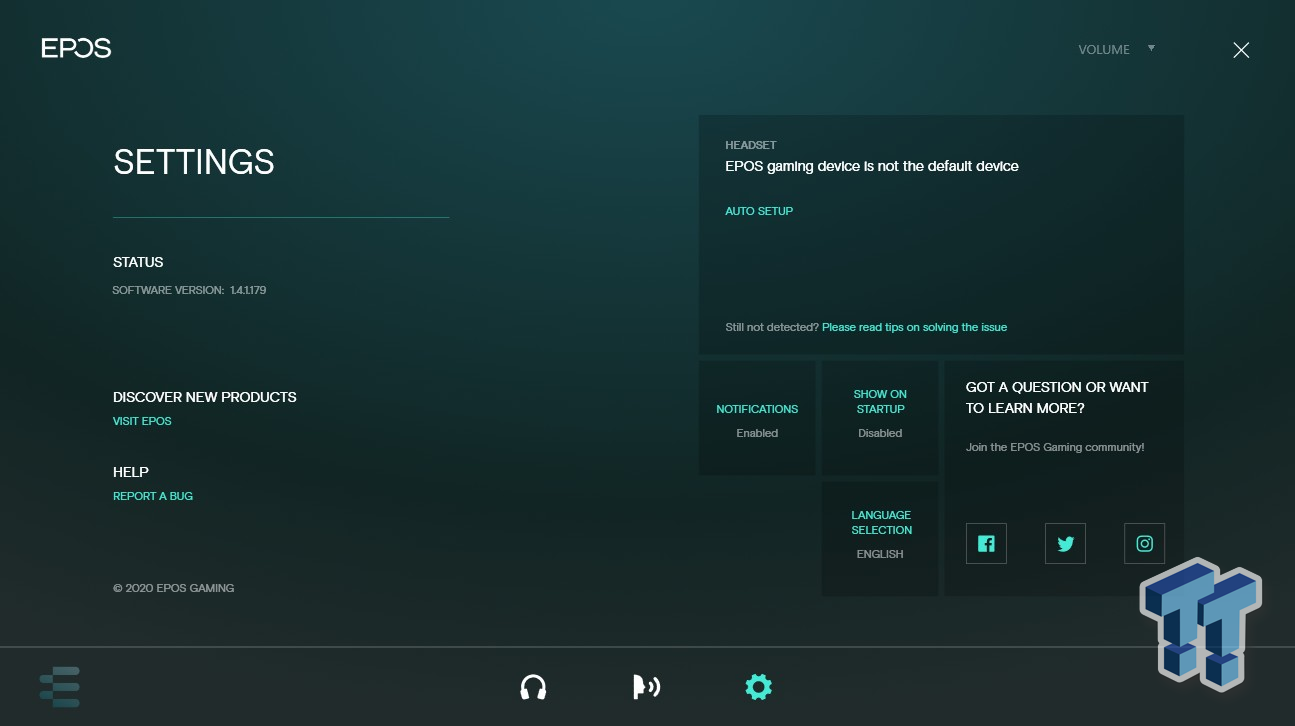 Once you have successfully downloaded and installed the software, you will be presented with the screen. Here you must select the GSX 300 as your default playback device in Windows, and to do that; you can click on the Auto Setup option. In the settings screen, you can also choose if you want the software to launch on startup, update firmware, and enable/disable notifications.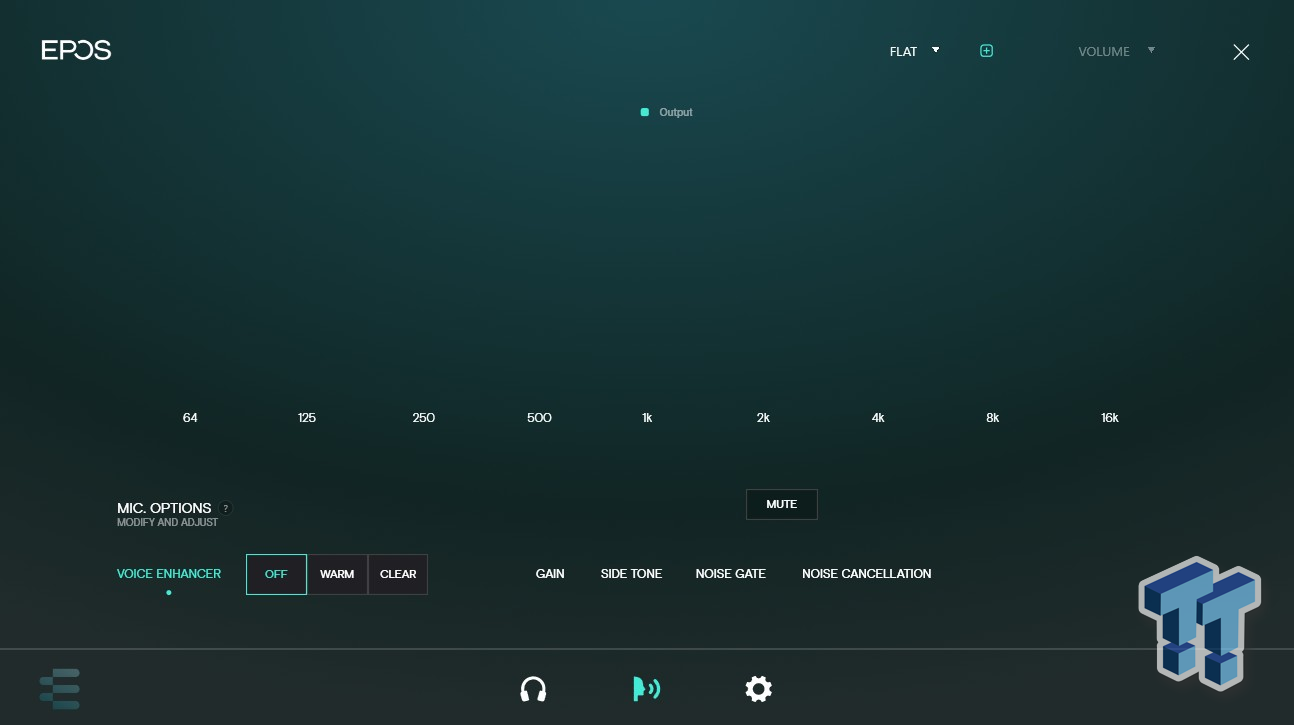 The EPOS Gaming Suite also comes with microphone customization options in the forms of gain control, sidetone, noise gate, and noise cancellation. There are also three voice enhancement profiles; off, Warm, and Clear. I will get more into each of these profiles in the Performance & Microphone side of the review.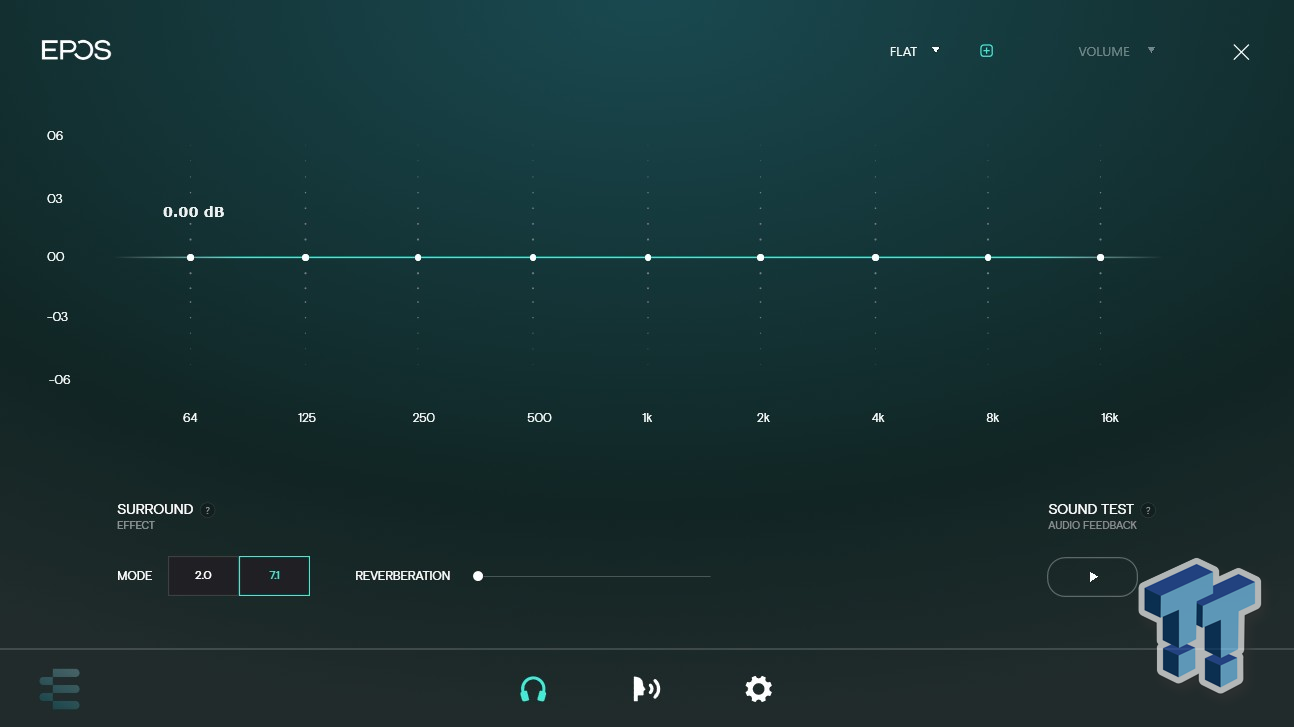 The playback option allows users to change the sound curvature to whatever they like. Users can also save custom profiles by clicking on the + symbol at the top right next 'flat' profile. Speaking of profiles, the software comes with four preset profiles; eSports, Flat, Movie, and Music. The software also comes with two modes stereo, and 7.1 surround sound.
Overall, I found the EPOS Gaming Suite software to be very easy and simple to use. Everything you need is very easy to find, and the user interface is intuitive even for a person who has no prior EQ knowledge. Lovely work here EPOS | Sennheiser, but I will get into some of the driver issues later on in the review.
Performance & Microphone
Performance
I decided to test the GSX 300 with the Sennheiser GSP 300, and my first initial thoughts were that my sound was immediately far louder at less volume in Windows. I also found that even as I was listening to audio at higher volumes, there was less distortion than if I had the headset plugged directly into my PC case or motherboard.
As for gaming testing, I decided to run the GSX 300 through my typical gaming suite titles; Apex Legends, Hyperscape, Dragon Age: Origins, and a surprise title - Iron Harvest. In each of these titles, I noticed a rise in quality, and a new level of punchiness to the audio that was being outputted through the GSP 300's. Now, I don't believe the GSX 300 will magically turn an average headset into a fantastic one, but I do believe that an average headset paired with the GSX 300 will bump that overall audio experience up a few notches.
I also did some surround sound testing, and throughout all of the titles that I tested the virtual surround sound in, I found one commonality - I felt extremely distant from the source of the audio. For example, footsteps in both Apex Legends and Hyperscape are vital information for knowing where your enemy is. I found that with the 7.1 virtual surround sound enabled, I was able to track where my enemy was going more accurately, but I didn't necessarily know the correct distance of how far away I was to him.
For this reason, I found myself in my situations where I knew where my enemy was, but he would surprise me by appearing super close to me, or actually being further away than previously anticipated. Personally, I don't really recommend the virtual surround sound on the GSX 300, as throughout my listening experience, I thoroughly enjoyed the stereo side more.
Microphone
GSX 300 + GSP 300 No Settings
GSX 300 + GSP 300 Warm Setting
GSX 300 + GSP 300 Clean Setting
I believe the 'warm' setting sounds the best out of each of the above audio files and is something I would definitely recommend users turning on if they decide to pick up the GSX 300.
Final Thoughts
What's Hot
The GSX 300 has a fantastic sleek design that is complemented with its functionality and ease of use. The price of the GSX 300 is something to turn your head at as well, as I believe this soundcard paired with some decent mid-range gaming headsets will turn some good headsets into great ones.
What's Not
Now, I left most of the really big downsides here for one reason, and that is because I believe they are temporary. The reason I believe that is because they are driver issues. Unfortunately, the programmable button located on the unit doesn't actually swap audio modes even when displayed in the EPOS Gaming Suite Software. The mode has to be manually clicked for it to swap. Notably, the actual EPOS Gaming Suite software doesn't show up on the taskbar at the bottom of Windows, and can only be found in the hidden icons tray.
Additionally, the side-tone slider in the software doesn't work, at least on my unit. These issues certainly impact the overall performance of the GSX 300, but I believe that in the future, driver updates will be issued to the software that will remove them - or at least, I hope so.
So, is the GSX 300 worth the $79 price tag? Well, as always, that really depends on your use case.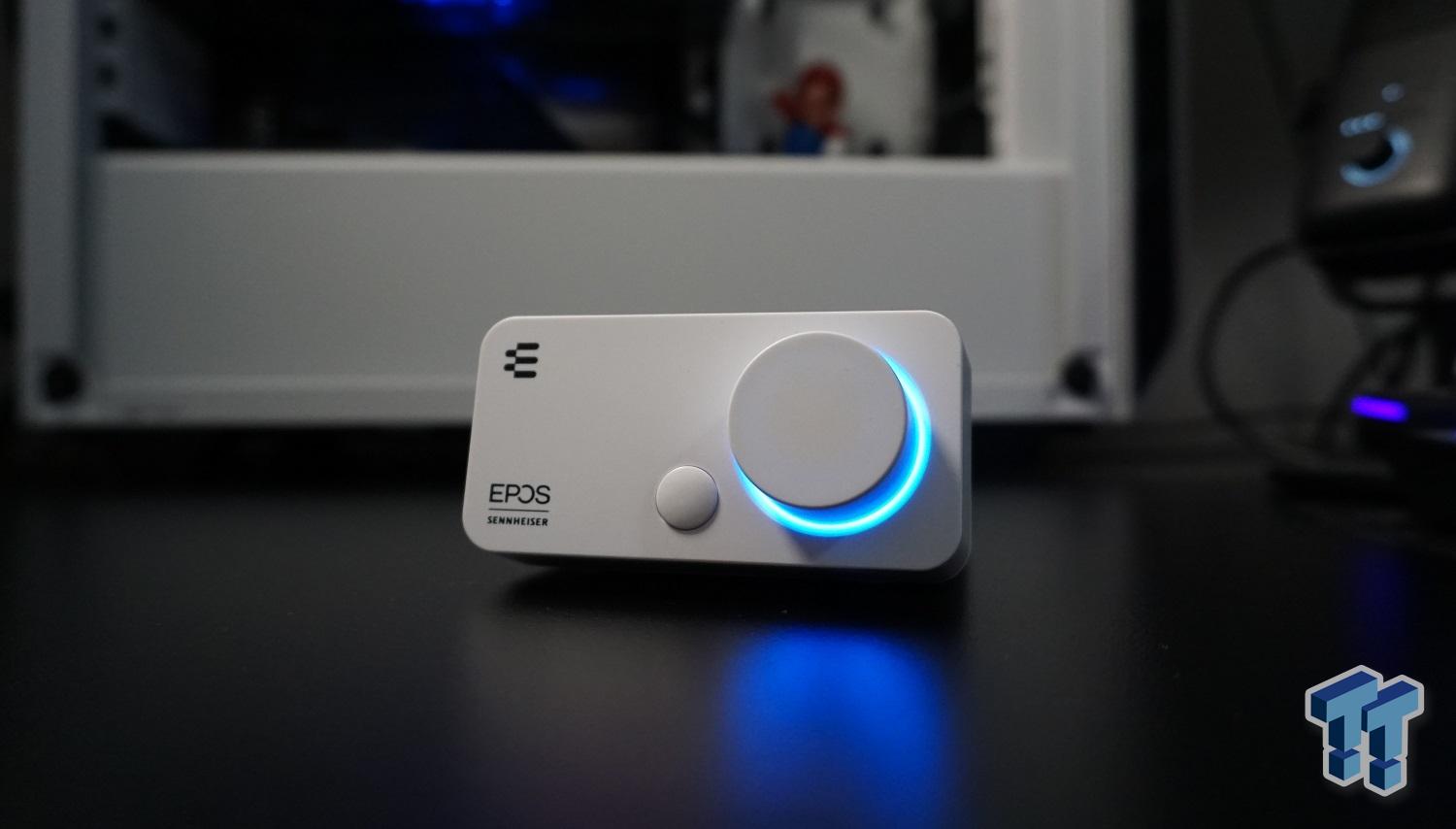 If you are looking for a significant boost to your gaming audio experience, but don't want to upgrade your headset, then the GSX 300 could be a really good pick up for you. This will especially be the case if you are looking for some really convenient functionality on your desk. However, there are several driver issues I mentioned previously that severely impact the functionality of the unit, but I do stress that these issues exist at the time of writing this review, and that may not necessarily be the case in the future.
Overall, I do believe EPOS | Sennheiser has created a really nice product, and while it does have its issues, it does fill a wanted place in the market for a very reasonable price. Ultimately, if you can get past some of the issues previously mentioned, and really have fallen in love with that 'warm' microphone preset (my favorite part of the product), then I believe you would be satisfied with your purchase of the GSX 300.
| | |
| --- | --- |
| Performance | 85% |
| Quality | 91% |
| Features | 91% |
| Value | 98% |
| Overall | 91% |
The Bottom Line
EPOS | SENNHEISER has released a really great external sound card that certainly brings a boost to your gaming audio experience in games at a great price. It, unfortunately, comes with some driver issues that take away from this performance enhancement. However, these issues can be solved with driver updates.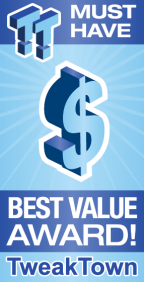 EPOS | SENNHEISER GSX 300 External Sound Card
Today
Yesterday
7 days ago
30 days ago

-

-

-

* Prices last scanned on 12/31/1969 at 6:00 pm CST - prices may not be accurate, click links above for the latest price. We may earn an affiliate commission.
Similar Content
We openly invite the companies who provide us with review samples / who are mentioned or discussed to express their opinion. If any company representative wishes to respond, we will publish the response here. Please contact us if you wish to respond.
Related Tags