Creative Sound Blaster X7 External USB DAC Amplifier Review
Creative's Sound Blaster X7 DAC proves every connection you could hope for. Is it worth the investment for those ready to ascend into the audiophile realm?
Published
7 minute read time
TweakTown's Rating: 90%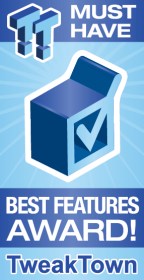 The Bottom Line
Let down slightly by a flimsy headphone stand and a high price, the Creative Sound Blaster X7 is extremely easy to use, has a plethora of connection options, and is perfect for any beginner audiophile.
Introduction
Moving into a more audiophile realm than you might be used to on TweakTown, I'd like to introduce you to the Sound Blaster X7 amplifier. This compact amp (DAC) aims to provide everything you will ever need in a single package, showing off connection options including Bluetooth, NFC, USB and all your originals like optical and more.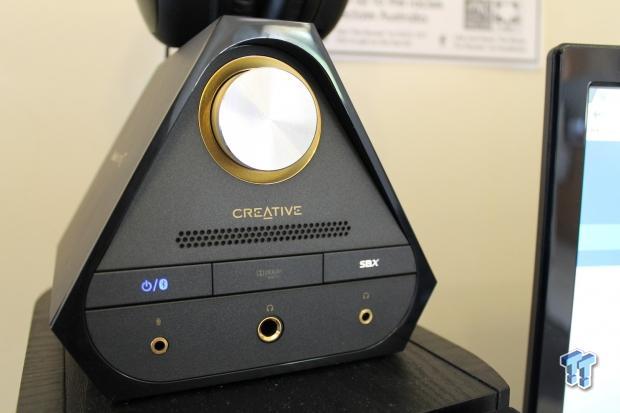 Being paired with the E-MU X7 'bookshelf' speakers makes up a 'dream-team' combination according to Sound Blaster and this review will utilize not only these speakers but also a lower-grade Logitech X-530 setup, my Kingston HyperX Cloud II gaming headphones, and Feenix Aria audiophile cans for the total sound experience. With heavy marketing based on NFC and Bluetooth, we'll be mainly looking at a mobile-connected experience in this review, utilizing Spotify Premium (higher quality tracks compared to standard) on a Samsung Galaxy S4 connected through Bluetooth as our streaming device.
With this amp and speaker combination entering the audiophile Hi-Fi realm, how does it fare for your average consumer with a love of technology? Read on to find out.
Specifications
Vying to be a one-stop shop for all you audio supply needs, the X7 comes absolutely jam-packed with input connection options that include a micro-USB port, 3.5 mm mic, RCA, Optical, Bluetooth, and NFC. As for outputs go, you can expect to see two binding post passive speakers (left/right), optical, AUX 3.5 mm headphone, AUX 6.3 mm headphone-RCA Line/Front speaker, 3.5 mm rear speaker, 3.5 mm center/sub speaker, and a single USB Type-A USB host port for streaming and charging your smartphone.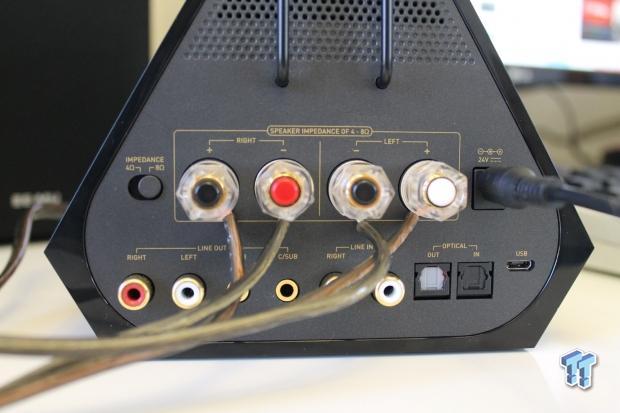 It offers a headphone output of up to 600 Ohms or 4/8 on the speaker side, and a maximum 5.1 channel output and audio technology which includes SBX Pro Studio, CrystalVoice, Scout Mode and Dolby Digital Technology.
Compatible with Windows, Apple MAC OS X 10.6.8 and higher, iOS 6.0 or higher and Android 2.3 as a minimum, this amplifier is marketed towards being one single product to hold host to a myriad of devices, whether it be a full Hi-Fi setup including TV, console and Blu-ray player or a simple home PC station with a computer, headphones, speakers and an occasional smartphone.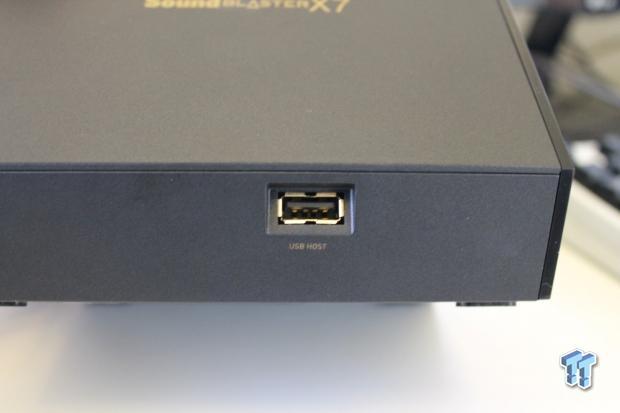 The X7 can supply a maximum power output to speakers (at 4 Ohm) of 38W + 38W or 27W + 27W at 8 ohms, a 2.2-ohm headphone output and a maximum playback quality of 24-bit, 192kHz through direct stereo playback.
Further specifications include a 127dB (DAC) signal-to-noise ratio and an inbuilt microphone capable of recording at 24-bit, 192kHz. As for a further technical look at what drives this beauty, the main stereo line output is controlled by a Burr-Brown PCM1794 and the surround channels being Burr-Brown PCM1793.
Pricing & Availability
Available from Amazon for $399.99 with free shipping, the Creative Sound Blaster X7 is most certainly an audiophile product, shying away from the commonly-seen $100 gaming USB amplifiers seen previously. This doesn't mean that you have to be some 'Brainiac' with special audiophile understanding to own this product, the simplicity of its setup and the sheer amount of connection options means anyone can have a go. But is it worth the extra money? Read on to find out through further testing.
What's in the box?
In the package, you will find the X7 device itself, a very handy quick start leaflet, warranty guides, a power adapter and cable (24V, 2.91A), an RCA to 3.5 mm stereo cable for front out, an RCA to 3.5 mm stereo cable (female) for Line-In, a lengthy 1.5m micro-USB cable and a headphone stand that connects to the back of the device.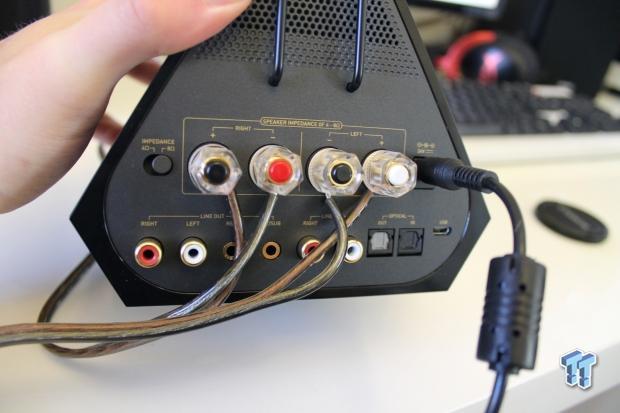 It would be cool if you could get some free speaker wire with this product, but in the end the package is just about anything you would ever need. The headphone stand looks minimalist and fancy, too.
Let's dig deeper
The main connections used here will be the binding post passive speaker out (speaker wire to the E-MU X7 speakers), or the front AUX 3.5 mm out to either my Kingston HyperX Cloud II headphones, Logitech X-530 speakers set up in a 2.1 format or Feenix Aria headphones. As for input, I'll be mainly using a Bluetooth connection to my Samsung Galaxy S4 running Spotify Premium.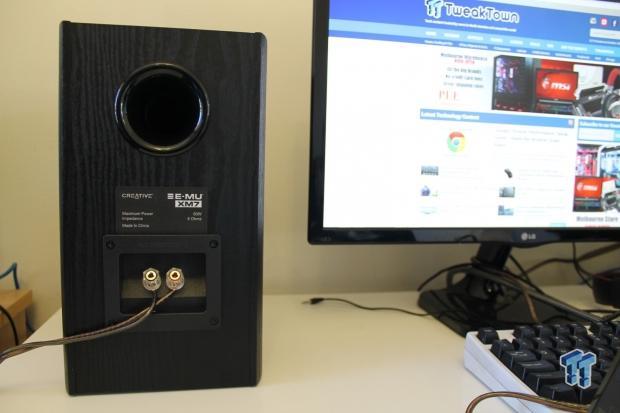 The unit itself, although oddly shaped, is grounded very well and feels well-constructed with all buttons being firm and responsive. The sound nob is adequately sized and extremely smooth, the adjustments are also very minimal and can get frustrating if you're trying to turn up to down large increments quickly, but that's only a very small issue here.
The connection through Bluetooth is quite simple. It doesn't reconnect automatically to my Samsung Galaxy S4 as seen with some other Bluetooth speakers I have been testing recently. The real issue with Bluetooth comes the 'device connected' prompt, which seems to play at around 80 percent volume most of the time while other times assuming the volume of whatever I was listening to last. This is quite annoying as the amp connected to E-MU X7 speakers is extremely loud, and I can hear it connecting or disconnecting from the opposite end of my house, diagonally.
The Bluetooth range is stellar, and I can stay connected to this throughout my whole house with no major stuttering or drop out issues.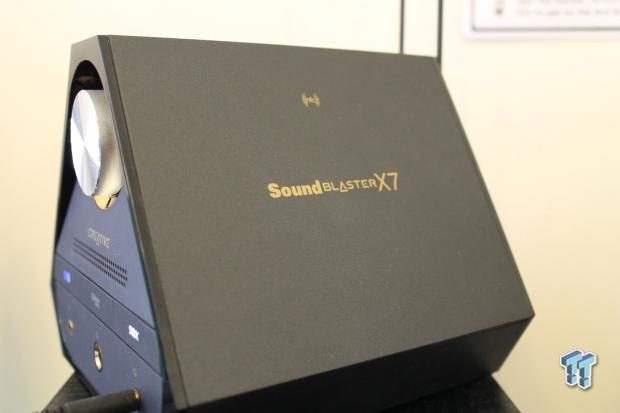 The SBX mode (controlled by a button on the front) also makes a vast difference. Most audiophiles prefer to run with this option off, but from my testing I have found that it's better off used if you like your music loud, booming and punchy like I do. Especially if you're shy of using equalizers and setting up your own sound experience (something for the newbies).
One issue to note before going further is that of the headphone stand on the back. It looks great with its minimalist design, but if you're throwing on a 350 gram or above headset like the Feenix Aria, you're going to make it wobble quite a bit. Honestly, I was worried the wires were going to bend sideways and drop my $350 headphones onto the ground, but a steady hand will mean it sits there just fine.
You'll notice that not much talk has been put into the Sound Blaster control software for this device. As explained previously, I'm looking at this review from a mostly Bluetooth connection standard, which is what this device is heavily marketed towards, alongside it being then similar to other reviews here at TweakTown. Also, if you're going to use this on your home Hi-Fi setup, there's a large possibility that you won't have a computer there ready to control the unit. However, you can utilize this software by plugging in your mobile phone into the control port.
Installing, operating and tweaking drivers & a little boogie
After installing the X7 control software on my computer and also doing so on my smartphone (plus installing the Sound Blaster Services app), I'm finally ready to tweak a little. It's worth noting that although it's a little annoying to install so much, the computer software setup wizard is very user-friendly, asking you simple setup related questions that any beginner to expert could answer.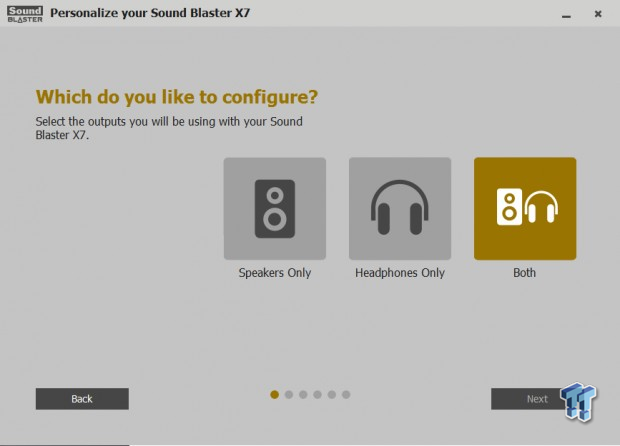 As the software on both mobile and smartphone is extremely easy to setup, it's also a breeze to use and control. Gone are the days of manual equalizers and tricky programs, the software here is easy to use, easy to understand and a breeze to operate.
It's interesting to note that the bass is set at only 30% out of the factory, meaning my current spree of 80's-90's rap sounded a little flat. Installing the software and cranking up the bass gave me a much better experience. It's also worth noting that these enhancements though 'SBX Pro Studio' are looked down on by pure audiophiles, preferring to turn it off and tweak it to their own needs. However, for those who are a little newer, it operates just fine.
I listen to a massive range of songs on a daily basis, making a good starting base for testing out all-rounder products. Kicking off proceedings with Twenty One Pilots' 'Ode To Sleep' showed why you would get an amplifier of this quality - projecting a massive fullness of sound and crisp clarity to boot. What's worth noting is that it didn't just sound great through my $350 Feenix Aria headphones or $440 SE-MU speakers, but it vastly improved my $100 Kingston HyperX Cloud II gaming headphones too.
Also tested was some chilled out rap music from Nas, tweaking the bass a little is a necessity here.
Last up is something with crazy punch, testing out the heavy bass capabilities of this unit. Throwing on my capable Feenix Aria headset and turning the volume up performed extremely well as you may expect. There's no issues here whatsoever with quality, so why would you buy or pass on this product? Read on to find out.
What's Hot
Plethora of connection options: There are almost unlimited input and output options here with the X7; basically anything you could ever want.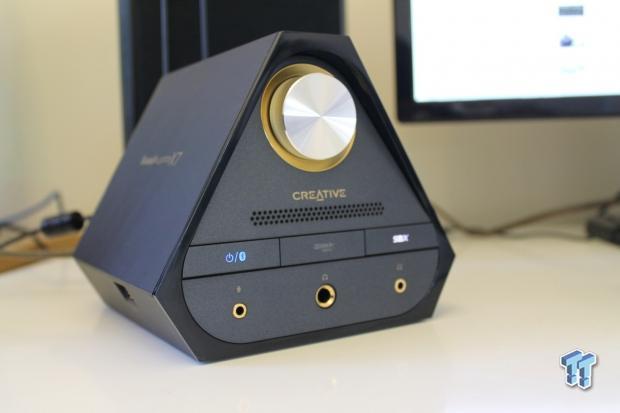 East to understand: For those who don't care about complicated setups or are new to the audio game, Sound Blaster has done a brilliant job of making everything quite easy to do. The connections are explained in manuals, the software setup wizard is easy to follow, and tweaks to the sound are laid out in a well-constructed PC program or application.
Control and connect through USB: With the ability to connect to your PC through USB while offering full equalizer control is great.
1/4" and 3.5 mm headphone socket: Lost your adapter? No issue.
What's Not
The shape isn't for everyone: If you're tight on space, the shape of this unit may cause a few headaches. Due to its shape, Creative has made a design statement that says this product is suited as a 'centerpiece' of your Hi-Fi setup, it's going to have to sit on top of a desk and possibly be in the way if you're a space-poor (like I am). This, coupled with some large speakers like the SE-MU, means you're going to have to get a little fancy with your space allocation.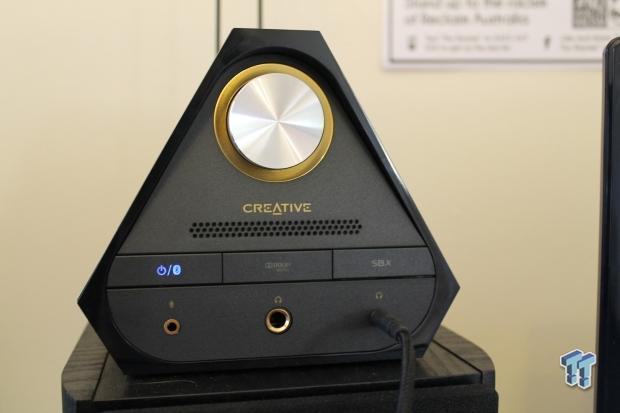 The price: At $400 from Amazon online, this product certainly isn't cheap. With plenty of $300 amplifiers offering similar specifications, Sound Blaster has relied on its name, software and ease of setup to push the $400 price.
Headphone stand: It works fine for lighter products, but anything over 300 grams causes it to wobble. This issue is due to the wires being so thin, meaning it looks nice but doesn't perform very well.
Final Thoughts
The Sound Blaster X7 is an amplifier that has it all. With a plethora of in and out connections, control available through smartphones or computers, an easy-to-understand layout, fail-safe equalizer pre-sets for the newbies, and the addition of Bluetooth/NFC means, I can highly recommend this product to anyone entering the audiophile game.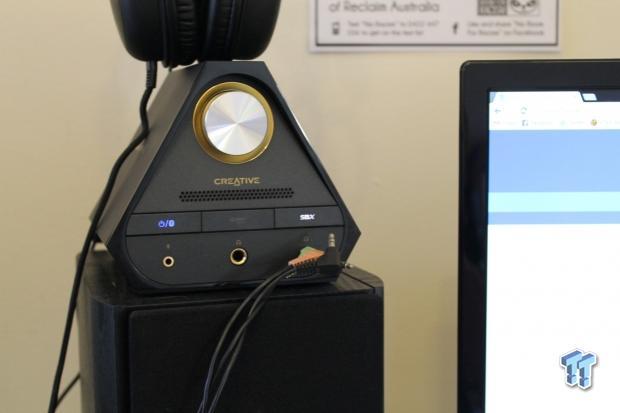 There are a few core issues that include a weak headphone stand and the actually unit design itself, which may make or break this purchase for some. If you're extremely space-poor, I would advise taking a close look at how this product sits before picking one up for yourself as you're not able to stack it and any general desk already running two monitors will likely not have enough space to spare.
Once again, although the price is a little higher than I think is reasonable, the Sound Blaster X7 is a perfect amplifier for anyone looking to make their way into the high-end audio game. Although it might look daunting at first, the easy to setup and control software will hold your hand and lead you in whatever direction suits.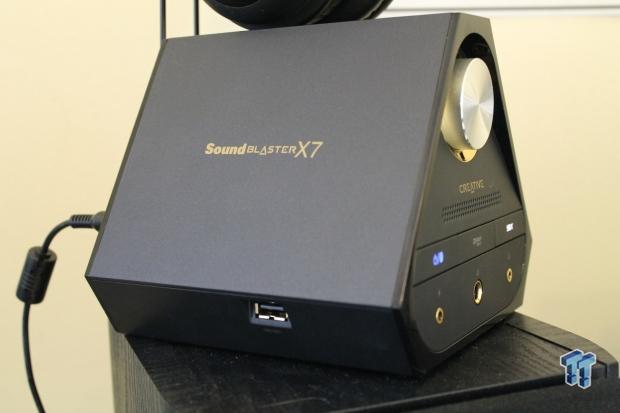 On one last note, the engineers told me that there is an option to plug in a subwoofer alongside the bookshelf speakers if you're looking for a little extra punch.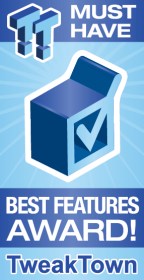 | | |
| --- | --- |
| Performance | 95% |
| Quality including Design and Build | 80% |
| General Features | 99% |
| Bundle and Packaging | 95% |
| Value for Money | 80% |
The Bottom Line: Let down slightly by a flimsy headphone stand and a high price, the Creative Sound Blaster X7 is extremely easy to use, has a plethora of connection options, and is perfect for any beginner audiophile.
PRICING: You can find products similar to this one for sale below.

United States: Find other tech and computer products like this over at Amazon.com

United Kingdom: Find other tech and computer products like this over at Amazon.co.uk

Australia: Find other tech and computer products like this over at Amazon.com.au

Canada: Find other tech and computer products like this over at Amazon.ca

Deutschland: Finde andere Technik- und Computerprodukte wie dieses auf Amazon.de
We openly invite the companies who provide us with review samples / who are mentioned or discussed to express their opinion. If any company representative wishes to respond, we will publish the response here. Please contact us if you wish to respond.