GIGABYTE BRIX Skylake BSi7H-6500 Ultra Compact PC Review
It isn't cheap, but GIGABYTE's Intel Skylake-based BRIX BSi7H-6500 SFF PC packs a mighty good punch for its small size.
Published Apr 11, 2016 8:22 AM CDT
|
Updated Tue, Nov 3 2020 6:58 PM CST
10 minute read time
TweakTown's Rating: 91%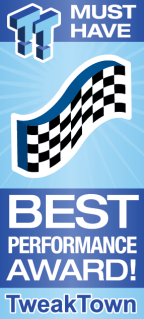 The Bottom Line
If you are looking for a tiny device that packs a huge punch, then the GIGABYTE BRIX BSi7H-6500 SFF PC will knock your socks off, but it won't be cheap.
Introduction, Specifications, and Pricing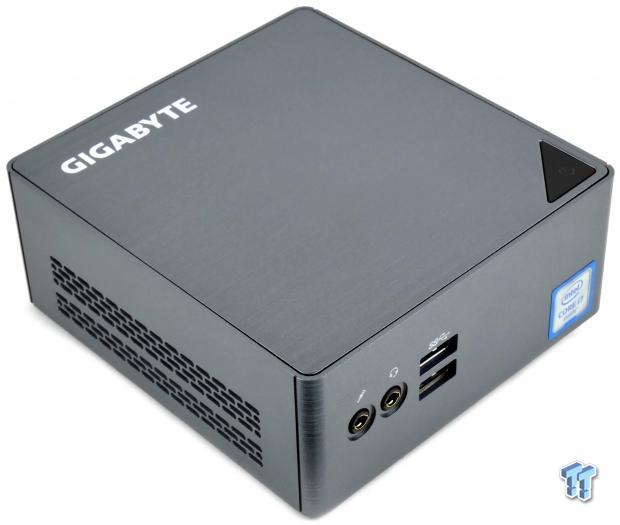 Intel's Next Unit of Computing (NUC) platform has become more popular in the last few years as Intel's SoCs have become more optimized for the form factor. Intel doesn't shut the door on other vendors when it comes to its NUC designs, and everything from the Compute Stick to the cube-shaped NUCs have been re-designed and improved upon by Intel's partners. GIGABYTE's BRIX lineup has been around for many generations, offering the latest Intel SoCs, in compact and elegant systems.
The BRIX BSi7H-6500 is a barebones PC; memory, storage, and OS are not present and will need to be provided and installed by the user. It offers more customization abilities and a lower price than a fully built system, but also requires the user to install the parts, which is very easy to do. The GIGABYTE BRIX is targeted towards the consumer and even to business, particularly when a compact form factor is desired.
To avoid the productivity bottleneck that many small form factor systems (including notebooks) introduce, products like the BRIX BSi7H-6500 offer the latest in SoC/CPU performance coupled with flash storage advantages. Configured correctly, the BRIX BSi7H-6500 can provide performance that would make it indistinguishable from a full-tower PC. This review will not only explore all aspects of GIGABYTE's latest BRIX mini-PC but also offer an indirect performance comparison between the Intel Broadwell i7-5500U and the new Skylake i7-6500U.
Specifications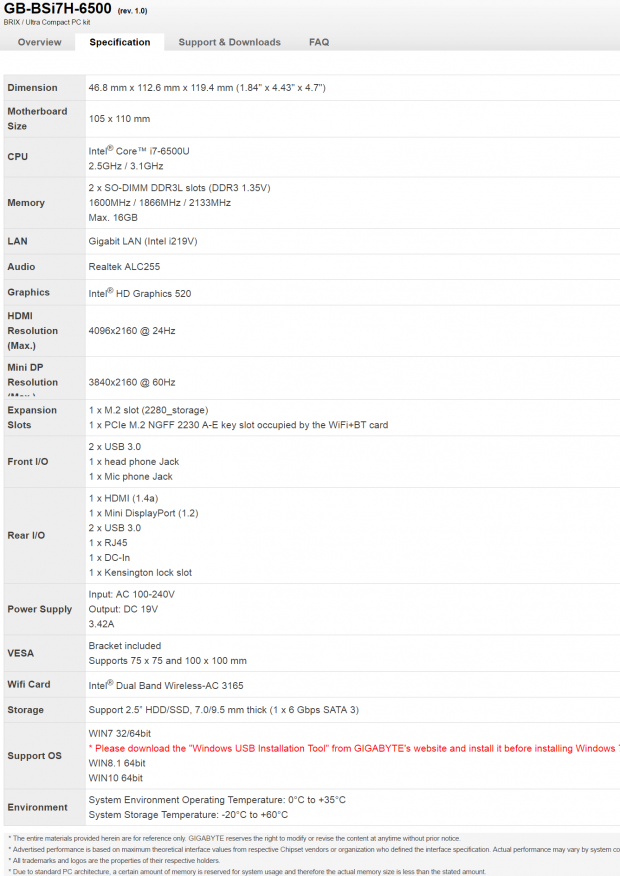 The unit is a little more than half a liter (0.629L) in volume and offers the ability to install a 2.5-inch HDD or SSD for larger capacity storage. It is powered by an Intel Core i7 6500U, a 2core/4thread CPU with 4MB of L3 cache, a 2.5GHz base clock with a 3.1GHz Turbo, and a 15W TDP. The SoC features Intel's new HD Graphics 520 which supports both HDMI 1.4a (4K @ 24Hz) and DisplayPort 1.2 (4K @ 60Hz), DirectX 12, and up to three displays. The BRIX will support up to 16GB of DDR3L through two SO-DIMMs.
The i7-6500U SoC also supports PCI-E 3.0 expansion with a maximum of 12 PCI-E lanes, and it is based on the 14nm process just as other Skylake based Intel devices. GIGABYTE has installed an Intel dual-band Wireless-AC 3165 module and an Intel i219v for both wireless and wired Intel-based networking. Instead of mSATA support, GIGABYTE has switched to providing an M.2 slot for storage along with an SATA connector for a 2.5-inch drive. The device is also fully Windows 10 ready.
Pricing
The BRIX BSi7H-6500 costs $529.99 which isn't a drop in the bucket by any means considering you still need to purchase the OS, memory, and storage.
Packaging and System
Packaging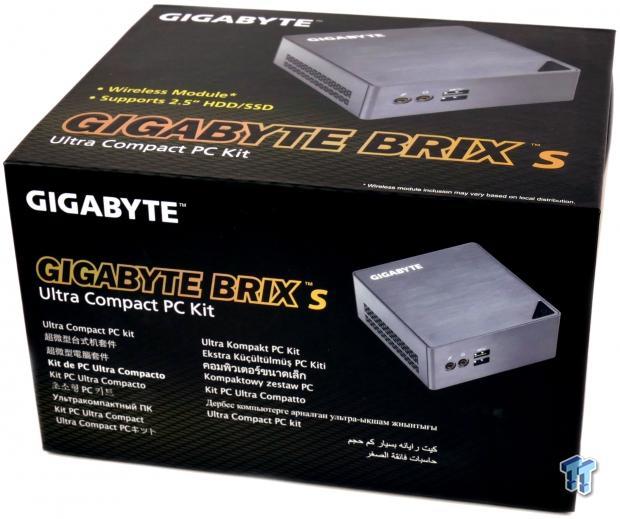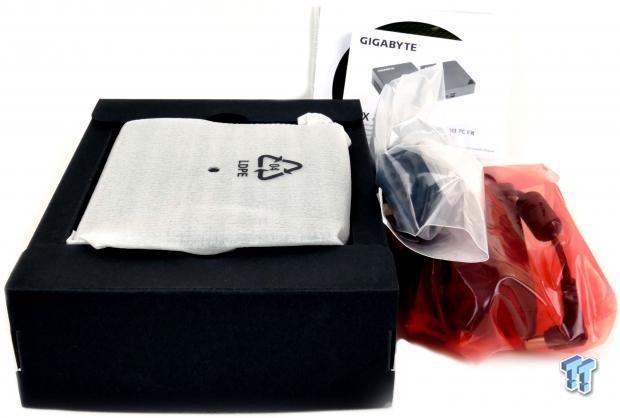 GIGABYTE's design is similar to previous BRIX packages, listing all the features and displaying a shot of the product. Packaging is also similar to other BRIX products; the PC is very well protected.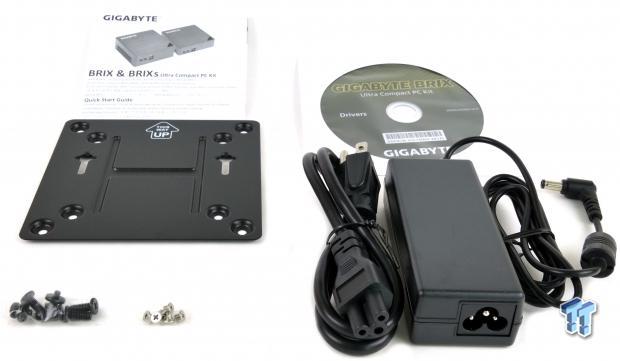 Accessories include an AC/DC power adapter, driver DVD, manual, and a VESA mounting plate with required mounting screws.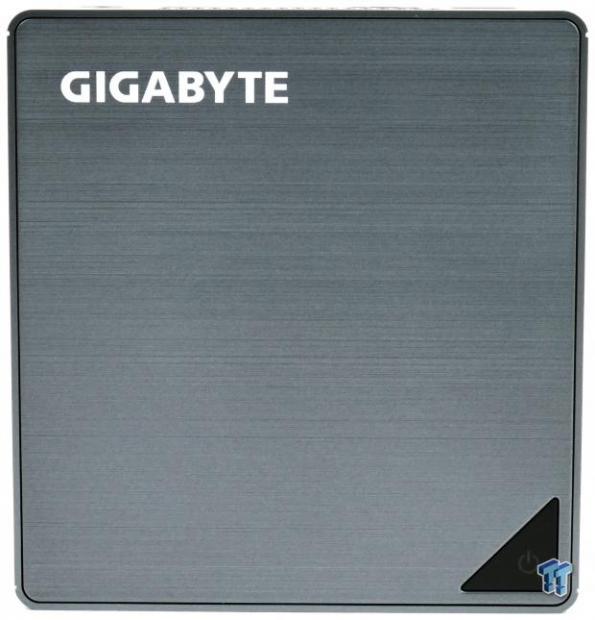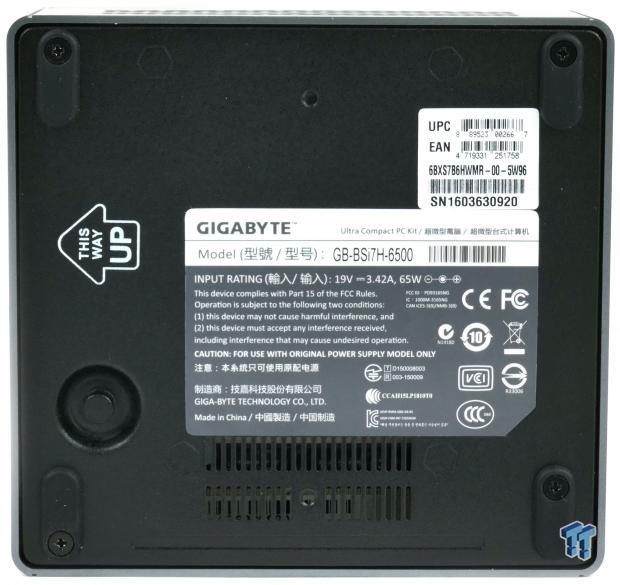 The unit has a very sleek brushed aluminum look. The surface is a hard plastic which is much less prone to fingerprints than glossy plastic which is used on other NUC-type devices. While brushed aluminum might feel nicer to the touch, this hard plastic shell seems to be more resistant to small scratches than brushed aluminum. The lack of a cold touch is the only indicator that it is plastic, especially since it reflects light much like metal.
The material is also very durable and lightweight, offering the best of both world's. The base is made up of aluminum, and metal columns protrude the entire internal height for structural reinforcement. The base can be removed for memory and storage installation by removing four long screws. There are four rubber feet which will ensure the unit can grip a smooth surface. This model BRIX can accept a DC input of up to roughly 65W (19v x 3.42A).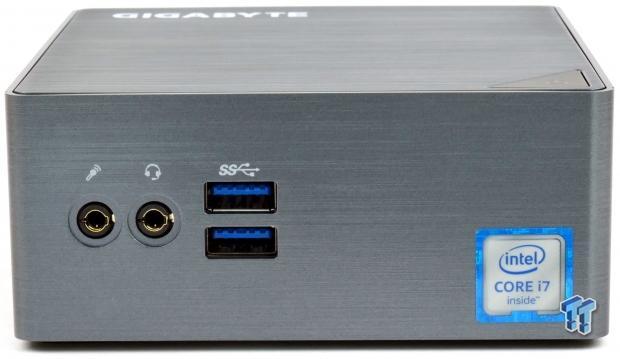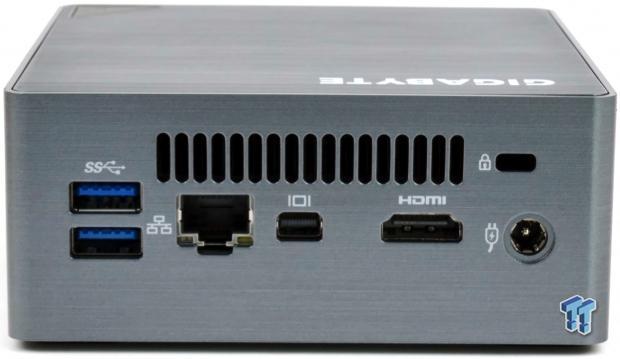 The front of the BRIX has two USB 3.0 SuperSpeed (5Gb/s) ports as well as audio input and output jacks for various devices. Intel's Core i7 sticker confirms it carries an official Skylake-based Core i7 processor. The rear of the unit contains two more SuperSpeed (5Gb/s) USB 3.0 ports, an RJ-45 1Gbit NIC, mini-DisplayPort (up to 4K @60Hz), HDMI (up to 4K @ 24Hz), Kensington Lock Port, and DC input jack.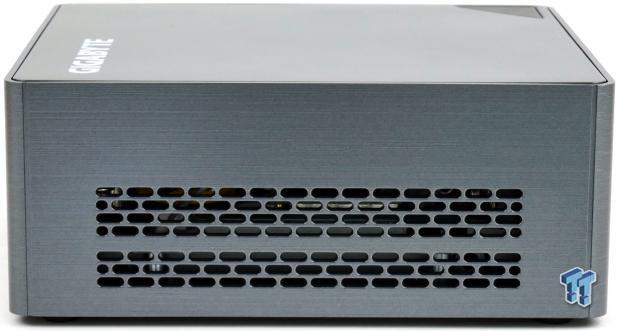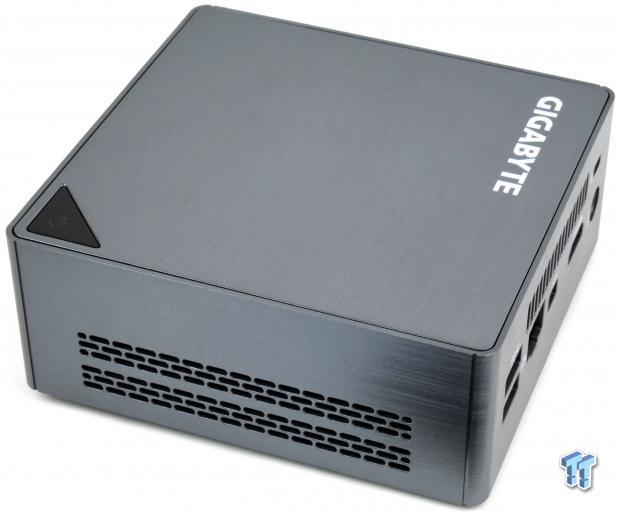 Both sides of the device have vents for airflow into the unit.
Teardown of the BRIX BSi7H-6500
The Teardown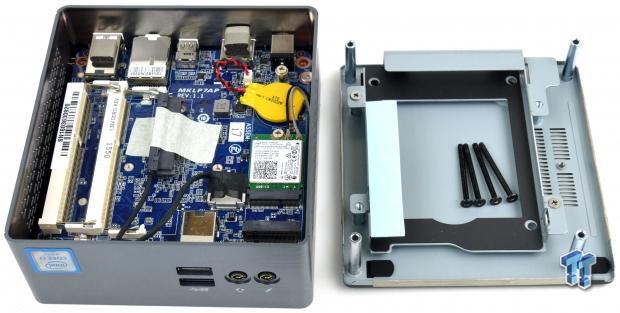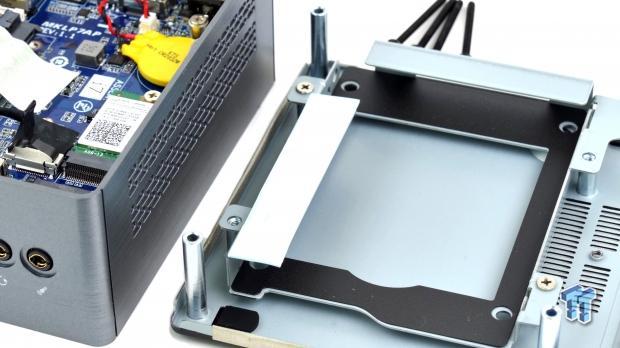 Opening the device is very simple and is done through the bottom of the unit. Many M.2 drives get a bit warm, so GIGABYTE has added a long thermal pad attached to the metal base of the unit to help dissipate heat.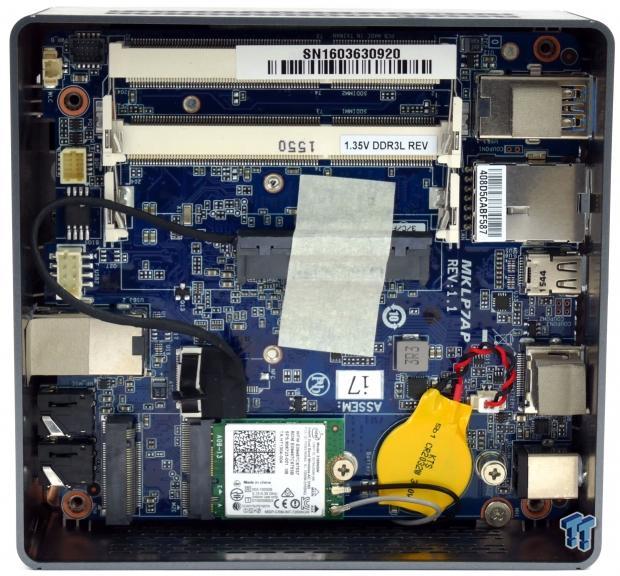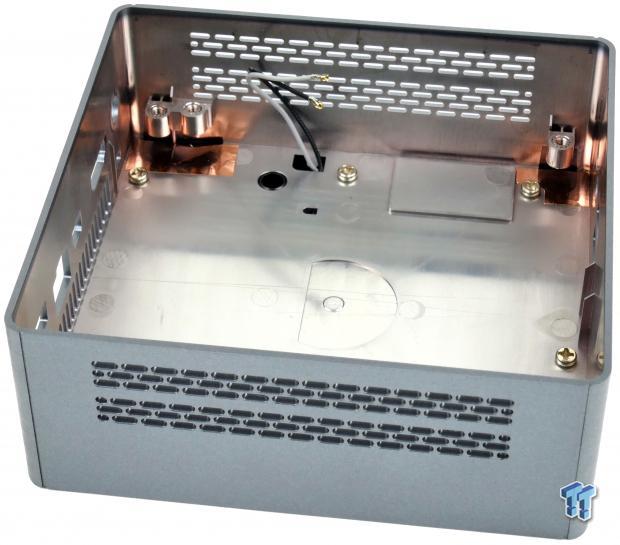 There is enough room to install M.2 and memory devices without too much discomfort to the user. After I had removed the PCB, I found GIGABYTE had located the Wi-Fi antennas towards the top of the unit, above the EMI shielding for better signal reception.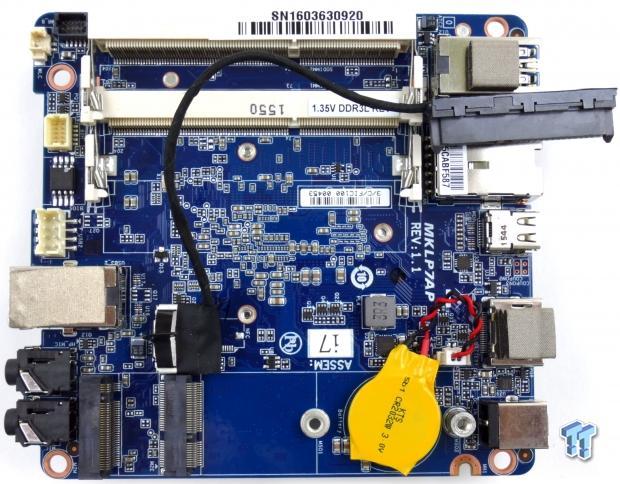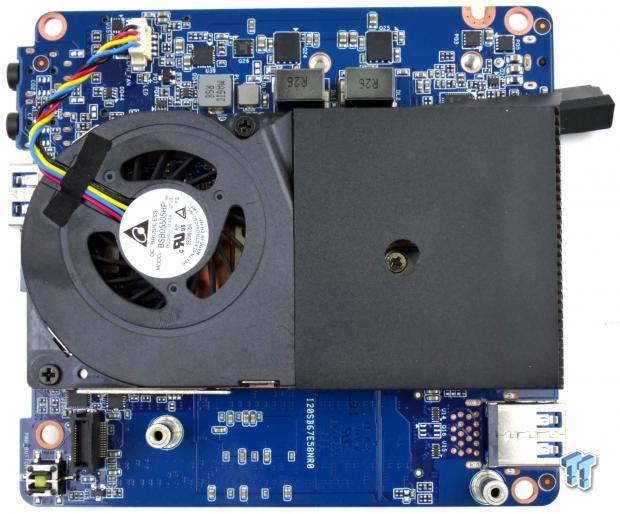 Many of the important ICs which could be prone to static are located on the backside of the PCB, where the SoC and its heat sink are located. There are numerous other ports on the device which GIGABYTE included but did not specify in official specifications; I think a few are for embedded display options.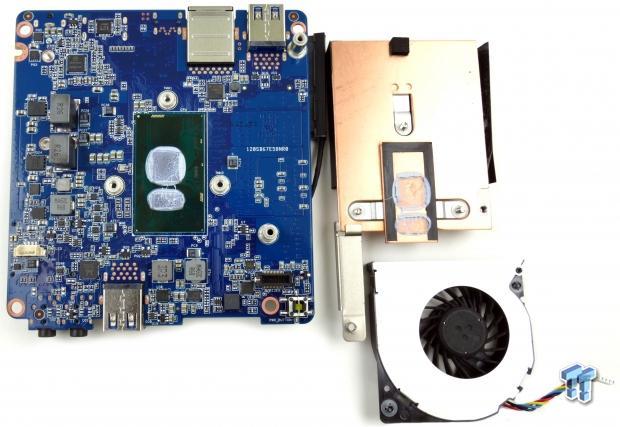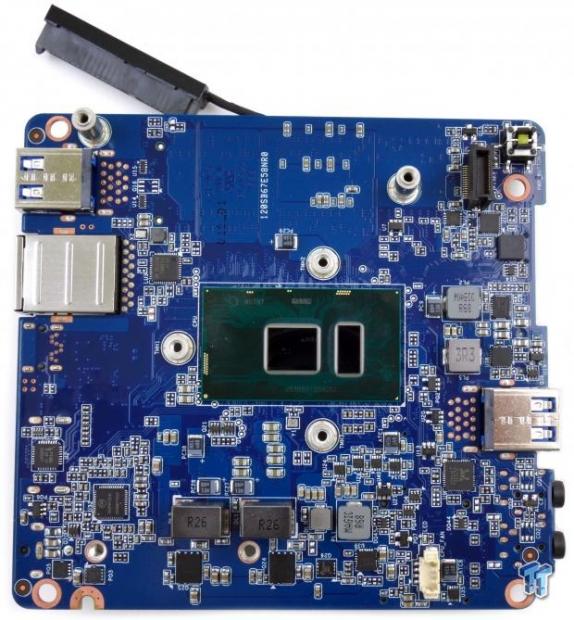 The heat sink is made up of a thick copper base attached to aluminum fins which make direct contact with the SoC. A blower fan is responsible for removing the air through the rear of the device.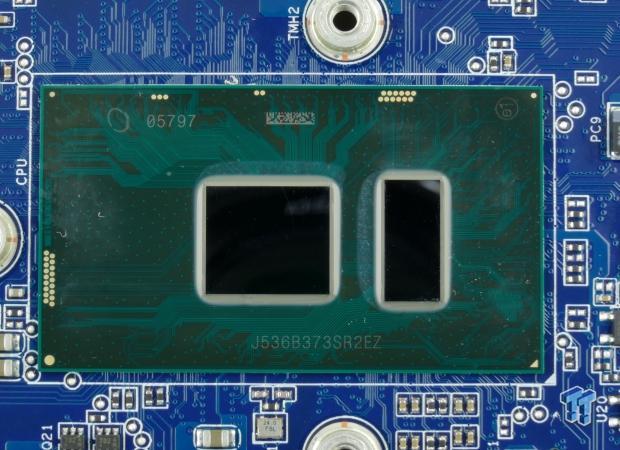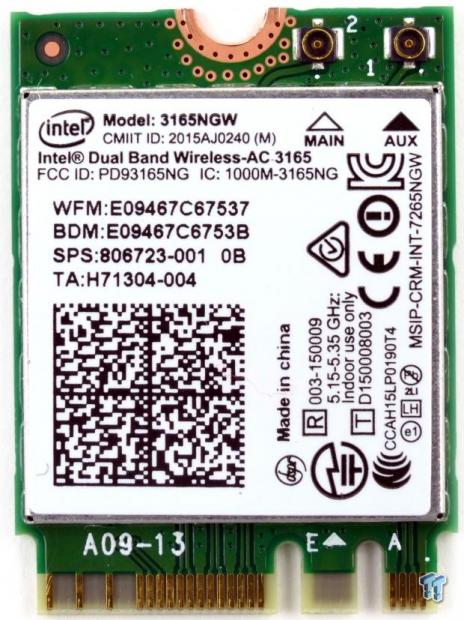 Most of the functions of the device are integrated into the SoC. The i7-6500U SoC integrated the CPU die onto the same package as the PCH die. The Intel dual-band Wireless-AC 3165 is a 1x1 adapter (433Mbps) with integrated Bluetooth 4.2. It's fully Windows 10 compatible.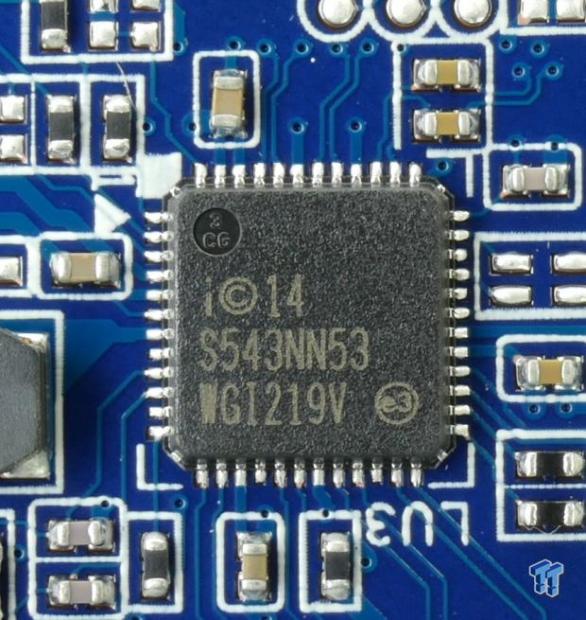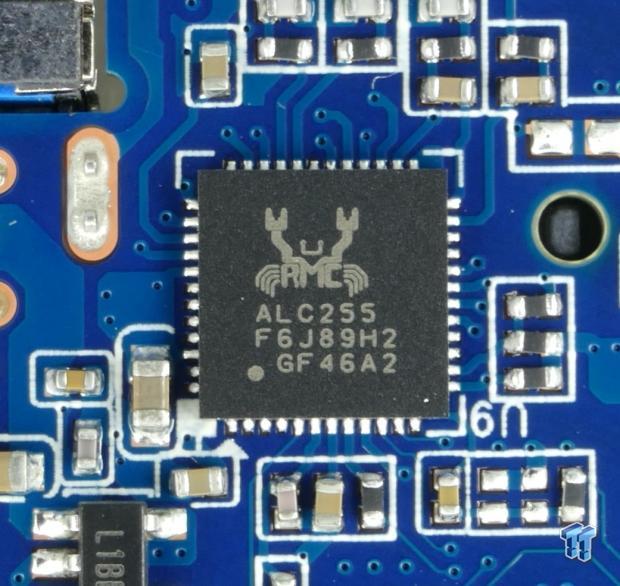 The wired LAN comes from the i219v which is a PHY for the integrated MAC in the SoC. It's the same PHY used on desktop motherboards, and should offer the same performance. The Realtek ALC255 is the audio codec which provides the headphone and microphone jacks at the front of the device.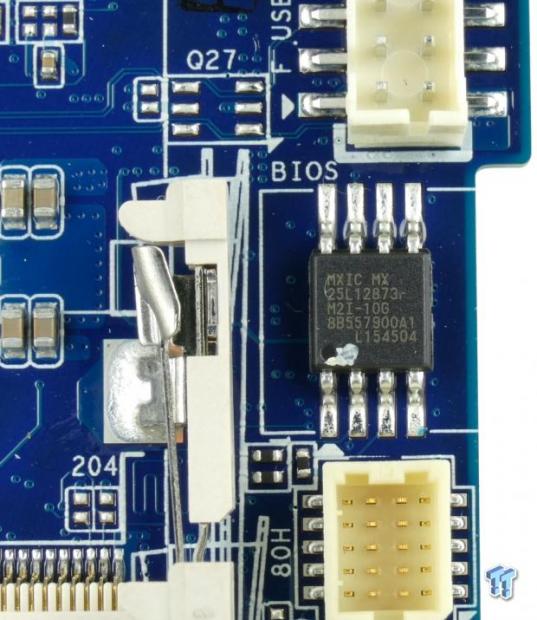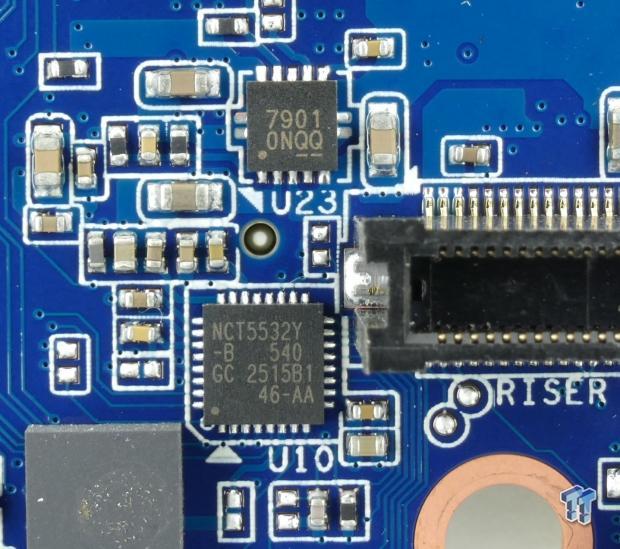 The board does have a 128Mbit (16MB) ROM for the UEFI. The NCT5532Y is the LPC SuperIO, which provides temperature and voltage monitoring as well as control over the blower fan.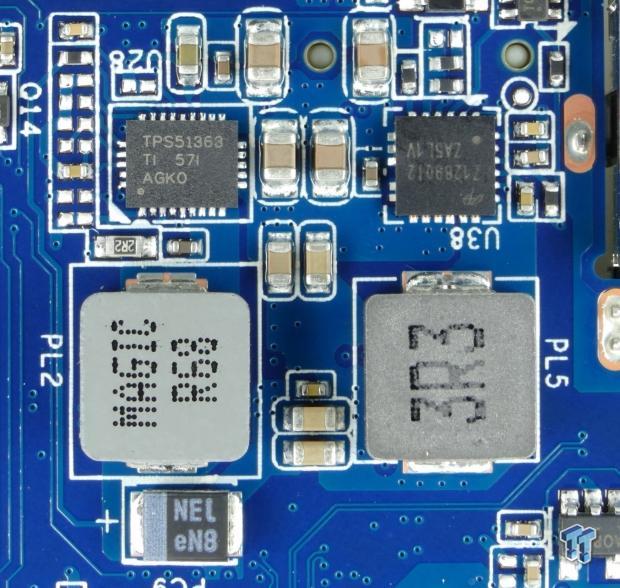 The TPS51363 is a 22v input 8/10A converter that takes the high voltage DC input and lowers the voltage range, so it is of use to onboard voltage regulators.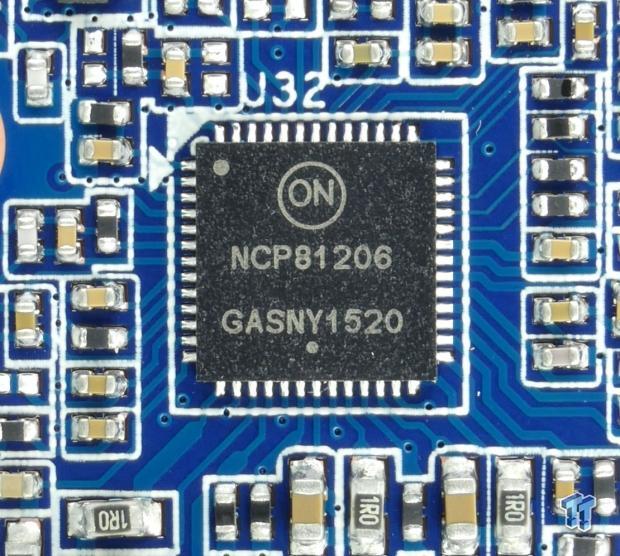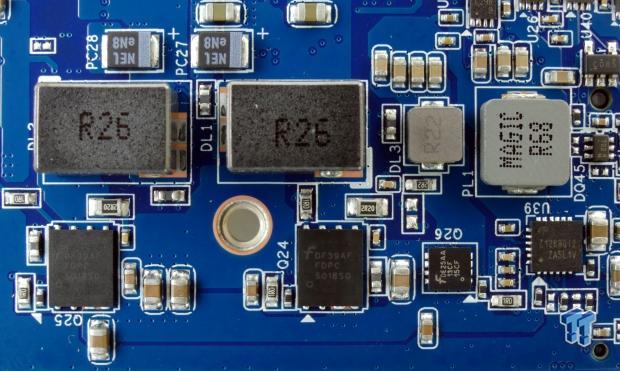 The ONSemiconductor NCP81206 is a single phase IMVP8 controller which provides control over the voltage regulator for the SoC. I spotted two Fairchild Semiconductor FDPC5018SG integrated high and low-side PowerTrench Power MOSFETs, which are high-efficiency parts that would reduce thermals.
BIOS and Software
BIOS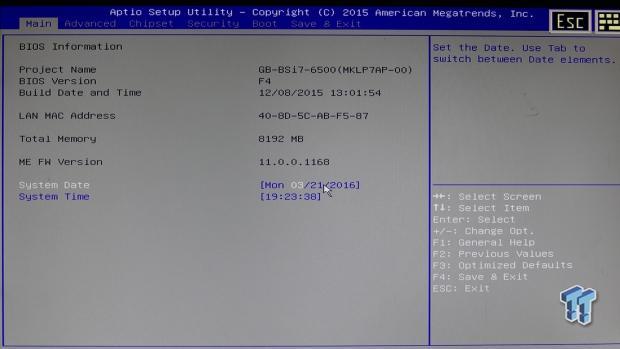 The BRIX BSi7H-6500's UEFI looks similar to the traditional BIOS, which in my opinion might be a bit easier to navigate for the novice, since you can do everything with a keyboard.
It doesn't have as many options as some other NUC-style devices (like screen-capture), and it doesn't offer overclocking capabilities, but it does offer most everything you will need to properly configure the system. You can control the fan through basic profiles and CPU power savings. Virtualization and security options are present as well.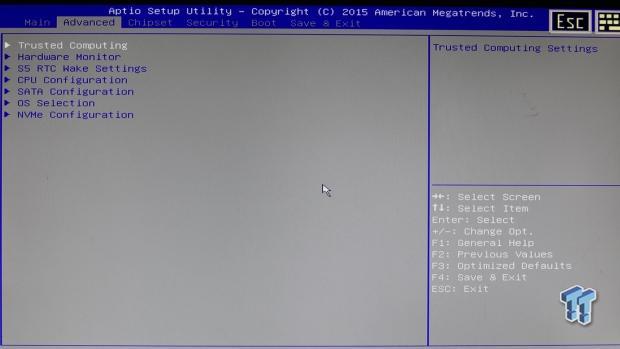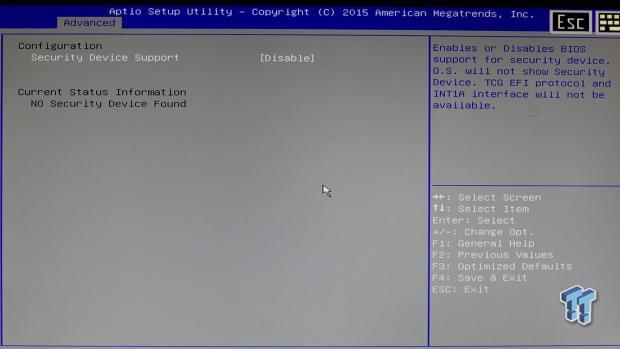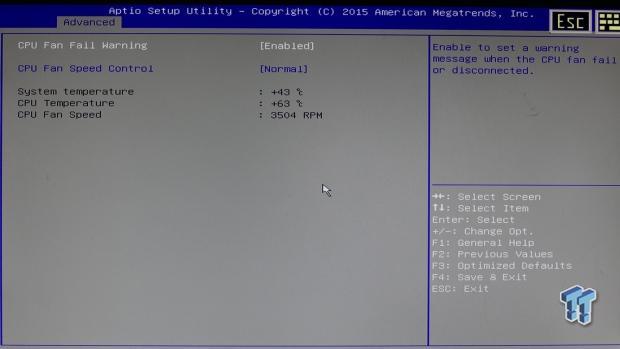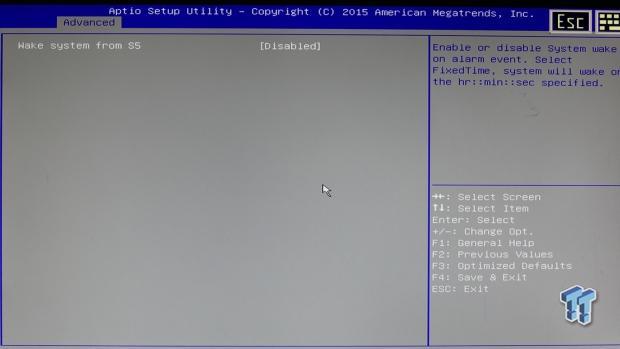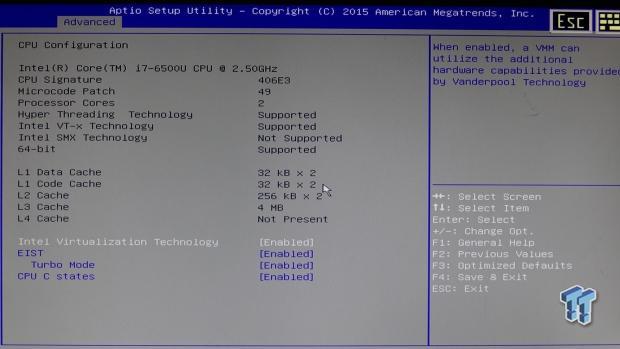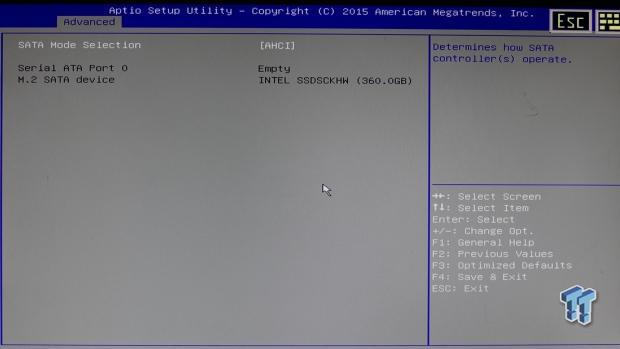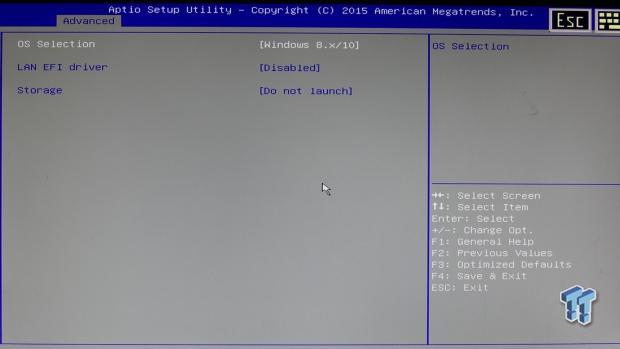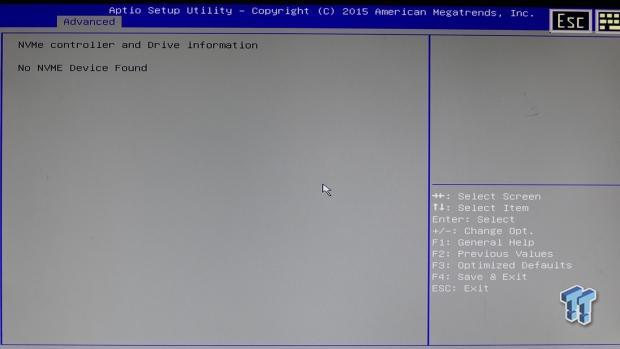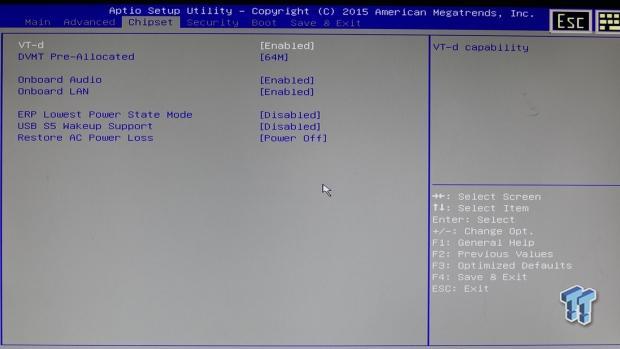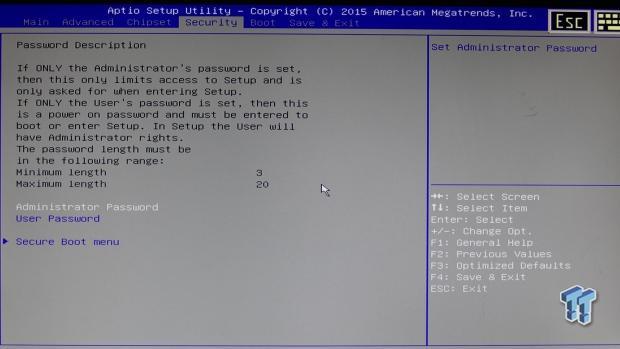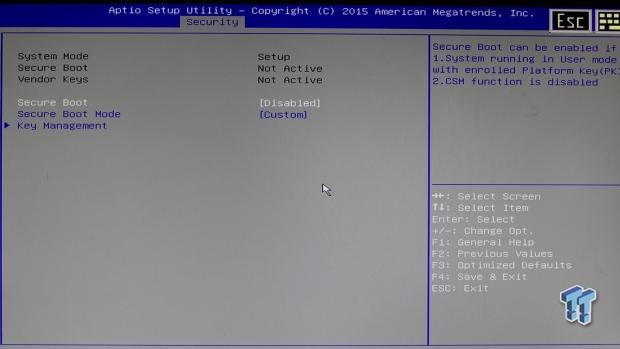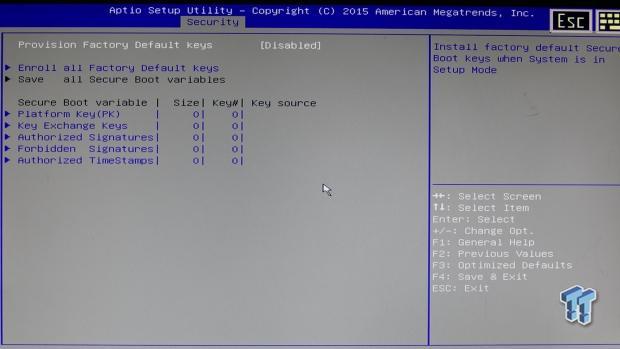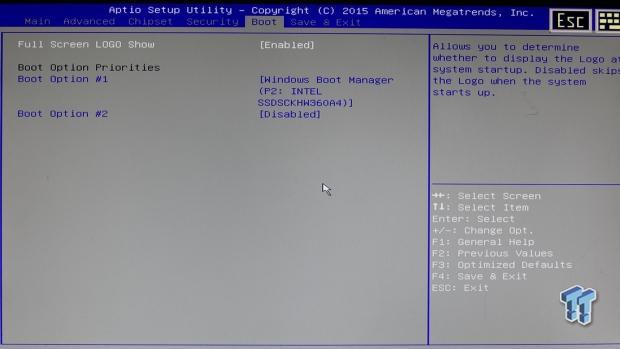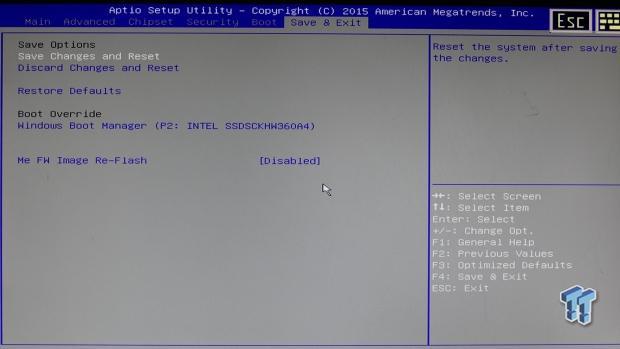 Software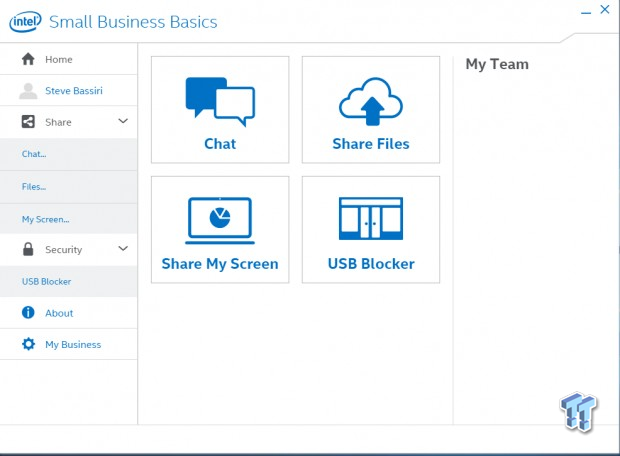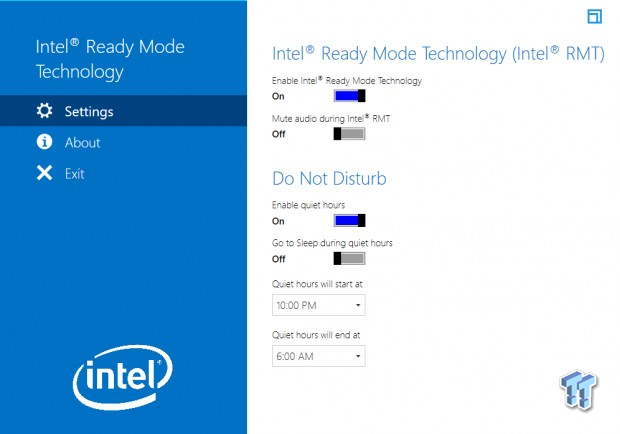 A lot of these barebones PCs do not come with software since the OS needs to be installed and configured by the end-user, but in this case, you can install Intel's Small Business Basics.
Small Business Basics is similar to Intel's Small Business Advantage suite; it offers abilities such as screen sharing and security such as USB port restrictors. Intel's Ready Mode Technology application can also be installed, and it provides the ability to receive notifications even while the system is in an ultra-low power state.
Test Setup and Benchmarks
Test Setup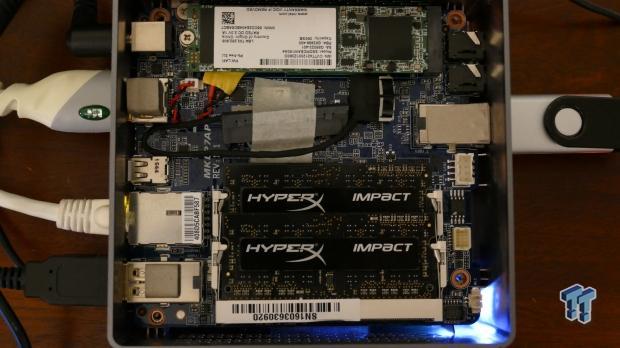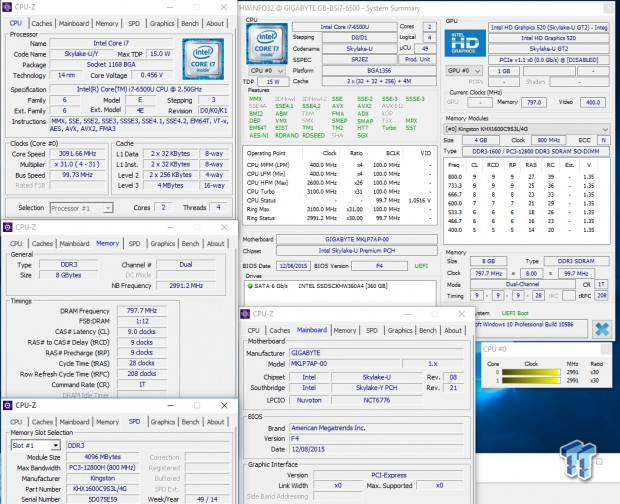 I installed the same DDR3L and M.2 SSD as was used in previous reviews.
CPU, Memory, System, and Graphics Benchmarks
CINEBENCH 11.5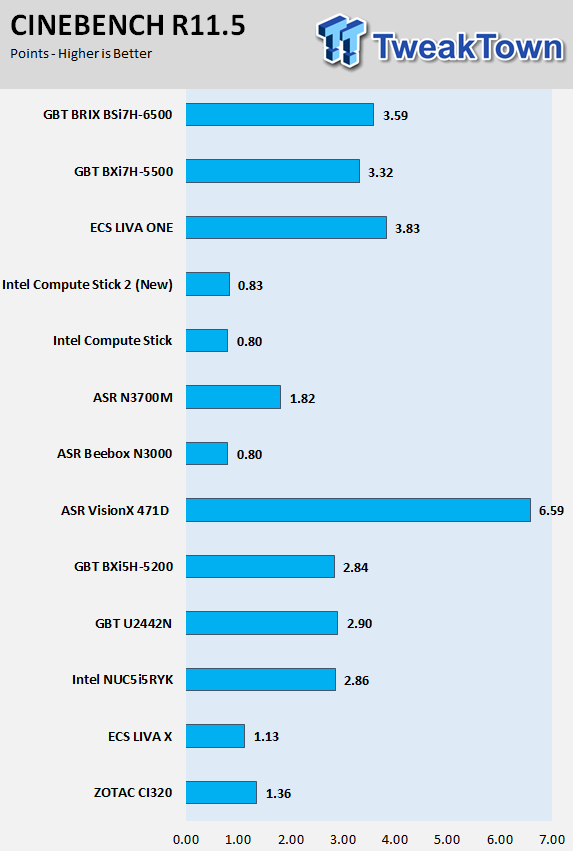 wPrime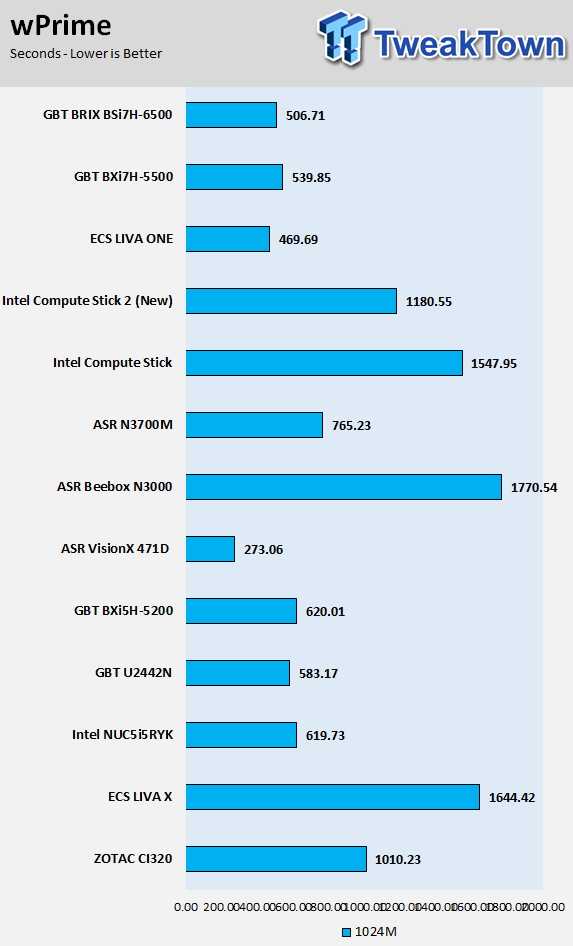 AIDA64 AES and HASH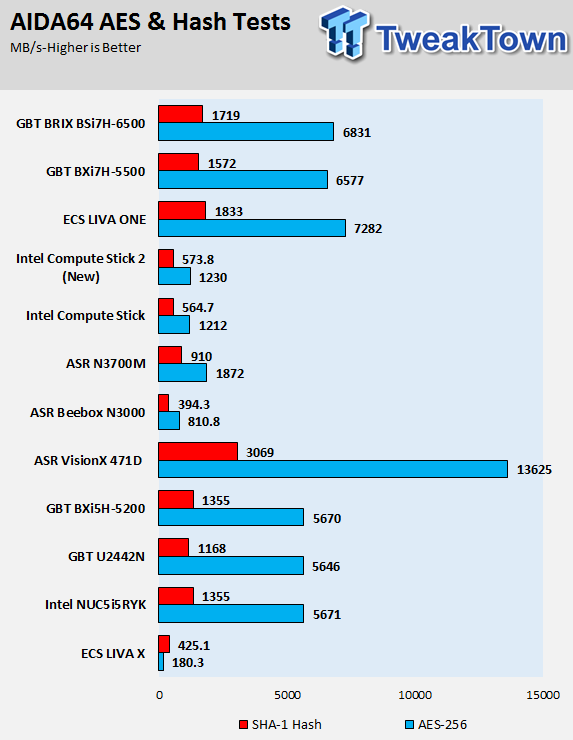 AIDA64 Memory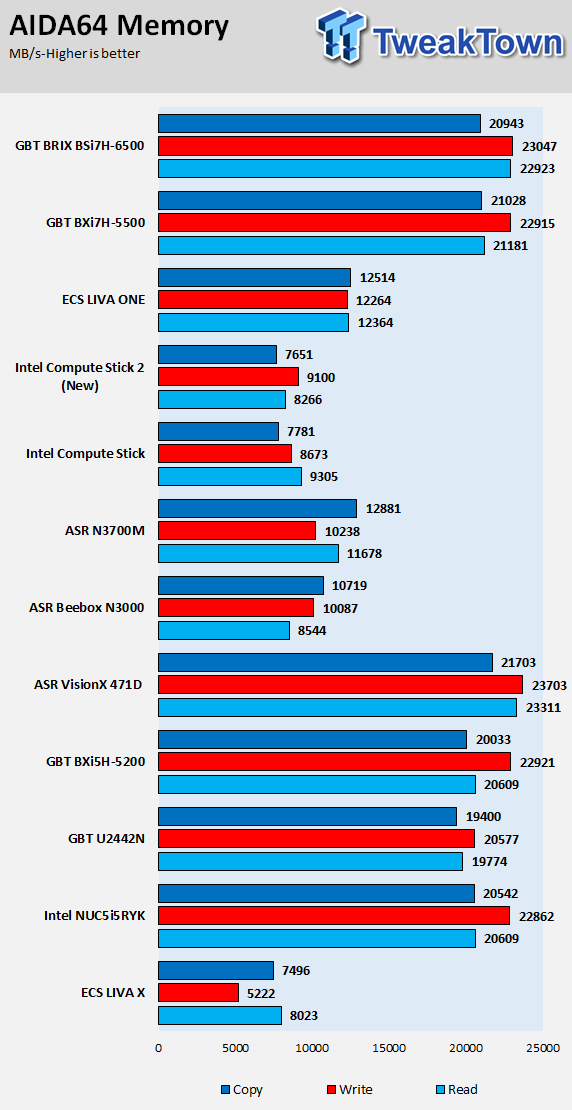 Graphics Benchmarks
3DMark11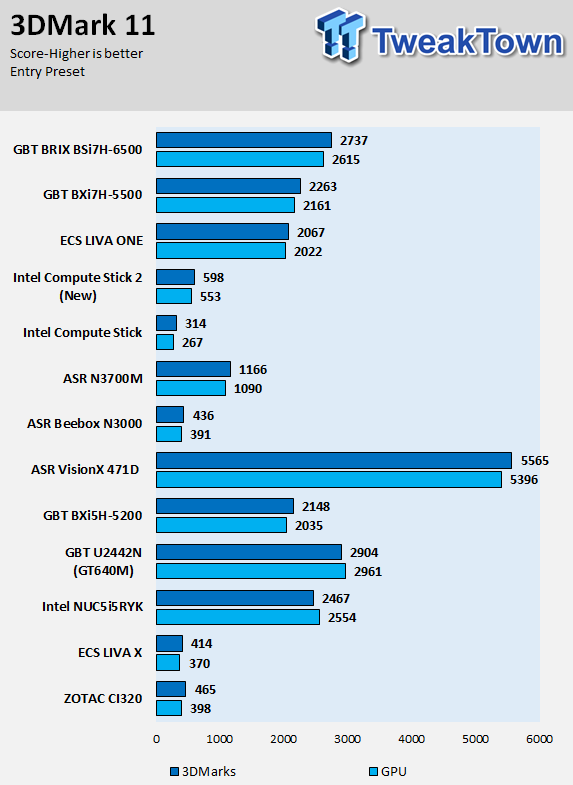 UNIGINE Heaven 4.0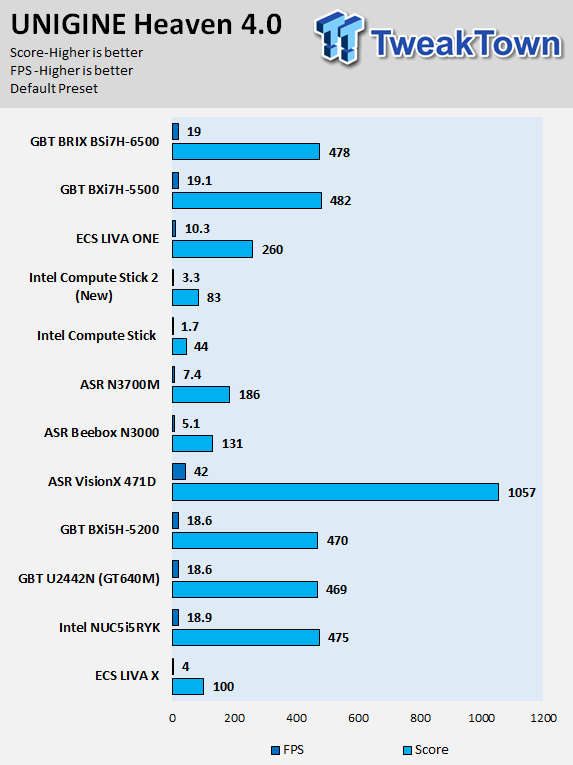 Resident Evil 6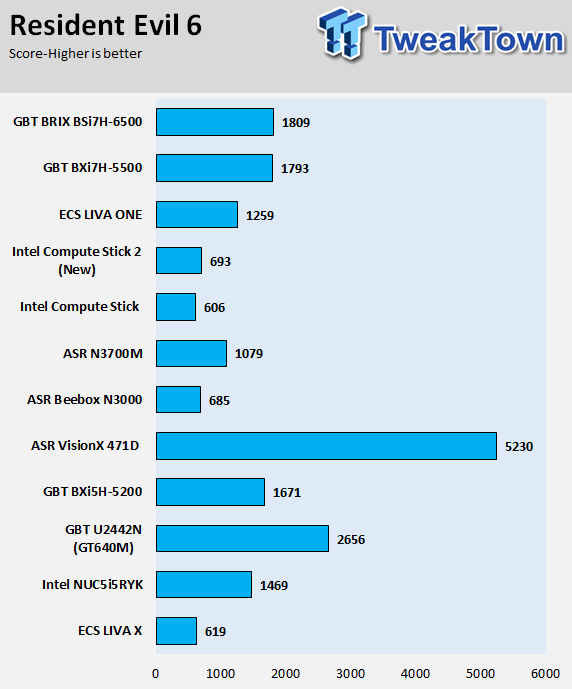 Overall the BRIX BSi7H-6500 does quite well in benchmarks. By comparing its performance to that of the BXi7H-5500, we can see the generational improvements that the Skylake microarchitecture brings to the table compared to the older Broadwell microarchitecture. Skylake's general improvements are roughly 5-10% while the clock speed has also been bumped 0.1GHz in both base and turbo clocks compared to the previous generation SoC.
What makes these results interesting is that both the Broadwell and Skylake CPUs are using the same exact DDR3L, so it's not the typical DDR4 Skylake run against a DDR3 Broadwell system. Compared to other SFF PCs, it is important to note that the BRIX and other NUC-style systems use mobile variants of the Core processors while some non-standard systems such as the ECS LIVA X are using desktop variants, which run at higher clocks and use more power.
System and IO Benchmarks
System Benchmarks
PCMark8 Home Test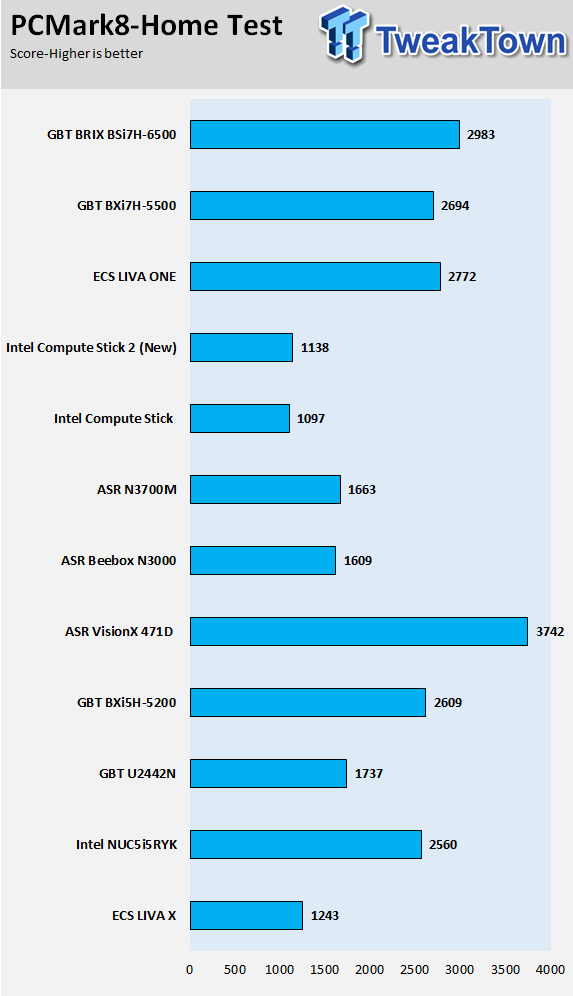 PCMark8 Work Test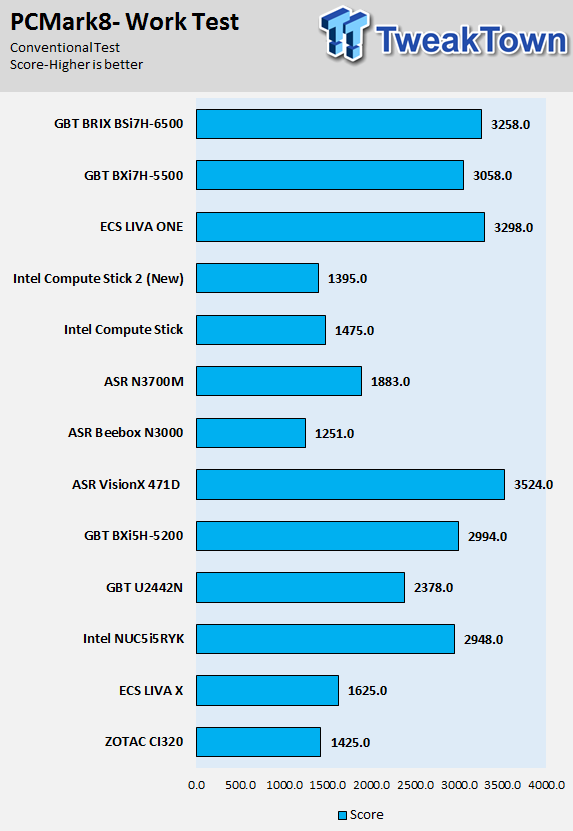 WebXPRT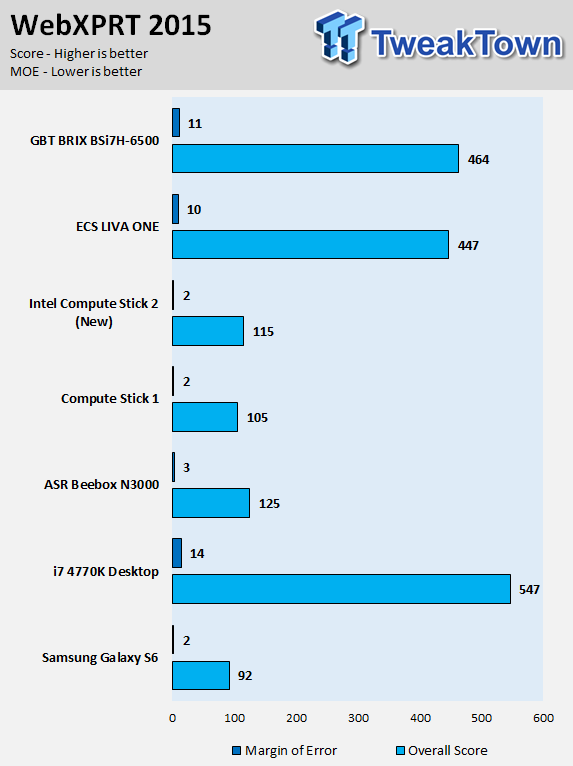 Storage and Network Performance
CrystalDiskBench-Read: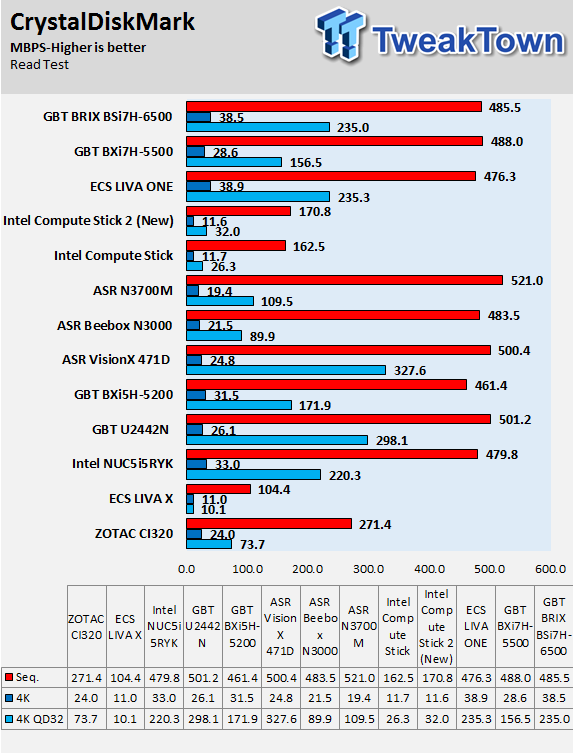 CrystalDiskBench-Write: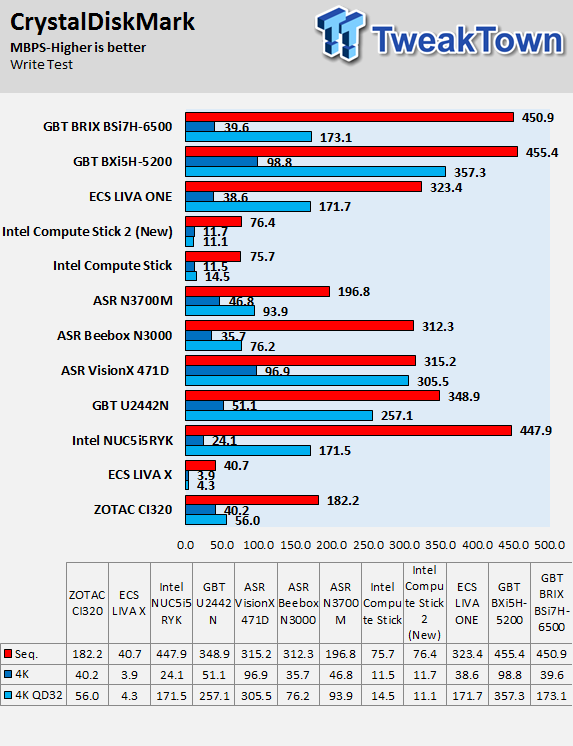 ixChariot Network Throughput: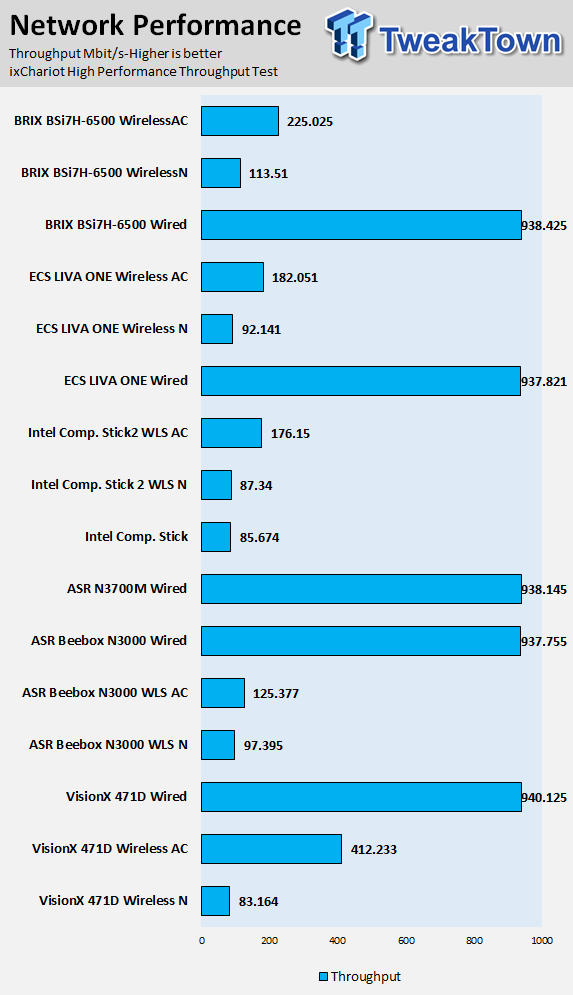 System performance as a whole is better, and storage performance is about the same as the previous generation. There is a boost in 4K reads, but a drop in 4K writes.
Network performance is similar, but the BRIX still uses a 1x1 (433Mbps) mobile Wireless AC card compared to 2x2 (866Mbps) or 3x3 (1299Mbps) desktop cards which use a lot more power.
Temperature and Power Consumption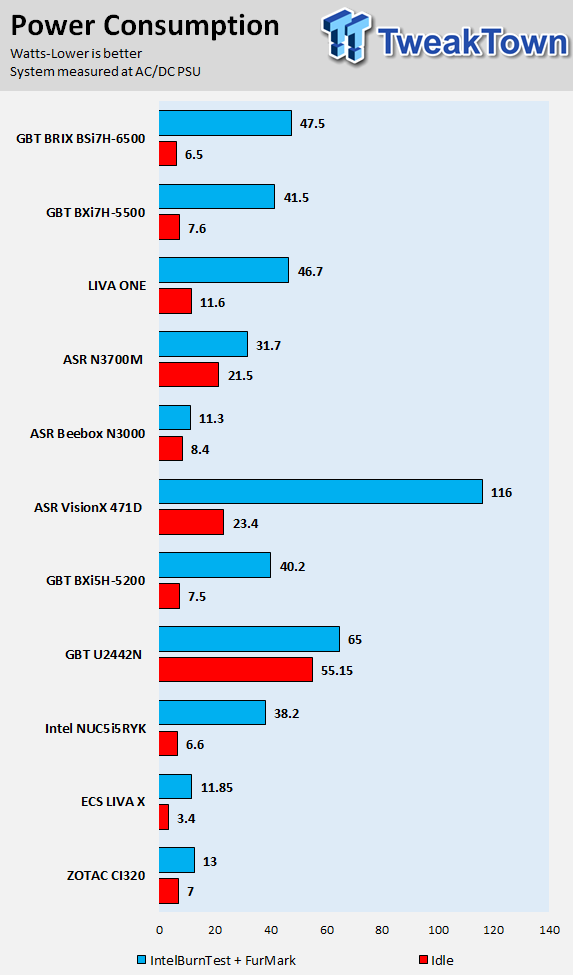 Power consumption at idle is a little lower than the previous generation while at 100% load it is a bit higher. The BRIX versions are using mobile parts in an environment which maximizes performance over power usage since the unit is always plugged in and not dependent on the battery.
The new Skylake CPUs have low and high-end configurable TDPs as well which allows them to work at much lower and higher power levels depending on individual device implementation.
Thermal Testing
Front of Unit at Idle (on left) and Load (on right).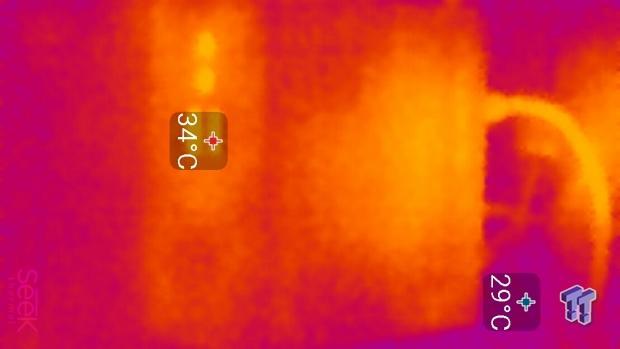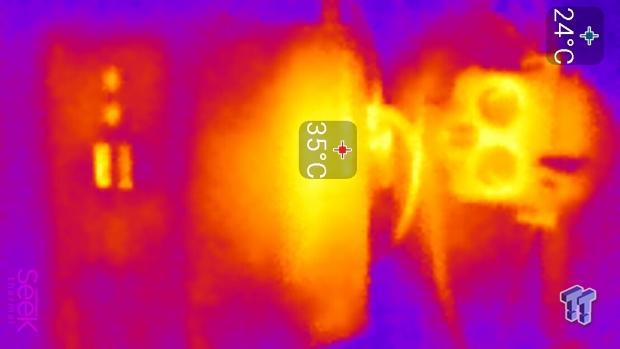 The rear of Unit at Idle (on left) and Load (on right).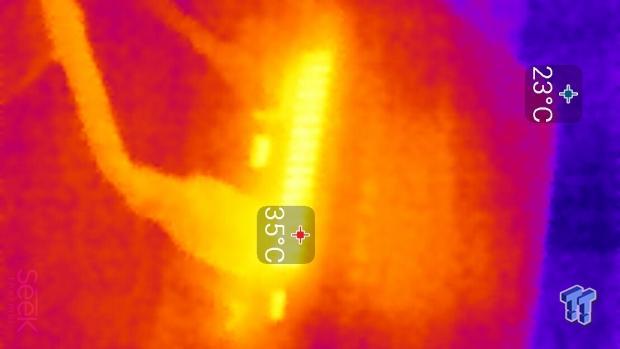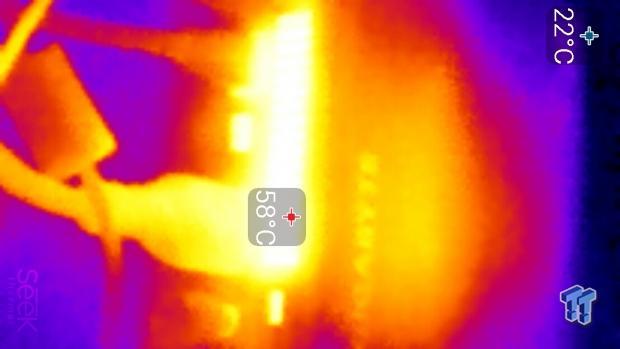 The unit runs very cool at idle and quite warm at load. Overall the unit never got too hot to touch, and it's obviously designed to handle the heat. I didn't encounter thermal throttling.
I also added a 3D printed object behind the exhaust to see how far the heat traveled from the blower fan. While the blower was audible during full blown synthetic load (unnatural conditions), it was never loud enough to cause much strain on my ears.
What's Hot, What's Not & Final Thoughts
Here are key points about the BRIX BSi7H-6500.
What's Hot
Stellar Exterior: Almost all of the SFF PCs I have reviewed over the years use plastic shells, and many of those shells have glossy finishes that look great, but pick up fingerprints too easily. You have to clean those units every time someone touches them, but the new BRIX BSi7H-6500 uses a different type of plastic that resembles brushed aluminum in look and doesn't easily pick up fingerprints. The brushed aluminum look fooled me, the only indicator that it is not brushed aluminum is the lack of a cold feel when you touch it. Light even glimmers off the BRIX's surface like it would off of brushed aluminum, but the shell is less prone to picking up minor scratches compared to the microchannels on a brushed aluminum surface.
Skylake i7-6500U: Intel's latest Skylake microarchitecture provides a 5-10% performance increase compared to previous generation microprocessors (the 6500U is roughly 7-8% faster than the 5500U). The new Intel HD Graphics 520 offers HDMI 1.4a and DP 1.2, both of which support 4K. The new graphics core also supports DX12, previous integrated graphics from Intel did not.
Intel-based NICs: The BRIX BSi7H-6500 uses an Intel i219v for the wired NIC, the same PHY chip desktop motherboards use for Intel LAN. It also uses the Intel Wireless-AC 3165 M.2 card, which offers Wireless AC and Bluetooth 4.2. The new Wireless AC card is fully compatible with Windows 10, provides the latest in Miracast technology, and Wi-Fi Direct.
Extra Storage Option: The BSi7H-6500 supports the ability to add in an additional 2.5-inch drive for extra storage, greatly expanding storage options in such a small device.
M.2 and DDR3L: It's about time that manufacturers gave up on mSATA, and GIGABYTE has finally made the leap with their latest BRIX lineup. The M.2 interface on the new BRIX supports a wide variety of the latest M.2 drives, and a heat pad has been integrated to cool down warmer M.2 devices. The use of DDR3L over DDR4L offers users the ability to use DDR3L from previous devices with the latest Skylake SoCs; it also opens up your options regarding purchasing memory since there is much more DDR3L on the market compared to DDR4L.
What's Not
This Barebones Will Cost You: The BRIX BSi7H-6500 isn't cheap. Currently, this iteration of the BRIX costs $529.99, and that doesn't include the M.2 drive (or 2.5-inch drive), DDR3L, or OS. Our configuration has a price tag of around $700 in total.
Wireless AC isn't the fastest: Although it's using Intel's latest Wireless AC 3165 chipset, it isn't the fastest (it's a 1x1 part), especially considering it's designed for low power devices. There are tradeoffs between performance and power, especially in this form factor, and the Wireless AC adapter is one place where power was optimized.
Final Thoughts
Most SFF PCs based on the Intel cube form factor run anywhere from $200 to $800 fully configured. Our configuration is at the high-end of what you can spend on a BRIX, and it does feel like a true desktop replacement. You can execute almost anything (except high-end gaming or 4K video rendering) you could on a full-fledged desktop on this BRIX system, including anything used in the office. The BRIX BSi7H-6500 further closes the gap between full-tower desktops and SFF PCs; you wouldn't think that a device so small could pack such a powerful punch.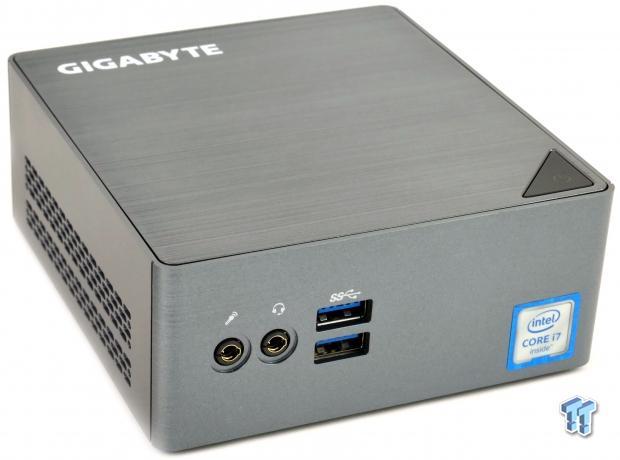 What sets this mini-PC apart from others is the new shell design. I was very impressed with the exterior of the device and the overall build quality. Although it is a lightweight plastic shell, it does an amazing job of mimicking brushed aluminum. The new Intel Skylake SoCs are quite powerful, and the mobile i7 used in this BRIX is capable of handling almost everything you might be able to throw at it.
The BRIX BSi7H-6500 isn't for every cubicle, but if your boss is complaining about their sluggish computer, replacing it with this system would surely put a smile on their face.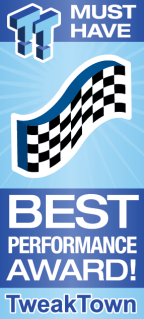 | | |
| --- | --- |
| Performance | 96% |
| Quality including Design and Build | 92% |
| General Features | 90% |
| Bundle and Packaging | 88% |
| Value for Money | 88% |
The Bottom Line: If you are looking for a tiny device that packs a huge punch, then the GIGABYTE BRIX BSi7H-6500 SFF PC will knock your socks off, but it won't be cheap.
PRICING: You can find products similar to this one for sale below.

United States: Find other tech and computer products like this over at Amazon.com

United Kingdom: Find other tech and computer products like this over at Amazon.co.uk

Australia: Find other tech and computer products like this over at Amazon.com.au

Canada: Find other tech and computer products like this over at Amazon.ca

Deutschland: Finde andere Technik- und Computerprodukte wie dieses auf Amazon.de
We openly invite the companies who provide us with review samples / who are mentioned or discussed to express their opinion. If any company representative wishes to respond, we will publish the response here. Please contact us if you wish to respond.