Accusys ExaSAN A16T2-Share Thunderbolt 2 Storage SAN Review
Accusys went all out installing four Thunderbolt 2 host ports to their ExaSAN A16T2-Share. If you want extreme storage, you have to check this thing out.

Published Thu, Jan 28 2016 12:49 PM CST
|
Updated Tue, Nov 3 2020 6:58 PM CST
Introduction
When Thunderbolt first emerged as the next great interface, not many thought it would catch on despite the throughput. Now five years after its birth into the market Thunderbolt now in its third generation has teamed up with USB 3.1. In the last five years, we have seen plenty of Thunderbolt storage come and go. Devices from LaCie, WD, and Drobo ring a bell, and while all of those are solid appliances in their own right, none have had the level of features as the A16T2-Share from Accusys.
The A16T2-Share in its own right it more than just a Thunderbolt DAS and while it can function as one, it can also function as the world's first Thunderbolt SAN. While many of past reviews on Thunderbolt devices have centered on connecting a single PC or Mac, the Accusys unit supports four Thunderbolt 2 host ports. When equipped with 8TB drives, this solution with its 16 bays can support 128TB of capacity with performance upwards of 2100 MB/s.
With all of the above said, the Accusys unit is no small storage solution. Coming in a 3U rackmount enclosure, this solution weighs in at a solid 50 Lbs., and coupled with its dimensions of 22 x 17 x 5 makes for a substantial bit of kit. As mentioned previously, this solution uses a Thunderbolt 2 host interface with four host ports available. Internally, the disk interface has been SAS equipped with support for SATA drives and with that sixteen bays are available. RAID levels include 0, 1, 5, 6 and 0+1 and are backed by the LSI SAS3108 controller with 2GB of DDR3 cache.
Accusys A16T2-Share Appliance
Packaging and a Closer Look
As you can imagine, packaging for the Accusys was quite large and beat up by the time it arrived at the lab. Inside we found a rather well designed and aesthetically pleasing 3U rack. As you can see above, 16 bays float across the front of the enclosure all spring loaded for easy access. On the left edge are several LEDs so that when powered up you can retrieve the status of the device.
The scope of delivery includes the power cords, rackmount rails, and reading materials.
Hiding in the bottom of the packaging box were a set of sixteen 4TB Western Digital SE HDDs.
Here we have a better look at the front of the Accusys. All 16 bays have their own set of LEDs to denote activity and power.
Looking at the back of the unit, you will notice that this has redundant power supplies along with two cooling fans with the central mounted Thunderbolt unit. This Thunderbolt unit has four host ports along with an HD mini-SAS connection for expansion.
Diving right in we pulled the power supplies and cooling units from the enclosure.
Further inspection shows each of these power supplies rated at 400 watts.
Opening up the main Thunderbolt unit, you can see four Thunderbolt controllers are to the far right with four PLX ICs next to those. Further, the main board houses two LSI SAS controllers - one connecting to the large PLX chip on the daughterboard and the second to connect to the HD mini-SAS and expansion.
Above, we have the 2GB stick of 1866MHz DDR3 ECC memory.
Test System Setup and Management
Tyler's NAS Test System Specifications
Included with the A16T2-Share is RAIDGuardX software that allows you to configure the storage how you see fit.
To start things off within RAIDGuardX, we first add a controller and in our case the A16T2.
After adding you can see at the top left we are connected, and the bottom right shows RAID BIOS information.
Switching over to the drive menu, you can see all sixteen drives are listed below.
The hardware menu shows the CPU and system temperature along with fans speeds.
Above, we have the RAID creation menu and as you can see in the dropdown the modes available.
After creating the RAID, you can switch over to this menu here to connect to the LUN.
Lastly, the Storage connects to OS X, and you can format as you see fit.
Benchmarks – RAID 0 and 0+1
RAID 0 Performance
To start off testing, we ran the Accusys through DST in RAID 0. As you can see, above peak numbers achieved were 1193 MB/s read and 1089 MB/s write.
Moving over to AJA, we start with 720p, which produced 1231 MB/s read and 1164 MB/s write.
1080p increased performance to a peak of 1264 MB/s read and 1211 MB/s write.
Last, we have UltraHD, which in this case was able to reach 1196 MB/s read and 1255 MB/s write.
RAID 0+1 Performance
The same testing scheme applies to RAID 0+1 as was used previously. We start with DST, which was able to reach 1166 MB/s read and 1067 MB/s write; not far off the performance of RAID 0.
Next we start with the AJA testing and 720p. This starts at 1147 MB/s read and 992 MB/s write.
Switching to 1080p, we found the array capable of 1234 MB/s read and 1128 MB/s write.
Lastly, for this array, we have UltraHD, which topped 1279 MB/s read and 1197 MB/s write.
Benchmarks – RAID 5 and 6
RAID 5 Performance
To start off testing with RAID 5, DST came in with 1184 MB/s read and 996 MB/s write.
Moving over to AJA, we start with 720p, which produced 1141 MB/s read and 1009 MB/s write.
1241 MB/s read and 1211 MB/s write were peak numbers for 1080p testing.
Last, we have UltraHD producing 1285 MB/s read and 1232 MB/s write.
RAID 6 Performance
Heading up RAID 6 performance, we have DST numbers coming in at 1167 MB/s read and 1082 MB/s write.
Next we start with the AJA testing and 720p. This starts at 1008 MB/s read and 1152 MB/s write.
Switching to 1080p, we find the array capable of 1216 MB/s read and 1039 MB/s write.
Lastly, for this array, we have UltraHD, which topped 1207 MB/s read and 1215 MB/s write.
Final Thoughts
Accusys, with the A16T2, certainly has a winner on their hands with this latest appliance. Not only is this unit impressive as a DAS, but the ability to pair this with software such as OS X Server and Xsan turn this unit into a full on Thunderbolt SAN. It's marvelous.
The build quality is about as solid as a unit can come. The enclosure is manufactured with steel nearly everywhere you look while the drive trays add both aesthetics and functionality to the unit as they snap in and out with a simple push. The redundant power supplies add a higher level of redundancy than we are used to with Thunderbolt solutions and with each of the two fan tunnels being modular, they are simple to replace should you ever have any issues.
The performance was good, and if I'm honest, I actually expected this unit to be a bit quicker but alas we did run this through testing with hard drives. Of course, RAID 0 was the quickest in our testing with DST reaching its highest at 1193 MB/s read but not far behind were RAID 5 and RAID 0+1 at 1184 MB/ read and 1166 MB/s, respectively.
In our testing with AJA, I was surprised to see the unit produce over 1200 MB/s on several occasions. The first was just as we started 720p testing with RAID 0, but it didn't end there. As we progressed through testing, we found that the higher resolutions seemed to shine with both RAID 0 and RAID 0+1, but RAID 5 and 6 found different levels of performance.
Overall, I am quite happy with the build quality of the Accusys A16T2-Share, and on the functionality front, this unit is second to none. I have never seen nor has there ever been a Thunderbolt storage solution that has four host ports, but I don't think it will stay this way for long. At this point, there is very little information on pricing or warranty as this unit is just too new, but rest assured for those that could use a quality, high-end storage solution such as this to increase productivity, no price would be too much.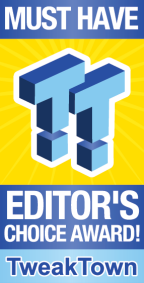 | | |
| --- | --- |
| Performance | 91% |
| Quality including Design and Build | 95% |
| General Features | 95% |
| Bundle and Packaging | 92% |
| Value for Money | N/A |
The Bottom Line: The Accusys A16T2-Share is as advertised, a highly flexible Thunderbolt storage solution that aims to increase productivity without sacrificing performance.
PRICING: You can find products similar to this one for sale below.

United States: Find other tech and computer products like this over at Amazon.com

United Kingdom: Find other tech and computer products like this over at Amazon.co.uk

Australia: Find other tech and computer products like this over at Amazon.com.au

Canada: Find other tech and computer products like this over at Amazon.ca

Deutschland: Finde andere Technik- und Computerprodukte wie dieses auf Amazon.de
We openly invite the companies who provide us with review samples / who are mentioned or discussed to express their opinion. If any company representative wishes to respond, we will publish the response here. Please contact us if you wish to respond.