Sharp GX-BT7 2.1-Channel Wireless Bluetooth Speaker Review
Well-known for their appliances and TVs, Japanese company Sharp is trying to prove itself in the audio realm. Let's see how the GX-BT7 compares to the rest.
Published Fri, Nov 27 2015 8:19 PM CST
|
Updated Tue, Nov 3 2020 6:59 PM CST
Rating:

68%
Manufacturer: Sharp
Introduction
Seemingly been around since the dawn of time, Sharp has sent us along its GX-BT7 wireless Bluetooth speaker, a product that is designed to make a mark on a relatively new scene. While Sharp has been around for quite some time now, microwaves, televisions and VCR players are what instantly comes to mind when thinking of this huge company, now it seems that a push into the audio scene is apparent.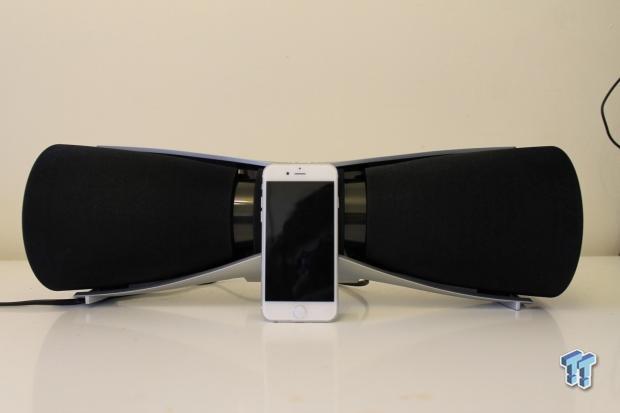 While this is a Bluetooth wireless speaker, it is wall-powered thus is not overly portable. However, due to its price range and market position, I will be comparing it in this review to similarly-priced Bluetooth portable models, those with batteries within. Read on to find out if Sharp's push into the audio market has been headlined by a suitable speaker.
Specifications
Featuring two 'front speakers' coupled with two subwoofers, these drivers run at 5W + 5W and 10W RMS respectively. These speakers are marked as 2" and 3-1/8" in size and are rated at 3 Ohms and 6 Ohms respectively. Powered through a wall connection, this speaker isn't portable (nor is it marketed that way), but it's something to consider when picking up one for yourself.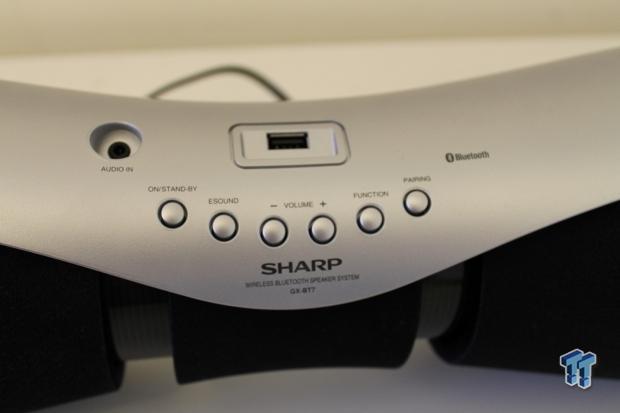 Providing connection options that include USB, Bluetooth and 3.5mm, options for USB inputs include FAT 16/32 formatted USB sticks and MP3 and WMA playback. Bluetooth is listed as 2.1, with the AUX input being your often-seen 3.5mm option.
Weighing in at a hefty 6lbs, this product is certainly not lightweight. This extra weight may be the result of the expanding speaker design, included blue LEDs, multiple speakers and other internals alike. It's interesting to note that this 336mm x 155mm x 154mm product draws around 21 W of AC power when in use, with it only using 0.4 W on standby.
Pricing & Availability
Coming in at $110 at Amazon with free shipping, this speaker will be analysed alongside high-end Bluetooth portable offerings. This pricing isn't too much of an ask for a permanent at-home model, but for $110, we're going to be expecting some decent sound quality, especially when sub-$30 Etekcity products have already blown us away in 2015.
What's in the box?
Nothing is the short answer here. Sharp hasn't thrown much into the box at all besides suitable packaging.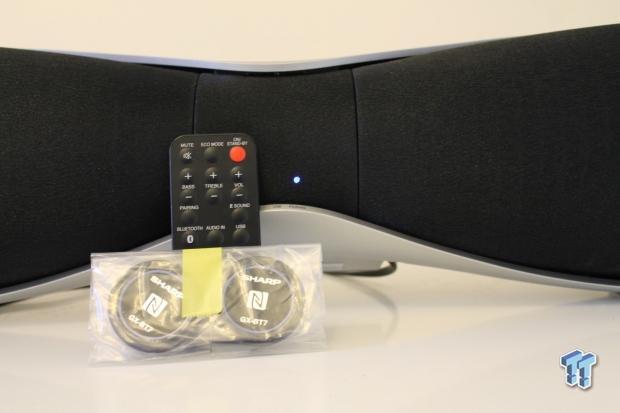 We're used to fancy Bluetooth optional extras here at TweakTown. However, this speaker includes two NFC tags, an iPad stand (not sure why), and some manuals. To be fair, there isn't much else that could be thrown in here, but seeing as AUX 3.5mm is an option, a cable for this could have been a start.
Let's dig deeper
With the product being quite heavy and wide, you're certainly going to have to look for a permanent spot to store it. The design feels quite sturdy, and the expanding nature of the speakers is smooth and the LED lighting is crisp. It's grounded well on the desk (although it's a cylindrical design) and the product doesn't rattle across the desk when playing tunes.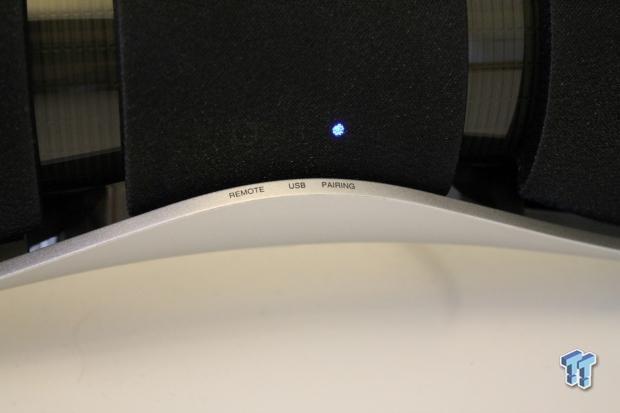 All of this being said, the shell does feel to be made of cheap plastic - beware knocking this thing off the desk as it's unlikely to come out alive.
Thanks to being wall-powered, this device can pump out some impressively loud tunes. However, this first part of testing helps uncover a major flaw that I believe ruins the product as a whole. High-quality products, when played at full volume, will experience no distortion of the speakers, meaning they have appropriately tuned the internals not to overdrive the speakers. The GX-BT7 falls short here, seeing around 90%+ volume distorting the speakers heavily and causing me to cringe.
On a more positive note, there is no bass rattling the products frame and the only thing moving being my desk vibrating as each punchy bass beat hit in Flume's remix of Disclosure and Eliza Doolittle's song You & Me.
The bass is another source of disappointment. Despite having a dedicated subwoofer and being marketed as bass-heavy, each pumping beat is extremely hollow. You can hear the bass is partially present, and the speakers are trying to play my tunes, but in the end, the bass is just lacklustre and hollow in nature. It's not going to rattle windows, but it's still fine for a casual family BBQ or something where bass doesn't matter too much.
The buttons feel good as does the included remote control, they are all responsive and easy to understand - a massive plus over many Bluetooth competitors.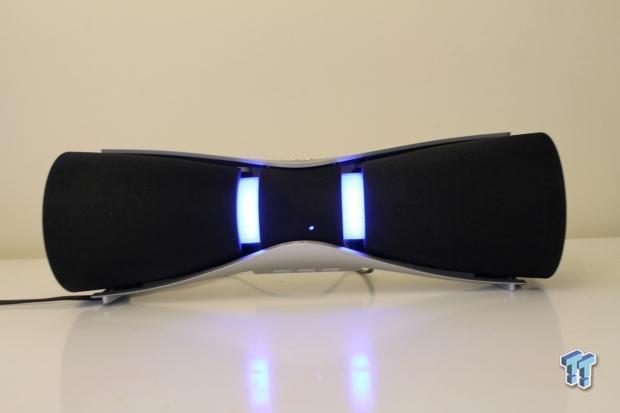 How does it stack up?
The 2.1-channel speaker promises big bass but it's just something that isn't on offer. Moving into some other types of music, the GX-BT7 does manage to bring back some dignity.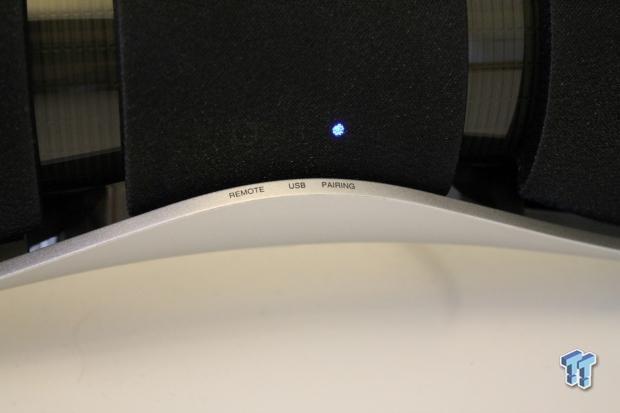 I've found one of the best recent release songs to test the fullness and bass punch of a speaker is 'Don't Wanna Fight' by Alabama Shakes - however, the need for crisp clarity in the beginning is something to push any speaker to its limits.
The clarity was fairly crisp and certainly what you'd expect out of a $100+ product, it's just a shame that the bass entering in the bridge brought me back to the disappointing reality of the sound offering.
Listening in to Duke Dumont's 'Won't Look Back' introduction reports good clarity yet again while further mirroring the bass issues. Seeing as the bass in this song is punchy and not booming, it causes major issues for these drivers, especially when turned up quite loud. With the sound turned down to almost mute, I wasn't able to hear much Bluetooth-introduced hissing, though, which is a sign of quality workmanship.
Last up was 'The End of Heartache' by Killswitch Engage - performing as explained above with numerous other songs.
What's Hot
Sturdy and sleek: It looks cool, although the expanding speakers can become an annoying gimmick in day-to-day use. It also grounds itself extremely well; you shouldn't expect it to fall off a bench without a lot of assistance.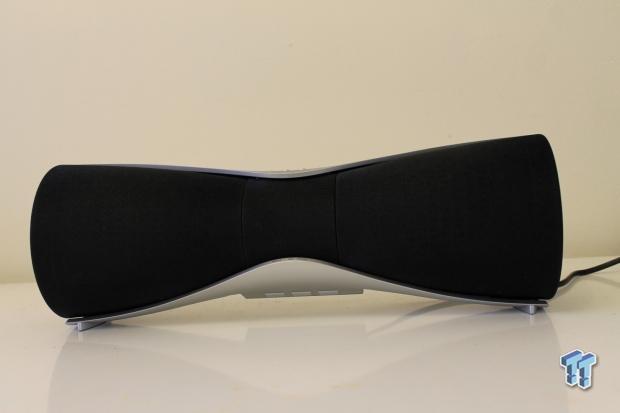 What's Not
The size: It's really large. If you're a youngster or student (the kind who often buys these products), you're likely to have issues fitting it in anywhere.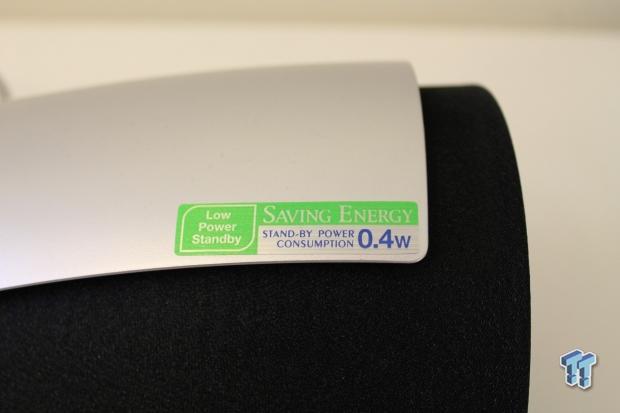 The bass: The bass is hollow and disappointing. It needs to be re-worked.
The distortion: Turning this speaker up to 90%+ will ensure the internal drivers struggle with overloaded power offerings, distorting heavily and hurting your ears.
Final Thoughts
This speaker provides a damn loud sound output, but that is also a major downfall. Over-driving the speakers within, 90%+ sound will distort the songs you're playing.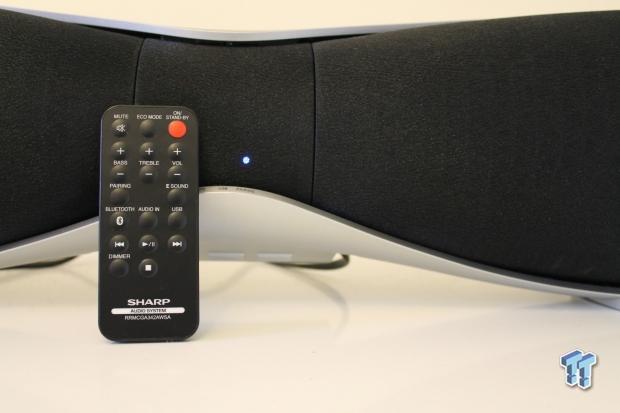 The unit is wide, heavy and for $110, you're better off looking into something like the Sound Blaster Roar, Braven BRV-X or 805, or the LUXA2 Groovy Duo. While the speaker is sturdy and LEDs look great, Sharp needs to re-work this distortion, weight, size and the bass issues before it can become a major contender in the scene. Last but not least, the turn on and turn off sounds are high-pitched and hurt my ears; I wish I could turn them off.
| | |
| --- | --- |
| Performance | 60% |
| Quality including Design and Build | 80% |
| General Features | 80% |
| Bundle and Packaging | 70% |
| Value for Money | 50% |
The Bottom Line: With a great base setup for future models, Sharp needs to address major lacklustre bass and speaker distortion issues before they can bring something amazing to the table.
PRICING: You can find products similar to this one for sale below.

United States: Find other tech and computer products like this over at Amazon.com

United Kingdom: Find other tech and computer products like this over at Amazon.co.uk

Australia: Find other tech and computer products like this over at Amazon.com.au

Canada: Find other tech and computer products like this over at Amazon.ca

Deutschland: Finde andere Technik- und Computerprodukte wie dieses auf Amazon.de