Creative Sound Blaster Roar Pro Bluetooth Portable Speaker Review
Creative was rated highly for its original Sound Blaster Roar portable speaker, but how does the more expensive Roar Pro perform? Let's take a look.
Published
6 minute read time
TweakTown's Rating: 67%
The Bottom Line
The feature list on Creative's Sound Blaster Roar Pro Bluetooth Portable Speaker is once again truly amazing, however, it doesn't provide any tangible improvement over previous products in the Roar range.
Introduction
Designed as an advancement of the previously reviewed Creative Sound Blaster Roar 2 speaker, the Roar Pro claims to offer five internal drivers, abilities to become a portable P.A. system, and further advanced features that we've come to expect from the Sound Blaster name.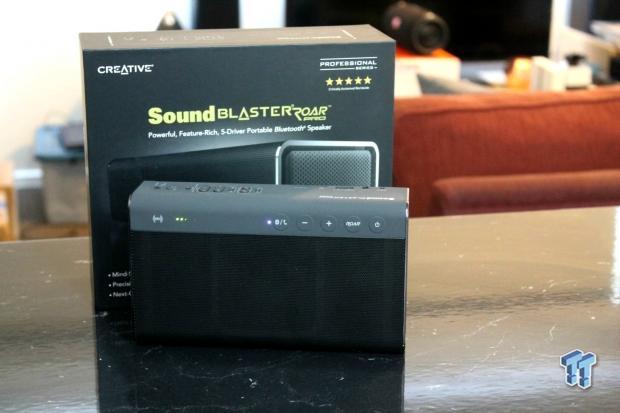 With the 'Pro' tag comes advanced features, internals, and price. The Roar 2 scored highly in my previous tests, and I'm interested in seeing where Creative has taken this product.
This feature rich speaker will be analyzed from many different angles. While the original Roar nailed the sound quality section, other drawbacks plagued its overall presentation. This review will be looking into similar issues that include accessories, weight, build quality, functions, price, and more.
Specifications
Packing five drivers into this one package, Creative has decided to throw in two drivers (one for left and one for right), a dedicated subwoofer, and two side-facing passive bass radiators. What I find a little annoying is that there doesn't seem to be any information regarding what frequency these drivers run at, nor what size they are.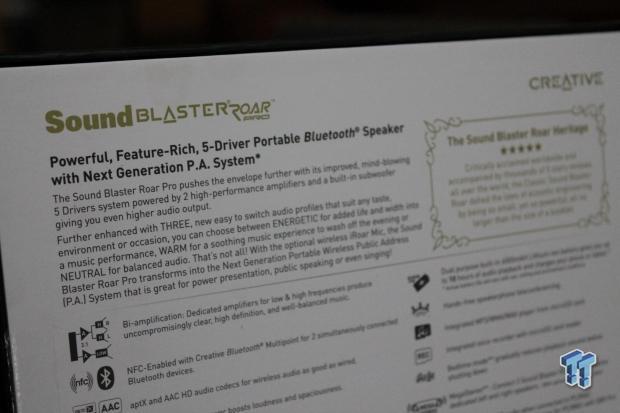 This feature-rich speaker offers many of the same things as seen with the Sound Blaster Roar 2, giving users the ability to connect through Bluetooth, a memory stick, AUX 3.5mm or SD cards, further offering a micro-USB input port for use with various devices. Other ports on this product include a 15V wall charger connection and a 5A 1A USB charging outlet.
Providing recording features once again, users can record directly to external storage through this speaker, providing recording, pause, and microphone mute buttons. Other top-facing buttons include music play/pause, song skip, loop or shuffle, pre-set equalizer enhancements, a switch between USB Audio and Mass storage, and finally the option to turn off and on the Sound Blaster TeraBass enhancement.
This speaker can be connected in unison with other Roar Pro units, functioning then as the left and right speaker, respectively, and helping increase your field of sound. The included wall charger is said to power the 6,000mAh battery by providing 1.6A of current. With a claimed Bluetooth/NFC range of up to 10 meters, Creative tells us that this speaker functions thanks to Bluetooth profiles including A2DP, AVRCP, and HFP - with the last setting meaning that you're able to use this speaker as a hands-free phone calling device.
Pricing & Availability
Currently available on Amazon for $199.99 with free shipping, the pricing puts this Bluetooth portable speaker into the upper middle of products in its class, meaning that users should come to expect decent sound quality mixed with useful features and handy accessories.
What's in the box?
Creative has provided a rather simple package with the Roar Pro as seen with the Roar 2. In this case, we get a power adapter, interchangeable adapter plugs (for different countries), a micro USB cable for phone or computer connections, and a user manual.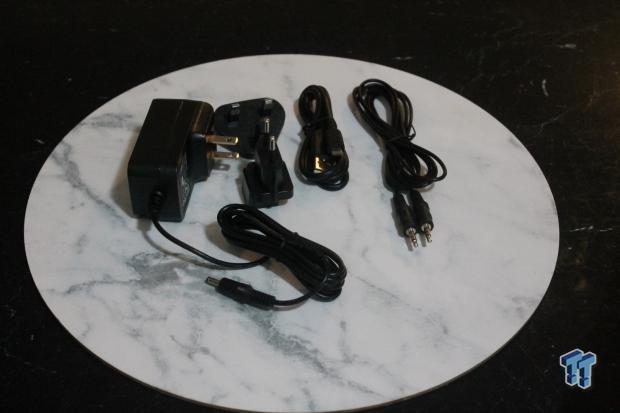 Once again there is no included carry pouch which is something I'm not happy about. Not only is a carry pouch a necessity for traveling products to keep it safe from bumps and scratches, but it helps users tie in all included accessories and prevent them from being lost. Also, no carry pouch means that the top-facing and exposed ports on this product will go unprotected. While it might not matter for one or two ports, this particular model is leaving exposed your AUX in, power in, MicroSD and Micro-USB ports for dust and other nasty weather to attack.
While there is no carry pouch included, I do know that there was a Roar 2 carry bag available for extra purchase. However, this carry case costs more than $30, and it's likely not an expense that many users will want to bare.
Let's dig deeper
Once again providing a considerably weighty device, Creative has added some great rubber coating to the top of the instrument, giving it a nice feel and helping it should you knock the product off a table or desk.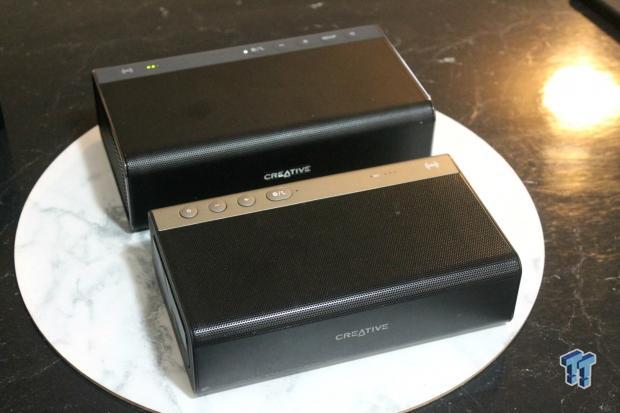 The buttons are, once again, responsive and easy to understand. They all provide a firm yet softened click when pressed, and the front-facing controls are slimline to compliment the overall feel. While this product isn't water resistant and is quite weighty, there is some concern about it possibly falling and breaking. To combat this, Creative has put two long rubber running strips on the back of the product, assisting immensely with stability and control, further ensuring that it doesn't slide around when you're pumping music at full volume.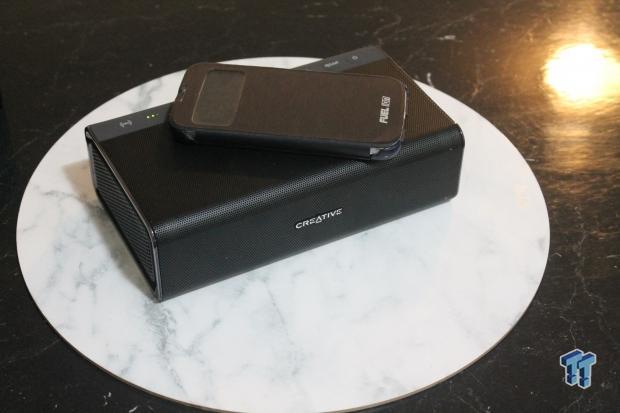 The included 6,000mAH internal battery is sufficient and will help provide a little emergency charge for anyone needing to top up their phone, however, rated at only 0.5A, it's going to be slow going. The biggest issue here is once again that plug pack. Rated at only 1.6A, it's not exactly that fast and an annoying accessory to have to worry about. Using a micro-USB charging platform when on the go is quite easy for many users as they've already got a charger and cable handy thanks to an existing smartphone or tablet, further, you're able to plug in the extra cable to an existing USB wall port, power pack or computer. I wish Creative would do away with the annoying plug pack offering.
It's Time for Tunes
Loading up Spotify on my Samsung Galaxy S4, I employed a vast list of tracks to fully test what this device has to offer. Some of my testing tracks can be seen below in YouTube form, with me opting to cross multiple genres including hardstyle, hardcore metal, pop, electro, and hip-hop.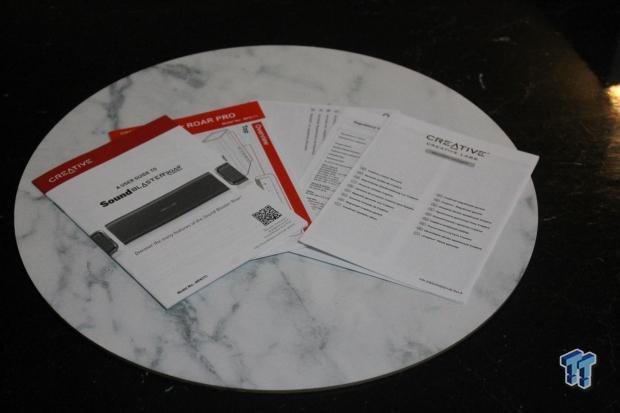 The Roar 2 impressed me overall in the sound department, initially having high hopes for what the Roar Pro had to offer. Unfortunately, it's not quite as great as I imagined, not really providing anything over what any of the previous models offered. I would go as far to say that it's actually worse.
What often happens with headsets is that more isn't always better - many companies with throw 'real' 5.1 or 7.1 driver configurations into their products and claim an enhancement on sound without a massive increase in price. The result is a weak sounding set of multiple drivers, rather than a singular decent speaker. The same thing has seemingly happened in the Roar Pro, missing the mark in quality sound that I expected it to carry.
Not only do you have to lay down this speaker for best sound (so the tweeters point at you), the mid and high range is a little flat, and the subwoofer doesn't provide an extra bass kick like I'd expect from a product of this price. Overall, I was disappointed in the sound experience that the Roar Pro had to offer, especially after hearing what Creative can produce (being, excellent products).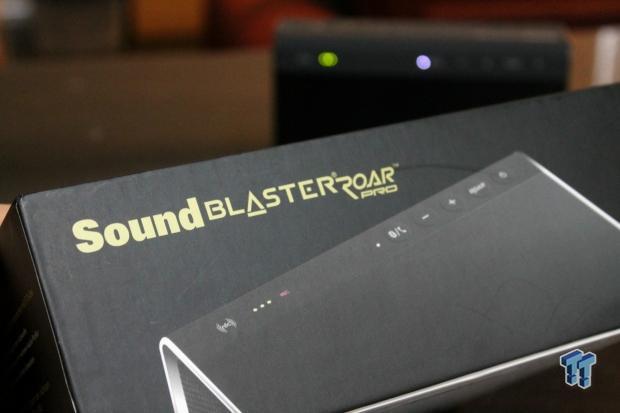 Tracks containing extensive and punchy bass hits sounded a muffled due to the apparent lack of kick, with subtle vocal tracks sounding a little flat. Now this does seem like I'm just destroying the speaker for the sake of it, but that isn't totally true. While this speaker does provide better sound than many I have tried before, the premium price and time spent on R&D made me believe that Creative would have upped their game here, but they didn't. The pre-loaded equalizer settings and TeraBass option did help slightly with the overall sound quality, but they were unable to save the sound quality as a whole.
Some of the music I tested this product with included:
What's Hot
Volume: This product is quite loud.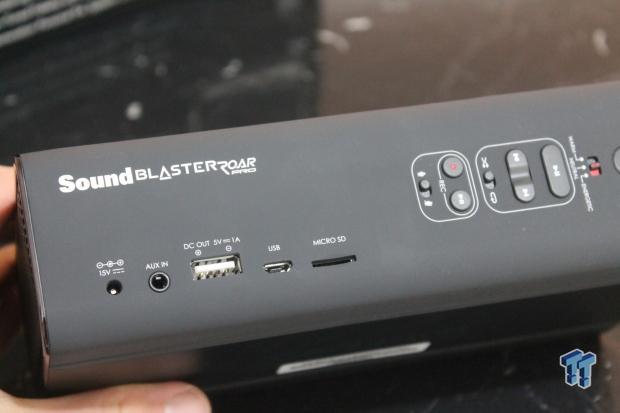 The features: It can just about do anything bar make your coffee in the morning.
What's Not
The weight: For such a small product, it weighs quite a lot.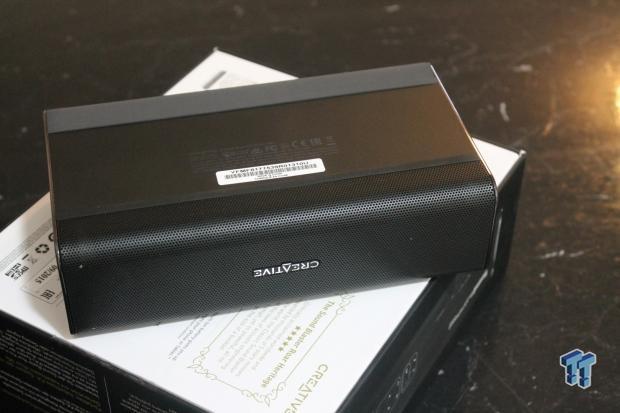 Poor bass response: The included subwoofer doesn't provide the kick it should.
Charging implements: Creative opted once again for an included wall plugged connector, offering an annoying and bothersome charging solution.
Final Thoughts
Creative's Sound Blaster Roar 2 blew me away and was rated high as a result, but the Sound Blaster Roar Pro only offers extra features on top, but nothing substantial or excellent.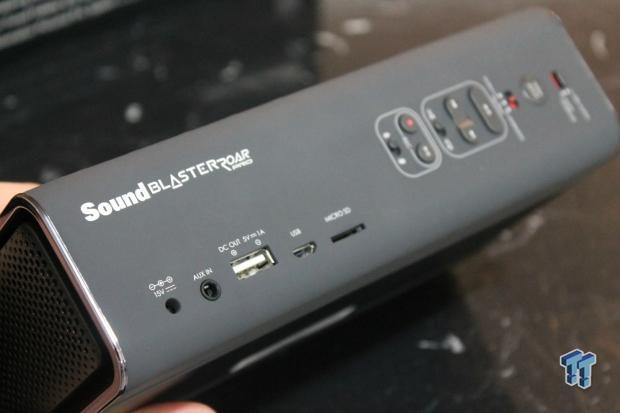 The Roar Pro failed to provide the exceptional sound quality that I have come to expect from Sound Blaster products, providing no real advancement over previous (and cheaper) products. The feature list for this product is once again amazing, however, the sound quality doesn't match the asking price.
Overall I was quite harsh in this review; I'll admit that. The sound quality isn't bad by its own right, with the mid and high-range sounds sounding fairly crisp and clean compared to many others I have listened to. However, the subwoofer really should be doing more and for the price on offer; I don't think the extensive features are enough to justify the price. This speaker provides a redesign Sound Blaster Roar 2 in name and looks, but I don't feel it has done anything substantial to warrant an upgrade or the asking price.
| | |
| --- | --- |
| Performance | 55% |
| Quality including Design and Build | 70% |
| General Features | 85% |
| Bundle and Packaging | 75% |
| Value for Money | 50% |
The Bottom Line: The feature list on Creative's Sound Blaster Roar Pro Bluetooth Portable Speaker is once again truly amazing, however, it doesn't provide any tangible improvement over previous products in the Roar range.
PRICING: You can find products similar to this one for sale below.

United States: Find other tech and computer products like this over at Amazon.com

United Kingdom: Find other tech and computer products like this over at Amazon.co.uk

Australia: Find other tech and computer products like this over at Amazon.com.au

Canada: Find other tech and computer products like this over at Amazon.ca

Deutschland: Finde andere Technik- und Computerprodukte wie dieses auf Amazon.de
We openly invite the companies who provide us with review samples / who are mentioned or discussed to express their opinion. If any company representative wishes to respond, we will publish the response here. Please contact us if you wish to respond.