EVGA Z170 Classified (Intel Z170) Motherboard Review
EVGA joins in on the Intel Z170 Skylake motherboard review fun with its Z170 Classified. EVGA is known for big features and performance, does it continue?
Published Fri, Nov 20 2015 8:18 PM CST
|
Updated Tue, Nov 3 2020 6:59 PM CST
Rating:

92%
Manufacturer: EVGA
Introduction, Specifications, and Pricing
EVGA is a household name when it comes to GPUs, but when it comes to motherboards, they are a lesser-known player in a saturated market. EVGA is known for their high-quality production and larger than life feature sets, but every generation they only launch a few motherboards. I reviewed the Z170 FTW a month ago, and I was impressed by the quality. Now that it has been a few months since launch many manufacturers have improved their BIOS support as well as overclocking, and EVGA sent over their Z170 Classified.
There is one feature that sets the Z170 Classified apart from the competition; it supports 3-way and 4-way SLI. While this might seem like something better suited for the X99 platform, there are still those who would rather save some money and take advantage of the new PCH and its offerings. The Classified line has a long history of success; let us see how the latest iteration does!
Specifications
The Z170 Classified provides many high-end features including, 32Gbps M.2, 2x Intel Gbit NICs, 8x SATA6gbps (with 2x SATA Express), Creative Core3Di audio, an internal USB 3.1 header, and support for 3 and 4-way SLI.
Pricing
At the time of writing, the Z170 Classified is priced at $399 on Newegg, making it one of the most expensive Z170 motherboards.
Packaging and Z170 Classified Overview
Packaging and Overview
EVGA does things a bit different when it comes to box and packaging. For starters, almost every single accessory comes in a sealed anti-static bag (even SATA cables and SLI bridge). The motherboard is well protected, and there are seals on almost everything, so you know the board has not been used before. Only EVGA seals their products like this.
Accessories aren't too plentiful, but there are some unique accessories. EVGA includes; metal IO shield (with screws), USB 3.0 internal header to 2x USB 3.0 port bracket, 4x SATA6gb/s cables, IO shield, 2-way SLI bridge, ProbeIT connector, EVGA case badge, driver DVD, and manual.
The EVGA Z170 Classified has seven onboard fan headers. The two circled in red are 1A PWM only headers, and the five circled in blue operate as either PWM or DC mode headers and have that same 1A current capability. Overall fan control is quite good in the UEFI, with the ability to choose operating mode as well as custom curves, EVGA isn't behind some of the bigger players when it comes to fan support. Overall the board boasts a huge number of PCI-E slots, some heavy heat sinks, and an overall dark color theme. The black heat sinks and capacitors match each other quite well, and when you install the IO shield cover, the aesthetics are kicked up another notch.
This board should appeal to many who want the board to blend into the background, but the brushed aluminum heat sinks and IO cover are worth showing off. The back of the motherboard is quite bare; there are LEDs for the audio divide and some doublers behind the VRM area.
The IO panel on the Z170 Classified is what most people like to see; 6x USB 3.0, 2x USB 2.0, ClearCMOS, 2x 1Gbit Intel NICs, HDMI, DisplayPort, and 7.1 audio outputs with S/PDIF.
The PCI-E layout of the Z170 Classified is unique. In the past, many board makers had some interesting PEX8747 (or NF200 before that) implementations, but these days it is straight forward, except on the Z170 Classified. The PEX8747 takes in 8x or 16x and outputs 32x for PCI-E lanes, the issue is that it adds some latency that is noticeable when using a single GPU. To overcome this EVGA has wired things a bit differently, but it is not too confusing. There are five PCI-E 16x slots, the first slot has 8x directly wired to the CPU, and the remaining 8x goes to four quick switches so that it can go back to the first slot for 16x direct from the CPU or to the PEX8747 that expand 8x into 32x for multi-GPU configurations. If you utilize any of the bottom four slots, the first slot is 8x, and the PEX8747 is in action. The PEX8747 supplies 16x to the second slot and 16x to the fourth slot. The third and fifth slots share 8x with the slot located right above them.
The implementation provides the following configurations; 16x (CPU direct)/0x/0x/0x/0x or 8x/16x/0x/16x/0x, 8x/8x/8x/8x/8x, 8x/16x/0x/8x/8x, or 8x/8x/8x/16x/0x. In the end, you are left with a total of 40 PCI-E lanes, but keep in mind that the bottom four slots get their bandwidth from only half the CPU's PCI-E lanes. If I had a lot of money and only needed one GPU, I would fill the first slot with a GPU and the remaining four slots with PCI-E based SSDs. I should also mention that there is an extra power connector for multiple GPUs, but its downward orientation might cause problems with cases.
The board supports two SATA Express ports that can provide 4x SATA when not being used as SATA Express. It also has two normal SATA ports connected to the PCH and two extra from a Marvell controller. Keep in mind that the M.2 slot shares 2x lanes with two of the SATA ports, so you need to check the manual when using it. EVGA also provides four USB ports through two internal headers, but this is where things get interesting. The header on the right is hooked up to a USB 3.1 controller while the header on the left is hooked up to the PCH.
The motherboard has a full sized 4x PCI-E 3.0 M.2 slot as well as a Key-E M.2 slot that is primarily for wireless LAN cards.
The EVGA Classified series is known for overclocking, and EVGA delivers a strong set of overclocking features. There is a clear CMOS button not only on the backpanel but also on the PCB and, of course, your basic power and reset buttons. A POST code display sits to the left of EVGA's ProbeIT connector (attachment is included) for reading voltages. Adding to the appeal of the product are three BIOS ROMs (one of which is replaceable), and a single switch allows for easy selection. EVGA also includes PCI-E disable switches to disable power to the PCI-E slots for debugging or extreme overclocking.
The EVGA Classified keeps with the tradition of the right-angled 24-pin connector. There are also dual 8-pin CPU power connectors above the VRM heat sink.
EVGA's CPU VRM consists of 8 phases for the CPU, 4 for the iGPU, 1 for the VCCSA, and an integrated converter for the VCCIO. The heat sink is quite large and should cool the VRM down nicely.
The PCH and VRM heat sinks make excellent contact with the chips they cool. EVGA also has the VRM heat sink cool down the inductors.
EVGA Z170 Classified Circuit Analysis
Circuit Analysis
Z170 Classified in its birthday suit.
The main CPU VRM is cooled by a large one piece heat sink also connected to the PCH and PLX bridge chip. It cools down the CPU VCore and iGPU phases. In total, there are eight CPU phases and four iGPU phases. Each phase gets a single EVGA custom branded inductor, and the output capacitor bank is a mix of 5K solid polymers, POSCAP tantalums, and some MLCCs. Two IR PWMs control the CPU VCore, iGPU, and VCCSA.
EVGA is using two International Rectifier IR35201 digital PWMs that can operate in 6+2 phase mode or 8+0 phase mode. All the CPU VCore, iGPU, and VCCSA phases use International Rectifier IR3553 PowIRstages which are 40A integrated power stages. It looks like EVGA is utilizing 4 phases of one PWM to directly power the four iGPU phases. The other PWM looks like it is providing 4 phases to four IR3599 phase doublers (located on the back of the motherboard) which then output to make 8 CPU VCore phases. The extra PWM rail of one of the PWMs is controlling the IR3553 that powers the VCCSA.
The memory is utilizing two IR3553 for the main DDR voltage and a single IR3553 for the DDR-VPP rail. An International Rectifier IR3570 (3+2 phase digital PWM) is used to control the DRAM power. A single IR3553 used for the VCCSA is located right next to an International Rectifier IR3898 SupIRbuck, which is a 6A integrated single phase VRM.
EVGA Z170 Classified Circuit Analysis Continued
Z170 Classified Circuit Analysis Continued
The PLX8747 is a chip produced by PLX Technologies which was recently acquired by Avago. It's a PCI-E 3.0 switch that can take 16x or 8x PCI-E lanes and output 32x PCi-E lanes. Usually, the CPU provides all of its PCI-E lanes to the PEX8747 that in turn shoots out 16x/16x to two slots that can then be split to 8x/8x/8x/8x over four PCI-E slots. EVGA is also doing something with the CPU's PCI-E lanes before they hit the PEX8747. The CPU, in this case, sends half of it's PCI-E lanes (8x) directly to the first PCI-E slot, and the second 8x is sent to four PCI-E quick switches (each switches 2x PCI-E lanes), and can either go to the PEX8747 or back to the first slot for full 16x.
This configuration should deliver better single card performance because the PEX8747 adds some latency, but it still preserves the 4-way SLI capabilities that come with the PEX8747. Normally a standard PEX8747 requires a total of eight quick switches to switch two sets of 8x, in this case, there are 12 quick switches before of the initial switching before the PEX8747.
Interestingly enough EVGA doesn't use the Realtek ALC1150 like most other motherboards and instead goes with the Creative CA0132, otherwise known as Core3Di. EVGA adds a sense amplifier and some Nichicon Gold series electrolytic audio capacitors, then divides the audio section from the rest of the PCB. There are 11 white LEDs that illuminate the audio PCB divide.
EVGA uses two 1Gbit NICs from Intel; the first is the integrated NIC with i219v PHY and the second is WGI210AT.
A single Texas Instruments quick switch is used to switch two PCI-E lanes between two SATA ports and the M.2 slot. For extra SATA, EVGA is using a Marvel SE9220 SATA6Gb/s controller. An ASMedia ASM1142 provides USB 3.1 through an internal header, but I am unsure if you get the same performance as through a dedicated USB 3.1 port.
The main SuperIO is a Fintek F71889AD, which works with two NCT7802Y controllers to expand fan control.
BIOS and Software
BIOS
The Z170 Classified has a simple and easy to use UEFI. All the settings you need for overclocking are located on the landing page, and they are well labeled and offer a wide variety of configuration options. EVGA's BIOS also displays system monitoring clearly at the top of the page. Fan control is quite impressive, the extent to which you can control each fan is immense considering EVGA only has three boards on the market. The BIOS engineers have done a nice job of smoothening out the rough edges of the earlier BIOS releases, and now the BIOS is pretty good and doesn't have many bugs. Some users also complained about the ability to utilize Windows 7, and EVGA added in Windows 7 installation options. There is one thing to keep in mind if you want to use M.2 you will need to set it as such in the UEFI, and you might need to set booting to "Legacy mode" to improve compatiblity.
Software
EVGA provides their eLEET software that is like CPU-Z on steroids. Everything from system statistics to voltage and multiplier control can be accessed through the software.
Test System Setup
Steven's Motherboard Test System Specifications
The new test bench is designed to test every aspect of the motherboard and IO. I have designed it so that the motherboard sits in a case and is cooled by fans always on at a constant rate to keep the conditions similar during all tests. I have cut out part of the case behind the motherboard so I can get thermal images of the back of the PCB where the VRM heat spreads. System and CPU power measurements are now digitally logged.
I am also using a Netgear Nighthawk X4 AC2350 for our network (including wireless AC) tests. The latest M.2, SSD, and USB technologies are also being utilized to test the maximum potential of the motherboards that are tested.
The motherboard looks quite good when it's installed.
You can see that the motherboard blends into the background and the white LEDs do a good job of lighting up the bottom part of the motherboard.
Overclocking
Overclocking Results
CPU Overclocking
I have decided to reduce the CPU VCore to 1.4v applied (I will measure real VCore at the output capacitors), and see how high I can validate. On most boards its 5.0. I have also decided to add real voltage levels compared to what is set for all motherboards, if they don't have voltage read points I will mark where I read the voltage.
The Z170 Classified is doing 5.0GHz just like the high-end motherboards, which isn't surprising at all.
I tested stability at 4.8GHz CPU, 4.1GHz Uncore, and 2666MHz on the memory with 1.4v on the VCore. I am using HandBrake to transcode a 2GB video, and it is very telling since it pulls all cores to their maximum frequency and load. Handbrake is good for a quick stability check, plus I get a log of the encoding speed and the number of errors. It is very easy for the queue not to finish all the way and just error out, it has to proceed without errors to finish.
The LLC options are "enable" and "disable", "disable" removes the vdroop while enabled is standard.
Memory Overclocking
Test 1: 4x8GB (32GB) Corsair Vengeance LPX 2666MHz C16
The board passed this test easily.
Test 2: 4x4GB (16GB) Corsair Dominator Platinum 3200MHz C16
The Corsair Dominator Platinum is kit meant for X99, but it worked fine on this Z170 motherboard.
Test 3: 2x4GB (8GB) G.Skill Ripjaws V 3600MHz C17
The Ripjaws V kit does not work on all motherboards, and for some reason doesn't work on this, but the G.Skill 3733MHz kit works perfectly. I am told the kit I have is an early version, so I would buy newer versions of memory if you have that option.
Test 4: 2x4GB (8GB) G.Skill TridentZ 3733MHz C17
The Z170 Classified passed this test quite easily, which is a surprise because it did not apply XMP from a lower-end kit easily.
CPU, Memory, and System Benchmarks
CINEBENCH 11.5
wPrime
AIDA64 AES and HASH
AIDA64 FPU
AIDA64 Memory
PCMark8 Home Test
3DMark: Cloud Gate
3DMark: Fire Strike
3DMark: IceStorm
EVGA's Z170 Classified performs quite well; it doesn't seem to have any multi-core enhancement, but when the settings are manually entered it performs as good or better than some of the other boards.
Some motherboard reviews put a lot of weight into motherboard CPU, memory, and GPU benchmarks, but for me CPU, memory, and GPU benchmarks on motherboards should be more about finding anomalies, and I do that at standard settings (4.5G in graphs).
System IO Benchmarks
CrystalDiskMark SATA6G:
CrystalDiskMark M.2:
CrystalDiskMark USB 3.0:
ixChariot Network Throughput:
The Z170 Classified's storage and IO performance is about average. Overall networking performance is strong because both NICs are from Intel.
Audio RMAA 5.5:
I disable all audio features, set the correct bitrates, and then test the audio with a loopback test.
Sound Judgment by Ear: Excellent. There are five ratings for audio: 1. Problems, 2. Okay, 3. Acceptable, 4. Very good, 5. Excellent
Thermal Imaging and Power Consumption
System power usage is measured at the AC/DC PSU (the Corsair AX1200i) which I have connected to another system to measure the test system, and as a backup I have a wall meter to verify. The CPU power is measured through the 8-pin connector, which is hooked up to a hall effect IC, which measures current and puts out a voltage in proportion to the current. That voltage is logged by a National Instruments ADC, which logs the DC voltage level that I then convert into current.
Note on Thermal Images: In the temperature section, we use our Seek thermal imaging camera to capture the surface temperatures of major components on the board. I look at the VRM and then all other things that light up the screen. If there is something to worry about, then I will state it. Otherwise, I will just show the hotter running parts of the board for fun. Unless some component is over 80-90C, then there isn't anything to worry about.
All systems will act differently, so I will look for commonalities, such as how far from the VRM the heat spreads through the PCB and the difference in temperature between the front side and backside of the PCB. Keep in mind, the majority of the heat from the VRM goes into the PCB as it is a giant soldered on copper heat sink. A larger difference in temperature between the back and front of the PCB points towards a more effective heat sink.
Thermal Testing at Stock Speeds:
The image on the left is always at idle, and the image on the right is at load. During ALL TESTS, fans above the VRM that cool the CPU cooler's (Corsair H110i GT) radiator are turned on to high (12v).
Full frontal.
Up-close of the front of the VRM.
Up-close of the back of the VRM.
Thermal Testing at 4.5GHz Overclocked Speeds:
The image on the left is always at idle, and the image on the right is at load. During ALL TESTS, fans above the VRM that cool the CPU cooler's (Corsair H110i GT) radiator are turned on to high (12v).
Full frontal.
Up-close of the front of the VRM.
Up-close of the back of the VRM.
The VRM on the Z170 Classified is one of the strongest I have seen. Not only is the power consumption on the VRM low, but the thermals show how cool the VRM runs. The difference between overclocked and standard temperatures are quite low, as the load on a Skylake CPU isn't very high.
Anything under 60C is great, 60-80C is acceptable, and anything above 80C is a bit worrisome (if at stock).
What's Hot, What's Not & Final Thoughts
Here are key points about the EVGA Z170 Classified.
What's Hot
Overclocking Features: The Z170 Classified has a ton of overclocking features aimed to make your life easier, but it also has strong power delivery so that none of your overclocks are power bottlenecked. While the board has relatively basic overclocking features, they go a long way to making things easier. The triple BIOS is also useful because it's quite hard to kill off three BIOS ROMs in a row, and you can replace one. I was also surprised that my new 3733MHz DDR4 kit worked flawlessly with XMP, showing that EVGA is keeping up with higher speed DDR4 support.
3 and 4-way SLI Support: Not only does the EVGA Z170 Classified offer 3-way and 4-way SLI support, but it also has a unique implementation so that a single card can operate off all CPU lanes. This makes it so that the motherboard doesn't hurt single GPU performance because of the PEX8747 chip. The lane allocation also makes it so that there are 40x PCI-E lanes available to GPUs instead of 32x which most PEX8747 implementations offer.
Dual Intel NICs and Core3Di: The EVGA Z170 Classified is one of few motherboards with dual Intel NICs, and it carries the Core3Di chipset with Creative software.
Fan Control: EVGA has done a great job of implementing many fan headers with pretty decent BIOS support. Five of the seven headers work in either DC or PWM mode, and you can adjust the fan curves easily.
What's Not
No back-panel USB 3.1: While the board does have an internal USB 3.1 header powered by a USB 3.1 port, the signal quality and throughput requirements of USB 3.1 require higher spec cabling and ports that aren't part of many of the cases on the market.
Price Tag: At $400 the Z170 Classified is one of few motherboards which has the PEX8747, but $400 is still a lot to pay for a Z170 motherboard, even if it does have extra PCI-E lanes. This is a premium product, and as such carries a premium price tag.
Final Thoughts
EVGA's Z170 Classified is an interesting product. It combines overclocking with power features such as dual Intel NICs, 4-way SLI support, and Core3Di audio. With the Z170 platform, SLI is limited to 2-way unless the motherboard uses a special PLX chip. That PLX chip is what this motherboard is all about. The Z170 Classified is built to be a 3D world record breaker, offering an interesting PLX bridge implementation to expand the number of PCI-E lanes to its maximum of 40x.
There are a few downsides to the product, such as the high price tag, but there is quality in and on the PCB to help satisfy buyers. The VRM is one of the most powerful on the Z170 platform, and thermal imaging reveals excellent VRM performance. EVGA has also worked hard on improving XMP support for higher speed kits; I was able to run at 3733MHz with XMP, and overall CPU overclocking was quite strong. While the board does not have any unique OC features except for triple BIOS, its OC features are still very useful and welcomed.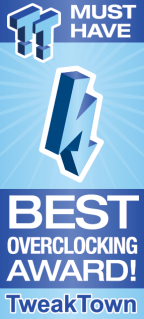 | | |
| --- | --- |
| Performance (including Overclocking) | 93% |
| Quality including Design and Build | 95% |
| General Features | 92% |
| Bundle and Packaging | 97% |
| Value for Money | 85% |
The Bottom Line: Overall, the EVGA Z170 Classified has the right hardware, features, and quality for a super stable 24/7 overclocked gaming powerhouse, but it will cost you.
PRICING: You can find products similar to this one for sale below.

United States: Find other tech and computer products like this over at Amazon.com

United Kingdom: Find other tech and computer products like this over at Amazon.co.uk

Australia: Find other tech and computer products like this over at Amazon.com.au

Canada: Find other tech and computer products like this over at Amazon.ca

Deutschland: Finde andere Technik- und Computerprodukte wie dieses auf Amazon.de