Intel Skylake Core i7-6700K CPU (Z170 Chipset and GT530) Review
Today is a big day for Intel with the launch of its newest desktop platform, Z170 and a new CPU, the "Skylake" Core i7-6700K. Here's our full take!
Published Wed, Aug 5 2015 7:00 AM CDT
|
Updated Tue, Nov 3 2020 6:59 PM CST
Rating:

94%
Manufacturer: Intel
Introduction, Specifications, and Pricing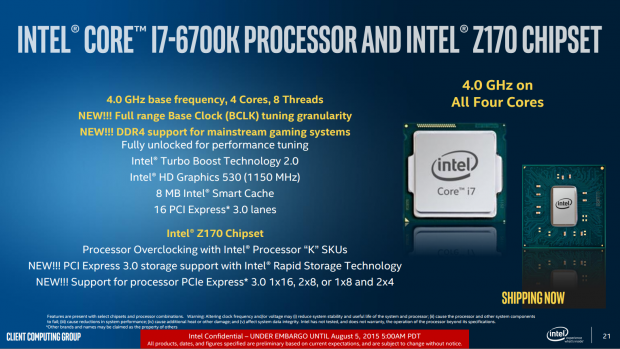 The day is finally here and one of Intel's most anticipated microarchitectures since Sandy Bridge has arrived. Today, Intel will launch two Skylake SKUs, the 6700K and the 6600K, both of which are fully unlocked and downright fast. The 6700K is Intel's top dog, and you will want a Z170 motherboard carrying the LGA1151 socket to unlock the overclocking potential of the CPU. The Z170 chipset is possibly the most advanced consumer chipset to date, and it's almost as interesting as the CPU.

Intel's Tick/Tock model allows for the phased implementation of new microarchitectures and die shrinks into the market, and has been quite successful in the past. New microarchitectures (Tocks) use the same lithography as their predecessors (Ticks), which are die shrinks of the previous microarchitecture. Haswell was a Tock at 22nm, and Broadwell was the Tick at 14nm. Many people weren't totally impressed by Broadwell's desktop performance (its mobile/SFF PC performance is quite impressive), but Skylake is going to change your view of Intel's 14nm lithography, especially when it comes to overclocking.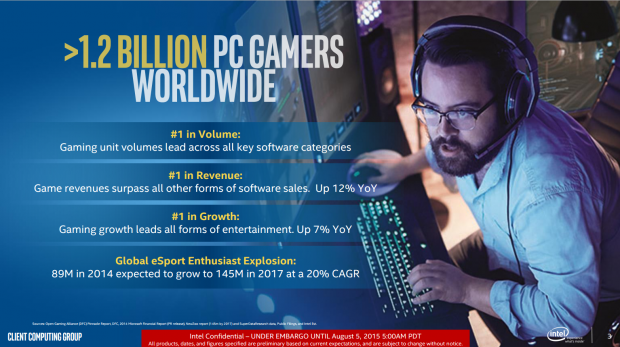 Intel realizes that the PC market is changing. Gamers are one of Intel's larger target markets these days, and it is no coincidence that Skylake launch includes only two K series SKUs and is taking place at Gamescom in Germany this week. With over 1.2+ billion PC gamers worldwide, Intel is set on taking over the PC gaming market with their newest Skylake CPUs.
Specifications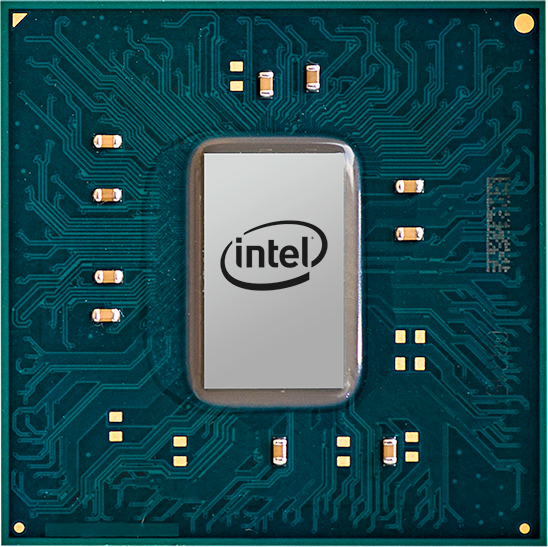 The 6700K features 4 cores and 8 threads with HyperThreading, 8MB cache, 16x PCI-E 3.0 lanes for graphics, supports for DDR3L or DDR4 (depending on motherboard), and will carry Intel's HD Graphics 530. It will support three independent displays, DX12, and Ultra HD 4K. The CPU will communicate to the PCH through DMI 3.0 which is estimated to have lanes operating at 8GT/s.
The TDP of the CPU is estimated at 95W, and power consumption numbers back this up. Intel isn't spilling all of Skylake's secrets at the launch of the 6700K/6600K, instead they are waiting for IDF 2015, which is coming up in a few weeks, to dish more details about the microarchitecture and the platform.
Pricing
The suggested retail price of the 6700K is $350, which makes it the replacement for the 4770K. We think the pricing is fair for what you get.
6700K and the Z170 Chipset
Intel Core i7-6700K CPU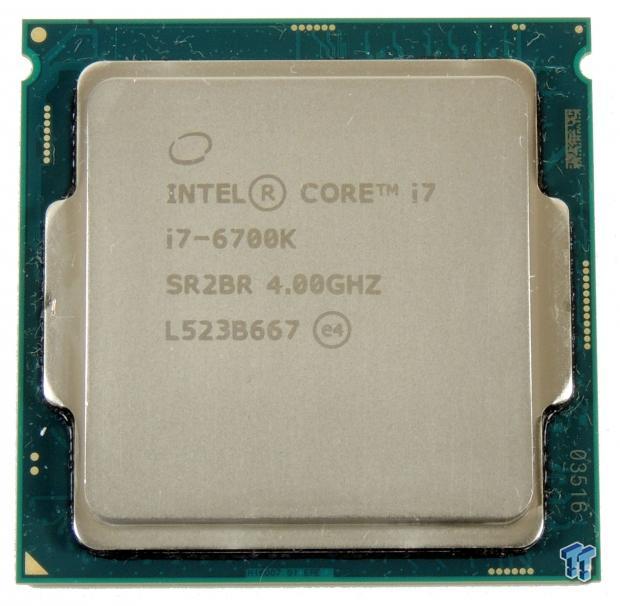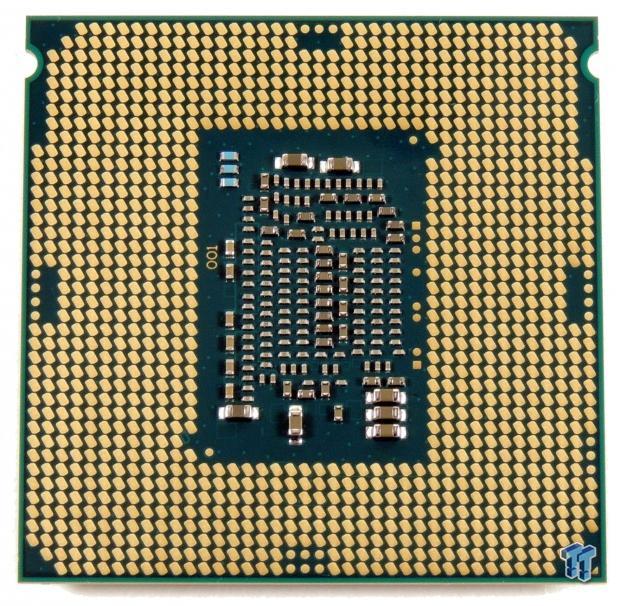 The CPU looks pretty much like past socket LGA115X CPUs, and it is pretty safe to say that under the integrated heat spreader is thermal paste rather than solder. I have been playing around and overclocking the CPU for a short while and I can say that the TIM doesn't seem to hurt overclocking as much as it did on some previous platforms. I am still able to get overclocks like 4.8GHz at ~1.4v to stay under 80C with both a Noctua NH-D15 and a Corsair H110i GT.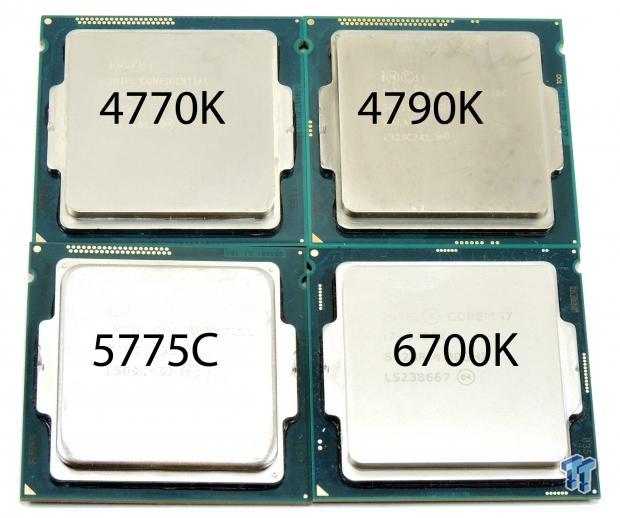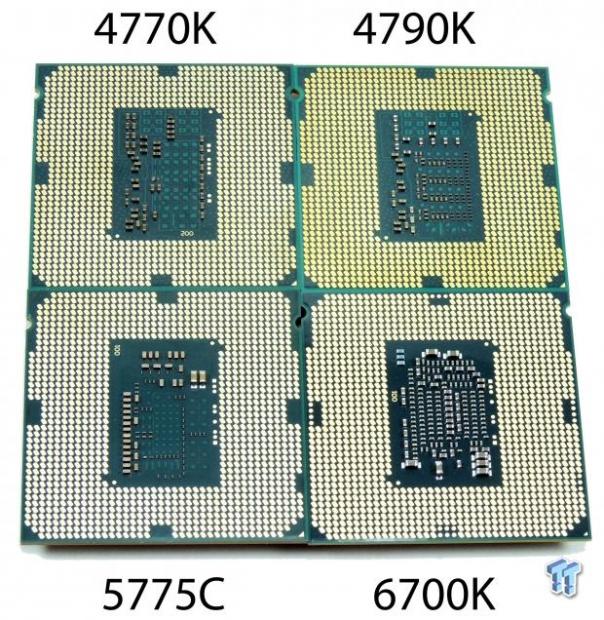 Two things you will notice off the bat; the position of the mounting points has shifted to prevent the wrong CPU from being installed in the wrong socket, and the underside of the core where the capacitors and resistors are has become busier. With Skylake, Intel has dropped their FIVR, and the integrated voltage regulator has been replaced by multiple large and minor rails to the CPU. The major rails are CPU VCore, CPU GT (graphics), CPU SA (System Agent), and CPU IO.
Intel Z170 Chipset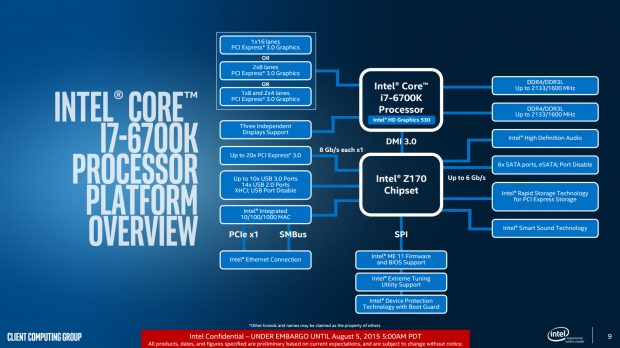 Many had thought that the 6700K would have 20 PCI-E lanes, and this is one of those misconceptions that started as a misinterpreted fact from a leaked slide. The PCH has 26 I/O ports, a lot more than Z97, and even a considerable amount more than X99. Out of these 26 I/O ports, 6 are dedicated to USB 3.0 (max 10), leaving 20 ports which can be USB 3.0, SATA Revision 3, or PCI-E 3.0.
There is also a maximum of 6x SATA6Gb/s ports that can be used out of the 20 I/O ports left after subtracting the 6x USB 3.0. Many people don't know that every PCH has PCI-E lanes, and they are used for connections to other devices such as NICs and extra USB or SATA controllers, and so people assumed that because they saw 20x PCI-E 3.0 it must be referring to the CPU's PCI-E controller, but actually it's referring to the PCH's PCI-E controller.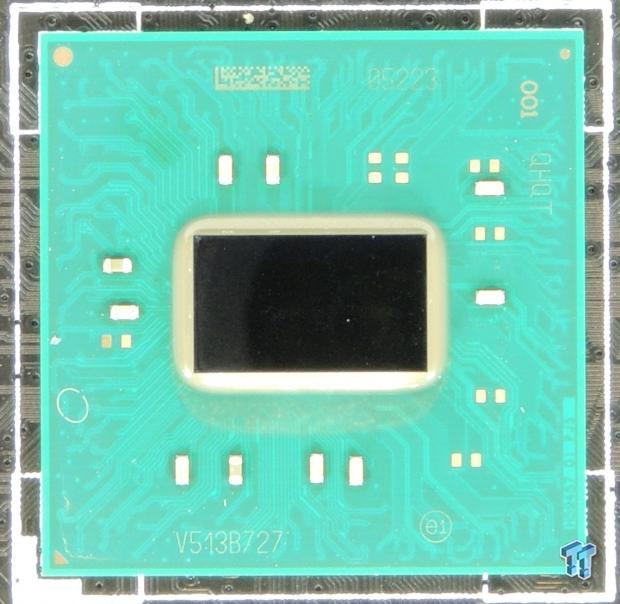 For the first time all the PCI-E 2.0 has been replaced by PCI-E 3.0 in both the PCH and CPU. Intel did us one better than that, they have provided iRST over PCI-E lanes, meaning that manufacturers can have up to three M.2 slots at 4x PCI-E 3.0 each, and they can RAID them! That would make Z170 the storage king (for consumers of course), but also a speedster in general.
To facilitate this increase in PCI-E 3.0 bandwidth, the DMI bus has been updated to DMI 3.0 from DMI 2.0, it should be running at 8GT/s instead of 5GT/s of DMI 2.0. The only thing that the X99 PCH has over the Z170 is the number of SATA ports, but many Z170 motherboards will probably add them back using a single PCI-E lane and an additional SATA6Gb/s controller.
Skylake Memory and Test Setup
Skylake Memory
The 6700K and 6600K have very advanced DDR4 memory overclocking capabilities compared to previous generations.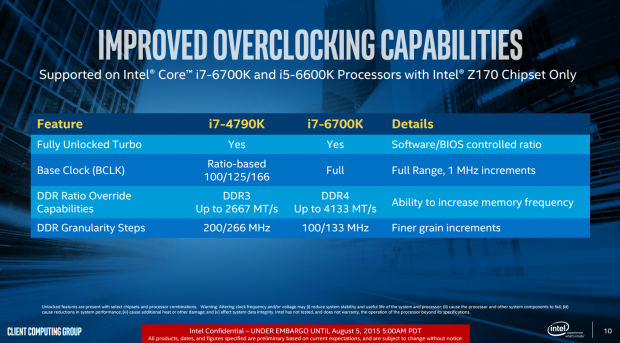 The new platform has official memory support up to 41.33x (4133MHz) while on X99 it was to 26.67x (2667MHz). Many of you may have noticed that with X99, almost all boards could do 26.66x or below, but multiplier support north of that was dependent to the individual BIOS of each model motherboard. To clock higher on X99, many turned to using cumbersome BLCK dividers. This was because MRC only supported 26.66x maximum in the stock AMI BIOS code, and motherboard BIOS engineers had to tune the other multipliers themselves.
With Z170, support is far north of 26.67x, all the way to 41.33x. Don't expect to overclock that high on launch (they don't even have memory kits that high yet), but 36.00x works pretty well on the ASUS Maximus VIII Hero. Z170 is different, for starters, there are no BLCK dividers, just a BLCK that is now untied from the DMI and PCI-E, so you can clock up BLCK just like before Sandy Bridge (but you won't really need too since you have multipliers). Intel is also providing DDR granularity at 100/133MHz as opposed to 200/266MHz, meaning more multipliers.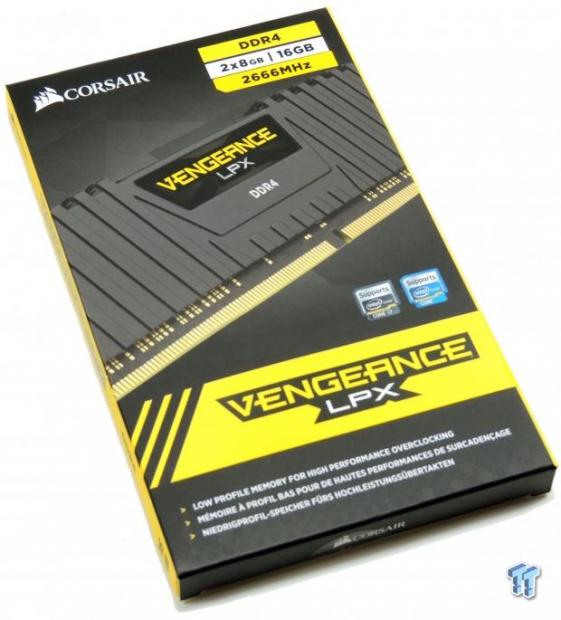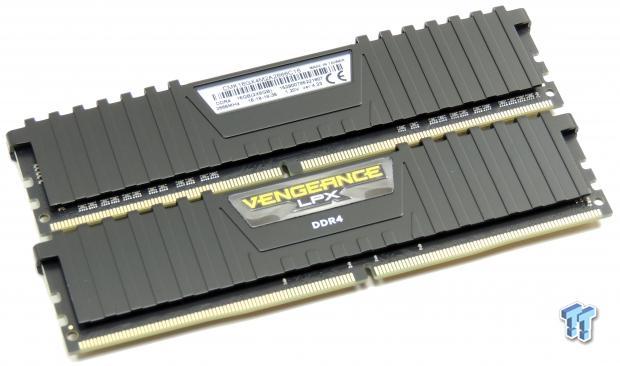 I used two kits for my testing, the first is a Corsair 8GB (2x4GB) 2666MHz CAS 16 Vengeance LPX kit, 2666MHz is on the more modest side for this platform as DDR4 starts at 2133MHz, and not 1600MHz like DDR3. DDR4 also provides higher frequencies, but latencies are higher, meaning you need to run at a higher frequency to get over the hit from the increased latencies. Z170 makes this easy to accomplish, and this kit is very easy to overclock with XMP. I will cover how this kit overclocks in future articles.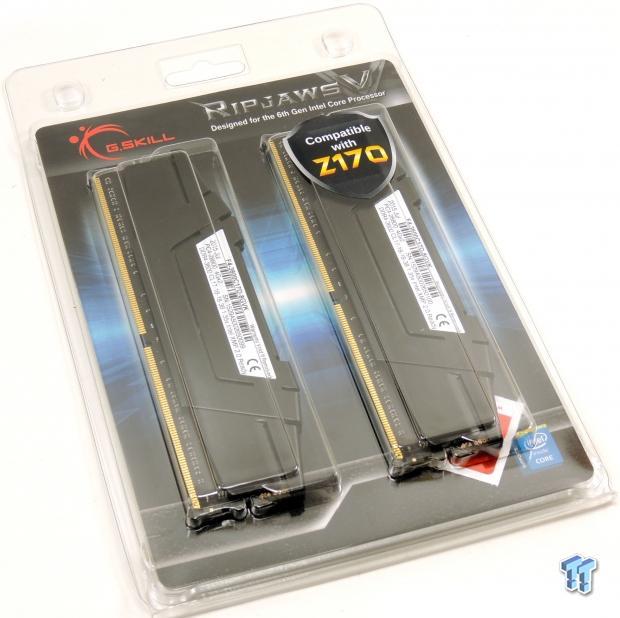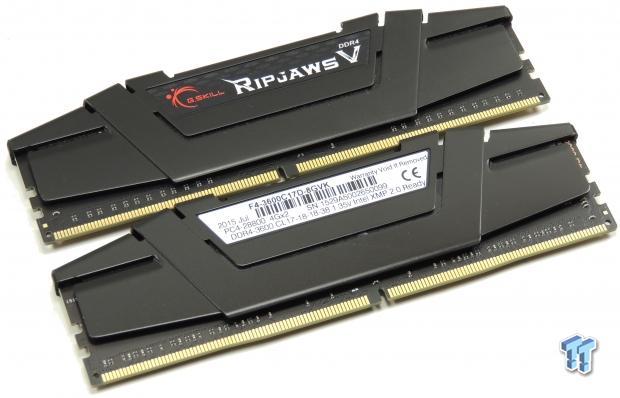 G.SKILL sent over the second kit I used in this review, a Ripjaws V (2x4GB) 3600MHz CAS 17 kit, aimed at enthusiasts and extreme overclockers. The ASUS Maximus VIII Hero used in this review was able to load this kit up very easily with XMP, I will explore how this kit overclocks more in future articles.
Test Setup
This is the test setup for this review: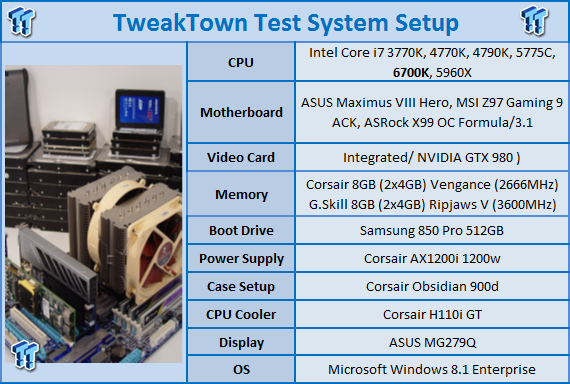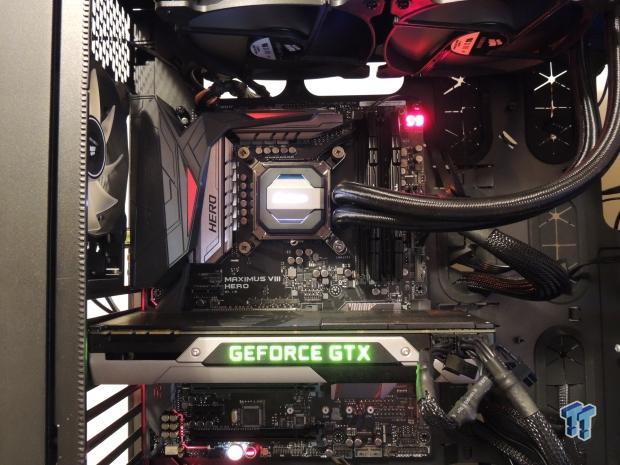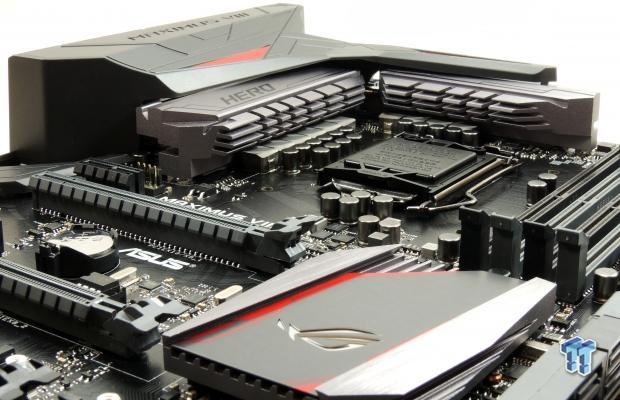 ASUS was kind enough to provide me with a Maximus VIII Hero. It was very nice to work with the Hero, and its BIOS worked pretty well, as did overclocking. The aesthetics of the motherboard are also extremely appealing. We'll address this motherboard in full detail later on today in its very own dedicated review - check back for that soon.
Out of the Box Performance: CINEBENCH, PCMark 8, wPrime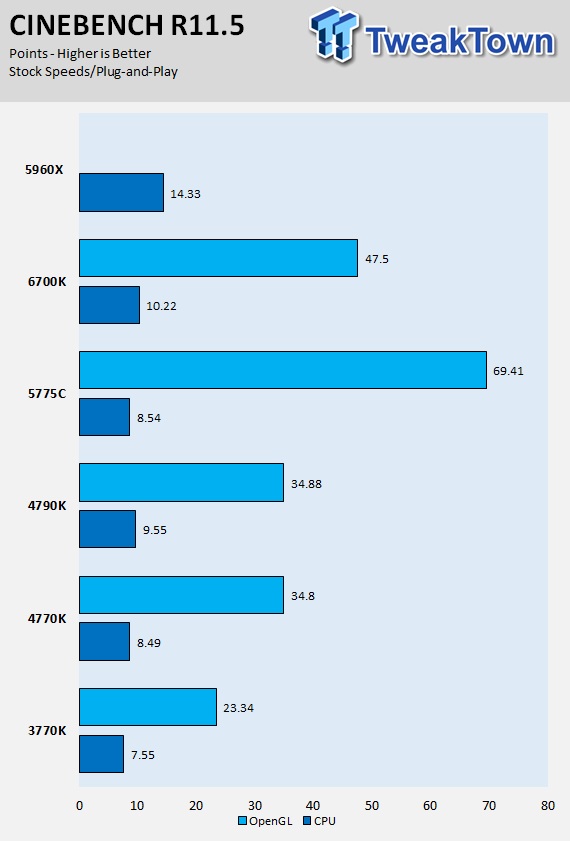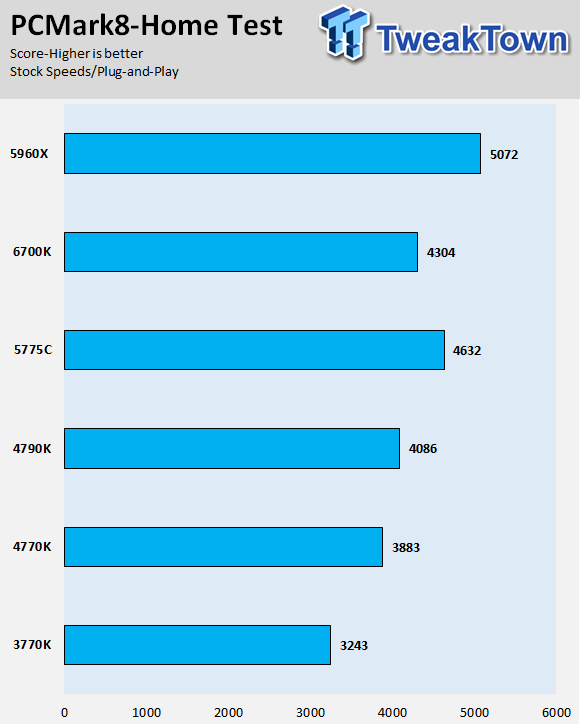 PCMark 8: Microsoft Office Test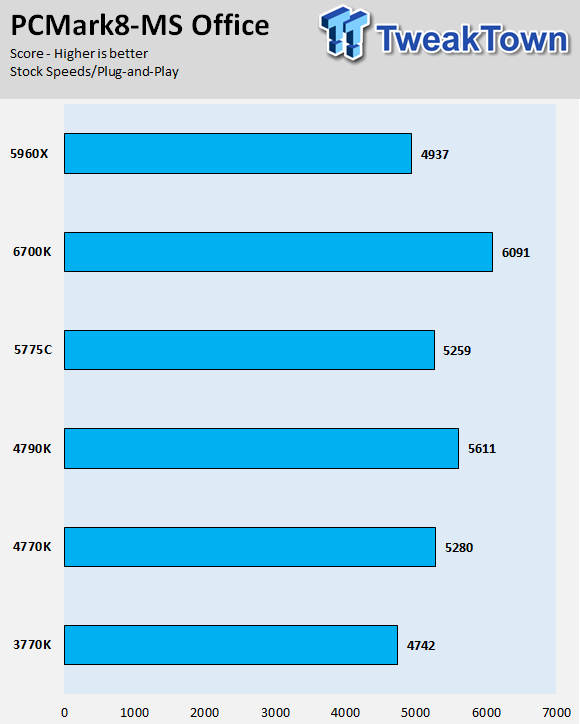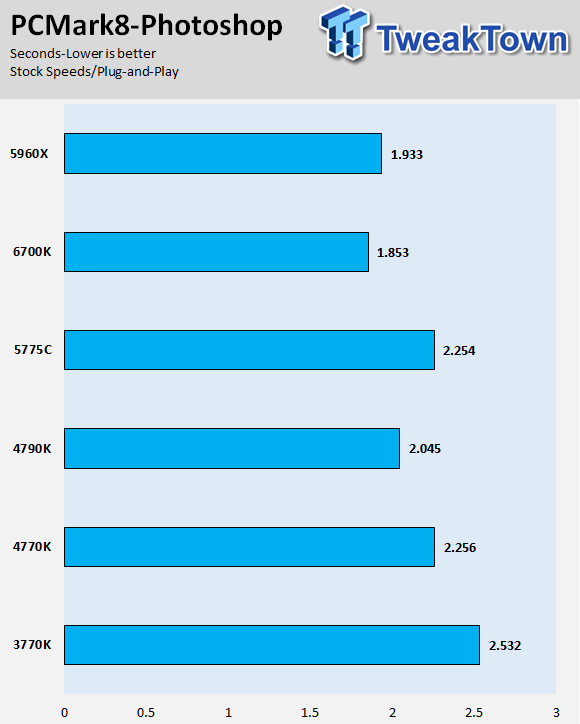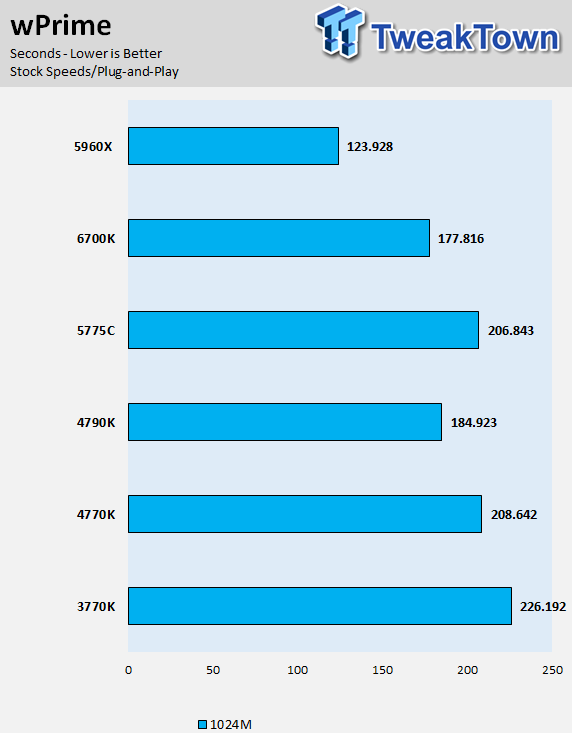 CINEBENCH and wPrime are usually good indicators of overall CPU performance, and in this case they are showing that the 6700K has a clear lead ahead of the other quad cores.
The OpenGL scores are dependent on the integrated graphics, and it seems that Skylake comes with a very nice integrated GPU. Many of the PCMark8 benchmarks are heavily dependent on the CPU's frequency rather than IPC or cores, and the 6700K turbos all cores to 4.2GHz at stock.
Out of the Box Performance: AIDA64 EE AES, FPU, PhotoWorxx, and Memory
Out of the Box Performance: AIDA64 EE AES, Hash, FPU, PhotoWorxx, and Memory
AIDA64 Engineer Edition AES and Hash Tests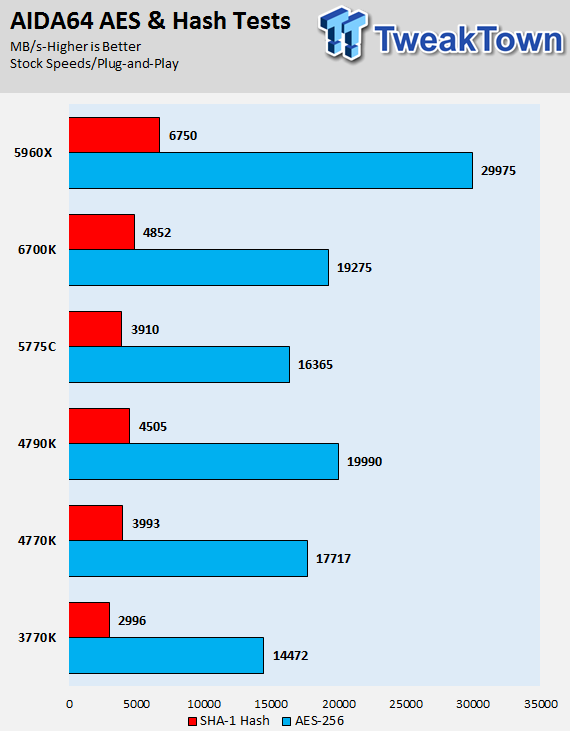 AIDA64 Engineer Edition FPU Tests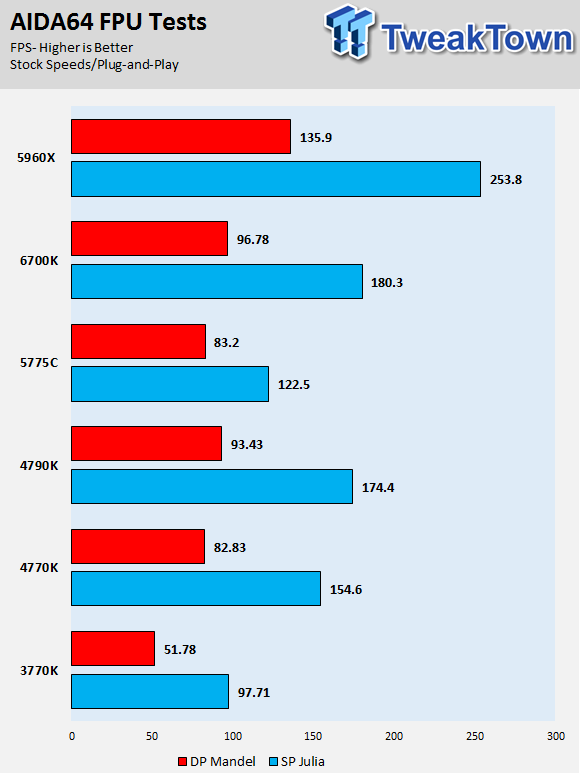 AIDA64 Engineer Edition PhotoWorxx Test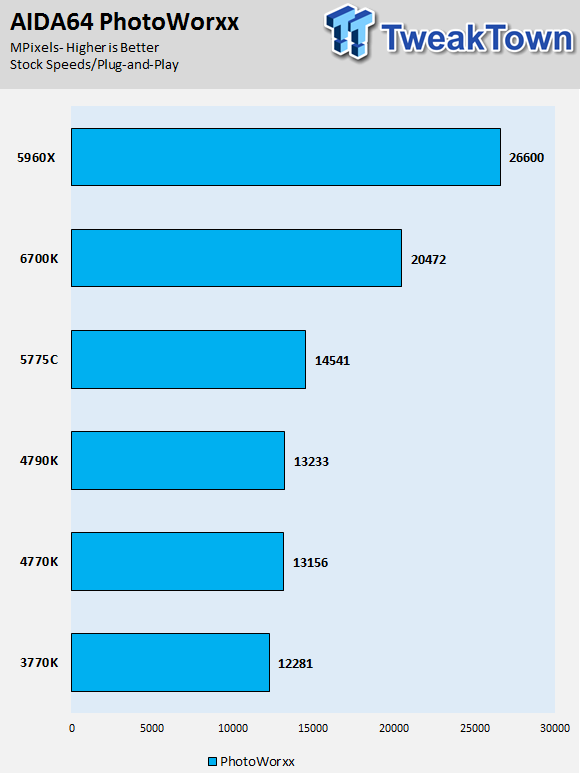 AIDA64 Engineer Edition Memory Bandwidth Test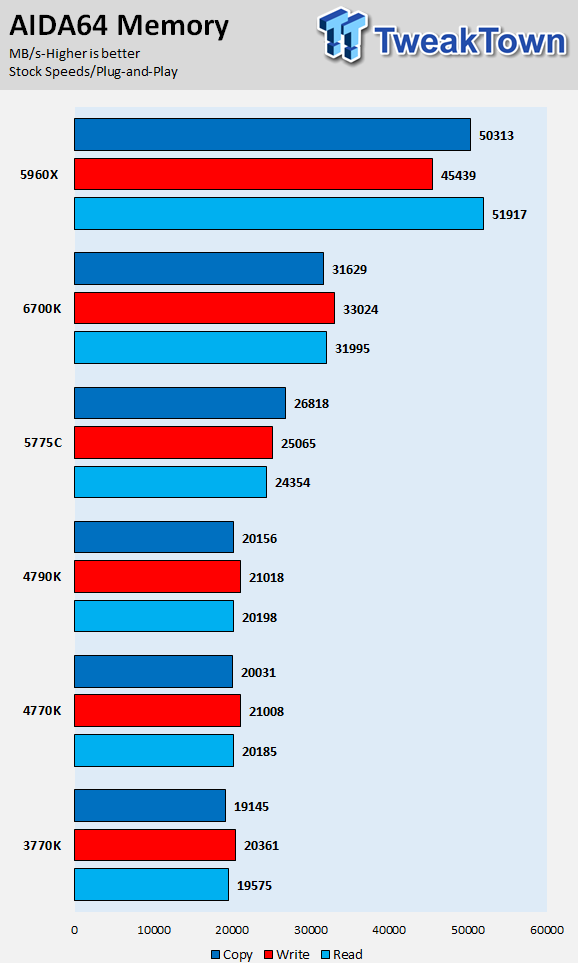 AIDA64 shows that the 6700K is a very strong CPU not just because of its IPC improvements, but also because of its high default and turbo frequencies.
Out of the Box Performance: Handbrake and Hybrid Video Transcoding, ScienceMark
HandBrake 4K Video Transcoder (x264)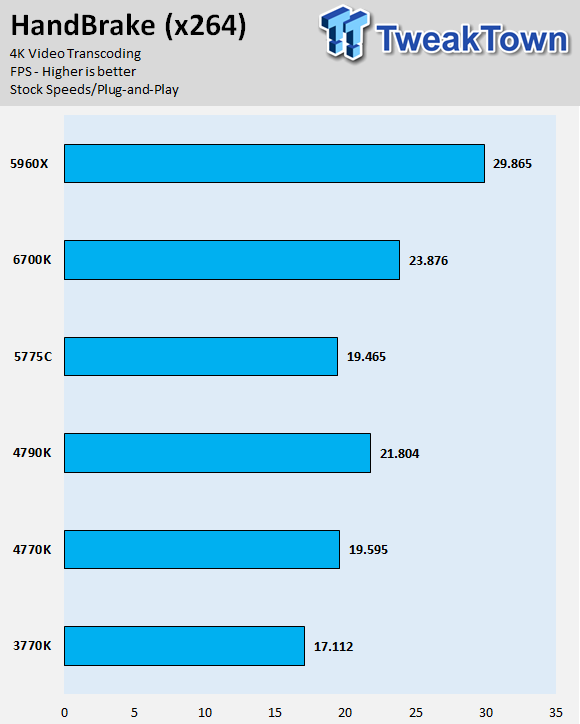 HandBrake 4K Video Transcoder (x265)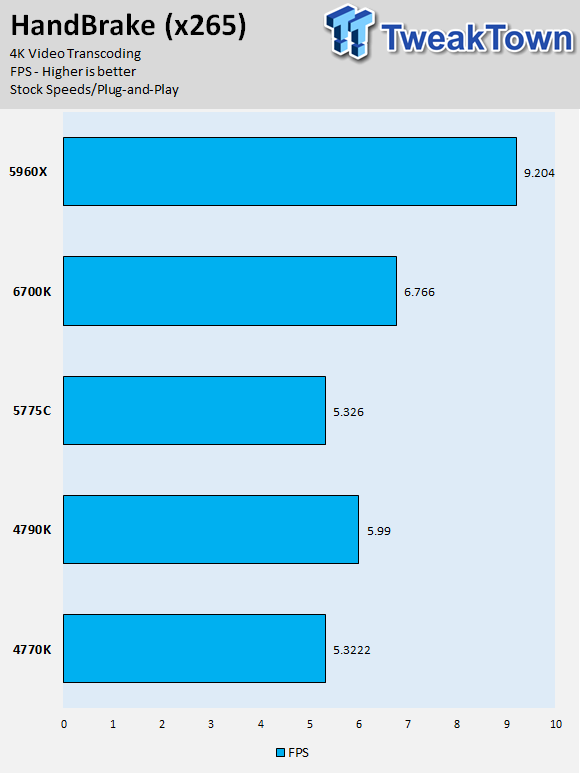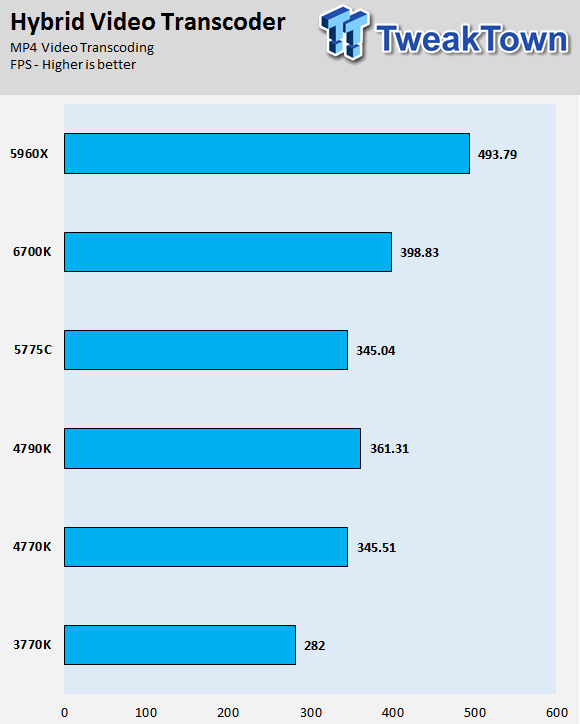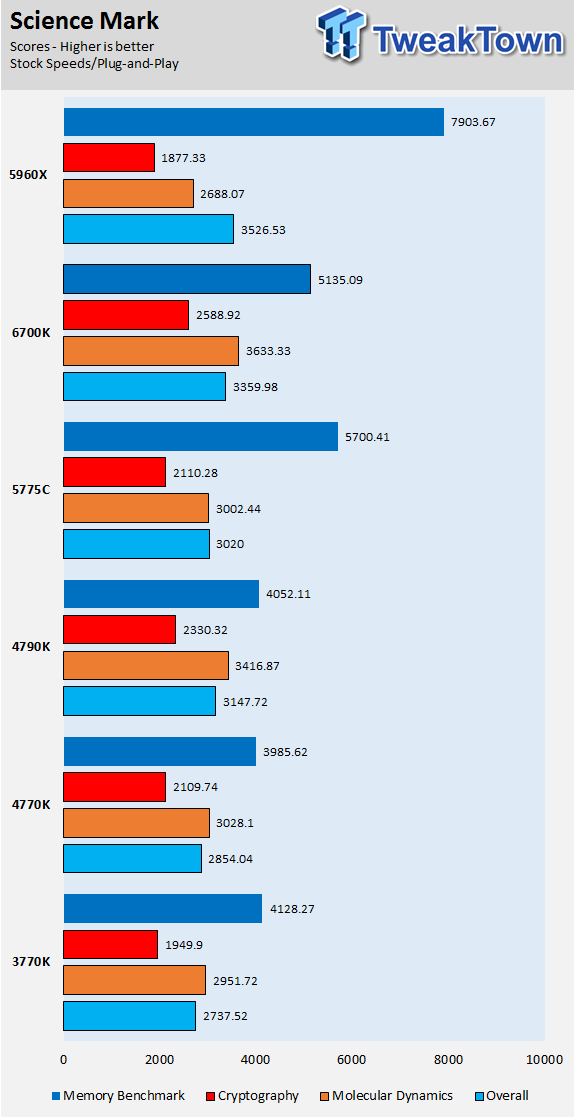 The video transcoding tests show that the 6700K provides some improvements, but nothing crazy high. ScienceMark is more mixed; the 6700K doesn't win every time.
Out of the Box iGPU Performance: GPGPU Memory, UNIGINE, ResidentEvil, LostPlanet, 3DMark
AIDA64 Engineer Edition: GPGPU Memory Bandwidth Test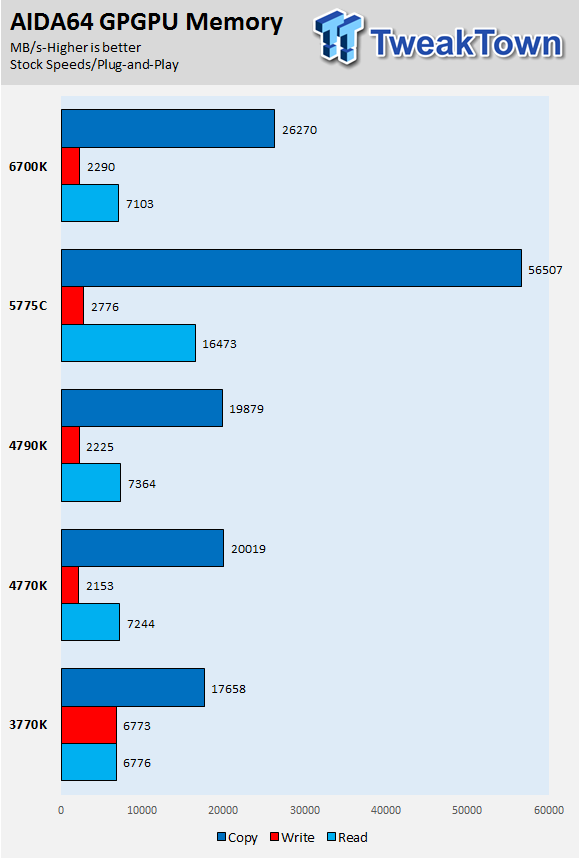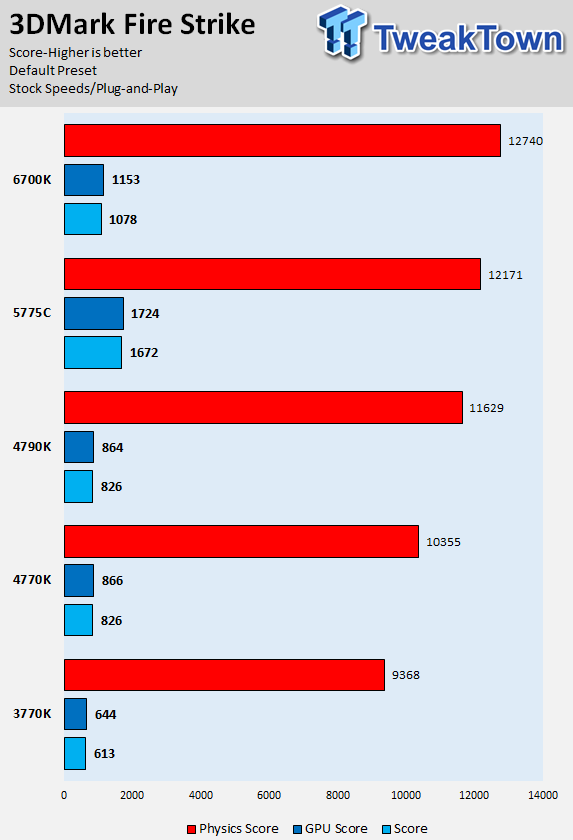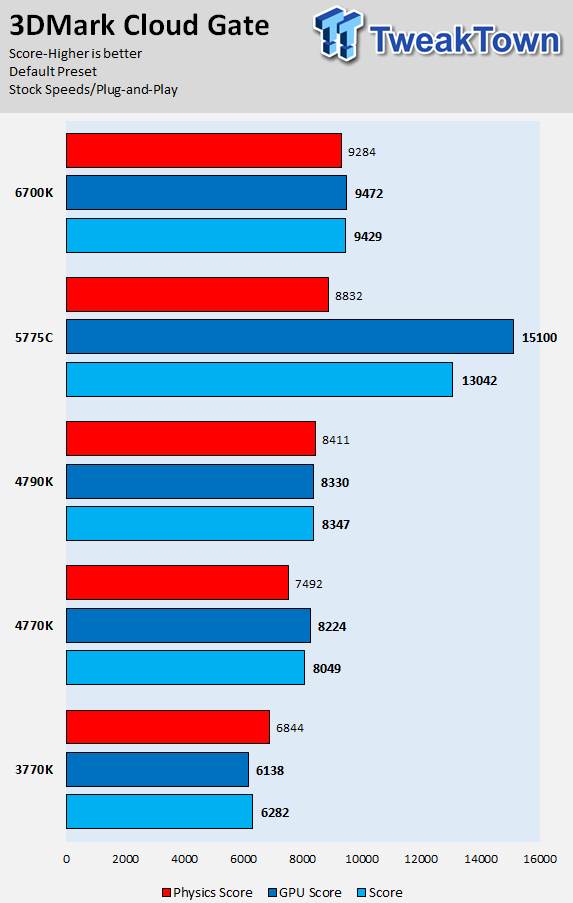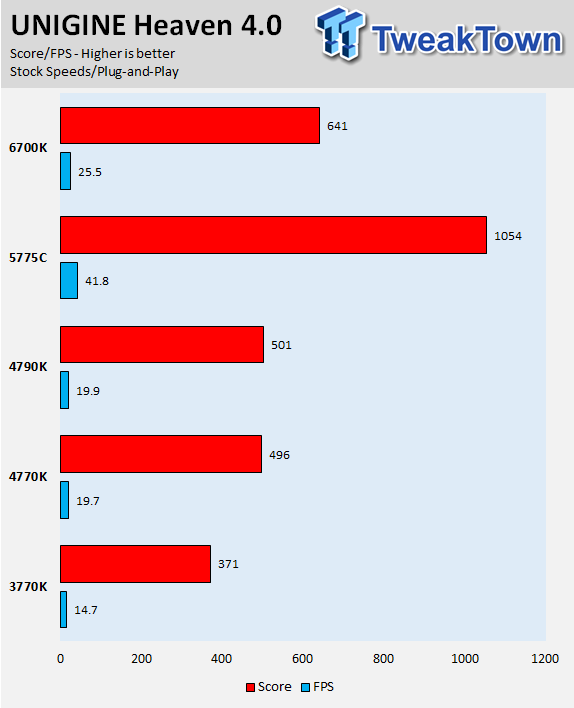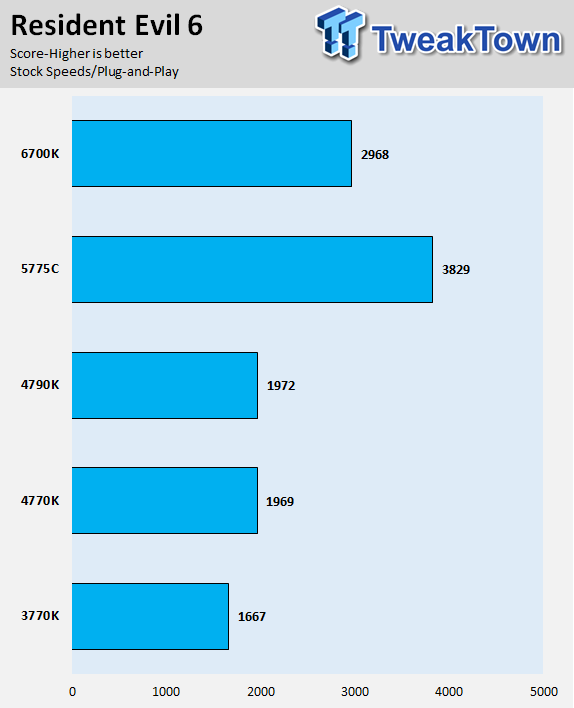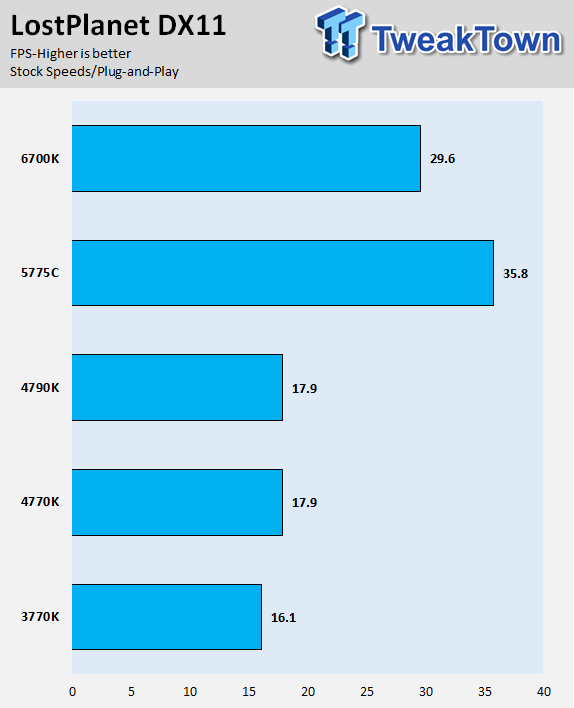 Intel obviously made improvements to the integrated graphics, but the 5775C is still the king with its IRIS PRO cores.
Out of the Box dGPU Performance: GTA:V, UNIGINE, Resident Evil, 3DMark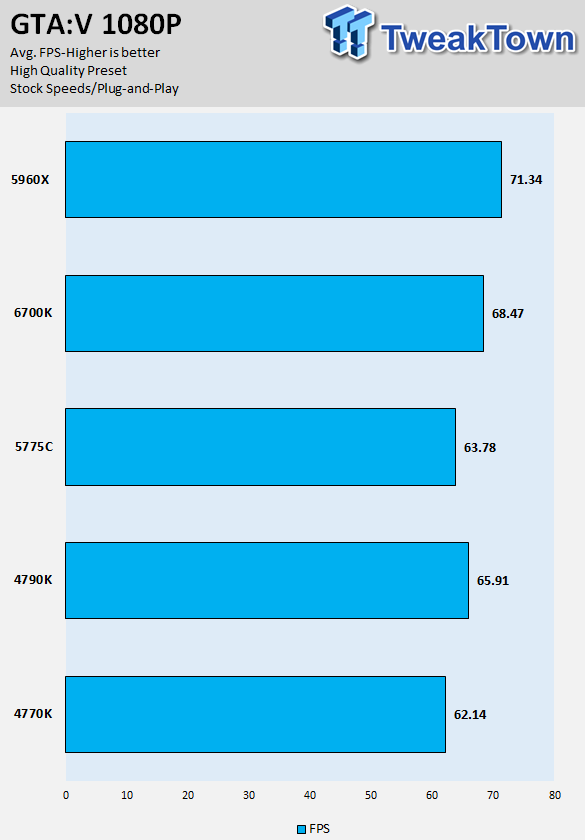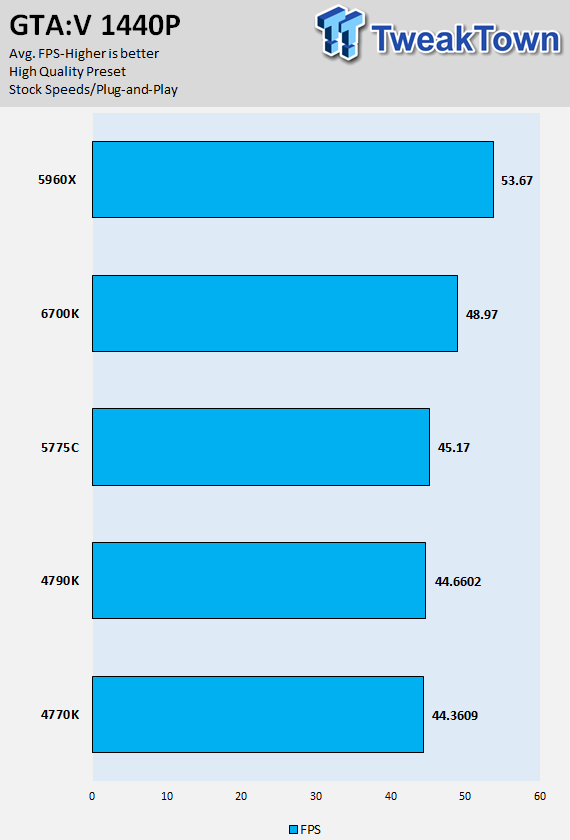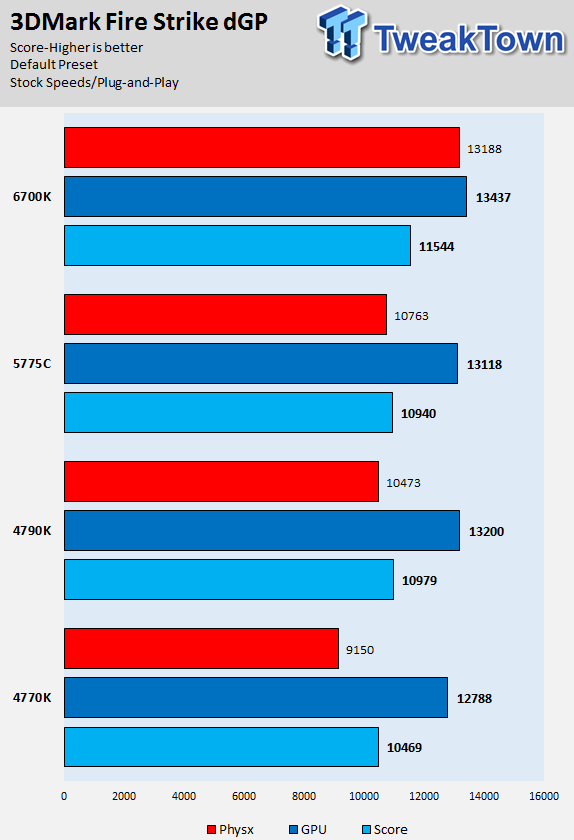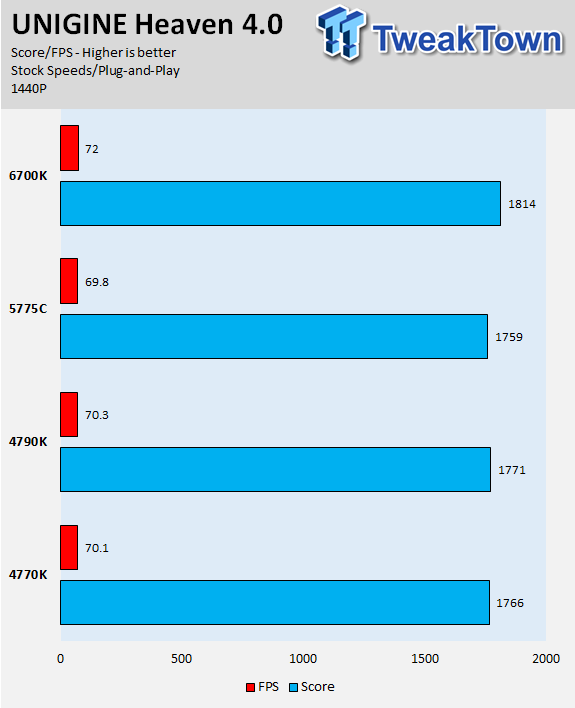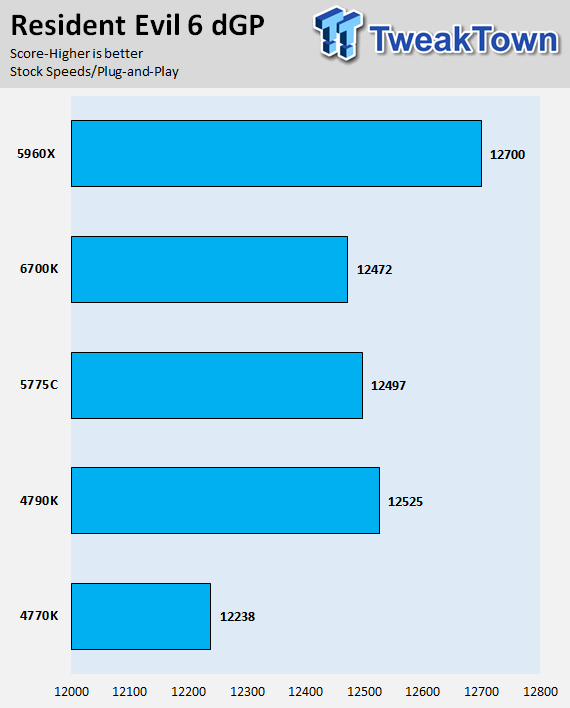 The 6700K is a good gaming CPU because of its high speed and strong IPC.
Clock for Clock Performance: CINEBENCH, PCMark 8, wPrime
For all the Clock for Clock tests I used memory speeds of 2133MHz for all CPUs, but I also ran the 6700K twice through once at 2133MHz and again at 2666Mhz. Since DDR4 has higher latencies than DDR3, and the Z97 and Z77 systems are running on their memory overclocked from 1600MHz to 2133MHz, I decided to also add in another standardized 6700K result named "6700K 4G/2666" which indicates that the memory on the 6700K is overclocked to 2666MHz to compensate for the increase latencies of the DDR4, later on I called this the adjusted 6700K results.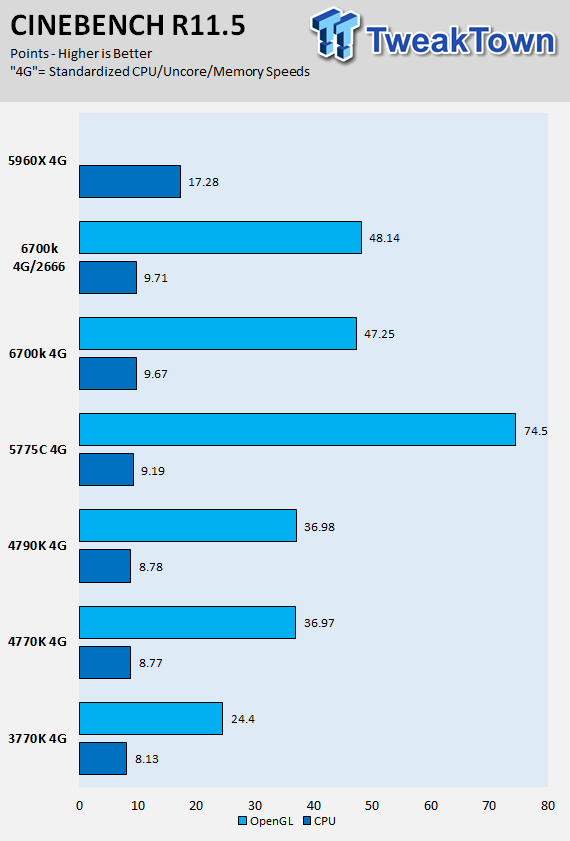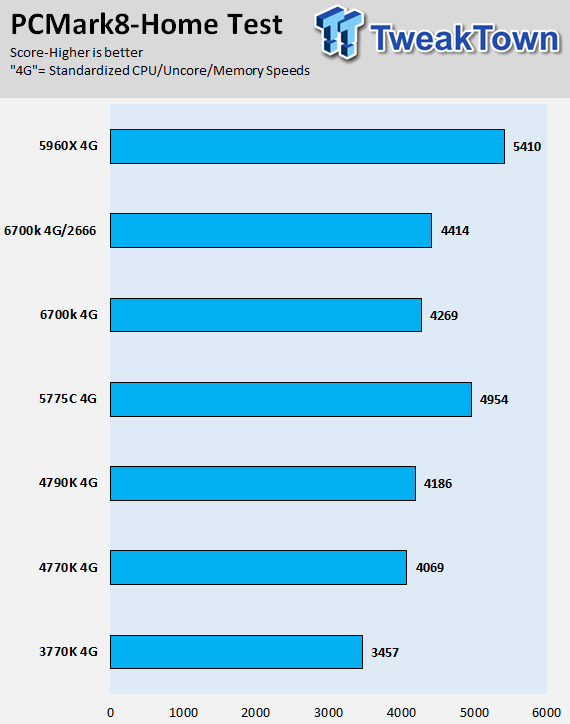 PCMark 8 : Microsoft Office Test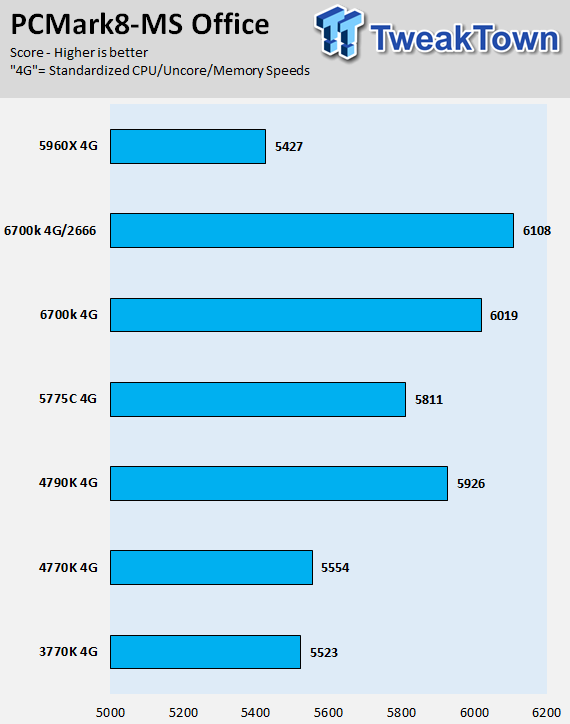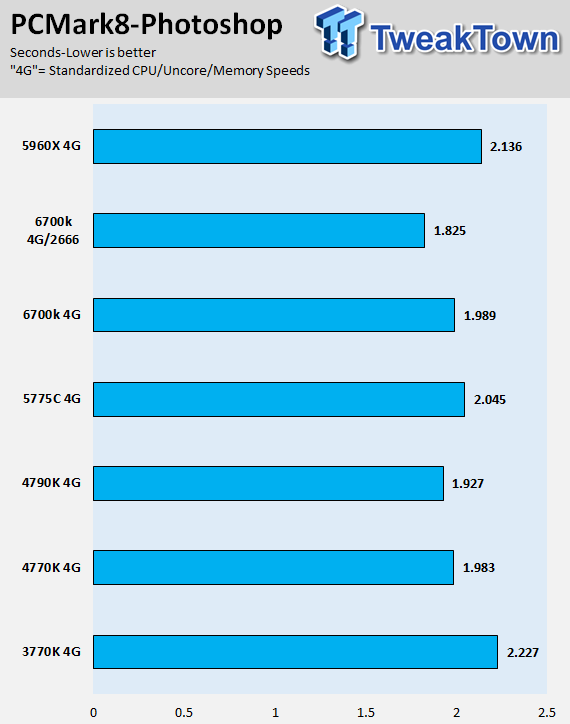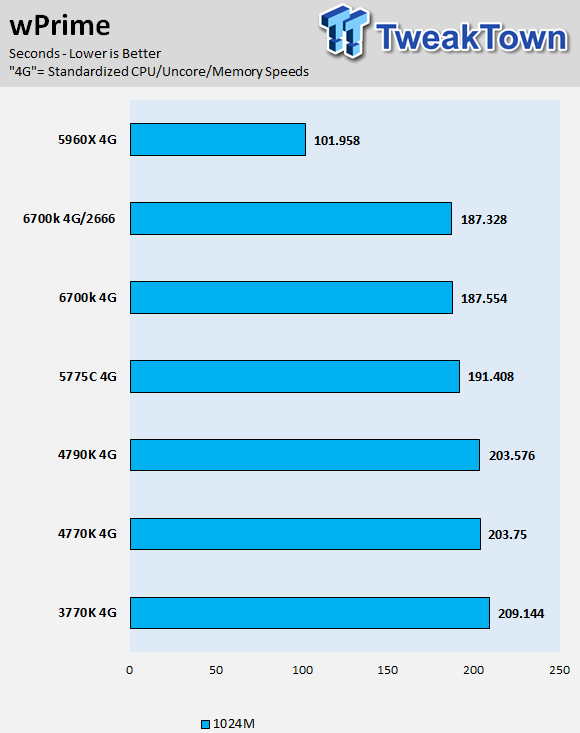 PCMark 8 Photoshop shows how this memory "adjustment" works. When the memory is at its default speed, the 6700K loses to the 4790K and 4770K (which both have their memory overclocked by 533MHz), but when I "adjust" the memory, the 6700K falls back into place as the winner.
This is an interesting trend to observe throughout the tests, because many of these benchmarks test both CPU and memory, and high memory latency can cause lower results.
Clock for Clock Performance: AIDA64 EE AES, FPU, PhotoWorxx, and Memory
Clock for Clock Performance: AIDA64 EE AES, Hash, FPU, GFLOPS, GIOPS, PhotoWorxx, and Memory
AIDA64 Engineer Edition AES and Hash Tests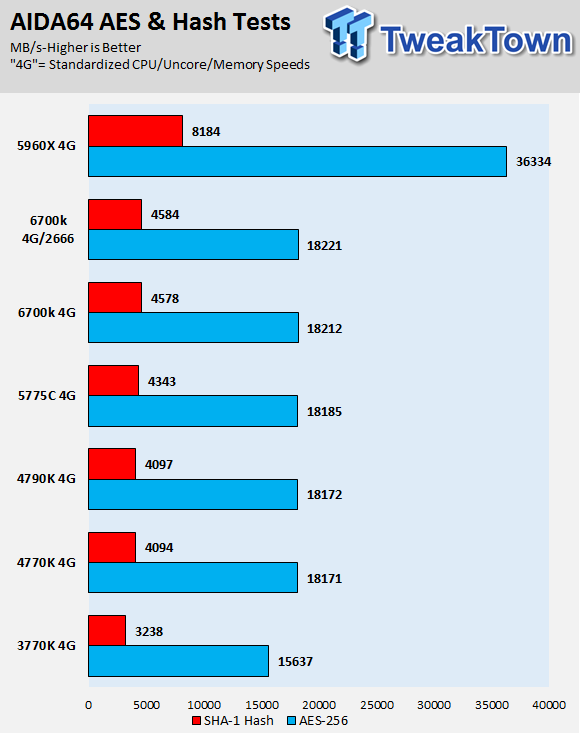 AIDA64 Engineer Edition FPU Tests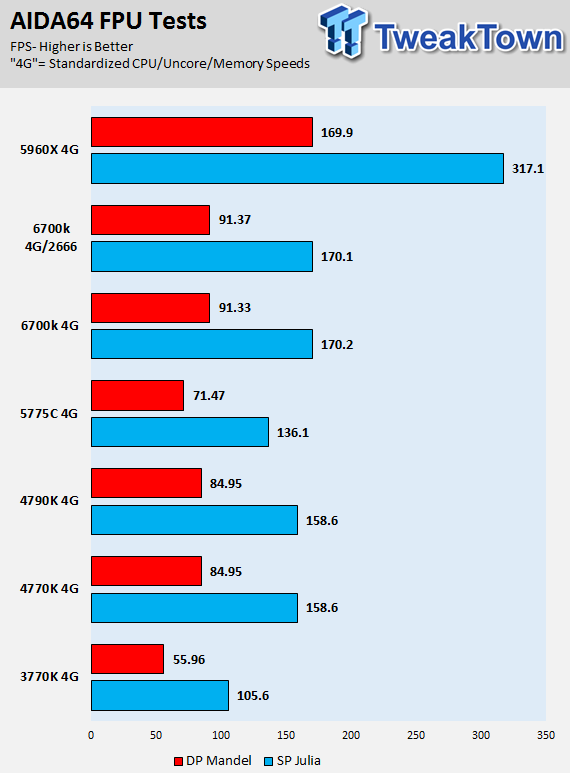 AIDA64 Engineer Edition PhotoWorxx Test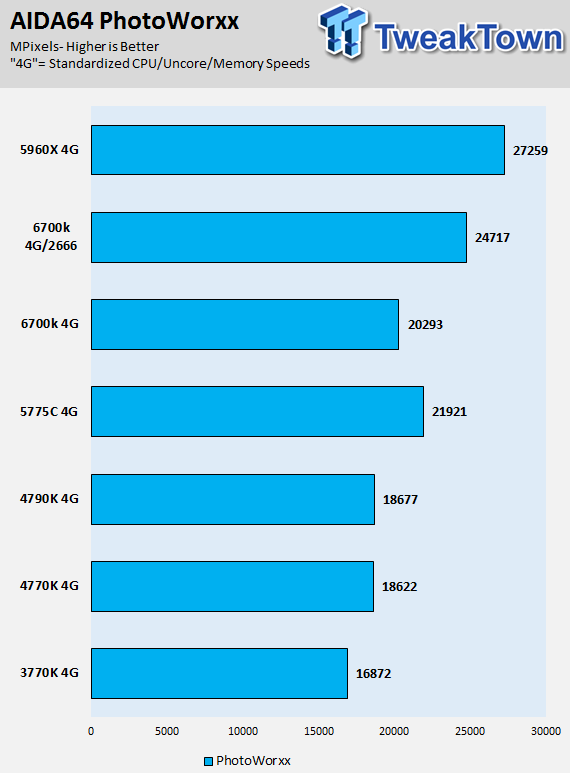 AIDA64 Engineer Edition Memory Bandwidth Test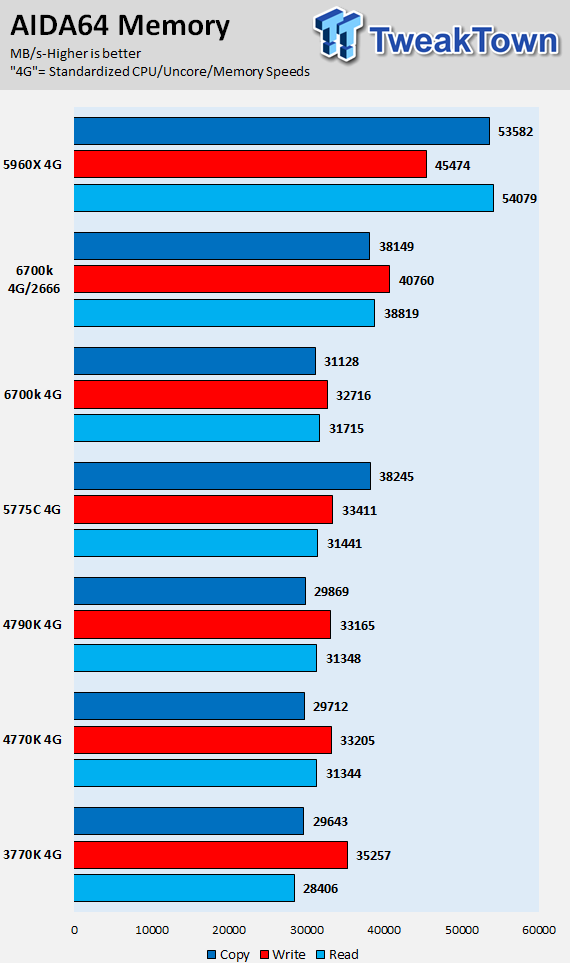 The AIDA64 memory results are quite telling when you look at generational increases in memory performance, and then when you change over from the DDR3 to DDR4 at the same speed, you get almost the same results. These are memory bandwidth numbers, but not memory latency, so it is only part of the whole image. DDR3 and DDR4 at the same speed should perform about the same, but the latencies of DDR4 are much higher, and that is not reflected in these results. I will save that for another article.
Out of the Box Performance: Handbrake and Hybrid Video Transcoding, ScienceMark
HandBrake 4K Video Transcoder (x264)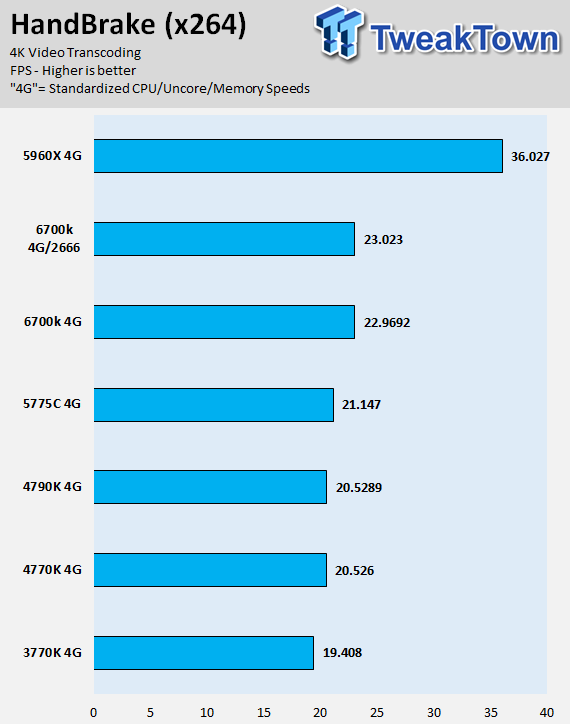 HandBrake 4K Video Transcoder (x265)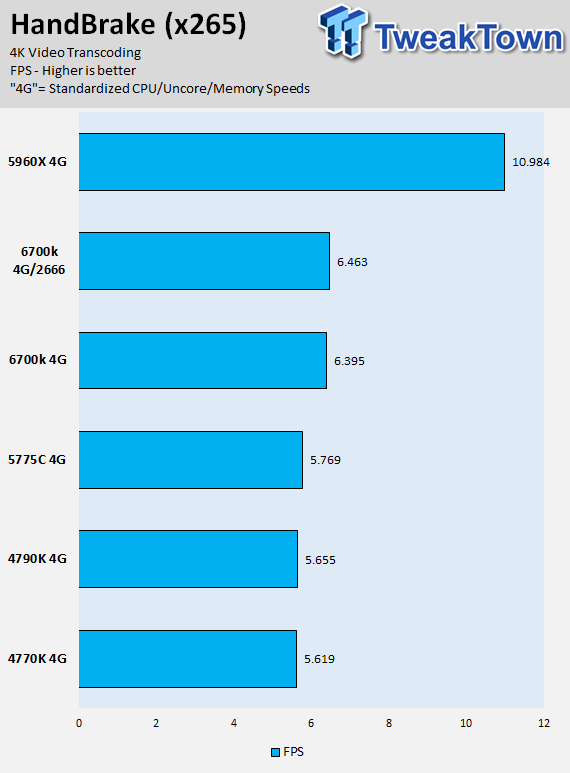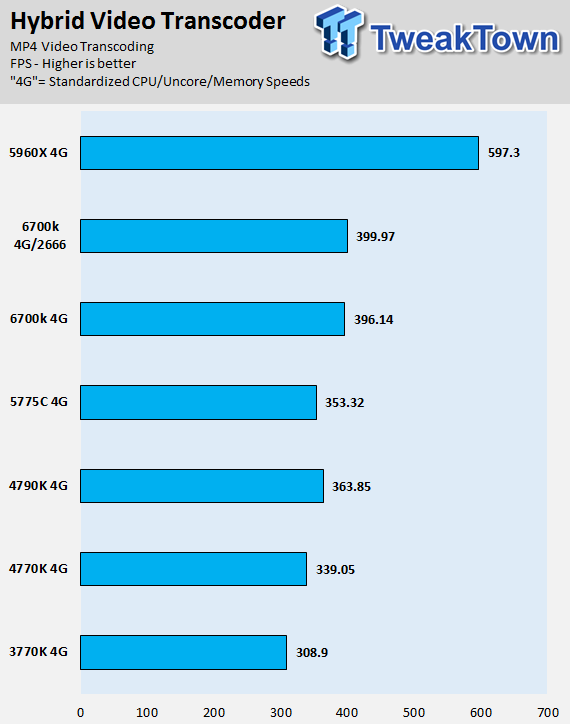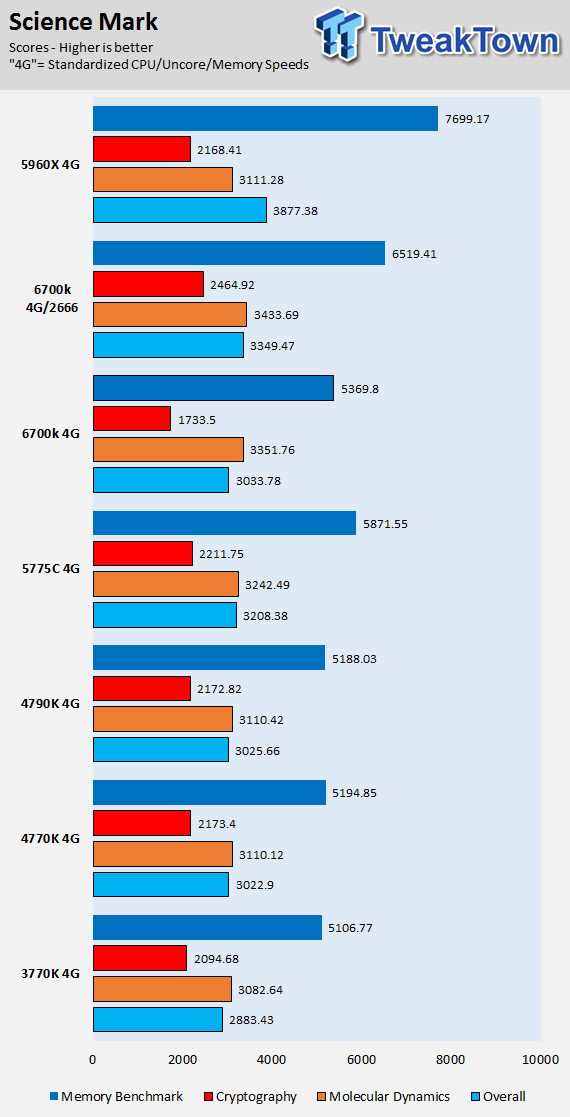 While the 5960X is still king with its 8 cores and 16 threads, the 6700K isn't a wimp, and there are minor gains over prior generations at the same clock speeds. ScienceMark is showing that the 6700K loses in cryptography to the previous generation CPUs, and this could be because of the memory latency, because when I "adjust" the memory speed, the scores go back to where one would think they should be.
Out of the Box iGPU Performance: GPGPU Memory, UNIGINE, ResidentEvil, LostPlanet, 3DMark
AIDA64 Engineer Edition: GPGPU Memory Bandwidth Test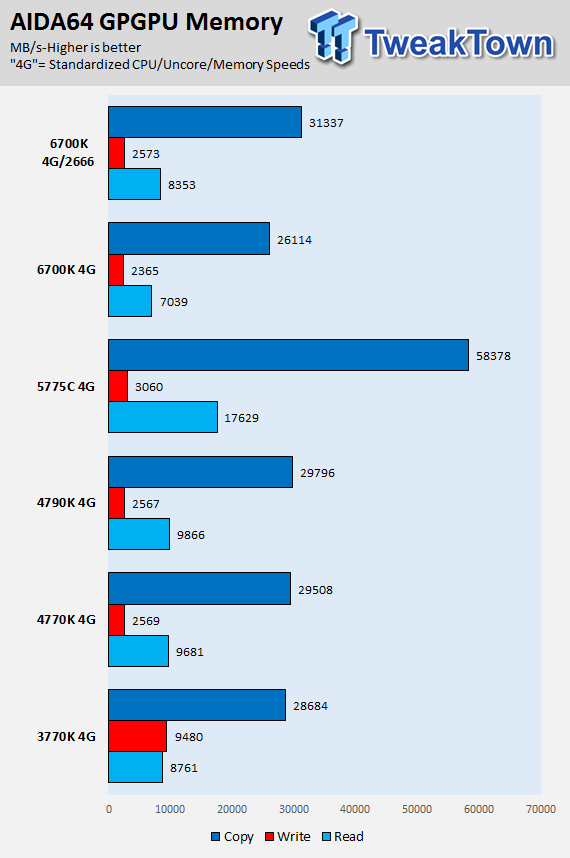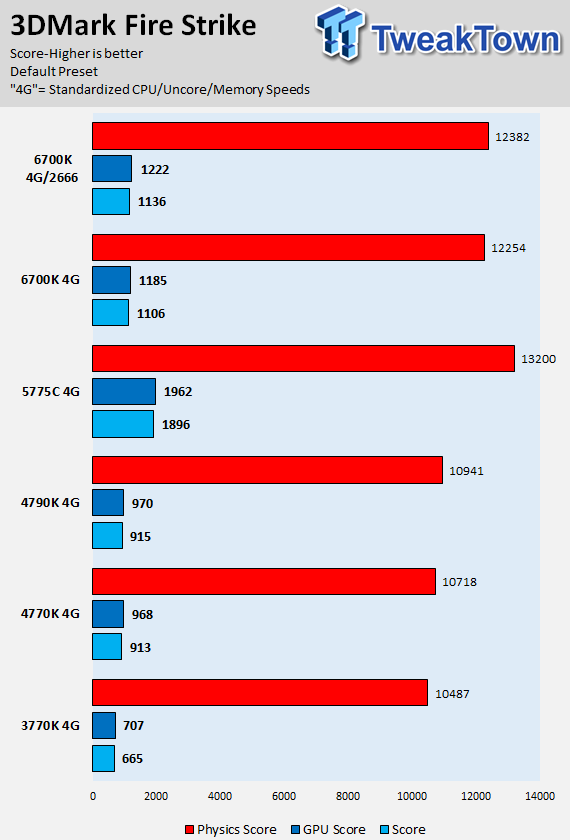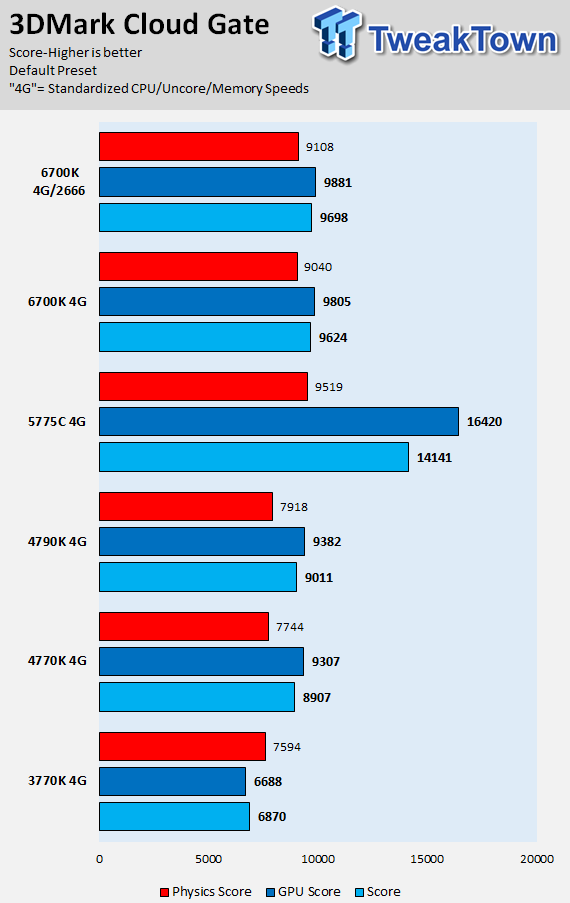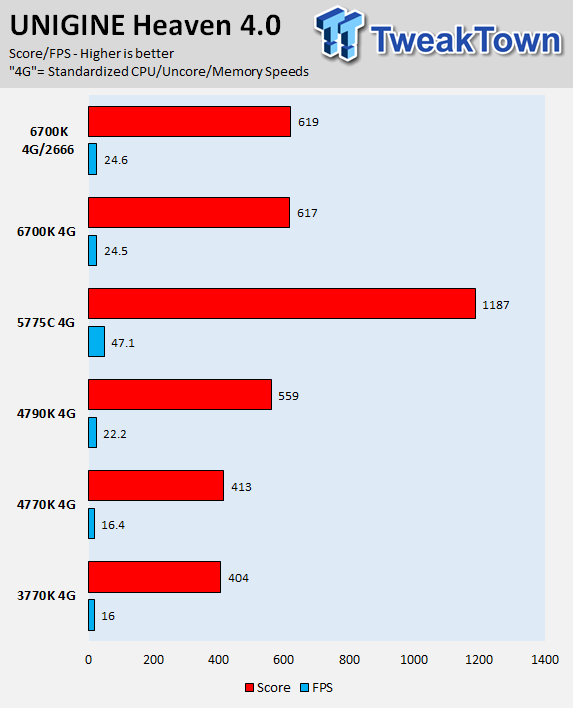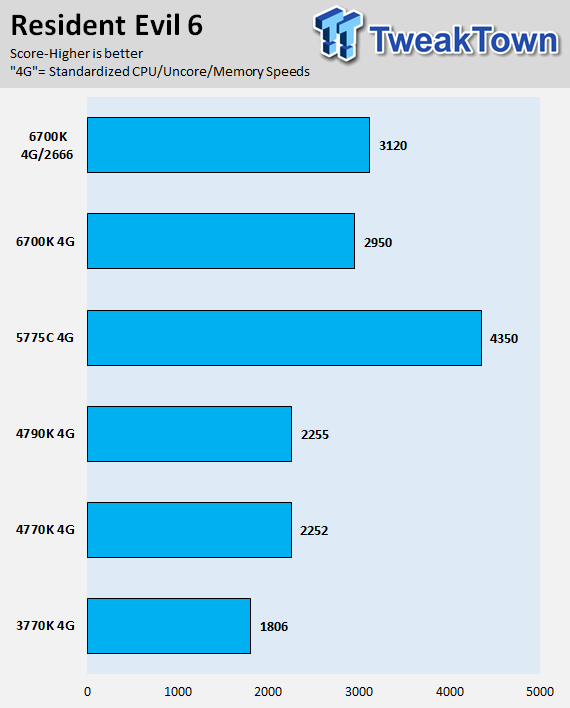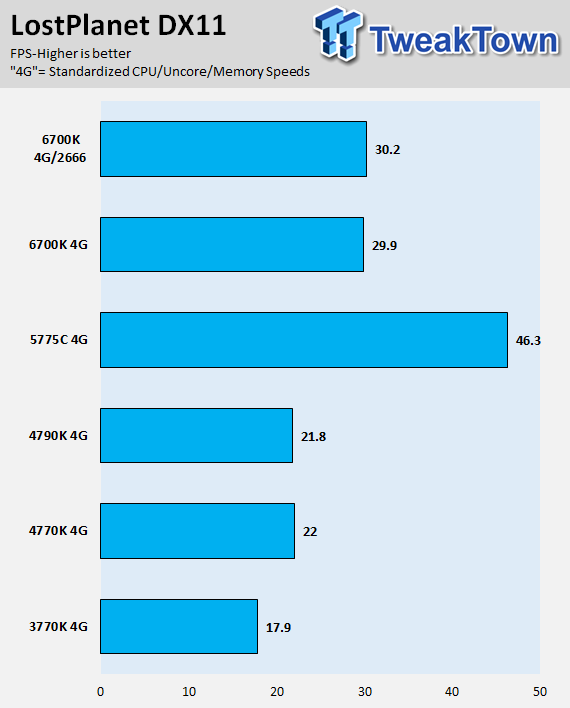 The integrated graphics in the 6700K are actually quite strong and generational improvements are present. While Intel improved the integrated graphics a lot, the 5775C is still king of the hill if you are going to game with an integrated GPU.
Out of the Box dGPU Performance: GTA:V, UNIGINE, Resident Evil, 3DMark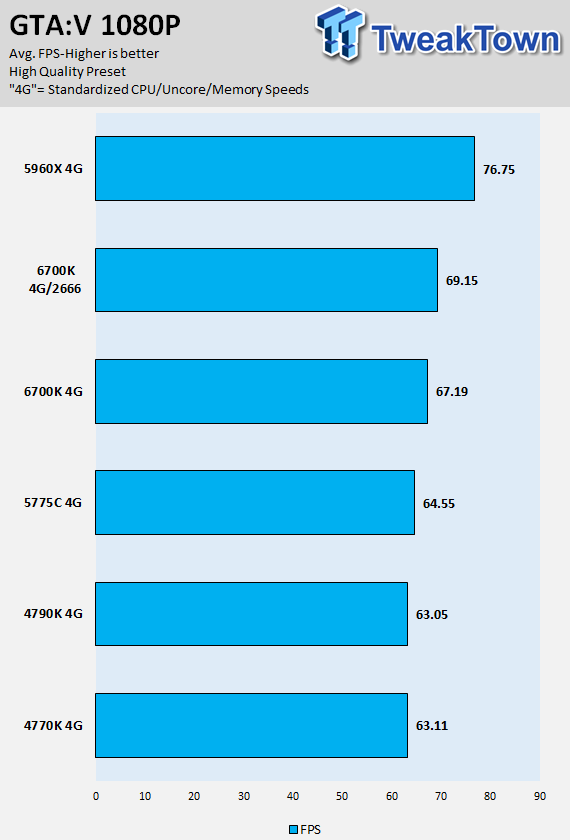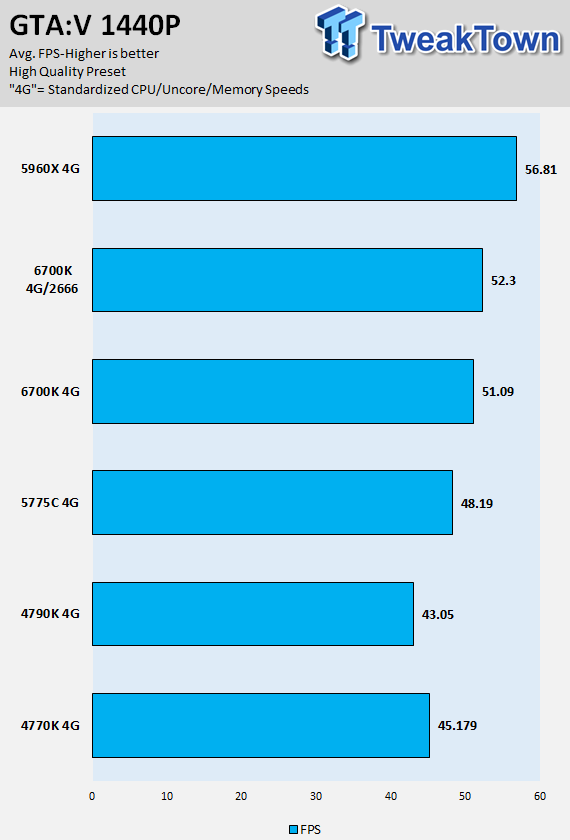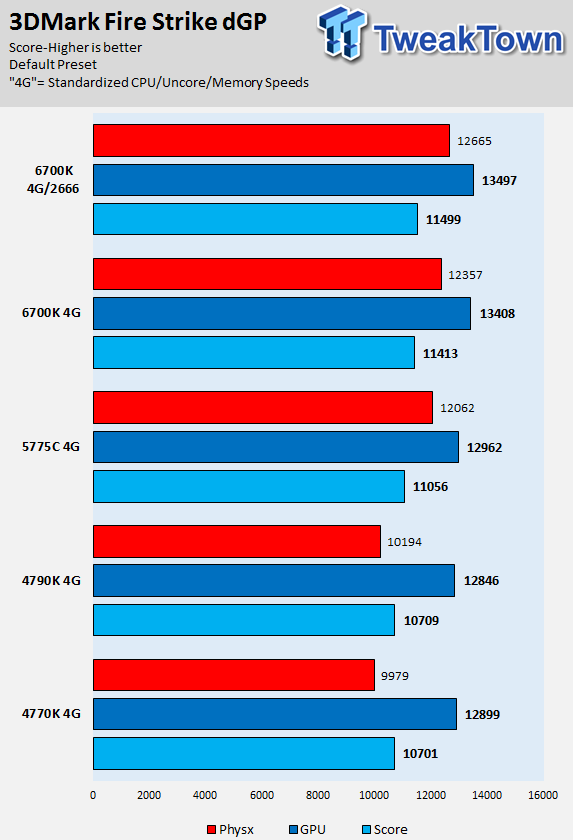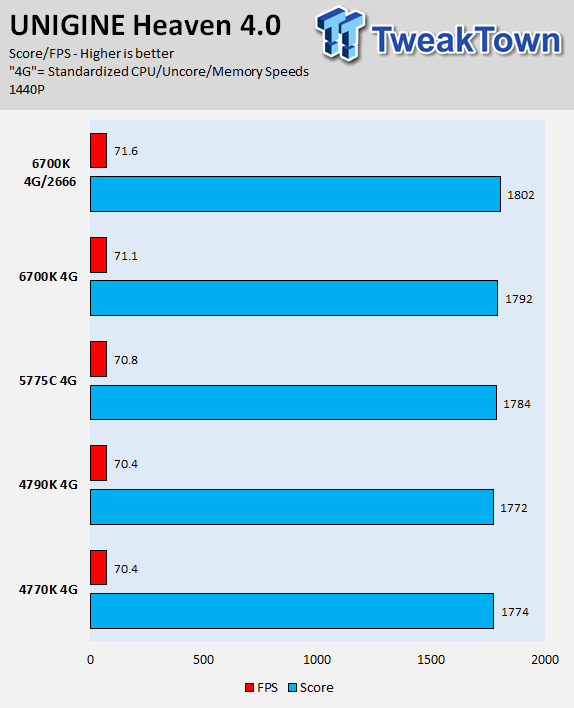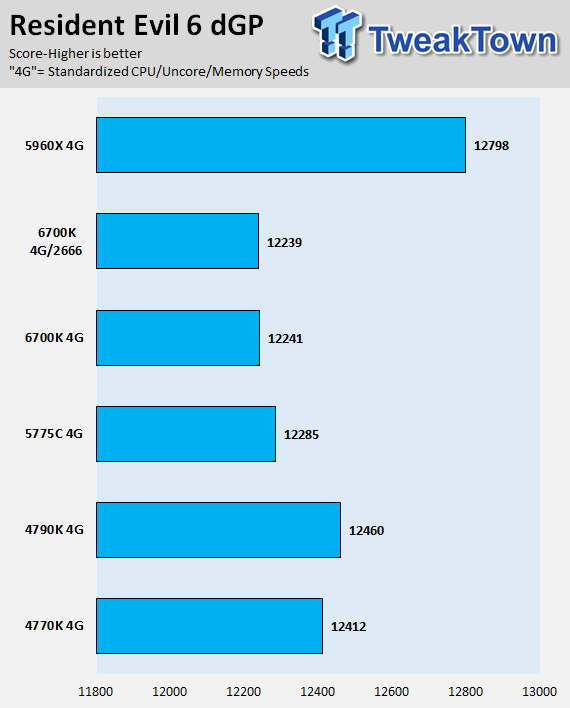 It could be that Resident Evil is an older title or that there is some compatibility issue, but when the systems are put up clock for clock, the results are almost an inverse compared to what one would expect. Not only is the 6700K slowest, but the 5775C also loses to its predecessors.
Statistical Analysis of Results
Percentage Difference
Percentage Difference = [Final-Initial]/Average(Final-Initial)
To see how the CPU does in comparison to the other CPUs, I split all the benchmark scores up into four categories; CPU benchmarks, iGPU benchmarks, dGPU benchmarks, and memory benchmarks. Many benchmarks overlap between CPU and memory, but overall, I divided up the results into these four categories and used my best judgment to group them correctly.
Then I took every 6700K result and subtracted the other CPU result, and then divided by the average of the two. This percentage difference can be thought of as the amount higher (or lower) the 6700K performs compared to a reference baseline in between the two scores. If the 6700K is faster, I get a positive number, and if the 6700K is slower, I get a negative number. I then took the mean of all the results per each of the four categories and displayed those below. I did this three times; once with default speeds, once compared at 4GHz CPU and 2133MHz memory (DDR3 and DDR4) across all CPUs, and the finally compared the 6700K at 4GHz CPU and 2666MHz memory against 4GHz and 2133MHz memory of the other CPUs. I called the final comparison the "adjusted" comparison, and if you look at the final results, they almost line up with what one would expect from IPC increases from generation to generation.

These are the default out of the box results. The 6700K is obviously the winner out of the box, with considerable increases across the board, but with the 5775C leading in the integrated graphics arena.

These are the results clock for clock, but without the memory adjusted to compensate for the difference between DDR3 and DDR4. The default memory speed for DDR4 is 533Mhz higher (2133MHz) than that of DDR3 (1600MHz), and these results don't take that into account, in fact the increased latencies of DDR4 actually can hurt the results of the 6700K since all CPU's have their memory clocked at 2133MHz for the results pictured above.

These are the results clock for clock, but with the memory adjusted to compensate for the difference between DDR3 and DDR4. When I offset the DDR4 speed to even the playing field a little and show off the advantages of faster DDR4 memory, then the gains become much greater, and much more on point with what Intel promised in terms of gains. I believe that these results are a better reflection of the clock for clock performance of the 6700K.
Overclocking and Power Consumption
CPU Overclocking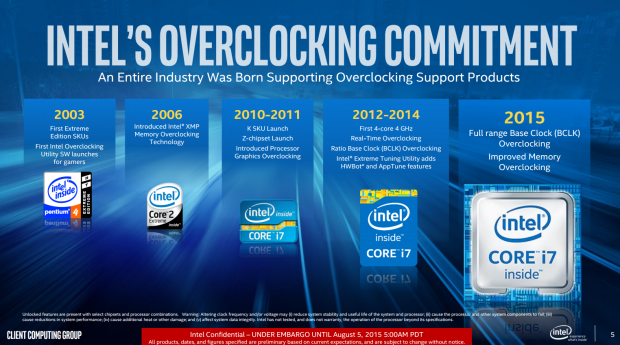 Overclocking is one of the strong points of the 6700K, Intel has put forth a lot more effort than they have in the past, and it seems to have paid off. If you are an overclocker, then there is some good news: Skylake overclocks really well.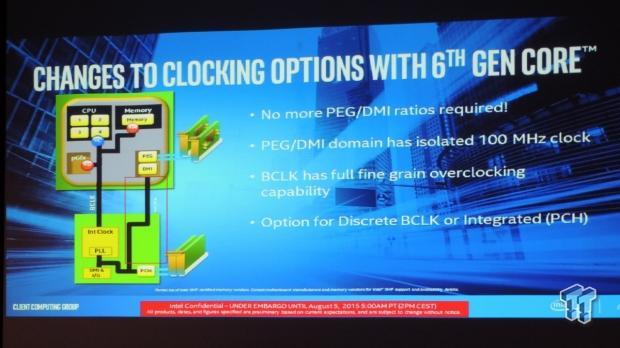 Intel made some major changes for overclocking on Z170. First of all the BCLK is now separated from the DMI and PCI-E, meaning no more BLCK ratios. BLCK can now be tuned like it was before Sandy Bridge existed, 100 to 200+ MHz in 1MHz increments. Haswell had a maximum CPU multiplier of 80X, Skylake has a CPU maximum of 83X. Skylake has memory tuned up to 41.33x compared to 26.67x on Haswell and Haswell-E.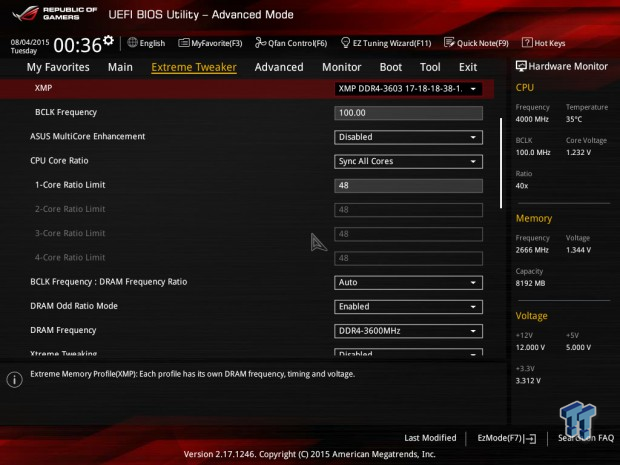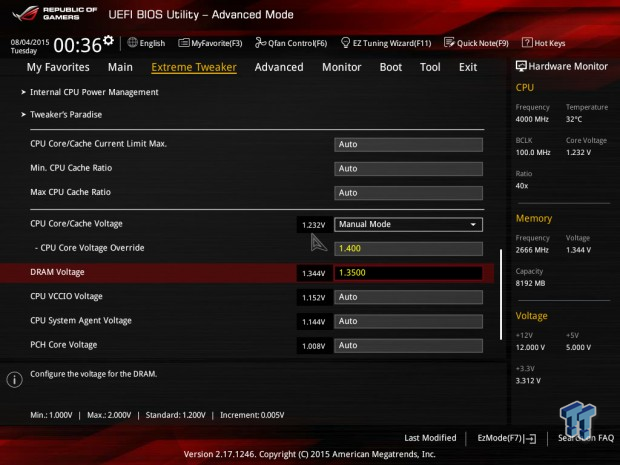 To overclock Skylake's CPU, you only really need to mess with the VCore which provides voltage to the cores and cache. A good CPU cooler like the NH-D15 or a Corsair H110i GT can handle 1.4-1.44v depending on the frequency, but I only needed 1.35v to get 4.8GHz under AIDA64 for an hour, and my temperatures didn't go above 80C, even though the room was pretty warm. The system agent and CPU IO voltages are also there, but they only need to be slightly increased for high speed memory overclocking, but for 3600MHz I didn't need to tinker with them on the Maximus VIII Hero. I didn't touch the cache ratio, but I will explore it in a future article.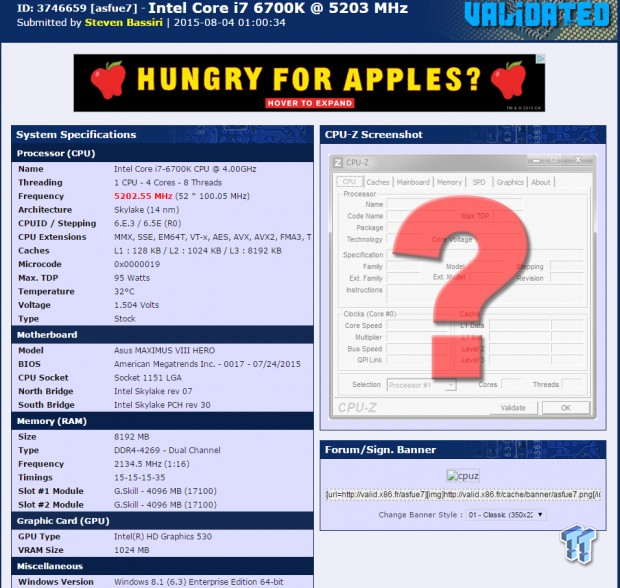 My really good Sandy Bridge CPUs could overclock and grab a maximum validation of 5.2GHz at 1.5v, Skylake can do the same. For reference, my good Ivy Bridge and Haswell CPUs had a very hard time doing this.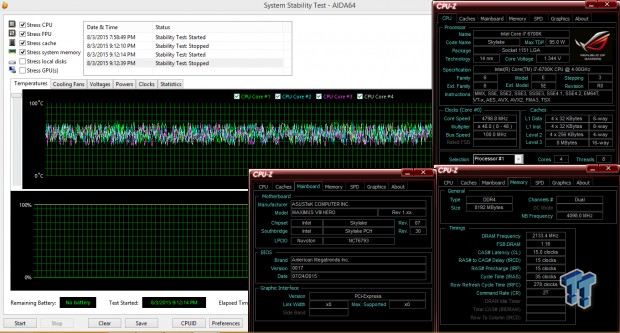 I haven't really had time to do much stability testing, I will tune it more for future articles, but I do think that 4.8GHz stable is a real possibility with my sample and many others. This being a launch CPU indicates good things considering Intel usually increases yields as time goes on.
Memory Overclocking Results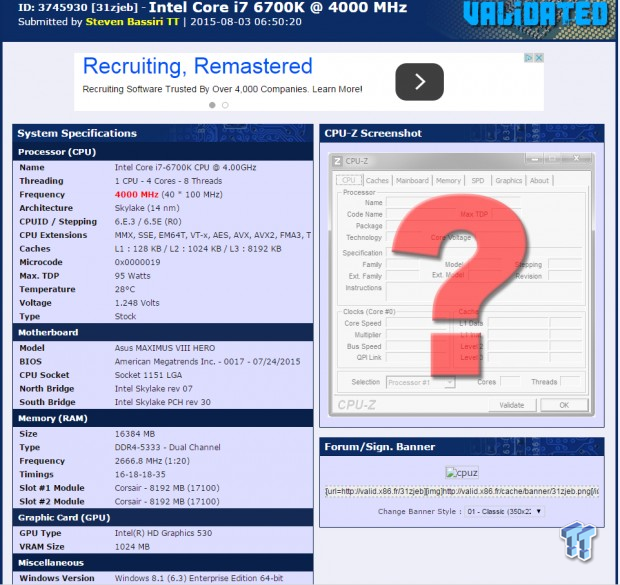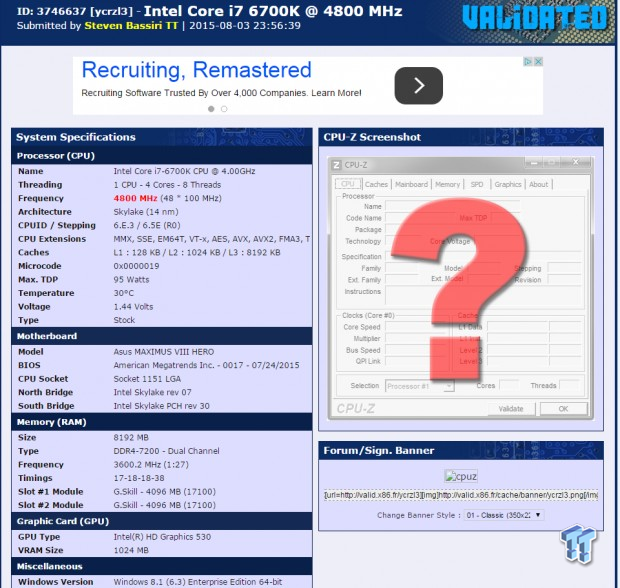 Both the Vengeance LPX and Ripjaws V worked well with the board, in fact both booted up by just setting XMP in the UEFI. It is really nice to see that the 36.00x multiplier is working. In future articles, I will cover overclocking in more depth.
Power Consumption
For measuring the CPU power consumption, I used an inline DC/DC Hall Effect monitoring IC to monitor the input on the 8-pin power connector, which should be isolated for CPU use only.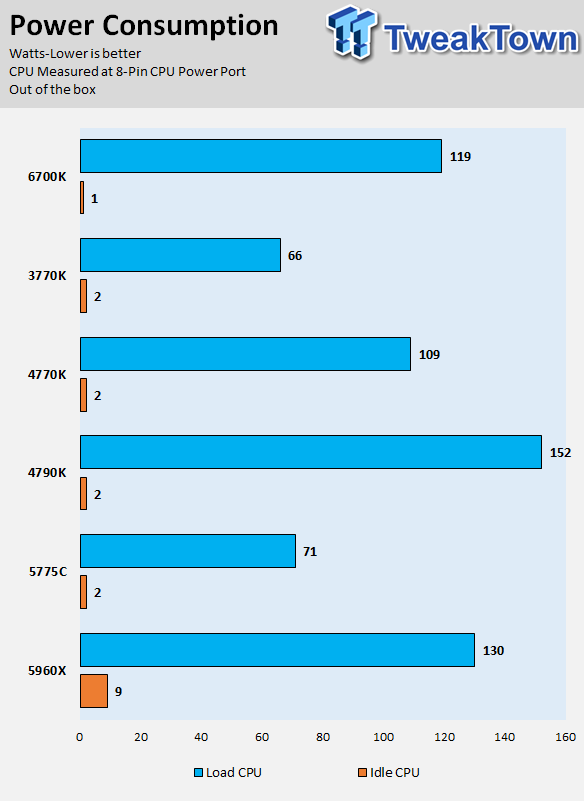 The 6700K has a 95W TDP which is higher than its predecessors, but its idle power consumption is super low.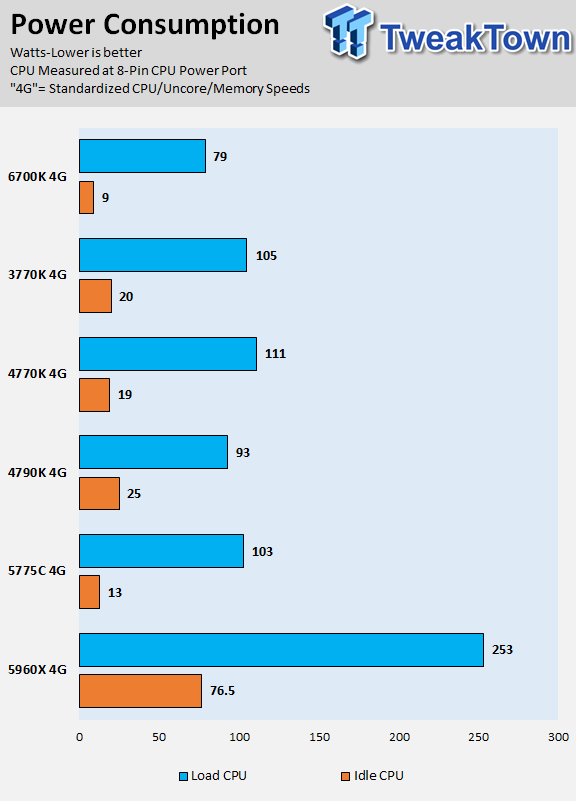 What's interesting is that at 4GHz and with the same memory speed as the rest, the 6700K provides much better power consumption numbers, but 4GHz is actually a 200MHz under clock on the 6700K.
What's Hot, What's Not & Final Thoughts
This is where you can fast forward to the final section of the review, and get a quick recap and points on the Intel i7-6700K.
What's Hot
Solid IPC and Integrated Graphics Improvements: I think Intel did a solid job with the performance improvements in the new lineup of Skylake CPUs. Even though the drivers are relatively young, everything worked very well and the 6700K consistently outperformed its predecessors. I think that Intel has delivered with this new CPU, and if you are still using Sandy Bridge, I think Skylake would be a worthwhile upgrade. The improvements to the integrated graphics are also pretty impressive, and if these increases in integrated graphics performance continue, many people will start to forgo purchasing a discrete video card for some gaming needs.
Strong Overclocking: It seems that ever since Sandy Bridge launched everyone uses it as a benchmark for overclocking potential, and I think Skylake might actually hit that benchmark and could set a new one in the future. Not only is overclocking easy to undertake on the new platform, but Intel has provided more tuning "knobs" than ever before.
Z170 PCH Is Crazy Connected: The Z170 PCH is one chipset that has really got me excited. I do go a little nuts over motherboards, but with Z170, it's justified. The sheer possibilities and amount of connectivity is insane. Intel not only made PCI-E 2.0 a legacy connection, they also increased the number of ports above that of X99, and increased the DMI bus to handle all the extra bandwidth. Intel also added RAID ability to M.2, a very welcome change towards making M.2 the next big thing.
No more FIVR: While the FIVR is a great idea, especially in the mobile field where motherboard real-estate is in high demand, I never really thought it would do wonders on the desktop. For overclocking, the FIVR did help a little by maintaining clean power flow, but it was unnecessary on the desktop, adding heat to the CPU die where there otherwise wouldn't be any. The high cold bug temperature of Haswell was also attributed to the FIVR, so extreme overclockers also welcome its removal.
What's Not
Same Core Count as its Predecessor: Just like Broadwell, Haswell, Ivy Bridge, and Sandy Bridge the mainstream socket hasn't had a core increase in a long time. I know there are a lot of people out there who would like a hexa-core in the mainstream segment.
You will need a new motherboard and possibly memory: The 6700K will only work in a socket LGA1151 motherboard, and while the removal of the FIVR requires this socket change, the need for a new motherboard does raise the cost of adopting the new platform. Many users are also used to carrying over their older DDR3 kits, but not many manufacturers are going to provide Z170 motherboards with DDR3L support, and so you will need to buy some new memory, unless you are already an adopter of X99.
Final Thoughts

This entire review was done with a retail sample of the 6700K, which gives me hope that CPUs in the channel will overclock and perform the same as mine. I almost hesitate to say it, but Skylake has me as excited as Sandy Bridge had me almost half a decade ago. The new chipset paired with the new CPU has some tangible advantages over previous Intel platforms. Intel's suggested retail pricing is $350, which makes it a replacement for the 4770K, and I think that is a very fair price for the 6700K.
I am not sure of the price of the 6700K, but I do think Intel will price it aggressively (between 4770K and 4790K) considering it is a mainstream part and doesn't carry any expensive silicon like eDRAM (hint: 5775C). That being said, I feel like Intel hit their CPU and GPU performance improvement targets. From my numbers, I would estimate that Intel made a 5-10% IPC improvement in CPU performance and 10-25% in integrated GPU improvements. Combine the IPC improvements with a 4GHz base frequency and some pretty awesome overclocking, and I think Intel has a winner on their hands.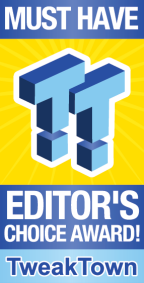 | | |
| --- | --- |
| Performance | 96% |
| Quality including Design and Build | 94% |
| General Features | 95% |
| Bundle and Packaging | 89% |
| Value for Money | 95% |
The Bottom Line: Combine the IPC improvements with a 4GHz base frequency and some pretty awesome overclocking, and I think Intel has a winner on its hands with its new "Skylake" Core i7-6700K processor and Z170 chipset.
PRICING: You can find products similar to this one for sale below.

United States: Find other tech and computer products like this over at Amazon.com

United Kingdom: Find other tech and computer products like this over at Amazon.co.uk

Australia: Find other tech and computer products like this over at Amazon.com.au

Canada: Find other tech and computer products like this over at Amazon.ca

Deutschland: Finde andere Technik- und Computerprodukte wie dieses auf Amazon.de