OAXIS Bento Close-Contact Induction Wireless Speaker Review
Close-Contact induction speakers are a great idea and a sleek new age concept, but can the speaker quality stand up to the task?
Published Sat, Apr 25 2015 12:22 PM CDT
|
Updated Tue, Nov 3 2020 6:59 PM CST
Rating:

72%
Manufacturer: OAXIS
Introduction, Specifications, Pricing & Availability
Winning the Germany iF product design award at MWC 2014, it's no denying that the OAXIS Bento is great to look at. Utilizing close contact technology to pick up your phone speaker and then broadcasting it in a 360-degree radius, the technology and idea is great, but does it perform as you would expect?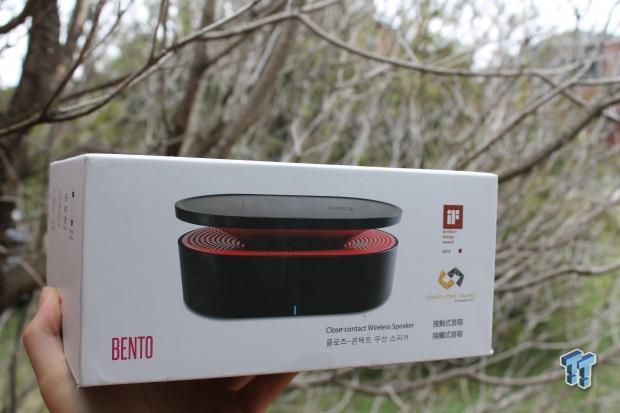 All portable speakers contain the main issue of lacking bass to combat and here's hoping the Bento doesn't also fall monstrously short in this aspect too.
Specifications
With two 40mm drivers powered by 2 x 2.5 watt amplifiers playing in stereo sound, this product offers you a frequency response of 80Hz - 20KHz.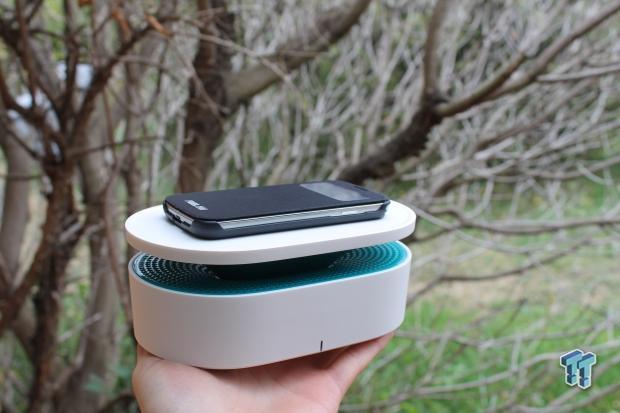 It will pick up music played by your device through the close contact technology located within, explained on their website as working by utilizing electromagnetic induction sensors to capture the 'magnetic waves' made by your phones speaker and amplifying them through its 360-degree sound design. Charged through Micro-USB, you can also connect your phone via an Aux 3.5mm jack.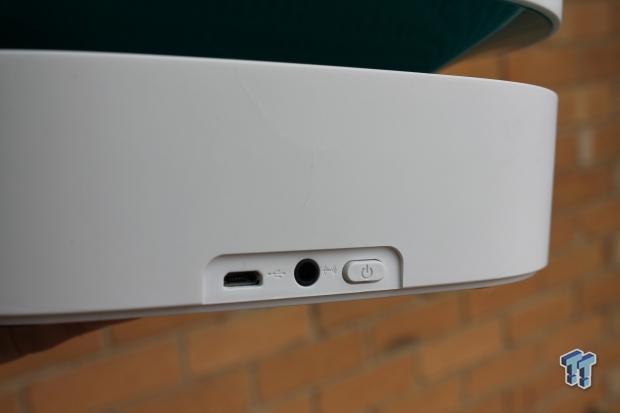 The internal battery is 1,000 mAh and will provide you with a claimed six hours of continuous play.
Pricing & Availability
The OAXIS Bento is not available on Amazon, but we found another online store at the time of writing listing it for $62.79 with free shipping. This puts the speaker in the middle ground of most others, under products like the Braven BRV-X and LUXA 2 Groovy W, but over the Braven Mira and the amazing sub-$30 Etekcity T12.
What's in the box?
Coming with the usual package of a 3.5mm aux cable and micro-USB charging cable, it's good to see that the aux is once again longer than the frustratingly-short two-inch inclusions that have become quite common in recent times.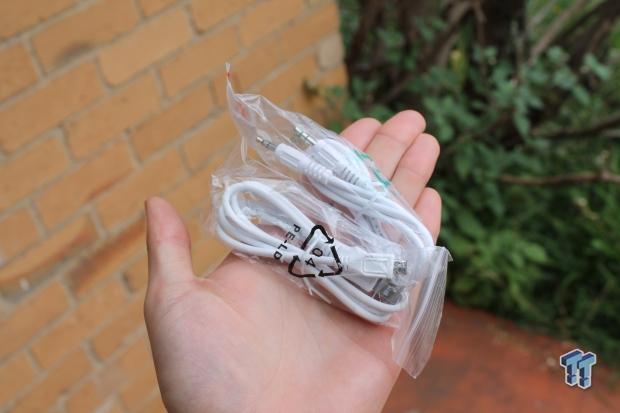 Unfortunately, there's no carry bag included in the package, it's something that I believe is a necessity in this day and age, only realistically adding around $3 to the asking price. Most people are buying these types of speakers for travel and use in different climates, I think a carry bag is a handy 'just in case' inclusion.
A Closer Look, Listening Experience and Final Thoughts
Let's dig deeper
The speaker design looks quite futuristic which is why it would have won the award, I am assuming. The color scheme is great and the four non-slip rubber pads on the bottom do a great job in ensuring the speaker doesn't move around. And this is something I feel most reviewers overlook as some speakers will scuttle across the desk at full volume.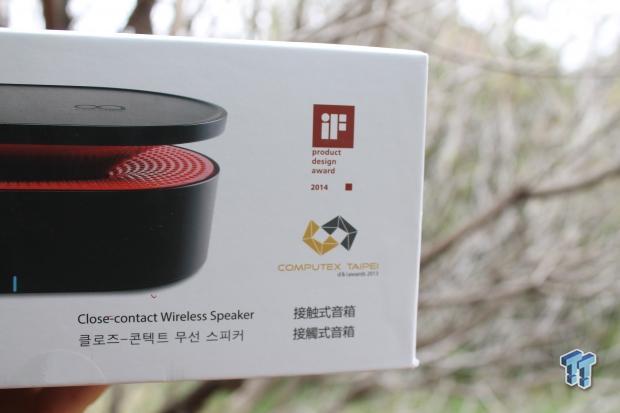 The speaker volume is acceptable and the 360-degree sound projection is good too. It's not quite as loud as some of the other models and I would keep this as an at-home product rather than an outdoors picnic or BBQ option.
As seen with other high-quality speakers when played at full volume, there is no distortion of the speakers and no bass rattling the product's frame. When listening to Flume's remix of Disclosure and Eliza Doolittle's song You & Me, the real lack of bass becomes apparent, as is fairly common with portable speakers. Music sounds better through the 3.5mm connection when compared to the close-contact only option, however, it's quite disappointing overall.
The power button buttons feels great and the AUX jack has a solid connection, alongside the unit as a whole being quite sturdy.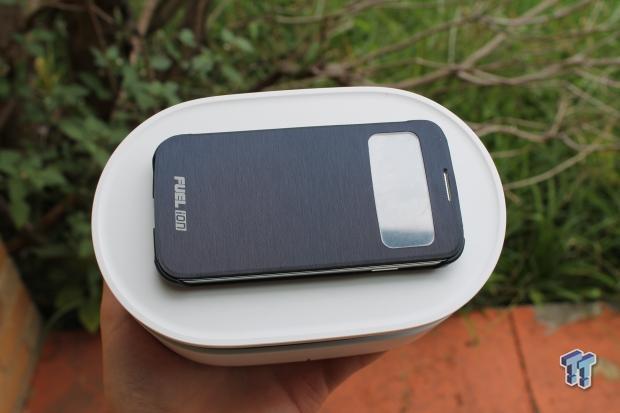 Bento... box?
If your phone speaker is in a hard to reach area, you may have some issues as you need to line up the speaker directly with the line on top of the product to allow the sound pickup to work effectively. However, as mentioned previously, it sounds a little better when listened to through the aux 3.5mm connection rather than simply placing your phone on top.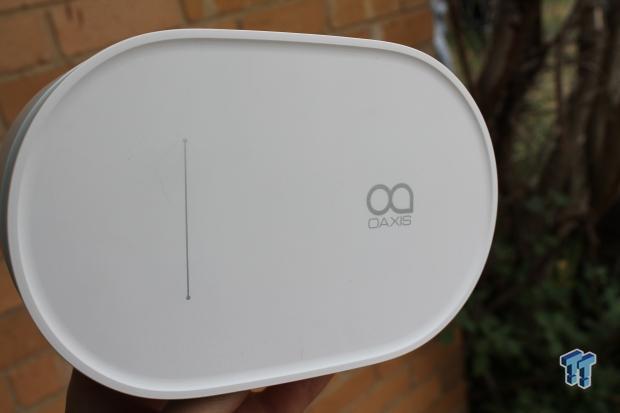 Loading up 'Don't Wanna Fight' by Alabama Shakes produces an average experience of washed out clarity mixed with an apparent lack of bass.
The clarity is unfortunately one of the lowest I have reviewed thus far and it really sounds like what you might expect - an amplification of your phone speaker. Once again, when plugging in an AUX 3.5mm cable, it's a little better, but still no where near something like the Etekcity T12. Listening in to Duke Dumont's 'Wont Look Back' reports another negative experience of washy sound and lack of bass.
If you're looking for more of a heavy metal experience like 'The End of Heartache' by Killswitch Engage, it performs just as you would expect as seen with the other songs above.
It's a great idea, the product looks awesome, it's sturdy and well priced for what it is, but the sound just doesn't keep up. Re-release this with a $10-$15 higher price tag and speakers that are double the quality and you've probably got yourself a great product.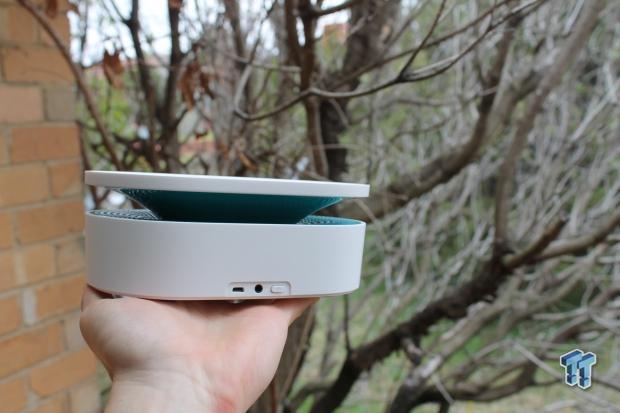 I feel that all the price here is going into the design aspect, which looks great, but performance does not match.
What's Hot
Sturdy and sleek: It's well built and looks great.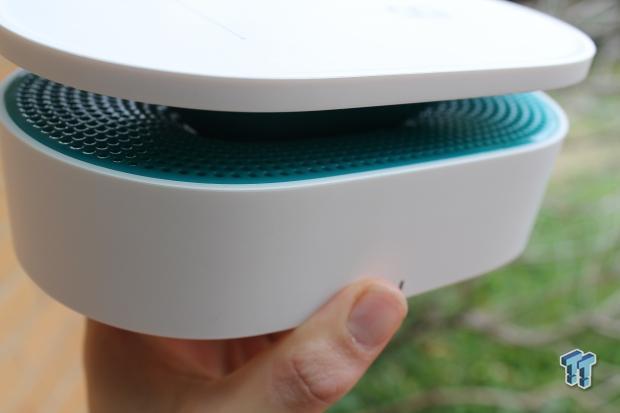 Sound projection: The 360-degree sound is a great idea and I wish to see it more in other models.
The technology: Everything about this product is a 'great idea'.
What's Not
The sound: It's just not up to an acceptable level and that lets the product down as a whole.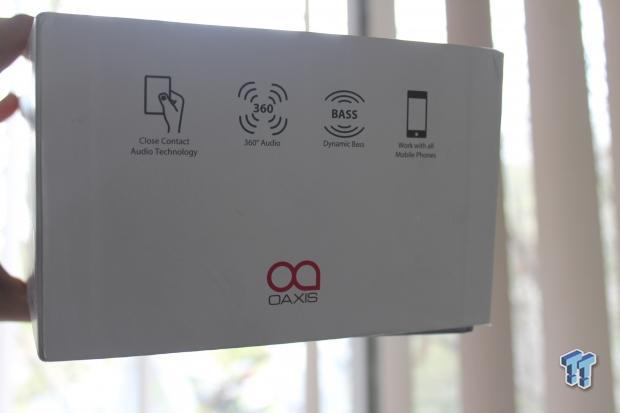 Final Thoughts
This speaker looks great and it's filled with awesome technology and ideas, but the sound performance does not match.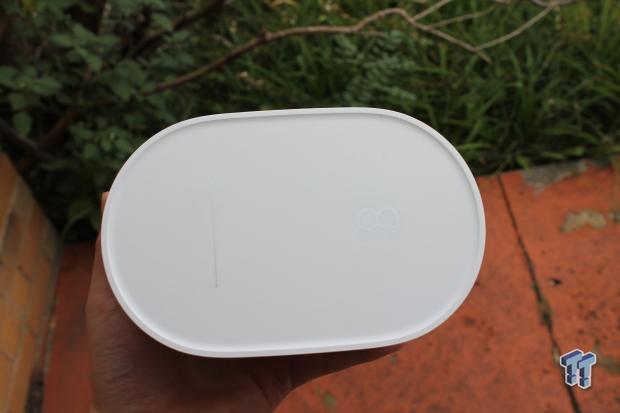 I honestly feel that all the price here is going into the design aspect, which looks great, but performance does not match. If this product could be released with a re-worked speaker, I think that the design construction, color scheme and 360-degree feature will make for an extremely solid product. It needs work.
| | |
| --- | --- |
| Performance (audio quality) | 45% |
| Quality including Design and Build | 80% |
| General Features | 85% |
| Bundle and Packaging | 80% |
| Value for Money | 70% |
The Bottom Line: OAXIS Bento's Close-Contact Induction wireless speaker looks great and it's filled with awesome technology, but the sound performance does not match.
PRICING: You can find products similar to this one for sale below.

United States: Find other tech and computer products like this over at Amazon.com

United Kingdom: Find other tech and computer products like this over at Amazon.co.uk

Australia: Find other tech and computer products like this over at Amazon.com.au

Canada: Find other tech and computer products like this over at Amazon.ca

Deutschland: Finde andere Technik- und Computerprodukte wie dieses auf Amazon.de