Intel NUC5i5RYK NUC Mini PC (with Broadwell) Review
Intel's Broadwell has finally arrived in the ultra-small form factor PC, the Intel NUC5i5RYK. Today Steven gives us a full rundown on what it can do.
Published Tue, Feb 24 2015 3:04 PM CST
|
Updated Tue, Nov 3 2020 6:59 PM CST
Rating:

92%
Manufacturer: Intel
Introduction, Specifications, and Pricing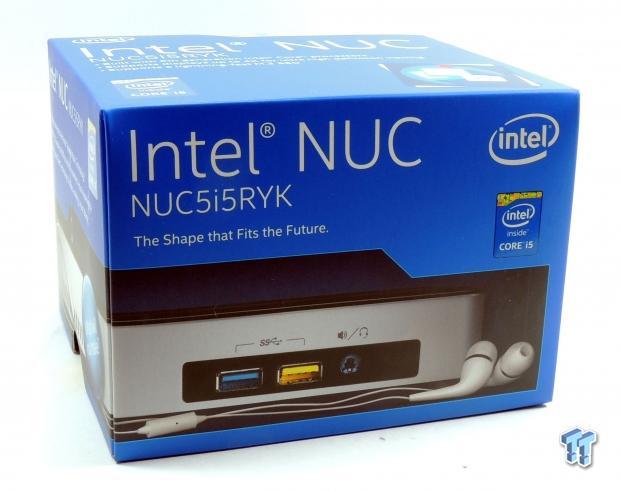 Intel isn't new to the ultra-small Mini-PC game; they have been extremely successful in the past with their NUC lineup. Today I take a look at one of Intel's latest NUCs, it features the brand new Broadwell micro-architecture which brings the promise of high performance coupled with low power usage.
The Intel Core i5-5250U packs 2 cores/4 threads with a 2.7GHz turbo clock speed all at a cool 15W TDP. The NUC lineup is known for packing in as many features as possible into a tiny little box that can be affixed to the back of a television or sit casually on top of your desk.
Without further ado, let me introduce you to Intel's NUC5i5RYK.
Specifications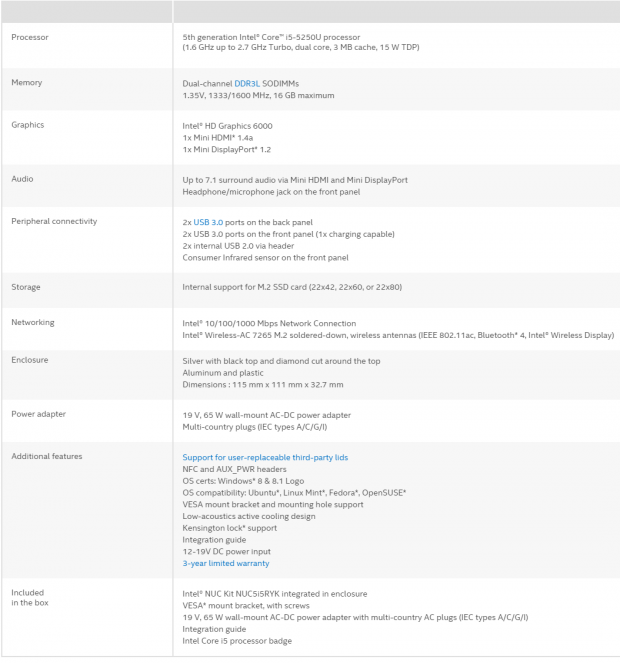 This latest NUC is capable of supporting some of the latest and greatest technologies including Intel's new Wireless-AC 7265 M.2 controller which also supports the latest WiDi and Bluetooth technologies.
As far as video goes, the new NUC supports both mini-HDMI 1.4a and mini-DisplayPort 1.2 powered by Intel's new HD6000 graphics core. This mini-PC carries specifications comparable to a full-tower desktop machine, which is exactly the point of such a compact machine. Intel plans to give the majority of users what they need out of a desktop experience without a large box sitting at their feet.
Pricing
At $376-400, the NUC5i5RYK isn't a cheap product. It also needs DDR3L, an M.2 drive for storage, and an OS. With those added on, the price tag can shoot upwards of $650.
We tested the NUC with two types of M.2 SSDs; one mainstream 360GB unit from Intel and a 256GB high-performance module from Samsung.
PRICING: You can find the Intel Next Unit of Computing Core i5-5250U 7.1 USB 3.0 BOXNUC5I5RYK for sale below. The prices listed are valid at the time of writing but can change at any time. Click the link to see the very latest pricing for the best deal.
United States: The Intel Next Unit of Computing Core i5-5250U 7.1 USB 3.0 BOXNUC5I5RYK retails for $399.98 at Amazon.
Packaging and System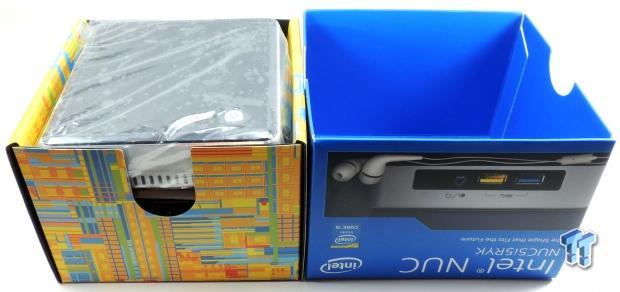 Intel's circuit marketing design is one I have come to love, it just has the perfect amount of complimentary color contrast, which makes enthusiasts like me adore the box as much as the product. The box is just as small as the product itself and the NUC is very well protected from the elements.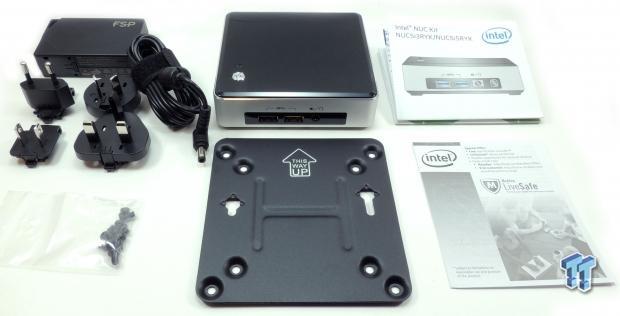 The box includes an FSP branded AC/DC power adapter with inserts for the different wall sockets you will find in regions around the world. A VESA plate with screws is included and there is also a decent guide on how to set everything up.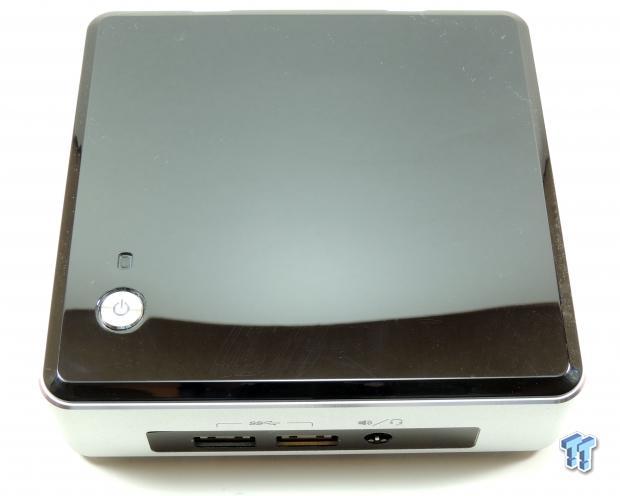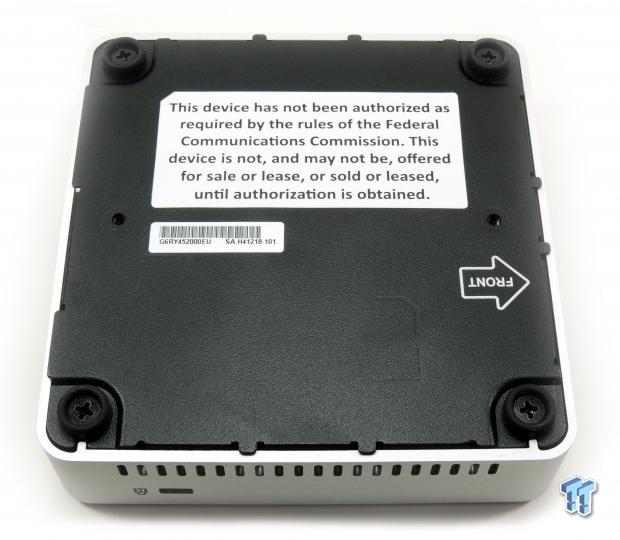 The top is very simple and elegantly designed. A little HDD status indicator light is also located right above the pushbutton. The bottom is what you might expect form a unit you need to open to use, four screws is all it takes to unveil the circuitry underneath. The rubber feet felt sturdy and I opened and closed the unit many times without any noticeable wear to the rubber feet.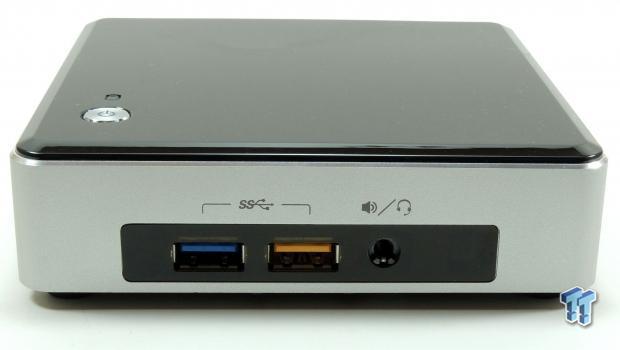 The front is simple, two USB 3.0 ports and a headphone jack. The yellow USB 3.0 port is a charging port capable of fast charging your devices. I have used it a few times for my phone and it works very well, as fast as charging directly from the wall.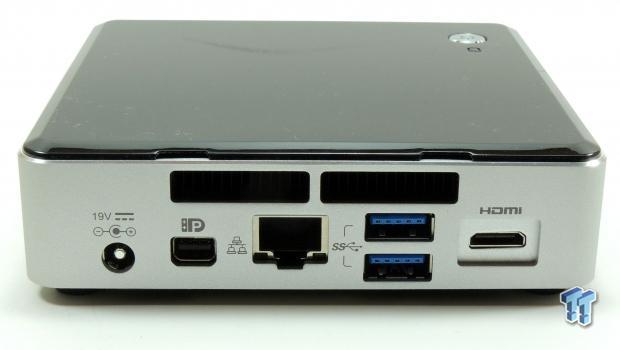 The back features two USB 3.0 ports, RJ-45 1GBit LAN port, DisplayPort 1.2, mini-HDMI 1.4a port, and a DC power input jack. The two rectangular slots at the top of the unit are for the exhaust from the CPU blower fan.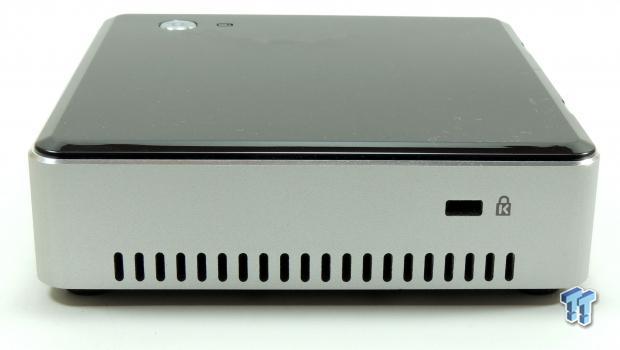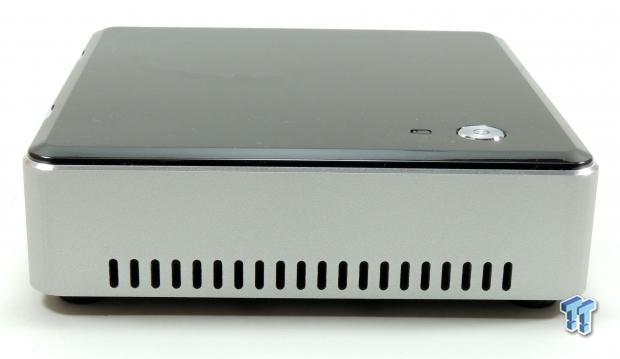 Both sides are pretty simple and have slotted bottom for air intake. There is also a Kensington lock slot.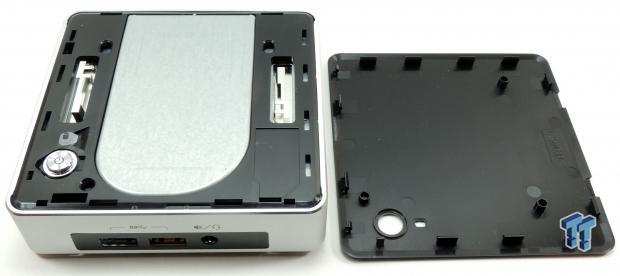 What is unique about the new NUCs is that you can remove the top easily and replace it with a customized one. More interesting is the prospect of add-ons such as a TV tuner or another device that could expand the usefulness of the mini PC.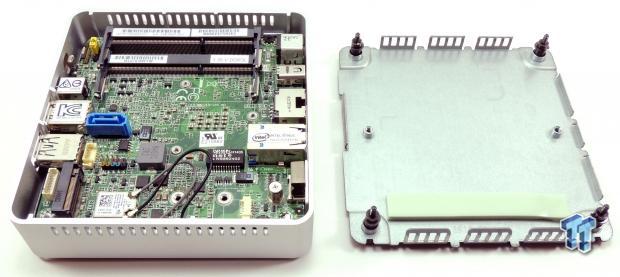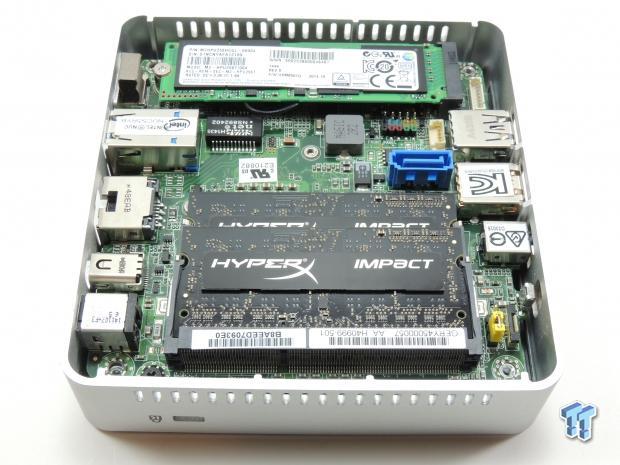 Opening the NUC and installing the M.2 drive and memory is a breeze. Notice that there is a large thermal pad on the lid which covers the length of an M.2 drive. That thermal pad is a must if you use a high performance M.2 drive like the Samsung XP941. You will notice there is also an SATA port for a SATA DOM, which isn't a very widely used storage method.
Teardown of the NUC
The Teardown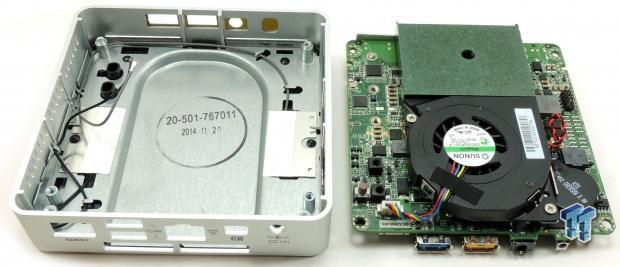 The removal of the PCB from the chassis wasn't tough, but you do need to remove the antennas from the built in WIFI/BT/WiDi card. You will notice that the chassis is being used as a giant antenna for the WIFI/BT/WiDi.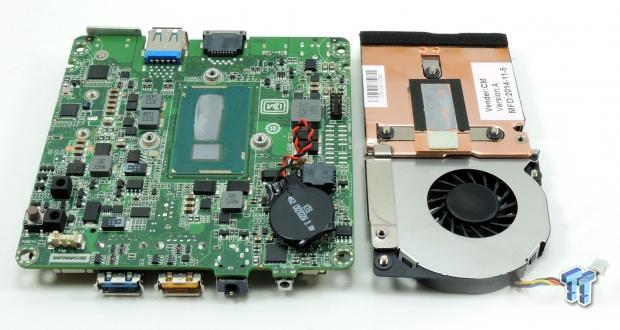 The cooler is almost all copper and even though the fan is small in size, it doesn't produce much noise. The thermal paste makes good contact with the Broadwell SOC.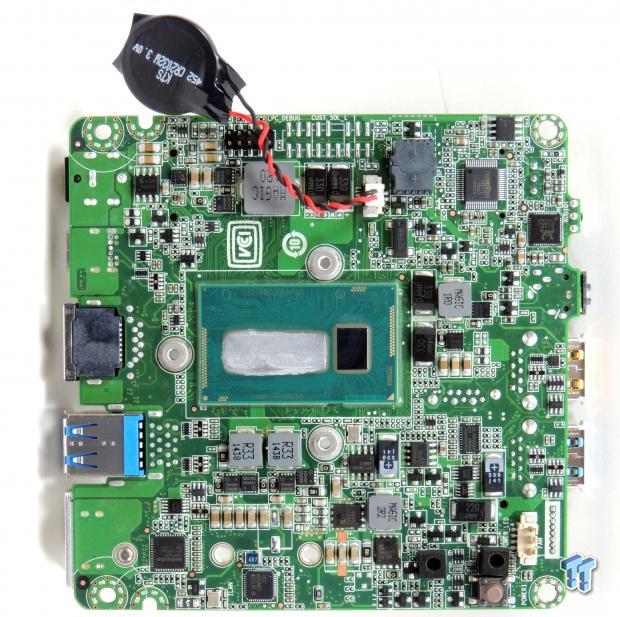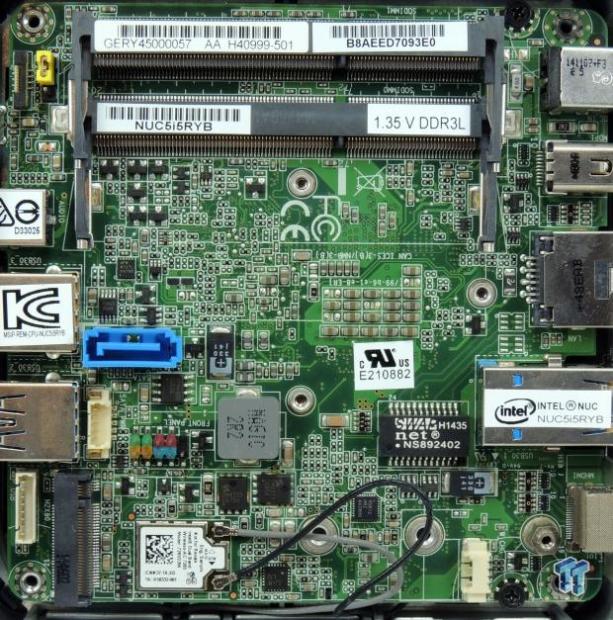 The free hanging battery pack is used to ensure CMOS settings are not lost when power is disconnected. Most of the chips you see on the PCB are power regulation components, as the input power can vary depending on the AC/DC adapter used and many parts of the NUC use different power rails. However, there are a few chips that have major functions.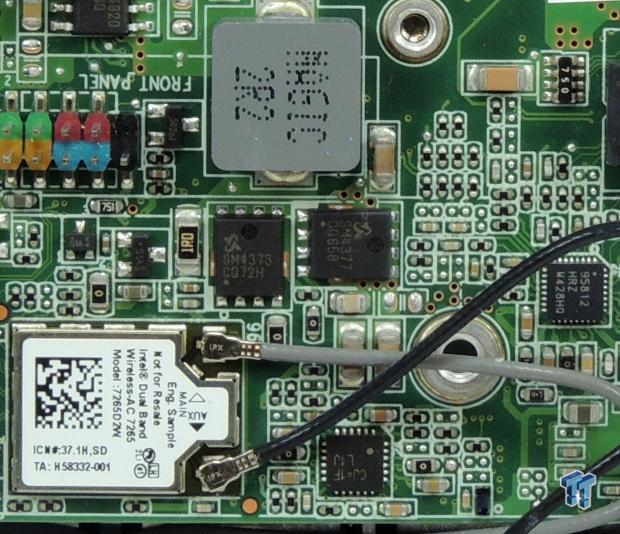 Soldered onto the PCB is Intel's new Dual Band (2.4/5GHz) Wireless AC 7265 which provides speeds up to 867Mbit/s (2x2). It also supports Intel's latest WiDi technology and Bluetooth 4.0. There are also two other chips of interest, the first is an Intersil ISL95812, which is a 3-phase PWM (two integrated drivers), all three phases are being utilized for the CPU. Another chip of interest is a Richtek RT8205, marked in code "CJ=1F" like most Richtek ICs, it is in charge of regulating the input power to the NUC.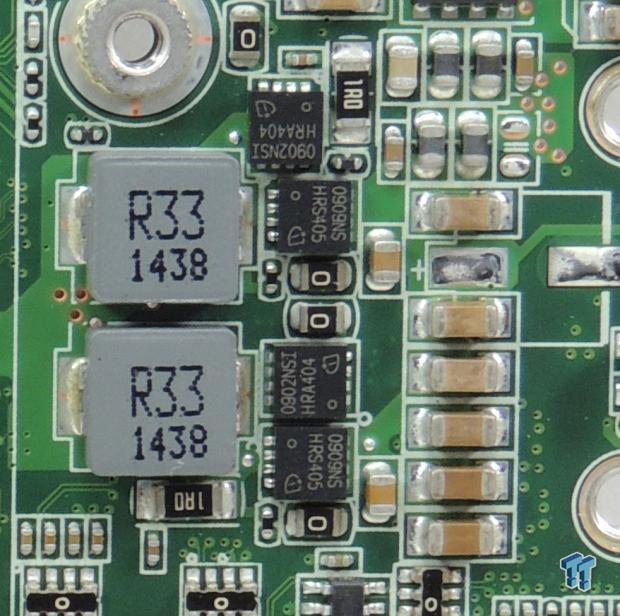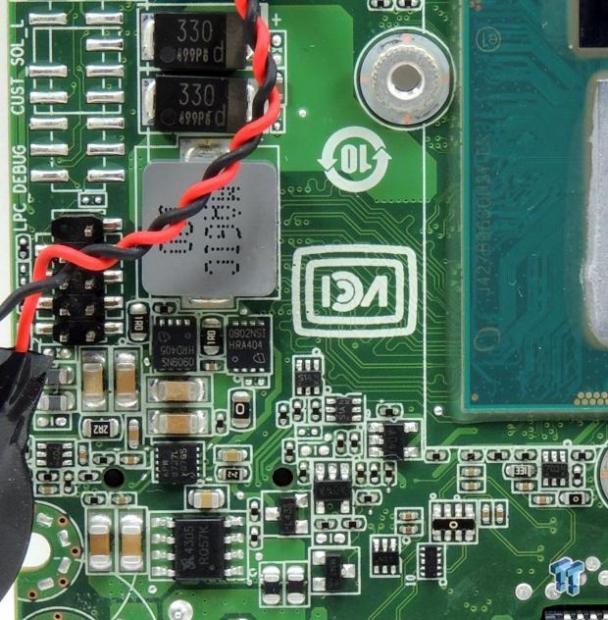 On the left, we have two of the three CPU VRM phases featuring Infineon Opti-MOS BSC0902N for the low-side and BSC0909N for the high-side. These are high quality MOSFETs which should provide very low operating temperatures. The image on the right is the DDR3L VRM which uses a single phase Anpec APW8727 PWM+driver and the same MOSFETs as the CPU VRM. All power delivery components are top notch, which is what you would expect from an Intel product.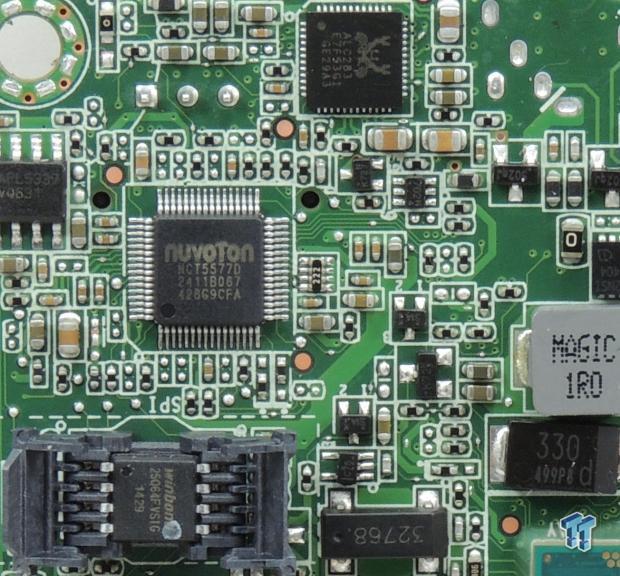 A nuvoTon NCT5577D is the Super IO in charge of fan control, temperature and voltage monitoring, as well as the IR receiver. A Realtek ALC283 is used for audio and a 64Mbit (8MB) BIOS ROM is encapsulated in a removable DIP socket in case you ever need to replace it.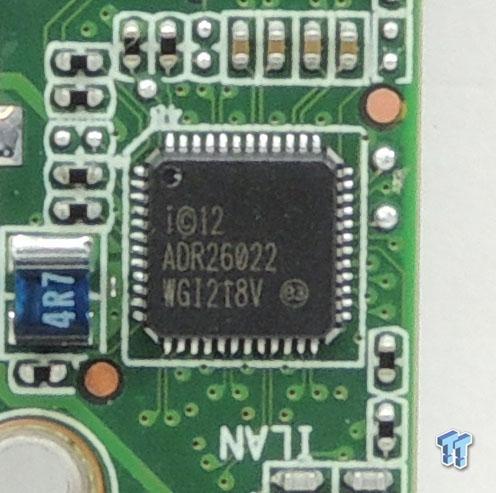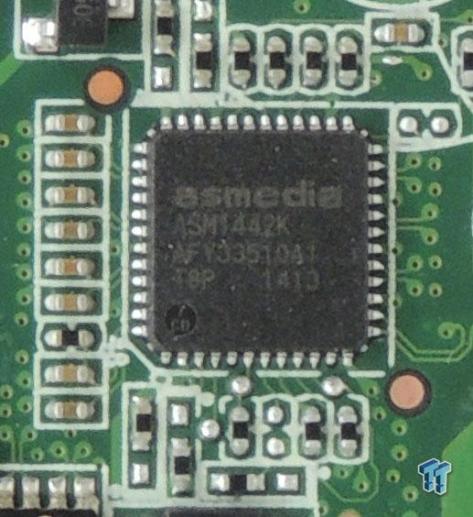 Intel is using their i218v which is their latest generation 1GBit NIC compliment and it features ultra-low power operation. An ASM1442K is used to convert the native digital video output to HDMI.
BIOS
The BIOS
Intel has done a wonderful job with their BIOS. It rivals that of many motherboard manufacturers when it comes to simplicity and intuitiveness.
Granted, you won't spend much time in here, but all the options you could want are present. You can even overclock your DDR3L to some extent.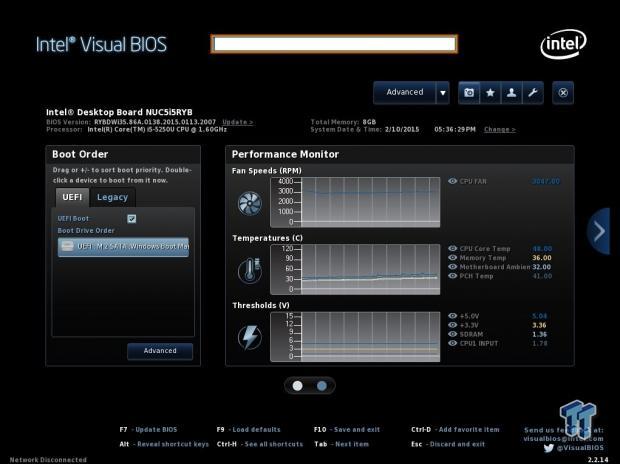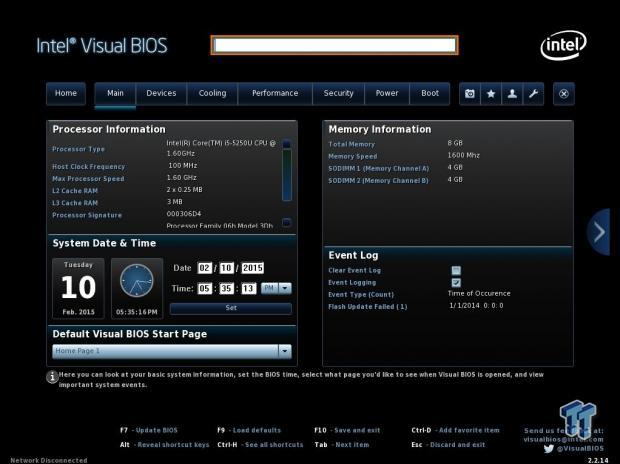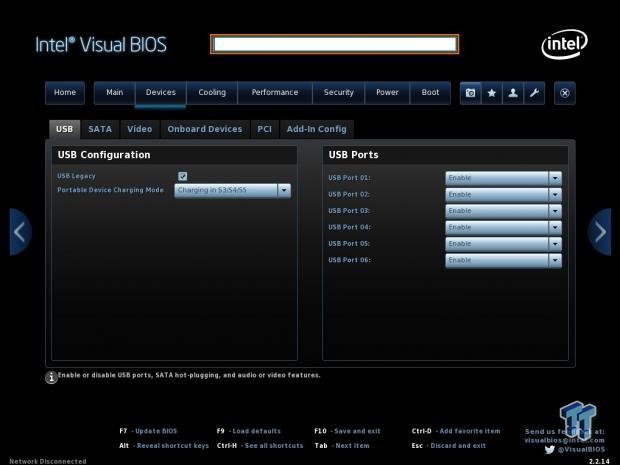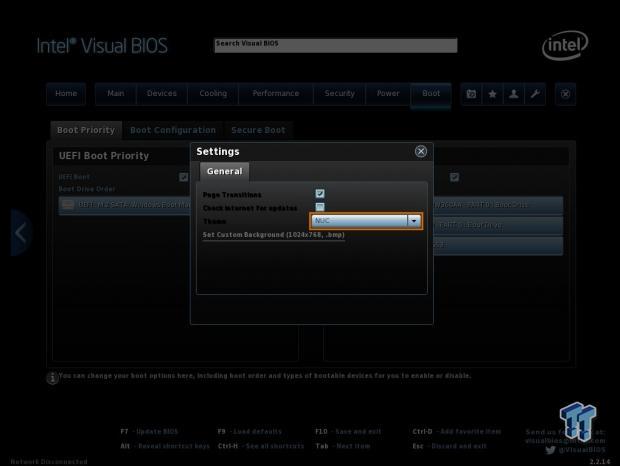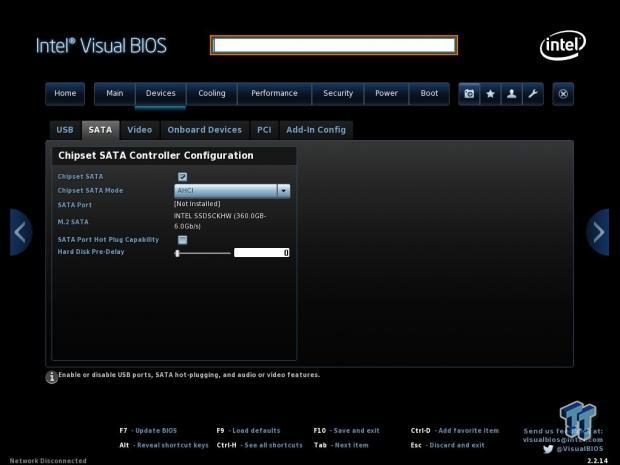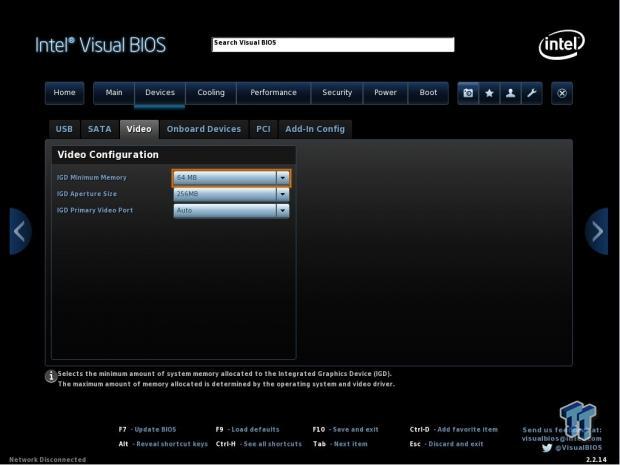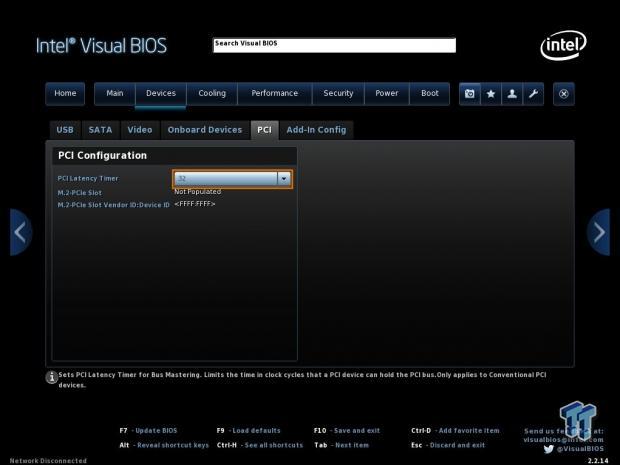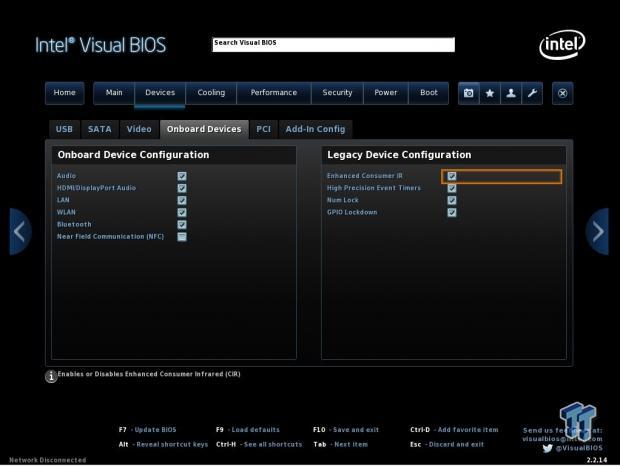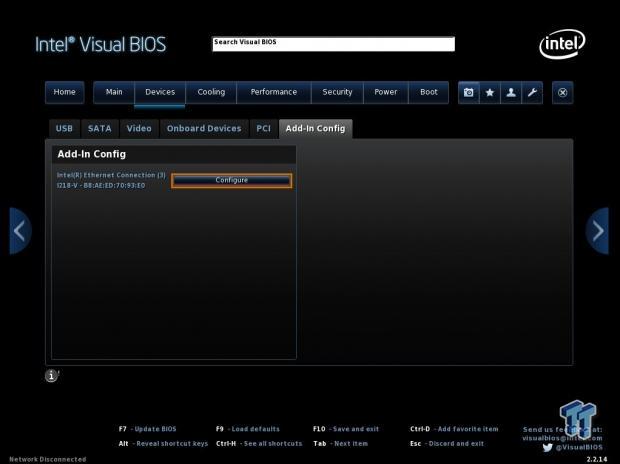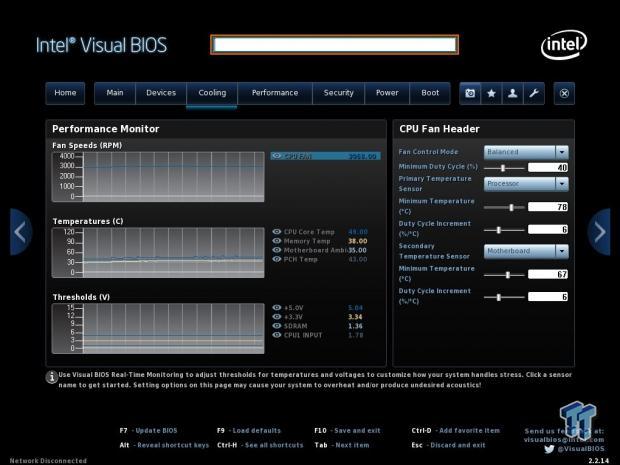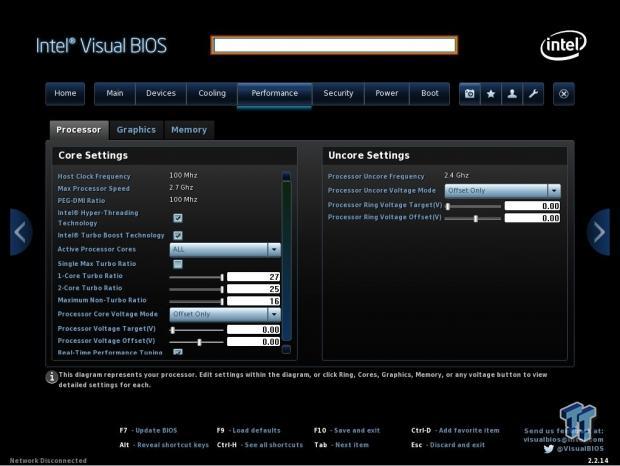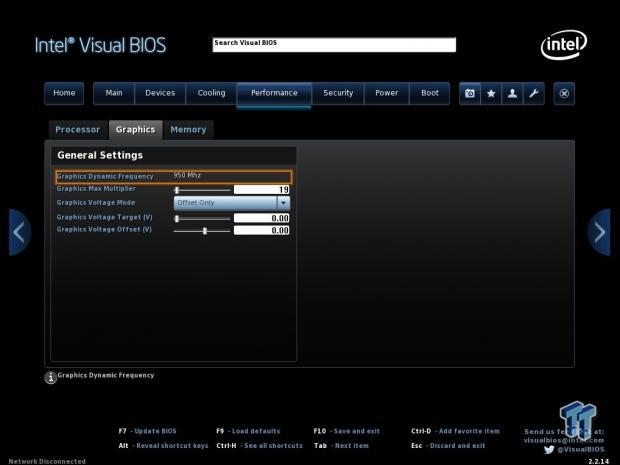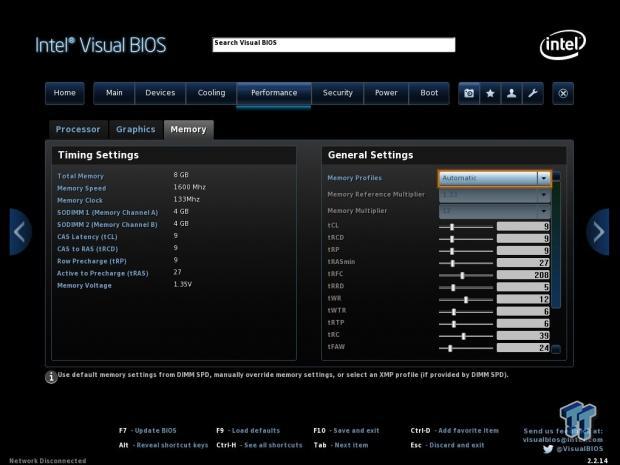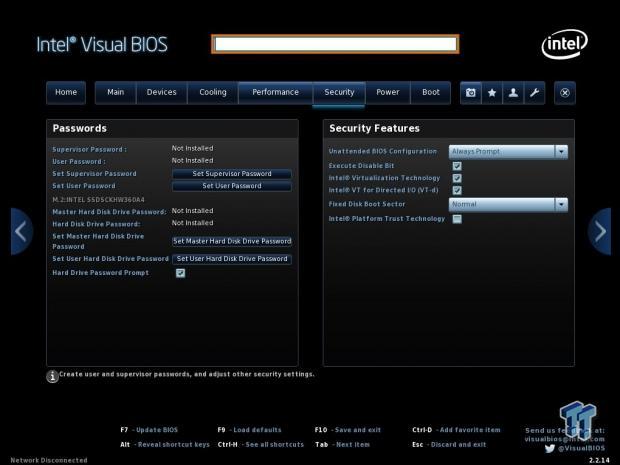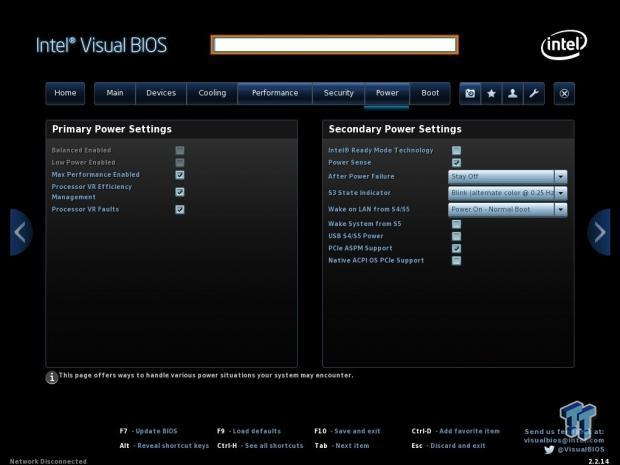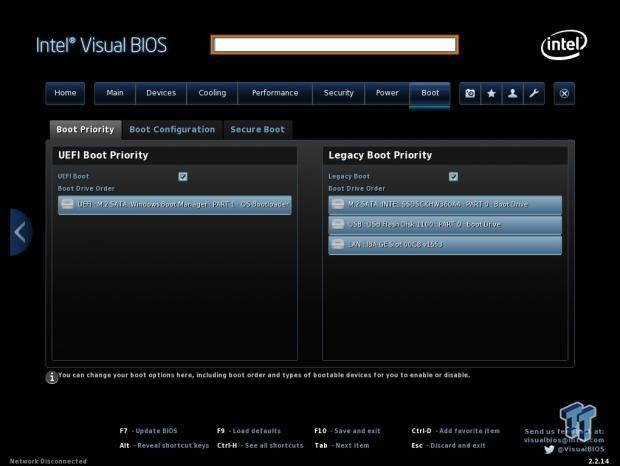 Test Setup and Benchmarks
Test Setup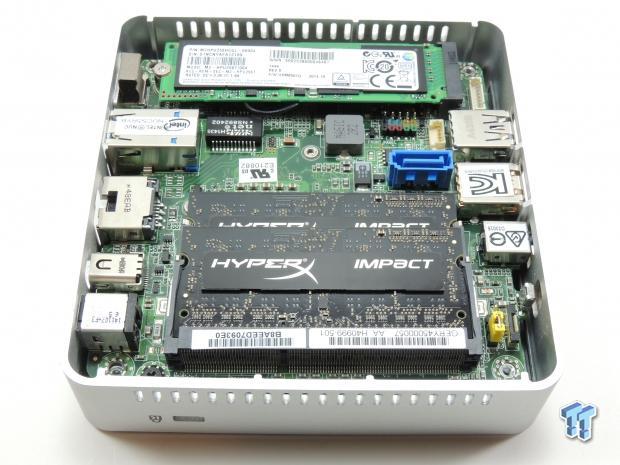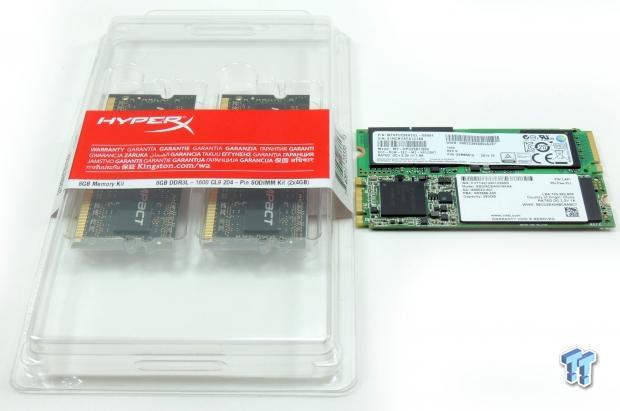 I had the opportunity to use some high quality Kingston HyperX Impact (8GB) DDR3L rated at 1600MHz and two SSDs.
The first SSD is Intel's 530 360GB M.2 drive which is a mainstream part, and Samsung's XP941 240GB which is an enthusiast part. I have separated results for both in storage testing, system testing, and thermal testing as storage makes a noticeable difference in those tests.
I also decided to toss in an Ultrabook into the benchmarks, the Ultrabook is a GIGABYTE U2442N which features a dual-core Ivy Bridge CPU and a dedicated NVIDIA GT 640M for comparison.
CPU, Memory, and System Benchmarks
CINEBENCH 11.5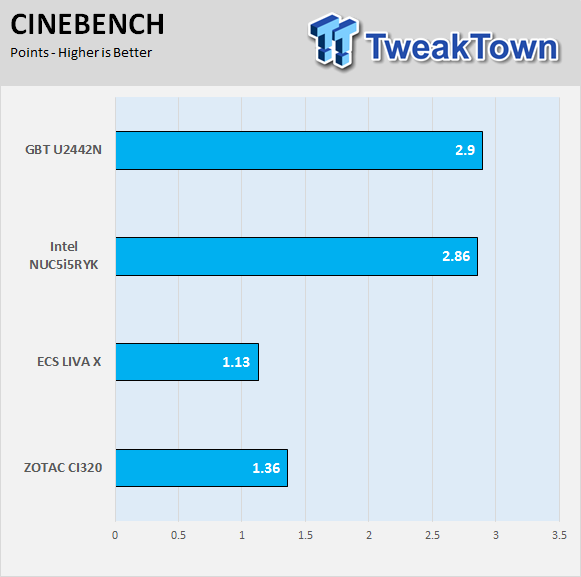 HyperPI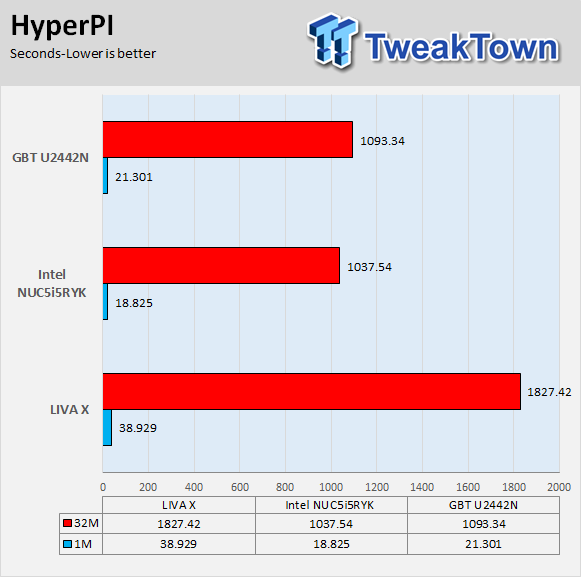 AIDA64 AES and HASH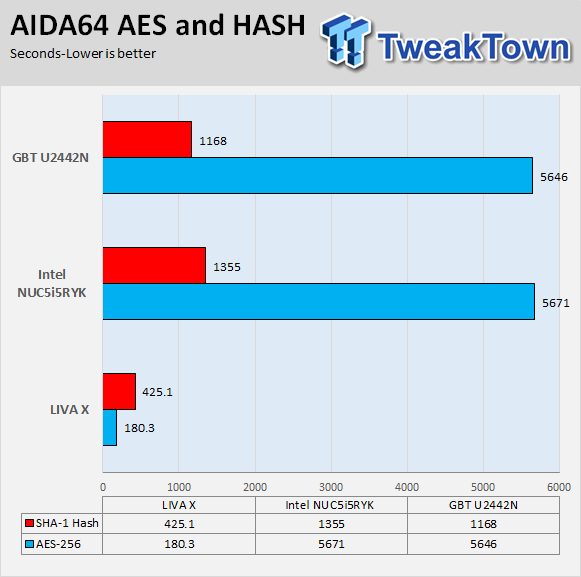 wPrime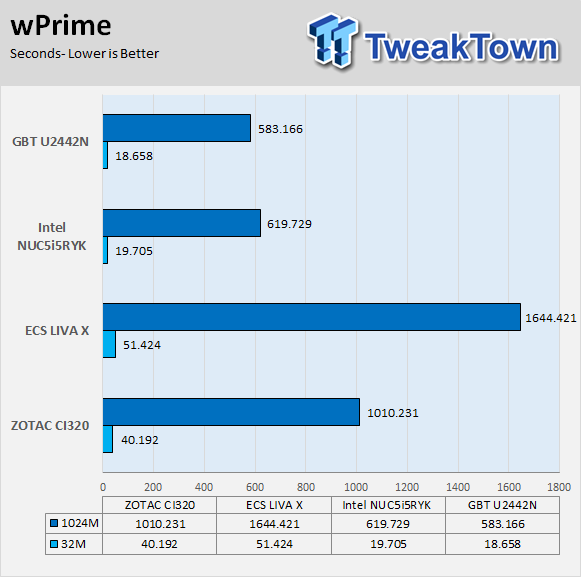 AIDA64 Memory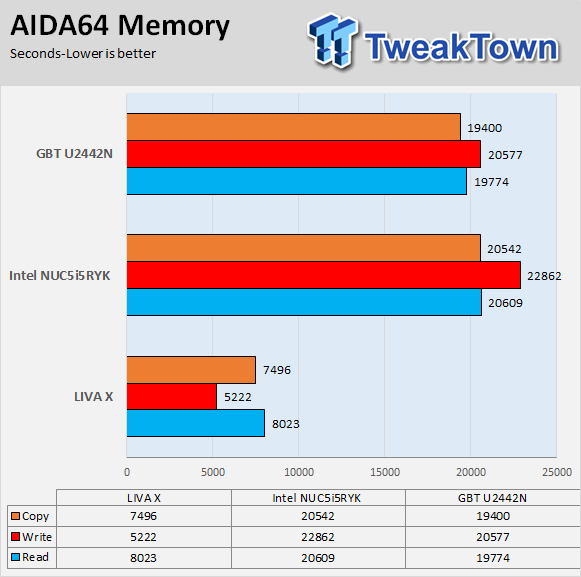 PCMark8 Home Test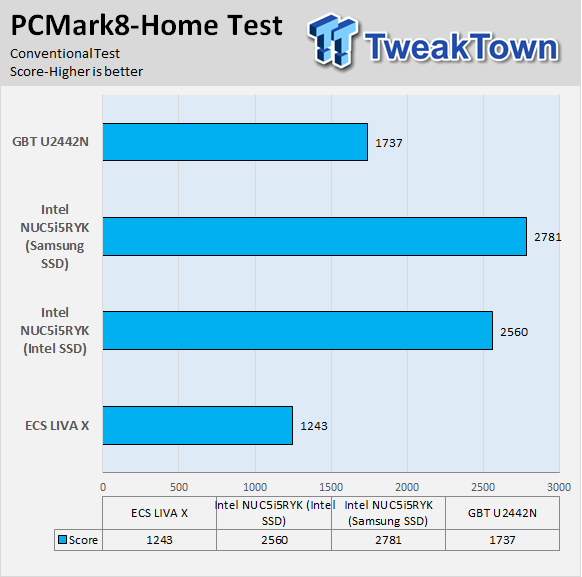 PCMark8 Work Test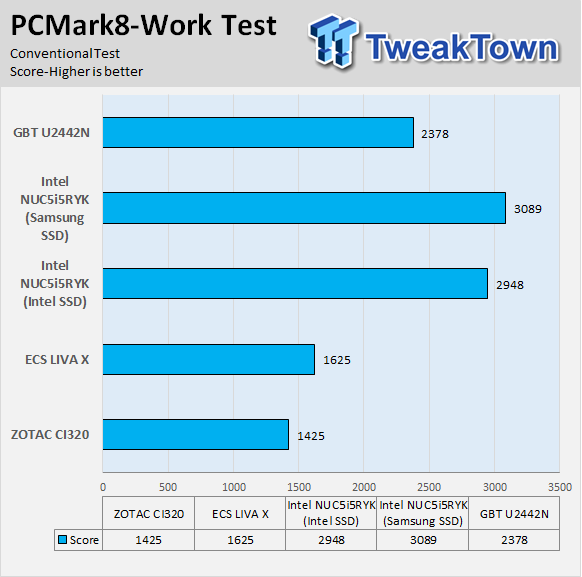 The Intel NUC5i5RYK and the Ivy Bridge based Ultrabook are very close, despite the fact that the NUC5i5RYK draws half the power and that the Ivy Bridge CPU runs faster than the i5-5250U. Memory performance of the NUC5i5RYK is very impressive as well.
Graphics Benchmarks
3DMark Vantage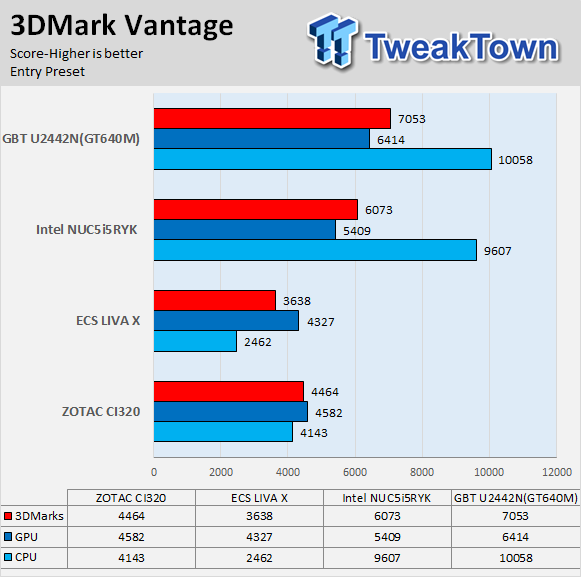 3DMark11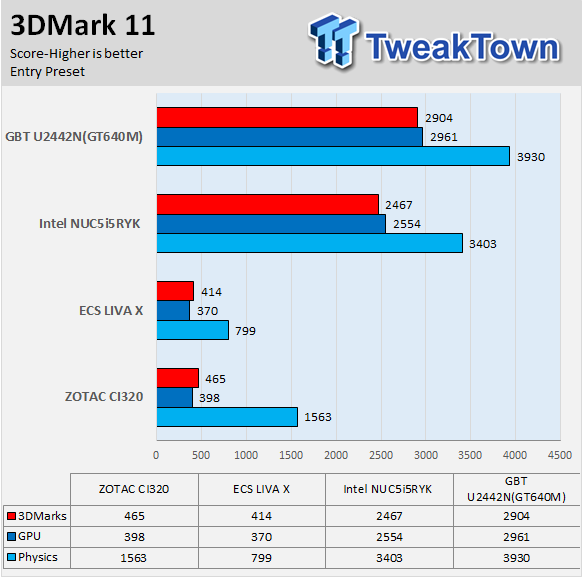 UNIGINE Heaven 4.0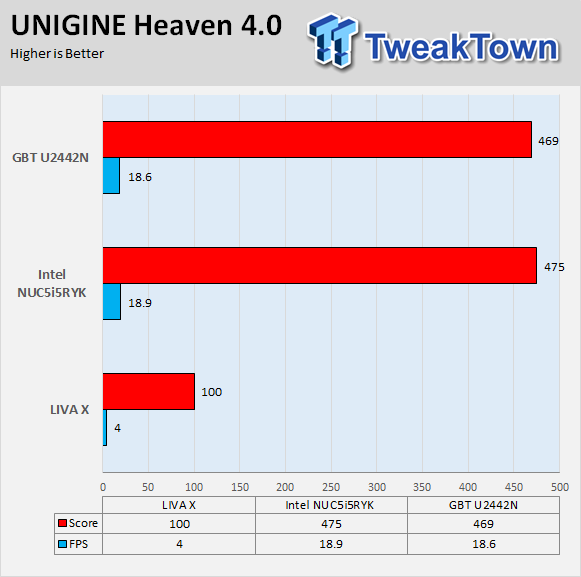 Lost Planet 2 DX11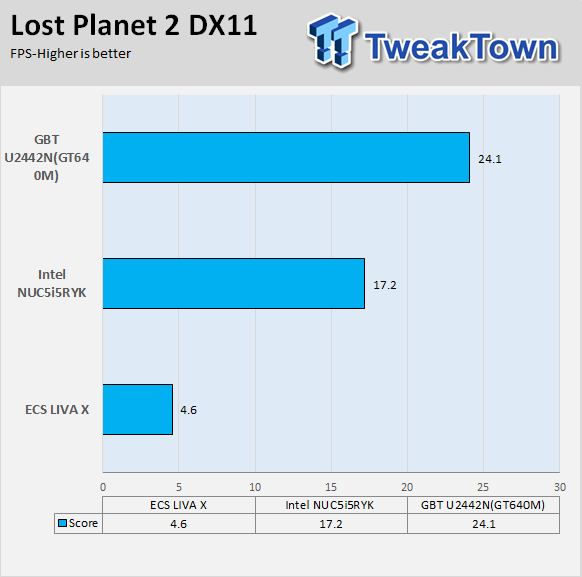 Resident Evil 6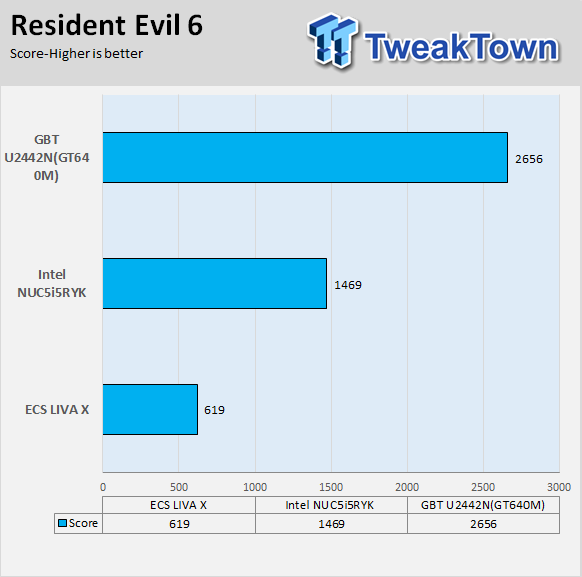 The Intel NUC5i5RYK has HD6000 graphics, but the Ultrabook is using a GT640M, which is a discrete graphics adapter which accounts for the Ultrabook coming out ahead. However, the UNIGINE results are interesting as the HD6000 beats the GT640M.
System IO Benchmarks
Storage and Network Performance
CrystalDiskBench-Read: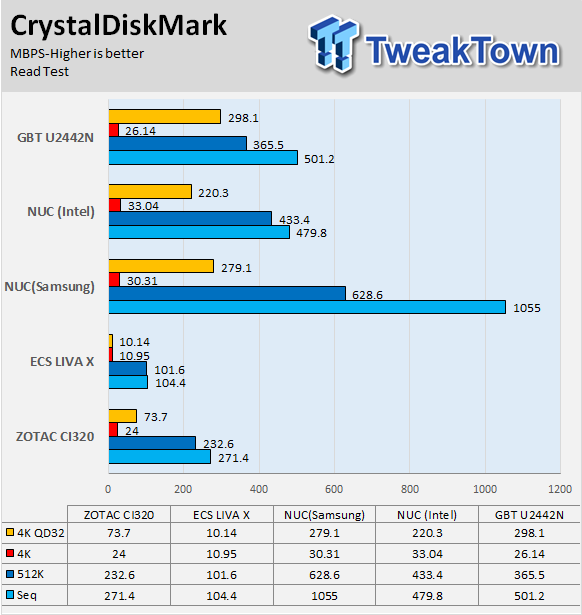 CrystalDiskBench-Write: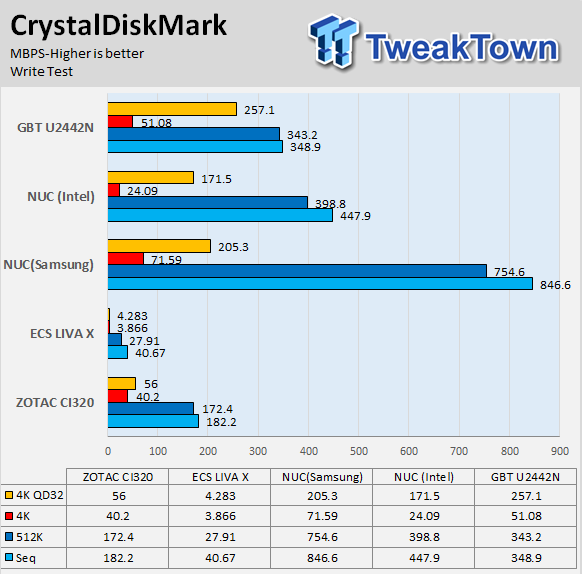 When it comes to strage, M.2 is the way to go for consumers looking for speedy performance. Intel's 360GB 530 series drive performs at the edge of what a single SATA6G port provides, however, Samsung's XP941 256GB performs magnificently. The M.2 slot is performing like a 4x PCI-E 3.0 M.2 slot on a motherboard.
ixChariot Network Throughput: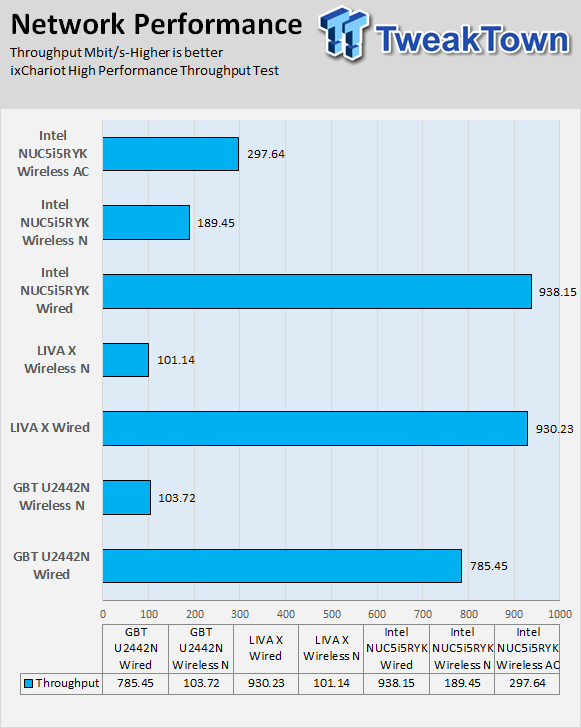 Network performance of the NUC5i5RYK is decent; the Intel NIC provides network throughput like a desktop, wireless AC performs modestly compared to some other AC devices, and wireless N is much faster than the LIVA X.
Temperature and Power Consumption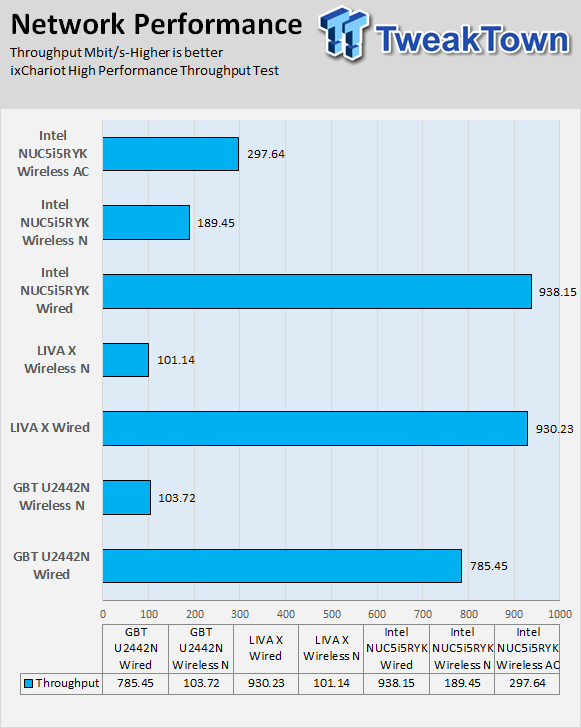 While the NUC5i5RYK isn't the lowest power device, it does have one of the largest deltas between idle and load power usage. This points to extremely effective power saving features built into the SOC and into the system as a whole.
The NUC5i5RYK is only bested by the ECS LIVA X which isn't even close in CPU or GPU performance to the NUC. What is very impressive is that even at full power draw, the NUC produces little noise.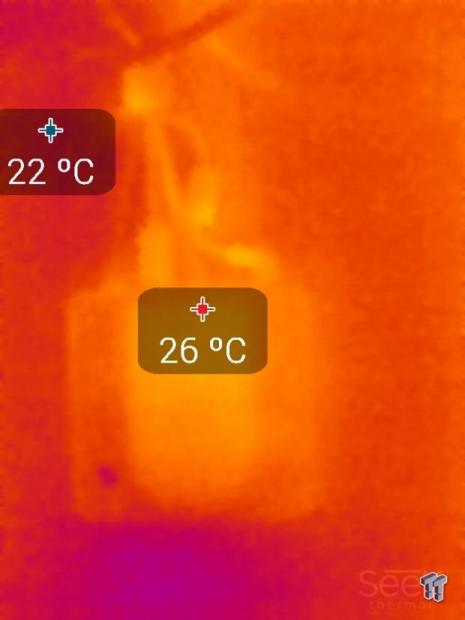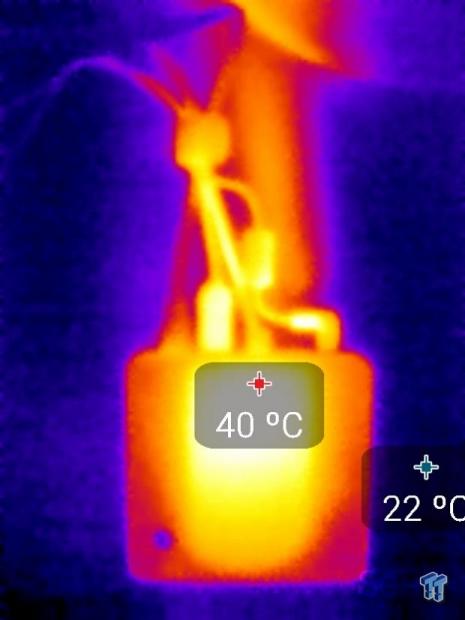 Shots of the NUC5i5RYK idle and load. I ran AIDA64 stability test at the same time as 3DMark Vantage to load the CPU, memory, and graphics. You can actually see the shape of the cooler on the SOC.
Mainstream vs. Enthusiast M.2 Drive Thermal Comparison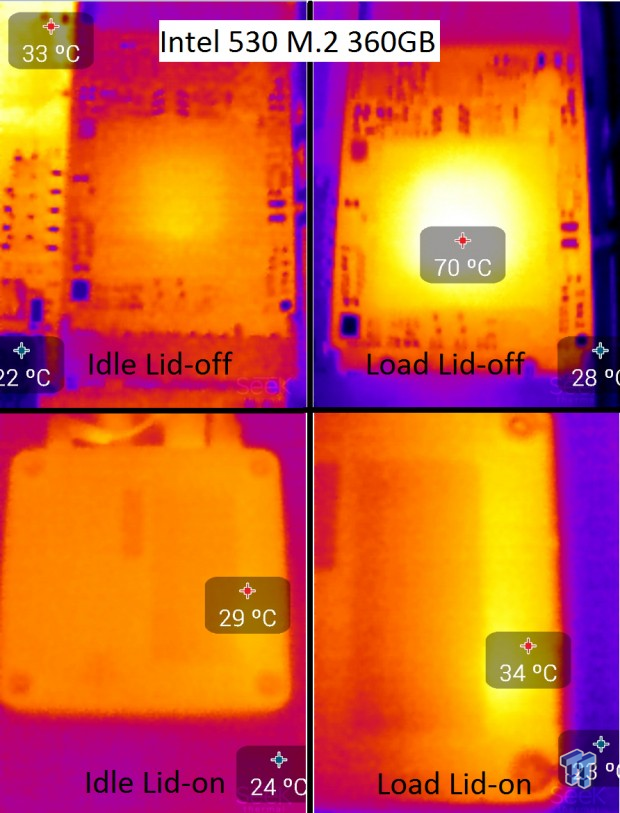 This is Intel's 360GB 530 series M.2 drive. It has a TDP of 5.5W and without a heat sink it goes from below 33C to 70C during full load. The lid on the NUC provides a thermal-pad which cools the M.2 drive, and with the lid on it goes from 29C to only 34C.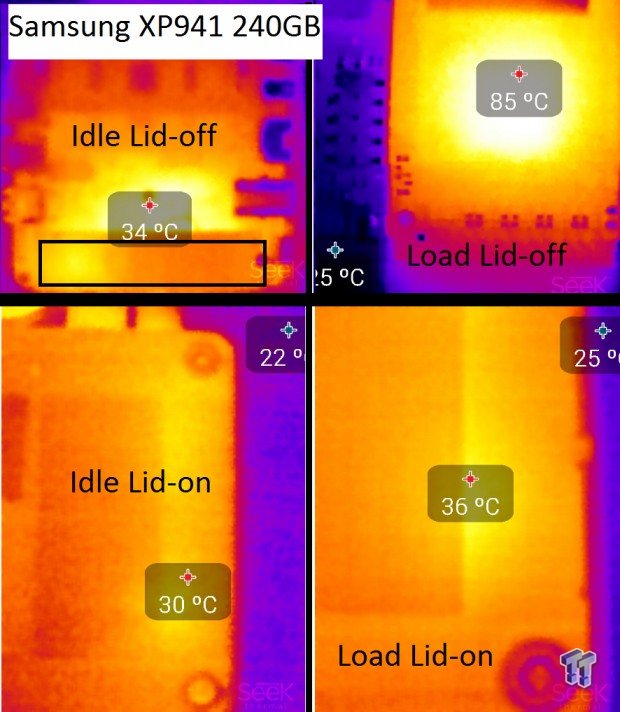 This is Samsung's XP941 240GB M.2 drive, known for super-fast performance utilizing 4x PCI-E lanes, it goes from below 34C to 85C, which is very hot. With the lid applied it goes from 30C to 36C, which is only a few C hotter than the Intel drive. The TDP on this drive is 5.87W which is possibly why I didn't see any major power consumption differences, but the temperature difference is very apparent with the lid off.
Final Thoughts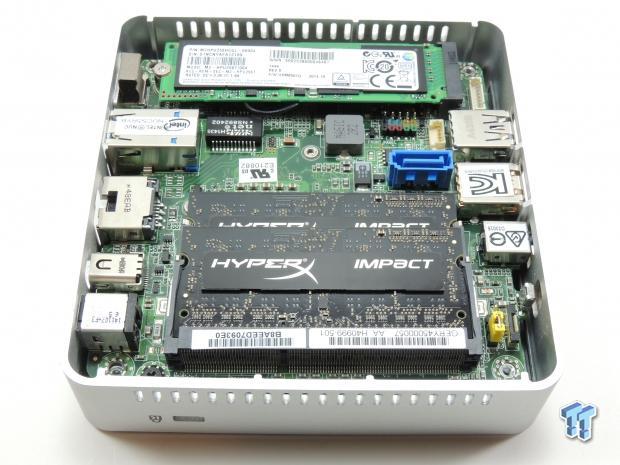 I like my computers to be power hungry machines with ultra-leaky transistors, I like ultra-fast performance no matter the cost, and the Intel NUC5i5RYK scares me.
My preconceived notion was that it would be a device meant to do one thing at a time, and not really suited for a 24/7 machine - I was wrong to judge the device by its size. The Intel NUC5i5RYK scares me because I fear the end of the old fashioned desktop, I love having so much power in the palm of my hand that I forgot how I really wield it.
Apart from gaming, high throughput rendering and overclocking, a device like Intel's NUC5i5RYK can take care of almost all my other needs. I would have no problem using the NUC for 24/7 activities like surfing the web or writing reviews. In fact, it would be very well suited for such endeavors. Using this machine to play Netflix on my TV is something the LIVA X is better suited for, however, each device comes at a much different cost.
The cost is one of the NUC's weaknesses; at $400 it's already at the cost of an entry level PC, yet it doesn't have full functionality until you toss in some DDR3L and a mainstream or enthusiast M.2 drive like the ones tested. However, once you put together your customized NUC, there is little it cannot do with the exception of gaming.
While the Intel NUC5i5RYK did hold its own against a dedicated mobile GPU like the GT 640M, the GT 640M still doesn't support high-quality gaming on the latest titles. You will be able to play some games at lower quality settings, but if you want to game, a dedicated full-fledged PC is still the way to go.
The Intel NUC5i5RYK does an excellent job of showing off Broadwell's capabilities, in almost all aspects it's a stunner. When compared against an i5-3210M (35W) with a 2.5GHz base and 3.1GHz Turbo, the i5-5250U (15W) with a 1.6GHz base and 2.7GHz Turbo basically matches the same performance, but at slower speeds and less than half the TDP.
That kind of performance per watt increase is very impressive, and in this tiny package with vast storage capabilities, it is a hard product to match.
PRICING: You can find the Intel Next Unit of Computing Core i5-5250U 7.1 USB 3.0 BOXNUC5I5RYK for sale below. The prices listed are valid at the time of writing but can change at any time. Click the link to see the very latest pricing for the best deal.
United States: The Intel Next Unit of Computing Core i5-5250U 7.1 USB 3.0 BOXNUC5I5RYK retails for $399.98 at Amazon.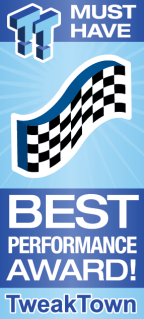 | | |
| --- | --- |
| Performance | 95% |
| Quality including Design and Build | 96% |
| General Features | 90% |
| Bundle and Packaging | 90% |
| Value for Money | 89% |
The Bottom Line: Intel's Broadwell-powered NUC5i5RYK NUC Mini PC not only offers the latest Intel Core i5-5250U with impressive performance per watt, but also blazing fast storage and expansion capabilities for an ultra-small Mini PC that is sure to impress for its size.
PRICING: You can find products similar to this one for sale below.

United States: Find other tech and computer products like this over at Amazon.com

United Kingdom: Find other tech and computer products like this over at Amazon.co.uk

Australia: Find other tech and computer products like this over at Amazon.com.au

Canada: Find other tech and computer products like this over at Amazon.ca

Deutschland: Finde andere Technik- und Computerprodukte wie dieses auf Amazon.de