ASUS SABERTOOTH Z97 MARK 1 (Intel Z97) Motherboard Review
Intel's latest chipset is the Z97, and today we check out our first Z97 motherboard coming from ASUS in the form of the SABERTOOTH MARK 1. Let's go!
Published May 15, 2014 12:48 PM CDT
|
Updated Tue, Nov 3 2020 7:00 PM CST
12 minute read time
Introduction and Package
Introduction of the ASUS SABERTOOTH Z97 MARK 1
When you talk about worst kept secrets, the Haswell Refresh on a whole has to be one. The whole thing got so bad that it just felt like Intel no longer cared what people did with it. If you had it, just review it. They seemed to just throw their hands in the air and give off the vibe that they just don't care what people do.
After testing the i7 4970, which is part of the new Non-K series refreshes, it kind of makes sense why Intel aren't all that fussed about everything just coming out. There's really not a whole lot that you're going to be getting excited about here. If the word refresh was ever appropriate, it was certainly here.
Along with a new line of CPUs coming, though, Intel brought with it the new Z97 platform. The new platform doesn't bring a ton of new features, but there's a couple that we will highlight as we move forward and take a closer look at the board. We don't need to say a whole lot, and considering we've really had a ton of Z97 boards arrive in the last week, we should just get a move on.
So, let's leave it at that and see just what's going on with the ASUS SABERTOOTH Z97 MARK 1 motherboard here today.
Package - What comes inside the box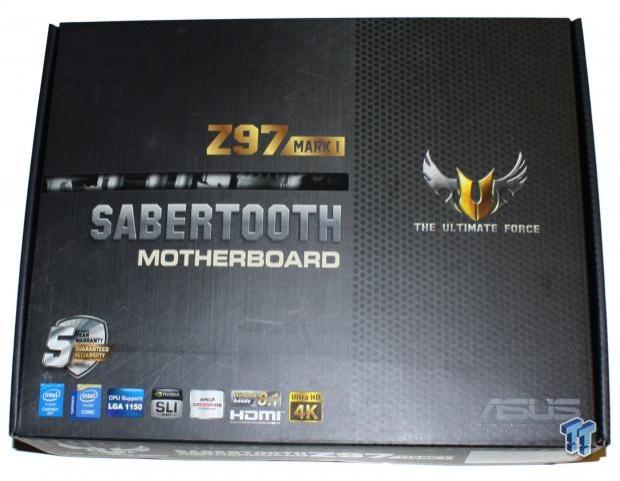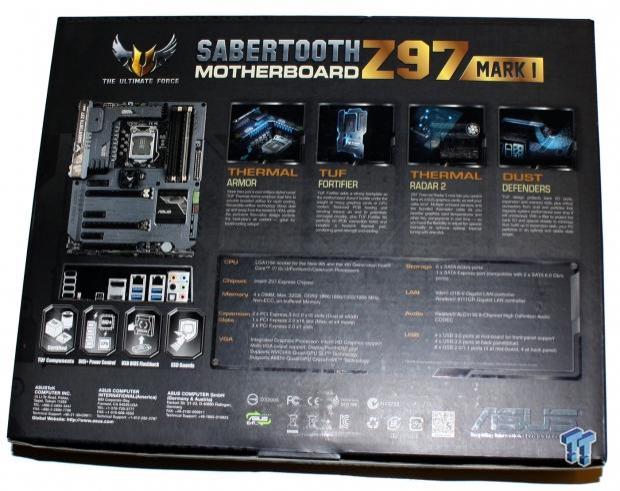 Taking a look at the front of the box, you can see there's not too much going on. We've got the model and chipset clearly shown along with a bunch of logos across the bottom, including the 5-Year Warranty that comes with the board thanks to it being part of the TUF line up.
Turning the box over, we get our first look at the board, but more importantly, we get an idea of what exactly the TUF labeling brings to the table. Starting from the left, you can see we've got the Thermal Armor, which helps not only make the board look better but also help direct airflow over the heat sinks that sit on top of the VRMs. The next big feature is the TUF Fortifier, which adds a massive backplate to the rear of the board to help reduce bowing of the PCB and damage of the rear circuitry.
The other two big features that are offered on the board include the Thermal Radar 2 feature, which lets you control the fans in your system along with your ASUS Video Card. Included cables let you monitor key areas in real-time, so you can adjust the fan speeds as needed. Finally, we finish off with the Dust Defenders that not only help make the board look great, but also help reduce the dust build up around key areas. Outside of that, you can see the main specifications of the board and a look at the I/O panel, which we'll look at in more detail later.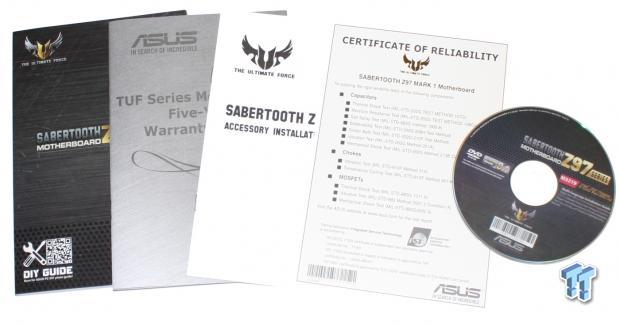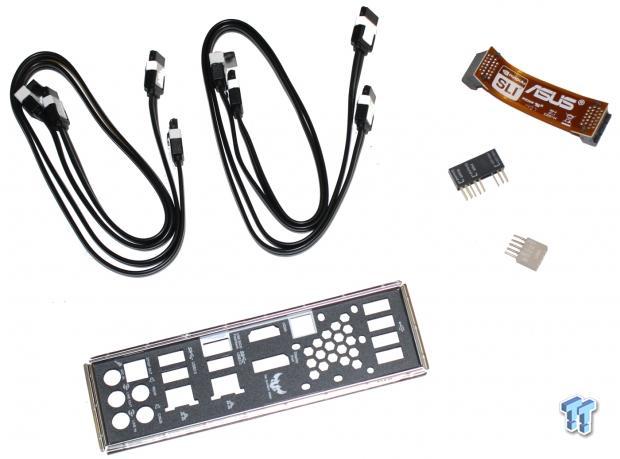 Moving inside the package, you can see we've got the normal line up of paperwork, including a certificate of reliability to go with that TUF naming scheme. You can also see the standard driver CD in the bundle. Outside of the paperwork and driver CD, you can see we've got four SATA cables, I/O back plate, SLI bridge, and some EZ Connectors, which make the hook up of the board a little bit easier and faster.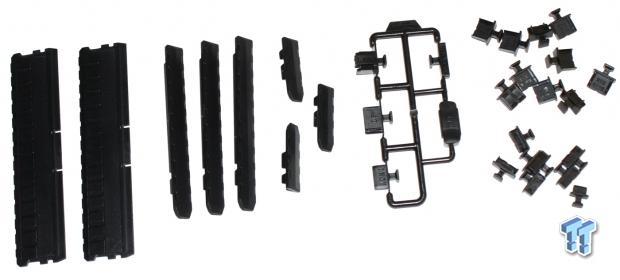 One of the really cool features of the SABERTOOTH series is the Dust Defenders, which can be installed throughout the empty slots on the motherboard. With PCIe covers to USB ones, and everything in between, you can end up with a board that looks absolutely awesome. This is one of those features that outside of being functional is just also really cool.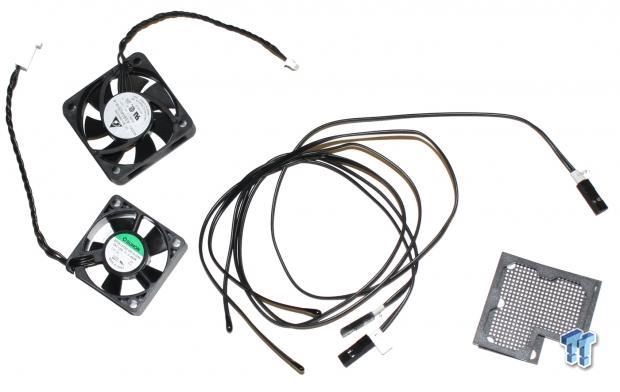 Finishing up our look at the bundle, you can see we've got a pair of fans along with a couple of thermal probes and a dust filter. We're not the biggest fan of these smaller fans as they can tend to be a little loud, but there's no denying that if you want to get the most performance out of your system, adding these into the mix is a good idea.
Motherboard Details
Close up with the ASUS SABERTOOTH Z97 MARK 1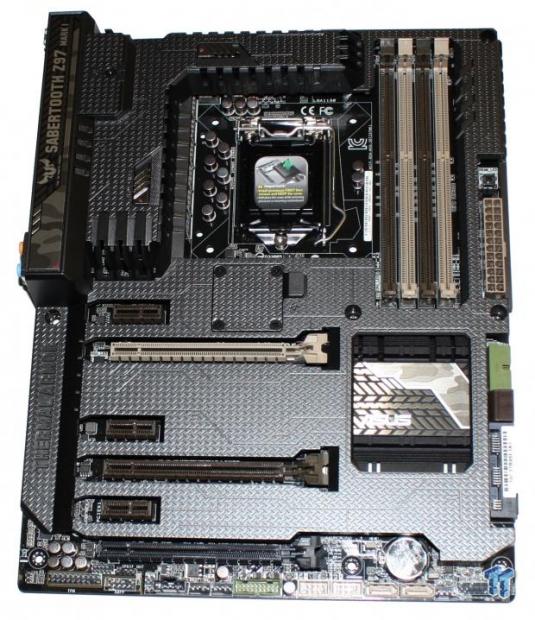 Moving away from the bundle and straight to the board, you can see that TUF Armor makes for just an awesome looking board. While I'm not the biggest fan of the dual tone brown color scheme, we can't deny the simple fact that it's just perfect for this kind of motherboard. You can see everything sits nicely throughout the TUF Armor, and with the Dust Defenders we saw on the previous page, you can have a board that looks very sexy once all hidden away.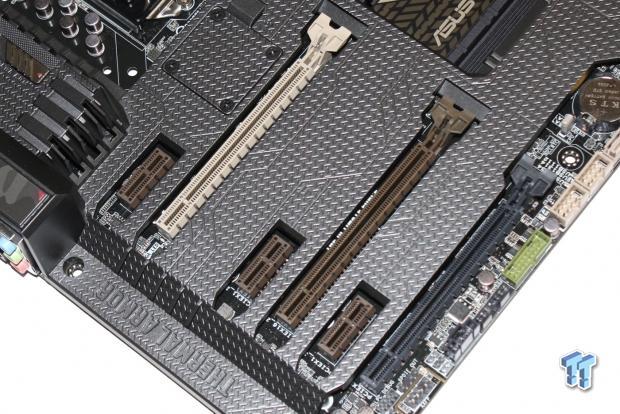 Starting to move around the motherboard, you can see we've got what would be considered a fairly standard expansion slot setup. We've got three PCIe x1 slots along with three PCIe x16 slots.
As for the setup of those PCIe x16 slots, the bottom most black one runs at just 4x. As for the other two, if you're using just one, your video card will run at 16x. If you're going to be making use of CrossFire or SLI, though, like the Z87 platform, both cards will be running at 8x.

Taking a look across the bottom of the board, you can see the normal line up of connectors and headers, which include USB 2.0, fans, and our main front panel ones. Here, though, you also see that ASUS has put two SATA3 boards along the bottom. These two ports run off of the ASMedia controller. They're not going to be your first option, but if you're in need of some extra storage space, they'll come in handy.

Turning the corner, you can see we've got a total of six SATA ports alongside our first look at a SATA Express port, which is one of the main features that is added to the new Z97 platform. SATA Express brings with it improved speed, but the adoption rate at the moment is indeed slow and is, of course, the main reason why ASUS would've chosen to include only a single port.
Next to that, we've got six SATA3 ports, which also run off of the Intel Z97 chipset. Finally, we finish up with a green USB 3.0 header to round things off in this corner of the board.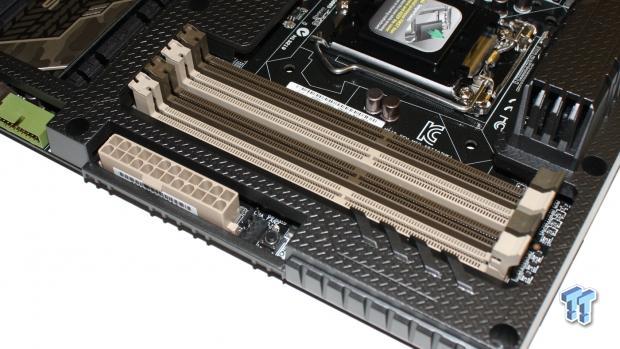 Making our way to the top half of the board, you can see we've got our main 24-Pin ATX Power Connector along with our standard four DIMM slots. These support up to 32GB of DDR3 memory with speeds ranging from 1333MHz to 1866MHz DDR officially. Via overclocking, though, you can achieve higher, which you'll see today as we use Corsair Vengeance 2933MHz DDR RAM.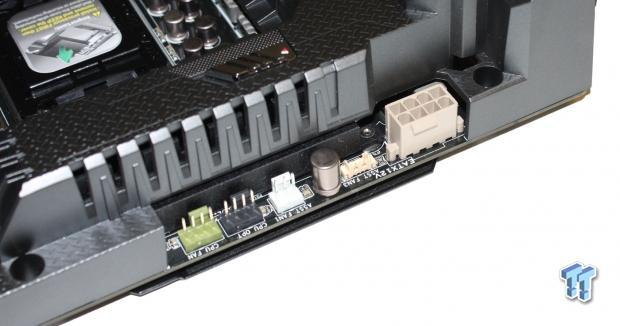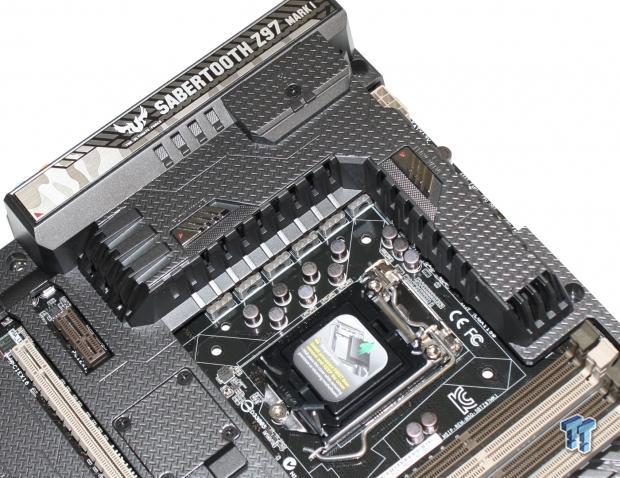 Sitting in the other corner, you can see our standard 8-Pin CPU Power Connector along with a couple of fan headers, including a smaller header for one of the smaller fans that comes in the bundle. Moving out, you can see the CPU area, which is pretty clean thanks to that TUF Armor. You don't see a whole lot, and to be honest, it's not a bad thing. The TUF Armor makes for a really sleek motherboard.

Finishing up with the I/O side of things, we start with four USB 2.0 ports; of course, the main thing lacking here is the inclusion of any kind of PS/2 port. While most companies choose to still include a PS/2 port, ASUS is generally one who doesn't have too much of an issue leaving it out. Next to that, we have our BIOS Flashback Button along with two video out ports in the form of DisplayPort and HDMI.
Dual networking is offered via the Intel I218V and Realtek 8111GR controller, and the ports sit above four USB 3.0 ports that run off of the Intel Z87 chipset and ASMedia controller. Finally, we finish up with five auxiliary ports and an optical out one that runs off of the Realtek ALC1150 HD Codec.
BIOS Images and Information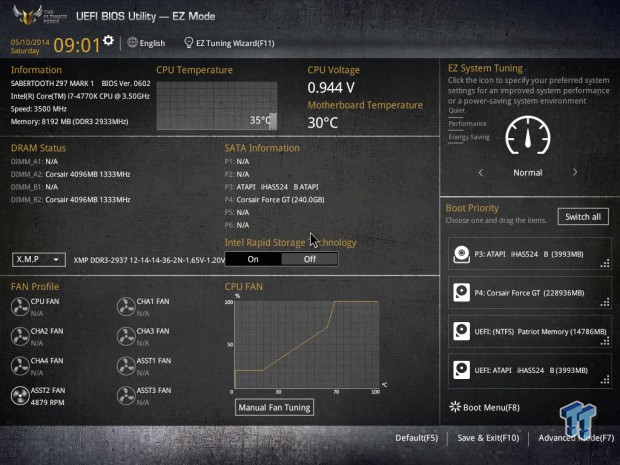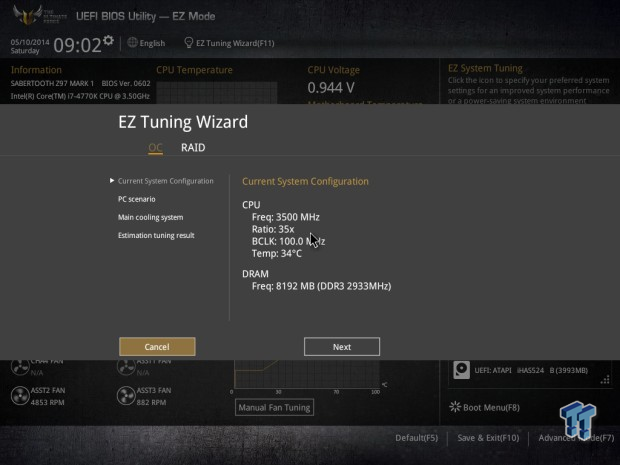 Heading into the BIOS, you're greeted with the EZ Mode version of the ASUS BIOS. You don't get a ton of options here. You can see some of the main specifications alongside some of the more important information. You've got access to the EZ System Tuning, XMP profiles, IRST, Fan Profiles, and your Boot Priority to finish things off.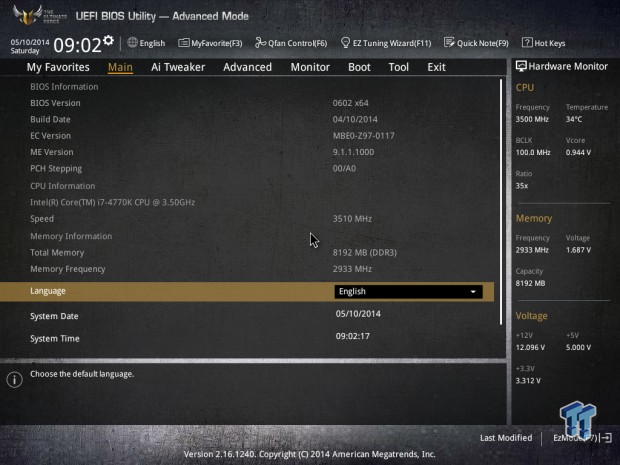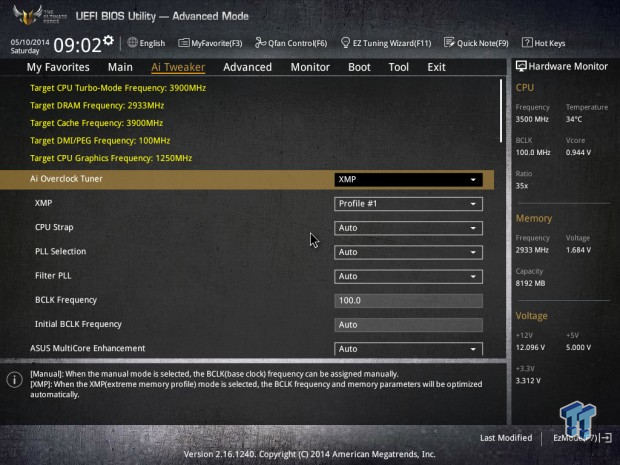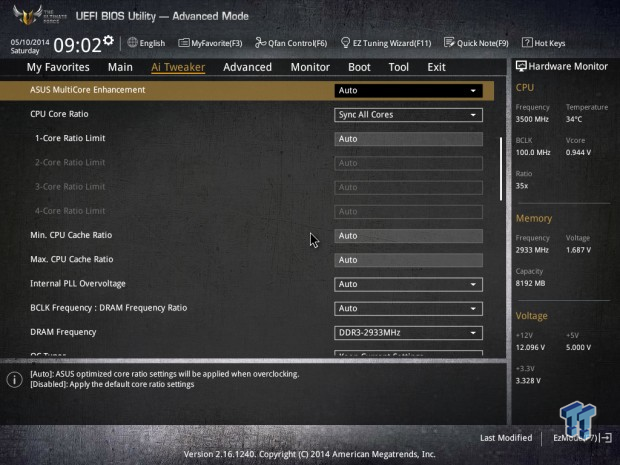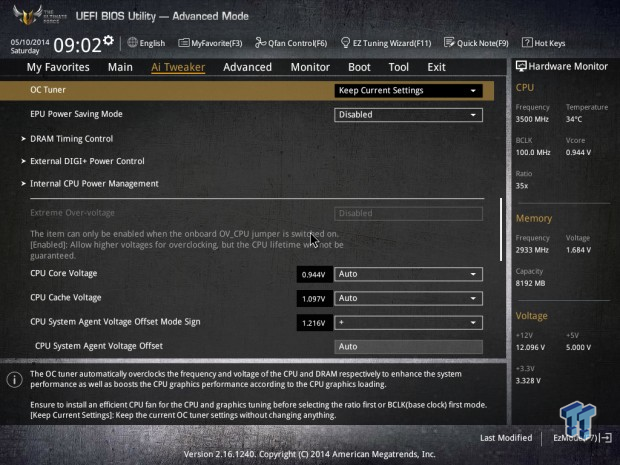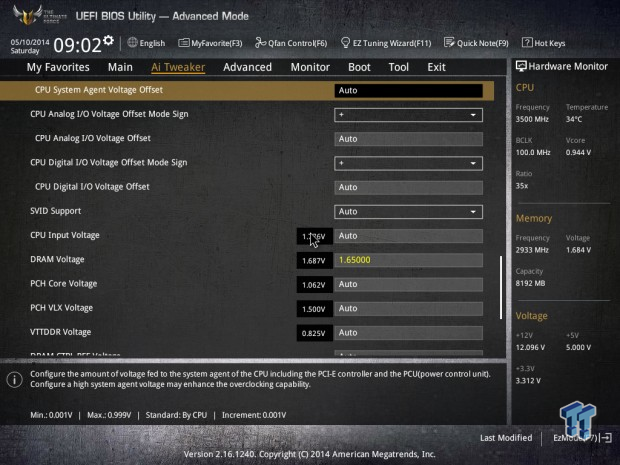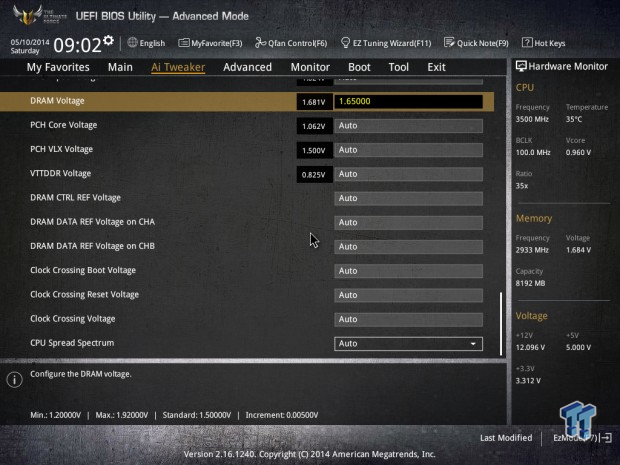 If you're heading into the BIOS, though, the chances are you'll blow straight past the EZ Mode and go into the Advanced Mode via the F7 button. If you're in here, you'll also want to head over to the Ai Tweaker section of the BIOS, which gives us everything you need and more when it comes to overclocking.
You've got all the normal features you'd expect here from multiplier and BCLK adjustments to voltages. If you're here, you probably already have a fair idea of what you're doing.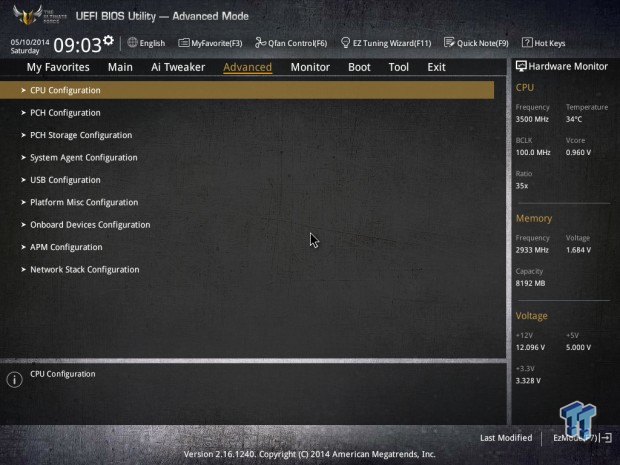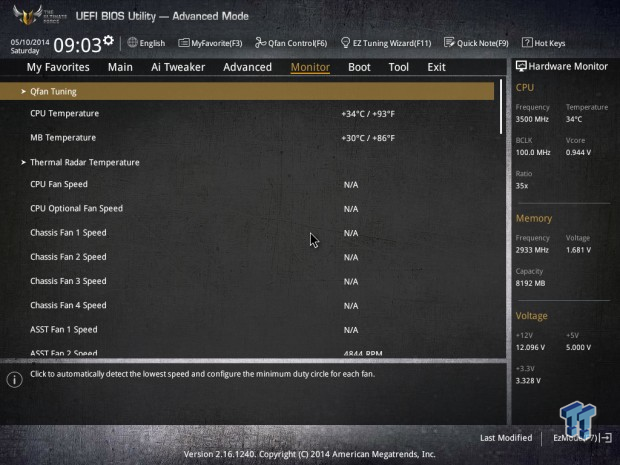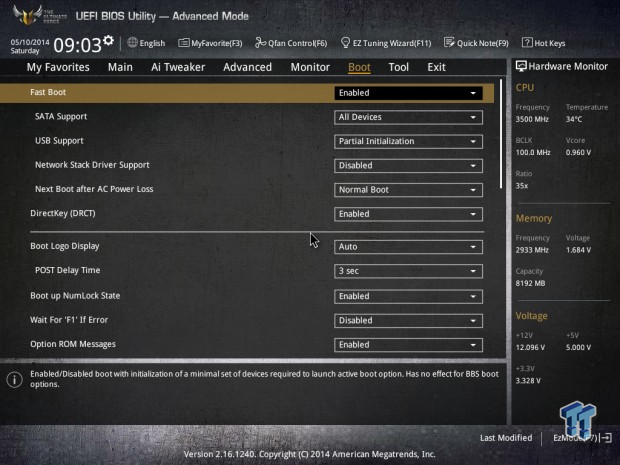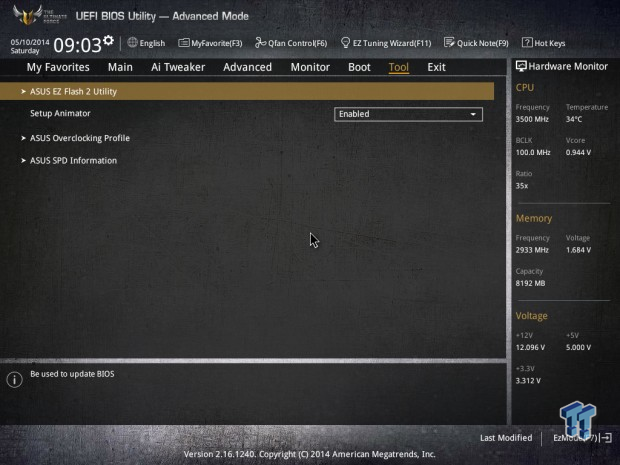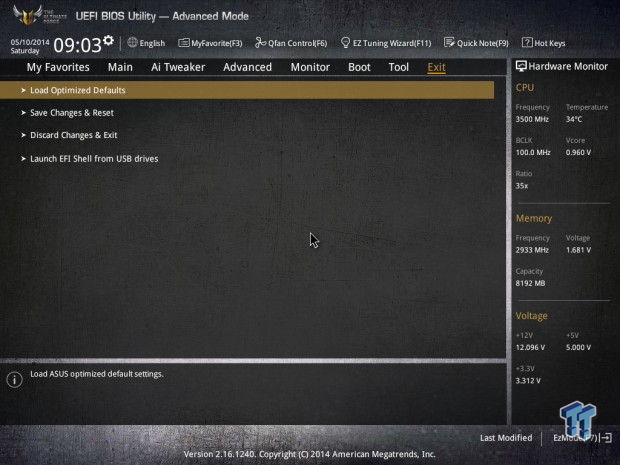 Moving throughout the rest of the BIOS, there's nothing really out of the ordinary. Looking above, you can see we've got all the normal options with an expansion on the main features that we saw under EZ Mode.
Test System Setup and Overclocking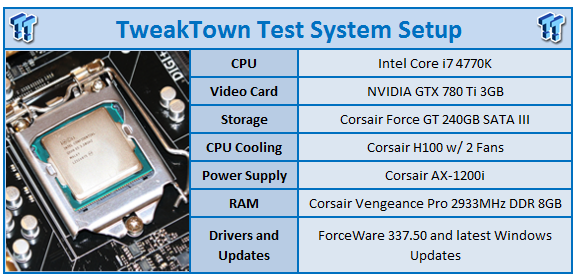 We would like to thank the following companies for supplying and supporting us with our test system hardware and equipment: Intel, ASUS, MSI, Western Digital, MemoRight, and Corsair.
With the new platform in hand, we've whipped our SSDs and gone through and adjusted our benchmark line up slightly to make sure we're getting the best results possible when it comes to our benchmarks. We won't really cover the software side of things as we'll mention that in the benchmarks moving forward.
What we do need to mention, though, is two major changes to our testbed. On the RAM side of things, we've moved over to an 8GB Corsair Vengeance Pro kit that carries with it a stock clock of 2933MHz DDR. Alongside that, we've also finally upgraded our video card. Losing the aging MSI GTX 580 1.5GB that has served us extremely well, we're making a move to the reference GTX 780 3GB.
Because of these changes, we've had to scrap all of our previous benchmarks and start afresh. For that reason, we'll be seeing just the ASRock Z87 Killer, which has been tested completely on our new hardware and software setup.
Before we get into the performance side of things, the first thing we want to do is cover the overclocking side of things. Because this is our first Z97 review, we've decide to not only test the maximum overclock of our CPU on the board, but also see what kind of performance we get via the Auto Tuning Feature.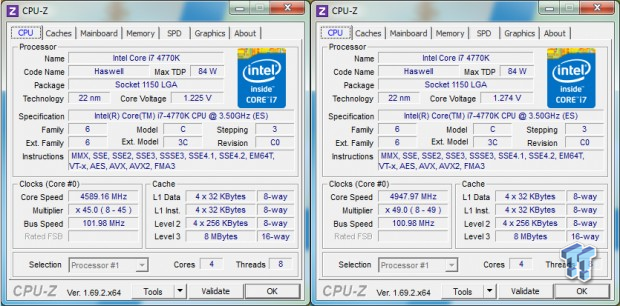 Looking above, you can see the maximum overclock we achieved using both methods. As for the EZ Tuning result, you can see we end up with a BCLK of 102 and Core Multiplier of 45x, resulting in a final clock speed off 4.59GHz.
As for manually overclocking, you can see we managed to push that number a bit higher with a BCLK of 101 and Core Multiplier of 49x, resulting in a final clock speed of 4.95GHz. Overall, this is a nice performance increase, and we look forward to seeing what kind of performance it brings to the table.
CPU & System Benchmarks
CPU Test - HyperPi 0.99
Version and / or Patch Used: 0.99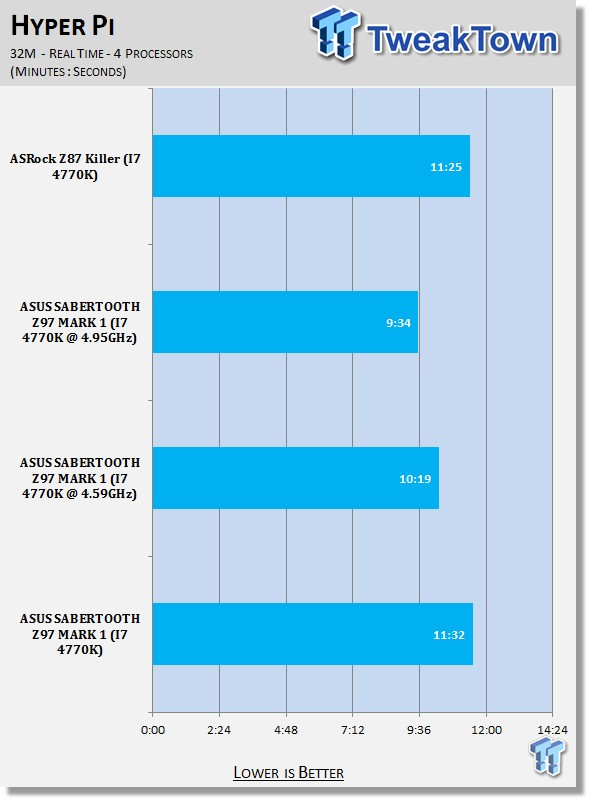 CPU Test - AIDA64
Version and / or Patch Used: v4.30.2900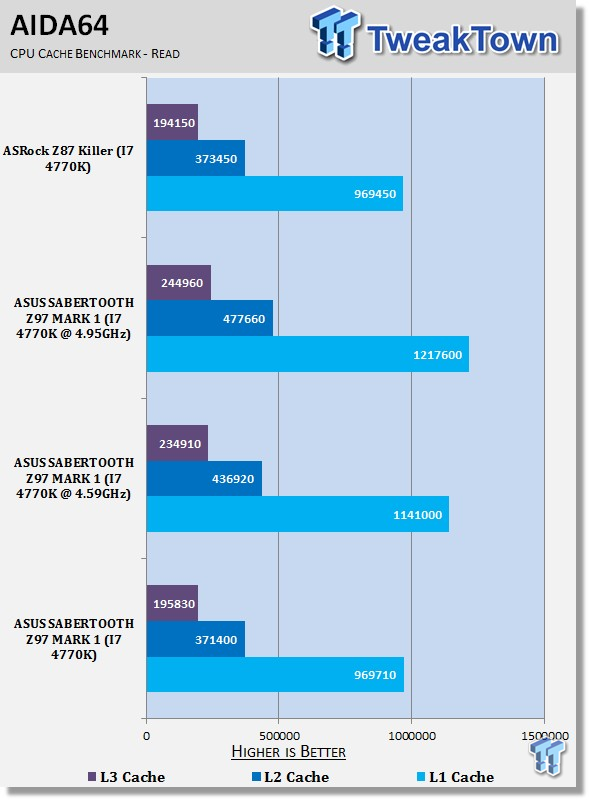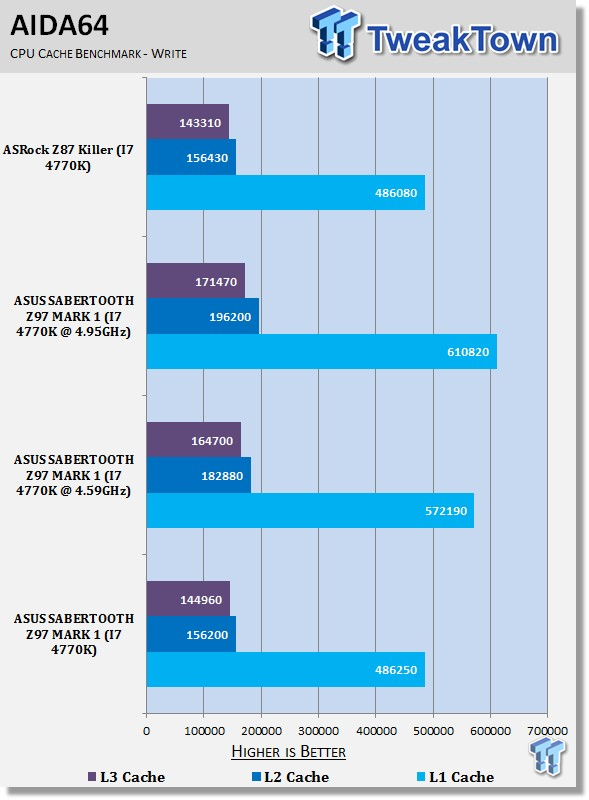 Comparing the two platforms, you can see that CPU performance is quite similar between them both. When it comes to overclocking, you can see that we get a nice performance increase from both the Auto Tune and the manual overclock.
System Test - PCMark 8
Version and / or Patch Used: 2.0.191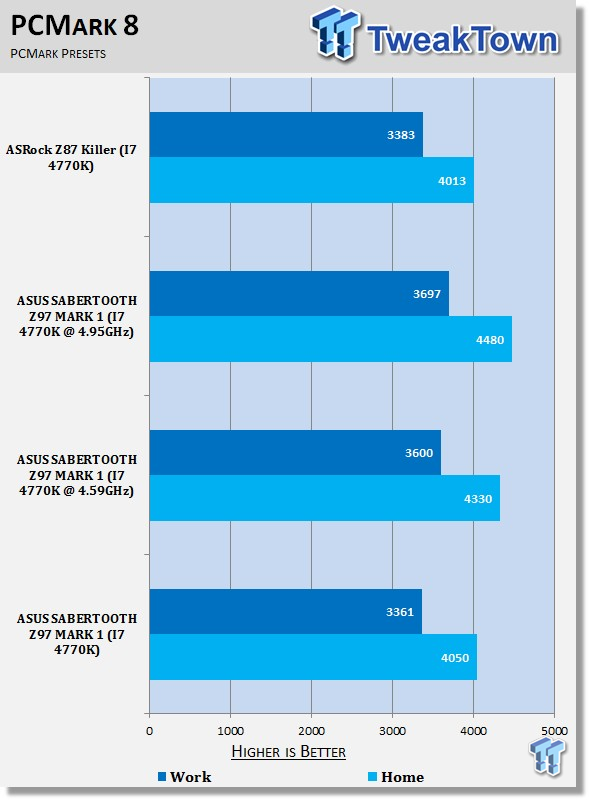 System Test - MediaEspresso
Version and / or Patch Used: 6.5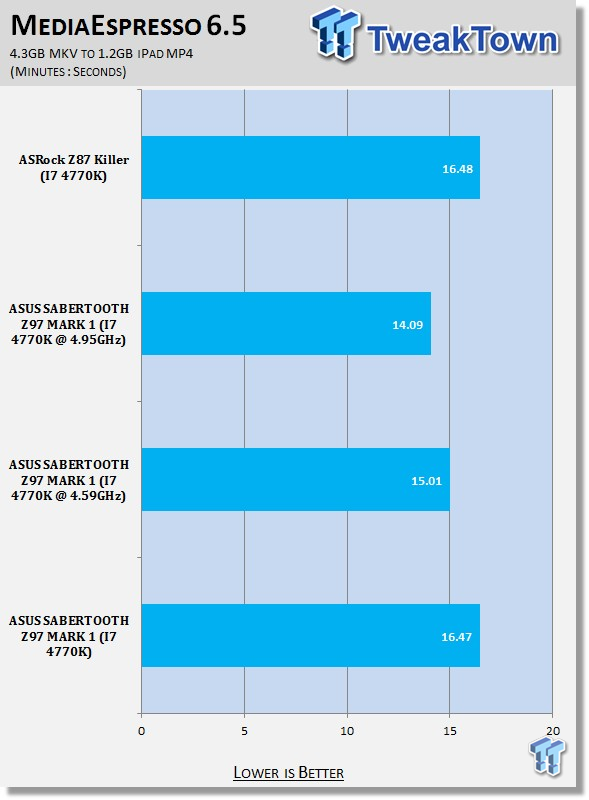 Out of the box, you can see that both the Z97 and Z87 perform very close to each other with little difference being seen in both benchmarks. We can see a bump in performance with the Auto Tune shaving a little under 2 minutes from our encode time.
Manual overclocking then drops the overall process even more and continues to push PCMark 8 performance higher.
USB 2.0, USB 3.0 & SSD Benchmarks
USB Test - AIDA64
Version and / or Patch Used: v4.30.2900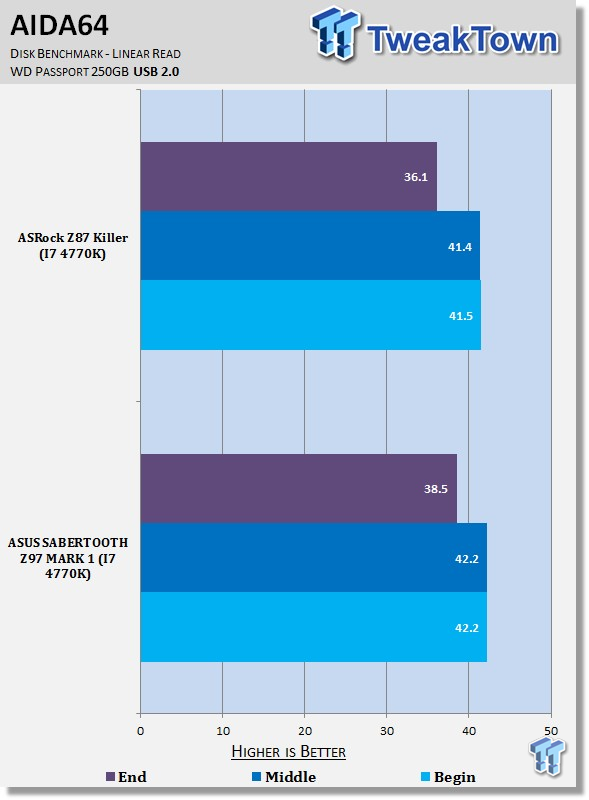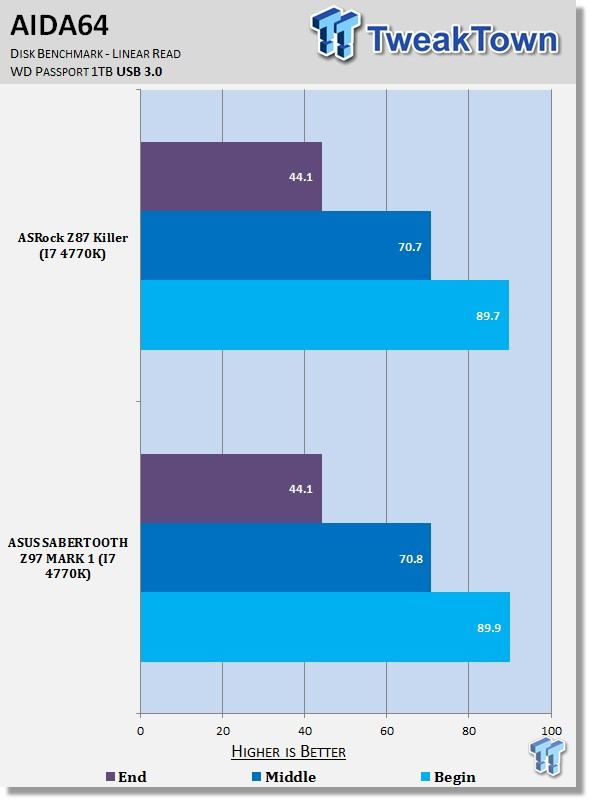 Looking above, you can see that USB performance under both USB 2.0 and USB 3.0 is very similar between the two setups. We rarely see any fluctuation when it comes to USB 3.0 and 2.0 performance.
SSD Test - AIDA64
Version and / or Patch Used: v4.30.2900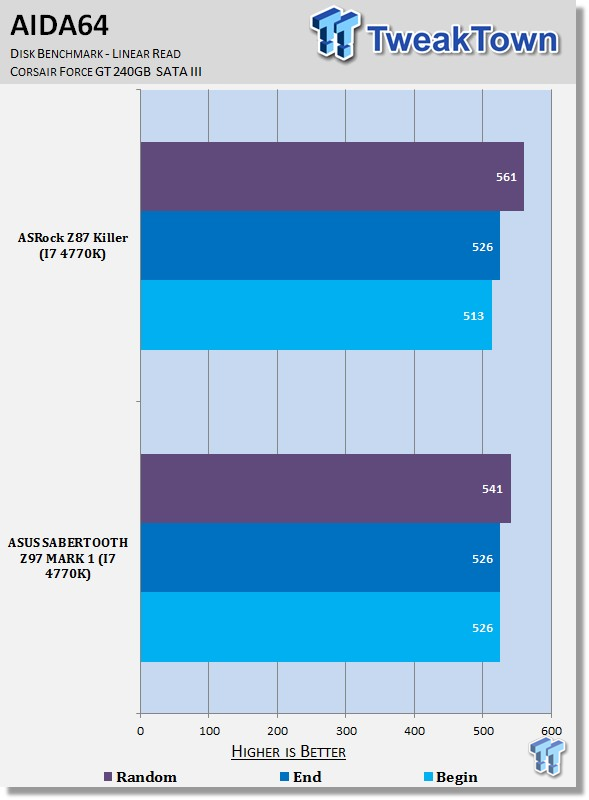 SSD Test - PCMark 8
Version and / or Patch Used: 2.0.191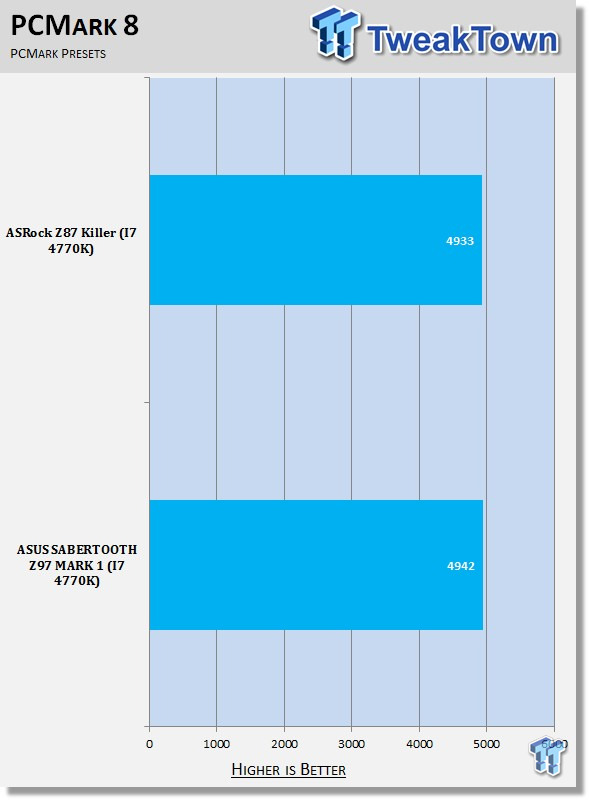 SSD Test - HD Tune Pro
Version and / or Patch Used: 5.50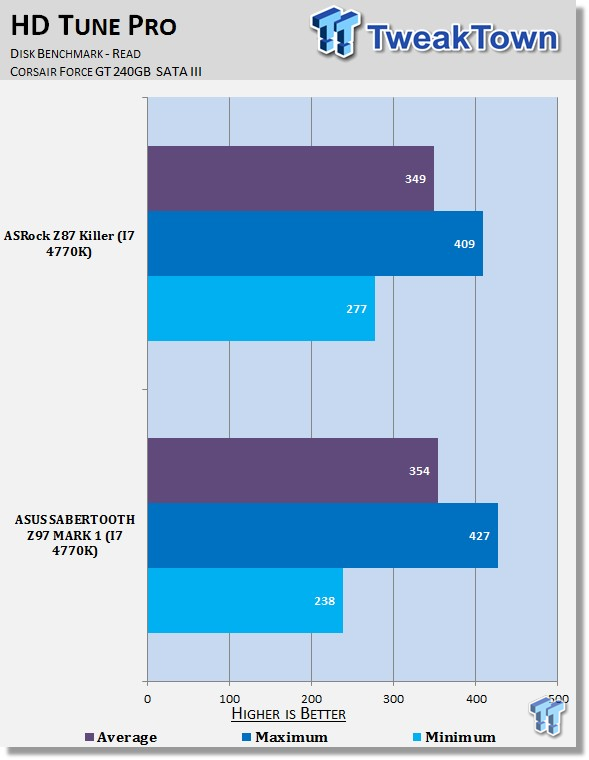 Looking at SSD performance, across the board, you can see all three benchmarks show the numbers very close to each other. Saying that, though, we do see that HD Tune Pro shows a lower minimum but higher maximum.
Memory & Gaming Benchmarks
Memory Test - AIDA64
Version and / or Patch Used: v4.30.2900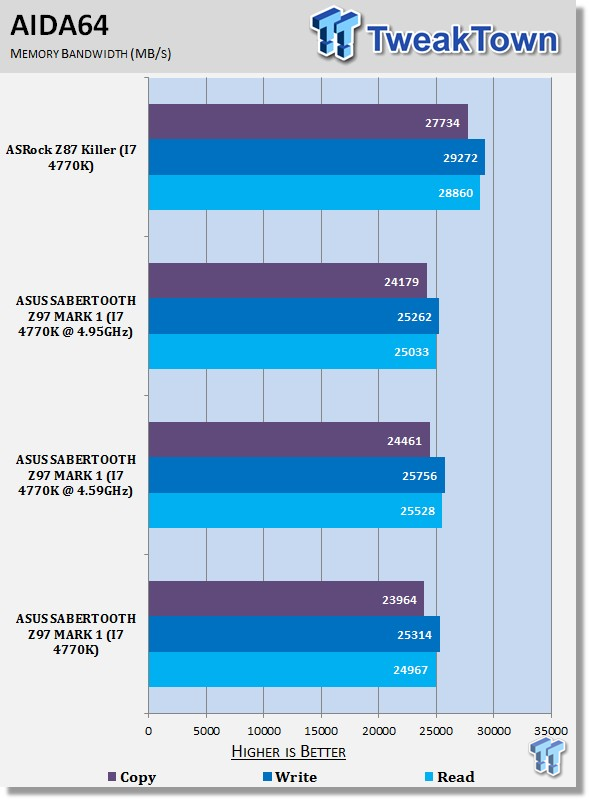 Memory performance under AIDA64 sees the ASUS offering performing a little lower than what we see on the Z87 ASRock board. With no real change to the memory speed when overclocking, you also see no difference across the board.
Gaming Test - 3DMark 8
Version and / or Patch Used: 1.1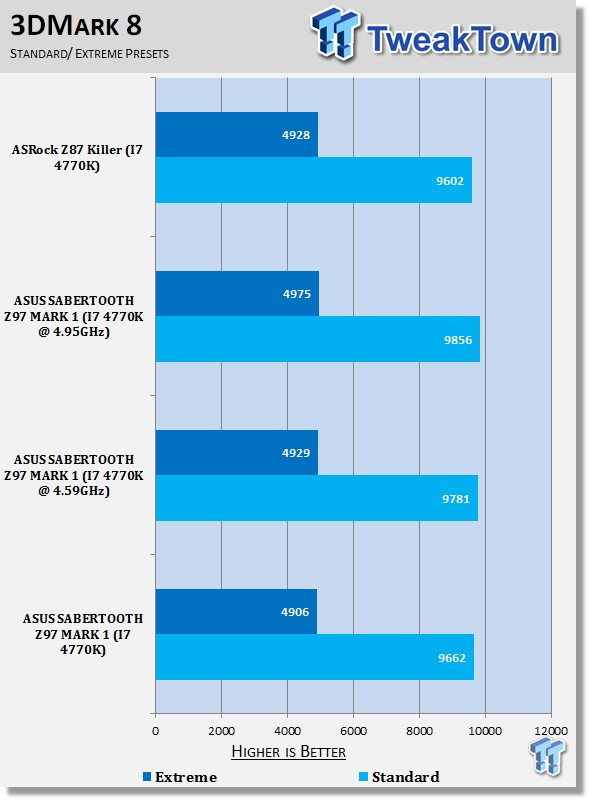 Gaming Test - Sleeping Dogs
Version and / or Patch Used: Latest Steam Update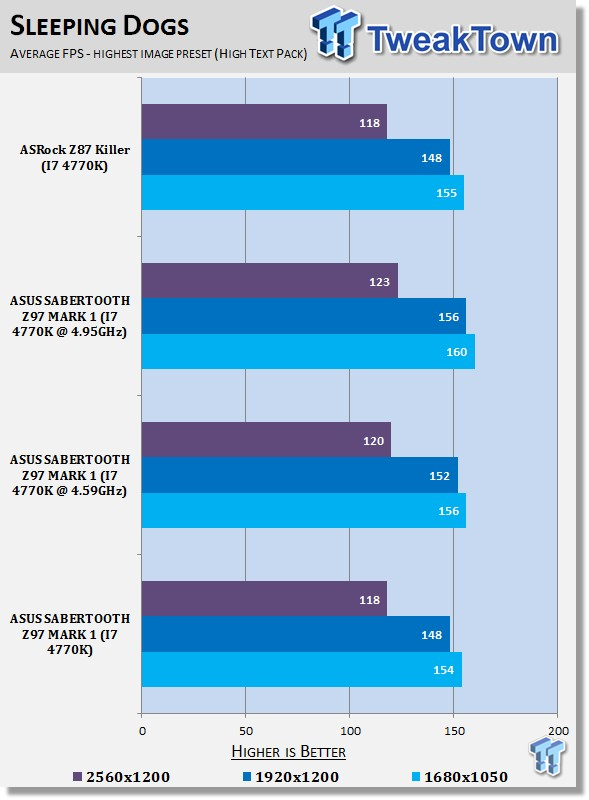 When it comes to 3DMark 8 performance, you can see there's not too much change across the board.
As for Sleeping Dogs, while there's not much difference between the platforms, you can see overclocking gives a slight performance increase at all resolutions as we move up in speed. It's not a lot, but it is a consistently small bump across the board.
Temperature & Power Testing
Power Consumption Test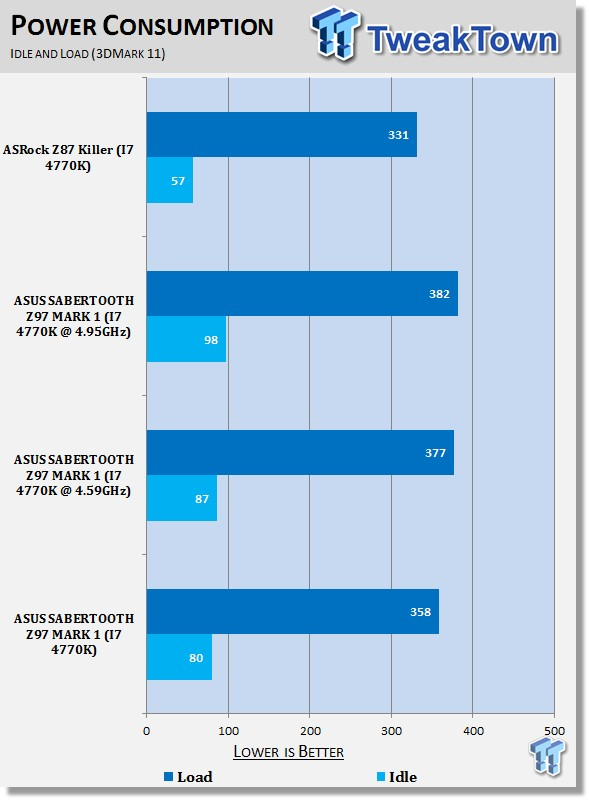 Power draw on the ASUS offering is up in both the idle and load department when compared to our ASRock Z87 board. It's a little hard to compare them directly from a chipset perspective, though, as the ASUS SABERTOOTH Z97 MARK 1 does have a lot going on with it, so it will, in turn, draw more power.
Overclocking increases power draw slightly, but you can see that it's not a massive amount.
Core Temperature Test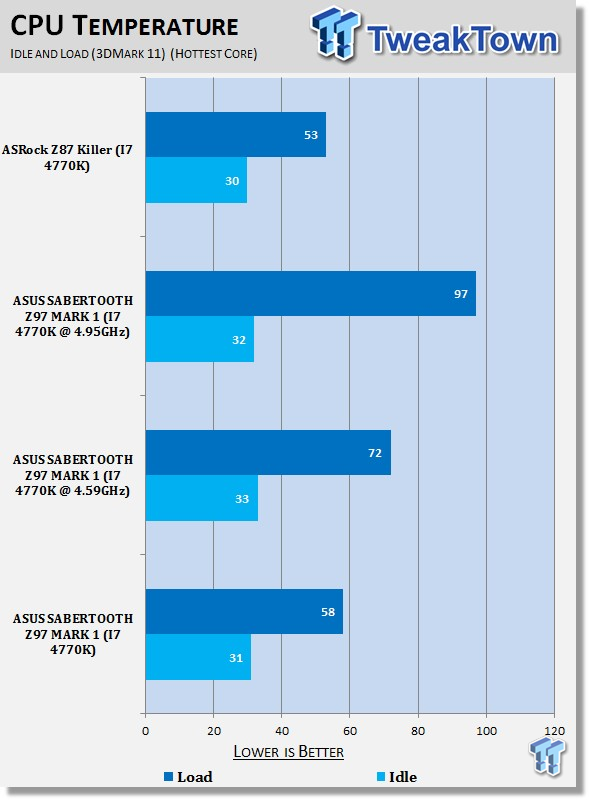 When it comes to the heat side of things, you can see that the idle number is pretty standard across the board. As for the load, you can see that our ASUS sits a little higher than our previous generation Z87 offering.
At our maximum overclock, you can see we're getting near that 100C mark, which is pretty normal due to the excess amount of voltage.
Pricing, Availability and Final Thoughts
Before we get into the specifics on the motherboard, I just want to cover the Z97 chipset a little. When it comes to new features, the chipset doesn't see a whole lot of extras. The first comes in the form of M.2 SSD support being more widespread. M.2, which was formally known as NGFF or Next-generation form factor, is the replacement for mSATA. While we'll indeed see it supported on Z97 boards, it will no doubt be like mSATA was: few and far between.
The other addition comes in the form of SATA Express, which we see on the SABERTOOTH Z97 MARK 1 here today. While offering improved performance, the adaption, like most new technology, will take time.
Probably the main addition we like, though, is the support of Devil Canyon CPUs. Bringing with it higher clocked processors and higher overclocking ones, this is probably the main addition that will get you to jump. Outside of the extra speed, extra protection is offered by Intel Device Protection with Boot Guard.
While technically not a Z97 feature, because the Z97 supports the new crop of chips, it's indeed something that stands out. The problems is, outside of some leaked information regarding speed and models, we don't know when these are coming nor how much they will cost.
On a whole, the Z97 platform isn't doing much for most people at the moment. The main reason to make the jump will be to make use of the Haswell Refreshed K processors, but with nothing solid yet, we don't know when that will be. With that said, though, with the pricing of the new Z97 boards being similar to that of the previous generations Z87 boards, you'd kind of be crazy to not choose this chipset over the older one. This is the main reason Intel delayed the chipset, so motherboard companies could dump what is essentially going to become an unappealing chipset for most.
Moving away from the Z97 chipset and talking about the board we have on hand today, we can see it's a really nice, strong, typical offering from ASUS. It's everything you'd want and expect plus a little more under the SABERTOOTH name. Coming in at around the mid $200 mark, the board sits in the middle of the pack when it comes to pricing. Considering the feature set and bundle that ASUS offers, we would say that the pricing is more than fair.
Performance is strong, and overclocking is really good by hitting 4.95GHz. What we really like, though, is the Auto Tuning. Clicking just a few buttons, we found our system running at almost 4.6GHz. The big appeal to this is that the heat numbers at load weren't nearly as bad as the 4.95GHz clock. We'd feel a lot more confortable running at the Auto Tune speed daily versus the manual overclock speed we achieved.
Overall, it comes as no surprise that ASUS has put together a really nice board here that comes in at a good price point and offers some great features. If you're a fan of the SABERTOOTH series and you've bought one in the past and find yourself ready for an upgrade, then the move to this might be easy. If you're after something a little different, though, keep an eye out over the coming weeks as we offer you a look at more and more boards that fill different requirements. I'm sure that there's something here that will fit your requirements.
PRICING: You can find the ASUS SABERTOOK Z97 MARK 1 for sale below. The prices listed are valid at the time of writing but can change at any time. Click the link to see the very latest pricing for the best deal.
United States: TheASUS SABERTOOK Z97 MARK 1 retails for $249.99 at Amazon.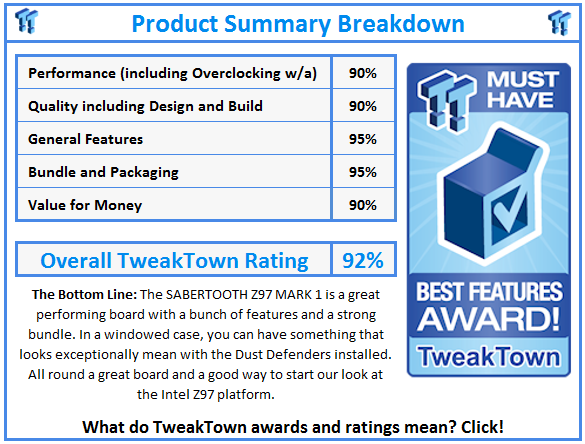 PRICING: You can find products similar to this one for sale below.

United States: Find other tech and computer products like this over at Amazon.com

United Kingdom: Find other tech and computer products like this over at Amazon.co.uk

Australia: Find other tech and computer products like this over at Amazon.com.au

Canada: Find other tech and computer products like this over at Amazon.ca

Deutschland: Finde andere Technik- und Computerprodukte wie dieses auf Amazon.de