Introduction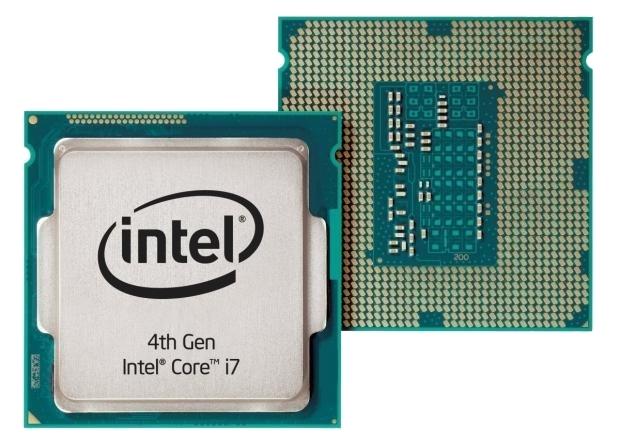 We haven't heard anything from Intel when it comes to the Haswell refresh that is due out during Computex, so we figured that if we are able to get our hands-on one of the processors, we'd find out just what kind of performance it offers. Of course, if we're not supposed to be publishing this, then I'm sure we're going to hear about it in the coming hours.
Since we haven't heard from Intel about the latest processors, we also don't have a whole lot of official information in regards to what's going on with it aside from the leaked images. Saying that, though, we've seen a ton of leaked images that give us a fair idea of just what we're going to be dealing with.
The Haswell refresh will bring with it a large amount of CPUs for both desktop and mobile platforms, but isn't really much more than a speed bump to the current crop of CPUs. Sitting at the top of the new line up is the i7 4790 which we're looking at today.
This isn't a K series processor which means that when it comes to overclocking, you're quite limited with BCLK overclocking being the only option. This means that the overclock amount will often be only 3 - 5% due to more often than not a 103 - 105 BCLK being achieved. We'll cover the overclocking side of things, though, on the next page.
There's not a whole lot more we'll be telling you today as we move forward. We won't' be offering any pictures of the motherboard or the CPU we're using today due to markings on them from the companies that provided the samples. We will take a look at the CPU-Z screenshot on the next page, though. On the next page, we will also talk a bit about the processors before we move into the performance side of things.
Benchmarks - Test System Setup and Overclocking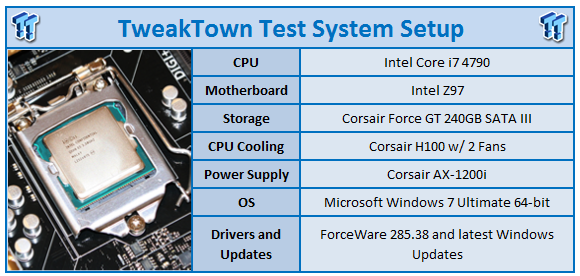 When it comes to the test system setup, we can't give too much away. What we can tell you, though, is that we've installed the i7 4790 processor into a new Z97 motherboard that will be launching next week. We've also got a bunch of processors in our graphs here today, but the two main ones we're going to be looking at today are the i7 4790 and i7 4770K. The other main thing worth noting is that we've retested the i7 4770K on our Z97 motherboard today.
Before we get into the performance side of things, there's a few things we should talk about with the i7 4790. The i7 4790 and i7 4770k share a lot of similarities. On the core front, both carry four cores, which is split into a total of eight threads. When it comes to L3 cache, both also contain 8MB. When it comes to the clock speeds, the i7 4790 sees a base clock of 3.6GHz, which is 100MHz up on the i7 4770K.
The Turbo frequency has also been bumped up 100MHz to 3.9GHz. Of course the big difference between these two chips is that the K series based chip brings with it an unlocked multiplier, which means overclocking is going to be significantly stronger.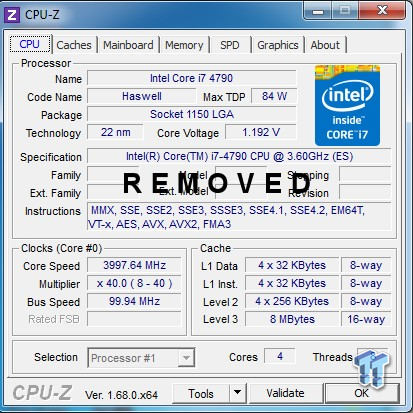 On the topic of overclocking, we need to cover just how we went with our i7 4790. So, how did we go? We didn't! When it came to overclocking we managed to push the BCLK up to 104. The problem is that when at this speed our CPU wouldn't go to the 40x multiplier it's supposed to. The maximum speed it ran at was just over 3.9GHz via the 38x multiplier.
This is of course lower than stock turbo speed of 4GHz. We messed around with the settings in the BIOS, but didn't get anywhere. Of course it's important to note that we're still roughly a month away from the launch of these CPUs so we're more than sure this is an issue that will be fixed.
There's not too much more we need to cover. So saying that, I think we can wrap everything up now and move forward to see the performance of the new CPU.
PCMark 7, HyperPi and AIDA64
PCMark 7
Version and / or Patch Used: 1.04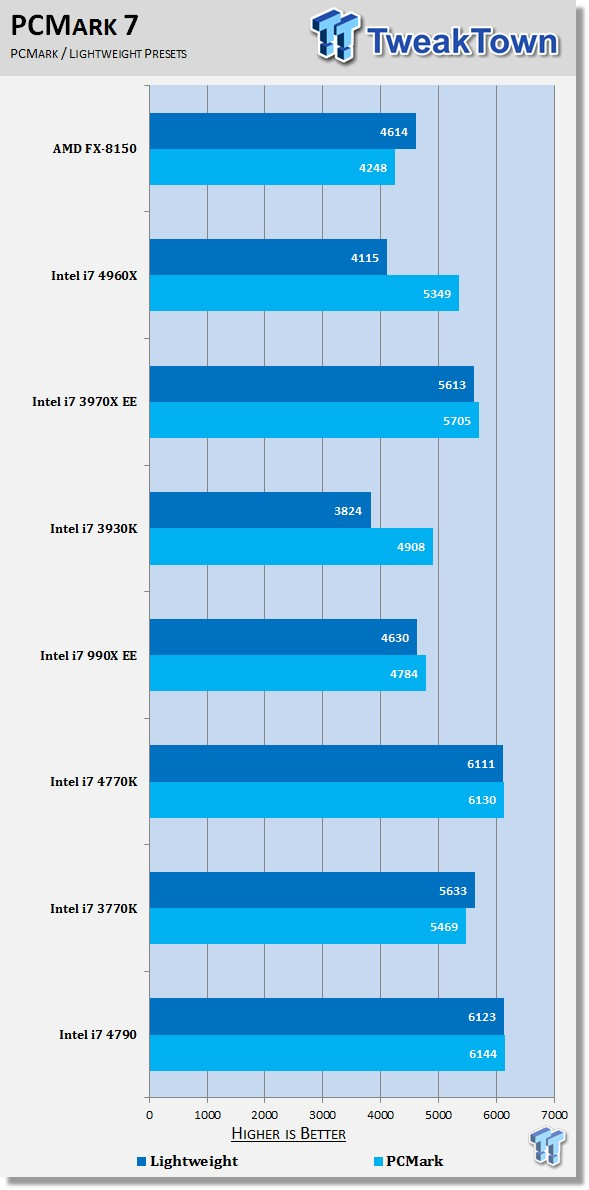 Starting off with PCMark 7, you can see there's very little difference between the upcoming i7 4790 and the i7 4770K.
HyperPi 0.99
Version and / or Patch Used: 0.99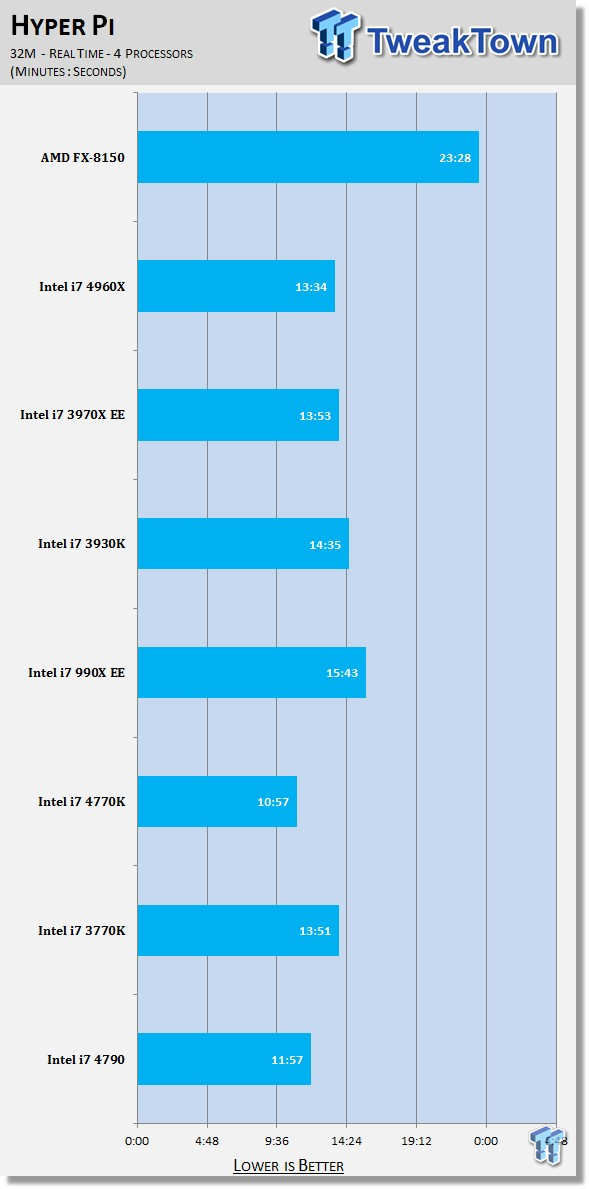 Looking above at HyperPi performance, you can see that the i7 4770K actually comes out ahead by a solid minute here. Let's see what happens as we move forward.
AIDA64
Version and / or Patch Used: 1.00.1035BETA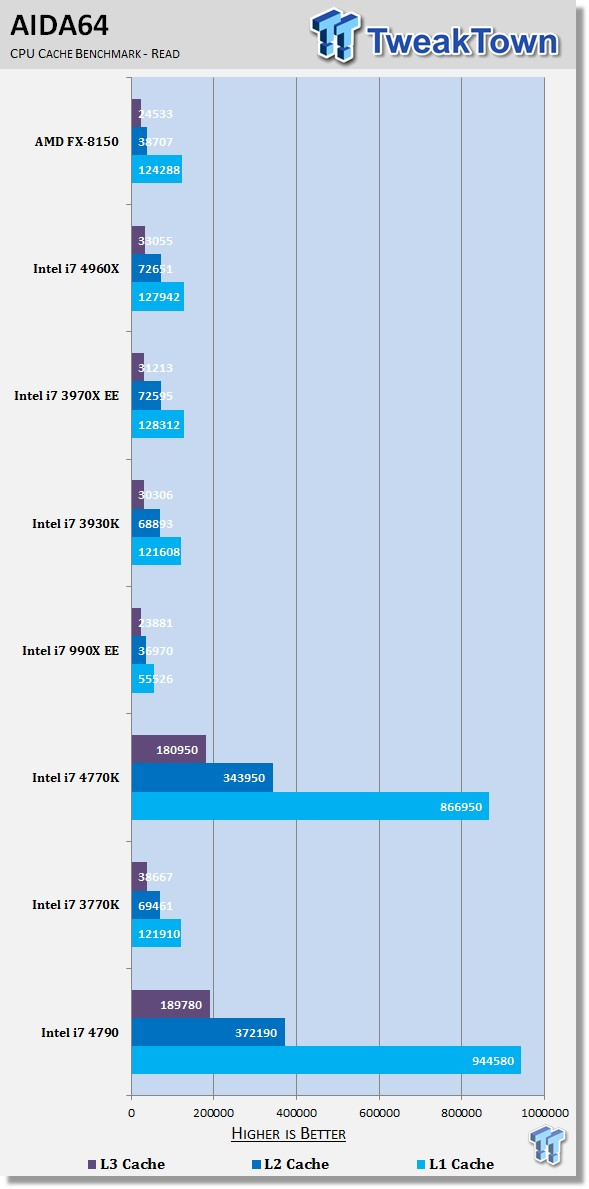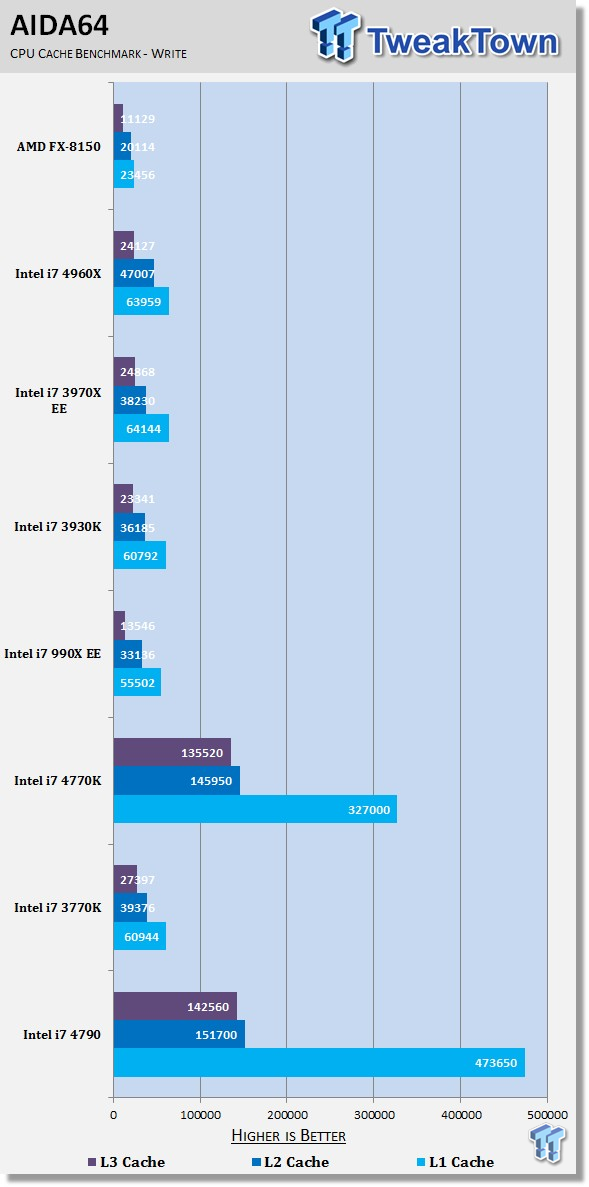 When it comes to AIDA64, you can see the latest version scores differently. This was one of the main reasons we tested the i7 4770K on our Z97 motherboard. Looking above, you can see that the performance of the i7 4790 is quite significant.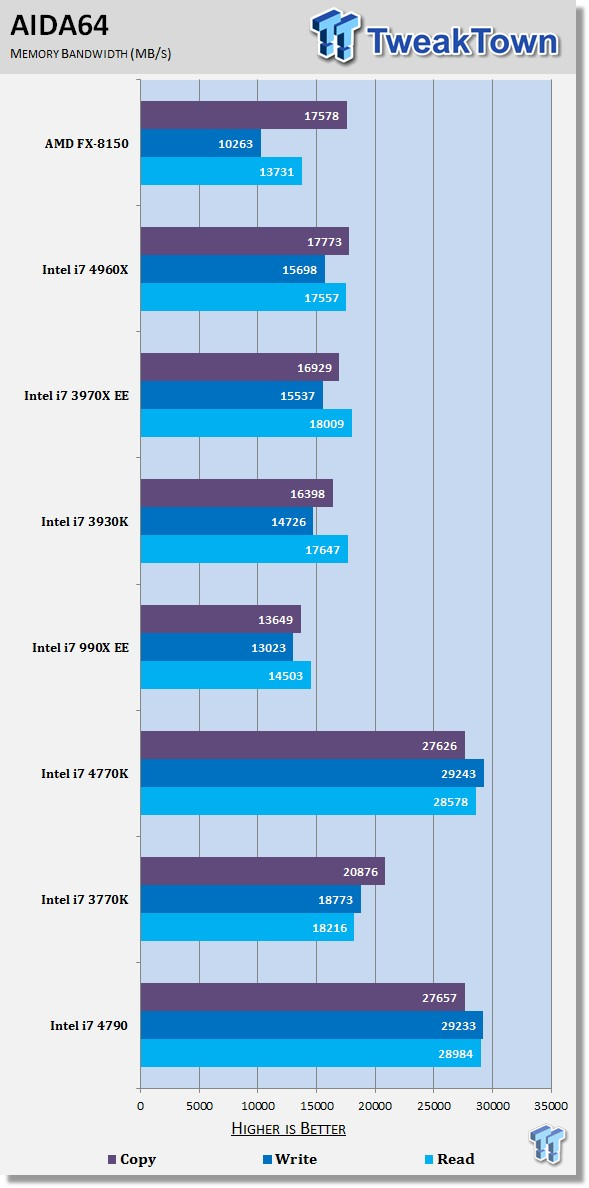 When it comes to memory performance, you can see that we're slightly up on the i7 4790. Memory performance is something we'll look into more over the coming weeks.
PassMark PerformanceTest, CINEBENCH, Adobe Lightroom and MediaEspresso
PassMark PerformanceTest
Version and / or Patch Used: 7.0.1021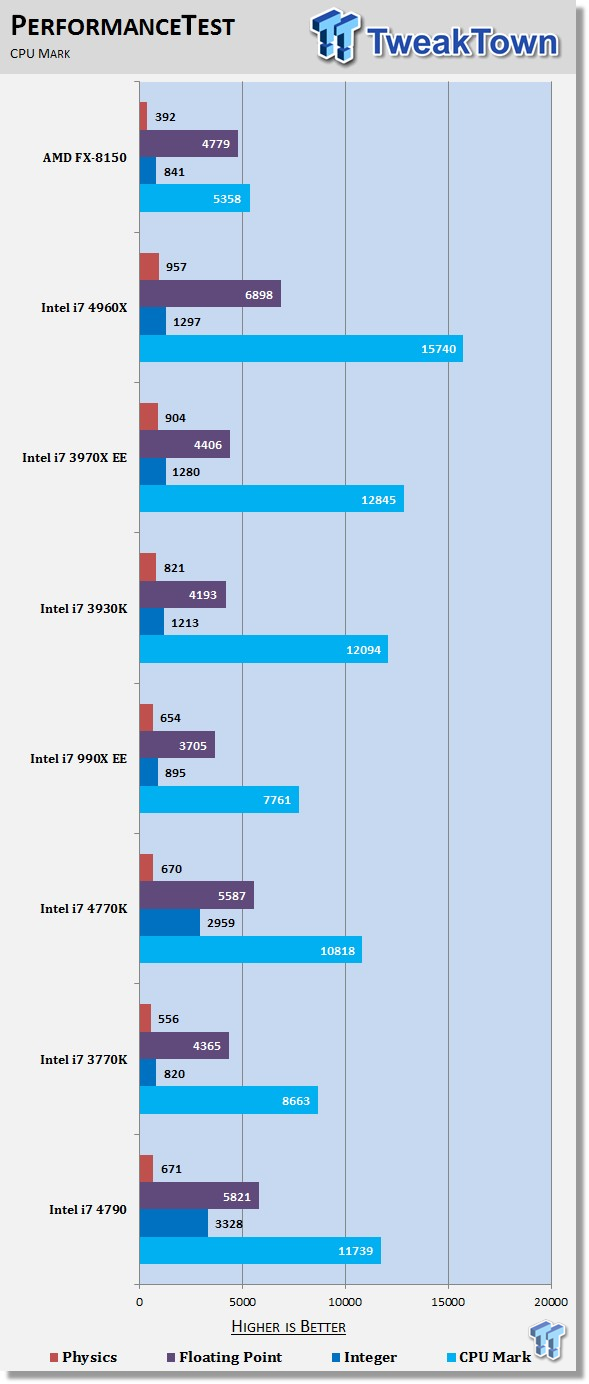 When it comes to the CPU Performance under PerformanceTest, you can see that the new i7 4790 comes out ahead in the overall CPU Mark, along with both the Integer and Floating Point tests. As for the Physics test, there is no difference.
Looking at memory performance, you can again see that the i7 4790 numbers are up across the board.
We're looking forward to testing RAM on the new platform over the coming weeks.
CINEBENCH R11.5
Version and / or Patch Used: R11.5
CINEBENCH performance is also slightly up on the i7 4790 when compared to the i7 4770K.
Adobe Lightroom
Version and / or Patch Used: v3.4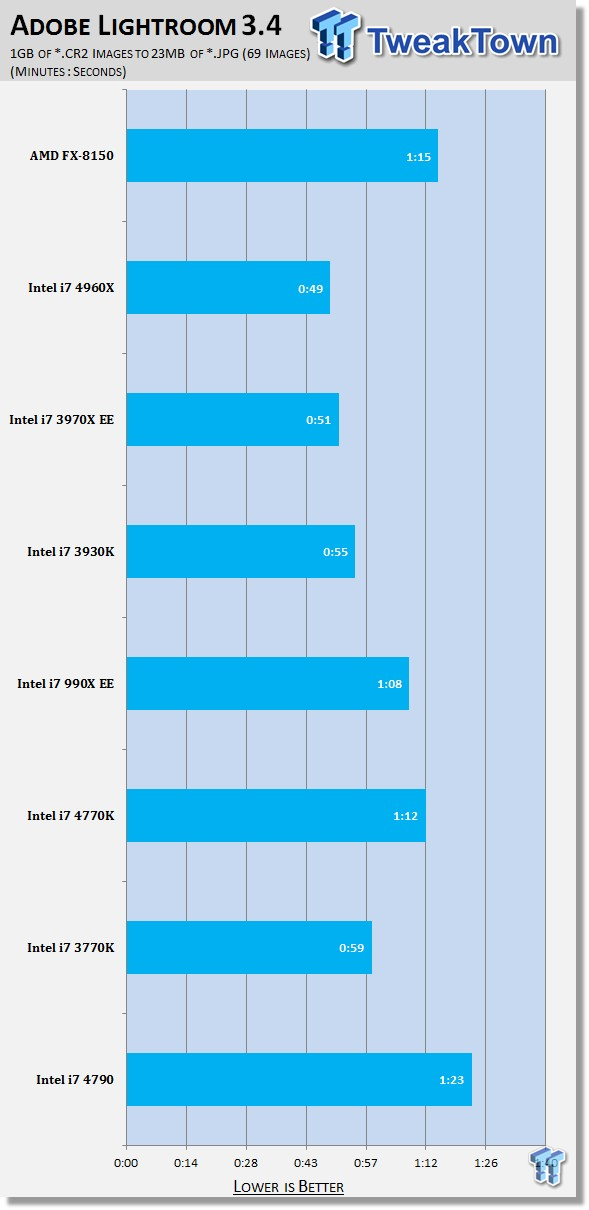 Lightroom continues the trend of extra performance when compared to the i7 4790.
MediaEspresso
Version and / or Patch Used: v6.5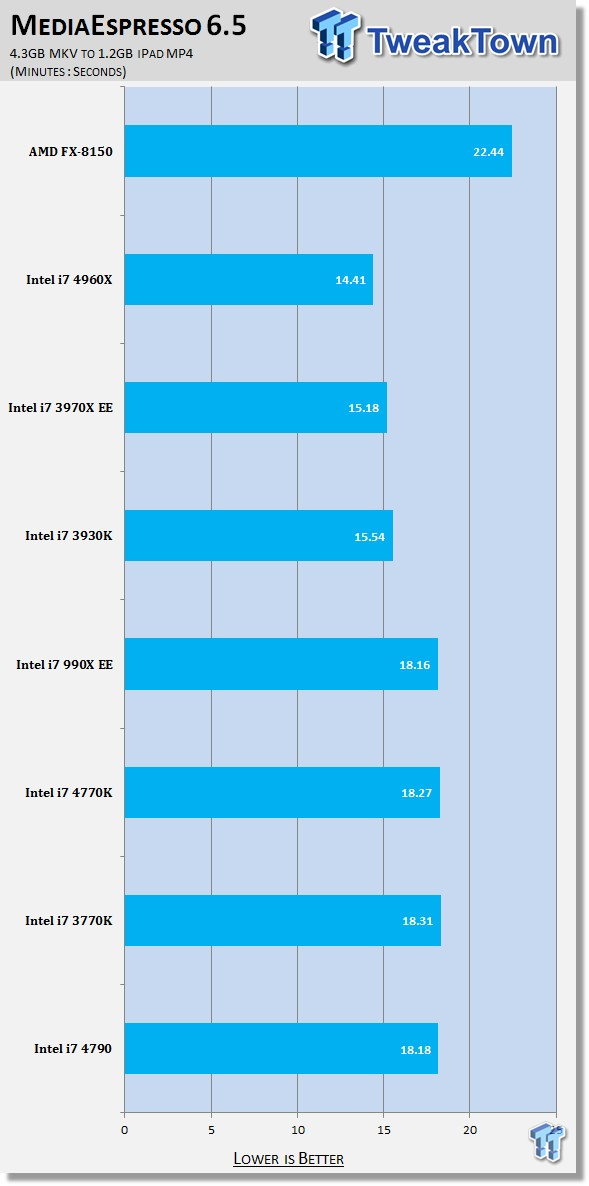 Looking above, you can see that MediaEspresso performance sits in line with the other CPUs at the bottom of the graph here, coming in around the 18 minute mark. It's not until we look at the more expensive setups that we see the time drop significantly.
Gaming, Power and Temperature Tests
3DMark 11
Version and / or Patch Used: 1.0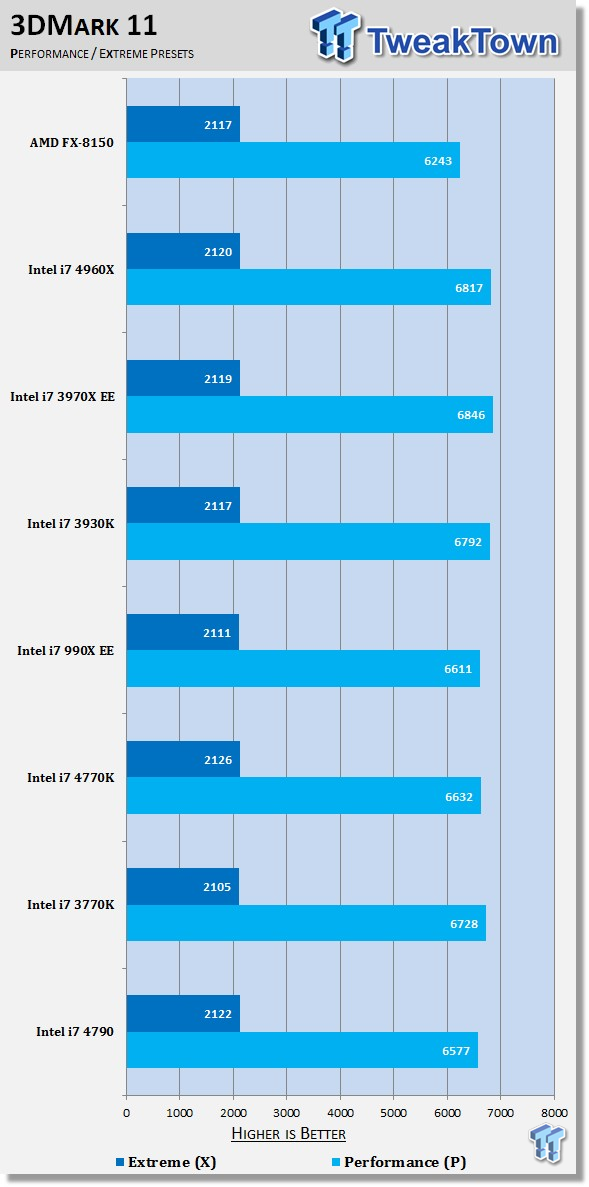 Aliens vs. Predator
Version and / or Patch Used: Standalone Benchmark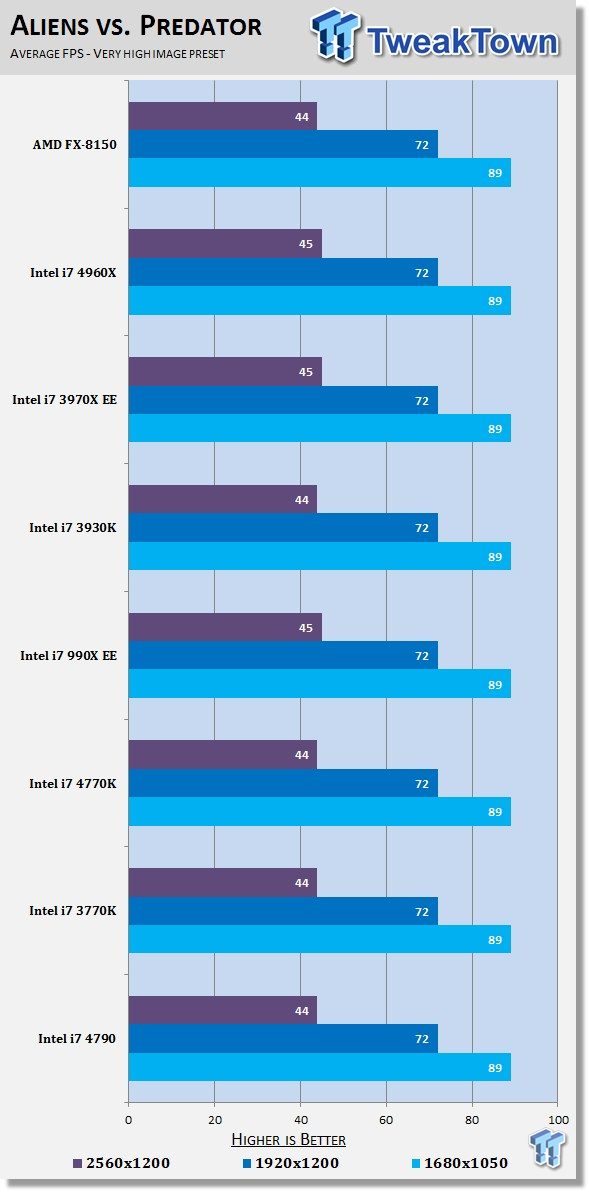 When it comes to gaming performance, you can see that there's really no difference between all our setups here with the exception of our AMD setup under 3DMark 11.
Power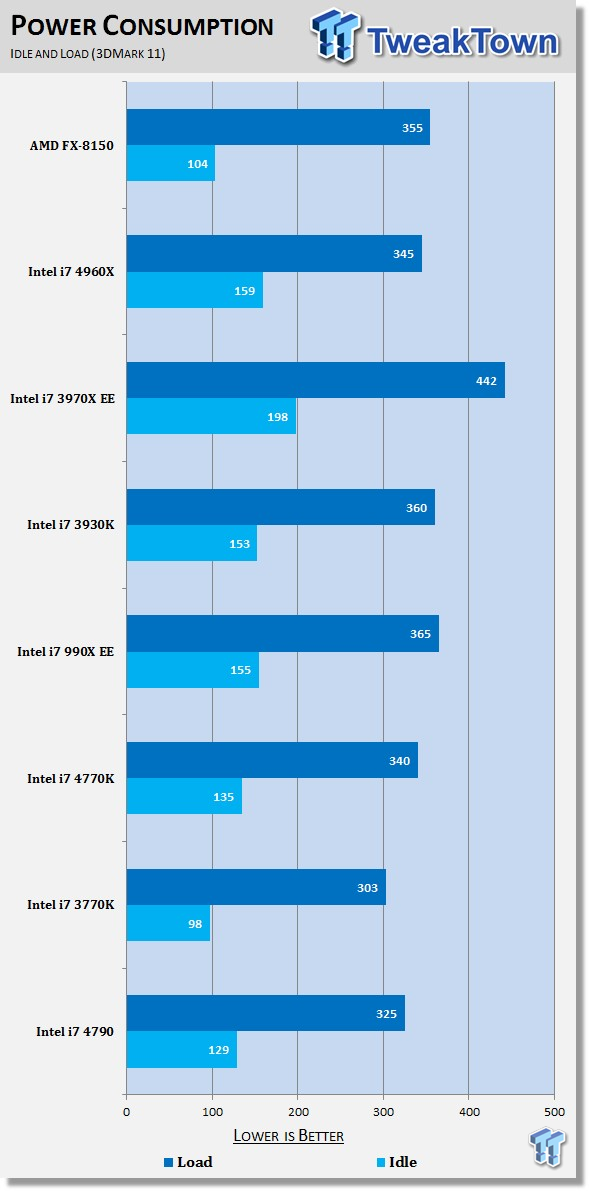 Power draw on the setup sits slightly lower than the 4770K in both the idle and load department. On a whole, though, it does sit a little higher than we'd expect, but it could well be the motherboard. We'll know more about the power numbers when we start looking at our motherboards.
Heat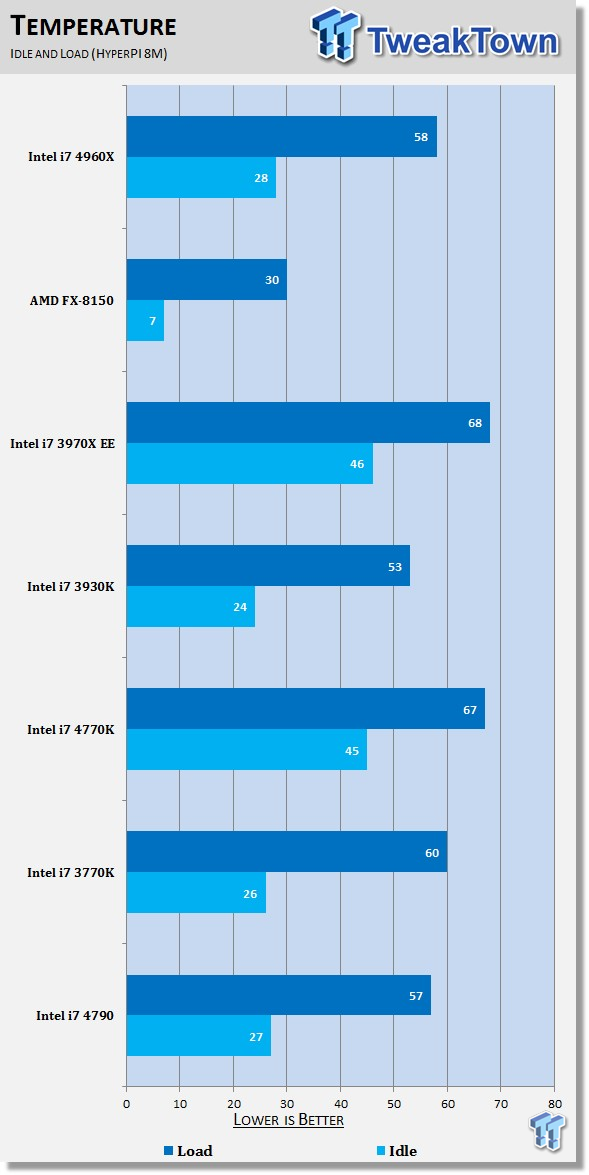 Heat numbers are really good with a solid idle and load number present. You can see we sit considerably lower than the i7 4770K on the same motherboard. Again, we'll get a better idea of our temperature numbers when we start to look at more motherboards.
Final Thoughts
It's fairly safe to say that you probably shouldn't get too excited about the upcoming Haswell refresh - especially when it comes to the non-K series based processors which really are just a speed bump. What will be more interesting is the release of the K based processors. While they will carry the same speed bump, what we're really hoping for is better overclocking in both the core and memory department.
It doesn't feel like there's a whole lot that needs to be said. We're of course a little early when it comes to looking at the performance of the new processor and it's more than likely we'll see companies offer us a BIOS update or two in the coming weeks before the processors are released.
It's really quite hard to get excited about the Haswell refresh. What it ultimately is bringing to the table is some extra MHz at the same price point as the chips it's replacing. That's not a bad thing. We all love free performance. If you're already packing a Haswell based processor, though, you're probably not about to run out and buy one of these new refreshed CPUs, especially if you're on a K based processor.
What probably interest us more when it comes to the Haswell Refresh is the new Intel Z97 chipset based boards that will be launching before the processors. These we will start to see next week and we've already got a bunch of them piling up behind us waiting to be tested. ASUS, ASRock and GIGABTYE all have some great boards and we're already sitting on a bunch of them.
In the end, the Core i7 4790 CPU is really everything you'd expect - a refreshed version of the i7 4770 which brings with it an extra 100MHz at the same price. If you're ready to buy a new CPU, then we'd recommend you wait a few weeks, as you may as well buy yourself a new Z97 based system using one of the refreshed Intel Haswell chips.