Mach Xtreme SATA DOM MX-DIY Series Review
SATA DOMs provide small amounts of storage in high read, low write environments like NAS and embedded systems that require small operating systems.
Published
5 minute read time
Introduction

We use SATA DOMs a few times a month in many of the NAS products we test. I've pulled two SATA DOMs in the past to run tests on their performance, but both times we killed the drive. SATA DOMs are not built for high write environments, and CrystalDiskMark's 4K write test is all it takes to kill a regular SATA DOM.
Anytime you have "extreme" in your company name you have to do things a little differently, a little better, and stand behind the claims. Mach Xtreme has made a name for itself in Europe for selling reliable performance SSDs. The company has limited penetration on this side of the pond, but with the SATA DOM, we think that will change with a select group of customers.
SATA DOMs are essentially SSDs in a very small form factor package. The drives are usually 4GB to 8GB, but some go all the way to 64GB in capacity. Their purpose is to have a space large enough to hold an embedded operating system for devices like NAS, routers, firewalls, and so on. New motherboards from ASRock and Supermicro that use Intel's latest SoC Atom have increased interest in DIY NAS products.
NAS products are just the starting point though; software like Pfsense and Smoothwall can turn an old computer into a very powerful router and firewall. While a full size hard drive will work for the task, why use that much power to store what is normally just a couple of hundred megabytes?
DOMs are very low power, very small, and offer enough storage if needed to install Windows Server 2012 R2. Now, they also come in an Xtreme version!
Specifications, Pricing and Availability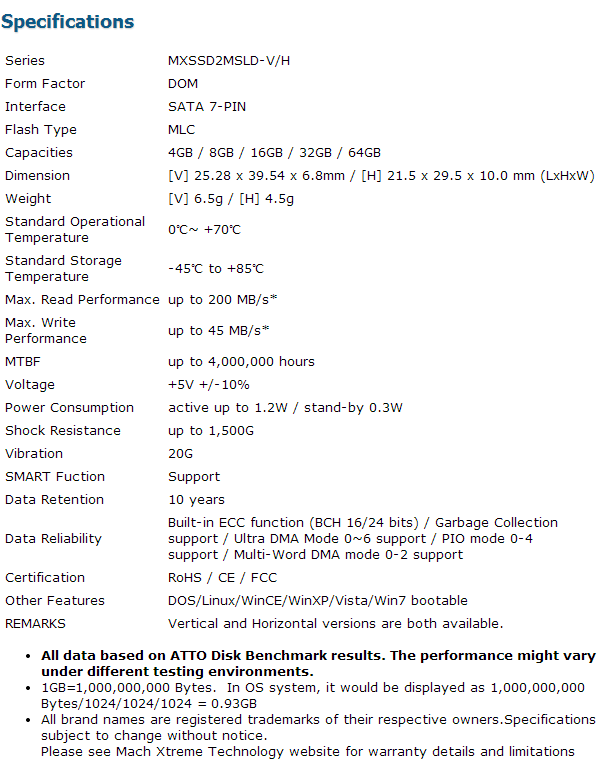 The Mach Xtreme DIY SATA DOM products comes in five capacity sizes, two form factors, and with either SLC or MLC flash. That's a lot of product SKUs to cover. Capacity ranges from 4GB to 64GB, doubling capacity at each point. Each model can be ordered with either MLC flash, or SLC flash. The form factors are vertical, like what we're showing today, or horizontal for use in 1u cases.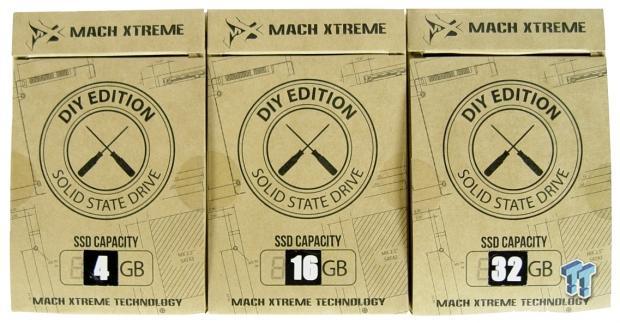 Today we're focusing on three models, 4GB SLC, 16GB SLC, and 32GB MLC, all in the vertical form factor. Over the next few weeks we'll use these drives in storage server reviews, and in an editorial on building a low power router / firewall combination. These are just a couple of examples of what the Mach Xtreme MX-DIY SATA DOMs can be used for; your creativity is really the only limiting factor.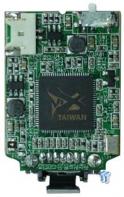 You've seen DOM several times in this review, but I haven't really explained what a DOM actually is. DOM stands for "Disk on Module." Mach Xtreme provided us with the image [above] of a unit without the case on the drive. The silicon you see in the middle is both the SATA to flash controller, and the flash as well.
At the time of writing, we weren't able to find the MX-DIY DOMs for sale, but these products were just announced days ago. A large part of DOM appeal is low-cost so expect these products to cost less than mSATA SSD, and most SSD altogether. It's also important to remember that these are not performance products, they are convenience products that use very low power, and don't require a lot of space, or more importantly, a 2.5" or 3.5" drive bay.
Packaging and Accessories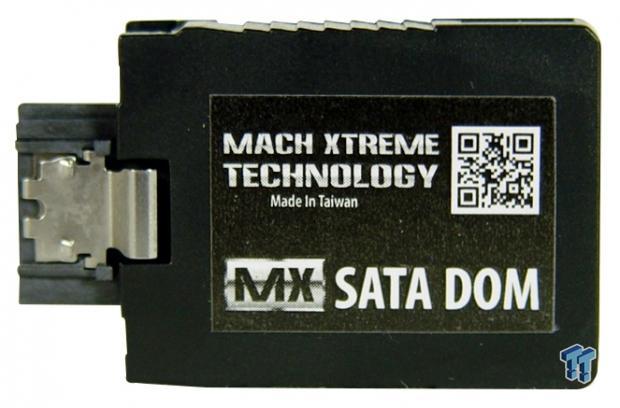 Here, we get our first look Mach Xtreme's MX SATA DOM. This is officially the first DOM we've ever reviewed on TweakTown. As we mentioned in the introduction, it's not like we haven't tried. The Mach Xtreme DOM is actually fast enough to live through our benchmarks.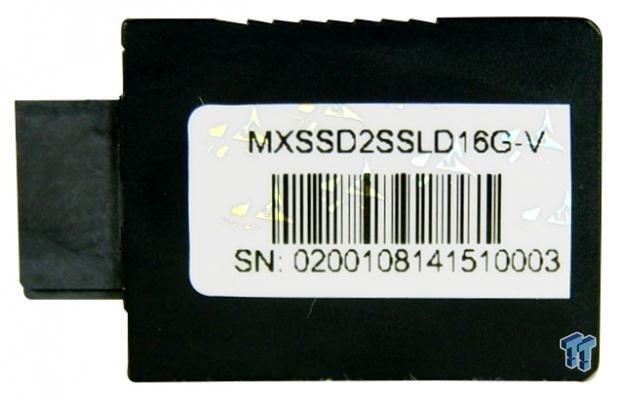 Mach Xtreme also makes a horizontal form factor, but all three of the samples we have on hand are vertical. The vertical drives will not fit in a 1u form factor case if the SATA connectors are also vertical.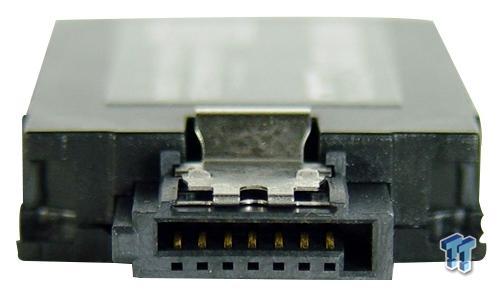 The drives plug right into a SATA plug on the motherboard.

SATA does not provide power, so you need to power the SATA DOM with either a 4-pin Molex connector, 3-pin fan header, or a special DOM power header on the motherboard. Mach Xtreme only includes a 4-pin Molex power connector in the package.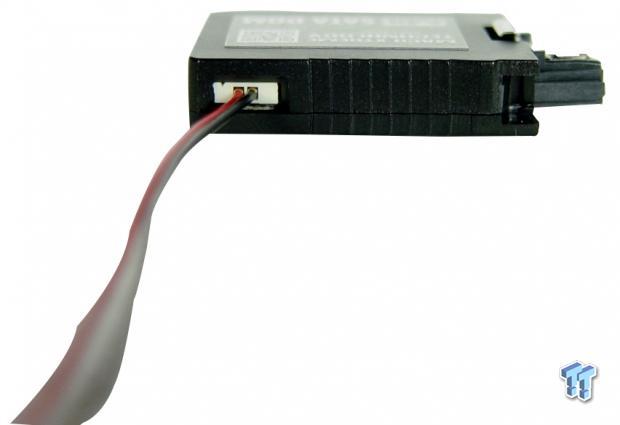 The power cables are very cheap, and the connector is standard, so they are easy to find on Amazon.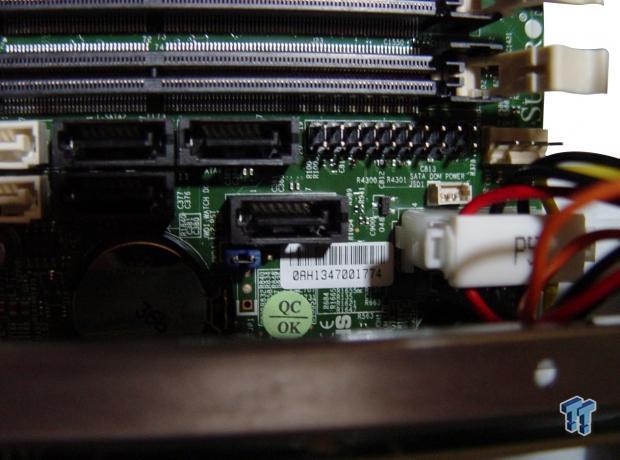 Our Supermicro 1u system (my future Pfsense router) has a SATA DOM power connector onboard, right next to the SATA connector.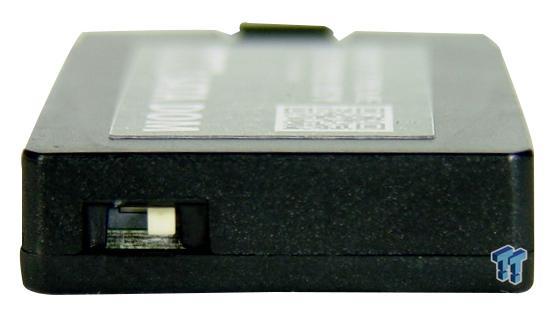 Sometimes you want to write data to your SATA DOM, and other times you don't. Flipping the switch on the top of the drive enables write protect mode.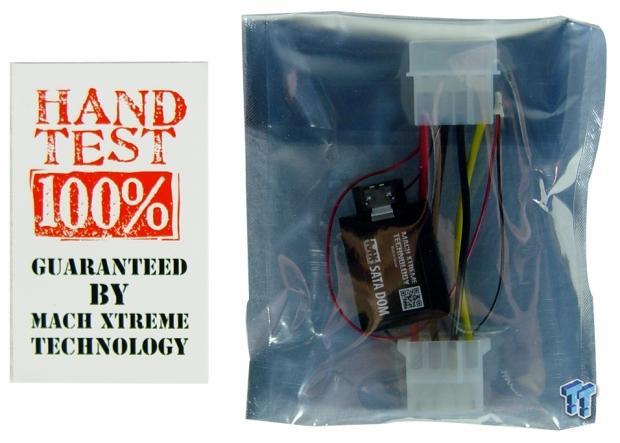 Inside the retail package we found a tested paper, the SATA DOM, and a power adapter.
Benchmarks - Test System Setup and ATTO Baseline Performance
Desktop Test System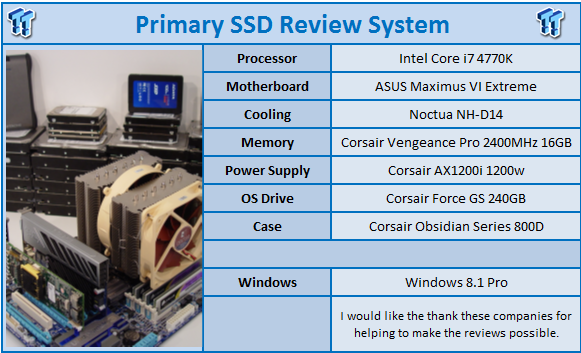 ATTO Baseline Performance
Version and / or Patch Used: 2.34
ATTO is a timeless benchmark used to provide manufacturers with data used to market storage products.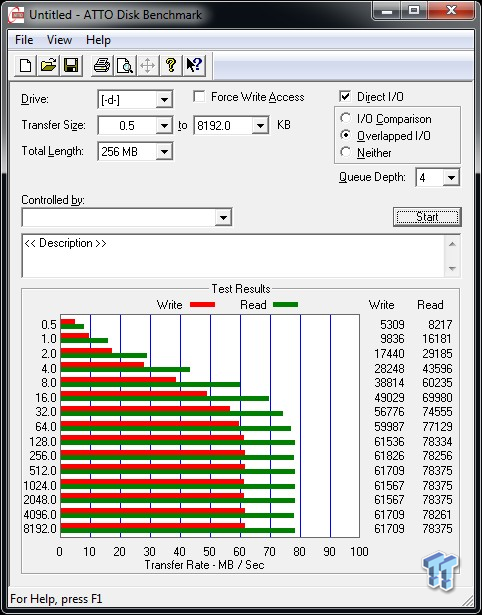 Mach Xtreme MX-DIY SATA DOM 4GB SLC:
The smallest model in the MX SATA DOM stable, with SLC flash reads at nearly 80 MB/s, and writes at just over 60 MB/s.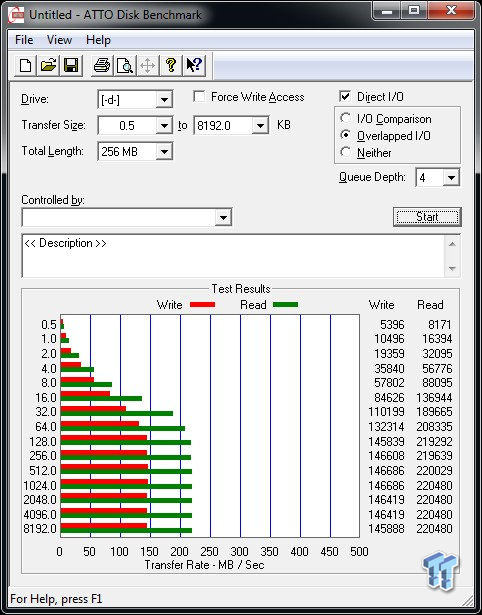 Mach Xtreme MX-DIY SATA DOM 16GB SLC:
Moving up a couple of capacity sizes, the 16GB model we have also uses SLC flash. This model is capable of reading at just over 220 MB/s, and writing at just over 145 MB/s.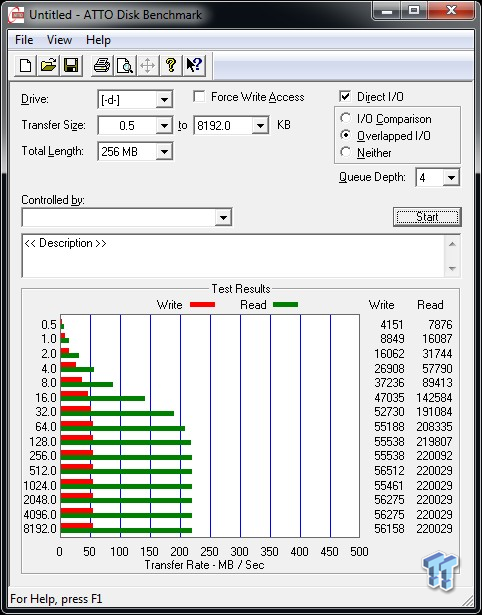 Mach Xtreme MX-DIY SATA DOM 32GB MLC:
Our only MLC flash model comes in 32GB of capacity, and it reads at 220 MB/s. The write speed is just shy of 60 MB/s.
Benchmarks - CrystalDiskMark
CrystalDiskMark
Version and / or Patch Used: 3.0 Technical Preview
Developer Homepage: http://crystalmark.info
Product Homepage: http://crystalmark.info/software/CrystalDiskMark/index-e.html
Download here: http://crystaldew.info/category/software/crystaldiskmark
CrystalDiskMark is a disk benchmark software that allows us to benchmark 4K and 4K queue depths with accuracy.
Key Features:
* Sequential reads/writes
* Random 4KB/512KB reads/writes
* Text copy
* Change dialog design
* Internationalization (i18n)
Note: Crystal Disk Mark 3.0 Technical Preview was used for these tests since it offers the ability to measure native command queuing at 4 and 32.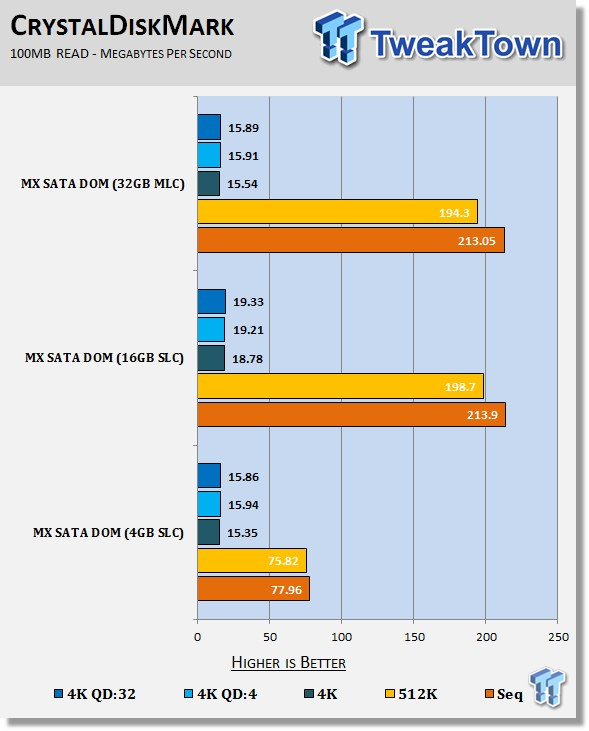 Since CDM literally killed two other SATA DOMs we've tried to test in the lab, I had to see how extreme Mach Xtreme made these drives. All three drives passed the read and write test without catching on fire, or dropping the SATA connection.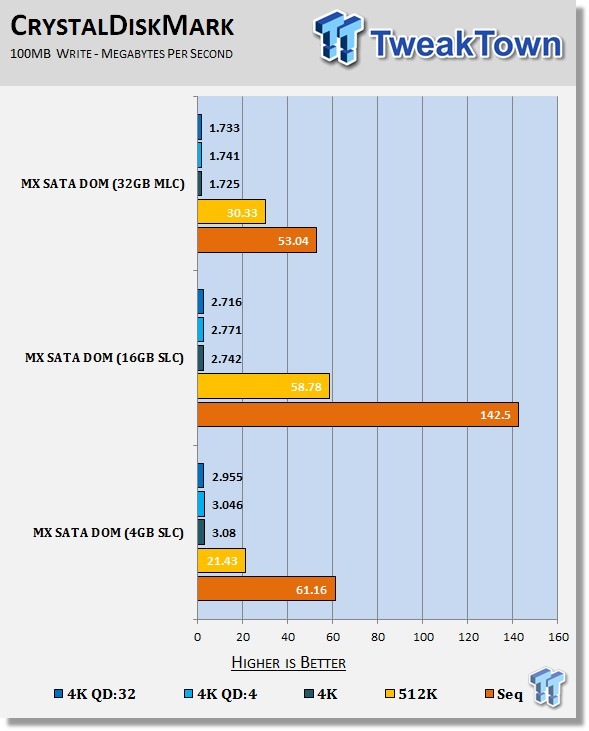 The 4K write performance may seem low, but it's important to keep in mind that DOMs are not built for this kind of workload. Most make it in write once, and read many configurations like industrial PCs, routers, firewalls, domain controllers, and so on.
Final Thoughts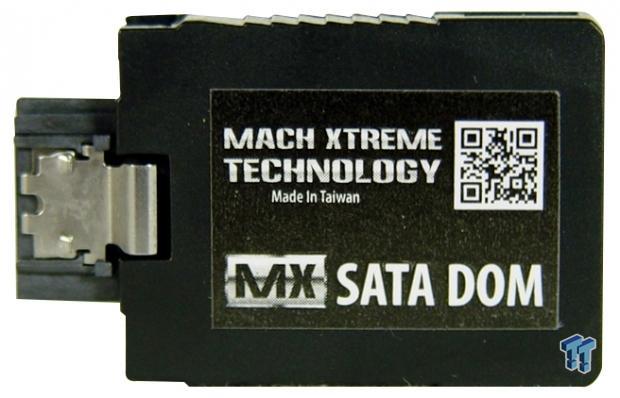 Mach Xtreme's timing for releasing these SATA DOM products was perfect for a couple of projects we're working on in the test lab. Over the next couple of weeks, you'll see these in a couple of DIY NAS builds, a cold storage server build, and a couple of router / firewall builds. For these systems, we could have used a full-size hard drive, or even a 2.5" SSD, but we wanted to save the drive bays for large capacity HDDs to store data, and with the router we wanted to save power.
When the MX SATA DOM announcement came out in January, we noticed a large number of comments on enthusiast's sites comparing the drives to mSATA models. That's not really the right environment for these drives...and the prices are much lower.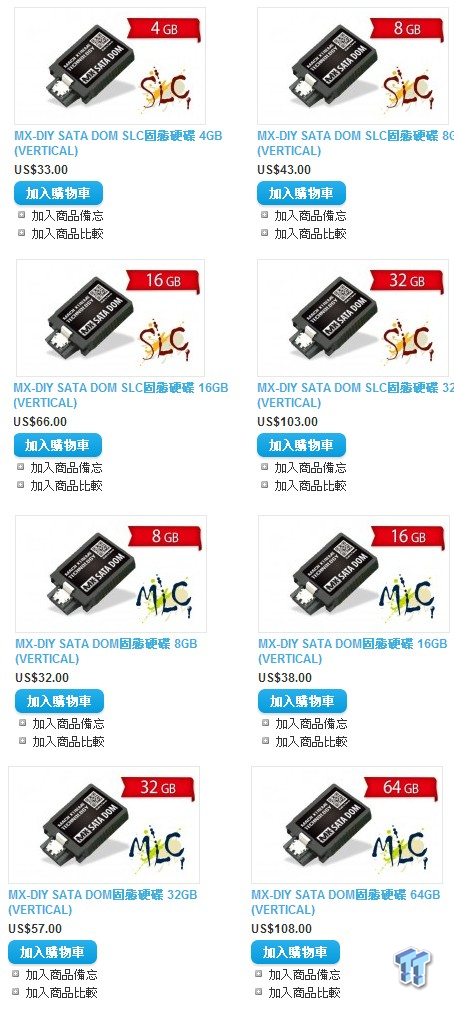 Just before going to print, we were given a link to MSRP pricing: The 4GB SLC model is just $33, and that's enough space for a Pfsense install with room to spare. The 64GB MLC SATA DOM tops out at just $108, and the rest of the drives fall in between.
If there is one thing we would like to see with this product, it is more power cable options. The 4-pin Molex is dead for most system builds, and inside of tight builds, running an extra cable back to the power supply can be difficult. Luckily, the cables don't cost a lot, and are available for those willing to look for them.
Until now, DOMs have been on the OEM side of the market, and not really in the channel. Mach Xtreme took a chance and released not only a DOM that will make it to the channel for purchase, but they also made one that is amazingly fast for this type of technology, and for this usage model.
If you are building a device with an embedded OS, or in a very small form factor, you should take a look at Mach Xtreme's SATA DOM.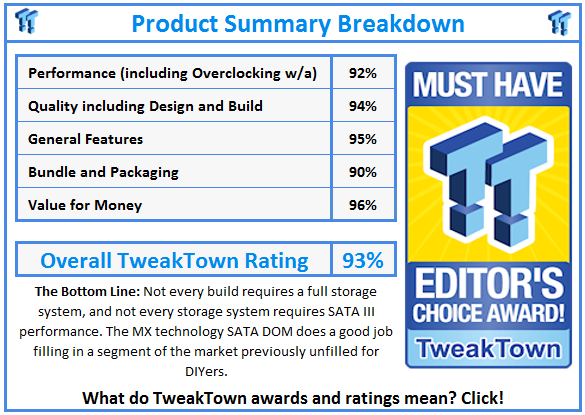 PRICING: You can find products similar to this one for sale below.

United States: Find other tech and computer products like this over at Amazon.com

United Kingdom: Find other tech and computer products like this over at Amazon.co.uk

Australia: Find other tech and computer products like this over at Amazon.com.au

Canada: Find other tech and computer products like this over at Amazon.ca

Deutschland: Finde andere Technik- und Computerprodukte wie dieses auf Amazon.de
We openly invite the companies who provide us with review samples / who are mentioned or discussed to express their opinion. If any company representative wishes to respond, we will publish the response here. Please contact us if you wish to respond.