OCZ Vertex 460 240GB SSD Review
OCZ is going from down on its luck to a true contender. Chris shares his thoughts on OCZ's recovery and it starts today with the new Vertex 460 SSD.
Published Jan 22, 2014 10:00 AM CST
|
Updated Tue, Nov 3 2020 7:00 PM CST
12 minute read time
Introduction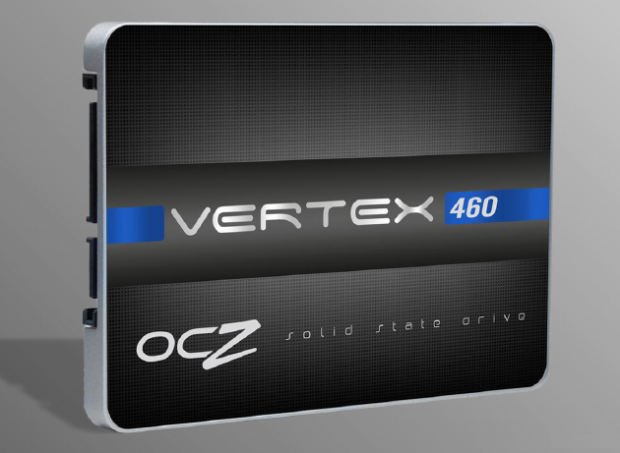 With a sugar daddy in place, OCZ Storage Solutions is ready to stage the comeback of the decade. Sitting on the throne once occupied by OCZ is a little company from South Korea named Samsung.
The Samsung 840 EVO is outselling every other SSD on the market, in some countries Samsung accounts for 50% or more of all consumer SSDs sold. In order to compete, OCZ needs to get back to the OCZ of old, where the company offers the best value and the best performance in the same product.
Is it going to be easy? Not really, but OCZ is now in the best position it has ever been in. Just a couple months ago, the company circled the wagons and its outlook appeared very grim. With Toshiba bankrolling not only the money, but also the flash, OCZ is now a fab company with Samsung, Intel, Micron, SanDisk and SK Hynix.
The first product to come from the Toshiba takeover is another Vertex branded product, the 460. OCZ used the Barefoot 3 M10 controller and paired it with Toshiba's 19nm Toggle flash. The end result is a drive that performs very close to the flagship Vector 150, but has a Samsung 840 EVO level price.

Let's take a look at all of the technical details on the next page.
Specifications, Pricing and Availability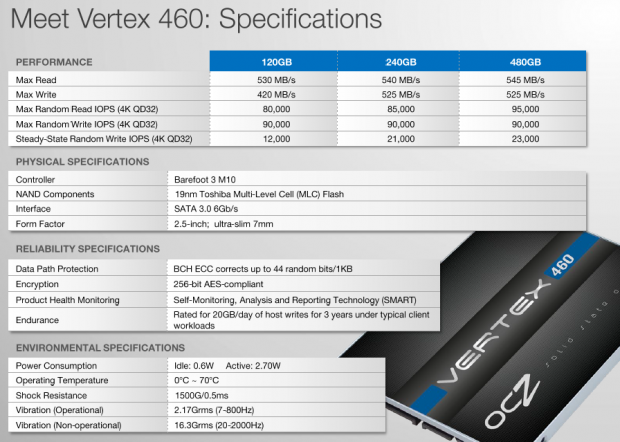 OCZ's new Vertex 460 replaces the 450 model we reviewed May last year. The capacity sizes are the same - 120GB, 240GB and 480GB. OCZ used the same M10 version of Barefoot 3, but the flash is now from Toshiba, a move we applaud. Toshiba's 19nm MLC flash uses 64Gb dies and is considerably faster than IMFT's 20nm with 128Gb dies in lower capacity SSDs. OCZ claims sequential read performance for the 240GB model at 540 MB/s. The sequential write performance is 525 MB/s and 4K IOPS comes to 85K read and 90K write.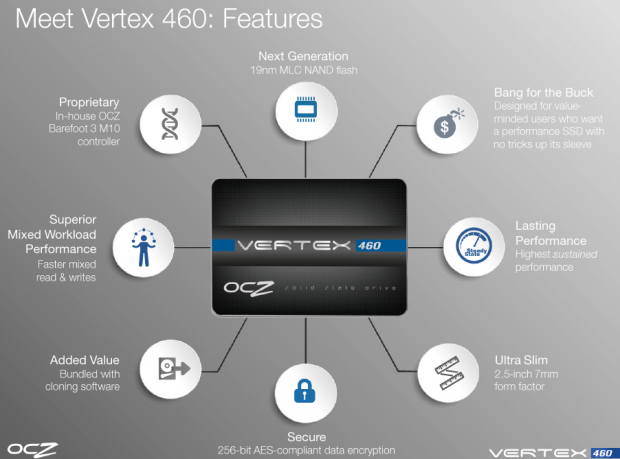 OCZ put together a nice slide showing the feature list for the Vertex 460. Some of this we'll cover in the next slide. OCZ again used the alloy case for Vertex 460, so the drive has a 7mm z-height. Internally, the drive has 256-bit AES encryption, but does lack eDrive and TCG Opal support.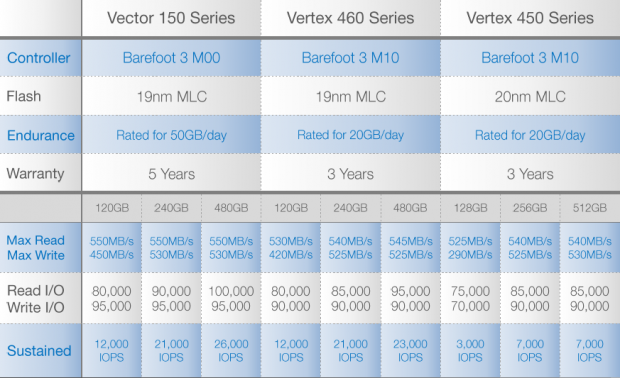 Here we see the current OCZ 2.5" product line up. Vector 150 recently replaced the original Vector, uses the Barefoot 3 M00 controller, and pairs it with Toshiba 19nm Toggle MLC rated for 50GB per day of data writes to the flash. Vertex 450 and Vertex 460 both use the slower clocked Barefoot 3 M10 controller. The difference between these two drives is that the new 460 uses parent company Toshiba 19nm MLC, and the 450 used IMFT 20nm flash. The new 460 model has a higher performance specs sprinkled here and there.
OCZ's Vertex 460 is very close to Vector 150 performance wise, but the warranty drops to three years for 460 and the endurance rating is 20GB per day.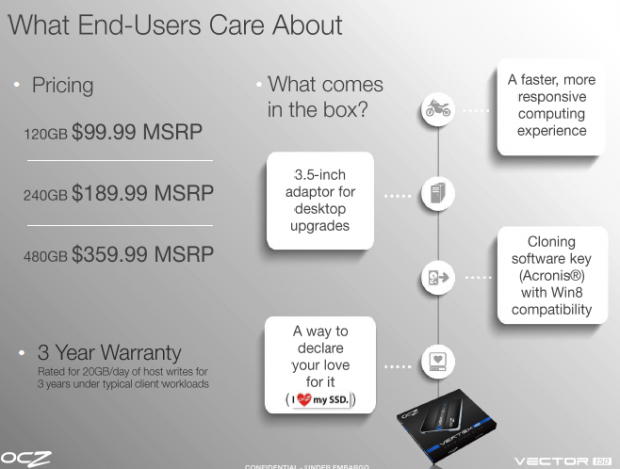 OCZ checked all of the right boxes for performance and now we get to look at the price. OCZ claims MSRPs of $99.99, $189.99 and $359.99 for the three capacity sizes. We compared the kit prices from Samsung's 840 EVO and found that OCZ cut the current 840 EVO prices by $10 in the two smaller capacity sizes and $20 in the 512GB class drive.
Essentially, OCZ is selling the 460 with a full retail accessory package for the same price or below what Samsung sells a bare 840 EVO in the same capacity class.
Packaging and Accessories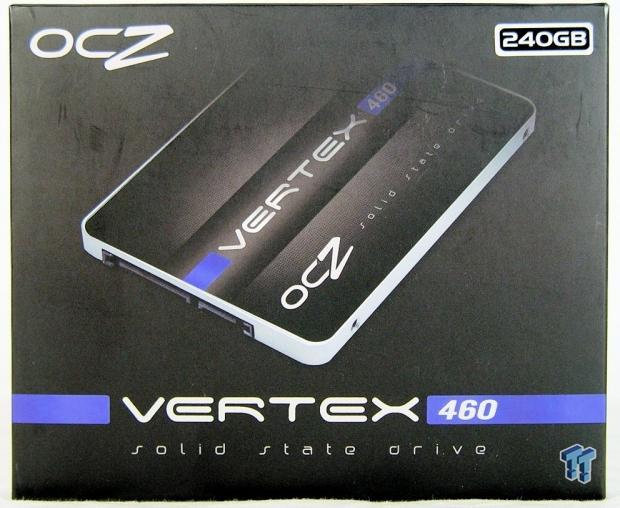 OCZ put together an attractive package for the Vertex 460. I'm surprised this is the first time OCZ used the black and blue combination, but I couldn't find another 2.5" drive with this combination before.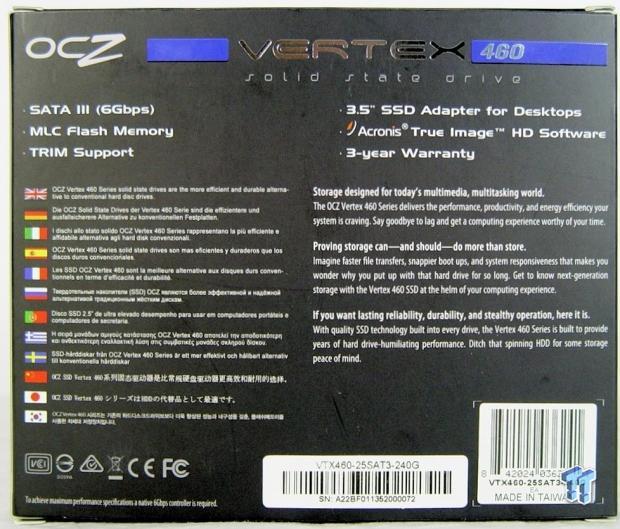 Most of the time we just glance over the product packaging, but this one is inspiring when you spend a few minutes with it. '... the Vertex 460 Series is built to provide years of hard drive - humiliating performance. Ditch that spinning HDD for some storage peace of mind." It's not Shakespeare, but it's a bit more entertaining than what we're accustomed to reading on the back of a box.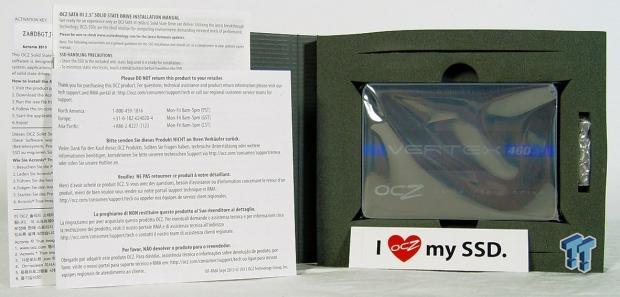 Inside we found what we started calling the Vertex Standard a few years ago. The drive is packaged well, includes a key for Acronis True Image, paper warranty info, a sticker and desktop adapter bracket (not shown).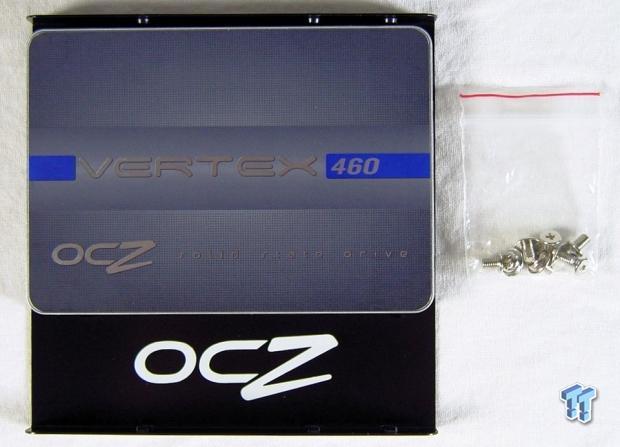 Here we see the hardware accessories included.
OCZ Vertex 460 240GB SSD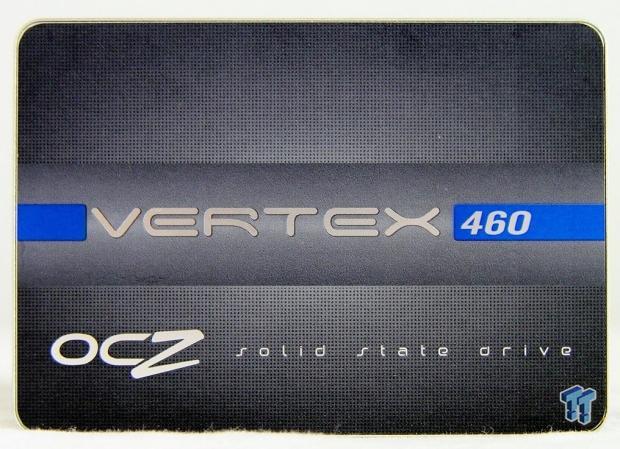 There really isn't much to report on the outside of the drive other than the new color scheme and how nice the alloy case is.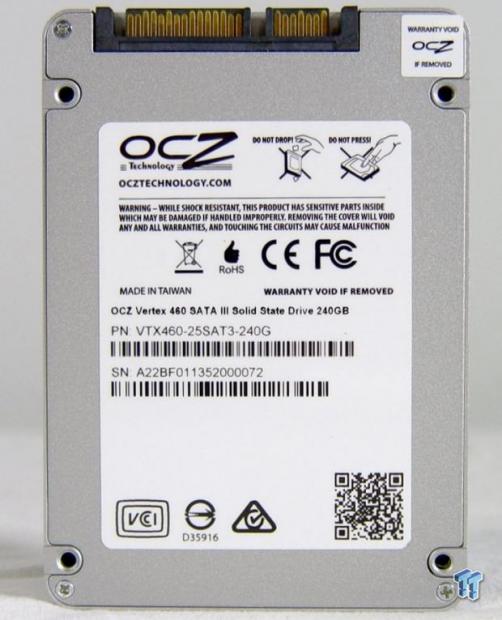 The drive is heavier than most SSDs because of the premium case. Not that it produces more than other SSDs, but the alloy case does aid in dissipating heat from the controller and the flash. Vertex 460 also has a 7mm z-height, so it fits in a wide range of systems from desktops to many new Intel Ultrabook designs.
The included desktop adapter bracket keeps the drive's SATA power and data connectors offset to the left side. This makes plugging in other drives easier and gives everything a cleaner look.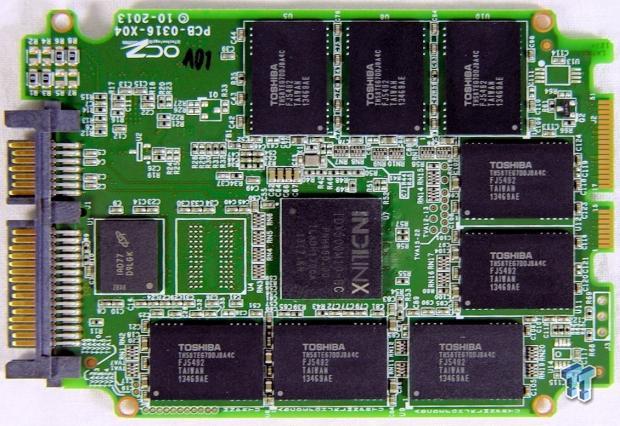 On the inside, we notice a few things. The first is OCZ didn't use lower price TSOP flash, but stuck with the higher spec BGA flash. There are 16 NAND flash packages, with two 19nm die per package.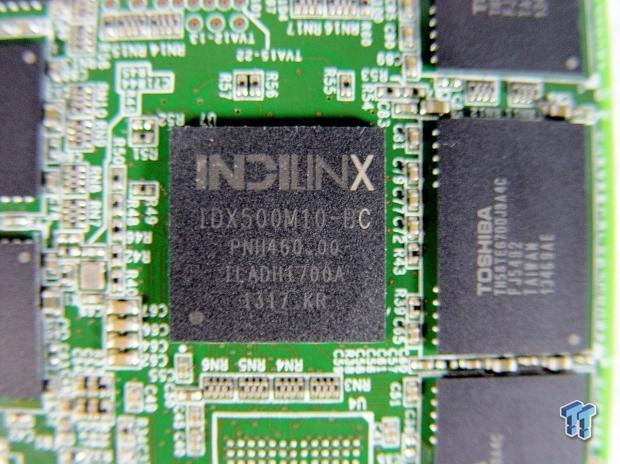 OCZ used the Indilinx Barefoot 3 M10 on the 460.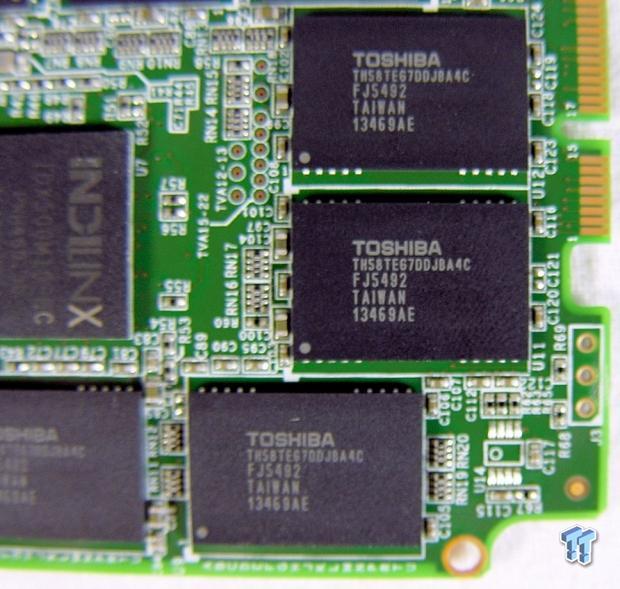 The flash is Toshiba 19nm code TH58TEG7DDJBA4C, the same used on Vector 150. This leads us to the obvious questions, why is one drive rated at 50GB writes per day and the other just 20GB writes per day, when it's the same flash?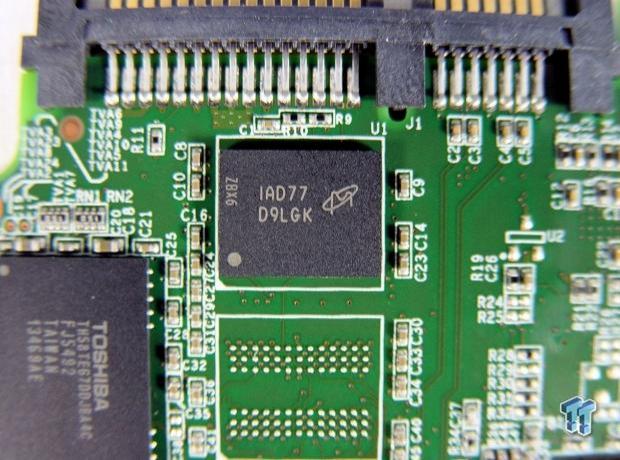 OCZ / Toshiba still have to outsource DRAM. The Vertex 460 uses Micron DRAM, one on each side of the PCB. Vertex 460 has the same DRAM size as Vector 150, but uses slower DRAM, DDR3-1333 instead of the DDR3-1600 used on Vector 150. The Vertex 460 DRAM voltage is 1.5v instead of the lower power 1.35v on Vector 150.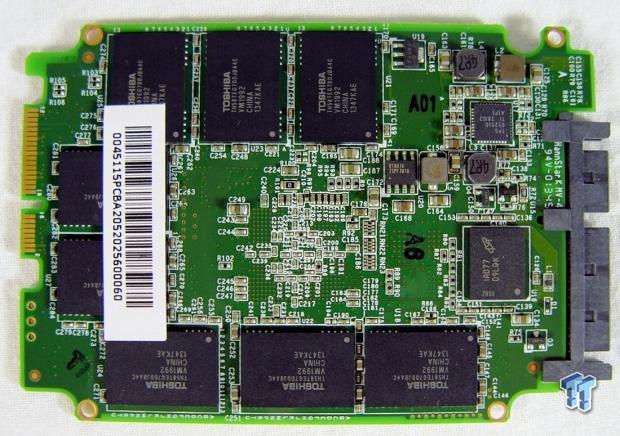 Benchmarks - Test System Setup and ATTO Baseline Performance
Desktop Test System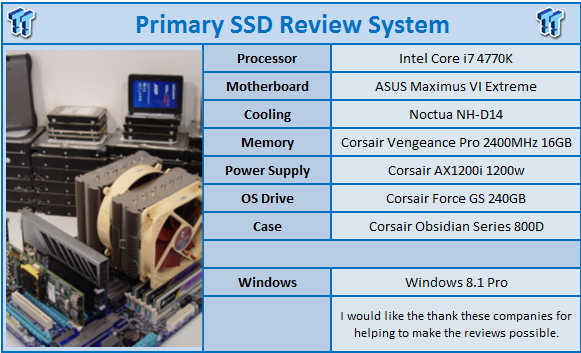 Lenovo W530 - Mobile Workstation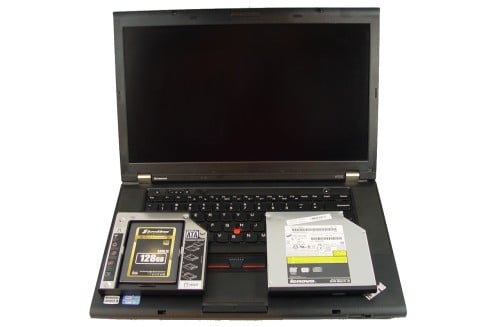 We use two systems for SSD testing. The desktop runs a majority of the tests and the Lenovo W530 runs the notebook power tests as well as the real-world file transfer benchmark.
ATTO Baseline Performance
Version and / or Patch Used: 2.34
ATTO is a timeless benchmark used to provide manufactures with data used market storage products.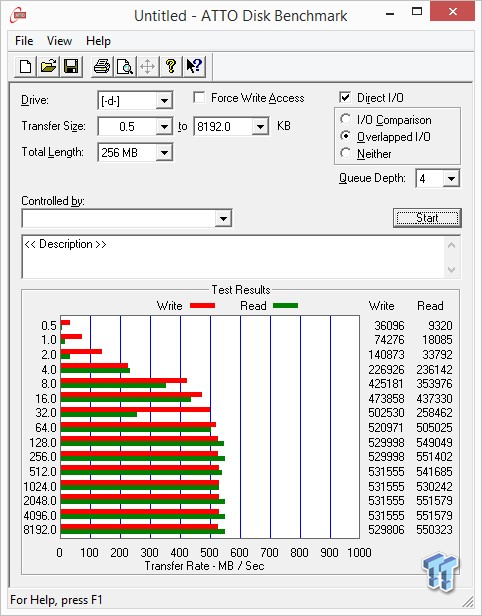 In ATTO, we achieved a bit over OCZ's claimed sequential read and write speeds with Vertex 450. Our measurement shows a sequential read speed of 551 MB/s and sequential write speed of 531 MB/s.
Benchmarks - Sequential Performance
HD Tune Pro
Version and / or Patch Used: 4.00
Developer Homepage: http://www.efdsoftware.com
Product Homepage: http://www.hdtune.com
HD Tune is a Hard Disk utility which has the following functions:
Benchmark: measures the performance
Info: shows detailed information
Health: checks the health status by using SMART
Error Scan: scans the surface for errors
Temperature display
HD Tune Pro gives us accurate read, write and access time results and for the last couple of years has gained popularity amongst reviewers. It is now considered a must have application for storage device testing.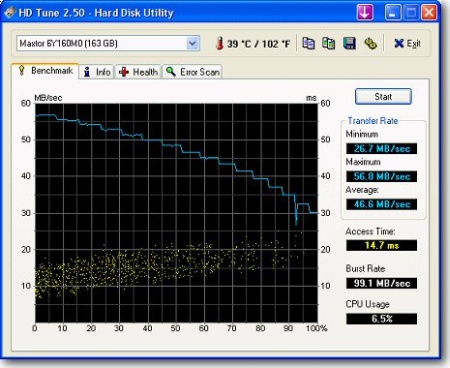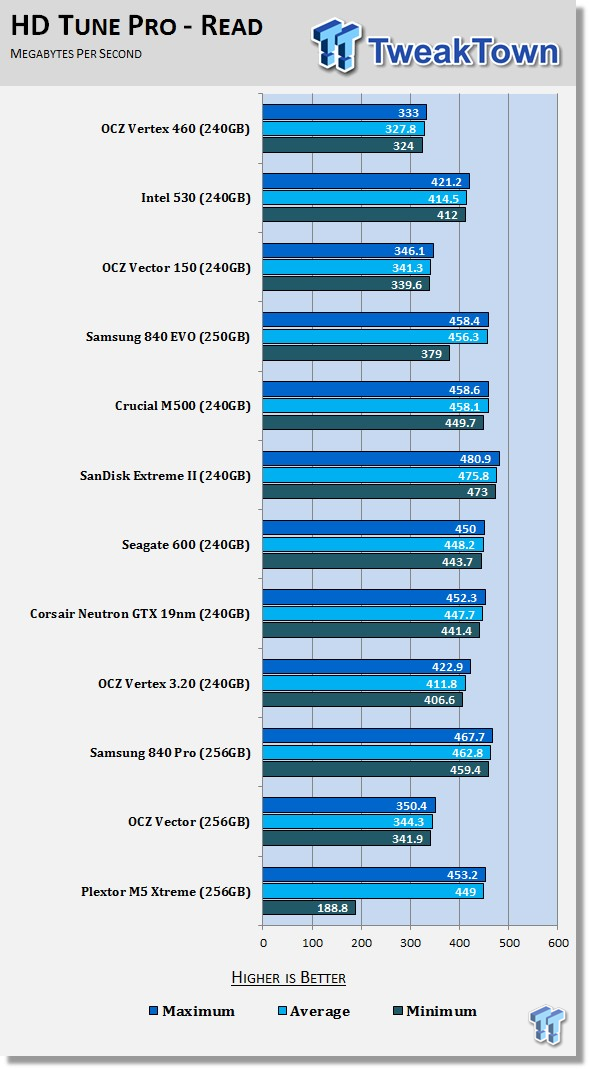 We have both the Vector 150 and Vertex 460 240GB in the charts today with the 840 EVO 250GB just below. This chart doesn't show either of these drives in a good light, but the reason why isn't because the OCZ drives are slow.
The test uses QD1 at 64KB to read sequential data from the drive. OCZ limits the QD1 reads so users can multitask more efficiently. They keep some performance back so you can do more than one thing at a time without your system feeling unresponsive. We'll see a similar test later in this review that shows the total sequential read performance.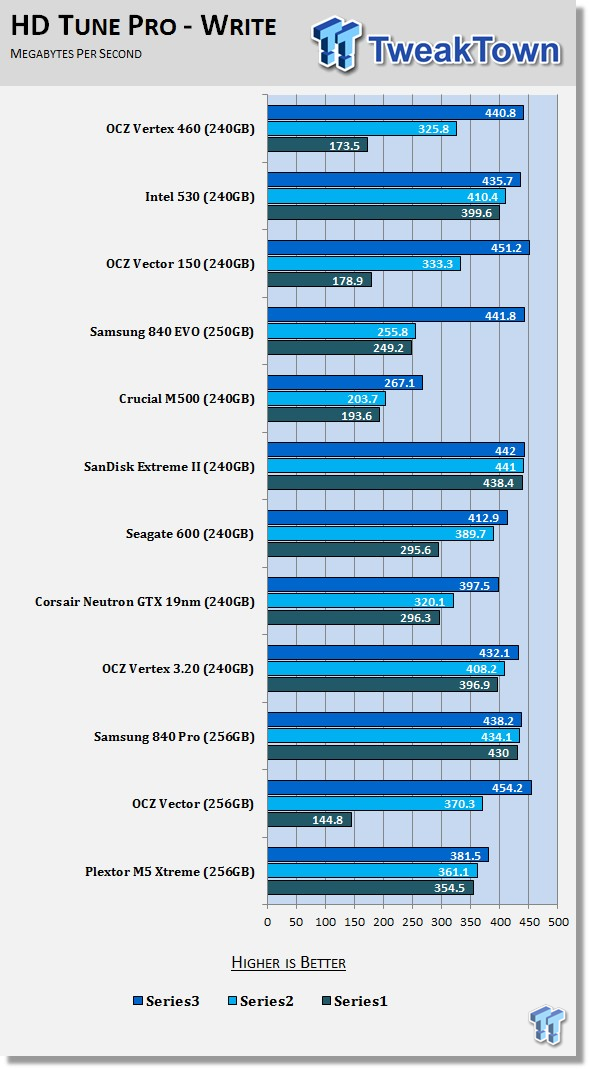 OCZ plays around with the QD1 write performance as well at 64KB and the average and minimum speeds don't show in the chart as accurate as we'd like. The 840 EVO on the other hand is accurate and once you get past the SLC like section, the performance drops off to just over 250 MB/s.
HD Tach - Sequential Write Performance after Random Writes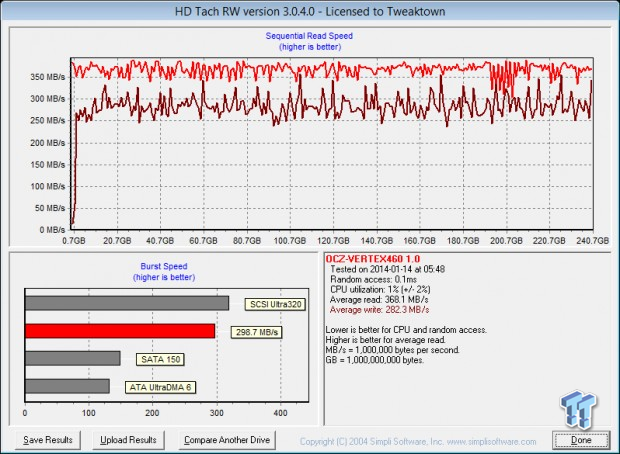 At 128KB the Vertex 450 doesn't have the same issues. This is also the block size normally associated with sequential performance. This test runs after a number of random reads and writes to the drive.
We're looking large drops in write performance. Some SSDs drop down to as low as 50 MB/s, but the OCZ Vertex 460 doesn't have the same problem.
Benchmarks - AIDA64 Random Access Time
AIDA64 Random Access Time
Version and / or Patch Used: 1.60
Developer Homepage: http://www.aida64.com
Product Homepage: http://www.aida64.com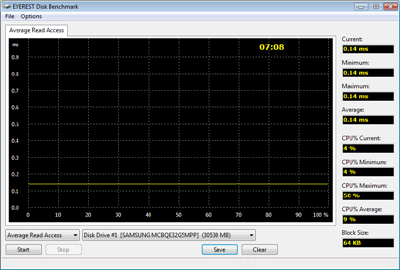 AIDA64 offers several different benchmarks for testing and optimizing your system or network. The Random Access test is one of very few if not only that will measure hard drives random access times in hundredths of milliseconds as oppose to tens of milliseconds.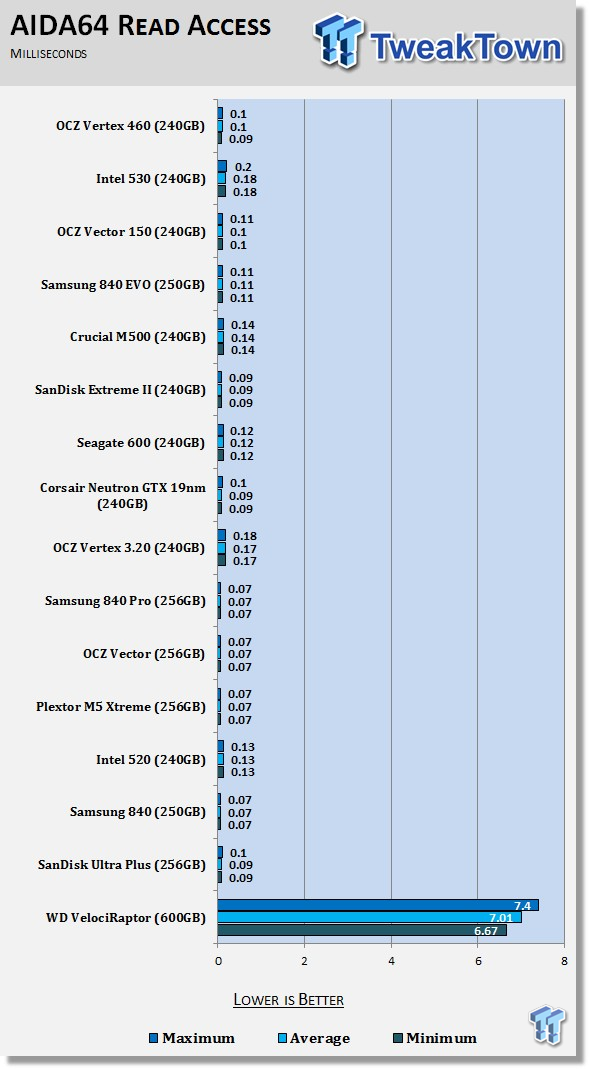 The Barefoot 3 controller is proven when it comes to latency - it's one of the best we've ever tested. The M10 variant delivers the same low latency performance as the M00 found in the Vector 150.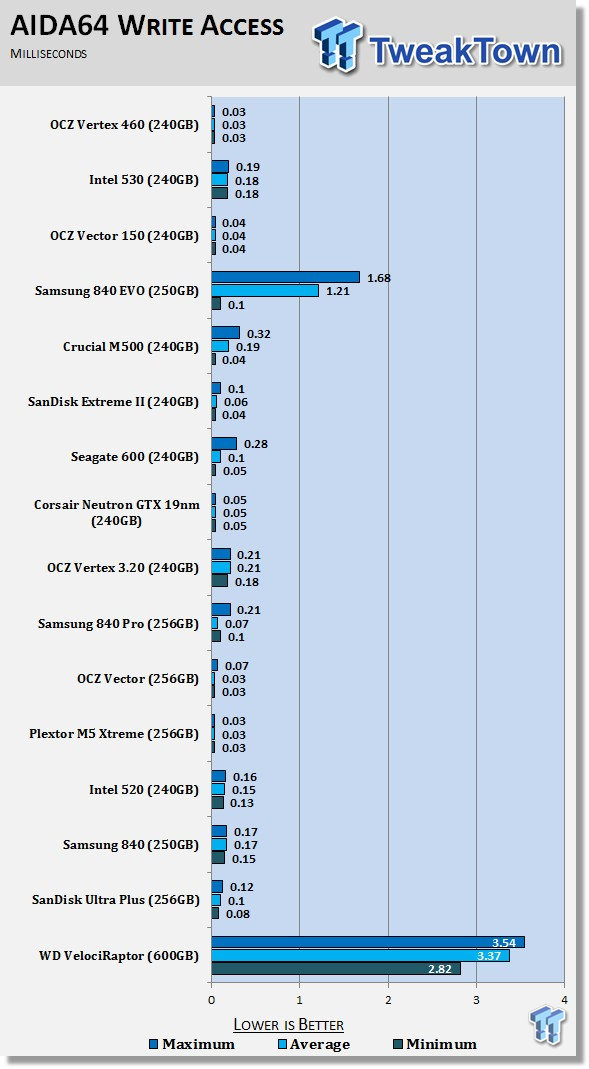 The write latency is also very good on the Vertex 460, even a little better than Vector 150. We think OCZ may have optimized the firmware since Vector 150 hit the market. Vector 150 did receive a firmware update, but we have yet to test it.
Benchmarks - Anvil Storage Utilities
Anvil Storage Utilities
Version and / or Patch Used: RC6
So what is Anvil Storage Utilities? First of all, it's a storage benchmark for SSDs and HDDs where you can check and monitor your performance. The Standard Storage Benchmark performs a series of tests, you can run a full test or just the read or the write test or you can run a single test, i.e. 4K DQ16.
Anvil Storage Utilities is not officially available yet but we've been playing with the beta for several months now. The author, Anvil on several international forums has been updating the software steadily and is adding new features every couple of months.
The software is used several different ways and to show different aspects for each drive. We've chosen to use this software to show the performance of a drive with two different data sets. The first is with compressible data and the second data set is incompressible data. Several users have requested this data in our SSD reviews.
0-Fill Compressible Data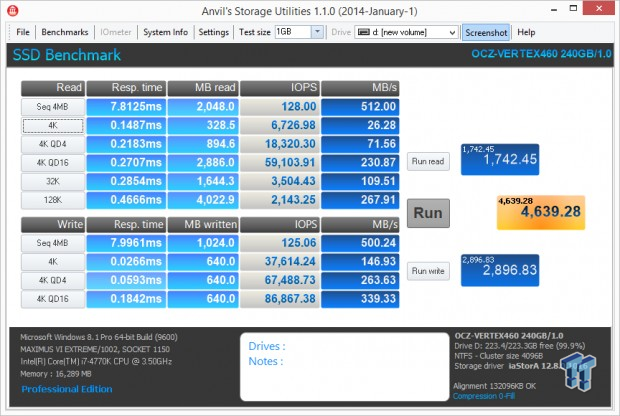 Incompressible Data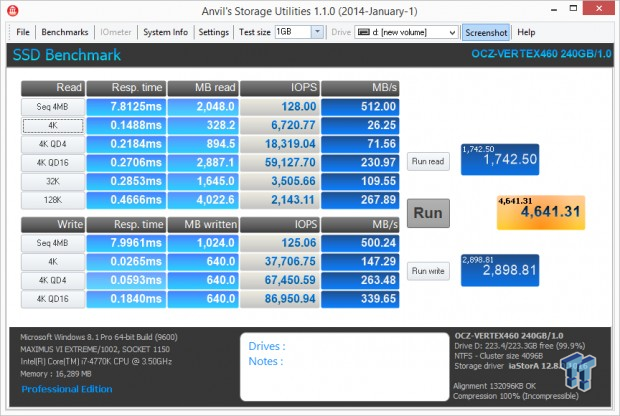 Unlike Vertex 2 and Vertex 3, Vertex 450 doesn't manage compressible and incompressible data differently, so the performance stays the same, regardless of what types of files you work with.
Read IOPS through Queue Depth Scale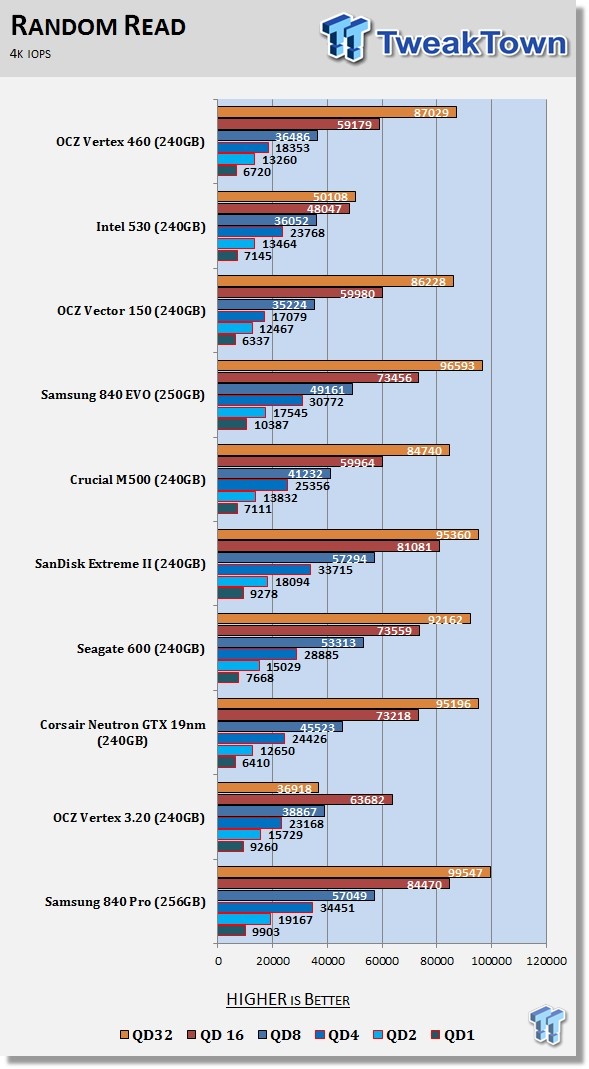 With the same flash and a controller that is very close to the Vector 150, the Vertex 450 compares very well to the flagship OCZ offering. In our read IOPS test, the Vector 460 is actually a little faster. Again, OCZ has had a little more time to refine the firmware and we haven't retested Vector 150 with the latest firmware.
Scaling Write IOPS through Queue Scale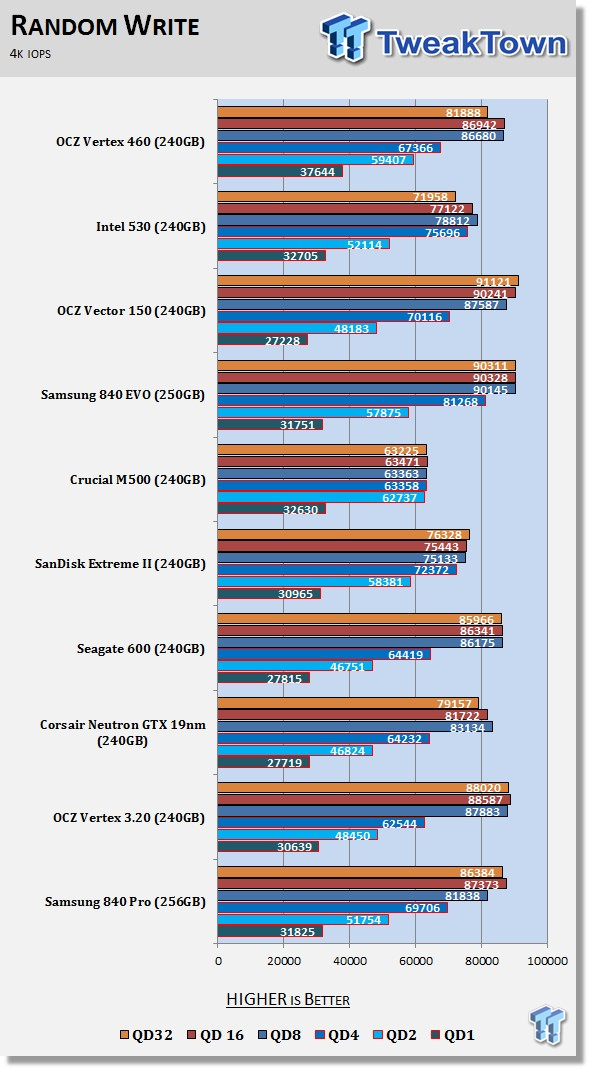 Vertex 460 has the highest QD1 IOPS performance we've achieved with a 2.5" drive to date.
Benchmarks - CrystalDiskMark
CrystalDiskMark
Version and / or Patch Used: 3.0 Technical Preview
Developer Homepage: http://crystalmark.info
Product Homepage: http://crystalmark.info/software/CrystalDiskMark/index-e.html
Download here: http://crystaldew.info/category/software/crystaldiskmark
CrystalDiskMark is a disk benchmark software that allows us to benchmark 4K and 4K queue depths with accuracy.
Key Features:-
* Sequential reads/writes
* Random 4KB/512KB reads/writes
* Text copy
* Change dialog design
* internationalization (i18n)
Note: Crystal Disk Mark 3.0 Technical Preview was used for these tests since it offers the ability to measure native command queuing at 4 and 32.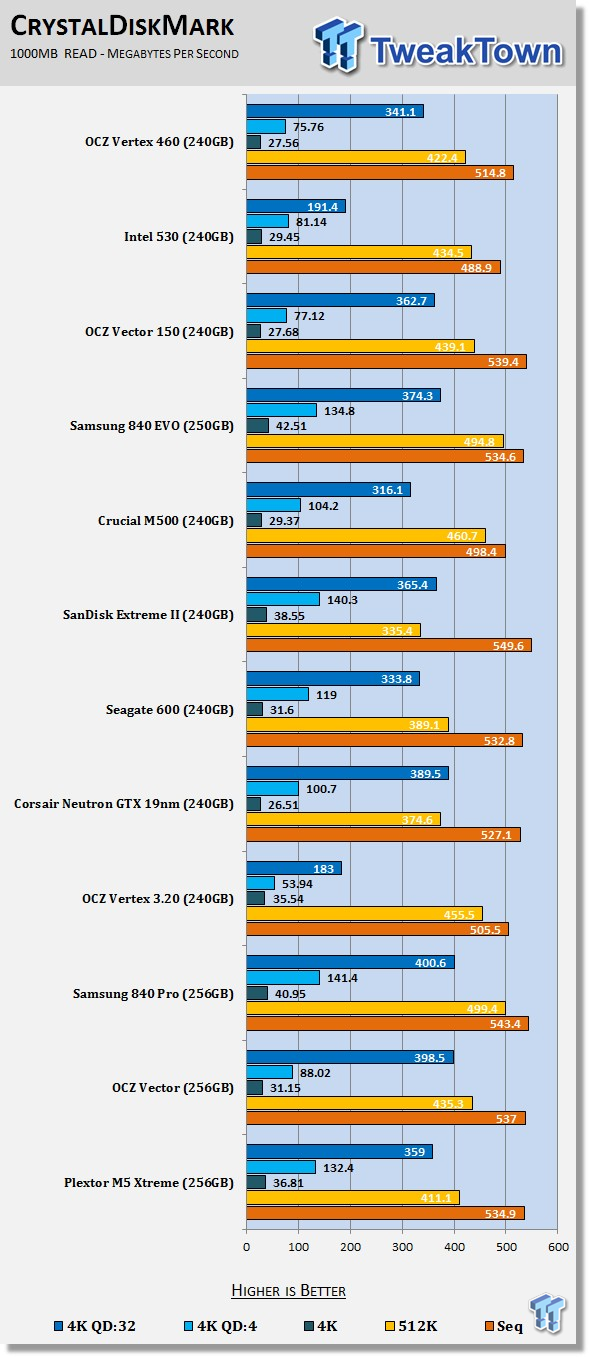 In CDM, we finally get to see the sequential read and write performance without the QD1 limit. The Vertex 460 delivers 514 MB/s in the sequential read test and Vector 150 delivers 539 MB/s.
The performance difference isn't much, but it is there. The same can be said about the 4K read performance. There is a small difference but not much.
We see the same thing in the write tests, Vector 150 is only slightly faster than Vertex 460. The Vertex 460 is just as much of a competitor to the Samsung 840 Pro as Vector 150.
Benchmarks - PCMark Vantage Hard Disk Tests
PCMark Vantage - Hard Disk Tests
Version and / or Patch Used: 1.0.0
Developer Homepage: http://www.futuremark.com
Product Homepage: http://www.futuremark.com/products/pcmarkvantage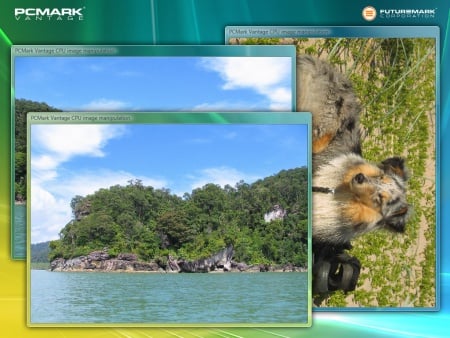 PCMark Vantage is the first objective hardware performance benchmark for PCs running 32 and 64 bit versions of Microsoft Windows Vista. PCMark Vantage is perfectly suited for benchmarking any type of Microsoft Windows Vista PC from multimedia home entertainment systems and laptops to dedicated workstations and high-end gaming rigs. Regardless of whether the benchmarker is an artist or an IT Professional, PCMark Vantage shows the user where their system soars or falls flat, and how to get the most performance possible out of their hardware. PCMark Vantage is easy enough for even the most casual enthusiast to use yet supports in-depth, professional industry grade testing.
FutureMark has developed a good set of hard disk tests for their PCMark Vantage Suite. Windows users can count on Vantage to show them how a drive will perform in normal day to day usage scenarios. For most users these are the tests that matter since many of the old hat ways to measure performance have become ineffective to measure true Windows performance.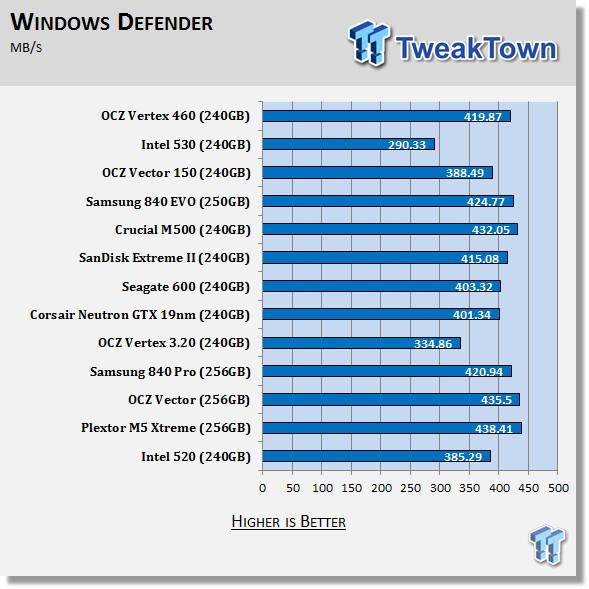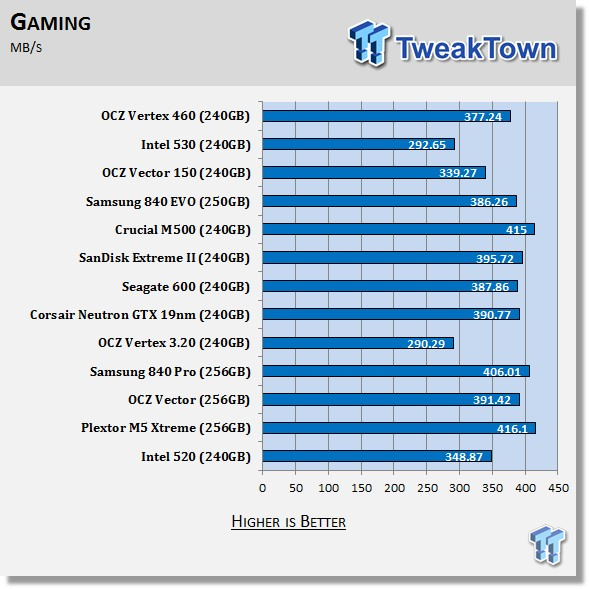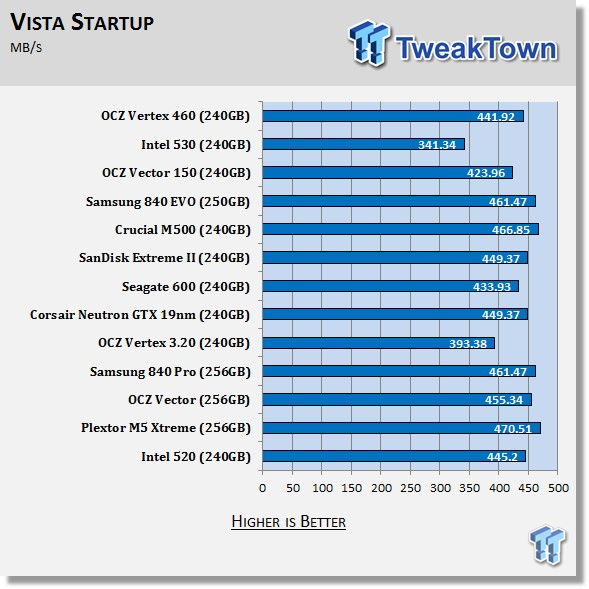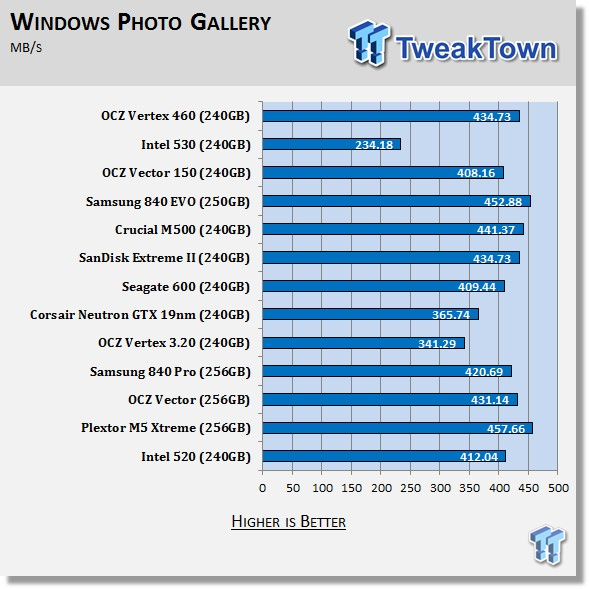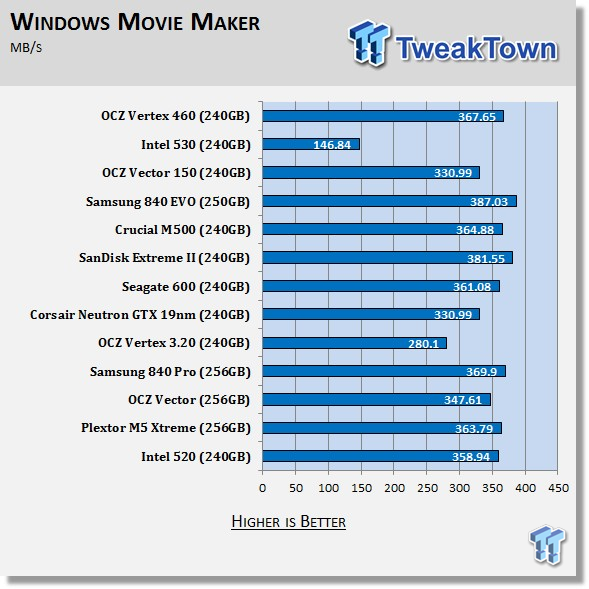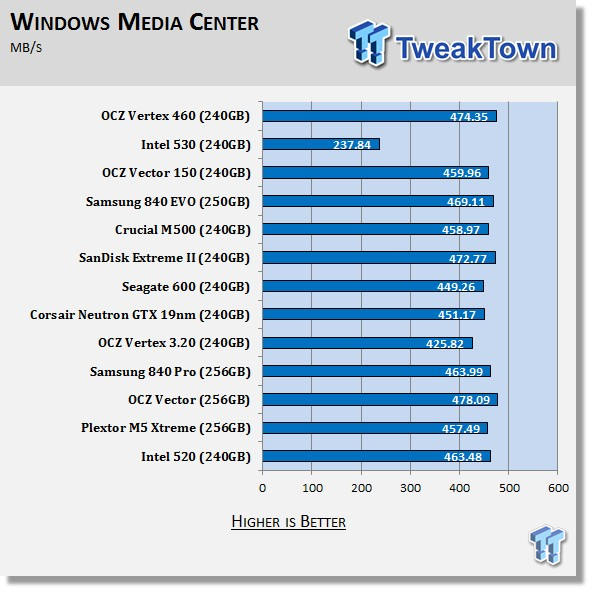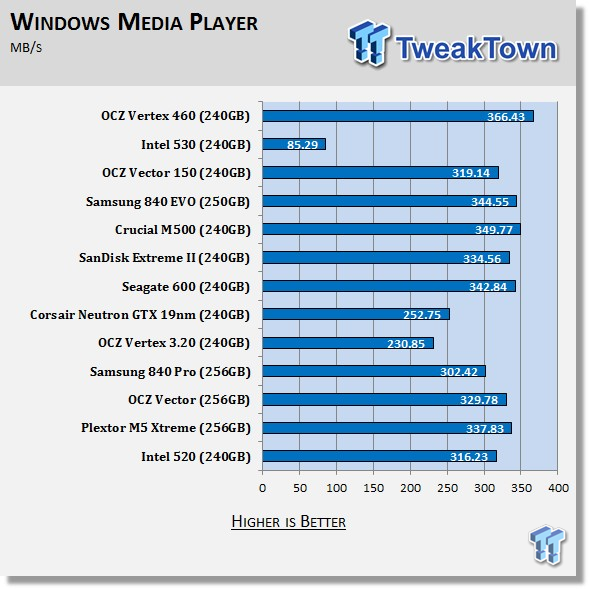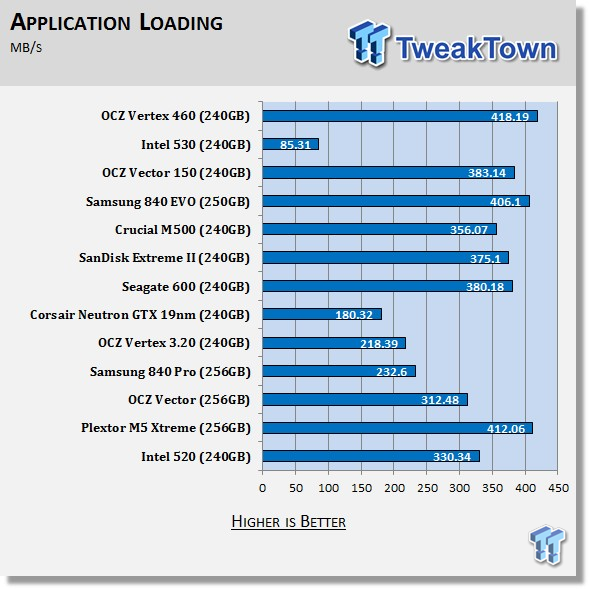 In day-to-day tasks, Vertex 460's performance is stellar. This is the performance we expect from flagship models and not lower-priced SSDs.
Benchmarks - PCMark Vantage - Drives with Data Testing
PCMark Vantage - Drives with Data Testing
For a complete breakdown on the Drives with Data Testing please read this article. You will be able to perform this test at home with the files provided in the article - full instructions are included.
- Brief Methodology
SSDs perform differently when used for a period of time and when data is already present on the drive. The purpose of the Drives with Data testing is to show how a drive performs in these 'dirty' states. SSDs also need time to recover, either with TRIM or onboard garbage collection methods.
Drives with Data Testing - 25%, 50%, 75% Full States and Dirty / Empty Test
Files needed for 60 (64GB), 120 (128GB), 240 (256GB)
60GB Fill - 15GB, 30GB, 45GB
120GB Fill - 30GB, 60GB, 90GB
240GB Fill - 60GB, 120GB, 160GB
Empty but Dirty - a test run just after the fill tests and shows if a drive needs time to recover or if performance is instantly restored.

The performance also stays high when the drive has data on the flash, like when you use the SSD with an operating system on it.
Benchmarks - PCMark 8 Hard Disk Tests
Version and / or Patch Used: 1.0.0
Developer Homepage: http://www.futuremark.com
Product Homepage: http://www.futuremark.com/products/pcmark8
Note: PCMark 8 Storage benchmark is ideal for testing the performance of SSDs, HDDs and hybrid drives. Using traces recorded from Adobe Creative Suite, Microsoft Office and a selection of popular games, PCMark 8 Storage highlights real-world performance differences between storage devices.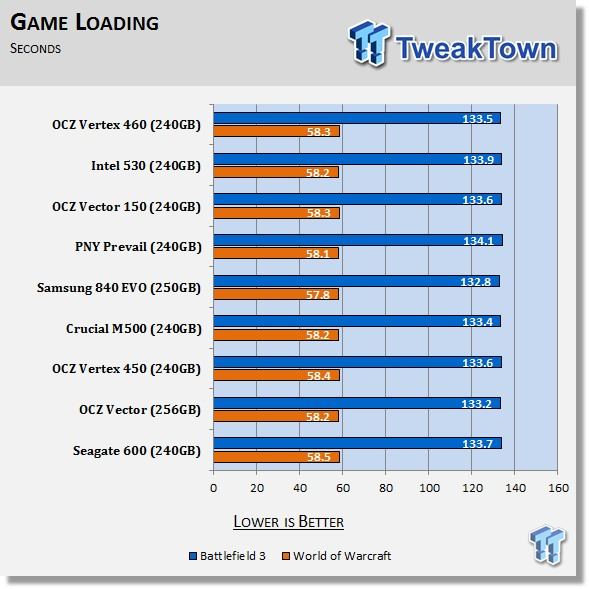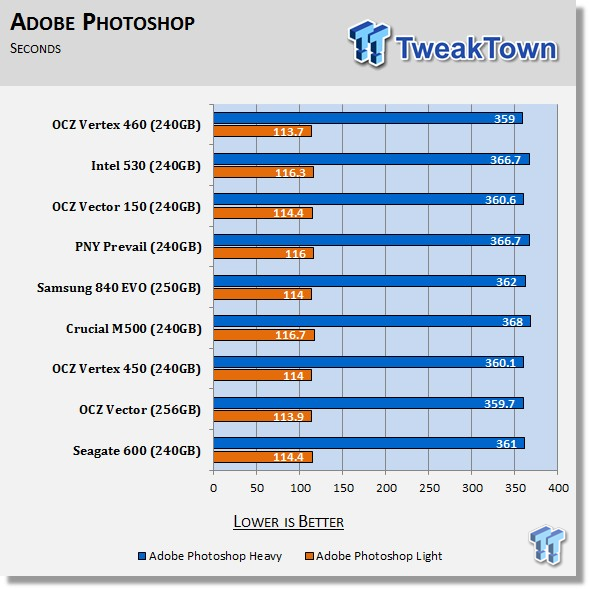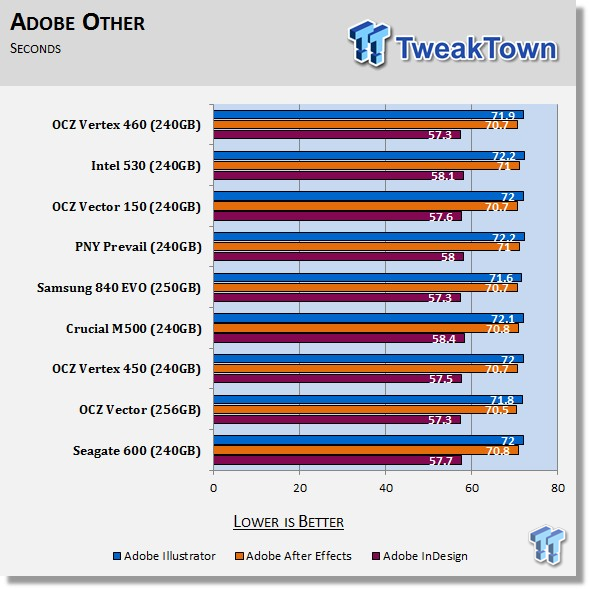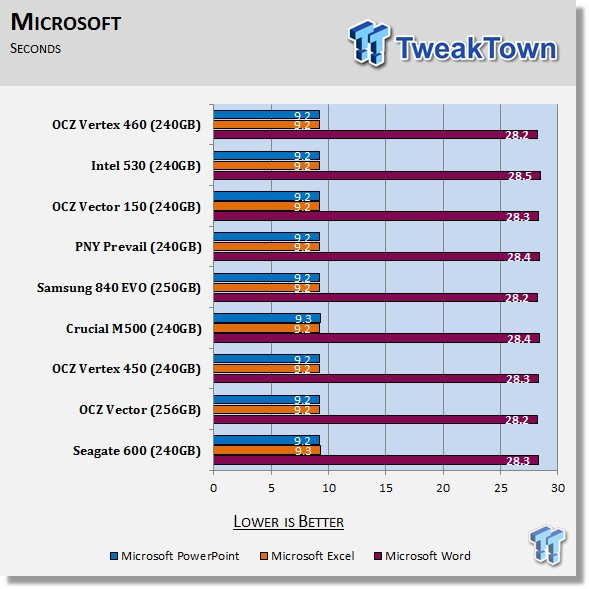 PCMark 8 shows how long a task takes to complete. When looking at SSD performance in small tasks in seconds, it appears that the drives all perform about the same.
PCMark 8 Storage Bandwidth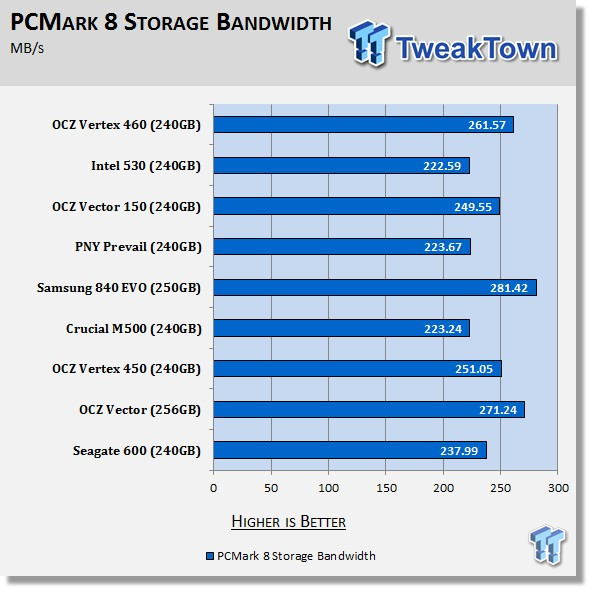 When you compare the average performance of all tests and put the results back into transfer speeds, the performance outlook changes and looks more like our other tests.
Benchmarks - DiskBench
DiskBench - Directory Copy
Version and / or Patch Used: 2.6.2.0
Developer Homepage: Nodesoft
Product Homepage: DiskBench
Download here: http://www.nodesoft.com/diskbench/download
Note: In this test we use the Lenovo W530 Mobile Workstation and a SuperSSpeed S301 SLC 128GB SSD to move a 15GB block of data to and from the target drive. This is part of our real-world test regiment. Roughly 45GB of data resides on the target drive before the '15GB Block' is transfer. The 15GB Block is the same data we built for the Data on Disk Testing and is a mix of compressible and incompressible data.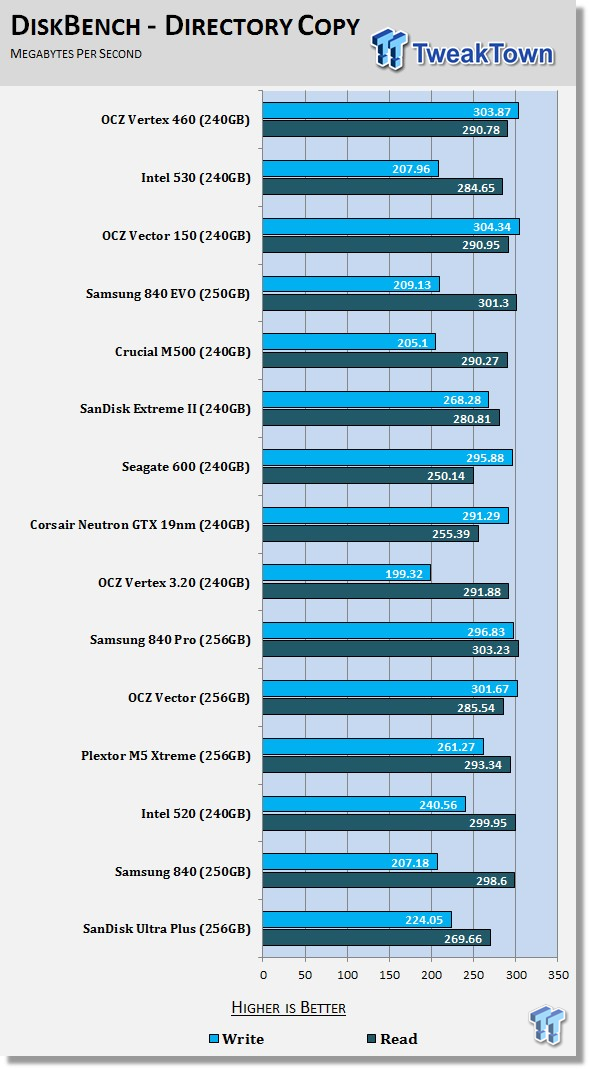 With larger SSDs, we tend to transfer large data sets to and from the drives more often. In these tests, we move data to and from the target drive. The Vertex 460 is a direct competitor to the 840 EVO and if you plan to transfer large chunks of data to your SSD, this test shows what to expect when doing so. The 460 writes data faster for when you get past the SLC like layers.
Final Thoughts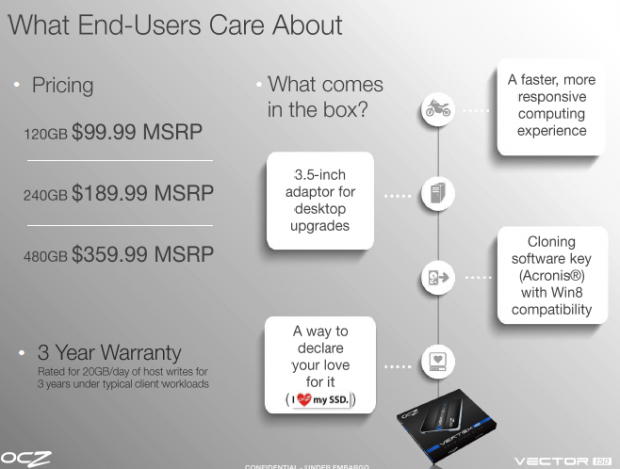 With a $189.99 MSRP, the 240GB Vertex 460 fits right into the price range most want. I base that off the 840 and 840 EVO sales. With Toshiba's flash coming through the doors by the truckload, OCZ is once again in a position to take on the lower priced performance SSD market.
I was a bit surprised to see Vertex 460 compare very well to OCZ's flagship Vector 150 SSD, but after looking back at 840 EVO to 840 Pro, I see why OCZ needed to bring the second tier performance up so high. Consumers are the winner because you can purchase a MLC SSD with close to flagship performance for a lot less than flagship prices.
There is another aspect of the Toshiba connection we haven't discussed yet. Toshiba has one of the best SSD manufacturing facilities in the world according to some of the people I've spoken to from other companies. Companies that have Toshiba build their SSDs at Toshiba factories. Both of these companies like to talk about their low failure rates and they both attribute the failure rate to the drives built at the Toshiba factories. In an earnings call, OCZ stated that a third party was manufacturing OCZ drives and we think that third party was/is Toshiba. To expand on that a little further, we haven't heard about Vector, Vector 150 or Vertex 450 drives failing. The Toshiba connection may be why.
This is OCZ's first product after the Toshiba purchase and OCZ did a great job with the project. In this price range, this is the drive I would buy today. What really has us excited is what's coming next and then after that, and so on. Toshiba has talked about their 1Ynm flash for nearly a year now. 1Y changes the dimensions from 19mmx26mm with 1Xnm to 19mm to 19.5mm with 1Y. Toshiba can fit more dies per wafer and that will further reduce cost. At the same time 1Y will most likely increase the die capacity to 128Gb. That's just the MLC side.
On three occasions, we've seen Flash Forward (Toshiba / SanDisk NAND flash joint venture) TLC NAND in uncut wafers. Now that you are thinking about the new technology, imagine a company with access to the flash like OCZ. OCZ has all but created the enthusiast and consumer SSD market, at the very least they steered it to where we are today. Giving OCZ the keys to Toshiba's technology will once again change the SSD market.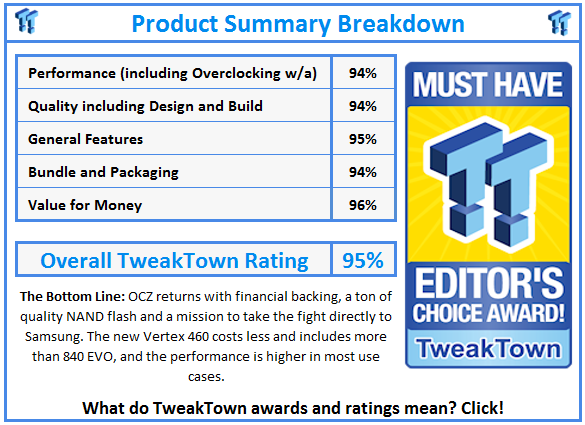 PRICING: You can find products similar to this one for sale below.

United States: Find other tech and computer products like this over at Amazon.com

United Kingdom: Find other tech and computer products like this over at Amazon.co.uk

Australia: Find other tech and computer products like this over at Amazon.com.au

Canada: Find other tech and computer products like this over at Amazon.ca

Deutschland: Finde andere Technik- und Computerprodukte wie dieses auf Amazon.de
We openly invite the companies who provide us with review samples / who are mentioned or discussed to express their opinion. If any company representative wishes to respond, we will publish the response here. Please contact us if you wish to respond.